If you love the rustic charm of a log cabin, why not bring that same feeling into your kitchen? A modern log cabin kitchen elicits both a cozy and stylish atmosphere. With the right elements and design decisions, you can create a space that feels like an escape from the hustle and bustle of everyday life.
From natural wood tones to unique lighting fixtures, there are plenty of ways to give your kitchen a one-of-a-kind look. If you are looking for ideas or simply want to become more educated about the latest log cabin kitchen designs, read ahead and get all of the facts!
Log Cabin Kitchen Design To Inspire Your Home's Look
Crafting the perfect rustic kitchen for your log cabin is limitless when it comes to design options. Crafting your own unique style is all about blending rustic essence with modern flair.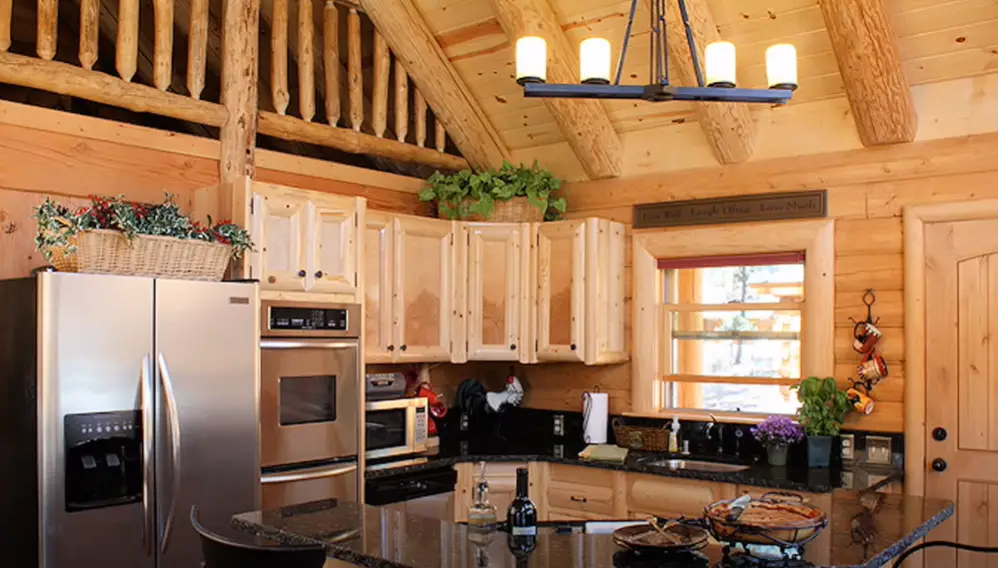 Modern Cabin Kitchen
To achieve a contemporary log cabin kitchen design, choose sleek lines and streamlined elements. Choose simple cabinets and countertops that don't take away from the rustic atmosphere of your space. You can easily add touches of wood to your kitchen by integrating wooden accents where they make sense. For example, adding wooden paneling along one wall or a wood-framed island can add extra warmth to your kitchen.
Small Cabin Kitchen
If you live in a log cabin or plan on building one, the kitchen is an important part of your home. It's where families gather to cook, eat and socialize. But designing a functional and stylish kitchen for a small space can be tricky. To fuel your creativity, we have gathered some contemporary log cabin kitchen ideas to get the ball rolling.
The cornerstone of the rustic log cabin kitchen is its abundantly spacious countertop. Look for an island with seating or a multi-level peninsula to maximize the usability of the small space. If you don't have room for an island, consider adding a bar counter and stools instead.
Choose quartz or granite as they are hard wearing and low maintenance, perfect for an outdoor kitchen. For cabinetry, choose colors that match the rustic feel of the log cabin and add texture to the room with natural wood finishes.
The materials you use will depend on your budget as well as how much wear and tear it will see. If you're going for a more modern look, opt for stainless steel appliances and cabinets with sleek lines. Lighting can also be used to enhance the aesthetic of your kitchen. Try adding statement lamps, recessed lighting or rustic-style pendant lights above the island or peninsula.
Remember to accentuate your cabin kitchen with a few plants and comfy rugs for an inviting, cozy vibe.
Updated Log Cabin Kitchen
Embracing a beautiful balance between rustic charm and modern flair, the contemporary log cabin kitchen is an ideal addition to any home. Combining natural materials, such as reclaimed wood and stone, with sleek stainless steel appliances offers a unique look that stands out in any home. For a modern take on the classic log cabin kitchen, incorporate timeless styles with contemporary design concepts.
Consider incorporating open shelving, natural wood countertops, and farmhouse-style lighting fixtures to create an inviting space. For a more modern take on the log cabin kitchen, add in industrial details such as concrete countertops or black iron hardware.
Farmhouse Cabin Kitchen
Introducing a modern log cabin kitchen to your home offers the perfect balance of rustic charm and cozy comfort. A farmhouse cabin kitchen, for example, is a great way to add character and charm to any home. With a natural wood finish, you can create an inviting atmosphere with warm tones of browns and creams.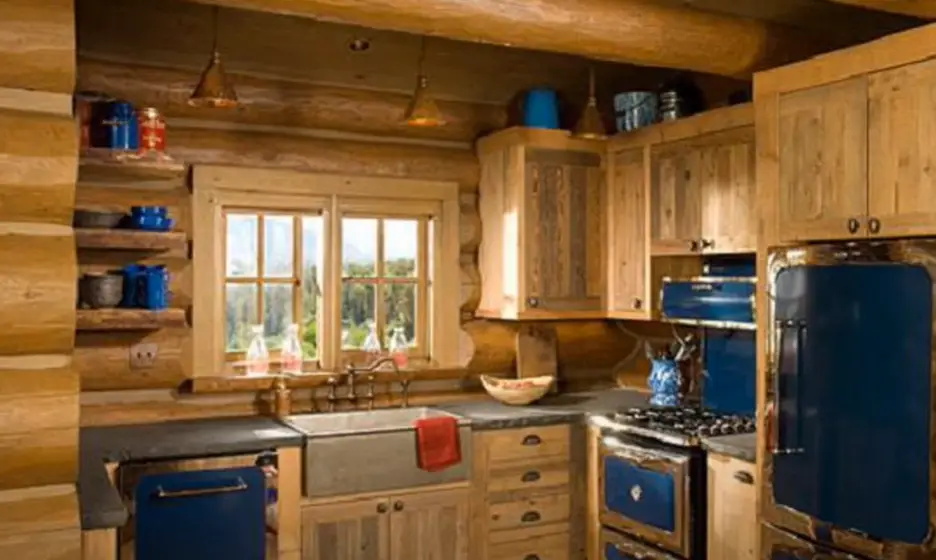 Accent pieces such as antique furniture and vintage finds bring the space to life, creating a unique and inviting atmosphere. You can even add modern touches like stainless steel appliances to complete the look. Revamp your log cabin kitchen into a magnificent farmhouse-style look with only a few effortless modifications.
You can start by adding open shelves or wood cabinets for added storage and decoration. Install wood countertops to bring out the natural beauty of your kitchen and add warmth to the room. A spectacular farmhouse sink is the perfect way to add a striking focal point to your log cabin kitchen that also serves as an essential tool for cooking and cleaning. [1]
Rustic Cabin Kitchen
Give your home a touch of the great outdoors with an enchanting rustic cabin kitchen. With natural wood grain and earthy color schemes, this kitchen style offers an inviting atmosphere that will make you feel right at home. Perfect for anyone wanting to capture the beauty of nature in their interior design, a cabin style kitchen includes elements like vintage cabinetry, exposed beams, and log accents.
A stone backsplash can be used to add texture and earthy tones that will bring in a rustic feel. Copper fixtures are also a great touch for adding character and warmth to the space. Don't forget about the hardwood floors! Create a cohesive look with wood flooring that ties the space together. Finally, add a touch of nature with freshly cut flowers or houseplants to complete your rustic cabin kitchen look.
Lake Cabin Kitchen
When it comes to finding the perfect cabin getaway, a rustic log cabin kitchen overlooking a tranquil lake is simply incomparable. The warmth of wood and the exposed logs create an inviting atmosphere that is perfect for relaxing with family and friends. An open plan layout with plenty of storage and counter space provides ample opportunity to create some delicious meals while you enjoy the serenity of your lake cabin. When it comes to decorating a log cabin kitchen, there are plenty of options to choose from.
Transform your log cabin kitchen from mundane to magnificent with a classic color palette of warm neutrals such as browns and whites, or inject some vibrancy with bold shades like blues and greens. Adding vibrant accents like area rugs, tablecloths, and kitchenware can add a sense of fun to the room. Final flourishes such as mounting pot racks or installing open shelving can showcase your treasured items while providing extra storage space.
Cabin Kitchen With Bold Colors
Create a rustic, modern kitchen with bold colors in your log cabin. The combination of wood and steel gives the classic look a contemporary update. Start by painting the walls and cabinets in deep reds or blues for an eye-catching contrast against the natural tones of the logs. Add pops of color with coordinating accessories such as window treatments, rugs, and artwork.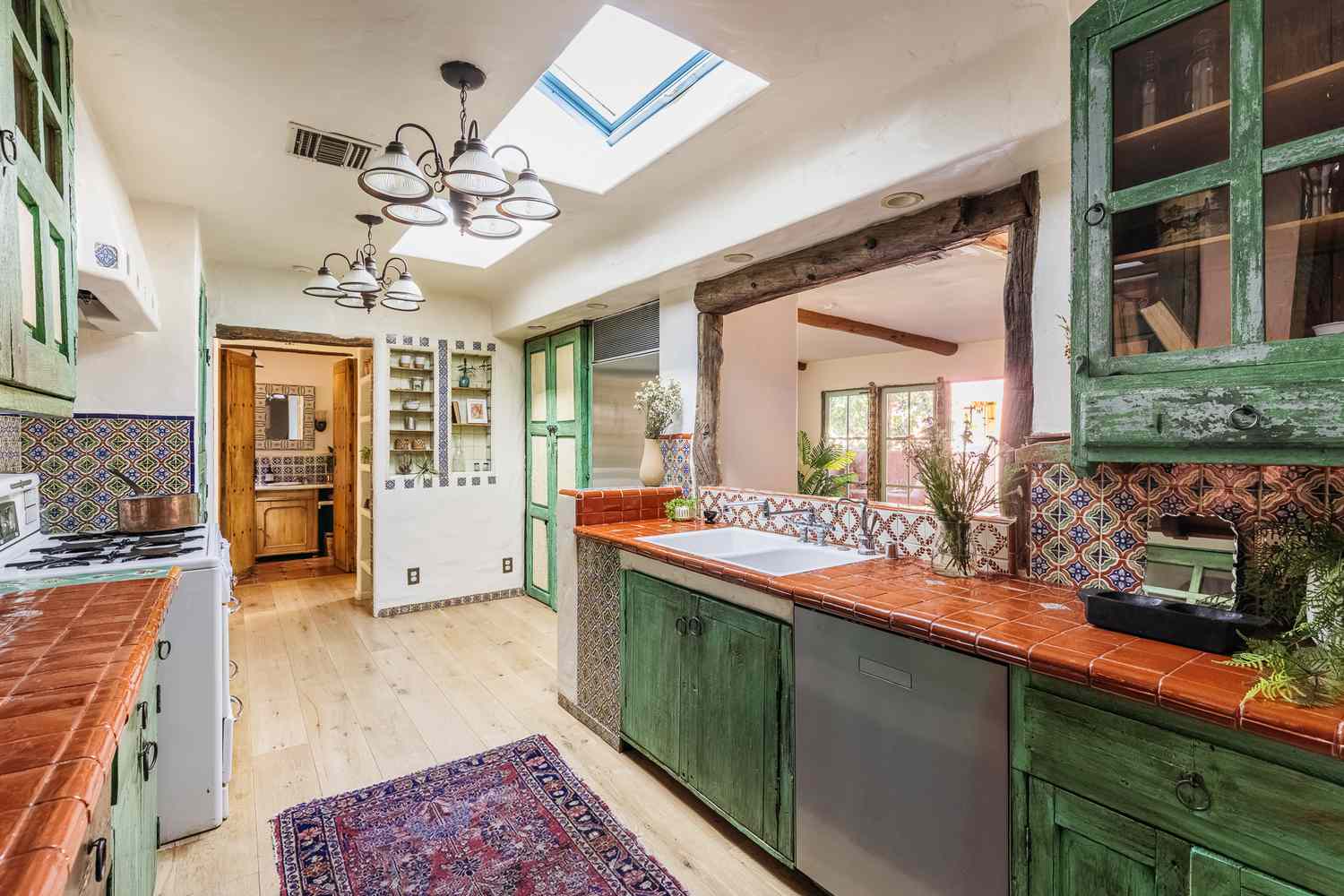 For the countertops, install marble or quartzite for a beautiful blend of natural materials that will make your kitchen stand out from the crowd. Complete the look with stainless steel appliances for a timeless appeal.
Contemporary Lake Cabin
When you think of a log cabin, you might picture the old-fashioned style, complete with dark wooden walls and rustic decor. But modern log cabins can be just as cozy and inviting—and they offer plenty of room for creative kitchen ideas too! The modern log cabin kitchen featured in this photo is the perfect representation of contemporary lakeside living.
The walls are painted a fresh, bright white that immediately lightens up the room; the cabinets and countertops are made from wide pine planks for an organic feel; natural stone flooring adds texture and warmth; and the island is outfitted with stainless steel appliances to give it a sleek, industrial edge.
An impressive hood fan above the stovetop is the perfect finishing touch. The neutral palette and clean lines of this log cabin kitchen blend in seamlessly with its natural surroundings, creating an inviting space that's perfect for entertaining guests or whipping up something delicious. [2]
Cabin Kitchens: Popular Design Elements
Crafting a cozy cabin kitchen is an easy feat with the array of stylish and inviting elements available. These design elements include the use of wood, rustic accents, and cozy colors.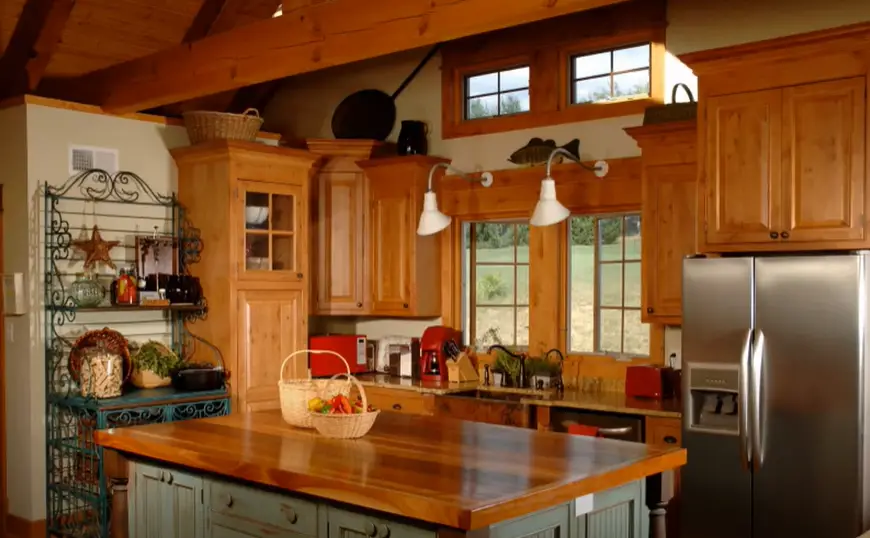 Wood Tones
To achieve a picturesque, rustic log cabin kitchen atmosphere, you'll want to bring in natural wood tones. Natural or stained hardwood flooring, exposed beams, and shiplap paneled walls are some of the ways to add visual warmth to the space. Wooden cabinets are a must-have element for achieving a cozy cabin feel, and they can be installed in a variety of ways — from upper and lower cabinets to open shelving or an island with a butcher block countertop.
Cozy And Welcoming Textures
For an inviting, rustic atmosphere in your kitchen, be sure to include cozy and comforting textures. Natural materials like wood, stone and cork bring a cozy, homespun ambiance to the room. Wood is often used for both the floors and walls in a log cabin kitchen, providing an inviting atmosphere with the natural grain adding interest. Stone countertops and backsplashes offer a timeless look that also blend in perfectly with the other materials. For a softer touch, try installing cork floors or using it to add texture to walls by creating a tile pattern.
Natural Stone Or Brick
To achieve an authentic and rustic log cabin kitchen, incorporate natural stone or brick into the design for a timeless aesthetic. These materials can be used for both flooring and walls, providing your kitchen with an authentic touch that is sure to stand out. Nature has provided us with an array of stunning stones and bricks in both vibrant hues and captivating textures, so you can choose the perfect one to add a touch of elegance to your log cabin kitchen. [3]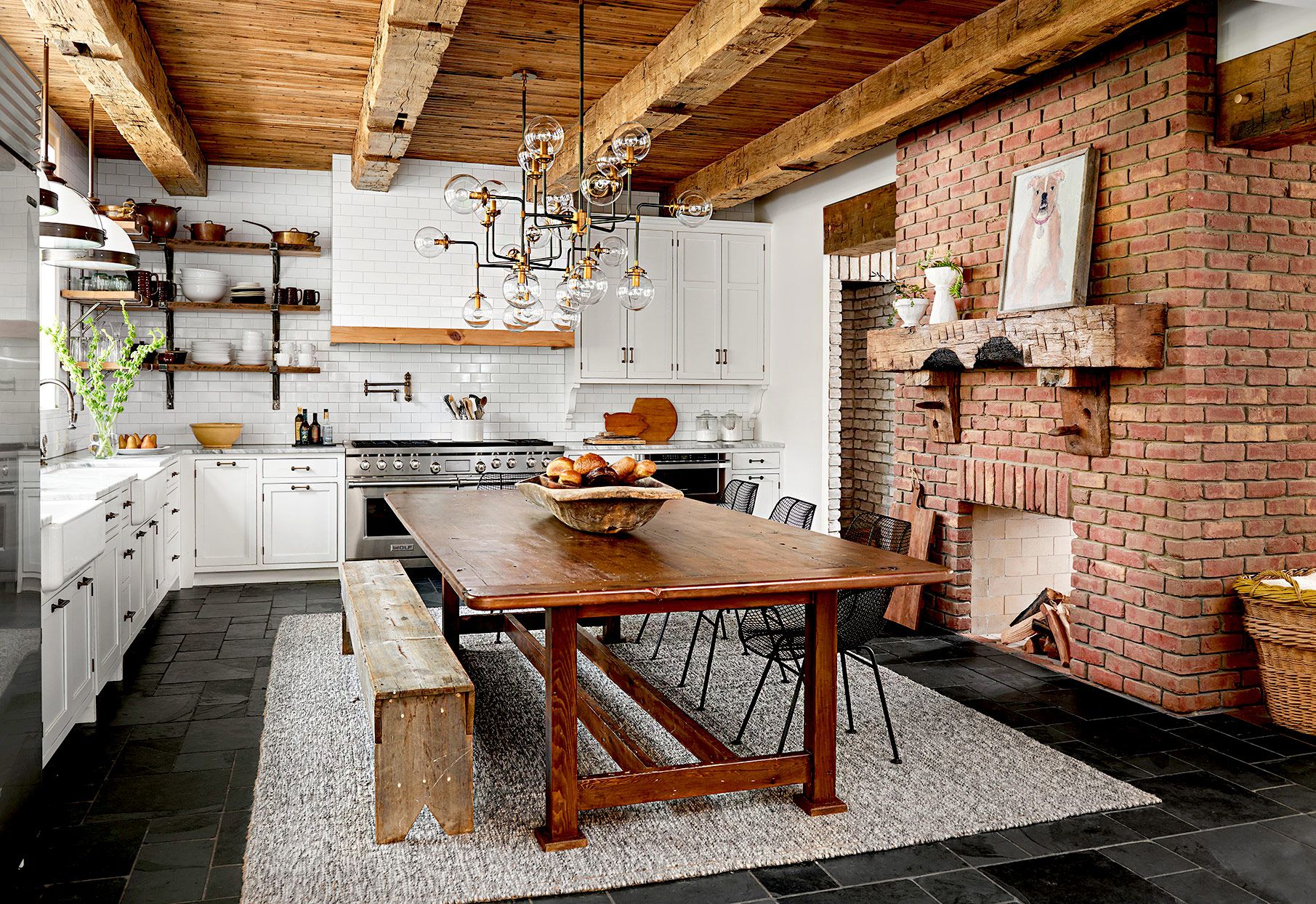 Layered Lighting
The log cabin kitchen look is incomplete without the perfect lighting. If you want your log cabin kitchen to have a cozy, homey feel, light fixtures will be key – layer them for maximum effect! Start with a bright overhead light fixture such as a pendant or chandelier. This will provide your room with plenty of task-oriented illumination. Complete the look with a few decorative wall sconces or track lighting to provide ambient and accent light. Lastly, layer in a few lamps to add additional warmth and ambiance to the space.
Open Floor Plan
The modern Log Cabin kitchen is designed with an open floor plan. This allows for a more inviting and interactive atmosphere when entertaining guests or simply enjoying time with family. The open floor plan encourages natural conversations as well as giving everyone the opportunity to take part in meal preparation and other activities. By removing walls and making the kitchen area visible from all angles, it creates a more home-like feel.
Metal Accents
For a modern, rustic look in log cabin kitchens, metallic accents are the perfect choice. Stainless steel fixtures and appliances bring a contemporary, industrial touch that flawlessly melds with the natural elements of the cabin's decor. To create contrast, consider adding copper or brass details such as cabinet handles, light fixtures, and range hoods. These metals can also be used to tie together the space with matching hardware and lighting accents. [4]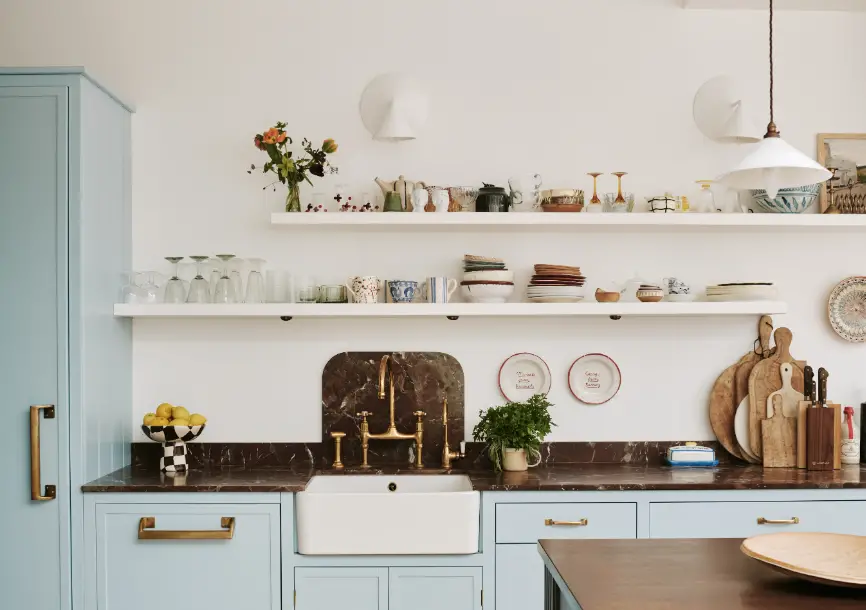 FAQ
Are wooden kitchens out of fashion?
Absolutely, you still see wooden kitchens everywhere! The modern log cabin kitchen concept brings together the coziness of a classic log cabin kitchen with cutting-edge features.
Inject a sense of contemporary style into your log cabin kitchen with modern appliances, countertops and hardware. This timeless design will never go out of fashion!
What is the most timeless kitchen cabinet?
The classic, rustic charm of a log cabin kitchen will never cease to captivate and inspire.
The rustic beauty of natural wood and a classic country-style design have an inherent charm that appeals to many homeowners. Log cabin kitchens offer warmth, comfort, and a unique way to express your personality in the heart of your home.
To achieve this classic look, consider incorporating traditional elements such as wooden kitchen cabinets. Wooden cabinets are the foundation of a classic log cabin kitchen and can be customized with various accents to match your desired aesthetic. Choose from warm tones like natural honey oak or rich cherry mahogany for a cozy feel that evokes rustic charm.
What is the future trend for kitchen cabinets?
As we look ahead, kitchen cabinets will increasingly trend towards a more contemporary and polished aesthetic. Cabinetry is becoming increasingly popular in modern homes, especially in log cabins. Contemporary kitchens often incorporate stylish, minimalist cabinetry with clean lines, flat-faced doors, and minimal hardware or trim. This makes them ideal for use in log cabin kitchens as it helps to create a contemporary, rustic aesthetic.
Many log cabin kitchens also feature open shelving and floating shelves for additional storage space, as well as integrated appliances like microwaves and dishwashers. Furthermore, modern log cabin kitchen designs are being revolutionized by the addition of organic materials such as stone countertops, stainless steel appliances and reclaimed wood accents. These elements help to add warmth, comfort, and personality to any space.
How do you Modernize a log cabin?
Modernizing an old-fashioned log cabin can feel like a daunting task, but with the right approach it's possible to create a stylish and inviting space that serves as a cozy retreat for you and your family. One of the best ways to update an older log cabin is by redesigning the kitchen. By focusing on the materials, appliances, and design elements used in the space, you can create a modern log cabin kitchen that exudes warmth, comfort, and style. When considering materials and design elements, think about how to bring a modern touch to the traditional log cabin look.
What colors look good in log homes?
When decorating a log home kitchen, there are certain colors that help to bring out the rustic feel of the space. The most popular colors for a log home kitchen are earth tones such as brown, beige, tan, and cream. Accents of reds, oranges and yellows can also be used to add a pop of color and bring out the warm, cozy atmosphere of the space. Whites and grays can also be used to help create a more modern look. Bold colors like blues and greens can be used sparingly as accent pieces to make the kitchen stand out.
What is the kitchen trend for 2023?
The kitchen trend for 2023 is modern log cabin kitchens. This trend combines the rustic feel of a traditional log cabin with contemporary elements for a unique look. The result is a kitchen with an inviting, homey feel that still looks stylish and current. Creating a unique aesthetic, modern log cabin kitchens often blend together natural materials such as wood, metal and stone for an eye-catching look.
The use of modern appliances and fixtures can also create a sophisticated look that is perfect for those who want their kitchen to be both stylish and functional.
What color kitchen for 2023?
The kitchen is the heart of the home, and it's essential for your kitchen to be stylish and up-to-date. If you're looking to update your kitchen in the coming year, choosing the right color is key. In 2023, modern log cabin kitchens are a popular choice for bringing a cozy yet stylish feel to your space. The beauty of modern log cabin kitchens is that you can employ a variety of colors to create an atmosphere that feels warm and cozy.
What is the most popular color for kitchen cabinets in 2023?
With warm, neutral hues like white and beige taking center stage in 2023, they are fast becoming the most popular colors for kitchen cabinets. An up-and-coming trend is to go for bolder, brighter colors like blues and greens. You can also opt for a two-tone look where you pair white or beige cabinets with a brighter accent color. To create a modern log cabin kitchen, look to earthy shades such as browns and tans for an authentic rustic feel.
You can also use whites and grays, which will help to create a light and airy feel in the space. Greenery is another popular choice that can make the kitchen look fresh and inviting.
What Color Kitchen is timeless?
When you think of a traditional kitchen, white might come to mind; however, the modern log cabin look doesn't have to be restricted to one color. The natural wood of the log cabin look is perfect for a modern kitchen, with shades of brown and beige being just as timeless.
Natural wood cabinets and countertops also bring a rustic charm to the kitchen, while still maintaining a modern feel. A light gray or blue-gray painted wall can provide the perfect contrast to the wood and create a unique and inviting look.
What kitchen cabinet always stays in style?
Log cabin kitchens are a timeless classic and will always be in trend. With its natural wood features, log cabin kitchens can provide a warm and inviting atmosphere. The timeless aesthetic of a log cabin kitchen ensures that your home will remain in perfect condition for years to come, making it the ideal choice for those who desire a classic look. From rustic cabinetry to contemporary furniture, there are many ways to create a log cabin kitchen that is both classic and modern.
Useful Video: Cool Log cabin kitchen ideas
Conclusion
The Contemporary Log Cabin Kitchen Idea provides the perfect amalgam of modern sophistication and rustic charm. With the perfect blend of natural materials like wood and stone, plus modern metal accents and bold colors, you can create a luxe yet cozy space that will be sure to impress. If you seek to craft a tranquil retreat in your home or desire the inviting atmosphere of an old-school log cabin kitchen, this design concept is ideal for you. The timeless design and captivating color palette of this kitchen, coupled with its natural materials, guarantee it will be a cherished part of your home for years to come.
---
References
https://www.homedit.com/cabin-kitchens/
https://kitchencabinetkings.com/blog/cabin-kitchen-ideas/
https://www.trulogsiding.com/log-cabin-kitchen-designs/
https://www.eloghomes.com/modern-log-cabin-kitchen-ideas/