Wood floors are a classic and timeless choice for any kitchen. Whether you're fond of a classic rustic feel or an edgier, contemporary look, wood floors add the ideal touch to bring your kitchen vision to life. Not only do they offer an attractive aesthetic, but wood floors also bring durability and strength to your kitchen flooring.
If you're thinking about installing wood flooring in your kitchen, there are plenty of options available to choose from. With an array of options from hardwood to luxury vinyl planks, the world is your oyster when it comes to flooring.
Here we'll discuss some of the best types of wood flooring for kitchens as well as helpful tips on how to maintain them over time so that they remain looking beautiful year after year.
Why Does Kitchen Flooring Matter?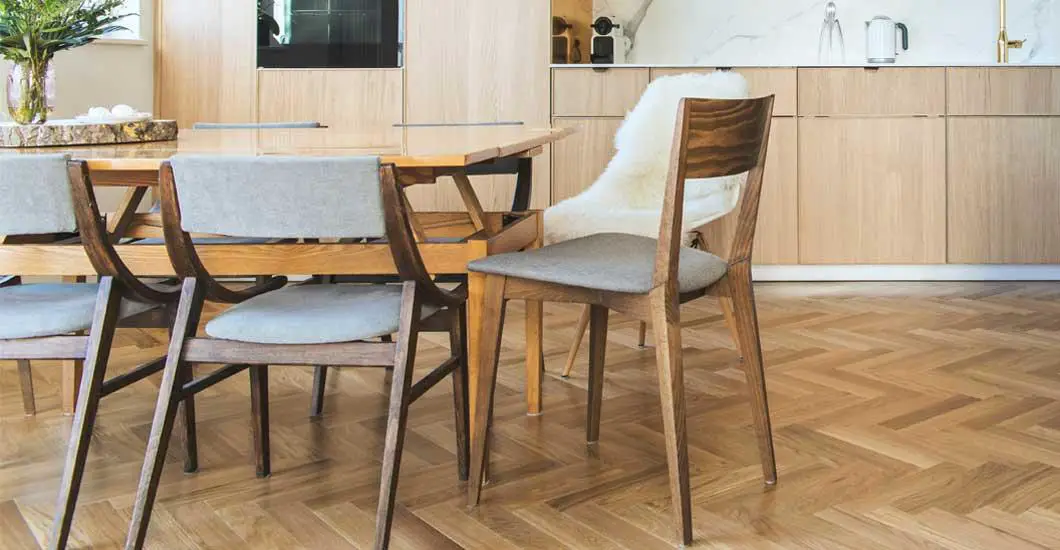 The kitchen is the heart of any home and it's important to choose flooring that fits with your style, stands up to daily wear-and-tear, and will last for years to come. Kitchen flooring needs to be durable enough to stand up against spills, moisture, and heavy foot traffic while still looking good. Wood flooring is a great choice for its attractive appearance and long-term durability.
What's The Difference Between Solid Wood And Engineered Wood Floors?
When mulling over kitchen wood floor inspirations, one must consider the significant differences between solid and engineered woods. Crafted out of a single piece of hardwood, solid wood floors are uniquely designed to elegantly accommodate any room. They come in a variety of widths, lengths, and thicknesses. This type of flooring has a timeless look and can be sanded and refinished many times over the years. It is a great option if you have an existing wood floor that needs to be restored.
Crafted from numerous layers of plywood with a hardwood veneer on its surface, engineered wood floors are an aesthetically pleasing and durable option. This type of flooring is more resistant to moisture, temperature fluctuations, and humidity.
Plus, it comes in an array of colors and styles so you can customize the look of your kitchen flooring. It is critical to understand that engineered wood floors are not able to be sanded and refinished like solid wood, however they offer an incredible solution for your kitchen flooring ideas. [1]
Is Solid Wood Or Engineered Wood Better For Flooring?
When it comes to kitchen wood flooring, you can't go wrong with either solid wood or engineered wood—both options present numerous advantages. Solid wood is an effective choice for those who want to bring warmth and charm into their kitchens. It's popular because the natural grains, colors and patterns add character to any space. Engineered wood is an alternative option that offers more stability and durability than solid wood. It's also easier to maintain and is less vulnerable to warping and moisture damage.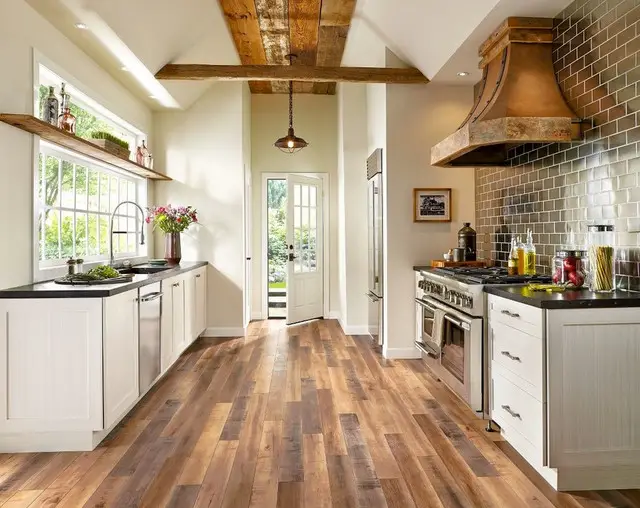 The selection of solid wood or engineered wood for your kitchen floor depends on the style you desire, as well as your budget and lifestyle factors. Both offer their own unique benefits so it's important to compare the two and make the best decision for your needs.
Modern And Upcoming Kitchen Flooring Ideas
The kitchen is one of the most important rooms in your home. It's where meals are prepared and family and friends gather to share good times. So it's important that your kitchen has a flooring material that not only looks great, but also is durable enough to withstand all the wear and tear of daily life. Wood flooring is one of the most popular options for kitchen floors because of its timeless beauty and durability.
Farmhouse Chic
If you're looking for a classic yet modern look in the kitchen, try incorporating farmhouse chic. This style is all about combining rustic elements with clean, geometric lines and neutral colors.
Consider using wide-plank pine flooring or distressed hardwood to bring an old-world charm to your space. Add bold patterns with area rugs or decor pieces and accessorize with modern lighting to complete the look.
Coastal Vibes
Bring a touch of the coastline to your kitchen with wide-plank beachy wood floors. Not only does this type of flooring add a beautiful, coastal look, but it also adds warmth and texture to the room. Natural colors like white, gray, and light tan will brighten up any space while still giving it a beachy vibe. This type of flooring is also easy to clean and maintain, so it's perfect for busy kitchens. For a coastal look that stands out, try pairing the wood floors with white cabinets and dark countertops. With this combination, you'll have a beautiful kitchen that brings the beach right into your home.
Contemporary Moods
The sleek and glossy look of contemporary wood floors provides a modern edge to any kitchen.
Consider a high-gloss finish that reflects light or even opt for a matte, low sheen option for an understated look. Wide plank varieties are very popular in the contemporary kitchen, creating an expansive and airy feel in the space. Choose from natural colors like oak, pine and maple or opt for a more bold look with dark mahogany or walnut. A wood floor in the kitchen adds warmth and texture to the room, creating a vibrant atmosphere for gathering around the table. [2]
How To Take Care Of Real Wood Kitchen Flooring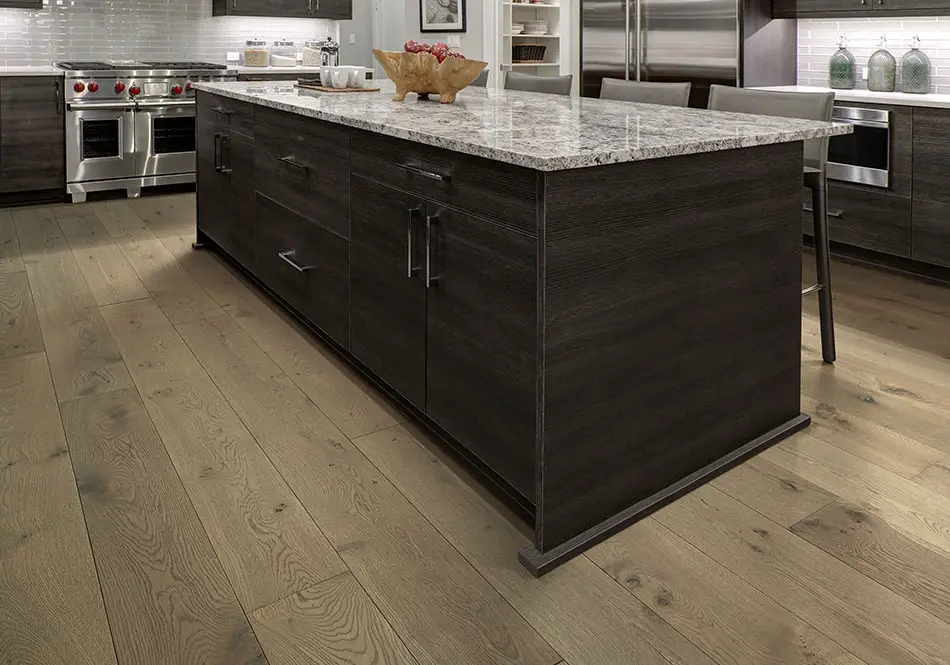 Once you've chosen the perfect real wood flooring for your kitchen, it's important to make sure that you are taking proper care of it to ensure its longevity. Here are some tips on how to take care of your real wood kitchen floor:
Sweep or vacuum regularly – This is a vital part of regular maintenance and should be done at least once a week. Be sure to sweep or vacuum in the direction of your wood grain, as this helps to prevent dust particles from scratching the surface.
Clean spills as soon as possible – Cleaning spills promptly is essential, as they can cause irreversible harm when ignored for too long. Choose a cleaner formulated specifically for wood floors to avoid damage.
Protect from water and steam – Water and steam can cause damage to real wood flooring, so it's important to be vigilant about protecting your floor from these elements. Place rugs or mats in any wet areas of the kitchen to prevent standing water. Use coasters under hot pots or dishes to prevent steam from damaging the floor.
Use a humidifier in dry climates – Dry air can cause cracking and warping of real wood kitchen flooring, so it's important to use a humidifier during periods of low humidity.
Refinish regularly – Depending on how much wear and tear your kitchen floor is taking, you may need to refinish it every few years. Rejuvenate and reinvigorate the original gleam and grace of your wood flooring with this product. [3]
What Style Of Wood Kitchen Flooring Is Best?
When it comes to wood floors for kitchens, there are many different factors to consider in order to make a good decision. The most important factor is the type of wood you choose. Different types of wood have different levels of durability and aesthetics that can fit your needs. Some popular types of wood flooring include hardwood, laminate, and engineered wood.
Hardwood flooring is the most traditional and classic choice for a kitchen floor. It is also one of the most durable and long-lasting options, making it a great option if you want something that will last for many years. Hardwood floors are incredibly versatile and customizable, offering a vast range of hues, textures, and grains from which to create the perfect floor for any decor.
Laminate wood kitchen floors are another great option. Laminate is made from composite layers of wood that are much more affordable than hardwood. It also comes in a variety of colors, textures, and grains so you can get the look you want for your kitchen. The downside to laminate is that it is not as durable as hardwood and can scratch or dent easily.
Engineered wood flooring is a newer option for kitchen floors. It consists of layers of different types of wood that are glued together to form a stronger, more stable floor. Engineered wood comes in a variety of colors, textures, and grains so you can get the look you want for your kitchen.
Despite its durability, engineered wood can be costly compared to other types of wooden flooring and is susceptible to warping or buckling as the years pass. [4]
Opt For Pattern Wood Flooring With Herringbone Or Chevron
Pattern wood flooring will instantly transform your kitchen, adding an air of sophistication and opulence. Herringbone and chevron flooring are timeless options that can instantly bring a luxurious feel to your space.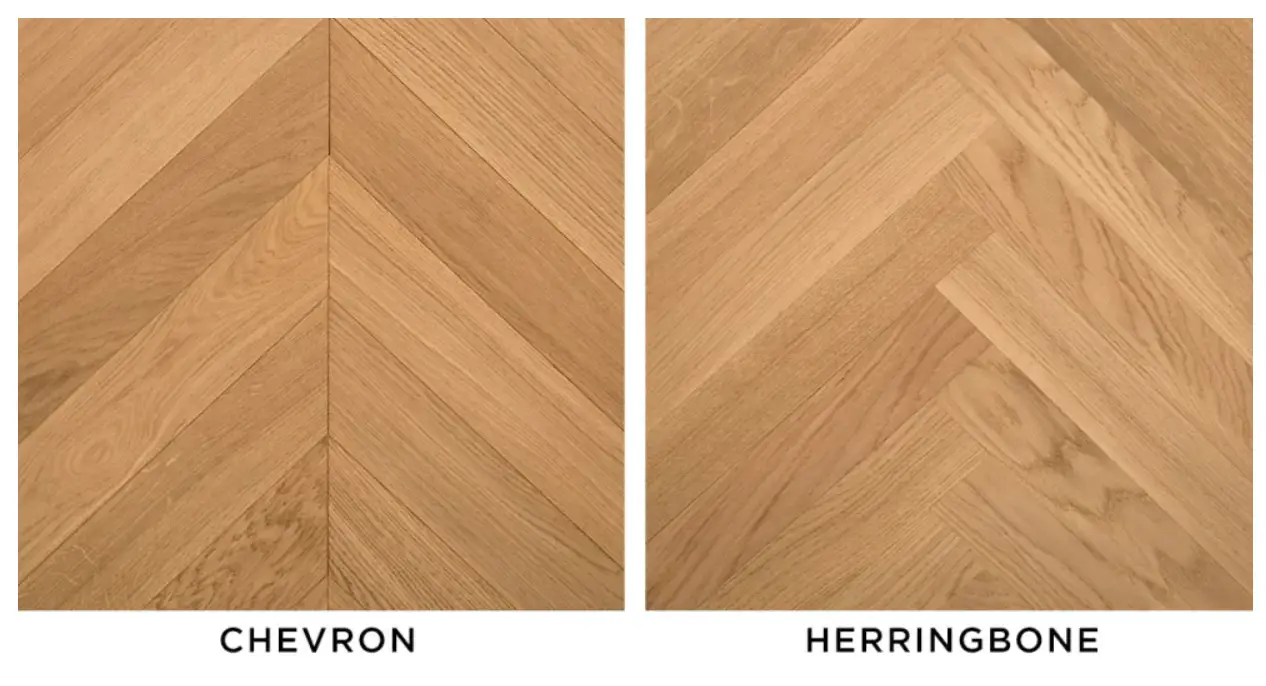 They are also great for adding visual interest, making them perfect for small spaces. Whether you opt for a subtle light wood or a bold dark wood, pattern flooring will help to make your kitchen stand out. For an extra touch of sophistication, be sure to choose wide planks with a matte finish. This will create a beautiful and timeless look that you'll love for years to come.
FAQ
Is it a good idea to have wood floors in the kitchen?
Absolutely, wood floors add a natural charm to any kitchen and create an inviting atmosphere that's sure to please. Wood floors are also durable and easy to clean, making them ideal for busy kitchens. However, it is important to note that wood floors can be vulnerable to moisture and spills, so proper care and maintenance is important.
Should the kitchen floor be lighter or darker?
When selecting the ideal flooring for your kitchen, you will want to consider if a lighter or darker shade is best suited for this room. Installing lighter floors in your kitchen could be the perfect way to create a more spacious appearance. Darker shades are great for creating a cozy and warm atmosphere, but should be used with caution as they can make the space look small. The choice really depends on what will work best for you and your home.
What Color kitchen goes with a wooden floor?
When selecting the ideal color palette for your kitchen to match a wooden floor, there is no single answer that works in all cases. The best approach is to consider the tone of your wooden flooring, as well as the overall feel you want for your kitchen space. For a classic yet modern look, opt for neutral or earthy tones like grays and creams. For a brighter, more vibrant kitchen space, try a bold color like red or blue. You can also add pops of color with accessories, such as colorful kitchen towels, curtains and rugs.
What is the current trend for kitchen floors?
Currently, the trend for kitchen floors is to use hardwood flooring. This type of flooring can provide a classic and timeless look that is perfect for any kitchen. Hardwood floors can also be easily maintained and are incredibly durable, making them an ideal choice for kitchens that are prone to daily wear and tear. Additionally, there are a variety of wood species available for hardwood flooring, allowing you to customize the look of your kitchen to best match the style and decor of your home.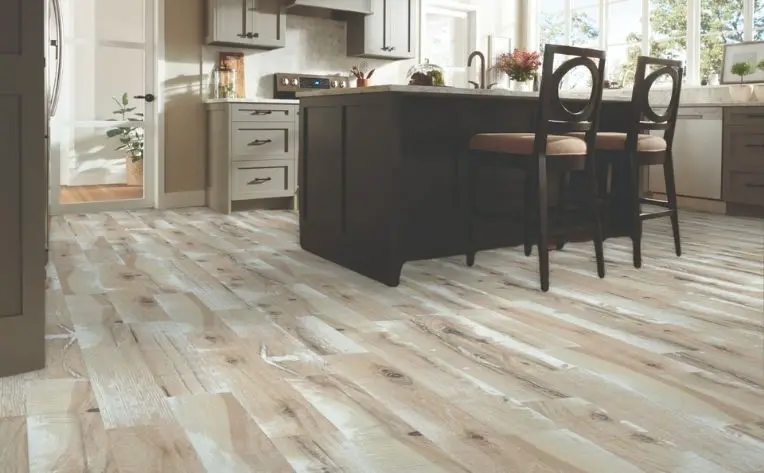 Another popular trend for kitchen floors is the use of tile flooring. Tile is a great option for creating an aesthetically pleasing look with plenty of options for color, shape and size. Tile is also very durable and easy to clean and it can help to protect against moisture, making it an ideal choice for kitchens with heavy foot traffic.
Should wood floors be lighter or darker than kitchen cabinets?
When deciding whether to choose a lighter or darker wood floor for your kitchen, there are a few factors to consider. The first one is the size of your kitchen. If your kitchen is small, a lighter wood floor can help make the space feel larger and more open. On the other hand, if your kitchen is large or open-concept, a darker wood floor can help create a cozy and intimate atmosphere.
The second factor to consider is the amount of natural light in your kitchen; lighter wood floors can help brighten up a space with limited lighting, while darker options might be better for kitchens that are already well-lit. Lastly, the style of your kitchen and cabinets should also be taken into account; lighter wood floors can contrast against darker cabinets to create a stylish and modern look, while darker floors can be used to complement light-colored cabinets.
What are the disadvantages of wood flooring in the kitchen?
Wood flooring may be attractive, but it does come with a few drawbacks. First of all, wood floors are more prone to scratches and dents than other materials, so they can require more maintenance.
Additionally, wood floors are porous and can absorb liquids and spills, which can lead to damages if not addressed quickly. Lastly, wood flooring can be more susceptible to temperature and humidity changes, which can cause the material to expand and contract. These changes can lead to warping and buckling over time if not cared for properly. All of these potential issues should be taken into consideration before installing a wood floor in the kitchen.
What is the easiest kitchen floor to maintain?
Laminate, vinyl and ceramic tile are among the most popular kitchen flooring materials because they are easy to clean and maintain. Laminate is a synthetic material made of several layers of plastic and wood particles, while vinyl and ceramic tile are hard surfaces that can be easily wiped down. Laminate is the most budget-friendly option, and it comes in a variety of styles to fit any kitchen.
Vinyl and ceramic tile are far more resilient than laminate, making them perfect for areas of high foot traffic. For a more classic look, hardwood floors offer an elegant touch to any kitchen and can be refinished to look like new.
However, hardwood requires regular maintenance and may not be the best choice for busy households.
Do you put cabinets on top of wood flooring?
Yes, it is possible to put cabinets on top of wood flooring in the kitchen. However, you should be mindful of the weight and size of the cabinets and use appropriate supports to prevent them from damaging the floor. It is also important to make sure that any moisture caused by spills or humid weather does not seep underneath the cabinets and affect the wood over time. In addition, you should also consider adding a layer of waterproofing between the cabinet and flooring to protect against any liquid damage. Finally, if you are planning on using wall mounted cabinets, it is important to securely anchor them into the wall to avoid them from becoming unstable.
What color floor is best for the kitchen?
Choosing the right color floor for your kitchen is an important decision. A light-colored floor will make small kitchens look bigger and more inviting. When it comes to wood floors, lighter colors such as beige, cream, and white will open up the space and make it appear larger. Darker woods such as mahogany, walnut, and cherry can give your kitchen a more traditional feel while also providing a rich look.
What color kitchen floor shows the least dirt?
When selecting a kitchen floor color, it's important to consider how much dirt and debris it will show. Darker shades of wood may be easier to keep looking clean, as dirt and dust won't show up as easily against the rich tones. For optimal results, lighter shades should be cleaned more often.
In addition, a finish with a slightly glossy sheen can help to hide dust particles and make it easier for you to quickly wipe up any spills. Also, choosing a color that matches the rest of your kitchen decor will help to make it look more consistent and stylish.
Useful Video: 55+ Hardwood Flooring in the Kitchen Ideas
Conclusion
At the end of the day, there are many different kitchen wood flooring ideas to choose from. If you prefer an old-fashioned charm or a more contemporary look, you can find the ideal style for your home. When selecting the ideal kitchen wood flooring solution, it's important to consider how much foot traffic the area will receive, budget constraints and any allergies before making a final decision. With such an abundance of exceptional flooring options to choose from, you're sure to discover the ideal type for your kitchen.
---
References
https://www.hgtv.com/design/remodel/kitchen-remodel/hardwood-kitchen-floors-pictures
https://www.housebeautiful.com/room-decorating/kitchens/a40547982/wooden-floors-in-kitchen/
https://www.livingetc.com/ideas/wood-kitchen-flooring-ideas
https://www.carpetcall.com.au/blog/kitchen-flooring-ideas