Non-white kitchen designs are becoming increasingly popular in modern times, as homeowners look to create a unique and inviting space for their family. In this article, we'll explore the benefits of using non-traditional colors in kitchen design, and provide some helpful tips on how to bring a non-white kitchen concept to life.
Modern Green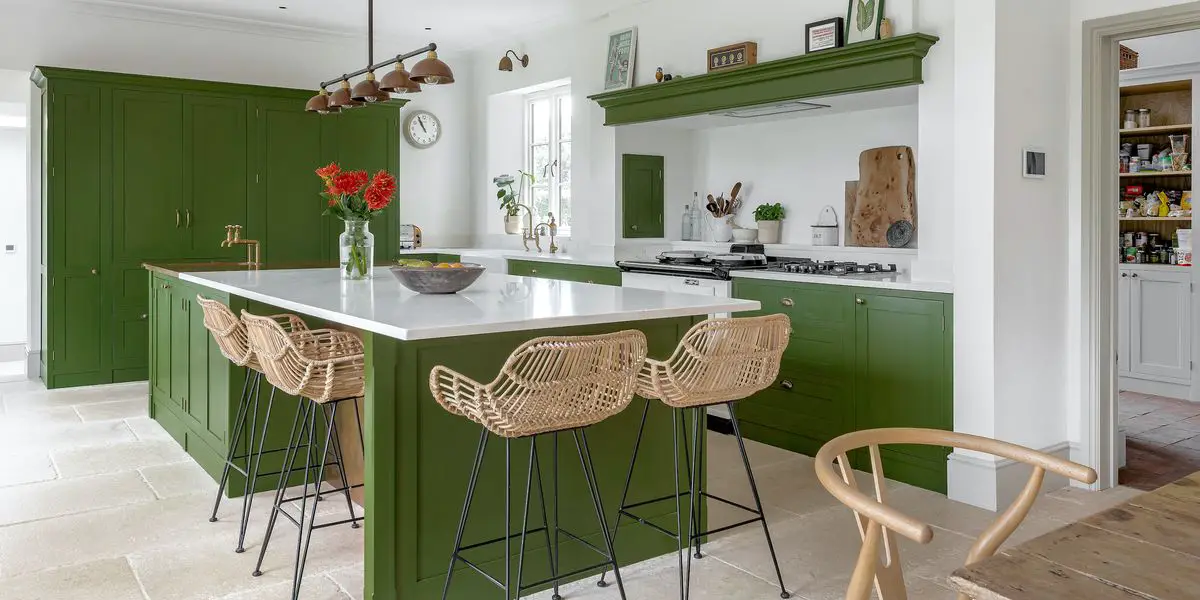 One way to bring a non-white kitchen design concept into your home is with the use of green. In recent years, sage and olive shades have become popular for kitchen cabinets and walls, as they lend an airy, calming atmosphere to the space. Pairing these colors with metallic accents such as copper or stainless-steel fixtures can provide a modern, elegant feel.[1]
Pale Green
Pale green is a popular color for kitchens, as it adds a touch of brightness without being too overwhelming. Pale green kitchen ideas range from light accents to bold statement pieces that can really make your space stand out. Here are some common pale green kitchen ideas:
Paint your walls in a soft pastel shade of green. You can also add a few brighter green accents for contrast.
Incorporate statement pieces such as cabinetry, appliances, and countertops in shades of pale green that complement the walls.
Use pale green tiles for backsplashes to add color to your kitchen space.
Add plants and greenery throughout your kitchen for a natural touch.
Use pale green textiles such as curtains, tablecloths, and rugs to bring color into the room.[1]
Emerald Green
If you want to add a touch of glamor and sophistication to your kitchen, an emerald green theme is the perfect way to do so. With its rich and vibrant hue, it can make any space feel luxurious and inviting. Here are some ideas for incorporating emerald green into your kitchen:
Paint the walls emerald green or add an emerald green tile backsplash.
Install an emerald green kitchen island or countertop.
Add emerald green accessories, like a stand mixer, dish towels, and pot holders.
Hang curtains in shades of deep teal and forest green for contrast.
Swap out cabinet and drawer hardware for a more modern look.
Place emerald green pottery or glassware on open shelving.
With these simple, yet bold, non-white kitchen ideas you can easily create an elegant and chic space that you'll be proud to show off![1]
Bold Blue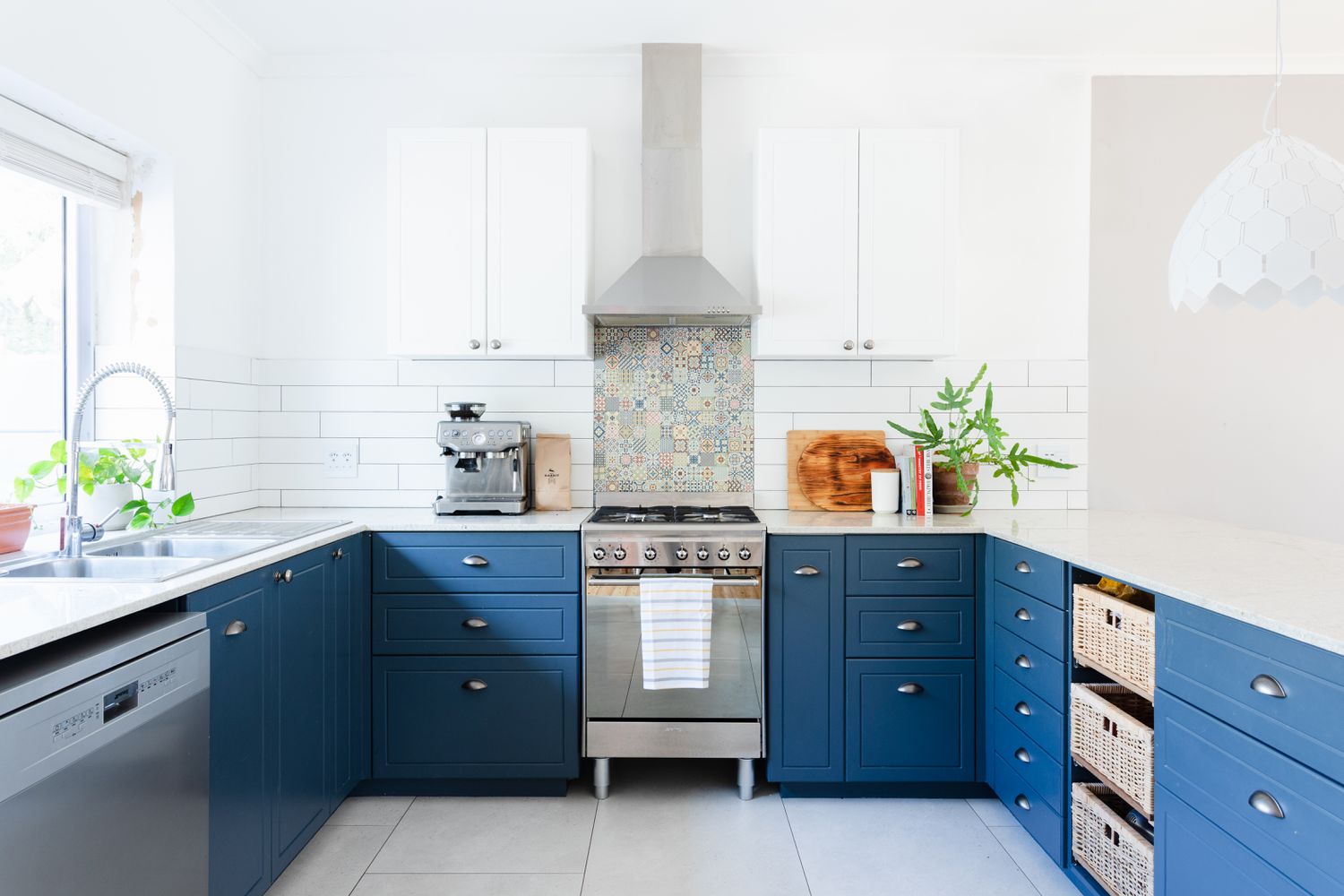 A blue and yellow kitchen is an eye-catching combination that adds a playful pop of color without feeling too overwhelming. It's also a great way to incorporate color if you want to keep your existing cabinets but just need a fresh look. When using both colors, you can make sure they're balanced by choosing a blue paint that's a few shades lighter than the yellow. To emphasize the blues, you can also add stainless steel appliances and white tile backsplashes or countertops.[1]
Coastal Blue
If you're looking for a way to bring the beauty of coastal blues into your kitchen, there are plenty of options available that will not only create an attractive aesthetic but also help keep your kitchen cool and comfortable. Here are some ideas to give your kitchen a nautical makeover:
Start by painting the walls a bright white and then add some navy blue accents. Try to paint just one wall with the accent color, so it doesn't overwhelm the space.
Choose light fixtures that feature coastal blues and whites. This will bring a nautical feel to the room without being overly busy or distracting from your kitchen design.
Add a few navy blue accessories. Things like kitchen tools, small appliances and dishware can be great accents to your coastal blues kitchen.
Consider bringing in some natural materials with colors that match the theme. Driftwood or stone accents can bring an organic feel to the room while still staying true to the overall coastal blue look.
Finally, add a few seaside decorations to complete the look. A driftwood sign or some colorful coral will bring in a touch of the sea and provide you with an inviting nautical kitchen.[1]
Navy Blue
Navy blue kitchens are a great way to add some contemporary flair to your home. This deep, dark shade of blue can provide an interesting contrast to white surfaces and cabinetry while still maintaining a subtle yet stylish presence. Navy blue kitchen ideas offer the perfect opportunity to create a unique and inviting space that is sure to become the favorite gathering place in your home.
When it comes to incorporating navy blue into your kitchen, there are several options available.
From choosing the right shade of blue to selecting coordinating colors, you can easily create a look that is both timeless and modern. When pairing navy blue with lighter colors, such as whites or grays, try to keep the overall look cohesive by using the same shade of blue throughout the kitchen.
You can also add a pop of color with accessories, such as navy blue pendant lights or bright artwork, to bring in some subtle visual interest.[1]
Orange
Orange is a warm and inviting color, so it makes sense to use it in your kitchen design. With the right accessories and paint colors, you can create an orange-themed kitchen that looks stylish and modern.
One easy way to add an orange accent to your kitchen is by painting one wall or section of cabinets in a bright orange hue. If you don't want to go all the way with an orange-themed kitchen, this is an option that will give you a subtle pop of color without being overwhelming.
You can also include accessories in your design such as orange dish towels, bowls, and vases to add interest and texture to the space. Orange is also a great color for patterned wallpaper, so you can use that to add a bit of character and charm to the room.[1]
Butter Yellow
Butter yellow is another option when it comes to non-white kitchen ideas. This creamy, pastel hue can make your kitchen look inviting and cozy, while still maintaining a modern edge. The best way to use butter yellow in your kitchen is by pairing it with sophisticated neutral colors such as grays and whites. You could also try pairing it with bold colors such as navy blue or green. This will create a unique and eye-catching look that will be sure to make your kitchen stand out from the rest.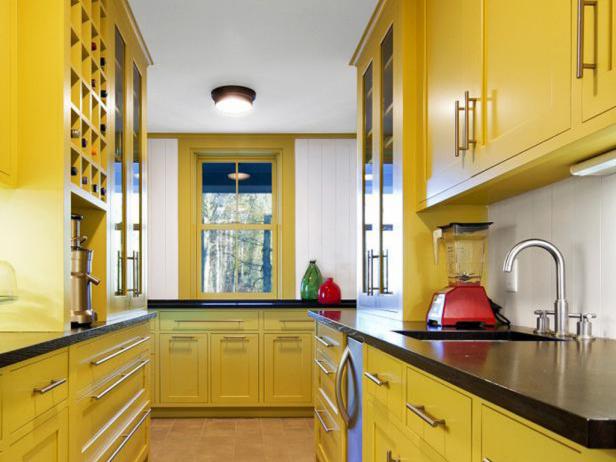 When incorporating butter yellow into your kitchen design, there are a few things to consider.
Choose lighter shades of yellow for smaller kitchens, as this can help make them appear bigger. For larger kitchens, you can use a darker shade of yellow to create an inviting and cozy atmosphere.
Also, make sure that the rest of your kitchen design is in complementary colors that will help to balance out the buttery hue.[1]
Wolf Grey
Wolf Grey is a perfect way to bring a modern look and feel to your kitchen. The cool tones of the color create an atmosphere that is both inviting and contemporary. With its versatility, you can use Wolf Grey in any style kitchen; from traditional to modern. To get the best results with Wolf Grey, choose a light gray for the walls and cabinets, and use a darker shade for your countertops. You can also choose to add accents of white or other colors to give the room some added interest.
When using Wolf Grey in the kitchen, consider adding complementary shades like light blues and greens that will brighten up the space without overpowering it. To create an even more modern look, you can use stainless steel or copper accents. Wolf Grey will also pair nicely with wood features like island countertops and wooden shelving.[1]
Charcoal Grey
Charcoal gray is a great choice for a non-white kitchen. It adds depth and dimension to any room, while still maintaining an air of sophistication. If you are looking for something bold but not overly loud, charcoal gray is the perfect solution. To really make your kitchen stand out, choose contrasting colors to pair with it such as black, olive green, or navy blue. These colors will all work together to create an elegant and unique look that is sure to be the envy of guests.[1]
Cool Grey
If you're looking for a way to make your kitchen modern and stylish, consider using cool gray tones in your design. Grey is the perfect neutral color option that can be used in almost any style of kitchen, so it is versatile and timeless. Grays are also great for creating a minimalist feel or adding subtle accents to your space. To avoid making your kitchen feel too cold, warm up the room with complementary lighter shades such as white and cream, or add a pop of color with brighter accent pieces like jewel-toned cabinets or accessories in rose gold. With cool gray tones, you can create a sophisticated and polished look that will last for years to come![1]
Greige
Greige is the perfect shade if you're looking to add a subtle chic touch to your kitchen.'s a blend of be and gray, giving it a yet modern look that pairs with other colors. To really make this shade pop, pair it with bright white accessories or bold pops of color. Greige is perfect for a minimalist look that's both simple and inviting.[1]
Natural Woods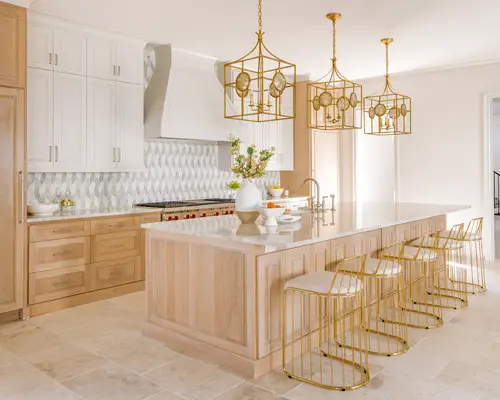 If you're looking for a way to incorporate non-white colors into your kitchen, wood is an excellent option to consider! Natural woods come in a variety of shades that go beyond the traditional white and can bring texture, depth, and warmth to any kitchen. Try light or dark stained woods on cabinets, islands, countertops, or even as flooring! For an even more unique look, consider adding reclaimed woods to your kitchen. Reclaimed wood is often found in antique stores and flea markets which gives it a rustic, one-of-a-kind look that will add character to any space.[1]
Grey With Wood Elements
Grey is a great base color to create a timeless kitchen. To brighten up the gray background, incorporate wood elements. Not only do they bring warmth and texture to the room, but they also soften the overall look of the kitchen. For example, add wooden countertops or butcher block island tops to give your space an inviting feel. Also, try adding wooden chairs and stools for a cozy seating space. To bring in more color, hang some beautiful artwork or even decorate with colorful accents like bowls and vases.[1]
Crimson
For a dramatic statement, crimson red is the way to go. It's bold and eye-catching, but be sure you accessorize with more subtle shades of color to avoid overwhelming your kitchen. Crimson red can be easily incorporated into tile backsplash or even cabinets if you want to give it an extra splash of drama.
Wallpaper is also a great way to add some major flair to your kitchen with crimson red accents. You can find wallpaper that has a very subtle pattern, or one in bright and bold colors. Opt for wallpapers with large patterns to make your kitchen feel larger than life![1]
Black
Black and white kitchens can provide a striking, timeless look for any home. The combination of contrasting colors creates a sophisticated atmosphere and can be easily adapted to any design style.
When it comes to modern kitchens, black and white takes on a more contemporary vibe. Consider introducing glossy surfaces for a sleek finish, or pairing dark colors with marble countertops for added depth and texture. If you're looking to make a bold statement in your kitchen, consider using high-gloss black cabinets that contrast with white walls and appliances.[1]
Black & Gold
A black and gold kitchen oozes elegance and style. The combination of the two colors creates an impactful look that adds glamor to any space. Black cabinetry is a great way to create a strong statement, while gold accents create a luxurious feel. To keep things interesting, add some textured materials like wood for warmth or glass for transparency.
To make the most of this color combination, consider the following tips:
Use matte black for your cabinets to add a modern touch
Incorporate gold accents in hardware or appliances to create a luxurious feel and tie everything together
Use shades of white for walls and floors to keep the look light and airy
Create a focal point with a feature wall in black and gold
Think of ways to add texture through materials like wood, glass or metal for added depth.[1]
Beautiful Brown Finish
For those of you who want to go with a warm, earthy look for your kitchen, consider going with a brown finish. While the standard white kitchen is still popular, adding some color can really add another dimension to your design. Brown finishes are not only aesthetically pleasing but also create an inviting atmosphere that encourages guests to linger and enjoy the space.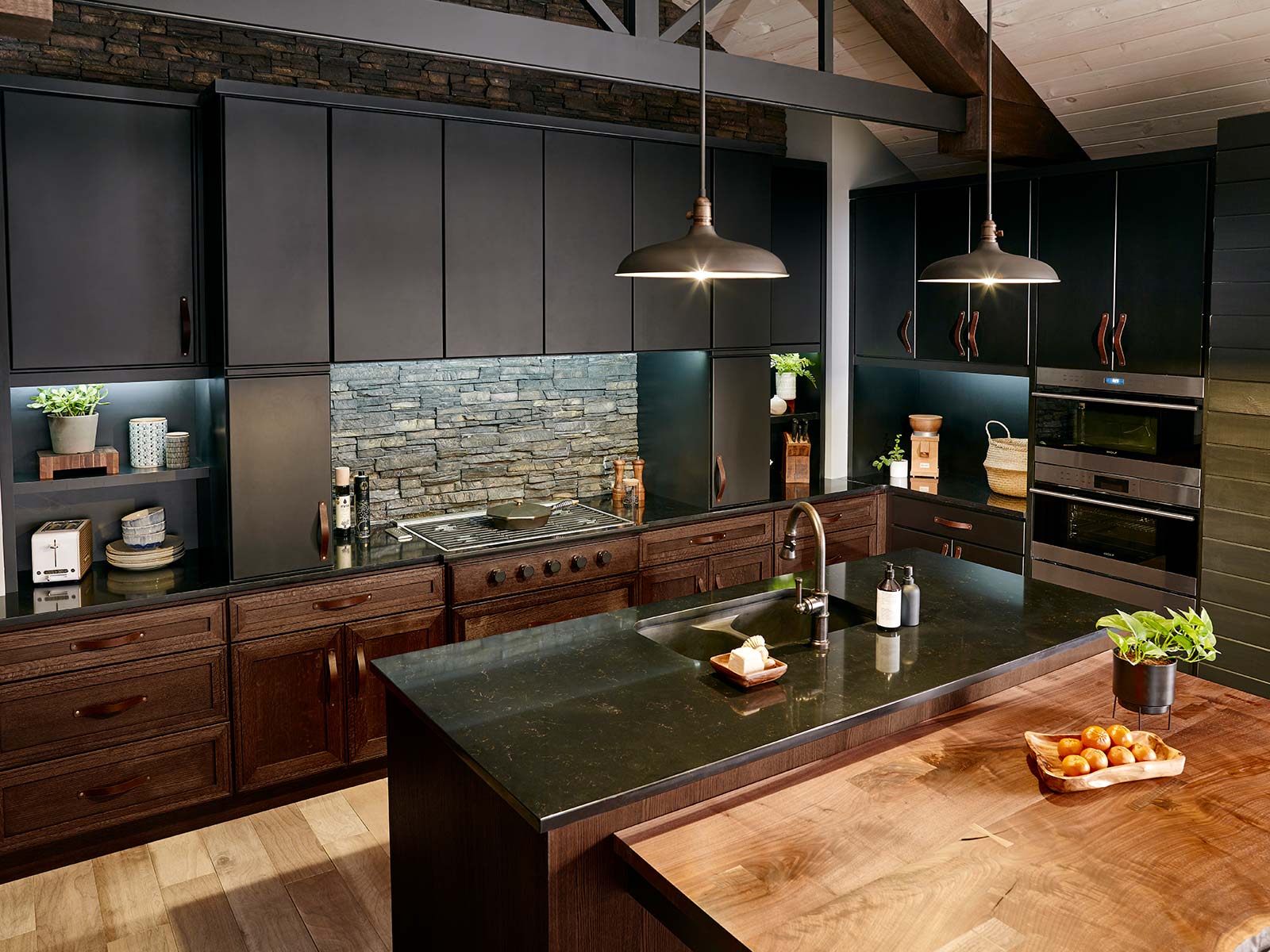 When working with a brown finish, consider using darker shades such as mahogany, ebony, and walnut to create a rich look that is sure to stand out. You can also add accents of lighter and brighter colors for added contrast and interest. Try adding pops of color like bright blue or green tiles or bold metallic accents to break up the solid color and bring in some personality.[1]
Bold Blue
Adding a bold blue to your kitchen is a great way to add some pizzazz. Whether you choose to go all-out and paint the walls, or just use blue as an accent color in the accessories, it will do wonders for your space. You could create a statement wall with navy tiles or paint, then bring in pops of blue through your countertop, decor, and appliances. If you're feeling daring, you could even choose to create a two-tone kitchen with bright blues and whites or contrasting navy and white cabinets. Whatever option you choose, you'll be sure to turn heads with a bold blue kitchen![1]
Graceful Gray
If you're looking for a classic way to give your kitchen a subtle, yet chic upgrade, consider introducing some elegant gray into the mix. Gray is associated with sophistication and class, and can be used as an accent wall or incorporated into cabinets or appliances. To keep things light and airy, try pairing the gray with white elements like white countertops and backsplash tiles. To make things really stand out, choose a bolder shade of gray and add contrasting accents like brass fixtures or bright yellow kitchen accessories. Gray is versatile enough to fit almost any style and can be used to create a sleek modern look or a cozy traditional atmosphere.[1]
Olive-Tan
Olive-Tan is a great color for a non-white kitchen. This hue offers warmth and sophistication to your space, while still remaining light enough not to overwhelm the room. When it comes to choosing materials, opt for light wood cabinets and bronze fixtures to pair with the olive-tan walls. To complete the look, add some earthy green accents like a small potted plant, or large patterned tiles. The key to this color scheme is keeping it light and airy while still making a statement.[1]
Distressed Blue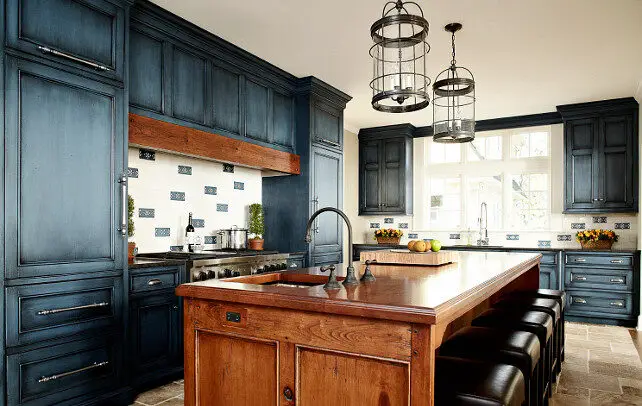 If you're looking for a classic non-white kitchen look, distressed blue is the way to go! Not only does this provide a timeless style, but it also adds an element of rustic charm that many find appealing. Distressed blue cabinets are easy to create with some basic woodworking skills or through cabinetry manufacturers who offer custom pieces. You can also find a variety of distressed blue paint colors available to create an even more unique look. To complete the look, just add white trim and accessories such as a glass-front refrigerator and pot rack. For an added touch, use mismatched chairs with this color scheme for an eclectic feel.[1]
Blushing Rose
Rose colored cabinets are an excellent way to bring a dreamy and romantic atmosphere into your kitchen. Not only do they look soft and luxurious, but they also add depth, texture and subtle color to the space. You can choose from pastel pinks or richer, more robust shades. Team up rose-colored cabinetry with white countertops and walls for a truly stunning look. To make it even warmer, add gold or copper-toned accents to the room. This will create a truly unique non-white kitchen that is sure to impress your guests![1]
FAQ
How do I make my kitchen not white?
When it comes to making your kitchen not white, there are several options available. Consider painting walls in a different color or adding an accent wall with wallpaper or tile. You can also consider replacing old white cabinets and countertops with wood or dark-colored stone. Lastly, splashbacks and accessories like a rug, dishes, cookware, lighting fixtures, and textiles can also be used to instantly refresh your kitchen.
Should kitchens be white, yes or no?
This is a personal choice and it depends on your style preference. While white kitchens have their own charm, non-white kitchens can create a more unique and visually interesting look. So if you want to make your kitchen stand out, consider going for something other than white.
Are off-white kitchens in style?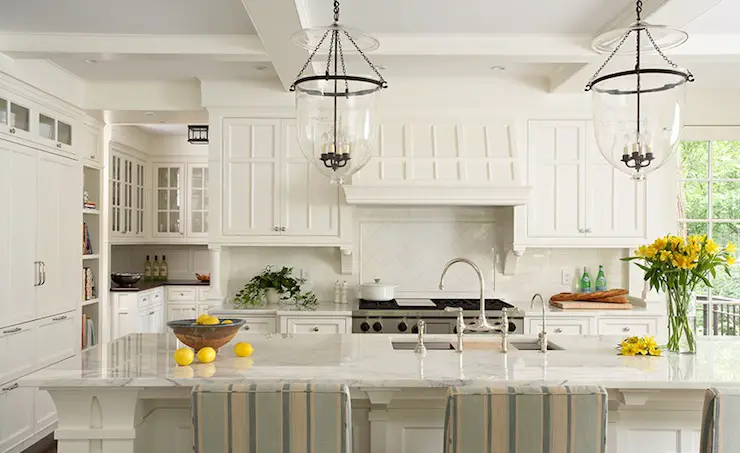 Yes, off-white kitchens are definitely in style. Natural and warm colors such as cream, beige, ivory, greyish taupe, and dove gray can create a cozy atmosphere while still providing a subtle contrast to the rest of your decor. Plus, these colors have great neutral appeal that won't overpower any accent colors you may have in your kitchen.
What Colour suits a white kitchen?
If you're looking to add a bit of color and contrast to your white kitchen, consider shades such as muted blues, sage greens, soft pinks, or even black. These colors can be used in paint or accessories like lighting fixtures, artworks, dishes, cookware, and textiles. Woven baskets and plants are also an easy way to add texture and color to your kitchen.
How do I choose a kitchen color?
When choosing a kitchen color, take into consideration the overall look and feel you want to create.
Consider the size of your kitchen as well as its natural light. Darker colors will make a small space seem smaller, whereas lighter colors can brighten up a room. If you're going for a more dramatic look, choose bold colors like navy or dark green. Otherwise, lighter colors like pastels and neutrals can create a softer and more inviting atmosphere.
Additionally, try to pick colors that will coordinate with the existing decor in your kitchen.
Is the all-white kitchen too white?
It depends on your preference. An all-white kitchen can look sleek and modern, but some people may find it too stark and sterile. If you want to take the traditional route with a white kitchen but still add some color, consider introducing warm wood tones or black accents for contrast.
Additionally, patterned tiles and wallpapers are also great options for creating a more inviting and unique look.
Why is everyone doing white kitchens?
White kitchens have become increasingly popular in recent years because they are classic and timeless. Plus, white is a neutral color that complements any design style from traditional to contemporary. Additionally, white kitchens can make a small space seem larger and help to reflect natural light. Lastly, white kitchens are relatively inexpensive and easy to maintain due to their simple color palette.
Are off-white kitchens popular?
Yes, off-white kitchens are becoming more and more popular. Off-whites offer a softer alternative to stark white while still providing a neutral backdrop for other colors. Plus, these warm tones can create a cozy atmosphere that is perfect for family gatherings or entertaining. Additionally, off-white kitchens can be easily accessorized with color to create a unique look.
Useful Video: BEST NON-WHITE KITCHEN DESIGNS
Conclusion
When it comes to non-white kitchen ideas, there are plenty of options available to you. From rustic to modern, there's something for everyone. The key is finding the right elements that bring out the beauty of your kitchen and work with your lifestyle. If you're looking to make a statement in your home, a non-white kitchen design may be the way to go.
Remember, when it comes to any type of remodel or renovation, planning ahead is essential for success. Take into account your budget and timeframe before committing to a new look for your kitchen. With the right elements, you can create a stunning and timeless kitchen that will turn heads for years to come. Good luck!
---
References
https://www.seapointe.com/stylish-non-white-kitchens/