Creating a stylish and functional kitchen bench doesn't have to be complicated. With the right design, you can get the perfect kitchen bench that suits your needs. In this article, we'll take a look at some of the most popular ideas for kitchen benches, as well as answer some frequently asked questions about them. We'll also provide helpful tips to make sure your kitchen bench is both beautiful and practical.
Colorful Storage Banquette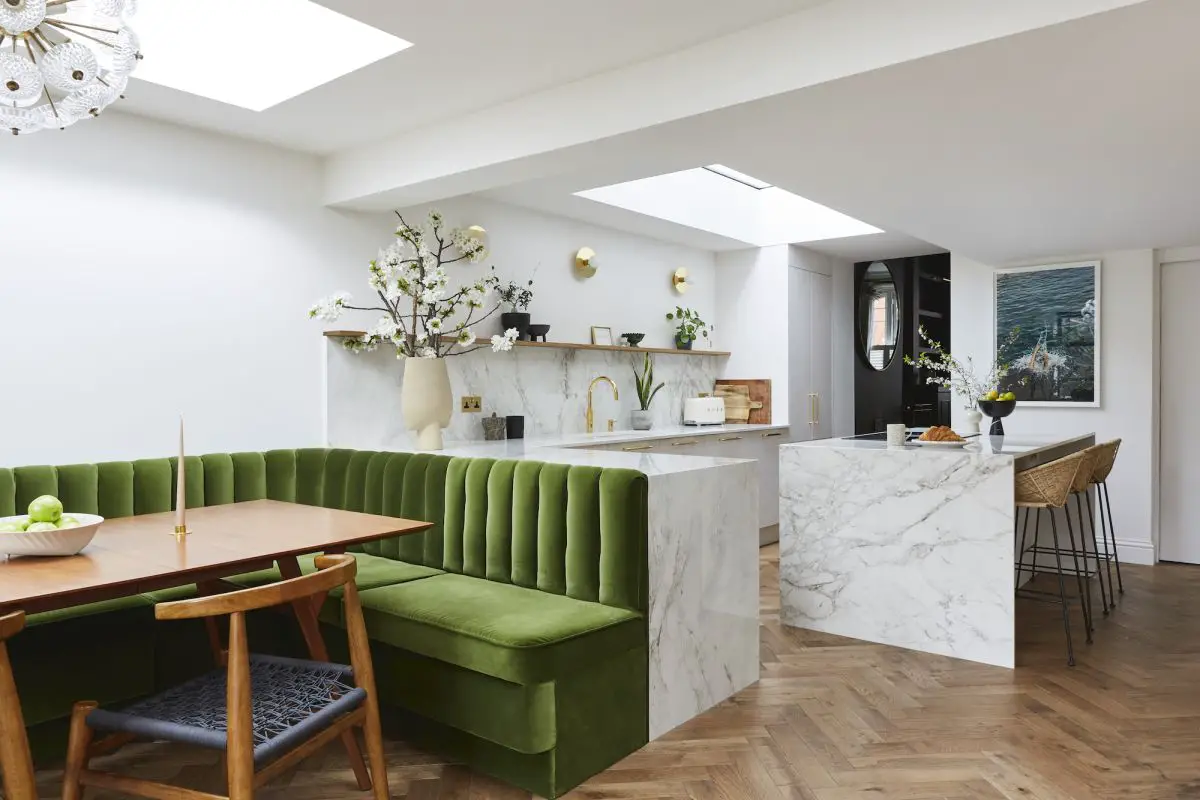 One of the most popular kitchen bench ideas is to add a colorful storage banquette. This type of bench will give you extra space for storing kitchen items, while also adding a bright and cheerful look to your room. To make it even more functional, you can include built-in drawers beneath the seat or fit wheels underneath so that you can easily move it around.[1]
Easy-Access Banquette Storage
A great way to get the most out of your kitchen bench is to use it for storage. Banquette seating (built-in U-shaped benches that fit a table) can be a great solution for kitchens with limited space.
The drawers and cabinets underneath provide handy storage for everything from cookware and utensils to pantry items and more.
It's also a great way to make the most of your bench space – you can store all your kitchen essentials within easy reach and still have plenty of seating for family and guests. Banquettes also come in a variety of styles, so you're sure to find one that fits with the overall look of your kitchen.[1]
L-Shaped Storage Banquette
Create a stylish and functional alternative to the traditional kitchen bench with an L-shaped storage banquette. This type of kitchen seating provides extra dining space, as well as additional storage beneath the seat cushions. To make this style of seating comfortable and inviting, use quality upholstery fabric for the cushions and choose a soft color palette.
You can also add interesting details, like contrast piping or button tufting, to the cushion covers for extra visual appeal. Add some decorative throw pillows in coordinating colors and patterns to complete the look.
To make sure your new banquette fits into the space perfectly, take precise measurements of the area where it will be placed before you start shopping.
When it comes to storage, consider adding built-in drawers or cabinets beneath the seating area for easy access to kitchen essentials. You can also store items such as table linens or cookbooks in fabric bins that can be tucked away beneath the bench cushions and retrieved when needed.[2]
Elegant Banquette Seating with Storage
For a more classic, elegant option, try out banquette seating. Banquettes provide cozy seating without sacrificing too much space in your kitchen. Many people opt to build in storage underneath the benches for extra practicality. This type of bench is great if you like to entertain guests, as the built-in look adds some sophistication and style to the room. It's also a great option if you have kids, because they can use the benches as extra seating at meal times and when they have friends over.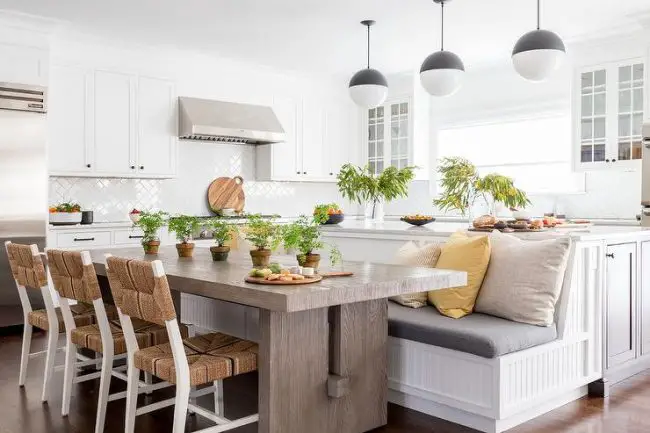 Built-In Bench with Storage
A built-in kitchen bench is a great way to add seating and storage to your kitchen. This type of bench typically attaches to the wall, providing additional seating in an area that may otherwise be wasted space. It can also provide extra storage with drawers or shelves built into the design.
Built-in benches can be made from many different materials, such as wood, metal, or stone.
Additionally, you can customize the size and shape of the bench to suit your space.[2]
Small Kitchen Banquette with Storage
One of the most popular kitchen bench ideas is a small banquette with storage. This type of setup provides additional seating for meals or gatherings, as well as storage for everything from tableware to cookbooks. Banquettes are great because they don't take up too much room and can be customized to fit your space and style.
When choosing a banquette, consider how much storage space you'll need. Many include shelves and drawers underneath the seat as well as open cubbies along the sides or back. You can also opt for built-in wine racks, towel rods, and other accessories to truly make it your own.[2]
Freestanding Banquette Bench
A freestanding banquette bench is perfect for those who want maximum comfort and style in the kitchen. This type of bench typically comes with a fully-upholstered seat that provides ample support and cushioning and can easily be adjusted to fit different heights or sizes. Freestanding banquettes are also great for storing items such as cookbooks or other kitchen supplies. For those who prefer a more traditional look and feel, they can also be an attractive addition to the kitchen.[2]
Compact Banquette Storage
If space is at a premium in your kitchen, installing a compact banquette bench can be the perfect way to maximize storage and seating options. These benches are designed to fit into small corners or alcoves, allowing you to make use of dead spaces that would otherwise go wasted.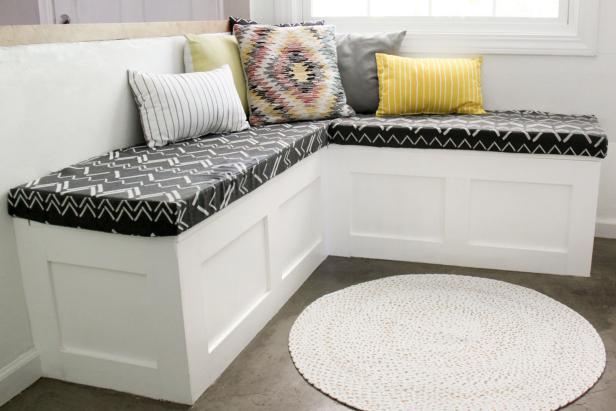 Compact banquette benches usually come with storage options, such as drawers, shelves or cupboards. This allows you to store cookware, dinnerware and other kitchen items conveniently right at your fingertips.
When selecting a compact banquette bench for your kitchen, make sure it fits properly in the space available. Measure twice; buy once! It's also important to ensure the bench is level and safe. An unbalanced banquette can lead to spills and accidents.[1]
Custom Banquette Seating with Storage
Banquette seating with storage is an excellent way to add extra seating in your kitchen, while also providing extra storage space. This type of bench can be built into the wall or against a window and provide both comfort and style. When designing your custom banquette, decide on the size based on the size of your kitchen and consider how much storage space you'll need. You can customize the storage area to include drawers, shelves and cubbies or even a mini fridge.
Wood Banquette Design
A wood banquette is one of the most popular kitchen bench ideas. It offers a great design solution, as it can be used to create extra seating or provide an area for food preparation. A wood banquette is also very customizable and comes in a variety of styles and finishes. You can choose from different types of woods such as oak, maple, cherry and walnut. Banquettes can also be built in a variety of shapes such as rectangular and curved.
When considering a wood banquette design for your kitchen, consider the size of the space you have available. If you are tight on space then you may want to opt for a more compact design that will not take up too much space. You may also want to consider how comfortable the banquette will be for your guests, as some woods can be quite hard on the feet.[1]
Hinged Storage Seating
Hinged storage seating is a great way to make the most of your kitchen space and provide additional seating for guests. This type of bench typically has two seats that lift up, revealing a large storage area beneath them. This can be used to store food items, utensils, or even table linens.
This style of bench is perfect for those who want to keep their kitchen neat and organized while still having plenty of seating space available. Plus, they're easy to install and won't take up too much floor space. If you have limited kitchen counter space, hinged storage seating is the way to go![1]
Have a booth built into a small kitchen
If you have a small kitchen, installing a booth bench is an ideal way to make the most of your space. Not only will it provide extra seating when entertaining but it can also be used as a convenient spot for meal preparation and socializing with family members or friends. With some clever design ideas, you can create the perfect setup that fits your kitchen perfectly.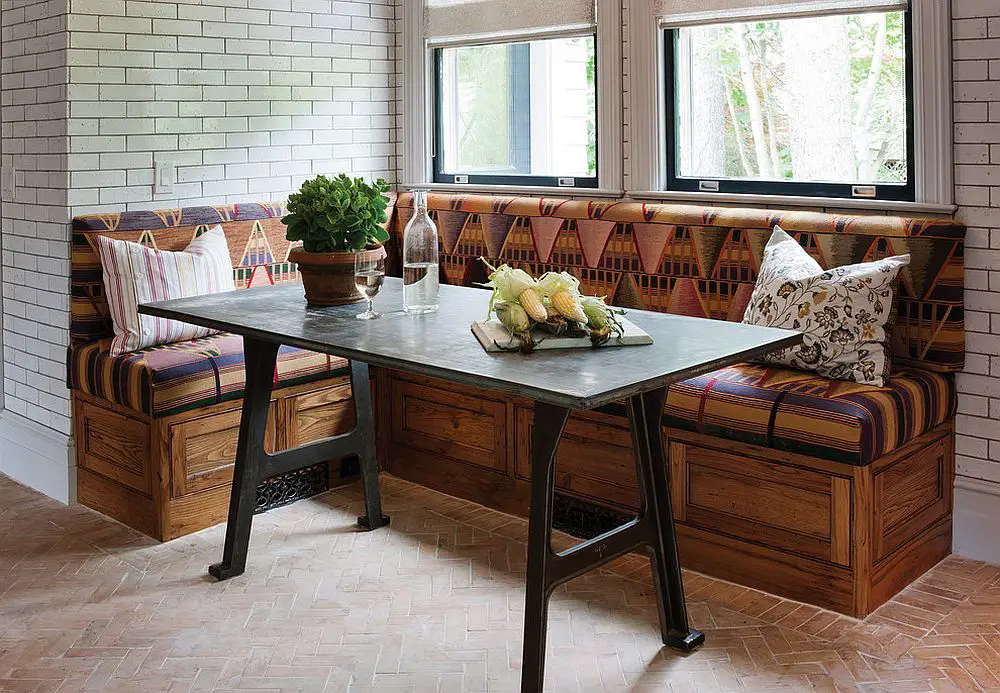 To start, you'll want to decide on the size and shape of your booth bench. If space is limited, consider a corner booth that can easily be placed in unused corners or around pillars. Otherwise, a straight-lined design will give more seating options and provide easier access from all sides. Think about how many people you want to seat at the bench and what style of seating would best suit your kitchen.[1]
Utilize a large kitchen island for seating
A kitchen island can be a great way to add seating as well as additional counter space. It provides an area for family and friends to gather while you're preparing meals for entertaining. Depending on the size of your kitchen, you may be able to fit multiple chairs around the island or opt for a long bench-style seat that runs along one side. This is a great way to add extra seating without taking up too much space. Consider installing bar stools with comfortable back support, so that guests can stay for a while and chat while you work in the kitchen. For added storage, consider adding shelves or cabinets underneath the island bench seat.[1]
Pull up a dining chair
When seating is limited, it can be tricky to fit everyone in for meals. But by positioning a dining chair at the end of your kitchen bench, you can make room for one more person. Your guests will appreciate the extra space and, if you choose an interesting or vintage chair, it will also add a touch of character to your kitchen.[1]
Make The Most Of An Open-Plan Space
Open-plan spaces are a great way to bring the different areas of your home together. However, what if you don't want to sacrifice having a separate kitchen? Enter: the versatile kitchen bench.
Kitchen benches offer so much potential in an open space. Not only do they provide extra seating for when you have guests, but they also serve as a breakfast bar or additional workspace.
Depending on the size of your kitchen, you can use benches to create an eat-in dining area by adding a couple of chairs that complement the bench. Alternatively, try using the bench to section off the kitchen from other living spaces in an open-plan area.
The great thing about kitchen benches is that they come in all shapes, sizes and materials, so you can choose something to fit your style and space needs perfectly. Whether you're looking for a classic wood bench or an industrial-style stainless steel one, there are plenty of options to choose from![1]
Extend Into The Side Return – To Create Banquette Seating
If you have a side return to your kitchen, then why not extend the bench seating into it? This creates banquette seating and gives you more space to enjoy. You can add cushions and layered throw pillows for comfort and style. Plus, if you have extra friends or family over for dinner, this is one of the most comfortable seating available. It also makes your kitchen appear larger, since the banquette virtually extends the room outward.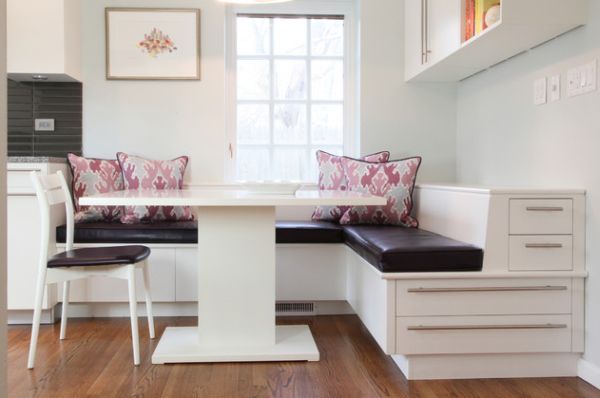 You can match your bench seating to the kitchen's overall design, such as using wood for a rustic look or selecting sleek marble for a contemporary feel. You can even use benches with drawers and storage beneath to free up extra space in your kitchen.
With a bit of creativity and the right materials, you can create an amazing banquette seating area that's both stylish and practical. It can be a great addition to any kitchen![1]
Increase The Functionality Of A Kitchen Island
Kitchen islands are a great way to increase storage, seating and workspace in the kitchen. Adding an island bench is an even better way to maximize your space. Island benches offer additional seating for family meals, extra countertop area for preparing food items and a place to store utensils and other cooking supplies. They also make a great statement piece in the room, often acting as a focal point.
There are many creative ways to incorporate an island bench into your kitchen design. If you have limited space, opt for one with wheels or casters to move around when needed. If you're looking for something more permanent, consider adding an L-shaped bench to one side of the island, giving you extra workspace and storage space. For a more traditional look, opt for a freestanding island with seating on both sides.[2]
Define Your Seating Area
One of the most important considerations when planning a kitchen bench area is defining the seating space. You need to decide how much room you have available, depending on your space and furniture layout. Measure the area and make sure there's enough room for people to sit comfortably without overcrowding the kitchen or blocking any other areas of it.
Choose furniture pieces that offer clever storage solutions while also adding visual interest. A breakfast bar table with shelves or drawers underneath could be the perfect choice for keeping items close at hand, while also providing a comfortable spot to eat. [2]
Incorporate Integrated Seating Into A Kitchen
One of the most popular types of kitchen bench ideas is to incorporate integrated seating into a kitchen bench. This type of bench allows for multiple people to comfortably sit and enjoy meals in the kitchen together. It also offers plenty of storage space underneath for cookware, dinnerware, and other items.
Integrated seating can come in several different styles, such as built-in benches or island seating. Built-in benches can either be placed along the wall or in a corner. Island seating is perfect for larger kitchens and requires extra space for multiple people to sit around the kitchen island comfortably.[2]
Invest In Space-Saving Bench Seating
When it comes to kitchen bench ideas, one of the most popular options is investing in space-saving bench seating. This type of seating offers many benefits, such as being able to fit into areas with limited space while also providing plenty of seating for family and friends. In addition, these benches can offer a great deal of flexibility when it comes to creating the perfect seating arrangement for your kitchen.
For those with limited space and a need for custom benches, there are plenty of options available.
For instance, many companies now offer custom-made benches that can be built from a variety of materials, including wood, laminate, metal, and even stone. These benches are also available in a range of sizes, making it easy to find the perfect fit for your kitchen.
When it comes to materials, wood is probably one of the best options when it comes to kitchen bench ideas. Not only is it durable and attractive, but it also provides plenty of support while still looking sleek and stylish.[2]
Opt For Booth Or Banquette Seating
Booth or banquette seating is a great alternative to traditional kitchen benches and adds a sense of luxury. These types of seating are perfect for those who entertain guests often and want to add a unique touch to the room. They can also be quite comfortable, with plush cushions and plenty of space for everyone to sit. You can even customize the upholstery to match your kitchen décor.
However, keep in mind that booth or banquette seating is more expensive than traditional benches and may require professional installation. Therefore, it's important to consider your budget before making a decision.[2]
How Do You Add Seating To A Small Kitchen?
Adding seating to a small kitchen can be tricky, but there are several options that can make it happen. A common solution is to add an island with bar stools.
This allows you to have a center area for cooking and dining, while also adding more seating space. Another option is to use banquette seating, which takes up less space. Banquette seating can add interest to an otherwise plain kitchen and provide more seating for guests.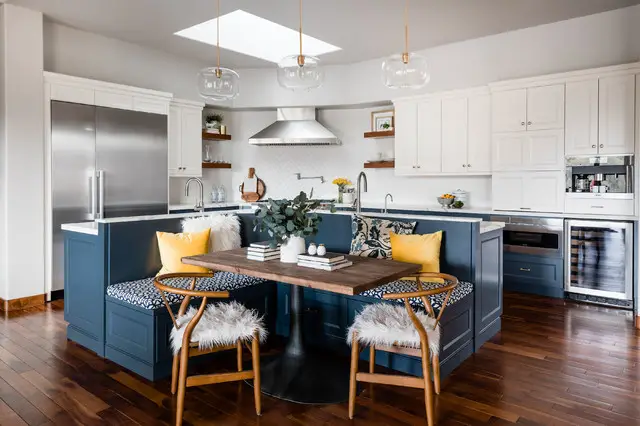 Finally, if space permits, you may want to consider adding a bench to your kitchen. This can be a great way to maximize the use of available space and make it easier for your family or guests to socialize while eating in the kitchen.[2]
FAQ
What can I use for a kitchen bench?
When it comes to kitchen benches, there are many different types of materials that can be used. The common material is wood, which is often used for countertops and, as well as for floor. Other popular options include stone, metal, concrete, steel and glass. Depending on style preferences and budget, you may even choose to combine several materials. For instance, you can install a granite countertop with a stainless steel frame or a glass top and an engineered wood floor.
What is the trend for kitchen benchtops?
The trend in kitchen benchtops is to choose materials that are both functional and stylish. Natural stone tops like granite and quartzite are becoming increasingly popular due to their durability, easy maintenance, and attractive look. For a more modern vibe, metal surfaces such as stainless steel or aluminum can make quite an impact. Glass countertops have also become popular, as they offer a sleek and sophisticated look.
What is the cheapest kitchen benchtop material?
The cheapest material for kitchen benches is laminate, which is also one of the easiest to install.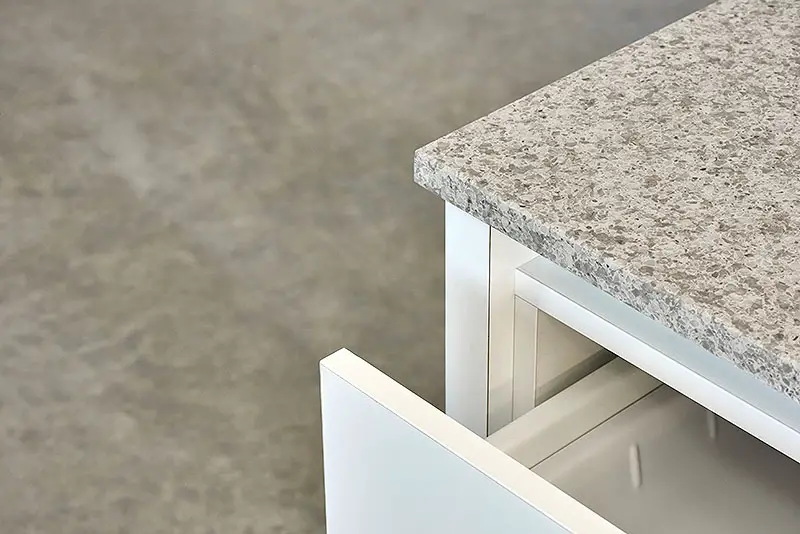 Laminate is available in a wide variety of colors and patterns, making it an affordable option with plenty of design potential. It's also easy to clean and maintain, making it a great choice for families who want to keep their kitchen looking its best. Additionally, laminates are often scratch and heat resistant, making them ideal for busy households.
What is the most versatile kitchen benchtop?
The most versatile kitchen benchtop is probably granite. Granite can come in a wide range of colors and textures, making it suitable for any style. It is also extremely durable and heat resistant, so it can easily handle the wear-and-tear of busy households. Additionally, granite countertops are low maintenance as they require minimal sealing and cleaning.
What is the most practical countertop?
The most practical countertop for a kitchen is probably stainless steel. Stainless steel is non-porous and heat resistant, making it easy to clean and disinfect. It's also scratch-resistant, so it can withstand the wear and tear of everyday use.
Additionally, stainless steel requires minimal maintenance as it doesn't need to be resealed or waxed. Stainless steel countertops are also incredibly stylish, so they can add a modern look to any kitchen.
What countertops make a kitchen look bigger?
Light-colored countertops such as marble, quartz, and laminate can make a kitchen look bigger. These materials reflect light well, creating an illusion of space. Additionally, sleek surfaces like metal or glass will also help to open up the area. Consider combining these materials with white cabinets and lighter colors on the walls for maximum effect.
Useful Video: What's the best kitchen benchtop for you?
Conclusion
So there you have it – kitchen bench ideas to help you create the perfect space in your home.
Whether you're looking for something more traditional or a bit of modernity, these ideas will give you plenty of inspiration when it comes to planning and styling your kitchen bench. Remember that while benches offer extra seating and storage, they also play an important role in setting the mood of your kitchen. With the right materials, style and accents, you can create a space that is both functional and aesthetically pleasing.
If you still need help deciding on the ideal bench for your kitchen, consider talking to an interior designer who will be able to offer expert advice and make sure your design fits your space perfectly. And of course, don't forget to have fun while you do it! Enjoy creating the perfect kitchen bench for your home. Happy designing!
---
References
https://www.homesandgardens.com/ideas/kitchen-seating-ideas
https://www.bhg.com/kitchen/eat-in-kitchen/banquette-bench-storage/