Barndominiums have become increasingly popular in recent years. They are a unique way to combine the traditional characteristics of barns with modern amenities, such as kitchen facilities and other home features. If you're looking for Barndominium Kitchen Ideas, then look no further! We've compiled some of the best design tips and tricks to help you create a kitchen that will be the envy of your neighbors. From choosing the right appliances, to utilizing space-saving techniques and ideas, this guide will ensure that your barndo is outfitted with a kitchen that's perfect for both formal and informal gatherings.
Raw Wood and Stone
One of the most popular ideas for a barndominium kitchen is to use natural elements such as raw wood and stone accents. This will add an earthy, rustic vibe to your space that can't be replicated with other materials. Not only does this approach look great, but it also adds subtle warmth and texture that you can't get with modern materials. For a unique touch, add some hammered copper or tin backsplashes and fixtures. The combination of natural elements and metals will give your kitchen an old-world charm that your guests won't soon forget.[1]
Wood-covered Ceilings
Wood-covered ceilings are a common feature of barndominium kitchens. They provide a rustic, yet luxurious feel that can be accentuated with lighting or even antique chandeliers. The exposed beams and trusses of the barn structure add character to the space and create a cozy atmosphere.
Wood-covered ceilings also help to keep sound levels low, making the kitchen a quieter and more comfortable place to prepare meals.
When it comes to choosing wood for your barndominium ceiling, there are several options available. Reclaimed wood, such as barnwood from an old farmhouse or even pallet wood is a popular choice due to its rustic charm and affordability. Alternatively, you could opt for new wood in a variety of colors and finishes, such as cherry or mahogany.[1]
Ware-House look
Bring the industrial style of a warehouse into your home with an open shelving option for your Barndominium kitchen. The exposed shelves could be used as storage for frequently used items, like pots and pans, that are easy to grab when needed. You can also hang a few metal racks from the ceiling which will add a little extra character to your space.
Plus, you can use them to store items or decorate with plants and other objects that will bring life into the kitchen.[1]
Stainless Steel Barndominium Kitchen
Stainless steel appliances are the perfect choice for a barndominium kitchen. Not only do they look sleek and sophisticated, but they're also extremely durable and resistant to damage caused by heat, water and daily use. Plus, stainless steel gives your barndominium kitchen an industrial-chic vibe that will definitely turn heads.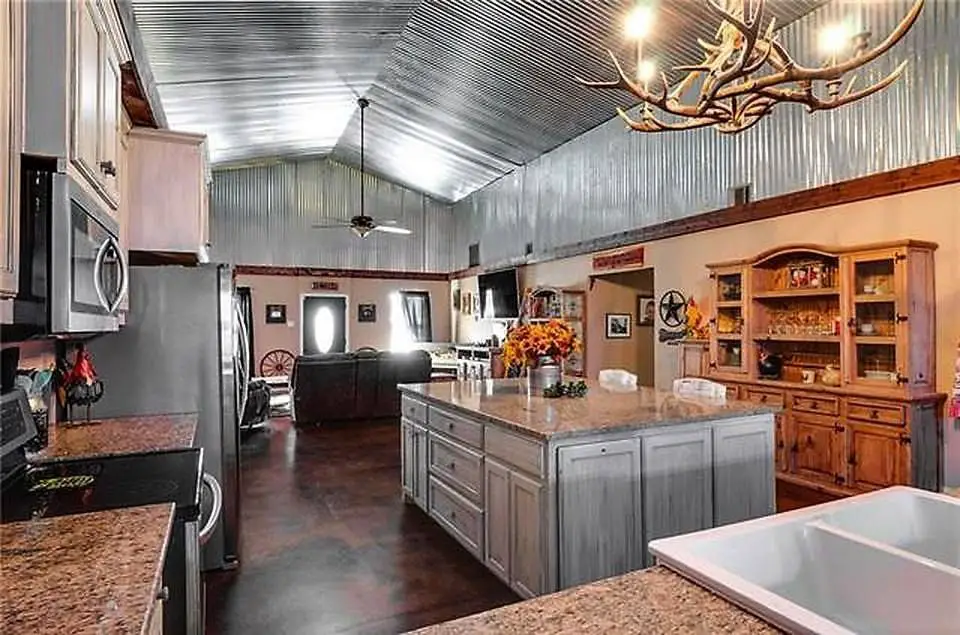 When furnishing your barndominium kitchen with stainless steel appliances, make sure to go for quality over quantity. Not all stainless steel is created equal, so it's important to invest in high-quality stainless steel pieces that won't rust or damage easily.
The best way to do this is by researching various brands and models before making a final decision.
To complete the look, opt for stainless steel accessories such as cookware, dish racks, garbage cans, and countertop organizers. You can also go for metallic accents like wall panels, pendant lights, and cabinet hardware to pull everything together.[1]
Outdoor Kitchen Goals
Having an outdoor kitchen in your Barndominium is a great way to get the most out of your space.
But first, it's important to come up with realistic goals for your outdoor kitchen. By setting expectations, you can focus on the features that are most important to you and ensure that these will be included in your design.
The most basic goals of an outdoor kitchen should include safety and convenience. For example, make sure the area is well lit and food-safe – this means it mustn't be near any open flames!
Additionally, it's important to choose a spot that has easy access to utility hook-ups and/or water supply.[1]
Open Shelving in a Barn
Open shelving can be a great way to showcase your kitchen items and keep them within easy reach. Not only does open shelving make it easier to find what you need, but it also gives the room an airy feeling and is a great way to add visual interest. Whether you are going for a modern farmhouse look or something more industrial, open shelving can help bring together the feel of your kitchen.
When choosing shelves for your barn kitchen, be sure to think about the material and color you want.
And don't be afraid to mix and match materials with different colors—this will add depth to your overall look.[1]
Inject Greenery to your Barndominium
Adding greenery to your kitchen is a great way to bring life and a touch of nature into your home.
You can opt for real plants, as well as faux options that are easier to maintain. Try to think outside the box when it comes to incorporating plants – you can hang them from the ceiling, set them on shelves or counters, and even create a mini indoor garden wall.
Greenery is also great for improving air quality in the kitchen, as well as providing a calming atmosphere while you cook.[1]
Task Lighting in a Barndominium
When designing or remodeling a kitchen in a Barndominium, one important element to consider is task lighting. Task lighting helps you achieve even illumination when cooking and other tasks that involve precision. This type of lighting should be bright enough to reduce shadows without being too intense. The most common option for achieving this is by using adjustable recessed lights that you can adjust to get the perfect lighting. You could also opt for light fixtures over the stove, sink and work surfaces.
When installing task lighting, make sure to place the lights within reach of the cook's counter so they are easily adjustable. It is also important to install dimmers or other controls to allow for varied intensity throughout the day. The best spot for this type of lighting is in the ceiling, as it will provide a uniform spread of light over the kitchen. In addition to installing dimmers and other controls, you can also choose LED lights for energy efficiency and better longevity.[1]
Colorful Backsplash with Ceiling light
Adding a colorful backsplash to your Barndominium kitchen is an easy way to brighten up the area and add texture. You can also opt for light colored furring strips above cabinets that help bounce the light from your ceiling lights throughout the room. This will bring a beautiful, modern look to your kitchen while adding some extra brightness. You can also use LED lights above the cabinets to create a dramatic lighting effect.[1]
Log walls and Skirt
Log walls and skirtings can be a great way to add rustic charm to your barndominium kitchen. They provide an easy, low-maintenance solution while also creating an inviting atmosphere. Here are some tips to help you make the most of this design element:
Choose logs or logs with bark for a more rustic look. Logs without bark will give your kitchen a more modern feel.
Consider using natural-looking finishes on the logs to enhance their rustic appearance. A dark stain or white wash can bring out the details of the wood grain while giving it an aged, weathered look.
Use logs with varying widths to create an interesting texture and dimension.
Consider adding a skirt around the wall for a traditional log look. This can give the kitchen a cozy, cabin-like feel.
Install lighting fixtures or other accents into the log walls to add more character and depth to your design.[1]
Spanish Style Barndominium
If you are looking for an interesting and unique style to incorporate into your Barndominium kitchen, Spanish-style decor may be the perfect option. This bright and colorful look is sure to draw attention and make a lasting impression. You can add an authentic touch with painted tiles, wrought iron accents, brightly colored pottery, and rustic furniture pieces.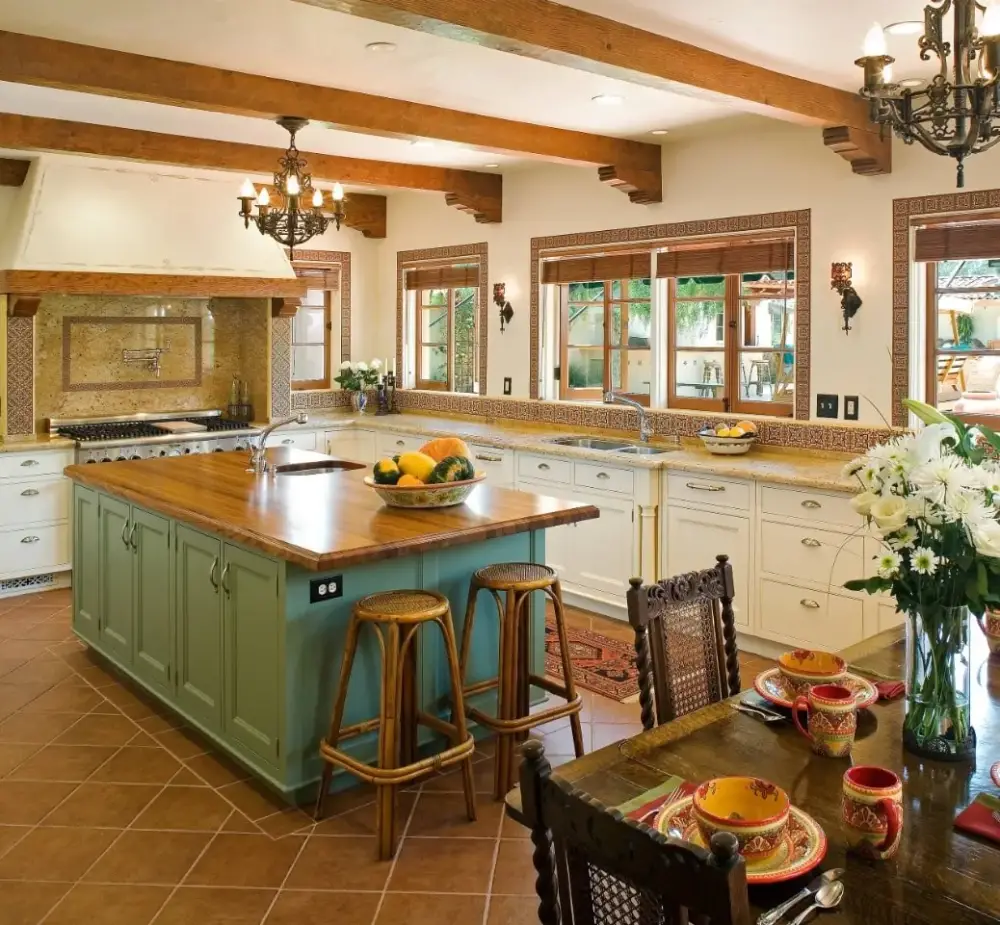 You can also incorporate Spanish-style accents into your kitchen, such as a wrought iron chandelier or an ornate tile backsplash. To complete the look, accessorize with brightly colored curtains and rugs. With some creative thinking, you can give your Barndominium kitchen a unique Spanish flair![1]
Weathered and Cozy Barndominium Kitchen
When it comes to creating a warm and inviting kitchen in your barndominium, the design possibilities are endless. Rustic, cozy kitchens give your home a stylish yet relaxed atmosphere that encourages family gatherings, conversation and culinary adventures. Whether you're looking for a complete overhaul or some minor tweaks, here are some of the best ideas for creating the perfect barndominium kitchen.[1]
Retro Ship with Pine Walls
If you're looking for a retro ship-style kitchen, pine walls are the way to go. Put up some tongue-and-groove boards on the walls, and use a deep dark stain to create an old ship setting. Or if you want something lighter, paint your pine walls in white to give it a classic farmhouse look. Add some pewter knobs to your cabinets and finish it off with industrial-style light fixtures for a unique barndominium kitchen design.
For the flooring, use glazed ceramic tiles that are gray or beige in color. This will give the kitchen a nautical feel that looks great with the wood walls. You can also go for a more modern look by using laminate flooring.
The countertops should be made from glossy white marble to complete the retro ship design. To give it that old-fashioned touch, add some open shelves on one side of the wall and line them with vintage items or kitchenware.[1]
Exposed beams and Glass doors
Exposed beams and glass doors add a warm rustic charm to your Barndominium kitchen that is sure to be the envy of all your friends. Exposed beams will bring warmth and character to your space, while glass doors allow natural light to flood in, creating an open and inviting atmosphere. Glass doors also provide easy access to outdoor spaces, perfect for entertaining friends and family. For those who prefer a more modern aesthetic, exposed beams can be painted or stained to match the rest of your decor.[1]
Salvage Kitchen Woods
One of the most popular trends in Barndominium kitchens is to use salvaged woods, reclaimed materials, and vintage elements. This is a great way to give your kitchen an authentically rustic look that will have all your dinner guests talking!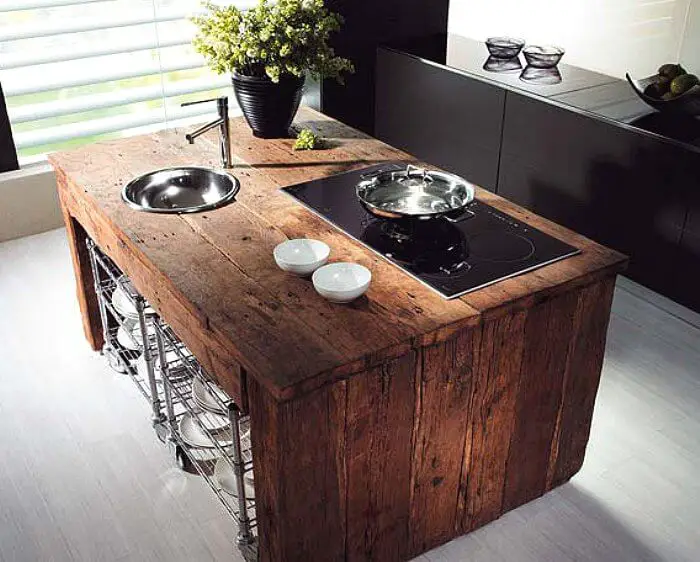 Using salvaged wood for countertops, floors, walls, or furniture adds character to the room and is a great way to give your kitchen an eco-friendly edge. Plus, you can usually find salvaged wood in unique patterns that would be hard to replicate with newly purchased materials.
Classic Barn Beams
A classic barn look has to include wood beams! This is an easy choice when it comes to Barndominium kitchen ideas as you can use reclaimed wood and repurpose it into something completely new. Exposed wooden beams can be used to create a warm, homey atmosphere in your barndominium kitchen that will make it feel like a cozy, rustic escape.
You can even combine wood with metal for a unique look that is sure to be eye-catching and timeless. Additionally, you can use the beams to hang anything from lights to hanging pots and pans which adds a nice touch of color and style.[1]
Throw a Ladder and Runner
The ladder and runner combination is a classic barndominium kitchen look. Ladder are great for storing bulk items while runners add an extra layer of warmth to any room. Plus, they give you the opportunity to showcase your favorite dishes and mugs in an interesting way! When designing your kitchen with this combination, choose a ladder that has plenty of storage space and is easy to access. Then, add a runner that will compliment the colors of your kitchen and tie the look together.
For extra style, use patterned or hand-woven runners in bright hues to bring an unexpected twist to your barndominium kitchen.[1]
Repurpose Barndominium Kitchen Ideas
Barndominiums offer a wide range of options when it comes to kitchen design. Whether you're looking for something more traditional or want to get creative and repurpose the space, there are plenty of barndominium kitchen ideas that can help make your dream kitchen come to life.
One popular way to repurpose the kitchen space is to turn it into a multi-purpose room. This could include anything from a dining area, to a game room, to a workspace. Using furniture and decor to separate these sections can help create different zones within the same area.[1]
Crock and High Gloss
Barndominium kitchens come in all shapes and sizes, but one of the most popular styles is a combination of crock and high-gloss finishes. This type of kitchen brings together contrasting textures to create a unique yet cohesive look and feel.
For instance, you could opt for traditional crock cabinets along with modern high-gloss countertops. This mixture of materials gives the space a rustic yet modern edge, making it look timeless and stylish.
You could also choose to include crock backsplash tiles, such as subway tile or brick-style tiles. The beauty of this combination is that it works with both traditional and contemporary designs, so you don't have to worry about it looking out of place.[1]
Woven Basket and Barn pantry
The boho trend has been an ever-present feature in Barndominium kitchens, and a great way to incorporate the look is with woven baskets. Not only do they look stylish, but they are also incredibly functional for storing things like fruits and vegetables, or pantry items.
For those who prefer a more modern take on the barn look, a Barn pantry is also an excellent option.
A Barn pantry typically consists of open shelves made from natural wood, often with metal accents to give it an industrial feel. This type of storage provides easy access to all your kitchen tools and ingredients without taking up too much space.
Plus, if you want to take it one step further, you can also add some cool accessories like a Mason jar holder or a rustic metal rack for extra storage.[1]
Cover the Fifth wall
One of the main principles of good design is to pay attention to detail. And it's no different when considering Barndominium Kitchen Ideas. One way to make your kitchen stand out and look more contemporary is to cover the fifth wall, or ceiling. This can be done by adding a decorative tile backsplash, pendant lighting, or even a chandelier. Doing so will not only add some character to the room, but it will also draw attention to the high ceilings and allow more natural light into the space.
Additionally, covering the fifth wall can help to create an illusion of a larger kitchen.[1]
Rescued Mirror Walls
For Barndominium kitchen ideas, consider using a rescued mirror wall. While some people prefer to start with an entirely new design, others think it best to work with what you have and then make adjustments as needed. If your barndominium has an old vintage mirror on the walls in need of repair, consider restoring it instead of replacing it! This is an easy and cost-effective way to give your barndominium kitchen a vintage look. Plus, it will also add some interesting character and charm to the space.[1]
Wine Storage in Barndominium Kitchen
Wine storage is often an overlooked aspect of barndominium kitchen ideas, but it's something that can add a lot of character and charm to the room. After all, there's nothing like sipping your favorite vintage while cooking up a storm in your dream kitchen!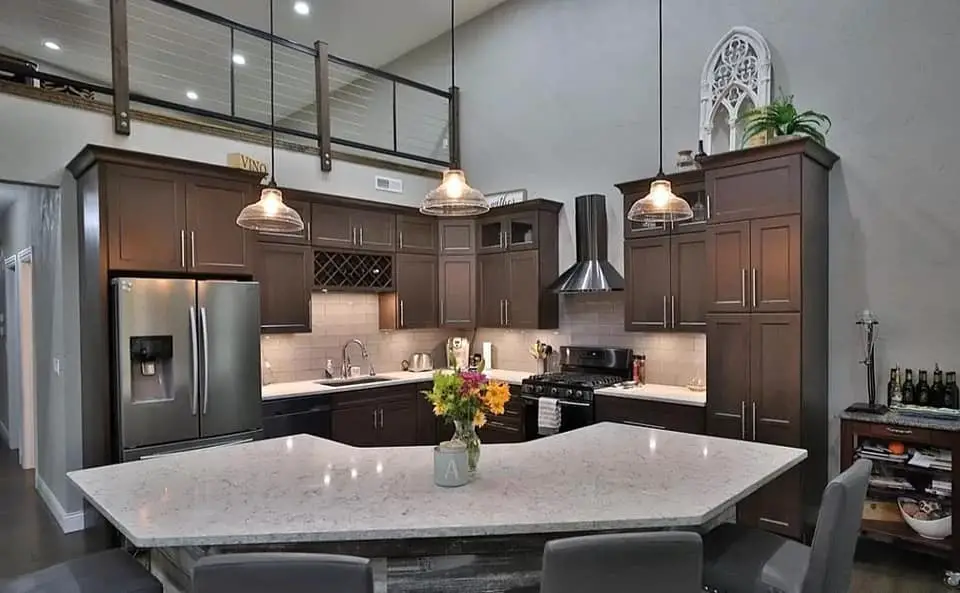 There are many ways to incorporate wine storage into your barndominium kitchen. One of the most popular options is to install a built-in wine rack or cabinet in an otherwise unused corner. This gives you plenty of space for bottles, glasses and other accessories while still taking up minimal space. You can also opt for a custom bar area with wine racks installed above the countertop to provide an easy-access wine storage solution.
Farmhouse Barndominium Kitchen
If you're looking to create a unique kitchen in your barndominium, consider a farmhouse-style. This type of rustic chic living is gaining more and more popularity with its cozy charm. Here are some ideas for creating the perfect farmhouse Barndominium kitchen.
Cabinets: The use of light-colored wood, shiplap, or whitewash in the cabinets will give your kitchen a farmhouse feel. You can also add rustic hardware to compliment the look.
Appliances: If you want a more modern touch, go for stainless steel appliances as they'll stand out against the warmer colors of your cabinets.
Countertops: To give your kitchen an authentic farmhouse feel, opt for countertops made of butcher block, reclaimed wood, or concrete. They'll add warmth and texture to the room in addition to being easy to clean and maintain.
Flooring: Choose a lighter-colored wood floor like pine, oak, or hickory that will help to brighten up the space. You can also add in some fun rugs for a pop of color and accentuate the rustic look.[1]
Marbled Island in your Barn Kitchen
Islands are an excellent way of filling up space in a barndominium kitchen. They provide both form and function. An eye-catching island can be the focal point of your kitchen, while also providing additional countertop space for food preparation.
To install a marbled island in your barndominium, you will need to work with a professional contractor. Make sure that this is someone who has experience installing marbled islands as it requires specialized skills and knowledge.[1]
FAQ
How much do barndominiums cost in Texas?
The cost of building a barndominium in Texas will depend on the size and specification of the build. Generally, barndominiums will range from $35 to $100 per square foot when taking into account materials, labor costs, and other expenses associated with the project.
How much does it cost to build a barndominium in Ohio?
The cost of building a barndominium in Ohio will depend on the size and specification of the build.
Generally speaking, prices range from $40 to $90 per square foot for materials, labor costs and other associated expenses.
How much does it cost to build a barndominium in California?
The cost of building a barndominium in California will depend on the size and specification of the build. Generally, prices range from $50 to $140 per square foot for materials, labor costs and other associated expenses.
How much do most Barndominiums cost?
The cost of a barndominium will depend on the size and specification of the building. Generally, prices range from $35 to $140 per square foot for materials, labor costs and other associated expenses.
What is the most expensive part of building a barndominium?
The most expensive part of building a barndominium is typically the foundation and framing. Building a solid foundation, along with framing the structure itself, can cost anywhere from $25 to $50 per square foot. Additionally, you should factor in additional costs such as labor and materials needed to complete the project.
What is the most common barndominium?
The most common barndominium is a two-story structure that combines living space with a garage or workshop. It usually includes an open floor plan with large windows, exposed beams and tall ceilings. Additionally, it often has rustic elements such as exposed wood and stone, giving the home a unique look and feel.
What's the cheapest way you can build a barndominium?
The cheapest you can build a barndominium will depend on the size and specification of the build.
Generally, prices range from $35 to $100 per square foot for materials, labor costs and other associated expenses. However, it is possible to save money by doing some of the work yourself or using reclaimed materials. Additionally, choosing simpler features and designs can also help keep costs down.
Useful Video: Barndominium Kitchen Ideas
Conclusion
No matter what kind of barndominium kitchen ideas you decide to use, make sure it reflects your personal tastes and style. Barndominiums are unique homes that allow for lots of creativity in the design process. Keeping your budget in mind, use these tips and ideas to create a space that you'll love for years to come. With the right mix of materials and design features, you can create a kitchen that looks great and functions well. Have fun with it and make sure to take pictures throughout the process so you can cherish this unique experience for years to come.
Happy designing!
---
References
https://homescopes.com/kitchens/barndominium-ideas/