Are you looking for a way to open up your kitchen and make it more inviting? A kitchen pass-through is the perfect solution! This style of opening allows you to connect two rooms without sacrificing wall space. Plus, it adds an extra layer of convenience when entertaining guests or cooking meals. From grand arches to sleek sliders, there are plenty of stylish options available that will transform your kitchen in no time. If you crave a traditional or contemporary look, we have extraordinary ideas to add a pass-through kitchen into your home decor.
Fabulous Kitchen Pass-Through Ideas
If you need to improve the layout of your home, you may want to make a passage through the kitchen. Below are ideas on how to bring this to life.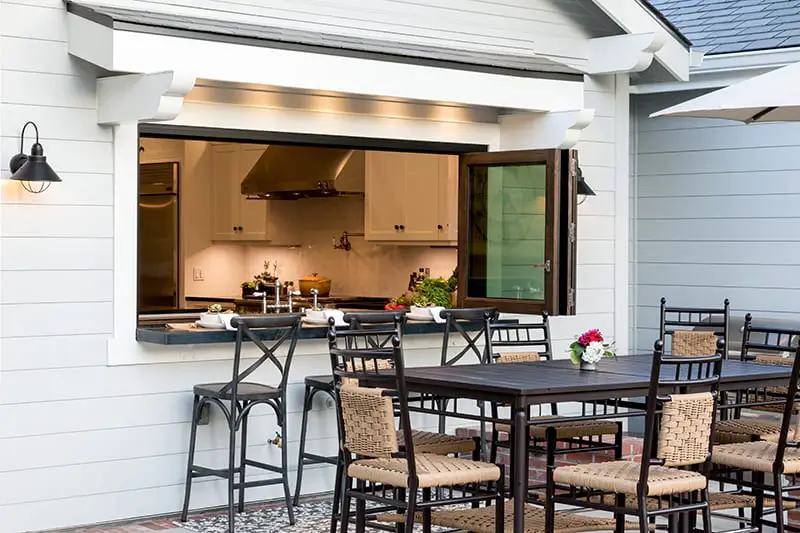 Kitchen Table
If you're looking for a classic, elegant way to open up your kitchen and dining space, consider opting for a table pass-through. This style features an arched opening with centered windowpanes that let in plenty of natural light while also creating a functional gathering area. You can choose from a variety of materials like wood and stone, as well as various finishes to customize the look of your pass-through. This type of kitchen opening is perfect for those who want to create an inviting atmosphere while still maintaining a sense of separation between the two rooms.
Counter Stool Area
A kitchen pass-through can also be outfitted with bar seating, allowing guests and family members a place to sit while grabbing food or drinks. A basic counter stool area can be built into the side of the wall, making sure it lines up with the height of your pass-through. Have fun accessorizing this tucked away spot by using colorful cushions and pillows, as well as playful wall art or a unique light fixture.
Office
An office kitchen pass-through is a great solution if you have limited space in your office kitchen, but still want to offer employees access to snacks and drinks without having them take up valuable real estate. It's also a great way to make it easy for staff members to get the items they need without having to leave their desks. A kitchen pass-through can be as simple as a small shelf, or you can get more creative and add cabinets, drawers, and shelves to store items like utensils and spices. You can also add hooks for mugs and dishes to make finding what they need even easier.
Barn Board Door On Track
Transform your kitchen space with this unique pass-through concept – incorporating a stunning vintage barn board door that slides along an overhead track. It is a great way to create an open feeling between the kitchen and dining or living room without having to install a wall cut-out or opening. The door can simply be opened when company arrives, providing an easy transition from one space to another.
The door is available in multiple materials, such as wood, but opting for barn board offers a perfect rustic look. Creating a visually pleasing atmosphere in the kitchen doesn't have to be expensive or consume much room when you decide upon this perfect approach.
Outdoor Patio
Transform your kitchen with a creative and stylish pass-through design that leads to an outdoor patio. This type of setup allows you to keep your kitchen open and inviting while also providing additional seating outside. You can choose from a variety of materials, such as stone, timber decking or even artificial turf, to give your patio a unique look that complements the existing aesthetic of your home. To add an extra level of convenience, you can install a kitchen window right above the pass-through area to allow for easy access to snacks and drinks outdoors.
Additionally, you could also consider adding a retractable awning or canopy to provide shade when needed. [1]
Upper Bank Of Cabinets
Transform your kitchen space with a stylish pass-through by adding an upper bank of cabinets. This can be done in two ways — with a pelmet or without one. With a pelmet, the top portion of the cabinets will look like an open box that can hold items and even have shelves for additional storage. Without a pelmet, the cabinets will have a traditional look. In both cases, they act as a great frame to the pass-through space and provide storage for items that you may need in the kitchen.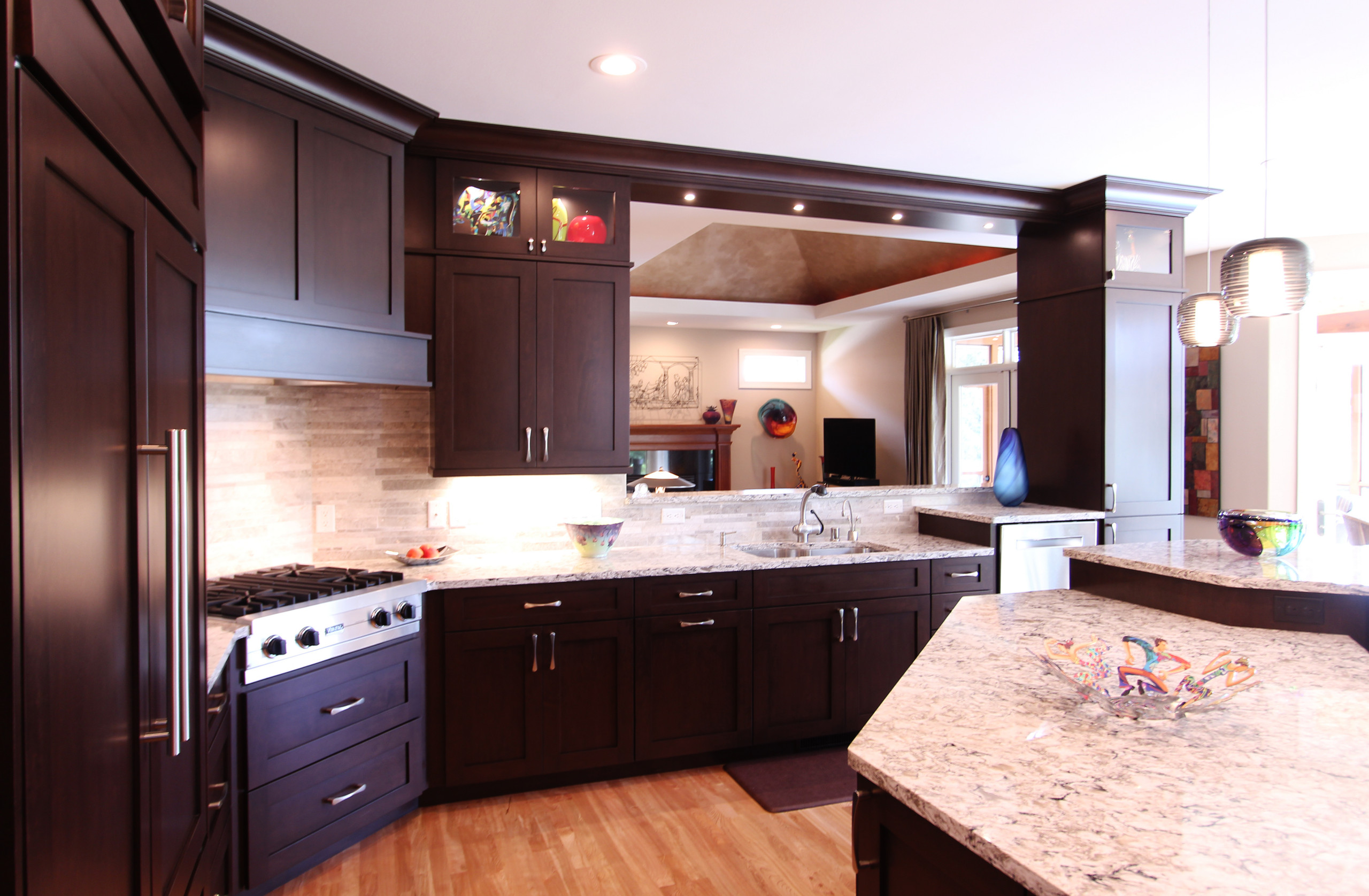 Shelves On Separation
Adding shelves to the pass-through area is a great way to make use of the entire space and can create much-needed storage. Open shelving, like floating shelves, are ideal for larger items that need access from both sides of the room or smaller kitchen items that don't take up too much space.
You can also opt for closed shelving, which is a great way to store items like cookbooks or larger kitchen appliances that you don't need daily access to.
Shelves can also be used as a separation between the two rooms. This provides more privacy while still allowing light to pass through and creating an inviting atmosphere.
Arched Pass-Through
An arched pass-through is a unique design that gives a classic, timeless look to any kitchen. This type of pass-through can be made from a variety of materials, such as wood, stone, or metal. It typically consists of an archway framed with columns on either side of the opening. Depending on your desired aesthetic and the size of your kitchen, you can choose a wide range of sizes and styles. An architectural pass-through will instantly captivate anyone who enters your kitchen, creating a stunning focal point that allows for an abundance of natural light to pour in.
Retractable Glass Window
Adding a retractable glass window to your kitchen is the ideal way to open up and connect it with your living and dining areas. With this option you can easily move the glass window in and out with minimal effort. The retractable windows can come in different sizes, so if you have limited space, you won't be compromising on quality or style when choosing one for your home.
It's also a great way to give yourself more ventilation and lighting since you can move the window in and out whenever you please. This type of kitchen pass-through is a stellar solution for tight spaces – it won't consume much area when opened or closed. [2]
Kitchen Pass Through Window To Outside Patio
Transform your kitchen into an outdoor oasis with a beautiful pass-through window, creating the perfect connection between indoor and outdoor living. These windows create a seamless integration between two spaces, enabling you to effortlessly welcome in light and ventilation while cooking, dining, or hosting. With a few simple additions and modifications, you can have a beautiful view of your patio, deck, or garden from the kitchen.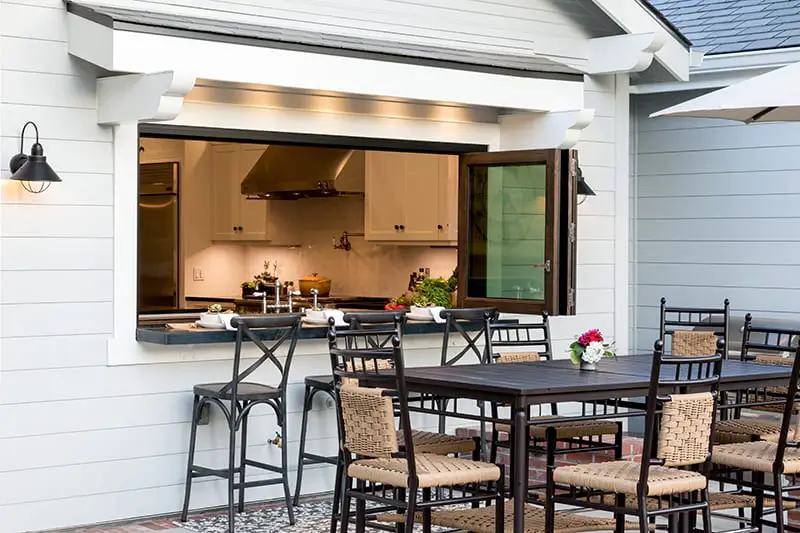 The first step in creating a pass-through window is to decide where you want it and to measure the space so that you can order the right size of window. You also need to consider what kind of material will be used for the window frame. There are many options available such as wood, metal, or vinyl.
The next step is to cut a hole in the wall for the window frame to fit into and then you will need to secure it with nails or screws. Ensuring that your kitchen window is properly sealed off from the outside environment is important to preventing air leakage. Incorporating a screen door is also wise, as it will provide extra protection against the influx of pesky insects.
Once the window is installed, you can create an outdoor dining or entertaining area. You may want to add a few pieces of furniture such as chairs and tables to make it more comfortable for guests.
Galley Kitchen With Pass Through To Patio
If you're lucky enough to have a patio just off your kitchen, taking advantage of the space through a pass-through window is an excellent way to open up and brighten the room. A galley kitchen works particularly well for this idea as it allows you to easily cut into one wall and insert a window.
You can also use the space to install shelves or hanging planters filled with herbs and flowers. The window makes it easy to keep an eye on outdoor activities while you're cooking, as well as having a great view of the garden.
Just make sure that you take into consideration the specifics of your patio area when planning for this type of pass-through window – will the rain and sun be able to get in? Will it need additional protection or screening? [3]
Benefits Of A Kitchen Pass-Through
Incorporating a kitchen pass-through is an easy and attractive way to boost the openness of your kitchen and dining area. It also offers several other benefits for homeowners.
Having a kitchen pass-through is one of the best ways to create seamless accessibility and connection between two separate spaces. You can easily pass dishes from the cooking area to the dining area without having to step into the kitchen itself. This makes entertaining easier, as you don't have to juggle plates and bowls in order to get them from one space to another.
The open-style kitchen pass-through not only offers convenience but also allows for more natural light to fill the space. Without walls blocking off the two areas, natural sunlight can easily reach both spaces. This helps to brighten up the entire area, making it more inviting and cozy.
Kitchen pass-throughs also help to make the kitchen seem bigger. Without walls separating the two areas, you have a much better perception of space in both rooms. The extra light that enters through the pass-through also gives the illusion of more room, creating a larger feeling in both spaces.
Disadvantages Of A Kitchen Pass-Through
Installing a kitchen pass-through can be an advantageous addition to any home, but it's essential to weigh the potential drawbacks as well. A widespread gripe is the persistent need for additional worktop area. If your kitchen is already tight on the workspace, adding a pass-through could make things feel even more cramped. You might also find that it reduces natural light in the room, and it can create unwanted noise if you plan on using a door.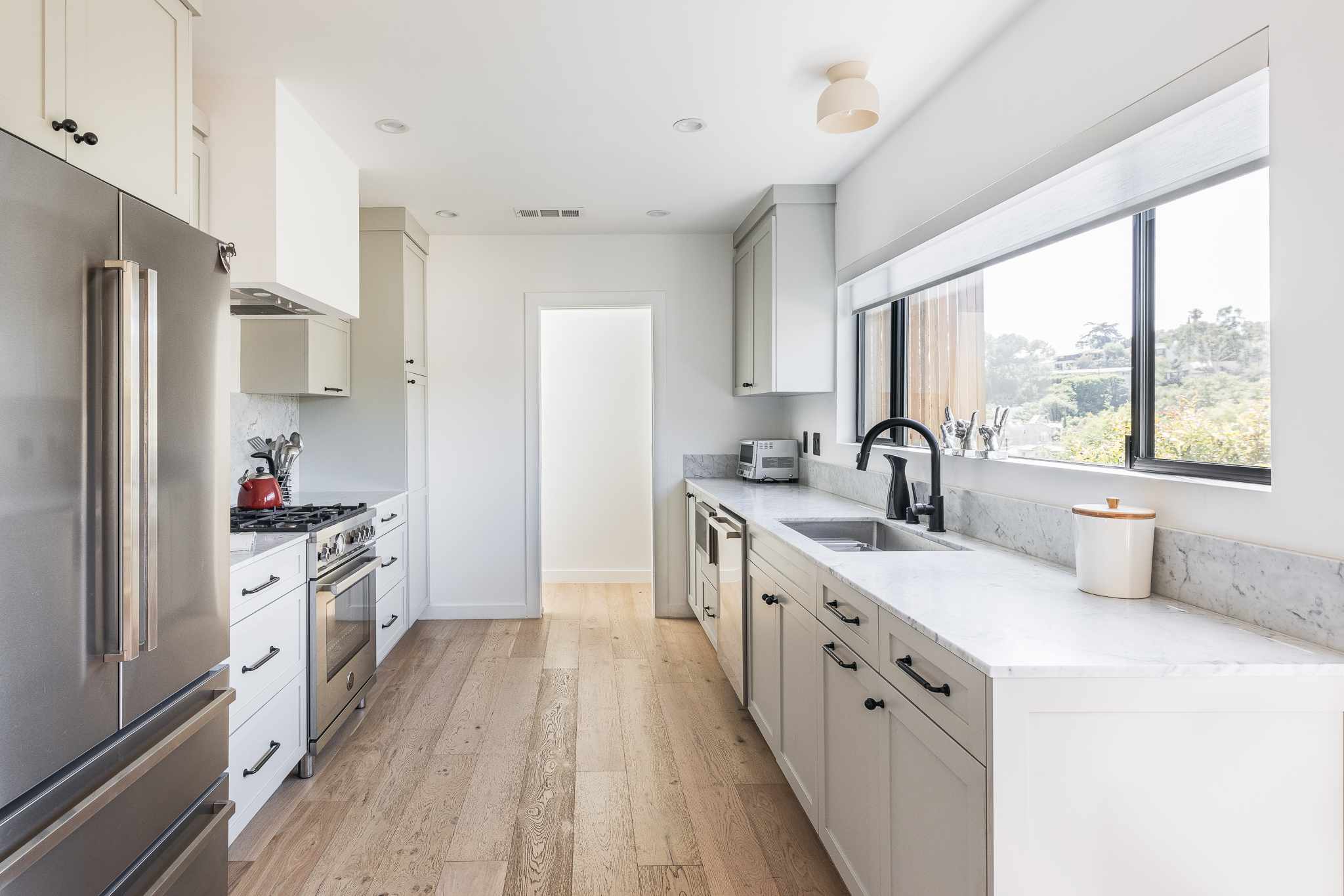 Placing the pass-through close to the kitchen table may make conversations in that region of your room less private. Finally, since these openings often don't have walls or doors, dust and debris from the other side of your home might blow through the kitchen. [4]
FAQ
What is the kitchen trend for 2023?
The kitchen trend for 2023 is a focus on multifunctional, open-concept designs. This includes more efficient use of space through pass-through areas that allow us to easily move from one area of the kitchen to another. Popular options include creating an island with a breakfast bar or countertop, installing pull-out shelves and drawers in the cabinets, and incorporating a pass-through to open up the kitchen/dining space.
What are the 6 types of kitchen layouts?
There are six common kitchen layouts—single wall, galley, U-shape, L-shape, island, and peninsula—each with its own benefits and drawbacks.
Single Wall: A single wall kitchen layout is a great choice for small spaces, as it utilizes all available wall space and keeps everything within easy reach. It's also an excellent solution for open-plan homes, where the kitchen can take up one side of the room without impeding movement.
Galley: The galley layout is perfect for apartments, small homes, and studios. It uses two parallel walls to contain all the appliances and storage in a contained area. This layout is space-efficient, but it can feel cramped if there isn't enough room between the two walls.
U-shape: The U-shape is similar to the galley layout, but with an additional wall at the end. This extra wall provides more storage and counter space, making it a great choice for larger kitchens.
L-shape: The L-shape layout is ideal for larger kitchens, or ones with an island. It uses two perpendicular walls to create different working areas, such as a cooking area and a cleaning area.
Island: An island kitchen is perfect for open-plan homes or those with a large amount of space. It allows you to add an extra working area, as well as more storage and counter space.
Peninsula: The peninsula layout is similar to the island layout but without an additional wall at the end. This makes it an ideal choice for smaller kitchens, as you can have all the added storage and counter space without sacrificing significant floor plan area.
What are unique ideas for kitchen Remodeling?
Here are some unique ideas for kitchen remodeling with a pass-through:
Turn your pass-through counter into an outdoor dining space by lengthening it, allowing you to enjoy a breakfast bar or seating area on the other side. This is great for both indoor and outdoor entertaining, as well as providing extra space to prepare meals.
Install a wine cooler in the pass-through to keep your drinks chilled and ready for guests. The glass doors of the cooler can also act as a window to show off your favorite bottles.
Add lighting elements to make the pass-through more inviting at night. You could install pendant lights, or opt for a dimmer switch to set the mood.
Hang artwork or decor in your pass-through to give it a more personalized touch. This can be anything from art prints to hanging plants and wall hangings.
Incorporate seating into the design of the pass-through, such as bar stools or benches that pull out from under the counter. This is a great way to create an inviting space for guests to sit and relax while you cook or entertain.
What is the newest trend in kitchen cabinets?
Pass-through or open shelving is the hottest trend for kitchen cabinets right now. Pass-through or open shelves are an ideal way to add extra storage and a distinctive flair to your kitchen design.
They can be used to store items such as spices, cooking oils, utensils, and more.
Additionally, they provide an aesthetically pleasing view of the contents that are stored within. They can also be used to create a modern, contemporary look for your kitchen. It is important to consider the space you have available when selecting these cabinets as they may require more square footage than traditional closed-style cabinets.
Additionally, it's important to ensure that the shelves are securely mounted and are of the right depth and width for your items. If you're unsure, it's best to consult a professional when selecting kitchen cabinets.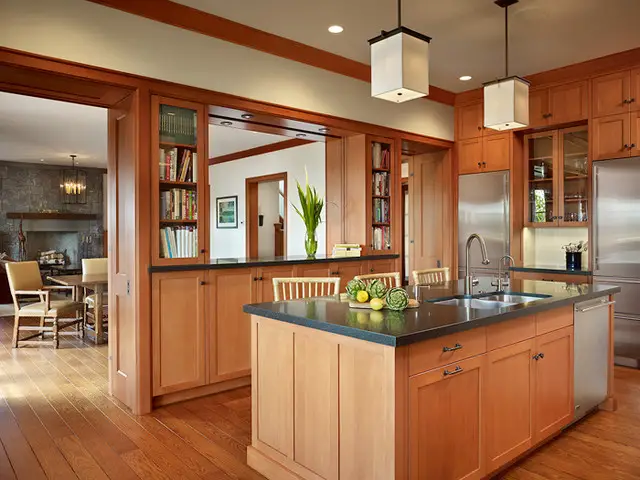 What is the purpose of a kitchen pass-through?
Unleash the potential of your home with a kitchen pass-through, connecting two rooms and creating an open space for you to enjoy. It can help create an open concept layout that allows natural light to flow from one room to the other, giving you more options for decorating and entertaining.
Moreover, a kitchen pass-through helps to foster communication between family members in different rooms.
Are white kitchen cabinets going out of style in 2023?
White kitchen cabinets won't be a thing of the past in 2023 – they're still going strong! While trends may come and go, white kitchen cabinets remain a timeless classic that have been used for centuries and will continue to be popular in the future. White kitchen cabinets create a stunning, luminous atmosphere that is incredibly flexible and can be tailored to suit any taste. They can be paired with modern appliances and fixtures to create a contemporary look, or vintage pieces for a more traditional aesthetic.
What color cabinets will be in style in 2023?
When it comes to kitchen cabinet colors, the trends change with each passing year. In 2023, we can expect to see a lot of natural wood tones such as oak, maple and birch. The popular gray trend that has been so popular over the past few years will continue to be seen in many kitchens.
Additionally, more vivid hues such as blues and greens will be making their mark in the kitchen cabinet space. Neutral colors such as whites, greiges, and tans will also make a statement with many homeowners choosing these color pallets for their cabinets to help create a timeless look.
Whatever style you prefer, there are sure to be plenty of options from which to choose in 2023.
What do millennials want in a kitchen?
Millennials are changing the way we think of kitchen design. They have a unique set of needs that require kitchens to be multifunctional and efficient, yet stylish at the same time. The most popular trends in millennial-friendly kitchen design include open concept layouts, smart storage solutions, and pass-throughs. A pass-through, or window, can divide the kitchen from other rooms while still allowing for ample light and conversation.
What is the most effective kitchen layout?
The most effective kitchen layout depends on what your priorities are for the space.
Generally, the most efficient kitchen layouts involve an organized and well-thought out flow of traffic. This includes adequate spacing between appliances, a sensible storage and prep area plan, and efficient use of counter space. One way to increase efficiency in the kitchen is to use a kitchen pass-through.
Which kitchen plan is most desirable?
When it comes to kitchen plans, what's most desirable often depends on the homeowner's needs and preferences. Of course, having a pass-through is a great idea for many kitchen designs since it allows for more natural light and creates an open space in the center of the room. It also helps define different areas without walls or other obstructions.
Useful Video: 47 Living Room To Kitchen Pass Through
Conclusion
Kitchen pass-throughs provide an easy way to connect the kitchen and dining area, while creating a great space for entertaining. Plus, they're a great way to add value to your home without adding too much complexity in terms of construction. Whether you're looking for something budget-friendly or more elaborate, there are plenty of options to help you create the right look for your kitchen.
With a little bit of planning, you can easily design and install a pass-through that meets both your needs and aesthetic preferences. So go ahead – let everyone know that the kitchen is open!
---
References
https://homescopes.com/kitchens/pass-through-ideas/
https://www.jimenezphoto.com/kitchen-pass-through-window/
https://designingidea.com/kitchen-pass-through-window-ideas/
https://waterdamagerestorationdallastexas.com/kitchen-pass-thru-ideas/