Are you looking for the perfect kitchen curtain ideas above the sink to add a touch of style and sophistication to your space? Whether you're remodeling or just need an update, there are plenty of options available. From modern sheer panels to traditional drapes, these curtains can provide both privacy and decorative appeal. With so many designs to choose from, it's easy to find one that fits your needs and matches the rest of your decor. Let's explore some great kitchen curtain ideas above the sink that will make any kitchen look stunning!
Do You Need A Window Above A Kitchen Sink?
When considering kitchen curtain ideas above the sink, it's important to know if you even need a window at all. In many cases, one isn't required and simply adding a curtain can provide the privacy needed for the space. Of course, if your kitchen does have a window over the sink then you have plenty of options for decorating the area.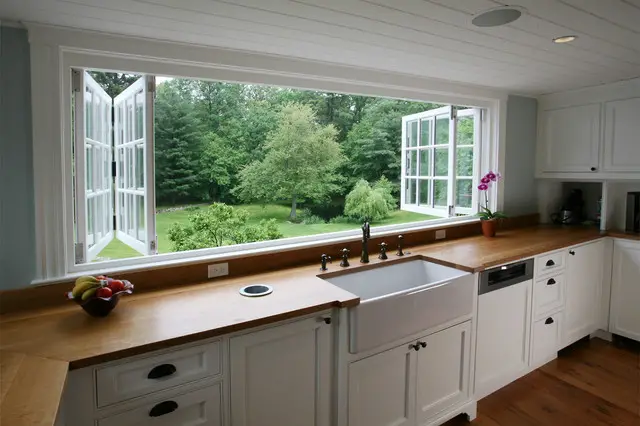 Things to Consider Before Choosing a Curtain Style
When it comes to kitchen decor, the curtain above the sink can be one of the most decorative elements in your space. But there are several things to consider before you choose a style for your window covering. Here are a few tips that will help you create a look that is both beautiful and functional.
Measure Twice, Cut Once: Before you purchase any curtains, it is important to measure the window above your sink carefully. You want to make sure that the curtains fit perfectly and that they will provide enough coverage while still allowing in plenty of natural light.
Consider Color and Fabric: When selecting fabric for kitchen curtains, consider your overall color scheme and the way that light falls into the space. Darker colors will absorb more light, while lighter fabrics may be better for brightening up a dull kitchen. It is also important to choose a fabric that is easy to clean and maintain.
Think About Function: While style is certainly an important factor when choosing curtains, you should also consider their practicality. If your kitchen gets a lot of traffic, you may want to opt for heavier materials that will stand up to wear and tear. On the other hand, if you're looking for curtains to simply add a decorative touch, airy fabrics like lace or cotton can be a good choice. [1]
What Do You Put Over A Kitchen Sink Window?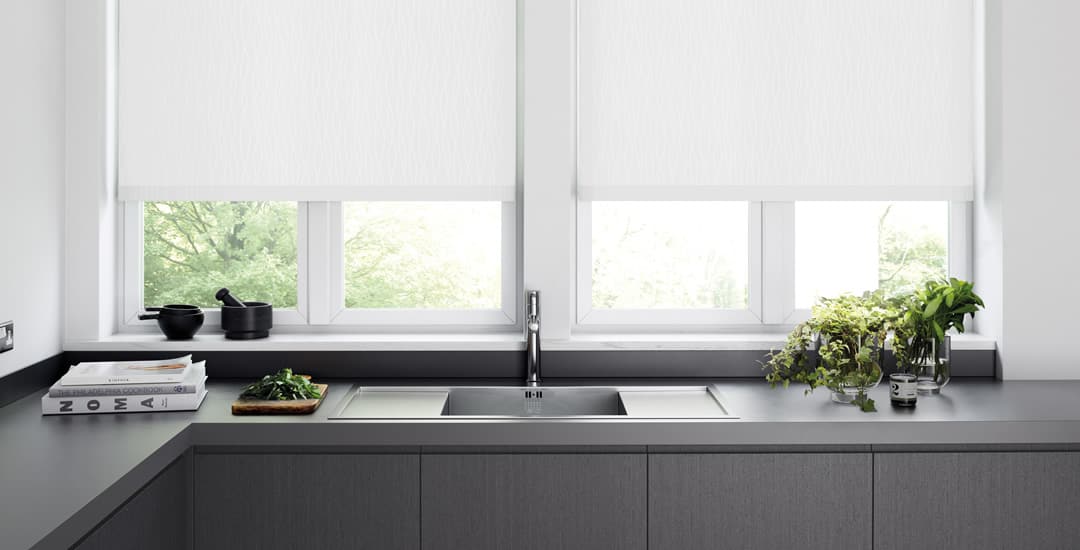 When it comes to kitchen window treatments, there are several options to choose from.
Depending on the size of the window and the desired aesthetic, a homeowner may opt for blinds, shades, shutters or even curtains. One popular option that has been gaining in popularity is placing a kitchen curtain over a sink window. This look adds warmth and texture to the kitchen, and offers privacy when needed.
One option is to hang a single cafe curtain over the sink window. This style of semi-sheer curtain typically hangs on a slim rod or wire and covers just the lower portion of the window, allowing some light in while providing privacy. The fabric can be lightweight cotton or linen, or heavier wool or velvet, depending on the look desired.
Add Texture With A Roman Blind
Roman blinds are an ideal choice for a kitchen above the sink because of their decorative and practical qualities. They can add texture and pattern to the space, and they offer light control with their adjustable fabric folds. Roman blinds come in a variety of materials such as linen, velvet, cotton, or jacquard. The material you choose can help to create a specific look that can coordinate with the rest of your kitchen design. For example, linen Roman blinds have a relaxed and casual feel while velvet can be used to create a luxurious and sophisticated look.
Keep Things Sleek And Sophisticated With A Venetian Blind
Venetian blinds are a great way to add a stylish touch to your kitchen while providing a practical solution for window coverings. Venetian blinds can be easily adjusted to provide the desired amount of light and privacy, making them an ideal choice for any kitchen. When hung above the sink, Venetian blinds help keep water splashes off the window while also looking great. Choose a neutral color such as white, cream, or beige to create an elegant and sophisticated look. To add a bit of personality, opt for a bolder shade like blue or green.
With Venetian blinds, there is no need to worry about fabric maintenance — simply wipe them down with a damp cloth to keep them looking their best. A Venetian blind is sure to be a timeless addition to any kitchen. [2]
Prioritize Practicality With A Roller Blind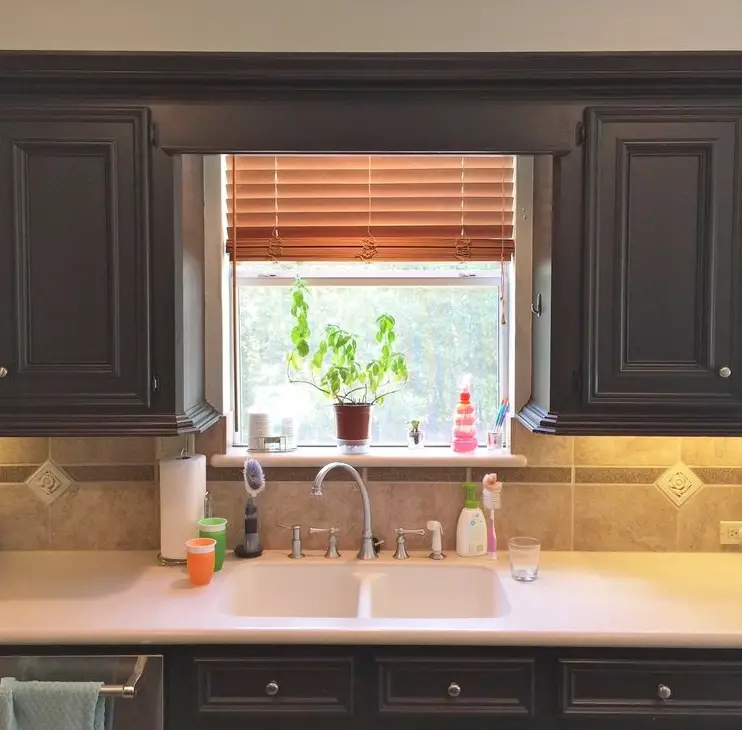 A roller blind makes a great choice for kitchen window treatments above a sink. Not only is it economical, but it also provides an effective way to adjust the light levels in your kitchen. The sleek and modern design will add a contemporary touch that can easily be paired with other styles of decor as well. Depending on what type of material you choose, you can even get a certain level of insulation to help keep your kitchen warm or cool. On top of that, cleaning is relatively easy and you won't have to worry about taking it down to wash. You can simply use a damp cloth and wipe it clean!
Create A Cozy Space With Curtains
Adding curtains above the sink is an effective way to create a cozy and inviting atmosphere in your kitchen. Kitchen curtains can provide privacy, block out light, and even act as insulation from heat or cold. They come in a variety of styles, colors, and designs to match any kitchen decor.
One popular style of kitchen curtains is cafe curtains, which typically hang to just above the sink. They are easy to install and come in a variety of colors and patterns. For extra privacy, you can choose blackout curtains or sheer curtains with a valance for added elegance.
Another option is tab-top curtains that have tabs at the top of each panel that can be hung from a decorative rod. These are ideal if you would like to add some texture and design to your kitchen. You can also choose textured fabrics such as linen, cotton, or velvet that will add color and texture to the space.
If you want to make a statement with your curtains, try adding a bright pattern or bold color. You can also opt for patterned curtains that will give your kitchen a cohesive look. And if you are looking for something more modern, try choosing metallic or geometric prints to make a statement. [3]
Style Your Window With Shutters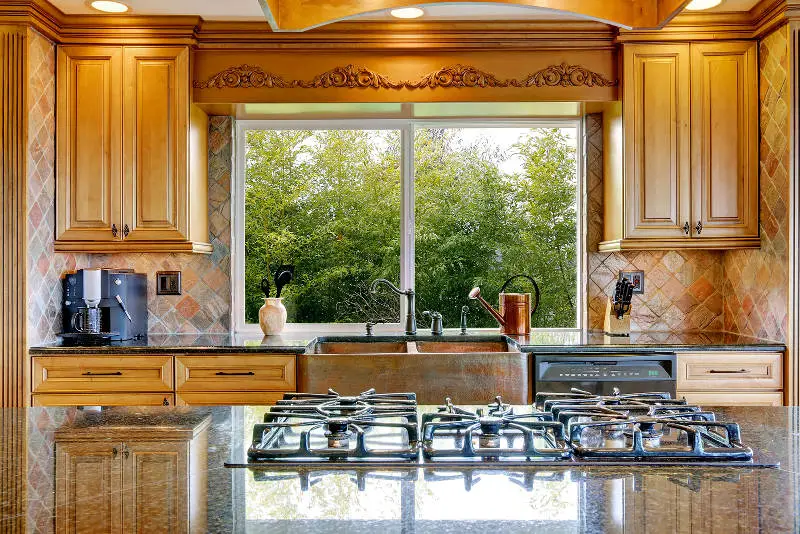 Shutters not only add an elegant touch to any kitchen window, but they are also functional. Shutters can be adjusted to allow natural light to seep through while providing privacy. They can be painted in a variety of colors that will match your existing decor or used as an accent piece. Those made from wood provide a rustic charm and can be used to bring out the beauty of the sink visually. Shutters are a great way to add texture and depth to your kitchen curtain idea above the sink. They come in a variety of sizes and styles so you can find one that will suit your needs perfectly.
Choose An Untreated Look
For a clean, natural look in the kitchen, choose an untreated fabric for your curtains. The right length and style of curtain can easily help to enhance the natural beauty of your kitchen décor. A lightweight cotton or linen fabric is ideal, as it can be airy and light while also providing some privacy. Sheer curtains are especially great for kitchens with a larger window overlooking the sink. This material will filter light and offer some privacy, but still allowing plenty of natural sunlight to fill the room.
Additionally, adding patterned trim or contrasting fabric ties can add a playful touch of detail to your kitchen curtains. [4]
Important Safety Information
It's important to keep safety in mind when choosing kitchen curtains above the sink. Longer curtains can pose a fire hazard or be a trip hazard, while lightweight fabrics can easily become wet and moldy. Make sure that the fabric you choose is flame-resistant and made of materials that won't absorb moisture.Consider using curtains that are made of treated or waterproof materials for maximum protection against mold or fire hazards.
Additionally, place your curtains far enough away from the heat source so they won't be at risk of melting and igniting in case of a fire. Finally, make sure to secure the rod and hardware used to hang the curtains well above the sink. This will prevent accidental tipping or pulling of the curtain and rod, which could create a safety risk.
Pros And Cons Of Using Kitchen Curtain Above Sink
When considering kitchen curtain ideas above the sink, it is important to understand the pros and cons associated with this type of arrangement. On one hand, curtains can provide an attractive decorative touch to any kitchen. They also can help keep out dirt, dust, and other particles that may otherwise find their way into your cooking area. Additionally, curtains may also serve to reduce the amount of noise in your kitchen as they dampen sound waves from entering.
On the other hand, using curtains above the sink may present some potential drawbacks. Since most sinks are located near a window, the curtains could block out natural light that helps illuminate your kitchen. Furthermore, it can be difficult to keep moisture away from the curtains, especially if your sink is located near a steamy stovetop.
Additionally, some homeowners find that kitchen curtains often require more frequent cleaning as food particles and grease can easily accumulate on them. [5]
FAQ
What kind of curtains is good for the kitchen?
When it comes to kitchen curtains, there are many different materials and styles to choose from. Lightweight fabrics like cotton, linen or sheer voile are popular choices for a more casual look. For a more formal look, options like velvet or faux silk can create an elegant atmosphere. Other materials like bamboo, burlap or lace add texture and visual interest to the space.
Should I have blinds or curtains in the kitchen?
When it comes to creating a cozy, inviting kitchen space, many homeowners struggle with the question of whether blinds or curtains should be used for the windows above the sink. While some may choose to use either one, there are pros and cons for both that should be considered before making a final decision.
How do you cover an open kitchen window?
One way to cover an open kitchen window is to use a kitchen curtain. Kitchen curtains come in many styles and colors, allowing you to choose the one that best fits your kitchen's style and decor. They also provide privacy by blocking out unwanted views from the outside, as well as reduce direct sunlight and provide insulation. Above the kitchen sink is a great place to hang a kitchen curtain. This window can be hard to reach and maintain, making it difficult to cover with traditional shades or blinds.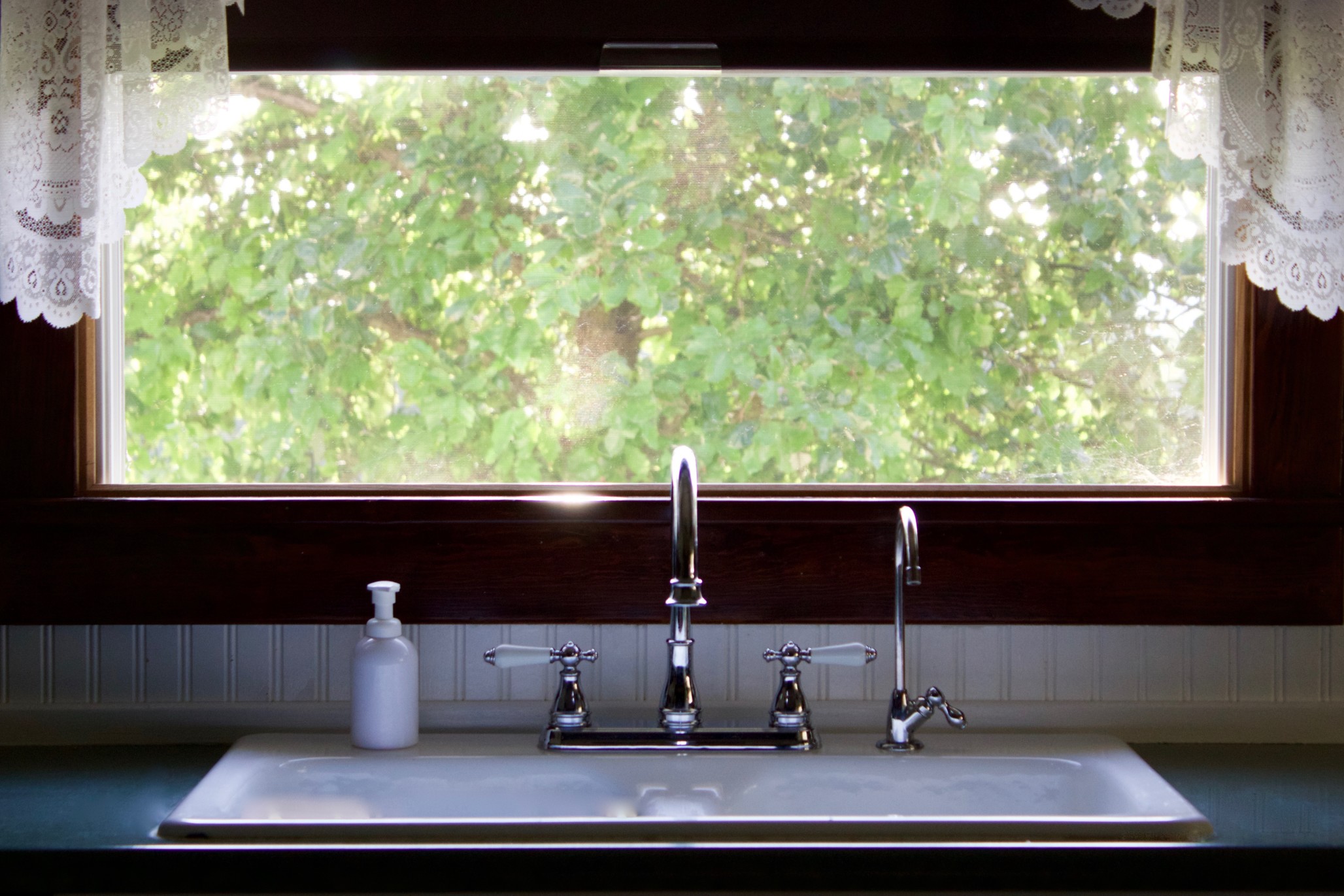 What do you put in the space above the sink?
Above the sink, you can hang a variety of kitchen curtains that come in different styles and colors to give your kitchen a more stylish look. If you prefer more of a modern style, then opt for contemporary kitchen curtains that can be hung either from the ceiling or horizontally above the sink.
If you prefer a more traditional style, then hang curtains that have floral or paisley designs. For a classic look, you can hang lace curtains above the sink. If you are looking for something more unique, then hang a curtain with an embossed pattern or a sheer fabric that has a geometric or abstract design. For a more rustic kitchen, you can hang burlap or twill curtains that feature stripes, plaids, or checkered patterns. You should also consider the material of your kitchen curtains when deciding what to put in the space above the sink.
Why is there always a window above the kitchen sink?
There is often a window placed above the kitchen sink because it allows for ample natural light into the space. This can help brighten up a kitchen and make activities such as washing dishes or cleaning up easier by providing a better view of the sink. Additionally, having a window above the sink can help ventilate the area and keep it free of odors and humidity.
What colors should not be used in a kitchen?
When selecting colors for your kitchen, it is important to keep in mind that certain colors can be overpowering and make the room appear too busy. Dark, bold colors such as navy blue and black should be avoided, as they can make the room appear smaller. Additionally, bright or neon shades of colors should also be avoided, as they can be extremely overwhelming.
Instead, opt for softer shades of blues and greens that will create a more relaxed and calming atmosphere in the kitchen. Light, neutral colors such as whites, creams, and beiges can also be used to create a bright and airy feel in the kitchen. When it comes to selecting curtains for your kitchen, you should take into consideration how much natural light you have.
Do modern kitchens have curtains?
Modern kitchen designs often opt for minimalistic, modern elements that don't include curtains. However, if you prefer a more traditional or cozy look, adding a curtain to your kitchen above the sink is an easy way to add style and personality to the room. From bold, bright designs to classic and timeless looks, there are plenty of kitchen curtain ideas above the sink to choose from. For a classic look, you can opt for a solid color curtain in a fabric such as cotton or linen.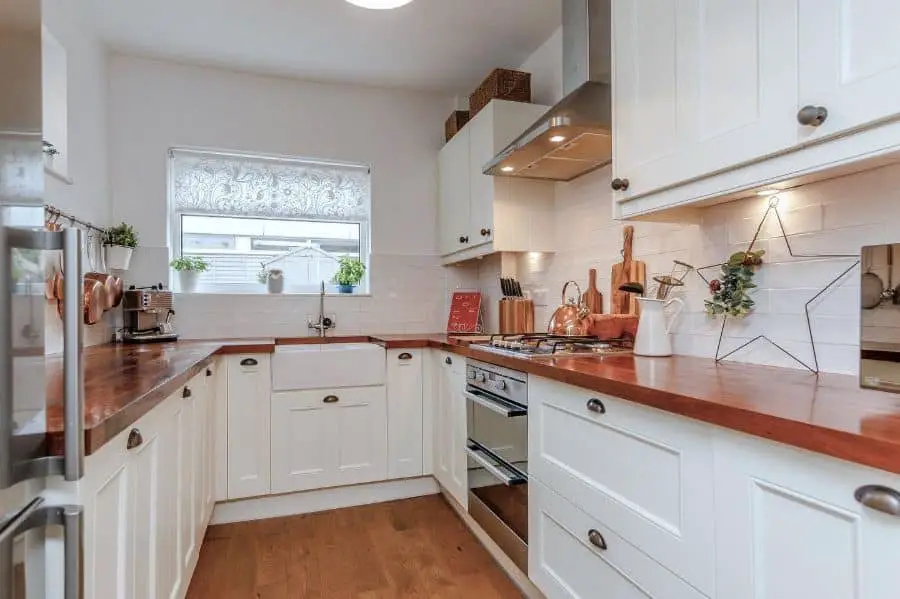 These curtains can be matched with the rest of your kitchen's decor, from the cupboards to the countertops. For a more modern look, you can opt for sheer curtains with bold patterns or bright colors. Sheer curtains will still let natural light into the kitchen, while adding a unique touch to the room. If you prefer a more rustic look, try curtains made with burlap or gingham.
Are curtains still used in kitchens?
Yes, curtains are still used in kitchens. They provide a decorative touch and can be used to dress up the kitchen window above the sink. They are also a great way to add privacy and help keep the room cool. There are many different kitchen curtain ideas available to choose from, ranging from classic styles to modern looks.
What curtains are in style for 2023?
The trend for 2023 is moving away from traditional curtains and towards more modern options.
Sheer panels, thermal blackout curtains, and valances are all on-trend this year. Sheer panels add light and airy feel to your kitchen, while thermal blackout curtains provide a cozy, warm atmosphere and help to keep your kitchen cool in the summer months. Valances offer a unique opportunity to express yourself in your kitchen. By selecting from an array of colors, patterns, and textures you can create the perfect atmosphere to suit your individual style.
What are the disadvantages of having curtains at a kitchen window?
The major disadvantage of having curtains at a kitchen window is that they can get in the way of natural light. Curtains can cut down on the amount of sun that enters your kitchen, diminishing the natural light you would have otherwise enjoyed. Another disadvantage is that curtains can be hard to keep clean. Grease, steam and smoke from cooking often accumulate on curtains over time, making them difficult to clean without special solutions and treatments.
This can lead to an unpleasant smell in the kitchen. Additionally, curtains can be a source of allergens due to their ability to harbor dust mites and other allergens. Finally, curtains can be a source of clutter if they are not neatly hung or stored away properly.
Useful Video: Best Kitchen Curtain Design Ideas | Above Sink Curtain Ideas
Conclusion
Installing stylish curtains above your kitchen sink is a great way to give the room more character and make it feel homey. Curtains provide both a practical and stylish solution to your home, allowing for privacy as well as light manipulation while adding an aesthetically pleasing touch. They are particularly useful in kitchens with limited storage space, as they can be hung up quickly and taken down easily when needed. With a wide selection of styles and materials, you are sure to discover the perfect kitchen curtains that fit your taste and budget!
---
References
https://www.decoist.com/kitchen-curtain-ideas/
https://www.homesandgardens.com/kitchens/what-do-you-put-over-a-kitchen-sink-window
https://www.soulandlane.com/kitchen-curtain-ideas-above-sink-2028/
https://homedecorbliss.com/kitchen-curtains-above-sink/
https://www.thespruce.com/kitchen-curtain-ideas-6828190