Are you looking for a way to spruce up your kitchen? If so, consider changing up the ceiling! Adding texture or color to your kitchen ceiling can make all the difference in transforming it from drab to fab. Whether you're looking for something subtle and stylish or bold and daring, there are plenty of options out there when it comes to kitchen ceiling ideas. From wood beams and shiplap ceilings to rustic tin tiles and chic coffered designs, we've rounded up some of our favorite ideas that will help turn your cooking space into an eye-catching showstopper.
Read on for inspiring kitchen ceiling ideas that will take your design game up a notch!
Types Of Kitchen Ceilings

When it comes to kitchen ceiling ideas, there are so many options out there that you can choose from. Depending on the look and feel you want to create in your kitchen, certain ceiling treatments may be better suited for your aesthetic.
Regular Ceiling
The most common type of ceiling in a kitchen is the regular flat one. The main advantage of this style is its affordability and ease of installation. You can easily install any kind of lighting fixtures on it, as well as hide wiring or pipes. If you're looking for a simple and cost-effective option, this could be the right choice for you.
Vaulted Ceiling
Vaulted ceilings are a great way to add character and visual interest to any kitchen. They instantly draw the eye upward, making the space appear larger than it really is. Not only do they look grand, they also help disperse heat throughout the room, which makes them ideal for kitchens with high temperatures during cooking.
This type of ceiling can be installed in both traditional and modern kitchen designs, and can range from a simple flat surface to an intricate design of rafters and beams. Whether you want the look of an old-world monastery or something more contemporary, vaulted ceilings can be tailored to fit any style.
Drop Ceiling
Drop ceilings, also known as a suspended ceiling, are an affordable way to add style and elegance to your kitchen. A drop ceiling is made of overlapping panels that hang from the main ceiling structure, creating a unique look and feel. They come in various shapes, sizes and colors so you can find one that best fits your decor. Drop ceilings can also help dampen sound, making them a great choice for busy kitchens.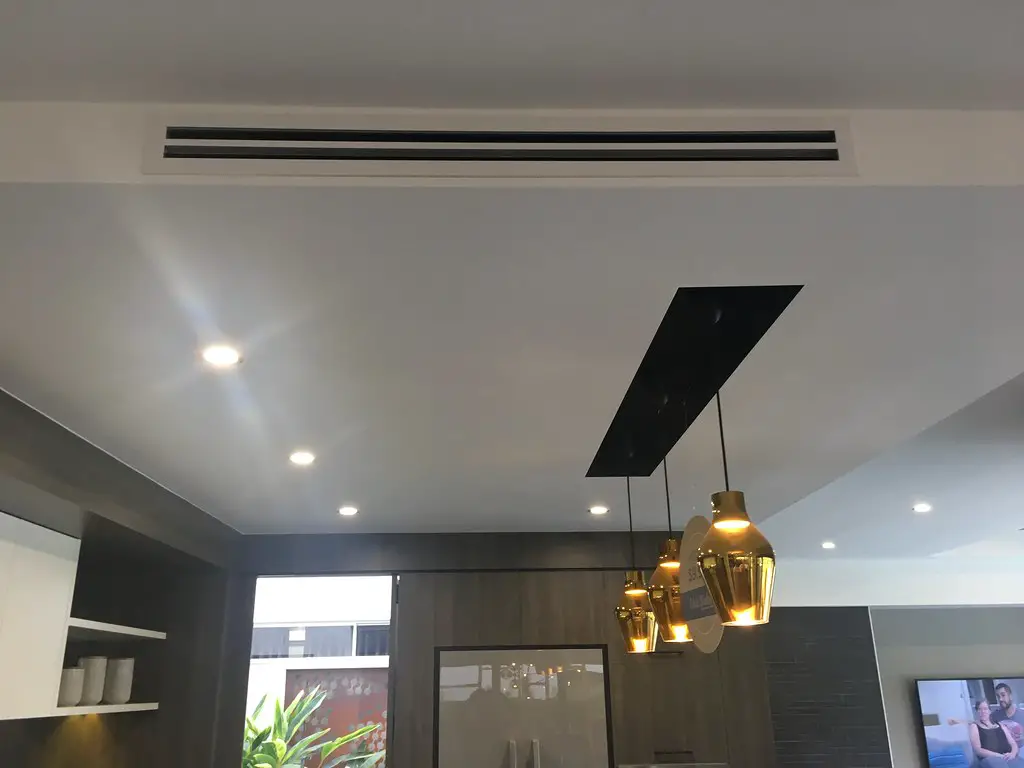 Not only are they relatively affordable and easy to install, but they also require minimal maintenance. Plus, you can access the wiring above the ceiling without removing any panels making repairs easier than ever before.
Tray Ceiling
If you're looking to add a touch of elegance and style to your kitchen, a tray ceiling design is an excellent option. Tray ceilings feature a center recessed area, often with decorative trim or molding along the edges.
This type of ceiling is especially popular in formal dining rooms and kitchens, as it adds a touch of sophistication to the space. You can also use tray ceilings to highlight your kitchen's architectural features or draw attention to a beautiful view outside.
When installing a tray ceiling, you can choose from different types of materials, such as drywall, wood, or ceramic tiles. This type of ceiling design is also a great way to create an illusion of space, as the recessed area makes the room look taller.
Beams
Beams are a great way to bring character and dimension to any kitchen. Whether you opt for real or faux wood, these beams can provide an interesting focal point and add a rustic charm to your kitchen. Decorative beams are also a great way to add texture and depth, creating an inviting atmosphere.
To make sure your beams stand out, consider painting or staining them in a bold color or pairing them with accent lighting. You can also opt for beams in a variety of shapes, such as curved or angled, to give your kitchen added visual interest. [1]
Coffered
Coffered ceilings are an excellent option for making your kitchen look more luxurious and high-end. This type of ceiling is characterized by a series of recessed square or rectangular panels, creating an elegant design element. Coffered ceilings can be finished in a range of styles and materials, such as painted or stained wood, or decorative plaster. The panels can also be decorated with crown molding and other trim pieces to enhance the look of the ceiling.
Coffered ceilings are a great choice for kitchens because they can provide both style and substance – creating an attractive focal point, while also hiding any imperfections or flaws in the ceiling.
Ceiling Tiles
Ceiling tiles are often a popular choice for kitchen ceilings. They come in many different styles and colors, allowing you to customize the look of your kitchen. Installing ceiling tiles can be a relatively simple process and will add texture, color and interest to your kitchen. With proper care, ceiling tiles can last for many years.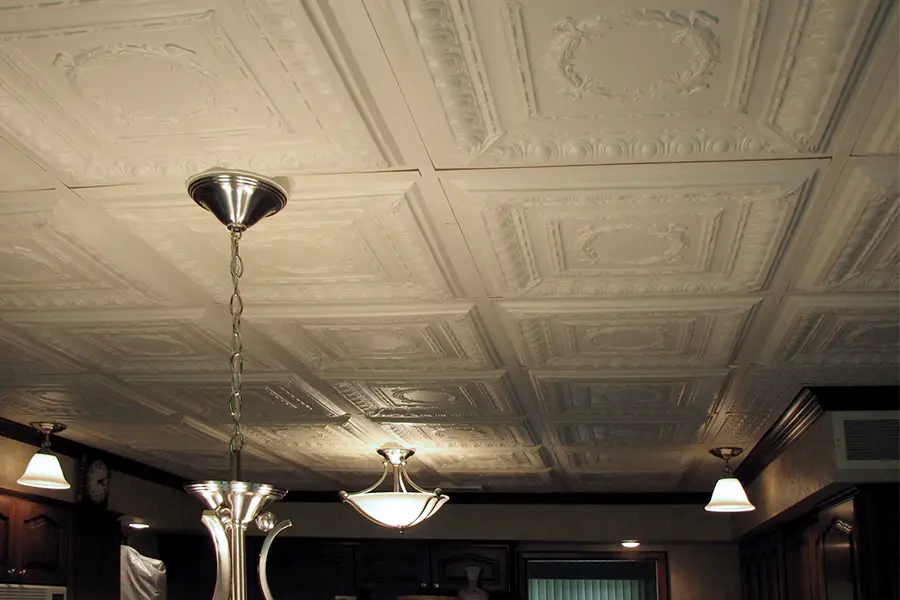 If you are looking for a relatively inexpensive way to update your kitchen ceiling, consider installing ceiling tiles.
Shed Style
A shed style ceiling is a great way to add character and charm to your kitchen. This type of ceiling features a slope that begins at one wall and ends at the other. It's a great way to use limited space and create an interesting, creative look in your kitchen. You can also use this style of ceiling to create a sense of height in your kitchen. When using this type of ceiling, make sure you use an ample amount of lighting to bring out its beauty.
Groin Vault
A groin vault ceiling is a great option for adding sophistication and elegance to any kitchen.
This popular architectural style features two equal barrel vaults with a common centerline that come together at an angle, creating a unique and beautiful space in your kitchen. This type of ceiling can be finished with a variety of materials including stone, tile, and even plaster for a more traditional look.
If you want to add a touch of modern architecture, you can opt for a stainless steel groin vault ceiling. This type of design is perfect for contemporary kitchens, as it creates a sleek and modern look that will stand out. [2]
Small Kitchen Ceiling Ideas
If you're decorating a small kitchen, the ceiling is one of the best places to start. A great idea for a small kitchen is to create a focal point with the ceiling. This can be done by adding interesting materials, colors, or textures to your ceiling that stand out from the rest of the room. Here are some creative small kitchen ceiling ideas that can help you create a beautiful and unique space.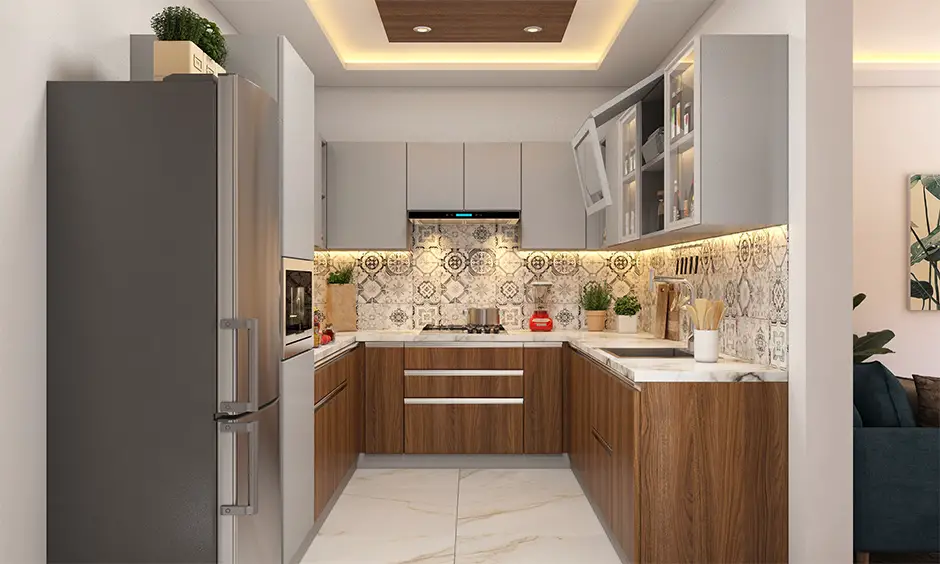 Ceiling To Demarcate Small Kitchen Space
If you have a small kitchen, it can be easy for the space to feel cramped and cluttered. A great way to create the illusion of more space is to install a ceiling that demarcates the kitchen from the rest of the home.
Consider painting the ceiling a bold color, like navy blue or deep green, to add an extra dimension of definition. If you're feeling more adventurous, opt for a statement wallpaper – think white-on-white prints or metallic hues.
This will not only draw the eye up and out, it'll help create the illusion of a taller space. For a luxurious look choose a tin or faux-tin ceiling and add some interesting lighting fixtures to the mix. These will help create an elegant atmosphere in a small kitchen.
Two-Tier Kitchen Ceiling
A two-tier kitchen ceiling is a great way to add an element of visual depth and interest. This type of ceiling design involves adding a second layer of drywall or paneling to the ceiling, usually in a complimentary color or texture. This additional layer provides an eye-catching contrast that can really up the style of your kitchen. Additionally, this type of ceiling also helps to reduce sound reverberation and echo in the room, creating a more comfortable and relaxing atmosphere.
Solid Wood With Exposed Beams
For a timeless and classic look, you can't go wrong with solid wood ceiling beams. Not only do they add an instant warmth to any kitchen, but they provide a beautiful decorative touch.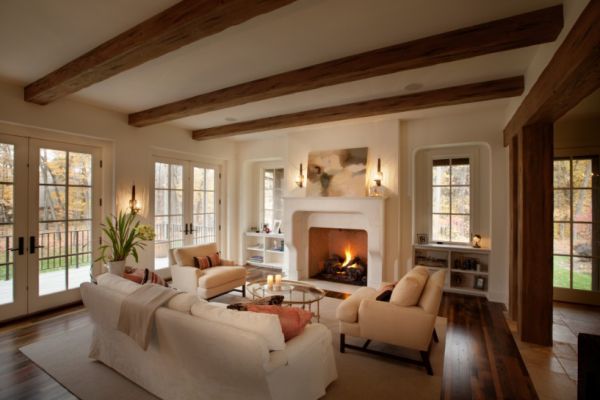 If you have an open beam kitchen ceiling, consider accentuating the beams with a lighter stain or paint color to make them stand out. Keep in mind that exposed wood beams need to be sealed and treated regularly for durability and long-lasting beauty. For an extra touch of sophistication, you can add crown molding around the beams or use a combination of different wood tones.
Glass Kitchen Ceiling
A glass kitchen ceiling adds a modern and sophisticated touch to any cooking area. This type of design is perfect for those who want to bring light into their kitchen while also making a style statement. Glass ceilings are usually constructed with frameless tempered glass that is installed between ceiling beams or joists. The glass can either be completely clear or feature a frosted finish to provide privacy. As an added bonus, the glass ceiling will reflect light and make the kitchen appear larger. Installing a glass ceiling can be time-consuming and expensive, but it is sure to become the focal point of any kitchen.
Two-Tiered Wood And Drywall Ceiling
An increasingly popular way to add a unique look to your kitchen design is to include a two-tiered wood and drywall ceiling. This type of ceiling uses wood panels to add a layer of texture and dimension to the room, while drywall creates clean lines to keep everything looking neat.
The wood panels can be painted in any color, allowing you to create an eye-catching focal point in the room. You can also customize the size and shape of the wood panels to add interest, or keep it simple with a standard size and shape. An interesting option is to use different heights of panels for a more dynamic look.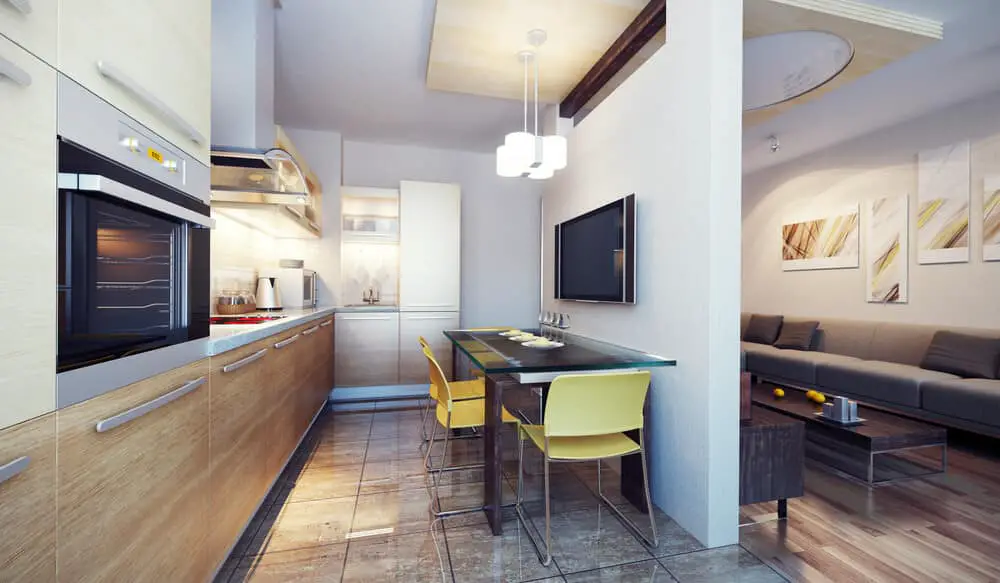 The use of two-tiered ceilings also helps to create warmth and depth in the room, which is especially beneficial to kitchens with high ceilings. This style of ceiling is also relatively easy to install, as long as you have the right tools and supplies on hand. With a little creativity, you can create a stunning look for your kitchen that will be the envy of all your friends. [4]
FAQ
What is the best type of ceiling for a kitchen?
The best type of ceiling for a kitchen would depend on your home's style and desired aesthetic. For example, if you have a traditional-style kitchen, coffered ceilings or beadboard panels can add a classic look. For a more modern kitchen, a suspended ceiling with recessed lighting could be a great choice. You could also consider creative textured options, like tin tiles or a stamped metal ceiling.
Additionally, a high-gloss paint can create a sleek, contemporary look. Ultimately, it's important to choose a ceiling that will fit your kitchen's style and be easy to keep clean.
What can I put on my kitchen ceiling?
When it comes to decorating your kitchen ceiling, there are plenty of options to choose from.
Whether you're looking for something that makes a bold statement or something cozy and inviting, the right ceiling can complete the look of your kitchen. One popular option is to paint or wallpaper your kitchen ceiling in a complementary or contrasting color to the walls.
This can be an excellent way to create a bold and exciting look for your kitchen. Another option is to add crown molding or other decorative trim around the ceiling, which can give your kitchen a more luxurious feel. If you're looking for something more subtle, you could install a coffered ceiling or tray ceiling, which will give your kitchen a soft, relaxing atmosphere. Finally, you could also consider adding a ceiling fan or light fixture to your kitchen to improve the lighting and ventilation in the room.
What is the new trend for ceilings?
With the growth in popularity of open-concept kitchens, many homeowners are looking for ways to incorporate kitchen ceiling ideas that offer both aesthetic appeal and practical function.
Ceilings have the potential to transform a kitchen into a unique space, and there are several different designs that can be used to create an eye-catching look. Ceiling tiles are a popular option for creating an interesting visual effect, and they come in a wide range of colors and styles to suit any type of kitchen design. For a more contemporary look, homeowners might choose to install recessed lighting in their ceilings that can provide an attractive ambient lighting while also providing task lighting for food preparation.
What is the cheapest thing to put on a ceiling?
One of the cheapest materials to use for a kitchen ceiling is drywall. Drywall is inexpensive, easy to install and provides a smooth surface. It also takes up less space than some of the other materials and is fire-resistant. Other inexpensive materials are wood, vinyl, laminate and even acoustic tile.
Wood panels are also an inexpensive option for ceilings, as well as being beautiful and easy to install. They provide a nice, rustic feel and can be easily customized to fit any style. Vinyl ceiling tiles are also an inexpensive option and come in a variety of colors and patterns.
They are durable, fire-resistant, and easy to clean. Laminate ceiling panels are a great choice if you want something modern and stylish. They are usually plastic, and come in many colors and patterns, making them perfect for any kitchen design.
Lastly, acoustic ceiling tiles are a great option if you want soundproofing and good insulation. They are easy to install, and come in a variety of colors and patterns.
What is the most popular ceiling finish?
The most popular ceiling finish is a smooth, white paint or a matte finish. White ceilings help to create a lighter, brighter ambiance in the kitchen and the matte finish provides a subtle texture to the space. If you prefer something a bit more unique, consider adding a wood plank ceiling with a glossy finish, which can create a warm and cozy atmosphere.
Alternatively, you could consider adding a suspended wood panel ceiling with decorative trim and painted accents, which creates a rustic yet modern feel. Also, a tin or copper ceiling could be used to create an industrial-style look. Finally, you can opt for a more traditional look with decorative wallpaper on the ceiling.
Should the ceiling be lighter or darker?
When decorating a kitchen, homeowners often ask themselves if the ceiling should be lighter or darker than the walls. Although there may not be one definitive answer, there are some tips to consider when selecting the right color scheme for your kitchen.
When choosing a ceiling color, it is important to remember that lighter colors can help make a space feel larger and more open, while darker colors are better for smaller spaces. Additionally, the kitchen ceiling should complement the walls, cabinets and flooring.
What can I use instead of the drywall on my ceiling?
When it comes to kitchen ceiling ideas, you don't have to limit yourself to drywall. There are various other materials that can be used to create a unique and interesting look. One of the most popular materials is wood, which can be used to create a rustic feel or can even be painted for a more modern look.
Other options include metal tiles, decorative plasterwork, and acoustic ceiling treatments such as acoustic baffles or panels. Whatever your style and budget, there is sure to be a kitchen ceiling idea that fits the bill.
What can I use for the ceiling other than drywall?
There are several options when it comes to kitchen ceiling ideas besides drywall, including wood planks and beams, metal panels, bamboo mats, fabric, and more. Wood planks and beams can be used to create a rustic or farmhouse style kitchen. Metal panels are great for creating a modern, industrial look. Bamboo mats are great for creating an Asian-inspired atmosphere.
What is the best material to use for the ceiling?
When looking for the best material to use for a kitchen ceiling, there are a few important considerations. The most important factor is durability and moisture resistance. If you live in an area with high humidity or where moisture can get into your kitchen, materials like plasterboard or drywall may not be suitable. Instead, it's best to go for materials such as PVC vinyl, fibreboard and metal. These are not only more durable and moisture resistant, but they also come in a wide variety of colors to match the rest of your kitchen decor.
What are modern ceilings for 2023?
Modern kitchen ceilings for 2023 are all about creating a sense of space and airiness. This can be achieved in various ways and with a variety of materials. For example, one popular trend is to use reflective surfaces such as mirrored tiles or glass panels. These will make the room look bigger while also introducing visual elements that draw the eye upwards. Other popular trends include exposed beams and pipes, as well as textured walls and ceilings.
Adding color and pattern to your ceiling can also be used to create an eye-catching feature that adds a touch of personality to the room. Finally, using LED lights is another great option for creating a modern look in your kitchen. These are energy efficient, versatile and perfect for creating a bright and inviting atmosphere.
Useful Video: 50+ Amazing Kitchen Ceiling Design Ideas
Conclusion
No matter what type of kitchen ceiling you are looking for, there is sure to be an option that fits your needs and style. Whether it's rustic wood beams, painted tiles, or a modern tile pattern with metallic accents, the right kitchen ceiling can take your space from ordinary to extraordinary. With so many options available, finding the perfect kitchen ceiling is easy.
When planning your new kitchen, consider the different options and pick a ceiling that will make your space shine.
When it comes to ceilings, don't be afraid to explore all of your options. With some imagination and creativity, you can create an eye-catching kitchen ceiling that has everyone talking.
---
References
https://www.homestratosphere.com/kitchen-ceiling-ideas/
https://www.armstrongceilings.com/residential/en-us/project-ideas-and-installation/kitchen-ceiling-ideas.html
https://www.homesandgardens.com/kitchens/kitchen-ceiling-ideas
https://quietminimal.com/kitchen-ceiling-ideas/