Are you looking for ways to extend the size of your kitchen? A kitchen extension is a great way to add more space and functionality to what may already be your favorite room in the house. Whether you're a budding chef or simply enjoy entertaining, an extended kitchen provides plenty of benefits. In this article, we'll answer some FAQs about kitchen extensions and provide some useful tips to help you out. Read on to learn more!
Decide Where You Will Place Your Kitchen Extension
One of the first steps in planning a kitchen extension is to decide where it will be located.
Consider the size, shape and layout of your current kitchen as well as any outdoor space you may have access to. Are there any neighboring properties you can extend into or over? Your decision should ultimately be based on what will best suit your needs now and in the future.
Choose A Shape And Design Of Your Kitchen
When considering what shape and design to opt for when extending your kitchen, the possibilities are endless. Before you begin the project, take some time to consider what would best fit with your home's existing style and layout.
Ideas for shapes include circular, rectangular or square room extensions. You could also consider a conservatory-style kitchen which will create a bright, airy atmosphere. Alternatively, you could opt for a wrap-around kitchen extension which will allow you to make use of corner space.
When it comes to the design, you can go as minimalistic or as ornate as you'd like. Think about what kind of features and fixtures would best suit the size and shape of your kitchen extension. For example, it may be a good idea to include extra cupboards or an island unit if you have enough space. Or, you could install skylights to bring in more natural light for a pleasant atmosphere.
Extend Your Space With A Side Return
Side Return extensions are a great way to add space, light and value to your home. They involve extending the existing ground floor rear wall of your property by as much as 3m in some cases. This can allow you to transform a constricted kitchen into something that's far more spacious and inviting.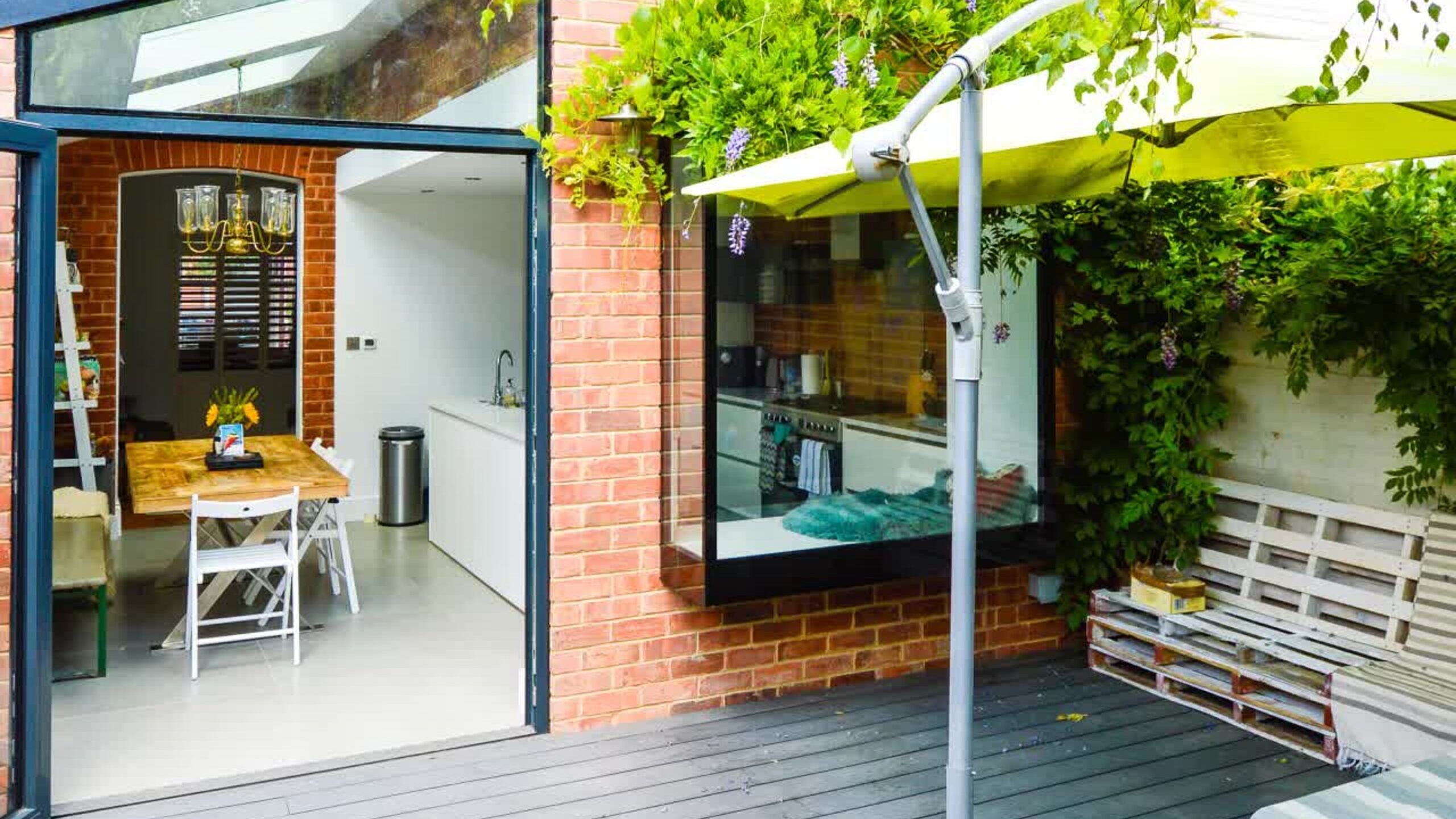 Add A Glass Box Extension To Bring In Light
Adding a glass box extension is a great way to bring plenty of natural light into your kitchen, but it's also an excellent way to keep the warm atmosphere intact. You can opt for floor-to-ceiling windows or choose more subtle frames that are almost invisible from the outside. A glass box extension is perfect if you want to enjoy the sunlight without having to worry about losing your privacy.
Be sure to do your research before adding a glass box extension, as you'll need to make sure it meets the building regulations for your specific area. Talk to an experienced builder or architect who can provide you with advice and tips on how best to achieve your desired outcome.
Add A Small Lean-To Conservatory
If you're looking to add a bit of extra space without going through the hassle of building a full-on extension, consider adding a small lean-to conservatory. This type of structure is easy to construct and can be built in any area of your home with an existing wall.
A lean-to conservatory is a great option for small spaces, as it can be adapted to fit any available area. This type of structure will provide ample natural light and ventilation throughout the year without consuming too much space or energy.
You can customize your lean-to conservatory with windows, doors, and other features to make it look more like an extension of your home. You can also use this space to create a small sitting area, eating nook, or even a playroom for children.
Use A Roof Lantern To Zone A Space
If you're planning a kitchen extension, roof lanterns are one of the best ways to bring light into your space. A roof lantern is essentially a large skylight that helps create the illusion of extra space in your home due to its open design. Not only is it visually appealing, but it also allows plenty of natural light to enter, which can make the space feel bigger and more inviting. They're also perfect for creating an area to sit in away from all of the cooking or entertaining areas, allowing you to easily zone your space.
Or Open An Extension Up With Roof Lights
If you're looking for a more open, airy feel to your kitchen extension, why not opt for roof lights and bi-fold doors? This is a great way to open up the space while still allowing natural light to come in throughout the day. With this type of setup, you can also enjoy a panoramic view of your garden while you cook and dine.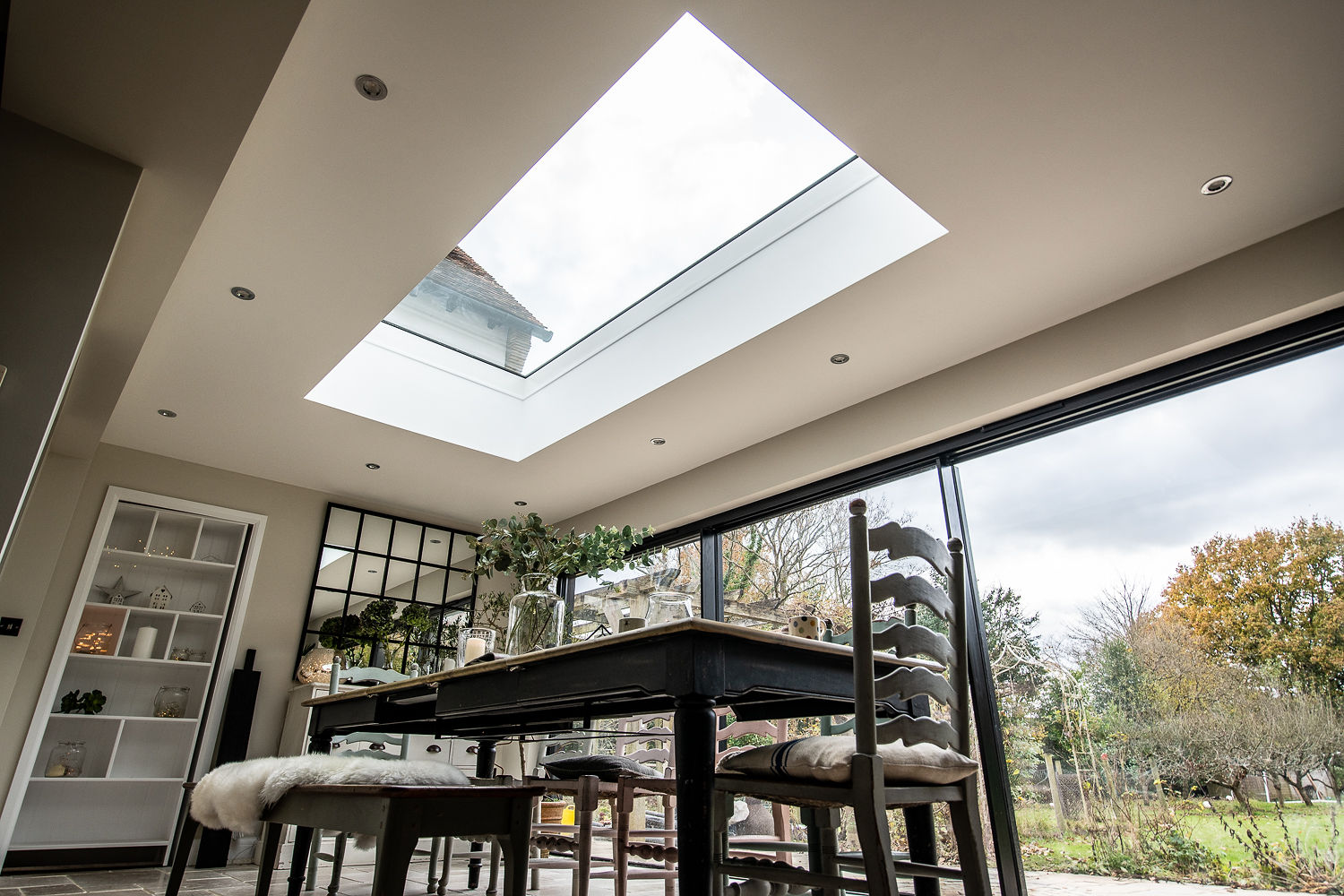 When installing roof lights, it's important to make sure they are properly sealed against water ingress and rain damage. You should also look into special glass treatments that block UV light for added protection. Bi-fold doors can add an extra layer of insulation and help reduce heat loss.
When choosing a style of roof lights, you should consider the architecture of your home and garden.
For example, a traditional property may look better with classic-style roof lights while a more contemporary design would be complemented by modern shapes or sky windows.
Go For A Pitched Roof Design To Add Height
A pitched roof is one of the most popular kitchen extension ideas, as it adds height and gives an impressive look to your space. Whether you go for a flat or slanted design, this style makes the room feel bigger and more spacious. Pitched roofs are also great for creating extra storage and housing electrical wiring. Additionally, they can be designed to fit with the existing roof of your home, ensuring a seamless look.
When designing a pitched roof kitchen extension, it's important to consider the ceiling height and how much natural light will enter the room. You'll also want to factor in insulation and ventilation requirements for comfortable temperatures all year round. Lastly, think about any electrical wiring or plumbing that may need to be installed.
Connect With The Outdoors
If you have an outdoor space, consider one of the more popular kitchen extension ideas – connecting your kitchen to the outdoors. This could be done by building a sunroom or patio area with large doors that open up the whole room and bring sunshine in. You can also create a small deck off the back door for barbecues and relaxing on a hot summer day.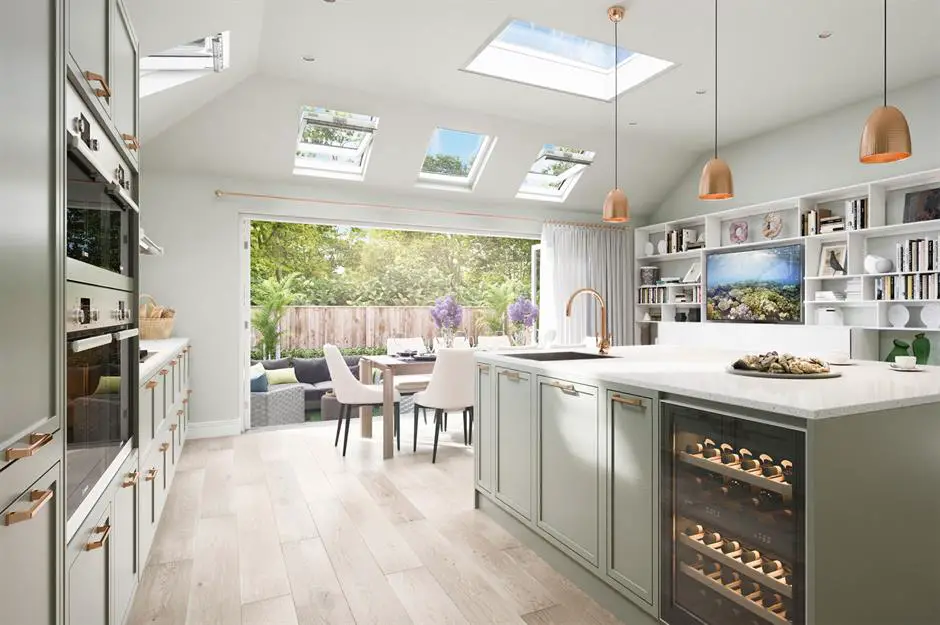 This type of kitchen extension can be expensive depending on the size and materials you choose, but it will definitely make your entertaining space more enjoyable. Look into different types of flooring that is suited for outdoor use such as porcelain tiles or stone pavers to create an inviting atmosphere. Additionally, if your budget allows, you can bring in more greenery with plants and flower boxes.
Add Crittall Doors To Your Kitchen Extension
If you're looking to add an interesting period feature to your kitchen extension, Crittall doors could be the perfect solution. These iconic metal framed windows and doors are renowned for providing a sense of industrial style, modernity and creating a bright and airy feel in any room.
Crittall doors come in many different styles and designs, so you can craft a unique look to suit your kitchen extension. For example, you could opt for a single set of doors that open out onto the garden or patio area, or use multiple panels in different shapes and sizes to create stunning partitions and create separate areas.
Open Up A Galley Kitchen
One of the most common kitchen extension ideas is to open up a galley kitchen. This typically involves taking down one or more walls to create an open floor plan. Doing so can make the room look and feel much more spacious, while also making it easier to move around in between different stations. Additionally, removing cabinets and countertops can help to reduce clutter, making the area look even bigger.
To ensure that your kitchen flows well and is still functional when you remove walls, consider incorporating some design elements, such as islands or peninsulas. These provide additional work surfaces and storage space while adding an extra element of style to the room. Additionally, they can be used to divide different areas of the room while still maintaining a seamless flow.
Make A Feature Of Architectural Details
Make the most of architectural details in your kitchen extension. A feature window lets natural light flood into your space and can be used to bring an eye-catching design element to a standard room. Doing this will also help you create an area that feels bigger than it actually is.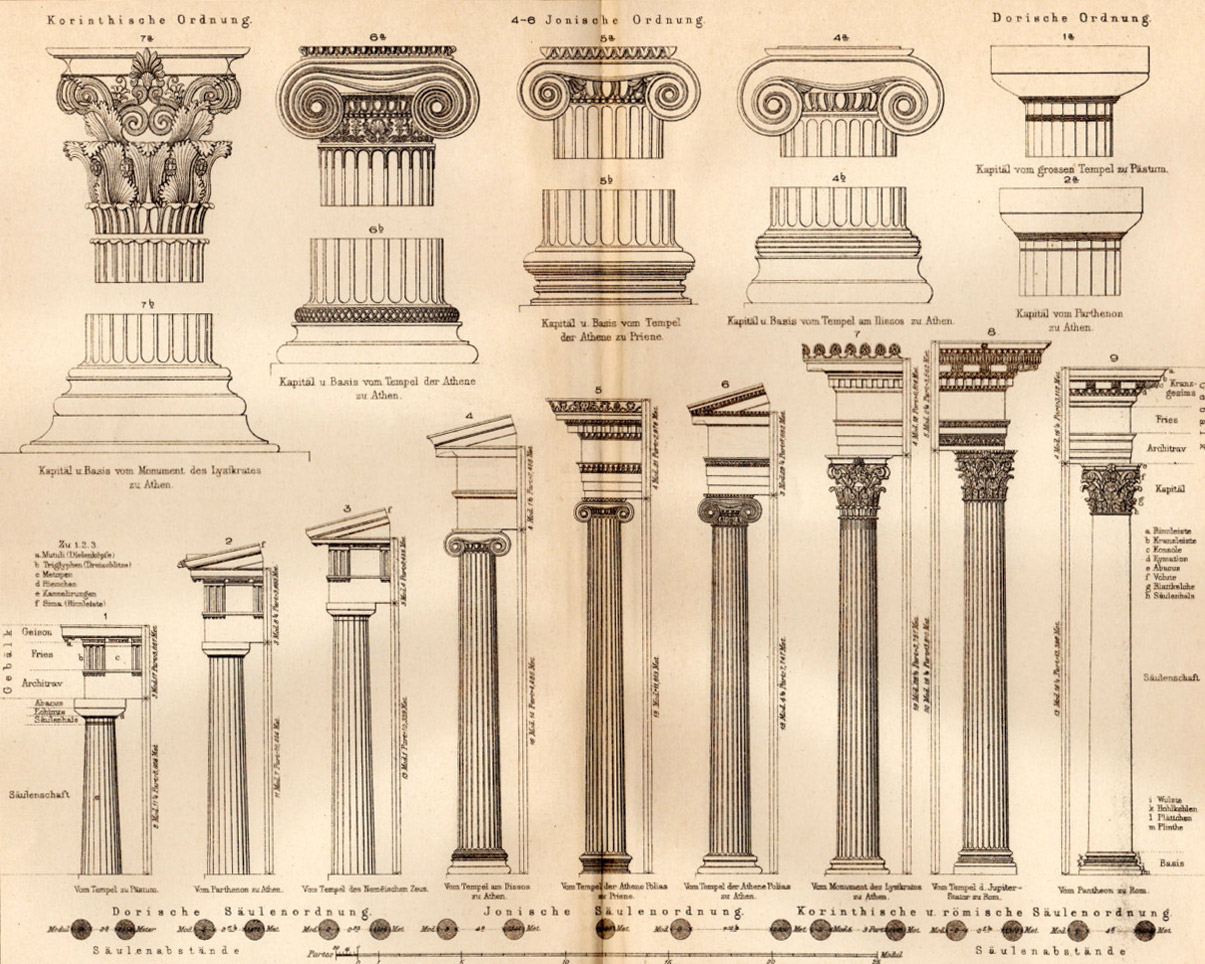 You could also add interesting features like skylights, glazed roofs, exposed brick walls or even a mezzanine level to create extra storage space.
Zone Areas In A Small Kitchen Extension
Small kitchen extensions often allow for limited space and this can make it difficult to arrange the area effectively. However, with careful planning, you can create several zone areas in your kitchen extension that will help you make the most of the room.
One way to do this is by creating a separate work area for food preparation. You can achieve this by adding a kitchen island and some cabinets. The space will then be dedicated to food preparation, allowing you to keep all the tools you need for cooking within easy reach.
You can also set aside an area for the dining table, which can be used as both a place to eat and gather when entertaining guests. If you have a limited amount of space, you may want to consider a foldable table that can be easily stored away when not in use.
Finally, you may also want to dedicate an area for storage. To maximize the space available, look for wall-mounted shelves and cabinets that will allow you to store items without taking up too much floor space.
Create An Open Plan Feel With Kitchen Island
Kitchen islands are a great way to get the most out of your kitchen extension. Not only do they provide extra work surfaces and storage space, but they also create an open plan feel in the kitchen. Consider adding an island if you have enough space; it can be used as extra preparation space, a dining area or simply as an extension of your kitchen units.
Leave A Brick Wall Bare For An Industrial Edge
If you're looking to create an industrial feel in your kitchen extension, then why not leave a prominent brick wall bare? This is a great way to introduce an element of the outdoors into your home and will immediately transform the look and feel. Invest in some statement lighting or frame artwork and you can really breathe life into this feature.
The best thing about this look is that it's really affordable and can work with any style of kitchen extension. Whether you have a traditionally styled home or something more modern, leaving exposed brickwork in your kitchen will give the room an edge. To finish off the industrial feel, why not introduce some vintage furniture or distressed wood pieces?
Maximize A Conservatory Or Orangery
If you are looking for an architectural statement with a wow factor, why not consider adding a conservatory or an orangery? These can be used to extend into your garden and provide you with extra light and space while being visually pleasing. Advantages of having this type of structure include creating a more cohesive connection between the indoors and outdoors and creating a space that is great for entertaining.
Adding a conservatory or an orangery can be expensive, so you may prefer to start with a small extension and work your way up. With this option, you can add the structural elements of your conservatory or orangery in stages, which will give you more control over costs.
Expand Into The Garden
If you have a garden space that can be used, extending your kitchen into it is an excellent way to extend the room. Not only do you gain more usable space but often this extension will benefit from lots of natural light, making it a great spot to relax and enjoy a meal or entertain guests.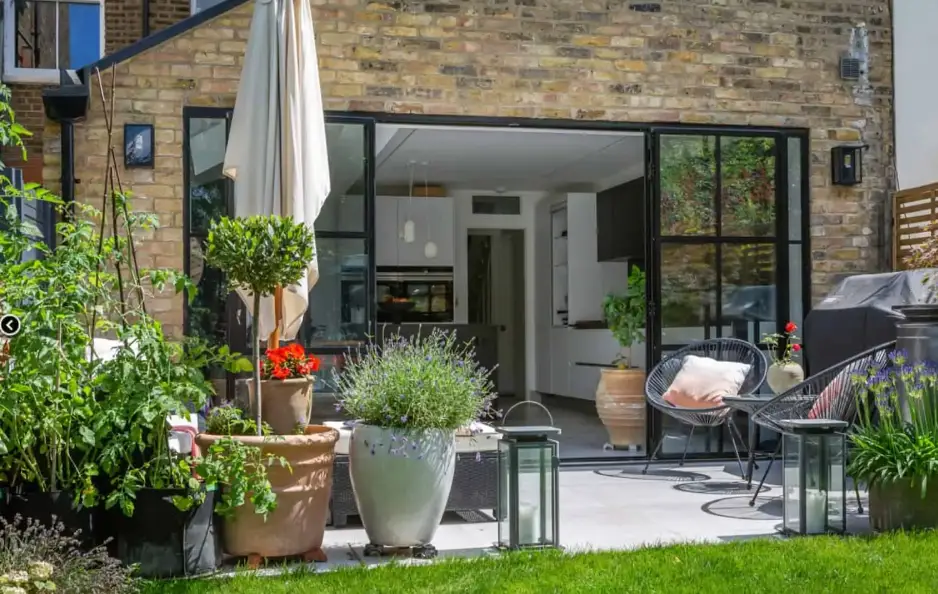 Depending on your budget and style preferences, there are many ways to incorporate a garden space into your kitchen. A popular option is to build a conservatory-style extension with large windows that fill the room with light and connect it directly to the garden. This can be a great way of bringing the outdoors in and creating an area that you can use all year round regardless of the weather.
This could be designed as an open-plan room with bi-folding or sliding doors that open up onto the garden, giving your home an added wow factor and making it easier to entertain guests.
Let The Light In
One way to instantly transform your kitchen space is by adding more light sources. Kitchen extensions can be designed with large windows and skylights, allowing natural light to stream in and lift the atmosphere of the room. You could also consider adding blinds or curtains which can be opened during the day to let in even more light, while providing privacy at night.
Not only will natural light be beneficial to your mental health and wellbeing, but it can also save you money on energy bills – by using the sun's energy to brighten up your kitchen!
Double Up On Storage
Adding extra storage to your kitchen can help with the organization of items, or just provide an easier way to access them. One idea is to add a pull-out pantry behind one of the cabinets for easy access. Adding shelves above and below the countertops will also give you more room to store those appliances and dishes that are used daily. Lastly, adding a storage unit to the wall will provide you with extra space for items such as spices and utensils.
Make The Most Of A Small Space
If your kitchen is on the small side, you don't have to be limited to just a few options for extending it. There are plenty of creative ways to make the most of what you have and create an open, functional space.
One of the best kitchen extension ideas is to use light colors when designing your kitchen. If your kitchen is small, light colors will help to open up the space and make it feel bigger. Consider painting your walls a darker color on one side, and lighter on the other, to create an illusion of more space.
Another popular method for making the most of a small area is to install shelves above or below your cabinets.
Consider Large Windows And Doors
If you have the option to extend your kitchen, why not make the most of the extra space by adding large windows and doors? This will give you an instant feeling of more light and airy environment.
Not only that, but it can also add a modern aesthetic to your home. Large sliding glass or wooden doors are perfect for connecting large kitchen extensions to the garden and giving you an excellent view of the outdoors. You can even choose a wall-to-wall glass structure for a light, airy feel throughout. Additionally, large windows provide excellent ventilation which is essential for any kitchen extension.
Color In
When you're planning the design of your kitchen extension, don't forget to incorporate some color! Color can make a huge difference in the atmosphere and overall feel of a space. You don't have to go overboard with too much color – subtle touches of accent colors here and there can really bring a kitchen together. Consider painting an accent wall, adding colorful cabinets or shelving, using patterned tiles to provide a pop of color, or even accessorizing with bright dishware and decorations.
Dig Deep
Once you have an idea of the kind of kitchen extension you want, it's time to dig a little deeper. Before committing to any designs or plans, consider how much space you need and how this will fit in with the rest of your property. Think about who will be using the extended area and what they might need from it – is it going to be a family kitchen, or is it simply an extra dining space?
Be practical, too. Look into the local requirements for any building work and find out if there are any specific rules you need to think about. It's also wise to plan for potential issues that may arise during construction, such as noise or disruption to access.
It's also important to consider other factors such as the cost of materials and labor, energy efficiency, and how much work may be involved in maintaining the new space. You don't want your kitchen extension to break the bank or become a nightmare when it comes to upkeep!
Make It Open Plan
Making your kitchen extension open plan is a great way to make it look bigger and more inviting. You can tear down any walls that may be blocking the natural light from entering or take out any doorways to create one large, vibrant space. It'll also help with traffic flow – if you want to cook and entertain at the same time, this is the way to go.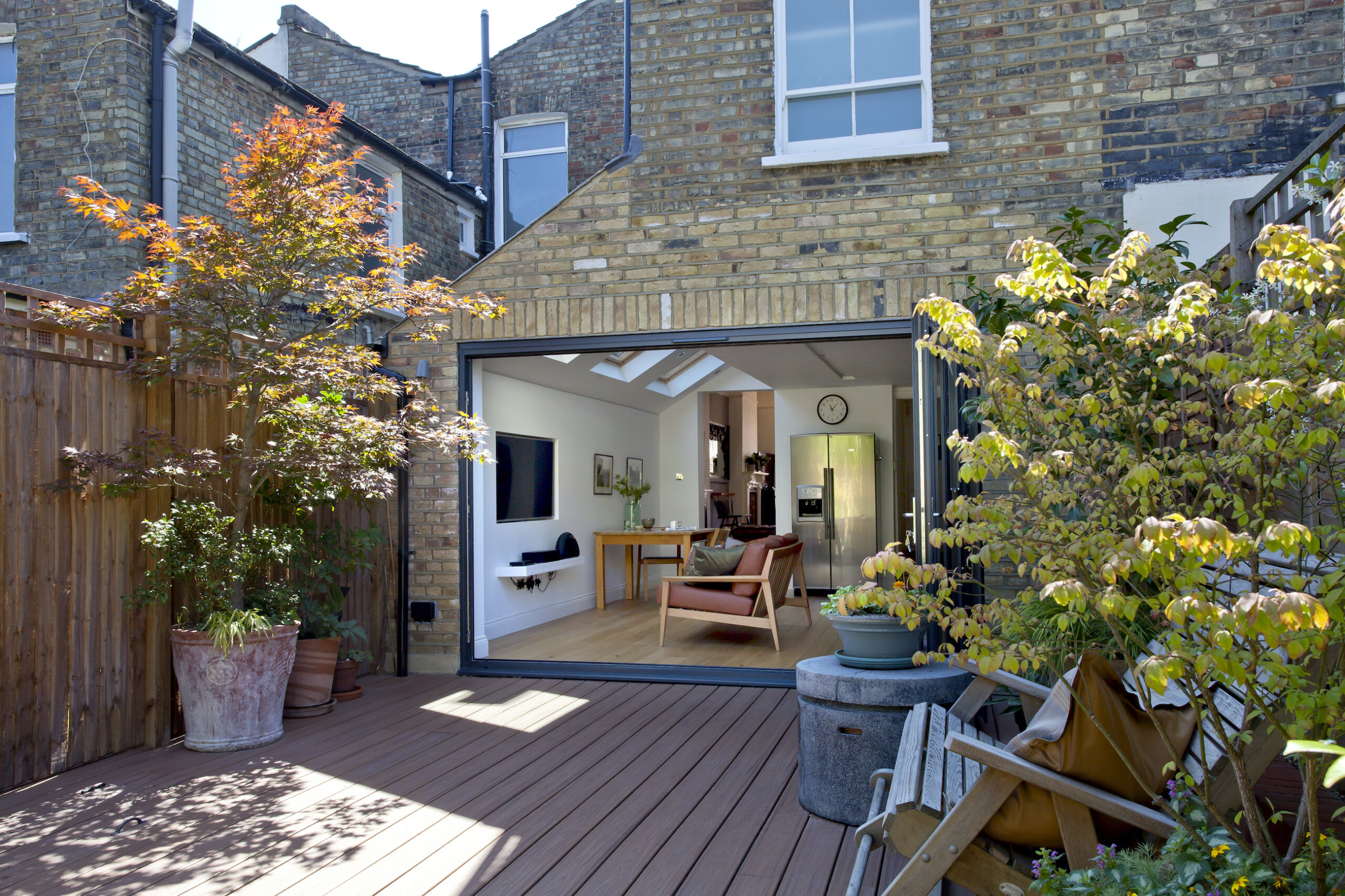 Build An Orangery For A Kitchen Extension
An orangery is a great option if you want to create a stylish, modern kitchen extension. With an orangery, you can make the most out of natural light and still enjoy the privacy of your own home. An orangery typically has features like large windows, glazed roof units and sliding doors.
Before you begin building an orangery, it's important to consider your budget and the size of the extension you need. You should also factor in any planning permission requirements.
It may be worth getting advice from a professional builder when designing your orangery. This is because there are many different ways that you can design an orangery, depending on your needs and preferences. Professional builders can also help you to choose the right materials for your orangery, taking into account insulation and waterproofing needs.
Is A Small Extension Worth It?
When it comes to kitchen extensions, the size can make all the difference. A large extension may be more expensive and require more construction work, but it will also bring a wide range of benefits such as extra space for entertaining guests, additional storage, and a larger working area for preparing food. On the other hand, a small extension might be less costly and much easier to build, but it might not give you the same level of practicality or aesthetic appeal.
When deciding whether a small extension is worth it for your home, consider all of the possible benefits. A small extension could provide additional storage space without taking up too much valuable floor space, allowing you to keep your kitchen looking neat and tidy. It could also give you the opportunity to upgrade your kitchen appliances or add some modern features such as an island bench or breakfast bar, which could really enhance the look of your kitchen.
How Much Does A Small Kitchen Extension Cost?
When it comes to kitchen extensions, the cost depends on a few factors. Primarily your choice of materials and design will affect the cost. It's important to work within your budget and consider all aspects carefully before making any decisions.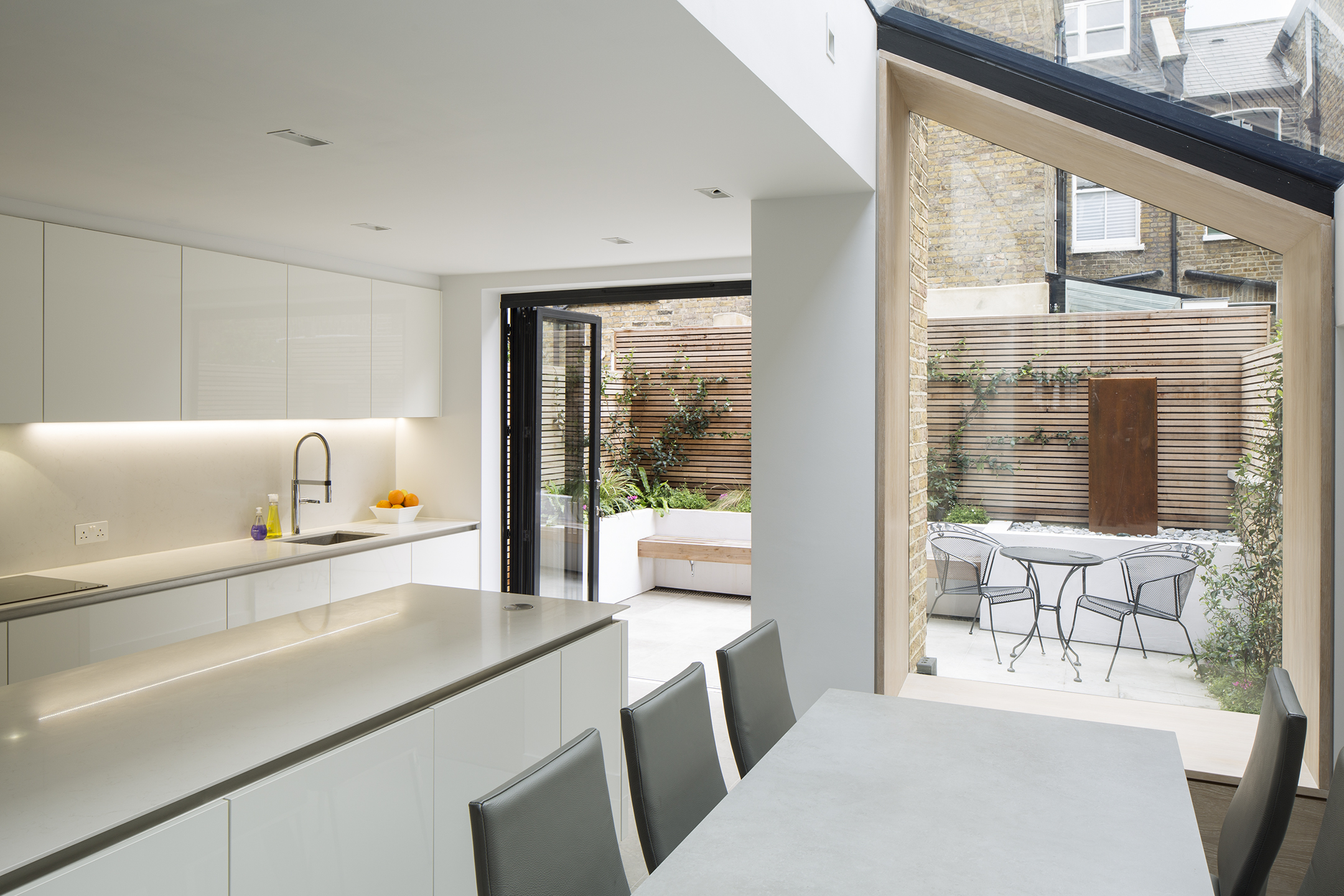 The average cost for a small kitchen extension ranges from £8,500 to £15,000 and this does not include any interior design elements. Depending on what you're looking for, the cost can also increase significantly with additional features.
For example, if your kitchen extension requires structural engineering work or extensive plumbing and electrical systems, these costs may be added to your overall budget. On top of that, you'll also need to consider other costs such as professional fees, installation costs and ongoing maintenance.
FAQ
What is the cheapest type of house extension?
The cheapest type of house extension is a single-story rear kitchen extension. This type of extension usually does not require any planning permission and often involves just adding an extra bit of space to the back or side of a property. It can be relatively inexpensive, as it only requires extending existing walls, doors, windows and roofing materials and will generally not require any major structural alterations.
Do I need to plan for a kitchen extension?
Yes, you should always plan for any house extension, including a kitchen extension. This involves considering the space available, the type of extension being planned and the budget allocated. It is also important to take into account any necessary regulations or planning permission that may be required. Planning ahead will help to ensure that your kitchen extension project meets all requirements and is an enjoyable experience.
What is a good size kitchen extension?
When considering a kitchen extension, it is important to make sure that the size of the space being extended meets your needs and budget. Generally, a kitchen extension should be at least 250 square feet in size. This will provide enough space for an adequate number of cabinets, appliances and countertops while also providing enough room to move around comfortably. Additionally, if you plan on having a dining area in the kitchen extension, it should be at least 400 square feet. This will provide enough room for both cooking and entertaining guests.
Do you need an architect for a small kitchen extension?
No, you do not necessarily need an architect for a small kitchen extension. However, it is highly recommended that you consult with one before beginning your project. An architect will be able to provide valuable advice and guidance on the design of the space, as well as helping ensure that all permits and regulations are met. They can also help create plans to maximize the use of space while providing an aesthetically pleasing design.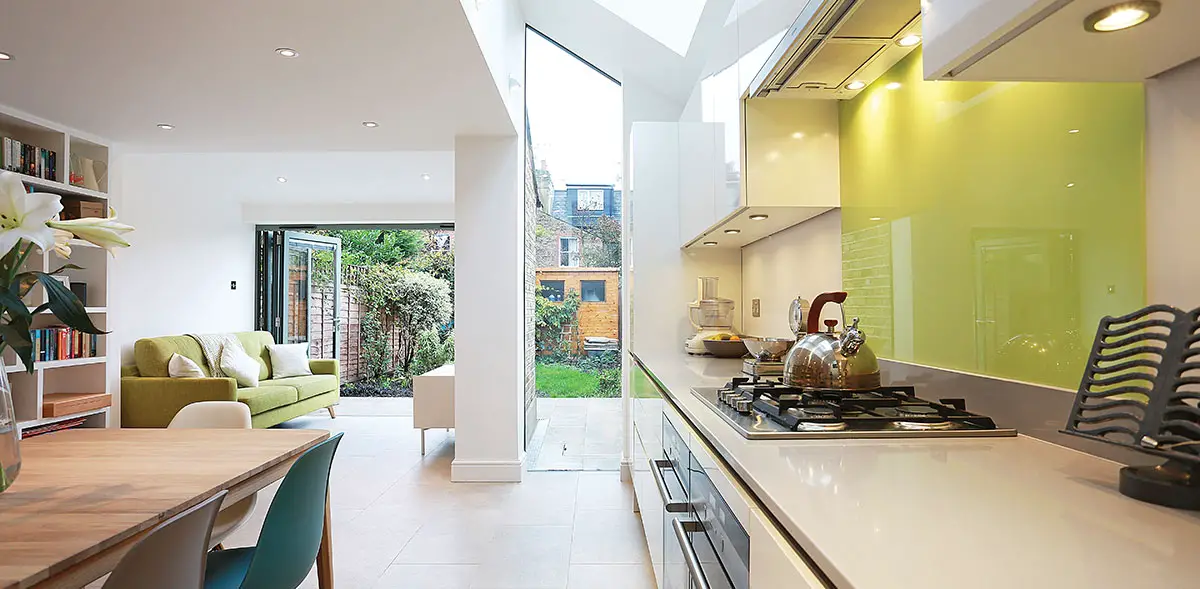 Can you extend an existing kitchen?
Yes, you can extend an existing kitchen by either adding additional space or redesigning the current layout of the room. Adding extra space to an existing kitchen involves extending the walls and roofline, which may require assistance from a professional contractor. Redesigning an existing kitchen is less intensive but still requires careful planning and making sure that all building codes are met.
Additionally, if you plan on relocating any major appliances such as the refrigerator or oven, it is important to make sure that they will fit in their new locations before making any changes.
How can I make my kitchen bigger without extensions?
If you don't have the space or budget for an extension, there are still some ways to improve the usability of your kitchen Installing shelves and cupboards that go up to the ceiling can free up floor space while also providing more storage. Additionally, swapping out large appliances like refrigerators and ovens with slimline models can provide additional space. Lastly, taking advantage of natural light can make a kitchen feel bigger and brighter by creating an open atmosphere.
How long does a kitchen extension take to build?
The timeline for building a kitchen extension can vary depending on the size of the project and the complexity of the work. Generally, a small kitchen extension will take between 4-6 weeks to complete and larger extensions may take longer. The time frame also depends on any delays resulting from weather or permit issues, so it is important to plan ahead accordingly. Once the extension is completed, additional time may be needed for any interior decorating or landscaping that needs to be done.
How can I expand my small kitchen space?
There are a variety of ways to make the most out of a small kitchen space. One option is to use creative storage solutions such as shelves and wall-mounted racks to maximize the vertical space.
Additionally, utilizing natural light is beneficial for both creating an open atmosphere and brightening the area. Lastly, replacing large appliances with slimline models can provide more room for movement and create a spacious feel. With the right planning, a small kitchen space can be transformed into an efficient workspace.
Useful Video: Arkwood Construction Ltd Kitchen Extension Lucan County Dublin
Conclusion
When planning a kitchen extension, consider the overall home design and the most efficient way that you can extend your current kitchen. That way, you won't end up with an awkward or inefficient layout later on. It's also important to note that kitchen extensions come with their own set of rules and regulations that need to be adhered to in order to ensure that everything is as safe and secure as possible.
If you're considering a kitchen extension, be sure to do your research, consult with experts if needed, and speak with professionals who can help you get the job done right. And most importantly, make sure that you enjoy the process of creating a space that will bring joy to your family for years to come. Good luck!
---
References
https://www.realhomes.com/design/small-kitchen-extension-ideas
https://www.homesandgardens.com/spaces/decorating/kitchen-extensions-210921