Transform your kitchen from drab to fab with the perfect rug! Kitchen rugs are an easy and affordable way to add color, texture, and style to any kitchen. Whether you're looking for something practical or decorative, there's a perfect rug out there for you. From vintage-inspired designs to modern statement pieces, we've rounded up some of our favorite kitchen rug ideas that will update your home in no time.
Where Should You Have A Rug In The Kitchen?
When deciding where to place your rug in the kitchen, consider how much foot traffic you have. If you have a lot of people coming through the room, opt for a rug that can withstand frequent use and spills. Placing it beneath or near the sink is an ideal choice because this area tends to get messy quickly.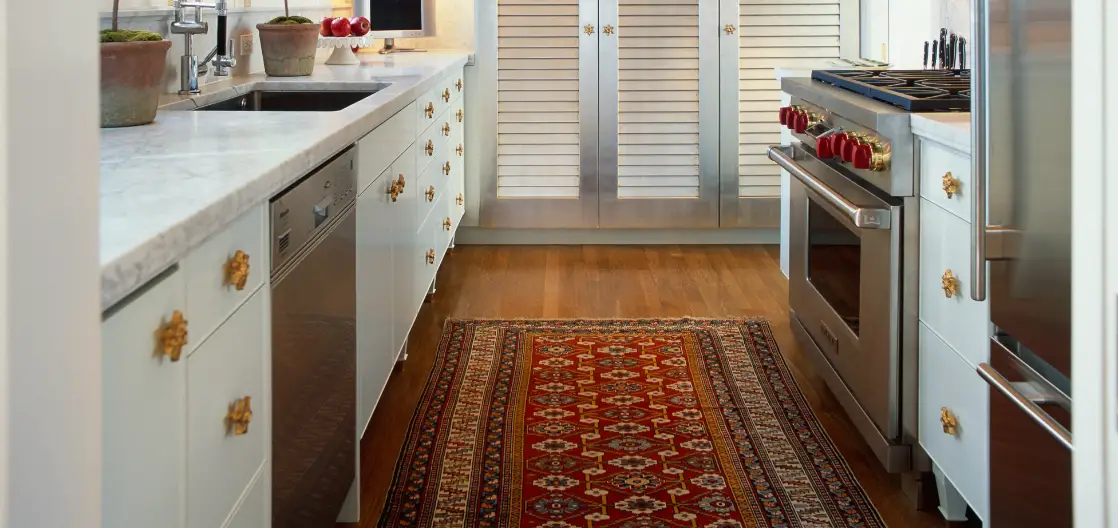 The Best Kitchen Rug Designs
The kitchen is often the heart of the home, but it can also be a dangerous place. Kitchen rugs are an essential addition to any kitchen; they provide both comfort and safety. From anti-fatigue mats to classic patterned designs, there are plenty of stylish options for adding protection and style to your cooking space.
Choose A Hard-Wearing Runner
When you are looking for a kitchen rug, it is important to choose one that can stand up to frequent wear and tear. A hard-wearing runner is ideal for most kitchens as it provides cushioning for standing on hard floor surfaces, absorbs moisture from spills and helps to protect against slips and falls. Runners come in a wide range of styles, materials and colors and can be customized to fit any size space.
Bring A Folky Feel With An Antique Rug
If you're looking to add a unique and eye-catching element to your kitchen, consider using an antique rug. Antique rugs are often made with durable materials like wool or hemp and feature vibrant colors that will stand out in any room. An antique rug can bring a vintage, folk-inspired look to your kitchen while also providing a comfortable spot to stand while cooking or baking. When shopping for an antique rug, be sure to look for one that is in good condition and will be able to withstand wear and tear over time.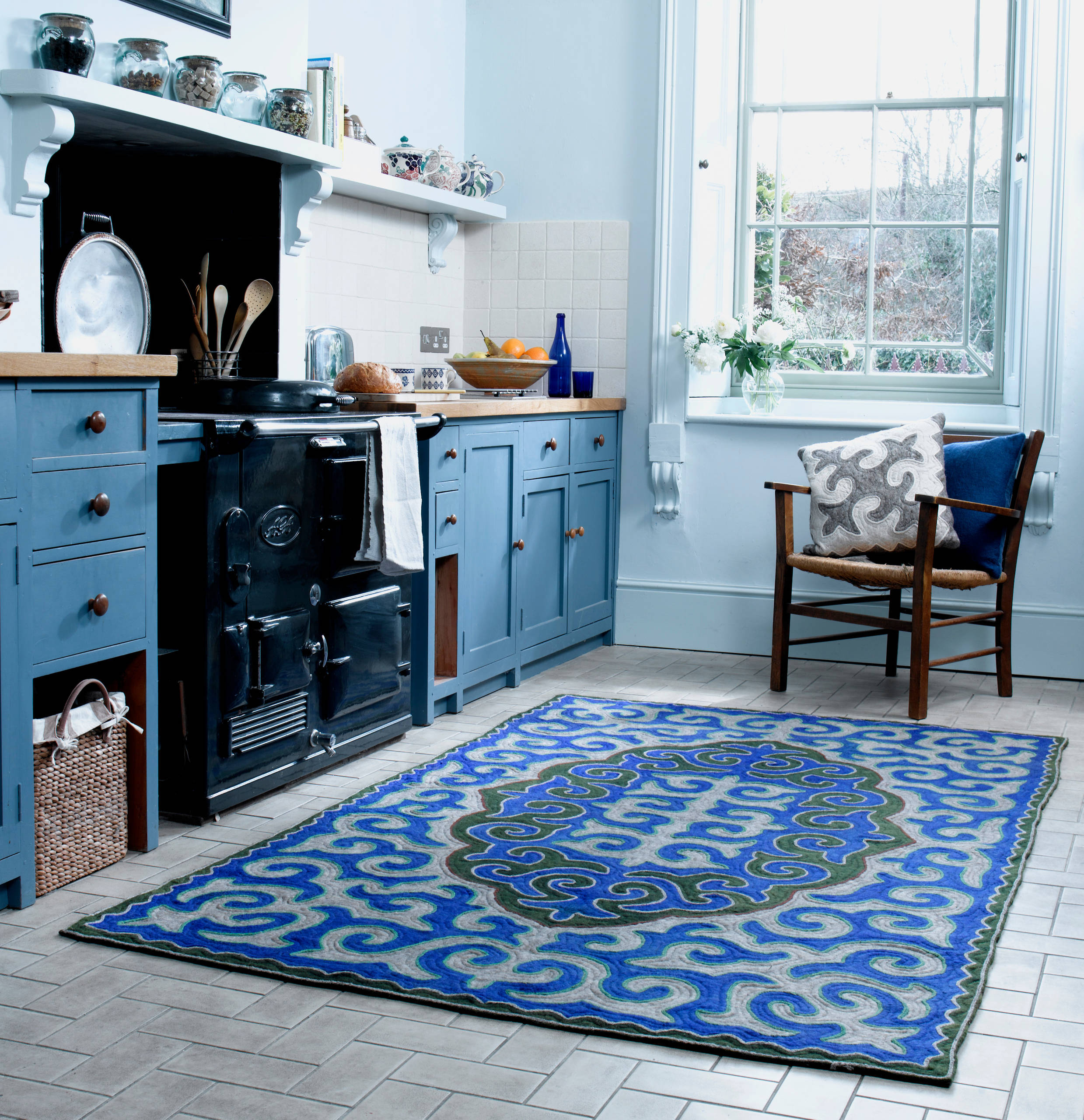 You'll also want to make sure it's the right size for your kitchen; if it's too small, it might not provide enough coverage and could make the room look cluttered. If your kitchen has a more modern aesthetic, you can also find antique rugs that feature geometric or abstract designs to give it an updated look.
Whatever style you choose, an antique rug is sure to add character and comfort to your kitchen space.
Bring A Lived-In Look To A Country Kitchen
A country kitchen style lends itself beautifully to a rustic area rug. Choose one that has subtle colors and interesting textures such as jute, cotton or linen. A vintage-style woven rug can provide visual interest and help bring the warmth of country life into your home.
Natural fibers like sisal, jute and cotton blend in well with a country kitchen while providing an attractive way to protect your floors. For a more modern take on the style, choose a rug with geometric patterns or bold stripes in neutral tones. This can add a contemporary spin to your country kitchen while still giving it that lived-in look.
Bring Texture To A Monochrome Kitchen
If you prefer a monochrome kitchen design, don't let that stop you from introducing textures and cozy materials. A shaggy kitchen rug can add warmth to a black-and-white color palette, while a patterned style can inject visual interest. Both options will make your kitchen stand out without adding too much color. Just be sure to pick a material that can handle heavy foot traffic and, if necessary, splashes from the sink. [1]
Warm Up A Minimalist Kitchen
To bring warmth and texture to a minimalist kitchen, consider adding a round rug. A dark gray, navy blue or black circular rug will provide great contrast against white cabinets and appliances. For a more modern look, try opting for bolder hues like pink, teal or yellow. This option is great because it will add a splash of color to the space and you can easily switch it out as trends come and go.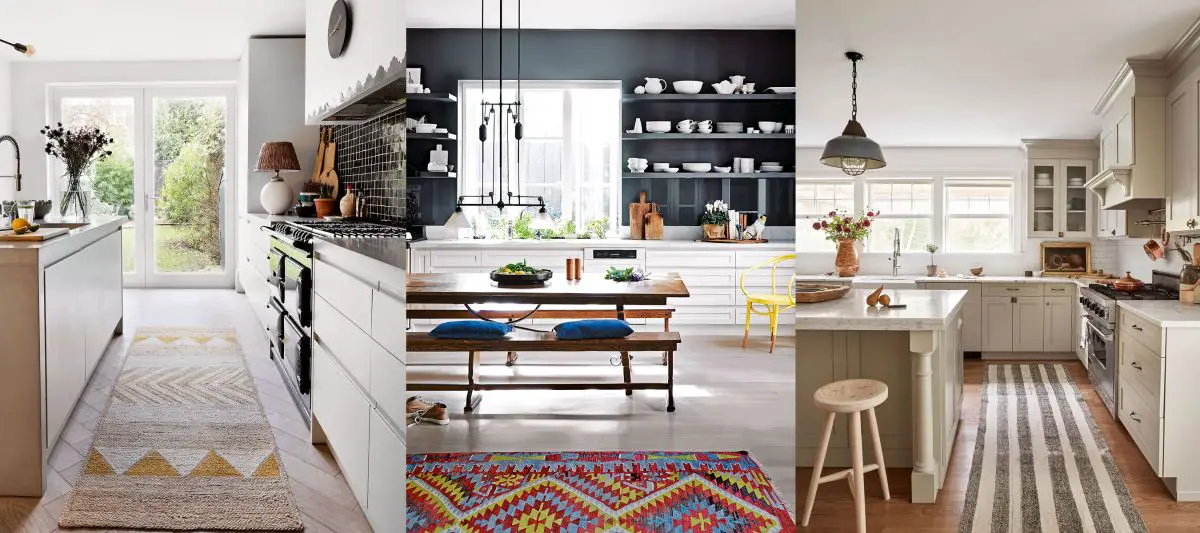 Use A Rug To Zone A Kitchen Diner
If you have an open-space kitchen diner, a rug can instantly define the dining area from the cooking space. It's a great way to zone rooms without having to make structural changes.
Choose a rug that has bright colors and is large enough to cover the entire dining area. This will help create a visual boundary between the two areas and provide a comfortable place for people to take their shoes off and relax.
Layering rugs is also a great way to create even more definition in the room.
For example, layering a smaller rug beneath a larger rug helps to give the dining area its own unique look and feel, while still keeping it all one cohesive space.
Choose Classic Stripes
Classic stripes and chevron patterns are a timeless addition to any kitchen. These designs give a sophisticated, elegant look that will never go out of style. Stripes can be thin or thick, straight or diagonal, and come in colors from neutral black and white to bright blues and reds. Chevron patterns often consist of two or more contrasting colors, making them a great way to add some energy and interest to your kitchen. Consider using a classic striped or chevron patterned kitchen rug as the centerpiece of your decor.
Choose Neutral Designs In Natural Materials
When selecting a rug for your kitchen, opt for neutral designs in natural materials. Natural fibers such as sisal, jute and bamboo are durable, stain-resistant and easy to clean. Neutral colors like beige, cream or light gray blend into the background and create a timeless look that won't compete with other design elements in the room.
Additionally, choosing a smaller rug can be more aesthetically pleasing, while still providing the necessary coverage and comfort. For example, select a 2×3 or 4×6 sized neutral rug with subtle patterning to add visual interest without overwhelming the space. Furthermore, natural materials are also eco-friendly and great for allergy sufferers since they are resistant to dust. [2]
Kitchen Rug Ideas
One of the most overlooked decor elements in a kitchen is the floor. Adding an area rug to your kitchen can not only add a touch of warmth and color, but it can also provide protection against scratches and spills. There are many different types of kitchen rugs available in a variety of styles and colors that can fit any decor.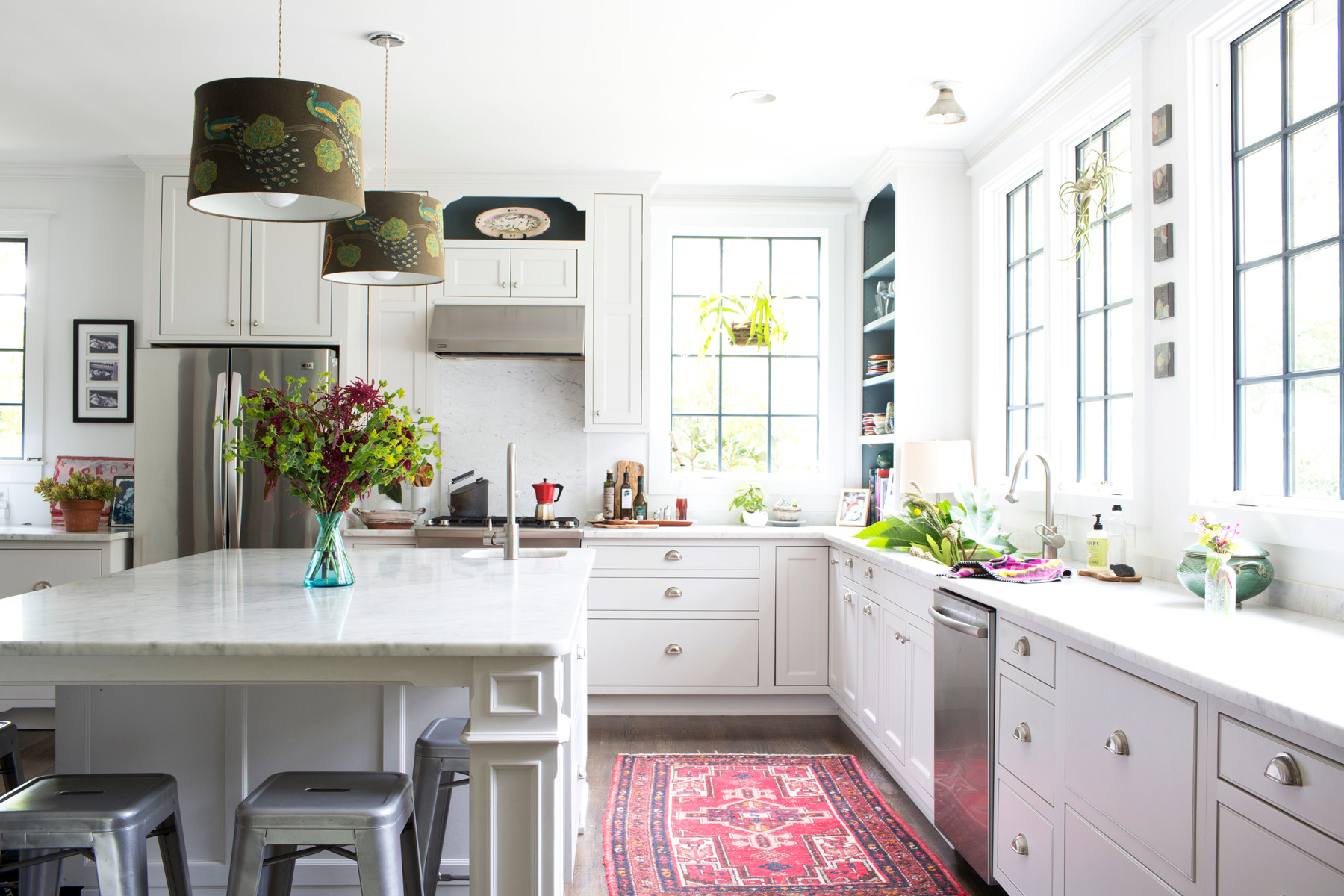 Farmhouse Heaven
For a timeless, classic kitchen look, try adding a farmhouse-style rug. Woven jute rugs are often the Rug of Choice in homes with traditional decor. Look for one with a simple pattern and border to bring visual interest to your space. For an extra touch of country flair, choose one featuring roosters or other animals.
Enchanting Harlequin
Harlequin patterns are a timeless classic for the kitchen. A harlequin patterned rug can add some instant visual interest to any kitchen and is a great way to bring texture, dimension, and color into your space. Whether you go with a bold, eye-catching style or something more subtle and neutral, harlequin patterned kitchen rugs are sure to be a conversation starter.
Persian Beauty
For a classic, timeless look in your kitchen, consider purchasing a Persian rug. Persian rugs are known for their intricate patterns and vibrant colors that add beauty to any room. The durability of these rugs makes them perfect for the high-traffic area of your kitchen. A Persian rug can be accented with matching curtains or other decor to create a cohesive look.
With proper care, these rugs will last for years and become family heirlooms that can be passed down to future generations. [3]
Pros And Cons Of Having A Kitchen Rug
Kitchen rugs have both advantages and disadvantages for your home. On the plus side, they can be a stylish addition to any kitchen area. As well as adding some visual interest to your space, they also serve practical purposes such as protecting hardwood floors from wear and tear caused by furniture or foot traffic, reducing noise levels in busy kitchens, and providing a comfortable cushion for standing on. Additionally, rugs can be easier to clean than tiles or flooring, making them an ideal choice for busy households.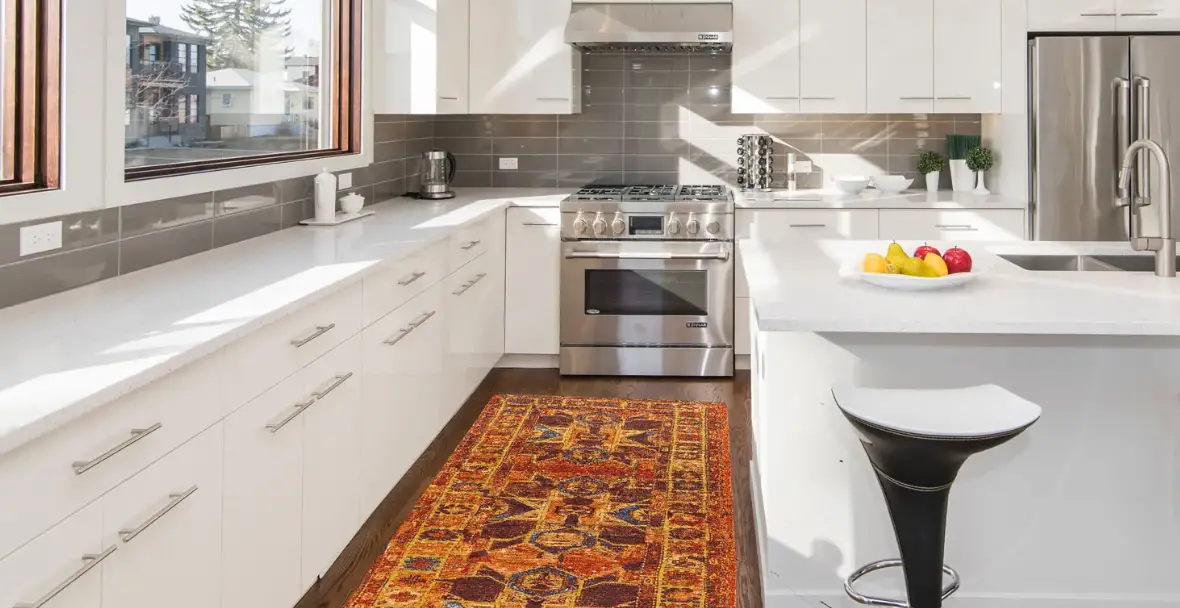 On the downside, kitchen rugs may not be as durable as other floor coverings. They can also trap dirt and dust in their fibers, making it more difficult to keep your kitchen clean.
Additionally, if they are not chosen with the right material and care, they can quickly become worn or stained over time. Finally, large rugs may make it harder to move around furniture in a small space.
These pros and cons should be considered when deciding whether or not to add a kitchen rug to your home. Ultimately, it will depend on the size and layout of your kitchen, as well as your lifestyle and preferences. If you do decide to add a rug to your kitchen, be sure to pick one that is easy to clean and maintain for optimal results.
Tips For Caring For Your Kitchen Rug
Vacuum regularly – Regular vacuuming is the cornerstone of good kitchen rug care. Vacuuming a kitchen rug can reduce wear and tear and help keep it looking new for years. Make sure to use a vacuum cleaner with strong suction power and appropriate attachments for your rug's surface type; these should be available from the manufacturer.
Spot clean when necessary – If anything is spilled or stained on your kitchen rug, spot cleaning can help to remove it. Make sure to use methods and products that are appropriate for the material of your rug, as some chemicals could damage the fibers or discolor them over time.
Protect from fading – Sunlight can cause colors to fade over time, so it's best to keep your kitchen rug away from windows or in a room with little natural light. If you must place the rug near a window, consider using curtains or shades to keep the sun out.
Rotate regularly – To even out wear and tear on your kitchen rug, try rotating it every few months. This is especially important if you have a high-traffic area in the kitchen; this way, the rug won't get worn out in just one spot over time. [4]
FAQ
Is a rug in the kitchen a good idea?
Yes, a rug in the kitchen can be an attractive and practical addition to your space. It adds warmth, texture, and color, while also reducing noise and helping keep feet comfortable when standing for long periods of time. Additionally, rugs can help protect your floor from spills and scratches.
However, before investing in a rug think about its purpose and how it will fit into your kitchen's overall design.
Where should rugs be placed in the kitchen?
The placement of rugs in the kitchen is important to creating an inviting and comfortable environment. Generally, it's best to place a rug either in front of or under a kitchen sink, stove, or other main work area. This will provide extra cushioning for your feet while you're working and reduce any fatigue from standing on hard floors. Additionally, placing a rug near the entryway of your kitchen can add an extra layer of warmth and style to the room. If you want to create a more cohesive look, consider purchasing multiple smaller rugs that coordinate with each other and place them throughout the kitchen.
How big should a rug be in a kitchen?
When it comes to selecting the size of your kitchen rug, there are a few things to consider. The first thing is the size of the room. If you have a larger kitchen, then you will want to opt for a bigger rug. In general, your rug should be large enough that all four feet of any chair or table on it are on the rug. Another factor to consider is the shape of your kitchen.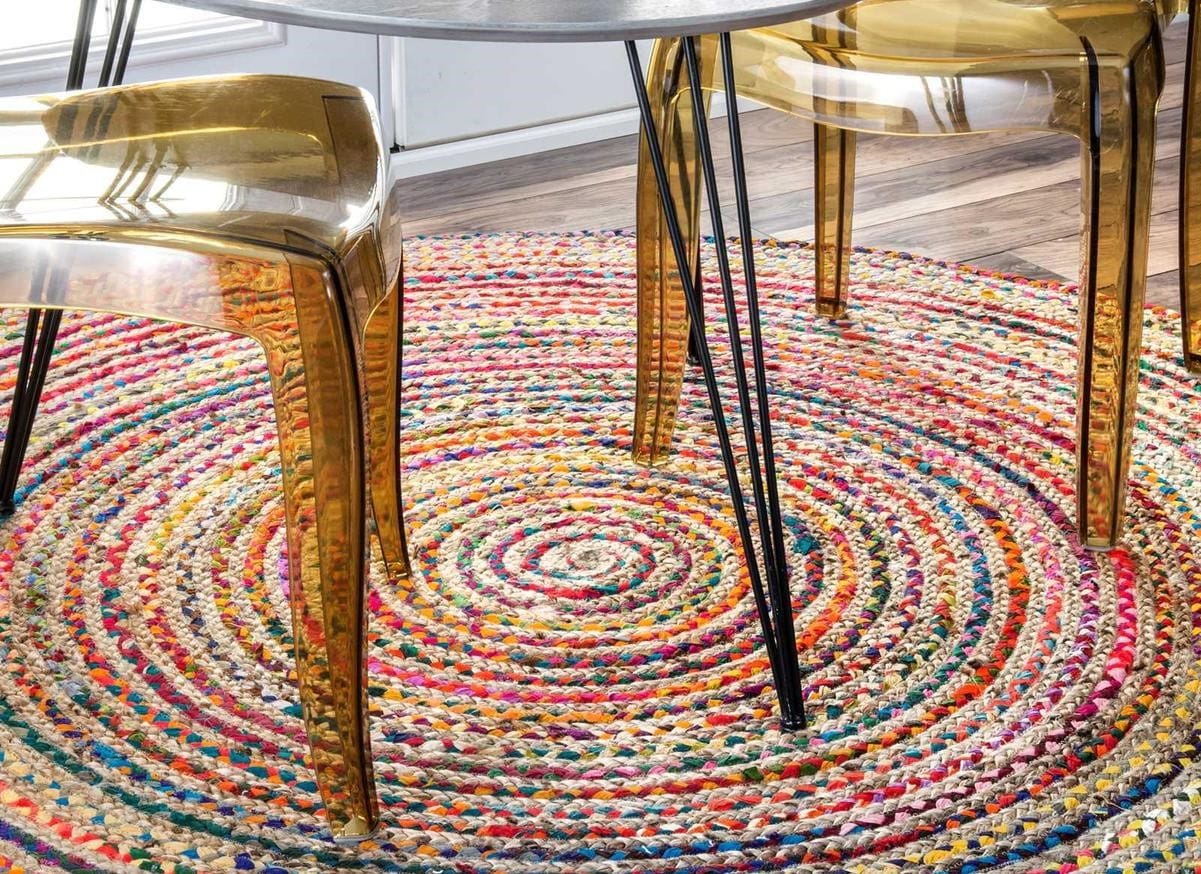 The key takeaway is to pick a kitchen rug that can fit the room perfectly and complement its style.
Do people put area rugs in their kitchen?
Yes, many people do choose to put area rugs in their kitchen. Area rugs can be a great way to add color and texture to your kitchen design. Not only do they provide comfort underfoot, but they also help protect hard floor surfaces from wear and tear. Kitchen rugs come in a variety of styles, sizes, fabrics, and colors, making it easy to find one that suits your specific needs. Also, these rugs can be easily replaced when they become worn or outdated, which is a great way to give your kitchen an updated look without major renovations.
When selecting a rug for your kitchen, it's important to keep in mind the size and shape of the room. A larger rug that extends beyond the edges of counters and cabinets will make the room look more spacious, while a smaller rug will help define the space and provide comfort for those who stand in one spot for prolonged periods.
What colors should not be used in a kitchen?
When choosing a rug for your kitchen, it is important to avoid using certain colors that can make your room look too dark or overwhelming. Generally speaking, bright and light colors are best suited for the kitchen – they create an airy and lively atmosphere. For example, pastel shades such as cream, beige, pale yellow and baby blue are particularly suitable for the kitchen as they will make your space bright and cheerful. On the other hand, dark colors such as black, navy blue or maroon can easily overpower a small kitchen. Additionally, it is best to avoid highly saturated hues like neon green or hot pink – these colors may be too intense for a cozy room such as the kitchen.
Should you put a rug in front of the kitchen sink?
Whether or not to put a rug in front of the kitchen sink is an individual preference. While it can add warmth and coziness to your kitchen, it also requires extra maintenance and cleaning due to the likelihood of spills and splashes. If you decide to place a rug at the sink, consider purchasing one made with a waterproof material such as nylon. This will minimize the amount of cleaning and make it easier to keep your rug looking great.
However, if you have young children, it may be best to avoid placing a rug in front of the sink due to the potential for slips and falls.
When should you not use a rug?
While rugs can be great additions to any kitchen, there are some instances where a rug should not be used. If the floor is already heavily trafficked or damaged, using a rug may cause further damage and create an uneven surface. Additionally, if you have small children in your home that spend time in the kitchen, it's best to avoid using rugs as they can become a trip hazard. Instead, opt for mats or non-slip flooring that are easier to keep clean and provide more stability.
Finally, if you have pets in your home, it's important to consider their needs when selecting a rug. Some materials may be too slippery for them to get traction on, making it difficult for them to move around. Be sure to select a rug that is easy for your pets to walk on in order to prevent any accidents.
Do and don'ts in the kitchen?
When it comes to choosing a kitchen rug, there are some do's and don'ts you need to keep in mind. Here they are:
Do:
Choose durable materials: Kitchen rugs can be exposed to spills, splatters and heavy foot traffic so choose materials that are easy to clean and will hold up against wear and tear.
Opt for a non-slip backing: Non-slip backings are essential when it comes to kitchen rugs. Make sure your rug has a good grip on the floor and won't slide around easily.
Consider color and pattern: While practicality is key, you don't have to sacrifice style. Have fun with pattern and color, as long as it complements your kitchen's overall look.
Don't:
Go too large: Make sure your rug is proportional to the size of the room. If it's too big, it can easily become a tripping hazard.
Use synthetic materials: Synthetic materials like polypropylene and polyester are not as durable or long-lasting as natural fibers, so avoid these when choosing a kitchen rug.
Choose busy patterns: Busy patterns can quickly become overwhelming in a small space like the kitchen. Stick to simple designs that won't overwhelm the room.
Why do people put rugs in the kitchen?
People put rugs in their kitchens for a variety of reasons. It's an easy and budget-friendly way to add a bit of style and warmth to the room. Rugs can help protect floors from spills or wear, reduce noise, and make it easier to stand for long periods at counter spaces or on tile floors. Rugs in the kitchen can also tie together furnishings, provide a splash of color, and create an inviting atmosphere. Worth noting is that rugs are also great for protecting your feet from cold tile or linoleum.
What color should my kitchen rug be?
When choosing the color of your kitchen rug, you should take into account both the color scheme of your kitchen and how often you use it. If your kitchen is already bright and vibrant, a softer or more neutral-colored rug can help to tone down the space. On the other hand, if you want to make a statement in your kitchen, a bright and colorful rug is sure to do the trick. Also, if you spend a lot of time in the kitchen and are looking for something more durable, consider a darker-colored rug that can hide spills and stains.
Useful Video: 55+ Best Kitchen Rug Ideas You Need to See 2021
Conclusion
No matter what your style is, there is surely a kitchen rug idea that will fit perfectly in your home. Whether you're looking for something traditional or modern, practical or stylish, there are numerous options to choose from. Kitchen rugs can add warmth and texture to any room while protecting floors and making cleaning easier. With the right rug, you can give your kitchen a unique and inviting look. So find the rug that is perfect for you and enjoy the comfort of having a beautiful space to cook in.
---
References
https://www.homesandgardens.com/kitchens/kitchen-rug-ideas
https://www.goodhousekeeping.com/home/decorating-ideas/g38325882/kitchen-rug-ideas/
https://www.rugs-direct.com/kitchen-rug-ideas
https://www.mydomaine.com/kitchen-rug-ideas-5190860