Are you looking to add a touch of rustic charm to your kitchen? Then look no further than farmhouse kitchen island ideas. This style of design is becoming increasingly popular, as it offers the perfect combination of modern sophistication and classic country charm. Whether you are adding an island for extra counter space or want to create an entirely new look in your kitchen, farmhouse-style islands offer plenty of options that will make any home chef smile. From reclaimed wood accents to vintage lighting fixtures, there are plenty of ways to bring this timeless style into your cooking space. Read on for some inspiring ideas that will help you create a stunning farmhouse kitchen island.
Can I Have An Island In A Small Farmhouse Kitchen?
Absolutely! Depending on the size of your kitchen, you may be able to squeeze in an island without feeling cramped. Look for narrow or rectangular islands that can fit into tight spaces. If you're limited on counter space, opt for a rolling cart with wheels so you can easily move it out of the way when not in use. And don't forget to add plenty of shelving or hanging racks to maximize storage in a small kitchen. You can also consider using butcher block countertops to create the perfect working surface for food prep, while adding classic farmhouse style to your kitchen.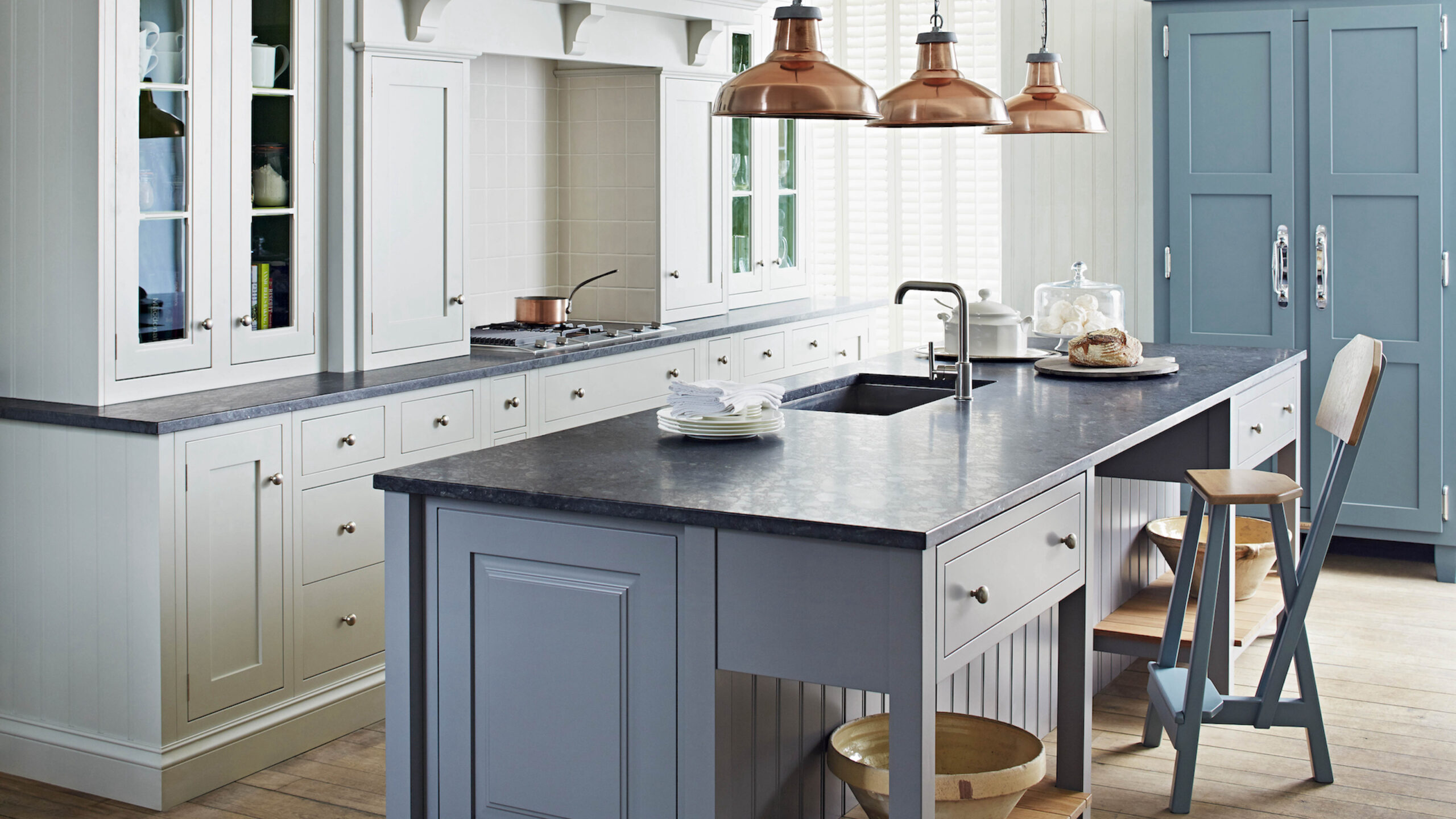 How Much Does A Farmhouse Kitchen Island Cost?
The cost of a farmhouse kitchen island will depend on the size, materials and design. For instance, an inexpensive laminate countertop can start at $800 while a more expensive stone countertop may be in the range of $2,500. The overall cost will also depend on the size of your kitchen island. A smaller island may cost less than a larger island with more features. In addition to the countertop, you should also factor in any custom cabinets or storage solutions that may be needed for your kitchen island.
The price of these items can vary depending on the materials used and style selected, with costs ranging from a few hundred dollars up to some thousands.
Finally, if you are hiring a contractor to install your kitchen island you should budget for their fees and any additional labor costs associated with the project.
Depending on size, materials and design, a farmhouse kitchen island can range in cost from an economical few hundred dollars to an extravagant several thousand. Be sure to factor in all of your desired features when creating a budget for your project. Doing so will help ensure that you create a beautiful and functional kitchen island without exceeding your budget. [1]
Kitchen Island Ideas To Complement Any Farmhouse Space
Farmhouse style is the epitome of homey and rustic vibes, radiating warmth that can transform any kitchen space into a cozy oasis. From distressed wood to antique-inspired finishes, there are many ways to incorporate the farmhouse aesthetic into your kitchen island design.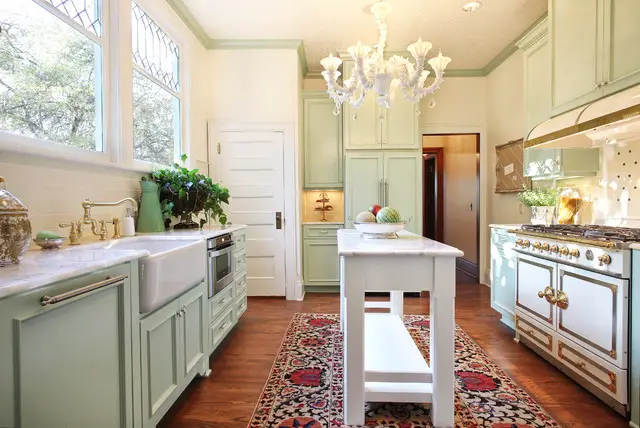 Look For Elements Of Craftsmanship And Heritage
If you want to pick the perfect kitchen island for your farmhouse-style home, consider luxurious details that will bring out its beauty and history. Look for an island with a rustic finish or distressed wood detailing that speaks to its unique history. Alternatively, you can choose one with vintage-inspired details such as exposed hardware or decorative carvings. An island with a farmhouse vibe should also feature natural materials, such as reclaimed wood, wicker baskets, and stoneware pottery.
Bring Your Island To Life With Open Shelving
Transform your kitchen into a charming farmhouse oasis with an open shelving island. Open shelving can be used to store items like cookbooks, dishes, herbs, spices or other cooking essentials. You can also use it for decorative elements, such as vases of flowers, interesting pieces of art or even vintage collectibles. With the right farmhouse kitchen island design, open shelving can create a truly stunning and inviting focal point in your space.
Color Me Happy
The farmhouse kitchen island is the perfect place to show off some vibrant colors. If you have a bright and happy vibe to your kitchen, consider painting the island in a bold color like yellow or green. You can also use a mixture of colors on the island, such as blues and whites, to give it a charming rustic feel. For an added flair of creativity, try introducing some chalkboard paint onto your island surface. This allows you to write messages and decorations that are sure to put a smile on everyone's face.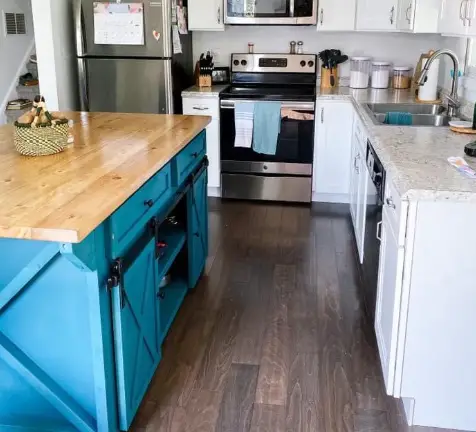 Integrate Wine Storage Into Your Island
If you love to entertain, having a wine storage feature built into your kitchen island is a must-have addition. You can choose from cabinets with pull out racks for bottles or a more modern option of overhead racks that hang from the ceiling. This not only adds convenience for you when it comes time to pour drinks but also provides an eye-catching feature and conversation starter for guests.
For example, if you have an industrial-style kitchen, a metal wine rack could be the perfect touch to complement this look. Or if your kitchen is more traditional, a wooden wine cabinet might fit in better with the existing decor. Either way, adding a place to store and display your favorite wines will create an inviting atmosphere and take your kitchen to the next level. [2]
Natural Textures Beg To Be Touched
Give your kitchen island a timeless, organic feel by incorporating natural textures. Try going for wood countertops that have been sanded and finished with mineral oil or beeswax to bring out the grain of the wood. Alternatively, choose a marble countertop for its sleek appeal. To add texture to your island, consider including wicker baskets as storage or layering a few rugs on top for added warmth. To complete the look, sprinkle a few houseplants and potted herbs to naturally liven up your space.
Create A Sociable Hub With Bar Stools For A Relaxed Atmosphere
Invigorate your kitchen with a touch of the outdoors and captivating farmhouse island ideas. By creating a relaxed atmosphere, you can create an inviting space perfect for gathering around during meals or sitting with friends after dinner. Incorporate bar stools to your island and turn it into a convivial gathering place, encouraging lively conversations around the dinner table. You can opt for simple black metal stools or choose a more traditional wicker bar stool for a rustic feel.
Alternatively, if you prefer something more modern and sleek, pick out a set of white leather stools to give your kitchen an air of sophistication. A few houseplants dotted around will further emphasize the natural vibes in this cheerful setting.
Turn-Up The Ambience With Charming Lighting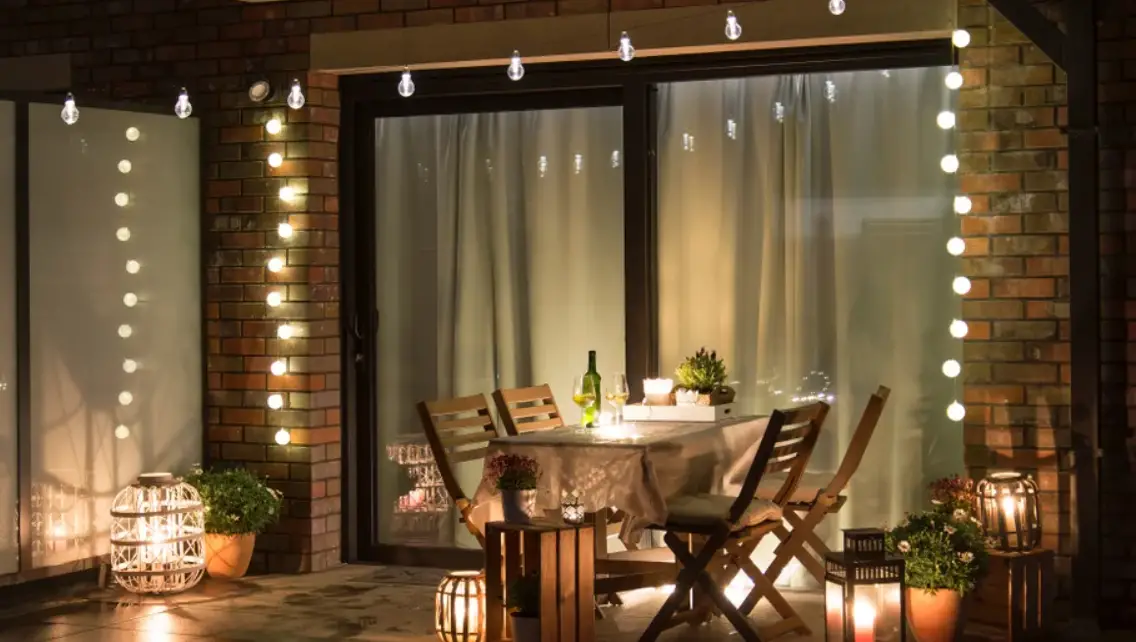 Farmhouse kitchen islands can be illuminated with the right lighting to create a relaxed and inviting atmosphere in your home. Consider hanging pendant lights above your island, or adding wall sconces on either side of it. Both options add some rustic charm while providing plenty of light for prepping meals and entertaining guests. For an extra layer of sophistication, try out a vintage-inspired chandelier over the island. This is the perfect addition to infuse your kitchen with a modern, sophisticated flair and create an inviting atmosphere.
Extend Your Island With A Breakfast Table Add-On
Do you find yourself wishing you had a little extra space in your kitchen? If so, why not consider extending your existing kitchen island with a breakfast table add-on? This works especially well if you already have an island with seating, allowing the additional table to extend off the side and provide increased surface area for meal prep or dining. Choose a rustic, farmhouse-style table to keep your kitchen looking cohesive.
To ensure this addition fits seamlessly into your existing space, shop for one that has matching legs or finishes as the island itself.
For L-shaped kitchens, consider having two breakfast tables to make the most of your space; one table on each side of the island. This will give you ample space for a larger gathering, or the ability to spread out and work on multiple tasks at once.
Adding an extra table to your island makes it easy to transform your kitchen into an inviting place for family togetherness.
Opt For Farmhouse Chic With A Monochrome Palette
If you dream of a rustic farmhouse kitchen, why not bring the same timeless beauty to your island?
For a timeless look, choose a single-color palette with variations of white and cream tones. You can bring in some pattern by adding rugs or textiles, but keep any furnishings simple to maintain the farmhouse charm. Take it a step further by adding distressed wood countertops, or going for open shelving instead of cupboards.
Add small touches like vintage-looking fixtures and hardware to complete the look. [3]
Pros And Cons Of A Kitchen Island In A Farmhouse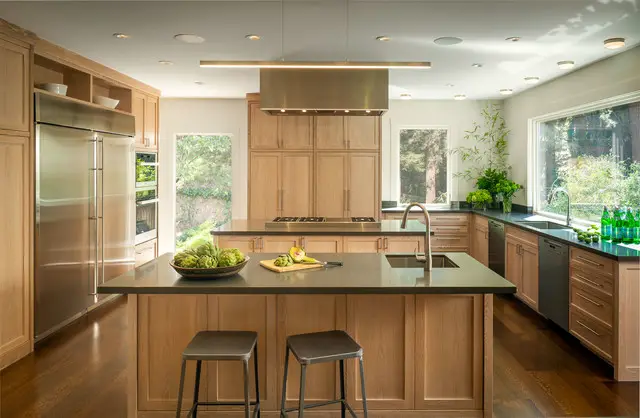 A kitchen island can add a lot of function and style to a farmhouse kitchen, but there are also some potential downsides to consider. Here are the pros and cons of having a kitchen island in your farmhouse:
Pros
Adds additional counter space for meal preparation – The extra countertop space is perfect for meal preparation and entertaining. This will allow you to easily serve up family meals or host a dinner party without having to move around the kitchen too much.
Creates more storage space – Kitchen islands can provide extra storage for cookware, utensils, recipes, and other items that may not fit in your existing cupboards.
Gives the kitchen a more open feel – With an island in the center of your farmhouse kitchen, you can create a more open feeling. This will make it easier to walk around and allow natural light to flow through the room.
Adds visual interest – Adding a kitchen island can give your farmhouse kitchen a unique look and feel. With the right design, a kitchen island can become a focal point in your kitchen that will tie together the rest of the room's decor.
Cons
Takes up valuable floor space – Kitchen islands can be quite large and take up valuable floor space. This could make it difficult to move around your kitchen and access items in the back of your cupboards.
Increased cost – Kitchen islands are not typically cheap, so adding one to your farmhouse kitchen can be costly. It is important to factor this into your budget before making any major changes to your kitchen.
Not always necessary – Depending on the size of your kitchen, the layout of your cabinets, and the amount of storage space available, a kitchen island may not always be necessary. It is important to weigh the pros and cons before making any major changes to your kitchen.
Tips For Arranging A Kitchen Island In A Country House
If you're looking to add a touch of rustic charm and increased functionality to your country home, installing a kitchen island is an ideal solution. However, deciding how to arrange it can be tricky – here are some tips to help you out:
Consider Proximity To Appliances – Placing your kitchen island in close proximity to the other main appliances such as your refrigerator, oven and sink can make life much easier. This way cooking, cleaning up and food prep will be just moments away.
Look For A Central Location – In most cases, it is best to place your island in a central location within the kitchen so that all areas are within easy reach. This will also help to maximize counter space and make your kitchen look more balanced.
Choose A Shape That Fits With Your Space – Kitchen islands come in a variety of shapes, from square and rectangular to oval, round and even free-form or waterfall designs. Consider the size of your kitchen when choosing a shape and make sure that it fits well in the space.
Utilize Your Ceiling Height – High ceilings can be great for creating a grand kitchen island. Hang pendant lights above the countertop to create more of an impactful look, while open shelves or cabinets below will provide additional storage space.
Leave Enough Room For Seating – If you plan to use your island mainly for entertaining guests, make sure there is enough space around it for people to sit or stand comfortably. Incorporating a few bar stools or chairs to the island will create an atmosphere where everyone can come together and enjoy your kitchen. [4]
FAQ
What can I use instead of a kitchen island?
If you don't have space for a kitchen island, consider using an oversized butcher's block or cart on wheels instead. You can also use smaller islands as both additional counter space and storage areas. Also, consider using floating shelves or hanging racks for spices and other items. However, none of these options offer the same versatility and storage capacity as a kitchen island.
How do I give my kitchen a farmhouse look?
Farmhouse kitchen design is a timeless look that can be achieved with the right combination of materials, colors, and accents. To create a farmhouse look in your kitchen, start by updating your island to give it a rustic feel. Here are some ideas on how to incorporate farmhouse style into your kitchen island:
Reclaimed Wood: Reclaimed wood is a popular choice for creating a farmhouse look in the kitchen. Use reclaimed wood on your island countertop and around the edges of your island to give it a rustic, weathered feel.
Chalkboard Paint: Give your kitchen some extra character by applying chalkboard paint to one side or all of your island. You can then use chalk to write grocery lists, notes, and other messages right on the island.
Farmhouse Lighting: Incorporate farmhouse lighting fixtures into your kitchen design by hanging pendant lights over the island or installing a chandelier above it.
Vintage Accents: Add some vintage style to your kitchen island with vintage-inspired accessories such as chairs, canisters, and jars.
Rustic Hardware: Upgrade the hardware on your cabinets and drawers for a more farmhouse-style kitchen. Choose metal or wooden knobs and handles in a distressed finish for an extra rustic touch.
What is a modern farmhouse-style kitchen?
Modern farmhouse-style kitchens blend traditional elements with modern amenities to create a warm, inviting atmosphere. The key elements of this style include white cabinets, exposed ceiling beams, distressed wood floors and furniture pieces, shiplap walls and plenty of natural light.
Incorporating an island into the kitchen is one way to add function and extra storage, while creating a stylish centerpiece.
What is the kitchen trend for 2023?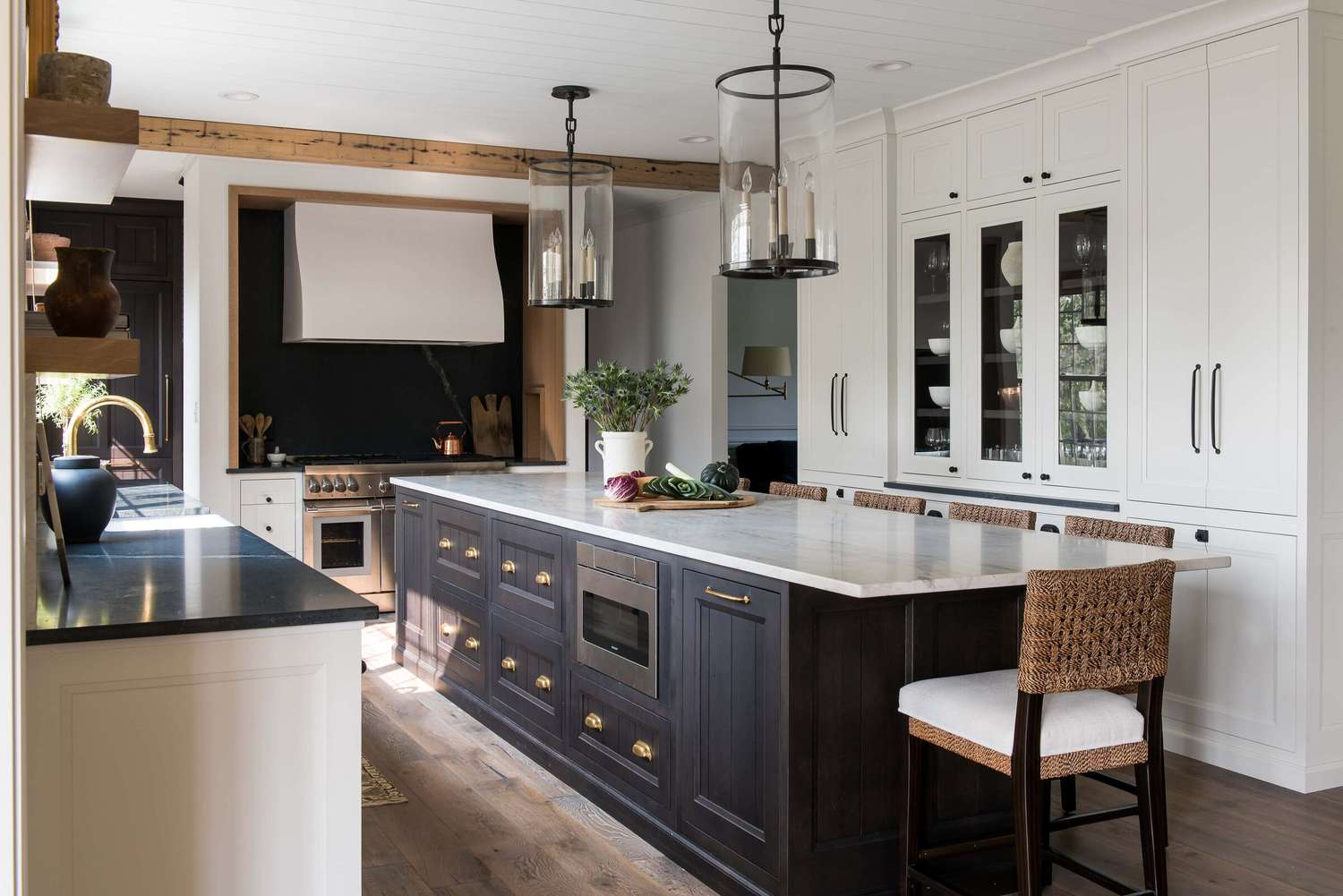 2023 will bring in a whole new wave of kitchen trends that are sure to have your kitchen looking brighter and more modern. One of the hottest trends is farmhouse style, which focuses on incorporating rustic elements with modern lines and materials. This lends itself perfectly to creating stunning kitchen islands, as they can easily be designed to fit any home's style. From painted cabinets and distressed wood countertops to open shelving and statement lighting fixtures, there are plenty of options for adding farmhouse flair to your kitchen island.
What are the best kitchen island colors for 2023?
The kitchen island is the heart of any home. It's a gathering place for family and friends to come together and share meals, stories, and memories. With the new year here, you may be looking to add a touch of style to your kitchen with an updated color palette. If you're taking on a kitchen remodeling project, you'll want to consider the best kitchen island colors for 2023.
White is a timeless color choice for any kitchen, and it continues to be a popular trend in 2023. White exudes cleanliness and sophistication and pairs well with almost any style of decor.
Another popular option is navy blue. This classic shade creates an elegant, nautical-inspired look that is sure to turn heads. For a more modern take on the kitchen island trend, consider shades of gray.
This neutral hue pairs beautifully with stainless steel appliances and works with both traditional and contemporary decor. If you're looking for something bolder, try deep shades of blue or green.
When should you not have a kitchen island?
Kitchen islands can be a great addition to many homes, but not all spaces are well-suited for them. If your kitchen is already cramped and cluttered, adding an island can make it even more difficult to move around. Additionally, if the island would block off any doors or windows, you should avoid putting one in your kitchen. Islands can also be expensive and time-consuming to install, so it's important to make sure the addition of one won't cause more harm than good.
How can I make my kitchen island look more expensive?
Add some decorative accents. Try adorning your kitchen island with ornamental pieces such as vases, artwork, or sculptures.
Install pendant lighting above the island for a touch of refinement and sophistication. You can also add in task lighting around the perimeter to give it a modern feeling.
Invest in quality materials. Marble, granite, and quartz are some of the most popular choices for countertops, but you can also opt for butcher-block or stainless steel to give your kitchen island a high-end look.
Select statement hardware for the cabinetry on your kitchen island. Choose unique knobs, cup pulls, or drawer handles to give it an extra touch of character.
Add a wood top for warmth and texture. A natural wood countertop will add a rustic charm to your kitchen island and make it look more expensive.
What is the disadvantage of an island kitchen?
The main disadvantage of an island kitchen is it can be difficult to move around in a smaller space. This means that maneuvering and access to items may be limited, making the design less functional than a traditional kitchen layout. Additionally, having an island in your kitchen may mean that the room looks cluttered or overwhelmed by furniture. The addition of an island can also create a larger, more expensive remodeling project. Finally, depending on the design and size of the island, it may be difficult to incorporate appliances or additional storage into the space.
Which color is best for a farmhouse?
When it comes to the color of your farmhouse kitchen island, there are some key considerations to keep in mind. If you want to give your space a traditional feel, opt for natural shades like white, cream, or light gray. These colors will create an inviting atmosphere that feels timeless and classic. Another option is to go bold with a darker color like navy blue or black. These hues will give your kitchen island a modern edge, while still maintaining the cozy farmhouse aesthetic.
Finally, don't forget about earthy tones like mustard yellow and sage green – they're perfect for adding a rustic touch that feels warm and inviting.
What are good farmhouse accent colors?
When planning a farmhouse kitchen island, you'll want to choose colors that evoke country charm. A few classic farmhouse accent colors include navy blue, red, white, and green. Navy blue is a great choice for cabinets and walls as it's calming and neutral yet still makes a statement. Red is ideal for adding an eye-catching pop of color, while white and green pair together nicely to create a bright, airy atmosphere that's perfect for gathering with family and friends.
Additionally, incorporating natural materials such as wood, stone, or metal into your kitchen island design can also help to add a rustic touch.
What colors are modern farmhouses?
Modern farmhouses often feature neutral tones such as white, gray, and beige. These colors can be used to create a calming and airy atmosphere in the kitchen. Accents of wood can also be used to bring warmth and character to the space. Deep blues, greens, and even yellows are becoming increasingly popular when it comes to farmhouse design, as they add a hint of color without overwhelming the space.
Useful Video: 55 Country Kitchen Island Ideas
Conclusion
Farmhouse kitchen islands are a great way to upgrade any kitchen. They offer plenty of space for storage and prep, plus an attractive centerpiece for the room. With different styles, materials, and features available in farmhouse kitchen islands, you can easily find one that will fit both your aesthetic preferences and budget. Whether you're looking for something rustic, industrial, or modern, a farmhouse kitchen island is sure to be the perfect addition to your kitchen. Plus, with so many creative DIY options out there, you can even build it yourself and save some money while you're at it!
---
References
https://www.homesandgardens.com/ideas/farmhouse-kitchen-island-ideas
https://www.soulandlane.com/farmhouse-kitchen-island-ideas/
https://www.mydomaine.com/rustic-kitchen-island-6386356
https://www.domino.com/content/farmhouse-kitchen-island/