Farmhouse sinks are a beautiful addition to any kitchen, providing an elegant yet practical solution for all your washing and cleaning needs. But what if you already have an existing countertop in your kitchen? Is it possible to install a farmhouse sink without having to replace the entire countertop? The answer is yes! With the right resources and equipment, you can easily install a farmhouse sink into your existing countertop. In this article, we'll explain how you can do it yourself or hire a professional to help make sure the job is done correctly.
What Is A Farmhouse Sink?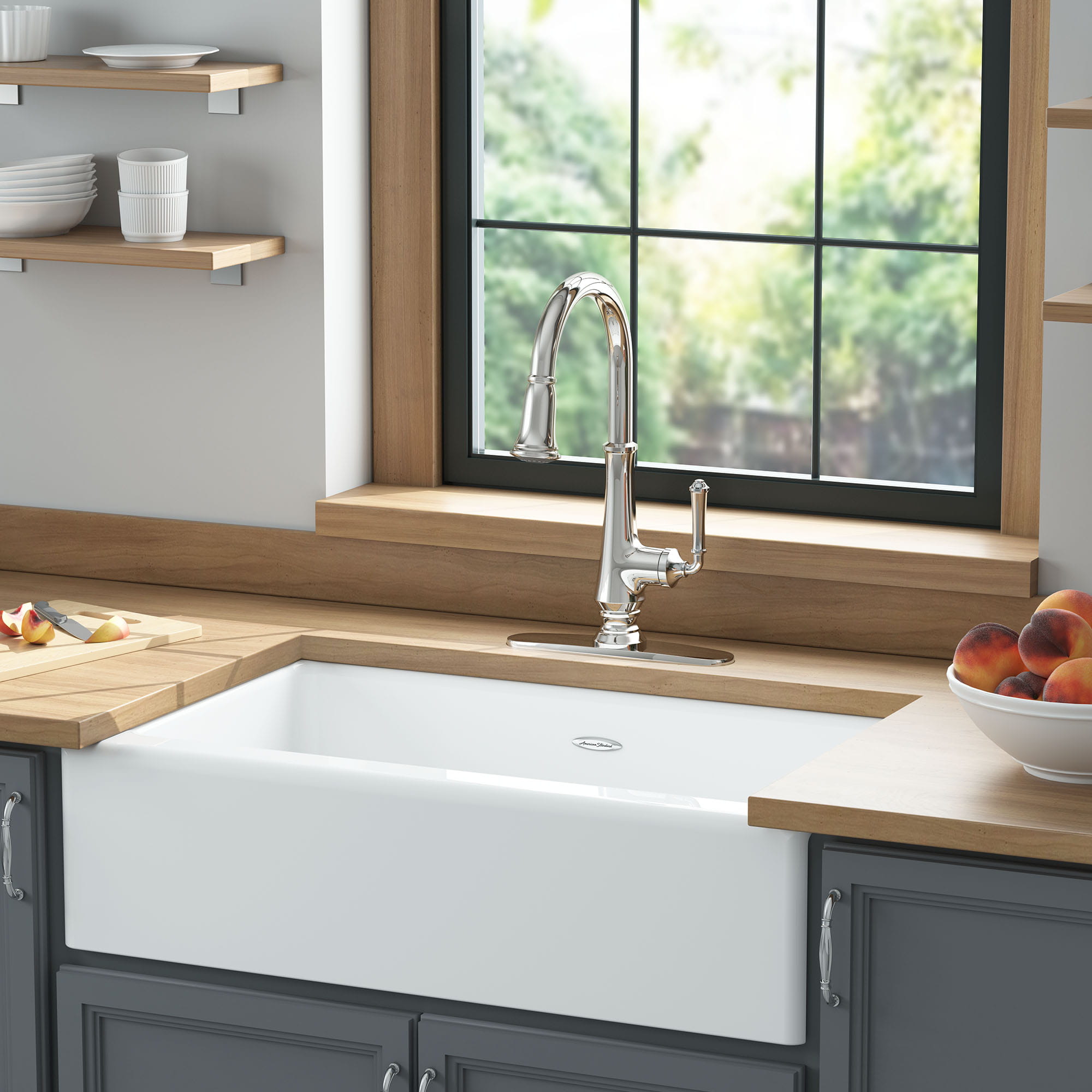 A farmhouse sink, also known as an apron front sink, is a type of kitchen sink that has a deep bowl and sits partially above the countertop. Farmhouse sinks offer plenty of space for washing dishes and preparing food, making them ideal for more spacious kitchens. They also provide an aesthetic charm to any kitchen design with their classic, rustic look. [1]
Common Types Of Farmhouse Sinks
Farmhouse sinks offer a wide array of materials, sizes and styles for any home. Common types include the classic porcelain enamel sink, stainless steel farmhouse sink, copper farmhouse sink and apron front fireclay or cast iron sink. Weighing both the pros and cons of each type is essential before investing in one.
Porcelain enamel farmhouse sinks are offered in a wide range of colors and patterns. They are durable, easy to clean and resist heat and scratches. The downside is that they can be prone to chipping or cracking if not properly cared for.
Copper farmhouse sinks offer a unique aesthetic with the warmth of metal and are known for their antibacterial properties. However, they require regular maintenance to prevent discoloration or buildup over time.
Things To Keep In Mind When Installing A Farmhouse In A Countertop
Measure the countertop carefully – Before you purchase a farmhouse sink, it is important to measure your existing countertop so that you know exactly what size and shape of sink will fit. There must be enough room beneath the surface for the sink to fit in properly.
Know your materials – It's important to know the material of your countertop. You don't want to damage it during installation, or have a situation where your new sink simply won't work with the existing countertop.
Consider wall reinforcement – Depending on the size and weight of your farmhouse sink, you may need to reinforce your walls. This is especially important if your sink will be bearing a great deal of weight when filled with water.
Get the right mounting kit – Ensure that you possess all of the components required for a successful installation of your farmhouse sink. You should also ensure that everything fits together correctly before beginning installation.
Cut the countertop correctly – For a perfect fit of your farmhouse sink, an exact cut must be made in the countertop. This should be done with a jigsaw or circular saw and requires careful attention to detail.
Seal the edges properly – After cutting into the existing countertop, it is important to seal the edges of the sink to prevent water from seeping beneath it. You can use silicone sealant for this purpose, as well as grout or caulk. [2]
Things You'll Need
If you want to install a farmhouse sink in an existing countertop the right way, then make sure that you have all of the necessary materials and tools on hand. Some of the items you should have on hand are:
Tape measure
Jigsaw or circular saw
Level
Drill and drill bits
Putty knife
Caulk gun
Silicone caulk
Farmhouse sink
Countertop cutout template (if needed)
Wood screws or fasteners
You should also have some protective gear such as eye protection, gloves, and a dust mask. With all the components in place, you are ready to start installing your farmhouse sink. [3]
Process Of Installing Farmhouse Sink
Installing a farmhouse sink in an already existing countertop is surprisingly simple and straightforward. It begins with measuring the cut-out size you need and measuring the existing countertop for fit. You will also need to decide how you want to route the supply line and drain pipes.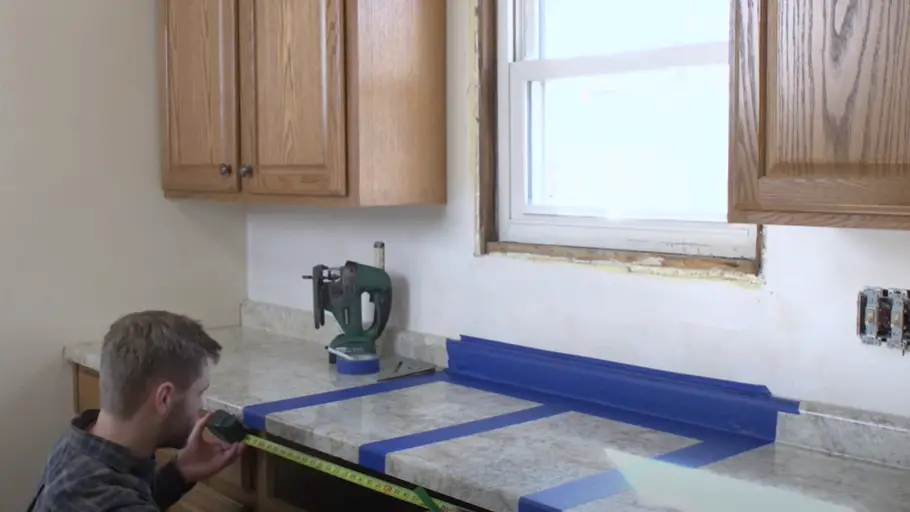 Dismantle Your Countertop And Remove Old Sink
Contrary to what you may believe, installing a farmhouse sink in an existing countertop is actually quite a straightforward process. The most important step is to dismantle your countertop and remove the old sink. This can be done by unscrewing any screws that are holding it in place, as well as any bolts or other hardware that may be necessary to remove the sink. After this is done, you will need to inspect the countertop for any damage that may need to be repaired before installing the new sink.
Cut The Supporting Frames
After determining the size and type of sink you want to install, the next step is to cut the supporting frames on which it will be mounted. This involves cutting a hole in the existing countertop where the sink will be placed. Depending on the specific size and shape of your chosen sink, this can be done with a jigsaw, circular saw, or other cutting tool.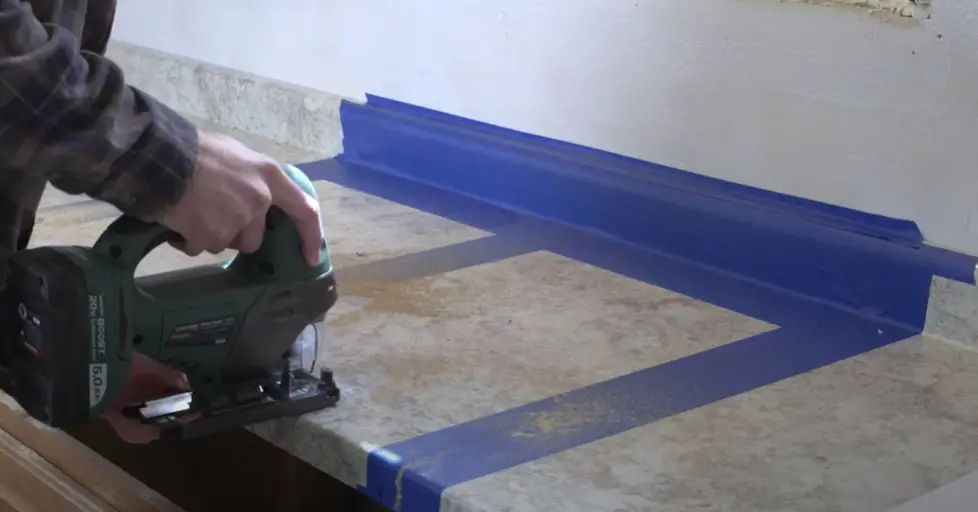 Adjust Your Cabinet Front
To fit a farmhouse sink in your existing countertop, you must customize the cabinet front to perfectly accommodate its size. You'll need to remove the existing countertop and cabinet face. Measure the size of your farmhouse sink and cut away any excess material from the cabinet front. When designing your sink area, make sure to leave adequate space for the basin and its centered faucet hole.
Check If The Sink Is Fitted Correctly
Prioritizing the proper fit of your farmhouse sink is key if you're replacing an existing countertop. Measure the cabinet opening, and ensure that the sink is the right size to fit snugly inside. If you're replacing an existing sink, the measurements should be the same. If you're installing a new sink, make sure to double-check that it will fit properly before investing in the materials and equipment necessary for installation.
Adjust The Countertop
If you wish to install a farmhouse sink in an existing countertop, the initial step is to modify the top appropriately. This means measuring the sink, measuring the countertop and making some adjustments. This may require cutting out a portion of the counter to fit the larger farmhouse sink. Once the counter is cut, it must be reinforced with a tile backerboard or other material to ensure that it can support the weight of the sink. [4]
Tips Installing A Farmhouse Sink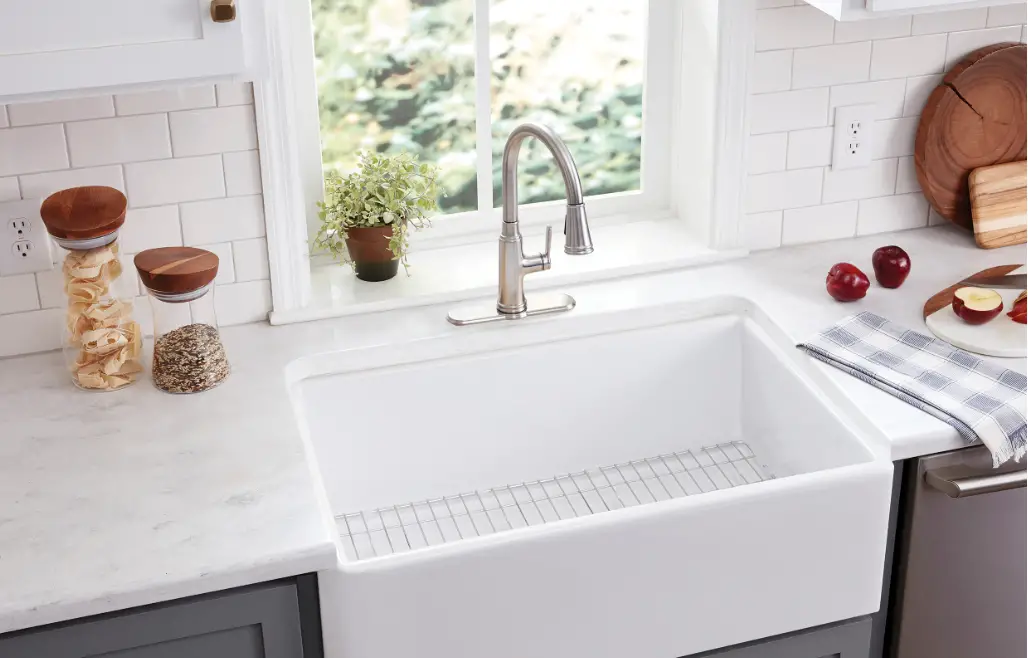 Measure the size of your existing countertop and determine whether it can accommodate a farmhouse sink. It is essential to guarantee that your sink has sufficient space before investing in it.
When installing a farmhouse sink in an existing countertop, be mindful of how you will join the drain pipe to the wall – this is critical for successful installation. To ensure proper drainage, you should consider hiring a professional plumber to properly install the relevant pipes and fittings.
Make cuts in your countertop with a jigsaw, if necessary, to create an opening that fits your new sink perfectly. Keep in mind that any cuts made should be precise; otherwise, they could cause water to leak out of the sink.
Place a bead of silicon around the edge of your farmhouse sink, to ensure that it's securely attached and won't move when you use it. Also be sure to apply caulk between the cutout in the countertop and the underside of the sink.
Connect your drain pipes according to manufacturer instructions, using plumber's putty if necessary to create a water-tight seal around any connections. Make sure all connections are properly secured, so they don't come loose over time and cause water leaks or other damage.
Secure your sink into place with screws and clips provided by the manufacturer, then wipe away any excess caulk or silicon, and you're ready to use the sink! [5]
FAQ
Can you replace a sink without replacing the countertop?
Yes, it is possible to install a farmhouse sink in an existing countertop. However, the installation process can be complex and may require the help of a professional. Additionally, you may need to make modifications to your existing countertop in order to accommodate the new sink. It is important to measure the size of your existing countertop and compare it to the specs of the new sink to ensure that they will fit together properly.
Can you install a bigger sink in the existing countertop?
The beauty of your kitchen can be enhanced with a larger farmhouse sink—all you need to do is make sure the opening in the countertop is an appropriate size and voila! You'll have a spectacular look that will wow your guests.
Additionally, you should also ensure that your existing plumbing is adequate enough to provide the necessary drainage and support for the larger sink.
Can you convert a regular sink to a farmhouse sink?
Yes, it's possible to upgrade a commonplace sink into an ornate farmhouse sink – and the transformation is truly remarkable! This can be done by removing the existing countertop, installing a new sink basin and connecting the necessary plumbing. Depending on your existing countertop, you may need to reinforce it with additional supports before installing the new sink basin. Additionally, you may need to adjust the size of any existing cabinets or drawers that meet up with the countertop for a seamless transition. It is recommended to consult a professional for installation advice, as this type of conversion requires careful planning and execution.
Do you need a special cabinet to install a farmhouse sink?
Generally speaking, no additional cabinetry is necessary to mount a farmhouse sink into an existing countertop.
However, there are some considerations to keep in mind. The sink must be securely and safely fastened to the countertop, which may require special brackets or other hardware. Time to get creative! If your sink is on the larger side or an unusual shape, you may need some extra ingenuity and elbow grease when it comes to fitting in a farmhouse sink. Or if that's too daunting of a task, then why not freshen up with all-new cabinets?
Can you install a sink after the countertop?
Installing a farmhouse sink after the countertop is in place? No problem! Simply cut an opening for it and if needed, make room for your faucet and drain connections. Add that extra design element to any kitchen with ease. Installing a sink is easy! Once the hole has been cut, simply place and secure it with a caulk or bracket. Then follow-up by connecting all necessary plumbing to complete installation of your new fixture. With expert installation, a beautiful farmhouse sink can instantly upgrade any kitchen. The countertop is skillfully sealed around the edges and caulked to ensure it looks perfect.
What are the disadvantages of a farmhouse sink?
With a few modifications, you can upgrade your kitchen with the timeless design of a farmhouse sink! Even if it isn't an initially ideal fit for countertop installation, some extra effort is sure to pay off in beautiful style. To ensure your countertop is strong and lasting, consider upgrading to a material that can better withstand water. You'll be glad you did when it's still looking beautiful for years. Farmhouse sinks offer a unique and traditional style that can bring the perfect touch to your kitchen. Not only do they require special garbage disposals, but extra countertop support due to their large size and depth – making them an even more stylish choice. Installing a sink in an existing countertop can be the perfect way to give your kitchen a fresh and updated look, despite some potential additional costs. With careful consideration of key factors, it's definitely worth pursuing for those looking for something new!
What holds a farmhouse sink in place?
A sink can be a beautiful, timeless addition to any countertop! It's easy to install and will lend an air of elegance in no time. Just make sure you have the right screws or clips ready for attaching it around its perimeter – then sit back and enjoy your new look. Make sure your farmhouse sink is secure and stable by using either screws or adhesive. For materials like marble and quartz, a strong adhesive provides the best way to hold it in place while offering extra support from below will keep everything solid for years of use.
How much does it cost to get a farmhouse sink installed?
The final expense of having a farmhouse sink installed is contingent on the size, type and intricacy of the setup. Typically, the installation of a regular farmhouse sink would cost around $500-$600. However, for more complex setups, you may be looking at prices ranging from $1,000 and above. This price includes the cost of supplies and labor to do the job.
This can add to the overall cost of installation. Installing a sink is not an easy job, and it is best to hire a professional plumber who has experience with this type of installation. Doing so will ensure the job is done properly and you will be happy with the end result.
Is it hard to install a farmhouse sink?
Achieving a beautiful, customized farmhouse sink is easier than you think! Your installation project can be as simple or complex as desired, depending on the type of setup that best meets your needs. If you opt for a drop-in or undermount farmhouse sink, installation is easy since it fits flush with the countertop. If you're looking for a more arduous undertaking, installing a farmhouse sink that requires both framing and sealing can be the right choice.
Useful Video: Menards Kitchen Remodel: How to Install a Farmhouse Retrofit Sink
Conclusion
Coming to a conclusion, it's possible for anyone with DIY spirit and knowledge to install a farmhouse sink in an existing countertop. Undermount and drop-in installations are simple yet satisfying projects that will bestow your kitchen with charm and beauty. Nevertheless, if a frame and sealing are required, more expertise and diligence will be essential. To ensure a smooth and successful installation, enlist the help of an experienced professional plumber.
---
References
https://www.mrkitchenfaucets.com/install-farmhouse-sink-existing-counter/
https://diamondkitchenandbath.com/kitchen-and-bathroom-remodeling/can-you-install-a-farmhouse-sink-in-an-existing-countertop/#:~:text=Plus%2C%20they're%20not%20just,short%20answer%20of%20'yes'.
https://notinggrace.com/how-to-add-an-apron-front-sink-to-existing-granite-counters/
https://www.kibiusa.com/how-to-install-a-farmhouse-sink-in-existing-cabinets/
https://kitchenclerk.com/can-you-install-a-farmhouse-sink-in-existing-countertops/