Having a small kitchen can be challenging when it comes to storage and design. But with the right planning and clever use of space, you can create an efficient and stylish kitchen in even the smallest of spaces. IKEA is a great resource for designing small kitchens that don't sacrifice on style or function. From smart storage solutions to innovative appliances, there are plenty of clever ways to make the most out of limited square footage. Here are some inspiring ideas for creating a beautiful small IKEA kitchen!
Make The Most Of Wall Height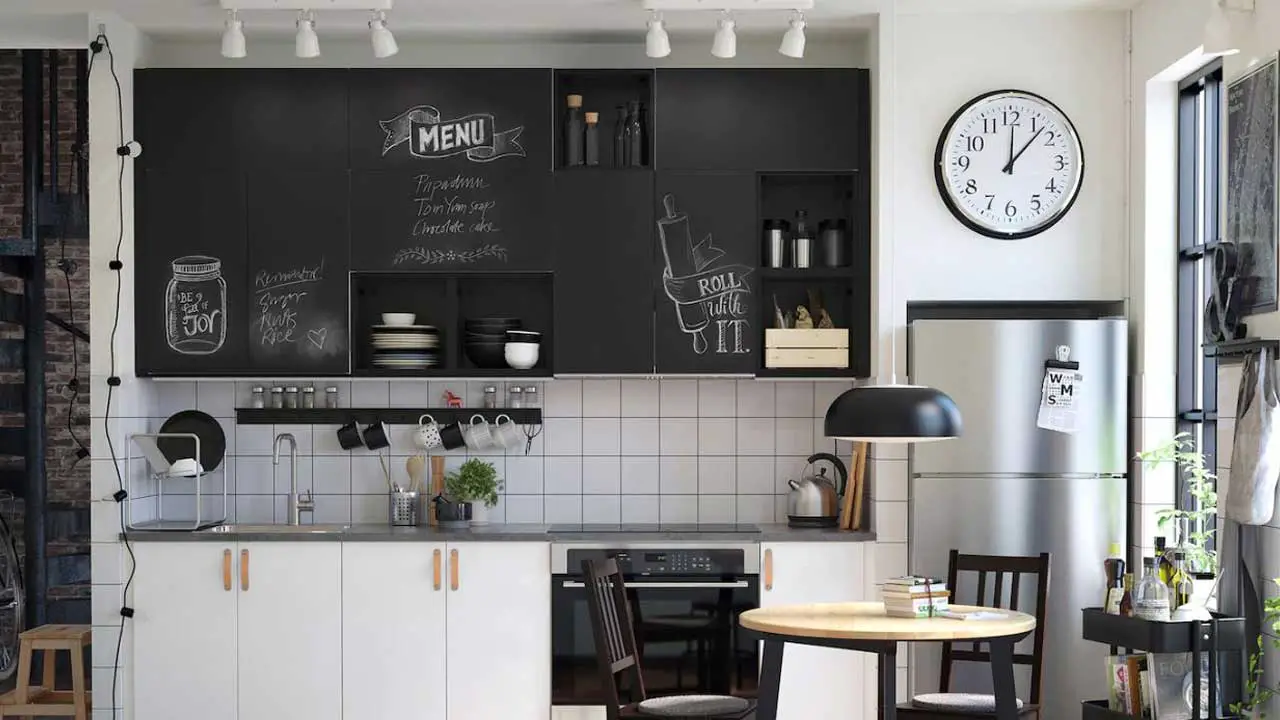 One of the best ways to maximize space in a small kitchen is by taking advantage of wall height. IKEA has plenty of solutions for making use of overhead storage, including hanging shelves and rails with baskets or hooks for utensils and other items. Wall cabinets are also an excellent option for keeping things neat and organized.
Customize The Doors Of An Ikea Kitchen
Personalizing your kitchen with an Ikea kitchen is easier than you think! You can give the whole space a custom look by simply changing out the style and color of your cabinet doors.
The best part? With so many options available, finding the right fit for your existing design is made easy. Whether you opt for classic oak doors or modern glass fronts, you can quickly and easily give your space a stylish makeover. And with the help of Ikea's expertise, you can get peace of mind knowing that any sized kitchen project is manageable.
If you're looking to give your IKEA kitchen a unique and customized look, then one of the best solutions is to install new cabinet doors. With different sizes, styles, and finishes available, you can mix and match for a look that's totally unique to your space. Plus, if you ever get tired of the style you've chosen, changing up the doors is a great way to refresh the look without breaking the bank.
Limit Cabinets Onto One Wall
For anyone who has a compact kitchen, one of the best strategies to make use of your limited space is by focusing all your cabinets on just one wall. This will create the illusion of an open and airy kitchen, while still allowing you to have ample storage and countertop area.
Additionally, if you choose IKEA cabinets with glass-front doors, this will provide even more of a sense of openness in the space. For even more versatility, consider adding floating shelves to store spices and cooking accessories or for displaying decorative items. [1]
Rethink Appliances
When it comes to designing a small IKEA kitchen, the most ideal beginning point is with your appliances. Appliances such as refrigerators, ovens and microwaves take up a lot of space and can be difficult to fit into smaller kitchen areas. You may want to consider replacing some of your traditional appliances for slim or countertop models. This can help free up some much-needed space and keep your kitchen looking neat.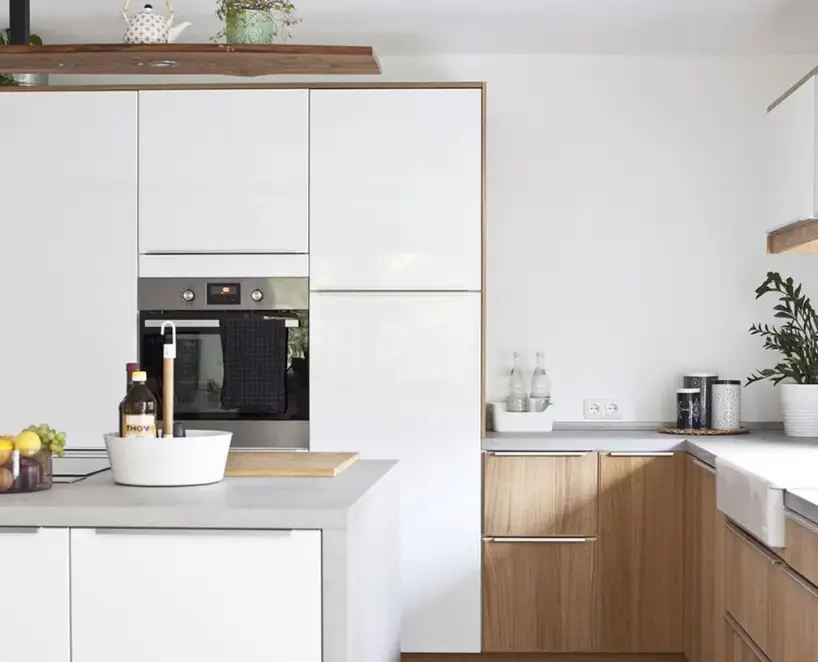 If you don't want to completely replace your appliances, there are plenty of ways to make them fit into a smaller IKEA kitchen design. Rather than having a traditional oven mounted at waist height, you could consider mounting it on the countertop or even purchasing an oven trolley for optimum storage space.
You can also look for narrower refrigerators and microwaves to fit into awkward spaces.
Combine Standard Ikea Cabinets With Bespoke Solutions
Designing a compact IKEA kitchen doesn't have to sacrifice style. Harnessing the power of IKEA cabinets and bespoke solutions, you can fashion a custom-made aesthetic specifically tailored to your small living space. Start by choosing the base cabinets and drawer fronts that best suit your needs and budget. Select coordinating countertops, knobs, and hardware to complete the look.
Then, add custom elements like shelving, open storage options, and unique touches to personalize your space. With a few carefully chosen pieces, you can create an efficient yet stylish IKEA kitchen for any small space.
Choose A Colorful Ply Design
To craft a small kitchen that looks unique and fits within your budget, ply designs with vibrant hues are the perfect choice.
Plywood panels come in a variety of vibrant colors and attractive finishes that can help you bring life into your kitchen without spending too much money. Not only are these finishes incredibly easy to install yourself, but they can also be sanded down and repainted to match your changing interior style.
Add a few panels of plywood to the walls, base cabinets, or even use it as an accent around the sink area to create an eye-catching design that will transform your kitchen. [2]
Create An Impact With Vibrant Colors
Adding a bright, vibrant color to your kitchen can be a great way to make the space feel energetic and exciting. Not only will it add life to the space, but a wall gallery can also be an ideal icebreaker! One of the best ways to do this is with colorful IKEA cabinetry. Instead of opting for the classic white or neutral tones, why not try something like a bright blue or yellow? Not only will it look beautiful, but it also adds a great pop of color that is sure to draw attention.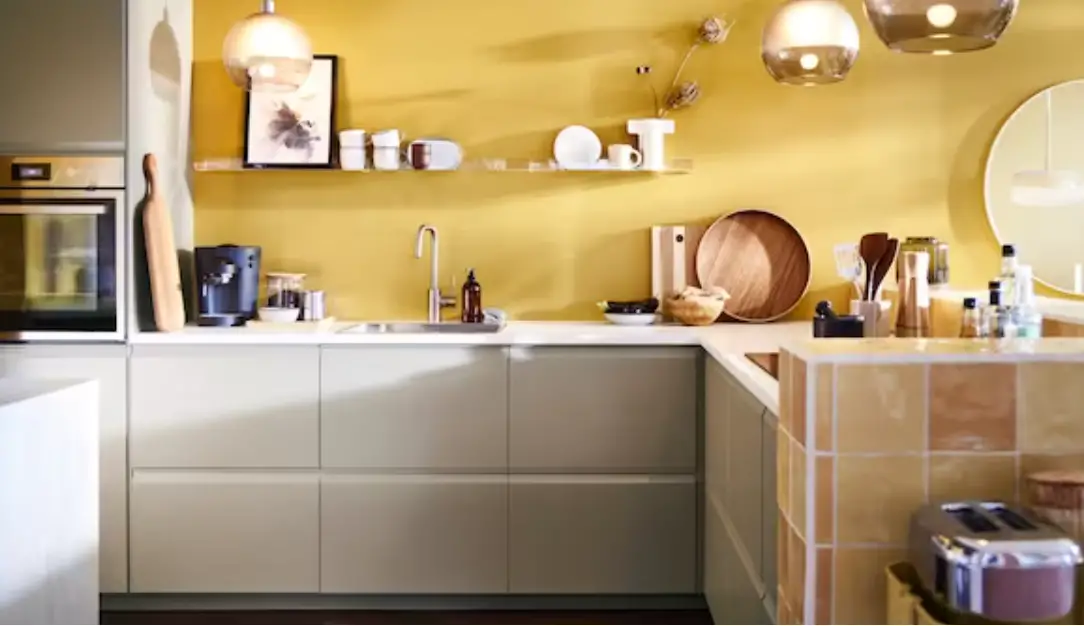 Another great way to incorporate color into your kitchen is through the use of accessories. Try adding colorful accents like rugs, artwork, and even plates to brighten up the room. Not only does this add a great visual element, but it can also be a great way to express your personality and style in the kitchen.
Finally, why not paint an accent wall in your kitchen? Paint one of the walls with a bold color or pattern that matches the rest of your design scheme.
Replace Wall Cabinets With Alternative Storage
One way to make a small IKEA kitchen feel larger is to replace wall cabinets with an alternative storage solution like shelves or suspended rails. This will create the illusion of more space and add extra visual interest, while still providing plenty of room for your dishes, cookware, and food staples. Shelves can also be used to display some of your favorite kitchen items like vintage cookbooks or colorful pottery, which will make the room feel more inviting and cozy.
Add In Portable Pieces
If you're short on space in the kitchen, one easy way to maximize what you have is by adding in portable pieces. Portable kitchen islands, rolling carts, and other easily movable items can help add extra counter or storage space when needed. If you don't need it all the time, simply roll it back into a corner or closet and enjoy the extra room it created.
How Do I Design A Small Ikea Kitchen Layout?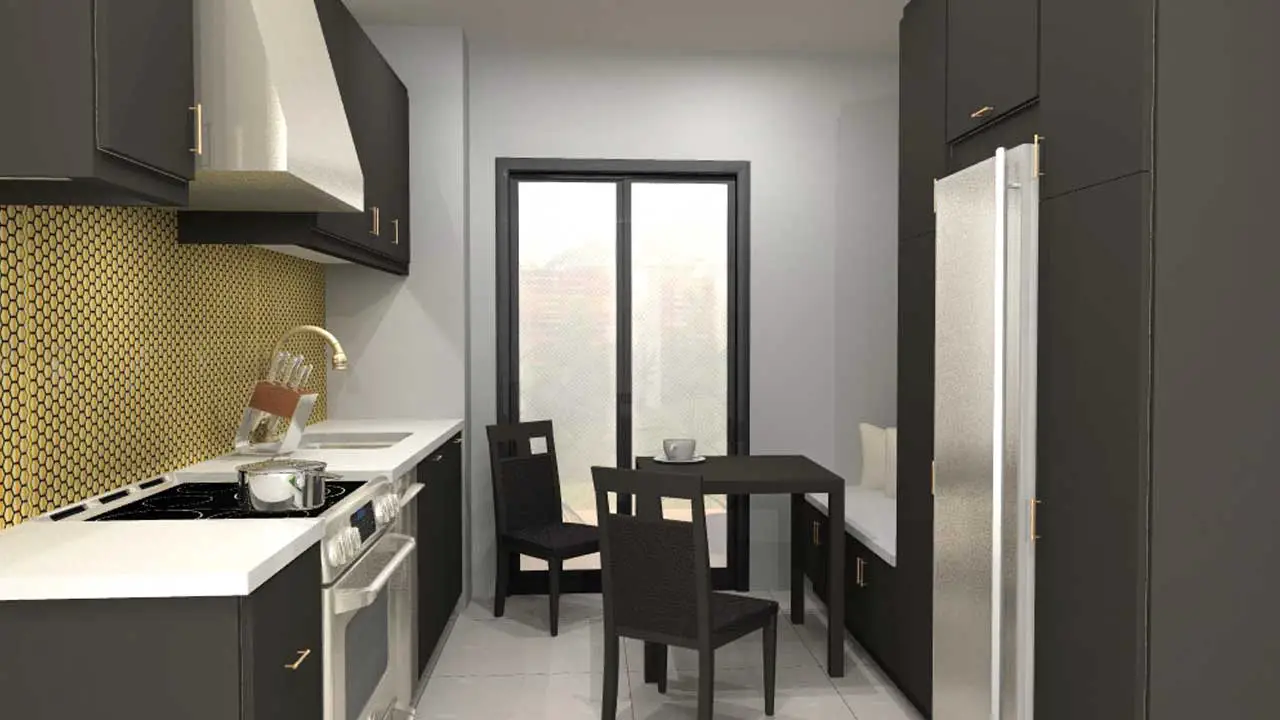 Designing a small IKEA kitchen layout can be challenging, but with some smart planning, you can create a functional and attractive space. Here are some tips to help guide your project:
Find New Ways To Store More
When it comes to designing a small kitchen, storage is paramount. Start by finding ways to store more in the space you have. Look for things like drawers with integrated organization and pull-out shelves that let you make the most of your cabinets. If you don't have enough room for a pantry, use stackable bins in corners and other tight spaces to store items.
Corners That Create Space
If you're looking for small IKEA kitchen ideas, consider how making use of the corners in your kitchen can save space. Start by utilizing corner cabinets. Corner cabinets are great for storing things like pots and pans, as well as other items that don't require easy access. This way, you won't have to worry about them taking up valuable counter space. Another great way to make use of kitchen corners is by installing corner pantries.
This can be a great addition to the kitchen and allows you to store items that don't require constant access, such as spices, canned goods, and other kitchen staples. This clever little tool will save you considerable counter space while also making your kitchen appear more elegant and organized.
Putting The Wall To Work
When you are limited on kitchen space, it can be challenging to come up with functional yet stylish solutions. But with a few smart ideas and some essential pieces from IKEA, you can create the perfect small but efficient kitchen. One way to maximize your kitchen's potential is by putting the walls to work.
Utilize wall-mounted shelves and organizers for all of your essential items – whether it's pots, pans, spices or even cookbooks. This is a great way to keep everything organized while making sure your countertops stay clutter-free. Additionally, you can add an IKEA kitchen cart that slides out when you need more counter space.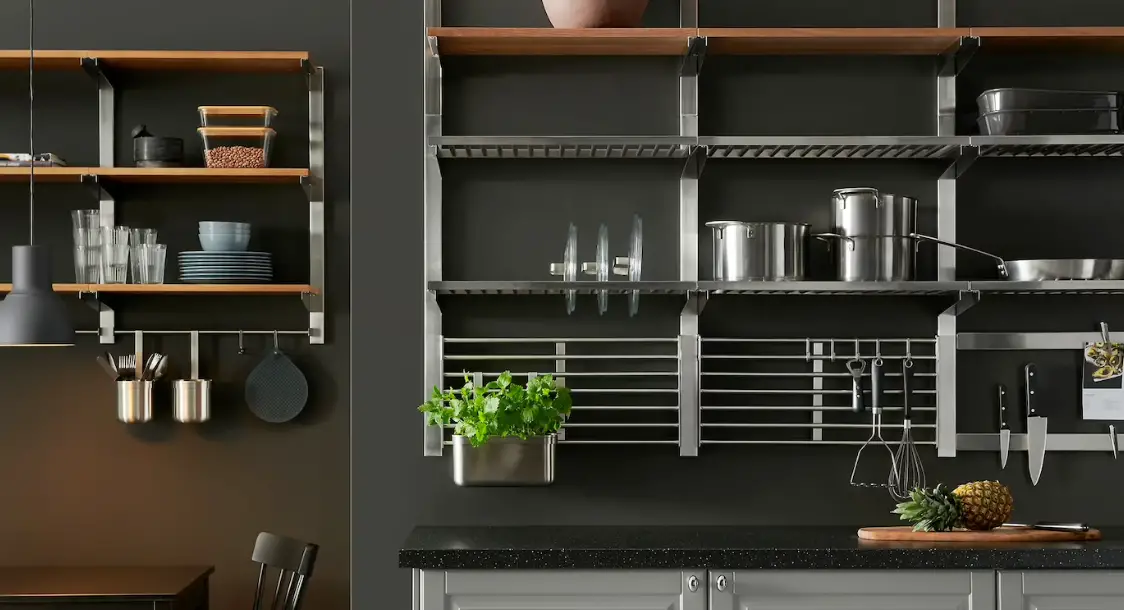 This is a great way to have an extra work area without taking up too much valuable floor space. Finally, don't forget the power of lighting! Install task lighting above your workspace or add some pendant lights over the sink for a bright and stylish touch. [4]
FAQ
What is the best color for cabinets in a small kitchen?
The best colors for cabinets in a small kitchen are lighter shades. Light neutrals, such as white and cream, will open up the space and make it appear larger. If you want to add a pop of color, consider using accent colors on just one wall or section of your cabinets. Also, don't forget the power of reflective surfaces. Mirrored surfaces can add a bright and elegant touch to your kitchen while also reflecting light around the space.
However, be sure to balance the reflective surfaces with other materials so as not to make your kitchen look too busy.
How do you plan a layout for a small kitchen?
When designing a compact kitchen, making the most of the available space is paramount. Start by evaluating the size and shape of your kitchen, then plan accordingly. Consider how you will use the space for storage, as well as for food preparation and cooking.
If possible, remove existing fixtures and furniture in order to create a more open and inviting atmosphere in the room.When it comes to choosing furniture and appliances for your kitchen, opt for items that are sleek and streamlined. IKEA brings a plethora of possibilities for compact kitchens, ranging from wall cabinets to corner units and pull-out drawers.
These pieces can provide extra storage without taking up too much floor space.
Another great way to make the most of a small kitchen is to use creative lighting solutions. Strategically placed lights can add warmth and brightness to the room, making it appear larger than it actually is. Finally, don't forget to incorporate decor that reflects your personal style. Transform your small kitchen with an eye-catching wall mural, bold pendant lighting, and other statement pieces—it will be sure to make a big impression.
How do you make a small kitchen look classy?
Small IKEA kitchen ideas can help you create a stylish and chic space, even when working with limited square footage. Here are some tips to make your small kitchen look classy:
Opt for streamlined cabinetry – Choose sleek cabinets with clean lines to maximize the visual effect of the room's size. Look for cupboards with glass doors that show off the contents and make sure to keep everything neat and organized.
Work with light colors – Using lighter tones for your kitchen walls, cabinets, and countertops can help open up the space and make it appear larger. Stick to shades of white, cream, beige, or pale pastels for a soft and inviting effect.
Incorporate reflective surfaces – Installing countertops and backsplashes with a shiny finish will reflect light throughout the room, making it appear brighter and larger. Utilizing mirrors in your kitchen can give the impression of added room, creating an illusion that makes any space feel more spacious.
Hang floating shelves – Transform your wall space into a storage haven by installing shelves instead of bulky cabinets, which will help make the area appear less confined and cluttered.
Add a kitchen island – A slim and movable kitchen island with stools can become an ideal center for dining, meal-prep, or storage without taking up too much of the room's footprint.
Utilize vertical space – Hanging pendant lights, pot racks, and wall-mounted organizers can help you make the most of your vertical space, freeing up some much-needed floor space.
Where should a fridge be placed in a small kitchen?
When it comes to small kitchen design, the placement of your fridge can make a big difference. Generally speaking, you want to keep the refrigerator as close to the main food preparation and cooking area as possible. This will minimize any time spent walking back and forth between these two areas. It is recommended that you place the refrigerator in an easily accessible corner or along an interior wall. This will help to maximize the usable space in your kitchen.
Additionally, make sure that there is enough room for any doors and drawers on the refrigerator to open fully without bumping into other appliances or cabinets.
What Color makes a small kitchen look bigger?
To open up a tiny kitchen and make it look bigger, the power of color plays an undeniably essential role. Light hues echo rays of light, giving an illusion that the room is more spacious. On the other hand, darker shades absorb illumination creating a cozier and intimate atmosphere. To truly maximize your space, opt for lighter colors such as whites, beiges or pastels on walls and cabinets.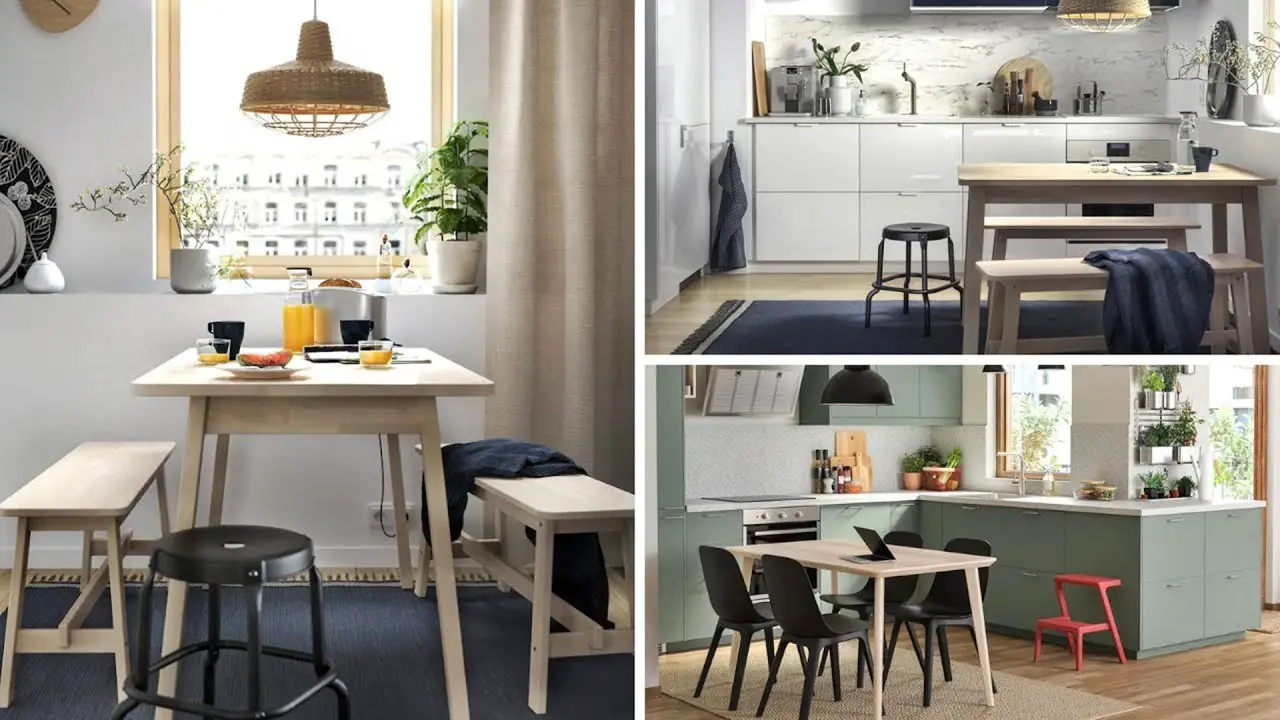 What is the new kitchen color for 2023?
2023 is full of surprises when it comes to kitchen color trends. For 2021, Pantone has announced Illuminating (a sunshiny yellow) as its Color of the Year. Following that is Ultimate Gray for 2022. For 2023, we are seeing a surge in deep blues, greens and grays. Moody shades such as deep navy and hunter green are being paired with lighter shades of gray for a sophisticated look. The popularity of dreamy pastel shades, such as soft blue and mint green, is escalating – making for an elegant yet contemporary kitchen.
Should small kitchens be light or dark?
Small kitchens have the potential to look both light and airy, or dark and cozy depending on what design elements you choose. If you're going for a more traditional style, utilizing darker colors such as deep maroons, browns, and blacks can create a warm feel in your kitchen.
If you'd prefer a more contemporary aesthetic, whites, blues and grays can provide your kitchen with the impression of space and an airy atmosphere. With IKEA kitchens specifically, you can choose from a variety of classic and contemporary furniture styles to fit any space.
What is the popular cabinet color for 2023?
2023 is shaping up to be a year of bold colors and interesting textures in the kitchen. The color that is gaining the most popularity for cabinets right now is green. Its calming, earthy tones can give your kitchen an inviting vibe while still being stylish and modern. You can either choose a bright apple green or opt for a muted olive green. Other great cabinet colors for 2023 include shades of gray and navy blue.
These cool tones can give your kitchen a sophisticated feel while providing a timeless look that won't date quickly. Wooden cabinets are also still popular, with natural wood finishes creating an organic atmosphere in the home.
Is a 10×10 kitchen small?
Yes, a 10×10 kitchen is considered small. If your kitchen is less than 100 square feet, it can be a true test of ingenuity to ensure that multiple people are able to work in the space at once while keeping all appliances and clutter hidden. Small kitchens make this task especially daunting!
Fortunately, with careful planning and clever design, even the smallest spaces can be transformed into efficient and stylish kitchens.
IKEA kitchens are perfect for those with small spaces, allowing you to make the most of your kitchen without sacrificing style or functionality. They come in a variety of sizes and designs, so there is sure to be something that fits your particular needs. Here are some tips for using IKEA items to design a small kitchen that looks and works great.
Embrace open shelving
Make use of multi-functional furniture
Use wall organizers
Hang pots and pans
Utilize drawers and corner units
Take advantage of natural light
What size is considered a small kitchen?
A small kitchen is typically under 100 square feet in size. It usually has limited counter space, limited storage, and minimal room for multiple people to work comfortably at the same time. Small kitchens can also be challenging to keep clutter-free, since there isn't a lot of extra space for items like appliances or cookware.
However, with careful planning and clever design, even a small kitchen can be transformed into an efficient and stylish workspace. IKEA kitchens come in several sizes, including options designed specifically for small spaces.
They offer pieces that are designed to maximize storage space without compromising on style or function. By taking advantage of IKEA's multi-functional furniture, wall organizers, and storage solutions, you can design a small kitchen that looks great and works well.
Useful Video: 12 IKEA SMALL KITCHEN IDEAS
Conclusion
When it comes to small kitchen ideas, IKEA has a lot to offer. With their functional and affordable products and design solutions, you can make the most of your space without breaking the bank. Whether you're looking for storage solutions, countertop options or just want to give your kitchen a fresh look, IKEA is sure to have something that will fit your needs. With a little bit of planning and creativity, you can create the perfect small kitchen for any lifestyle or budget. So don't wait any longer—get started on transforming your small kitchen today!
---
References
https://www.homesandgardens.com/kitchens/small-ikea-kitchen-ideas
https://www.yahoo.com/lifestyle/small-ikea-kitchen-ideas-10-183055647.html?guccounter=1&guce_referrer=aHR0cHM6Ly93d3cuZ29vZ2xlLmNvbS8&guce_referrer_sig=AQAAAArrbRLtNKwNdmKDS6k_mtwJfjLX-c6OldV-UwOfDLG5IsASOFX_UZGgbLvRgntipXoXT8rMN_eo_fYPgmgtvzo_qFGC7AcNQk5BfjR0B8wpStWCTFDIg6kSnU2WfSIB2lekUphUGl3138THWe7ldaIhG4-VpgjyQJmW8hOG2jGu
https://www.ikea.com/gb/en/rooms/kitchen/gallery/your-small-kitchen-with-big-possibilities-pubd9bad2a0
https://www.homedit.com/ikea-kitchen-design/