Spice up your kitchen by opting for a pop of blue with the cabinetry! From bold and reflective turquoise to sleek navy, adding varying shades of this hue can create an extraordinary look guaranteed to impress. There's so much potential when it comes to choosing beautiful blues in the kitchen – why not give them a try? Trying to find the ideal hue of blue for your interior space? Whether you want something show-stopping or subtle, let this guide help you discover the perfect shade. Be inspired to incorporate blue into your kitchen cabinets with these creative ideas!
Are blue Kitchen Cabinets Still In Style?
Absolutely! Blue kitchen cabinets are still oh-so in vogue. After all, blue is an enduring hue that can be used to fashion a multitude of different looks and styles. With shades ranging from timeless navy to something fresh and modern, blue kitchen cabinets can instantly bring a pop of color and character into your cooking space.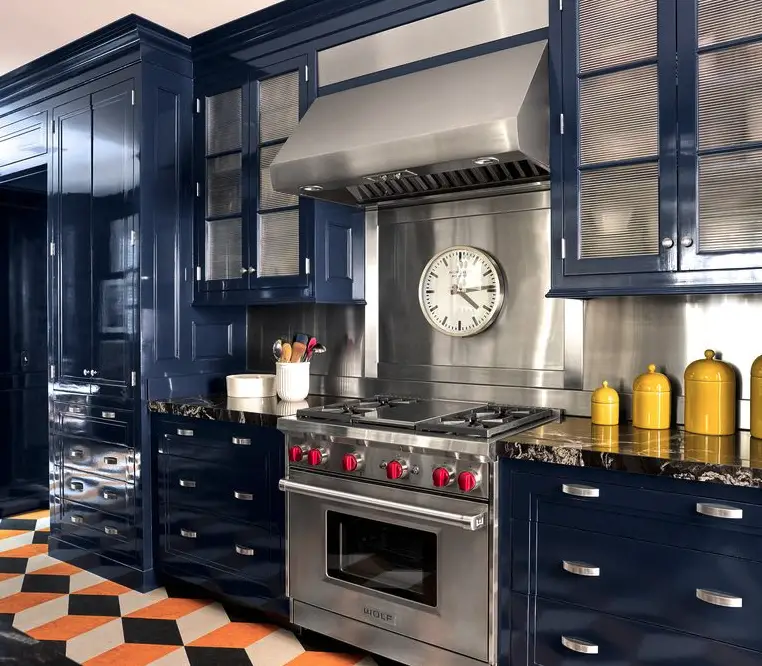 What Shade Of Blue Is Best For Kitchen Cabinets?
Transform your kitchen into a bright and inviting space with the perfect shade of blue on your cabinets. With just one choice, you can bring in personality to instantly cheer up any room – all while achieving the look that speaks most to you. Create an atmosphere that speaks to your own preferences. A vibrant blue can bring energy, while softer shades of the hue evoke a sense of serenity and relaxation!
Create a kitchen with timeless charm by utilizing the perfect blue shades! Incorporate lighter hues such as powder or sky for a classic ambience, while navy blues like midnight and deep ocean bring in fresh vibes of modernity. Make your kitchen stand out from the rest!
Take your kitchen to the next level with a unique two-tone cabinet combination. Navy blue and white, or gray and blue – these popular color combos are sure to give your cooking space an instantly elevated style! [1]
Beautiful Blue Kitchen Cabinets, Kitchen Islands, And Backsplash Ideas
A kitchen adorned with blue cabinets is a unique, yet enduring design choice that can drastically elevate the aesthetic of your home. Whether you choose a timeless navy blue or an attention-grabbing teal, adding blue kitchen cabinetry will add personality and style to your space. If you're in need of some serious kitchen decor inspiration, look no further! Let these beautiful blue cabinets, islands and backsplashes ignite your home design creativity.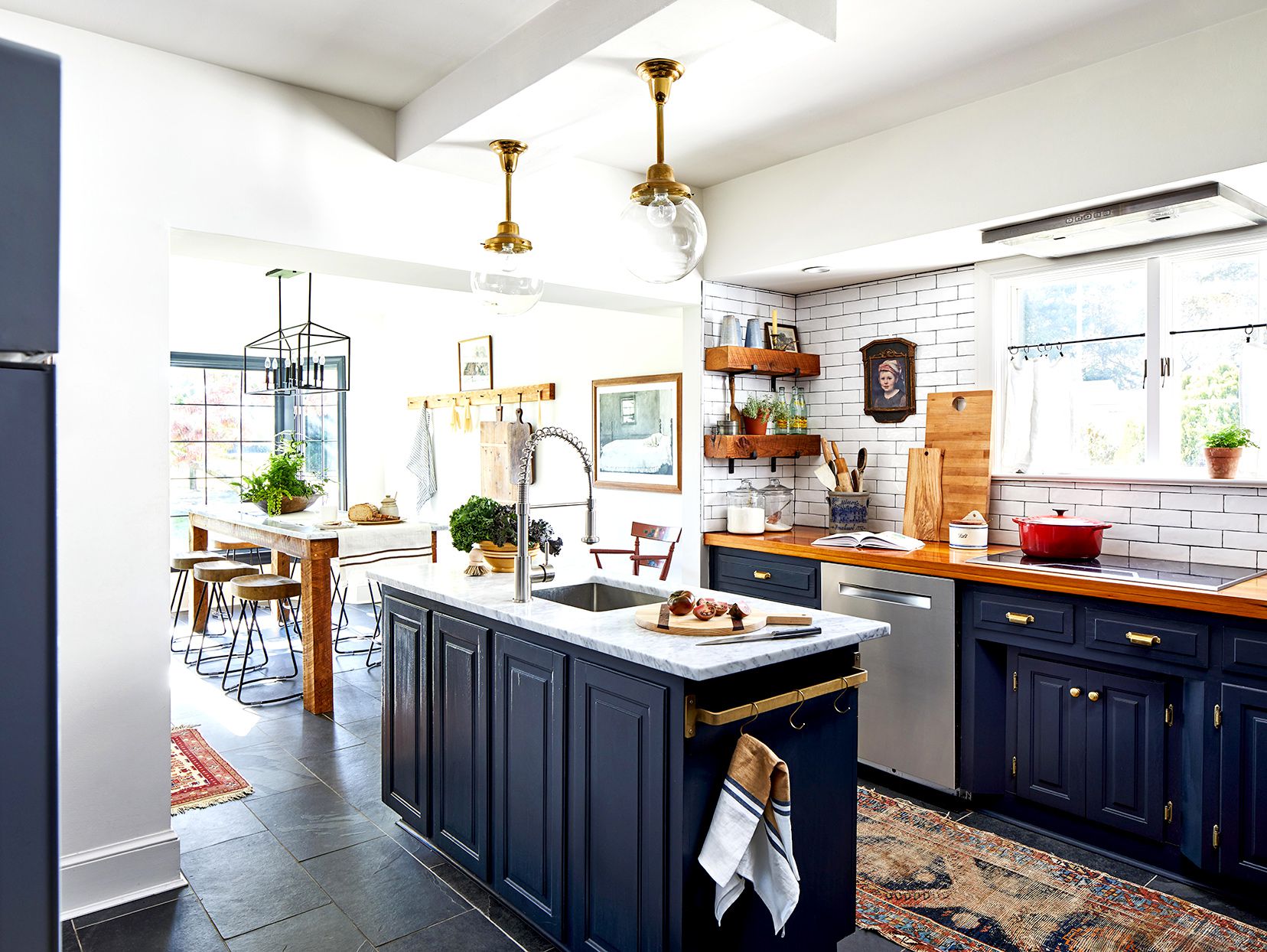 Light Blue Kitchen Cabinets
By installing light blue kitchen cabinets, you can feel a breath of fresh air enter your home and create an inviting atmosphere in the heart of your dwelling. From a soft pastel blue to an energetic hue, infusing your cooking space with a calming color will bring some eye-catching visual flair. For a classic, sophisticated style that will never go out of fashion, pair white countertops with a neutral-hued backsplash. To give a more luxurious look, consider adding gold hardware to the cabinets and drawers.
Dark Blue And Navy Blue Kitchen Cabinet Ideas
A daring declaration can be made in any kitchen with the addition of dark and navy blue cabinetry. The dark colors create an eye-catching contrast to lighter shades, like white or cream, creating a classic aesthetic. Step out of the ordinary and capture your guests' attention with a unique, striking look by installing navy blue cabinetry in your kitchen.
Create Balance With A Two-Toned Blue And White Kitchen
For a timeless, traditional look in your kitchen, go for the two-toned blue and white cabinets. To establish a harmonious look, opt for lighter hues of blue on the upper cabinets and darker shades on the lower ones. To really accentuate the colors, pair them with white countertops and backsplashes. You can also opt for a monochromatic scheme and use different shades of blue like powder, baby, navy or slate. With a two-toned blue and white kitchen, you can be sure that your design will last for years to come, making it the perfect choice! [2]
Blue Kitchen Island Ideas
If you're seeking a stunning way to enliven your cooking area, blue kitchen islands are an ideal pick – they will become the focal point of any kitchen. Not only do they create a bold statement in your kitchen, but they can also be incredibly versatile. From ultra-sleek and modern styles to more rustic and vintage-inspired designs, there's something for everyone when it comes to blue kitchen islands.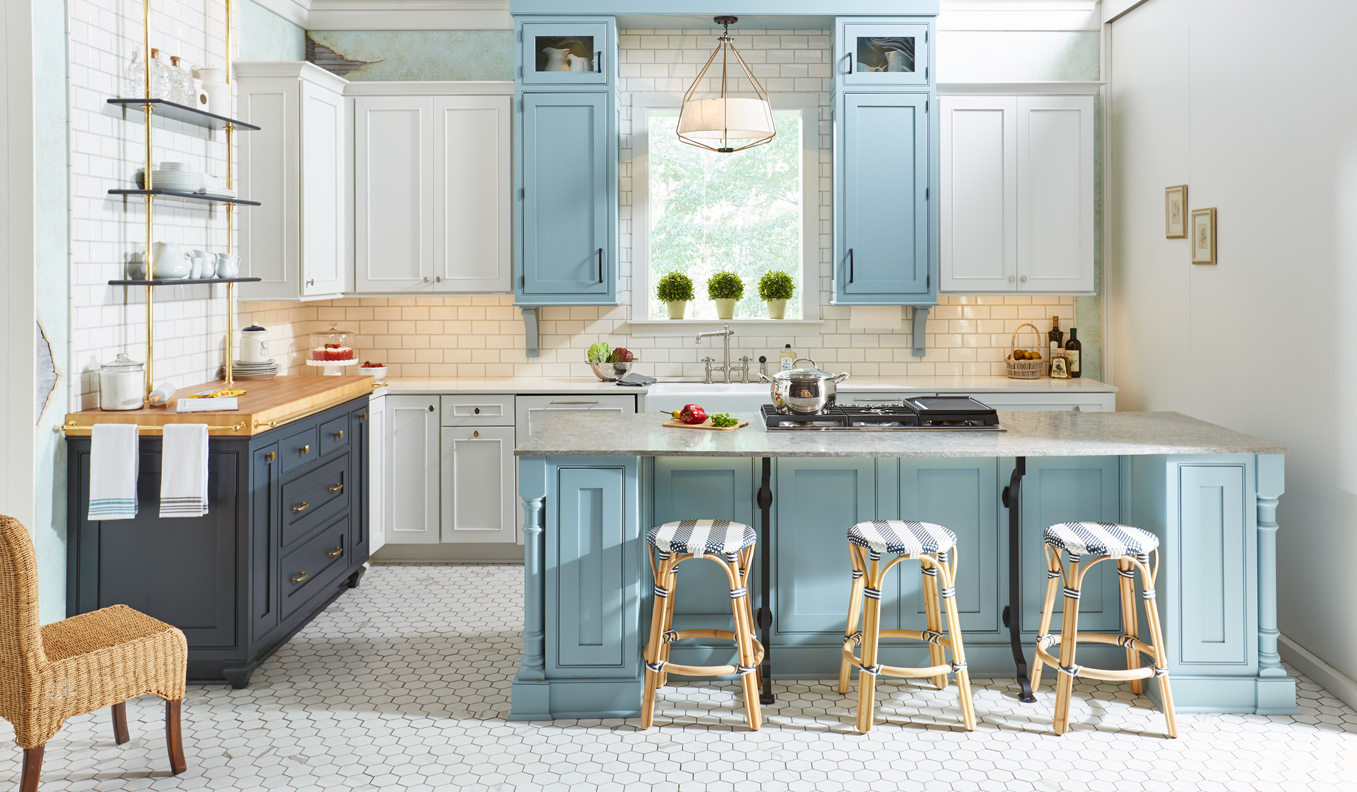 These softer shades can give your kitchen an inviting and cheerful atmosphere, perfect for entertaining friends and family.
How To Mix Blue And Wood Cabinetry
For a contemporary and stylish addition to any kitchen, blending blue and wood cabinets is an excellent way to go. To achieve this look, start by choosing wood cabinets with a light-colored finish. This will provide contrast against the bright blues you'll be using.
Next, use blue accents such as cabinet doors, drawer faces or trim to create depth and add interest. Finally, select blue countertops or backsplashes to pull the look together. With these elements in place, you'll have a kitchen that is both stylish and functional. Don't be afraid to experiment with different shades of blue and wood in order to find the perfect combination for your home. From monochromatic palettes to blended hues, there is no wrong way to pair blue and wood cabinetry for an always-elegant look. [3]
Blue Backsplash Ideas
Blue backsplashes can complete the look of a blue kitchen. There are many different shades and tones of blue that you can choose from to give your kitchen an eye-catching and modern style. Whether you prefer light or bold hues, there is a backsplash option to suit any taste.
For a bright, airy feel, try a pastel blue backsplash. This type of tile is perfect for creating a focal point in a neutral kitchen. You can pair it with white cabinets and counters for a classic look or use warm metals to create contrast and add warmth.
Another option is to install cobalt blue tiles as your kitchen backsplash. Cobalt has a bright intensity that will enliven any kitchen. Its deep, intense color is perfect for pairing with white and other light colors to create a modern look.
Finally, if you want something more subtle but still elegant, choose a ceramic tile in shades of blue. This type of tile comes in many different textures and hues, so you can find one that will complement your kitchen's existing color scheme. Ceramic tile is also very durable, making it a great choice for a backsplash that will last for many years.
Where To Shop For Kitchen Fixtures That Work With Blue Cabinets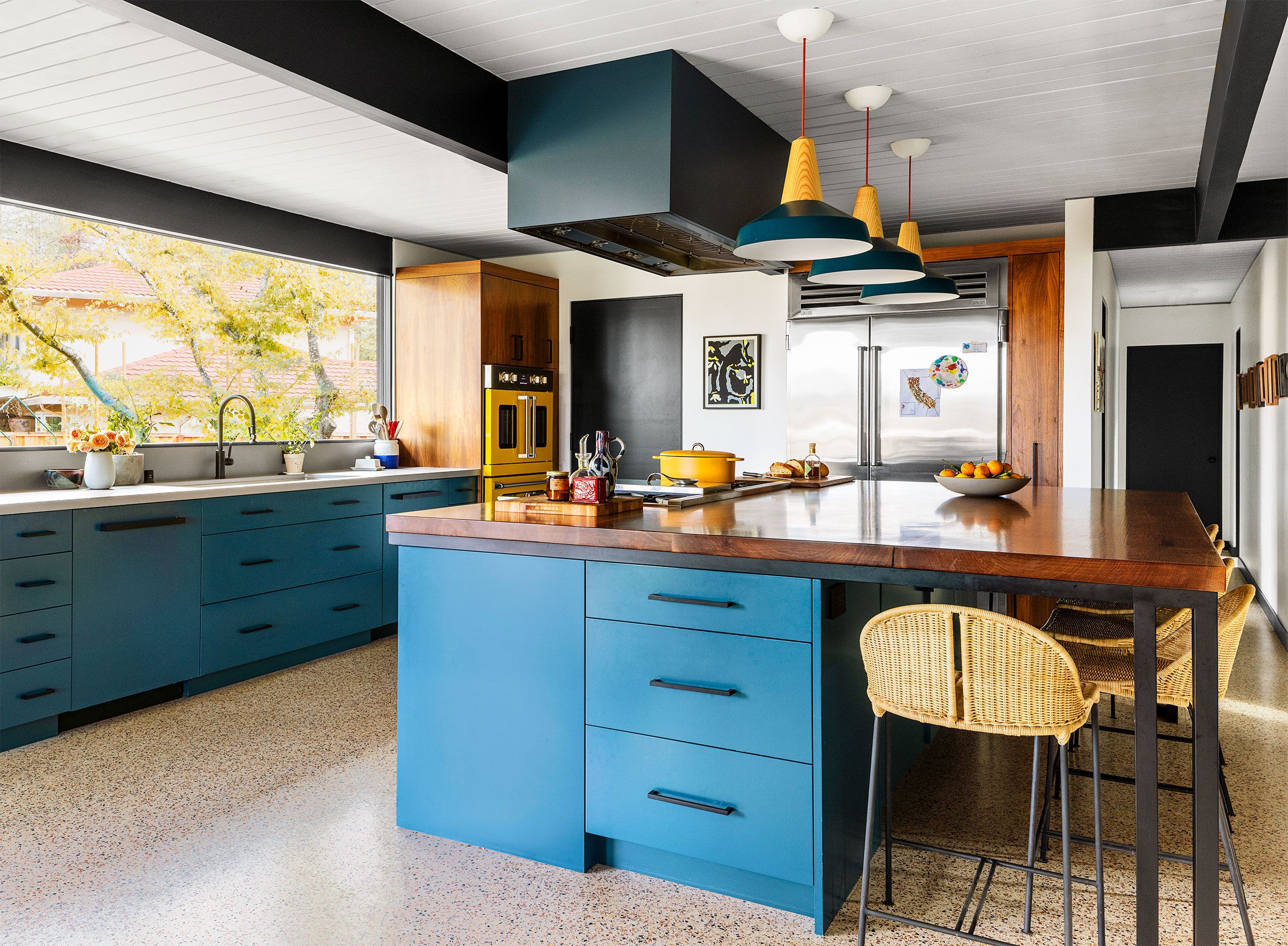 If you desire to achieve a harmonized design that pairs perfectly with your blue kitchen cabinets, it's crucial to find the ideal fixtures. Here are some suggestions for where to find great pieces:
Home Improvement Stores: Major retailers like Home Depot and Lowes offer a wide selection of fixtures, from cupboard handles to light fixtures and more. They offer both traditional and modern styles, so you can easily find something to match your blue cabinets.
Local Hardware Stores: Local stores will often have more unique or vintage pieces that are perfect for creating a one-of-a-kind look in your kitchen. You may also be able to find antique fixtures that have been refurbished for a truly unique look.
Online Retailers: Shopping online is an excellent way to get the perfect fixtures for your kitchen. There are countless websites dedicated to home fixtures, and many of them offer free shipping and returns, making it easy to find something that works with your cabinets.
Additionally, some retailers specialize in vintage or antique fixtures, so you may be able to find something truly special. [4]
FAQ
Are blue kitchen cabinets a good idea?
Absolutely! Blue kitchen cabinets are a fabulous way to make your space stand out with their chic and eye-catching appeal. Blue is a versatile color that pairs well with many other colors and styles, making it easy to integrate into different kitchen designs. In addition, blue evokes feelings of calmness and relaxation, creating an inviting atmosphere in the kitchen.
In addition, blue kitchen cabinets are remarkably robust and effortless to clean up, rendering them an ideal low-maintenance choice. However, it is important to consider the overall look and feel of your space before making your selection.
What colors compliment blue cabinets?
When choosing a color palette to complement blue kitchen cabinets, one of the main considerations is to choose colors that are warm and inviting. Depending on the shade of blue used in the cabinets, you could opt for warmer shades such as tans or golds, or cooler shades like greens and blues. To make your kitchen really pop, consider introducing a few accent colors that will create contrast and draw the eye, such as vibrant reds or sunny yellows.
Another great way to bring life into your kitchen is to use accessories and decor items in the same shades of blue you used on the cabinets. This can really make for an interesting, cohesive look. Lastly, take advantage of the power of light colors such as white and off-white hues to keep your kitchen feeling spacious and inviting instead of cramped or gloomy. By making a few minor tweaks and selecting the correct color scheme, you can quickly construct an inviting atmosphere with blue kitchen cabinets.
Are blue kitchens in Style in 2023?
Absolutely, blue kitchen cabinets are totally on-trend for 2023. For quite some time, blues hues for cabinets have been a top selection amongst homeowners. Whether you're looking to add a timeless classic to your home décor or something more modern and on trend, there's no doubt that blue kitchen cabinets can be the perfect way to set the tone for your kitchen. However , blue cabinets come in a wide variety of shades and styles, so it's important to find the right hue that fits your home.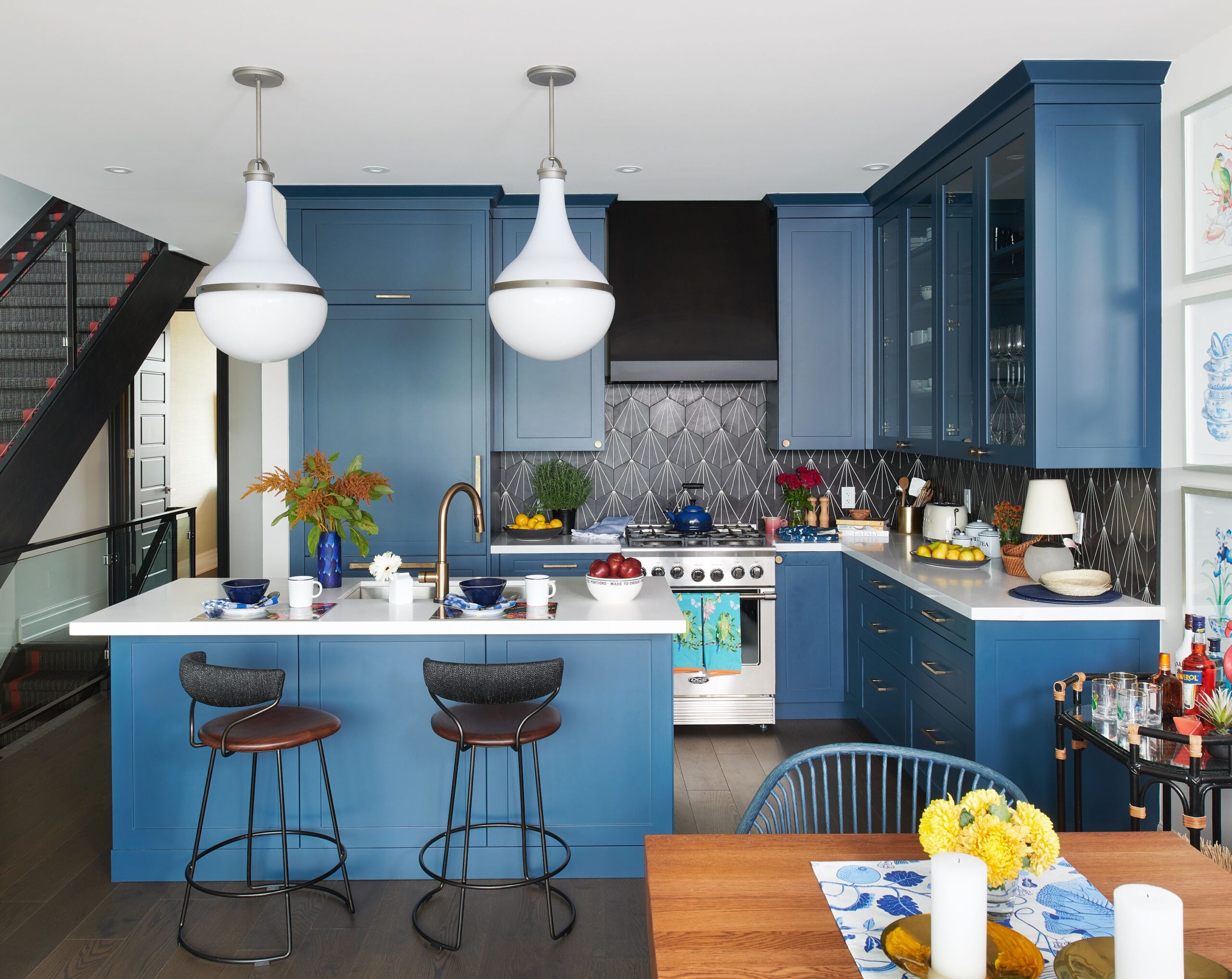 What color goes best with blue in a kitchen?
When it comes to complementing a blue kitchen cabinet color, white makes for an ideal pairing. There are several reasons behind this classic combination – whites pair well with blues creating a crisp and airy look that can be easily enhanced with metallic accents and other vibrant colors. For more of a subtle pairing try adding light shades of grays, greens, or beige.
These neutral hues act as a subtle backdrop to balance the vividness of the blue kitchen cabinets. For an even bolder look, add black countertops, appliances, and hardware to create contrast. Adding shades of brown can also help to bring warmth into the room while still keeping it light and airy.
What color are kitchen cabinets in style for 2023?
If you're looking for a classic, yet contemporary kitchen style this year and beyond, blue cabinets are your ideal choice. For a modern-meets-traditional vibe, shades of navy and teal are the perfect way to add stylish sophistication to your kitchen. If you're looking to make a bold statement or just want to add some subtle color, blue is the way to go.
To add a little drama to your kitchen, try pairing navy blue cabinets with warm wooden accents or gold hardware. You can also choose a lighter shade of teal for a fresh and airy feel that will brighten up the room. Add a striking, enduring flair to your home with blue kitchen cabinets.
What countertop is best with blue cabinets?
One of the most important decisions when choosing blue kitchen cabinets is what countertop to pair it with. White granite, quartz, or marble are all good choices that will complement the blue tones and give your kitchen a bright, airy feel. Other options include stainless steel, wood, concrete and butcher block. The choice really depends on the overall style and look you are aiming for. To achieve the ultimate beachy, coastal style in your kitchen, pair vivid blue cabinets with pristine white quartz for a modern yet laid-back look.
For an edgier look, consider using dark granite or concrete countertops that will contrast with the blue tones of the cabinets and give your kitchen a bold, modern look.
What color is most complementary to blue?
When it comes to blue kitchen cabinets, there are a few colors that work particularly well.
Navy blue has a classic look that pairs nicely with white and light gray shades. For a more modern feel, pair navy blue cabinets with black countertops and bold silver fixtures. Sage green is a favorite hue when it comes to complementing blue cabinets. The earthy hue will add a bit of warmth to the kitchen, while still complementing the blue color scheme.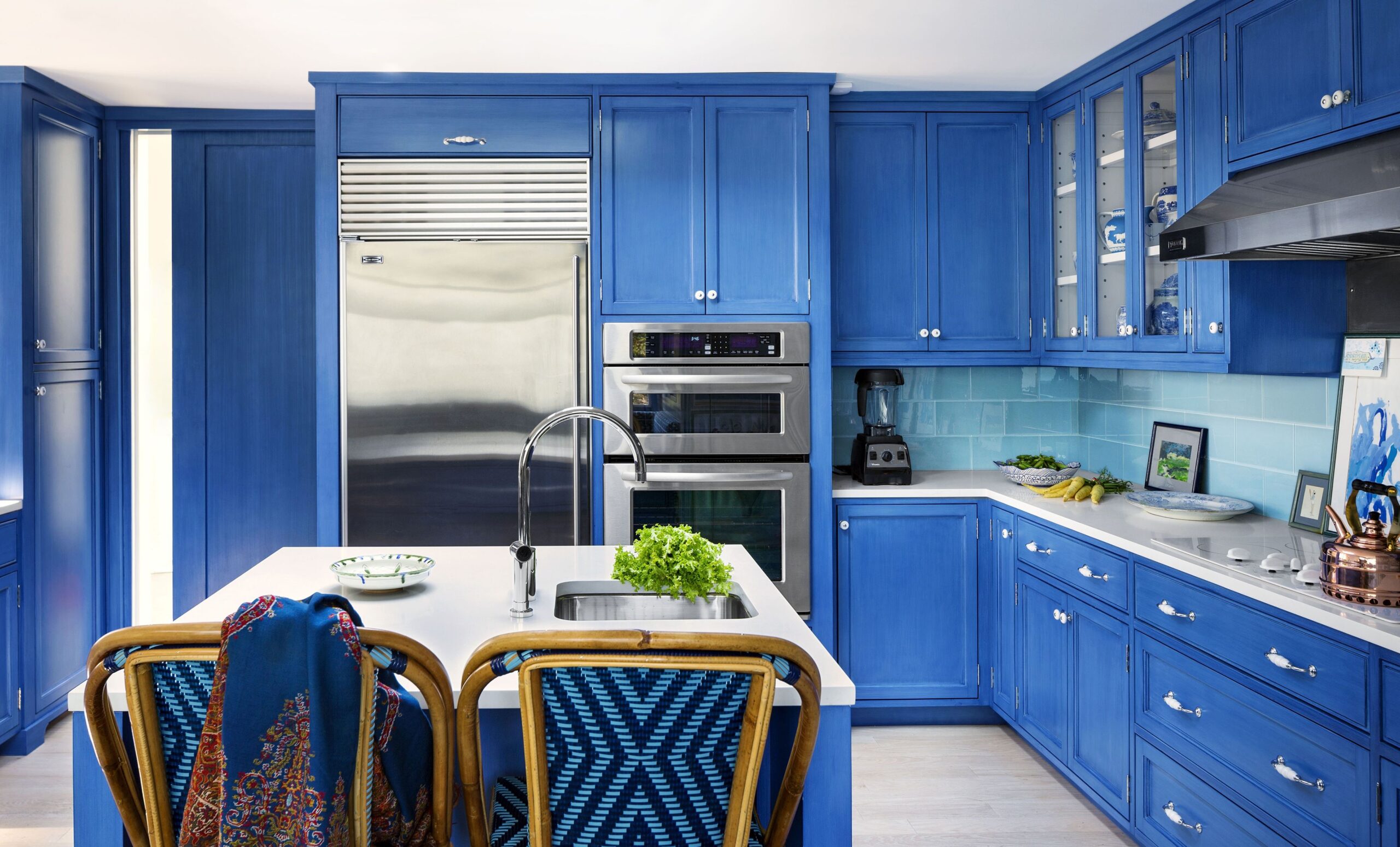 Other great colors to pair with blue cabinets are pale yellow, taupe, and deep reds like burgundy or brick. By including all of these vivid colors, your kitchen will instantly become more inviting and draw attention to the gorgeous blue hue you selected for your cabinets! There's an ideal color scheme for any kitchen style you'd like to create, and blue cabinets are the perfect foundation. Experimenting with different hues can help you achieve the look of your dreams!
Are blue cabinets in style 2023?
Contemporary trends in kitchen design suggest that blue cabinets may be here to stay in the new year. Many homeowners are opting for navy and light blue cabinetry, which adds a bright pop of color to any space while also creating an inviting atmosphere. Blue cabinets can look great with a variety of different countertop materials, from marble to stainless steel.
Furthermore, blue kitchen cabinets can be used to produce a distinct visual appeal, whether it is contemporary and minimalistic or classic and intricate. With the perfect color palette and decorations, blue kitchen cabinets are guaranteed to make your space look chic and welcoming.
What floor goes with a blue kitchen?
When it comes to choosing the right floor for a blue kitchen, there are many options available. You can opt for classic white tile or go with a more modern option such as porcelain or ceramic tile in shades of gray. Natural wood floors, often chosen in light colors like maple or oak, are a great contrast to deep blues and can add warmth to a kitchen with blue cabinets.
If your style is more contemporary and you're looking for something dramatic, black tile or slate can create an eye-catching contrast. Whatever flooring you choose, be sure to consider the amount of foot traffic in your kitchen and opt for materials that are easy to clean and maintain. Finally, don't forget to add a rug or two for a bit of extra color and texture. The perfect flooring will bring your dreamy blue kitchen cabinet ideas to fruition!
For more specific advice on flooring choices for your kitchen, consult an interior design expert who can help you pick out the perfect material for your space.
What is the most timeless kitchen cabinet color?
If you're searching for a classic color to incorporate into your kitchen cabinets, blue is the perfect choice. Whether you opt for classic navy blues or bold teal shades, blue kitchen cabinets are a great way to show off your cooking space and add an eye-catching splash of color. Blue kitchen cabinets are a stunning addition to any home, exuding both modern and vintage vibes. In addition, blue's tranquil and restful reputation makes it the ideal choice for a kitchen in any home.
Useful Video: 25 Blue Kitchen Ideas
Conclusion
If you're seeking to give your kitchen an eye-catching, contemporary flair, then blue kitchen cabinets are the perfect option for you! With effortless assimilation into any interior design, these pieces of furniture will give your room a stunning transformation! With an abundance of blue hues to choose from, it is easy to find a shade that harmonizes with the other elements in your space. If you're searching for a look that will last the test of time, then put your money on blue cabinets in your kitchen. This classic design is one of those trends that never fades away! By adding the right accents, blue cabinets can be a stunning focal point for all types of kitchens.
---
References
https://www.elledecor.com/design-decorate/room-ideas/g3178/blue-kitchens/
https://jane-athome.com/blue-kitchens/
https://www.goodhousekeeping.com/home/decorating-ideas/g38554822/blue-kitchen-cabinet-ideas/
https://www.mydomaine.com/blue-kitchen-cabinets-5089453