If you want to add a rustic charm to your kitchen without breaking the bank, then look no further than these budget-friendly ideas. Rustic decor is often associated with expensive materials and labor, but there are plenty of ways to achieve a similar aesthetic without spending too much money. From simple DIY projects that can be completed in an afternoon, to affordable store-bought items that will instantly give your space a facelift, here are some great tips for creating a cozy and inviting rustic kitchen on a budget.
What Is A Rustic Look?
A rustic look is popular in home decor and relies heavily on natural elements like wood, stone, and metal. The overall design is meant to evoke a sense of simplicity and comfort that comes from being in nature. The palette often includes earthy colors such as browns, creams, grays, and even black. Reclaimed materials and distressed finishes are also common characteristics of a rustic look.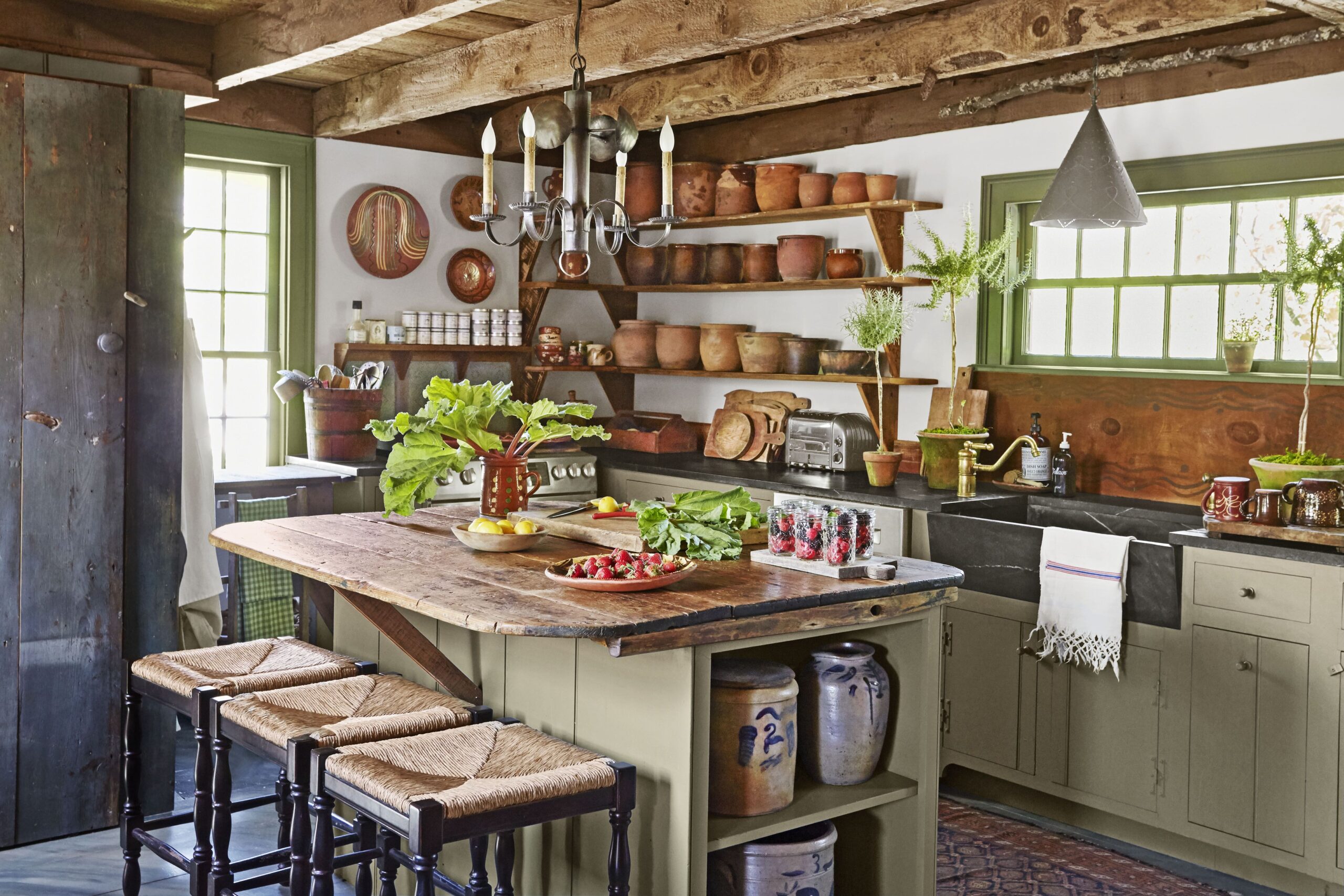 Rustic Kitchen Elements
The rustic kitchen look can be achieved by incorporating certain elements. Start with neutral colors such as white, cream or light gray for walls and flooring since they provide a natural backdrop to accentuate other materials and textures.
Wood
Wood is one of the most popular materials for creating a rustic look in the kitchen. You can use wood to create cabinets, countertops, floors, and even as accent pieces. When choosing wood for your rustic kitchen be sure to select pieces that are sturdy and have a natural finish. This will help to create a warm and inviting atmosphere. You can also choose to paint and stain the wood if desired.
Texture
Texture is one of the easiest and most cost-effective ways to add a rustic touch to your kitchen.
You can easily introduce texture through materials such as wood, stone, brick, or metal.
These materials are not only visually appealing but also durable enough to withstand everyday wear and tear. You can use them for countertops, walls, cabinetry, and even accents. For example, exposed wooden beams or a stone backsplash can make your kitchen look more rustic without breaking the bank.
Raw Materials
When looking for rustic kitchen ideas on a budget, it's important to consider the materials that you can use. A great way to get a rustic look without spending too much money is to choose raw materials such as wood, metal and stone. Reclaimed wood can be used for countertops and shelves, while metal accents like cabinet pulls and range hoods can add to the rustic feel. Stone is a particularly popular choice for creating a rustic kitchen, as it looks great and adds texture.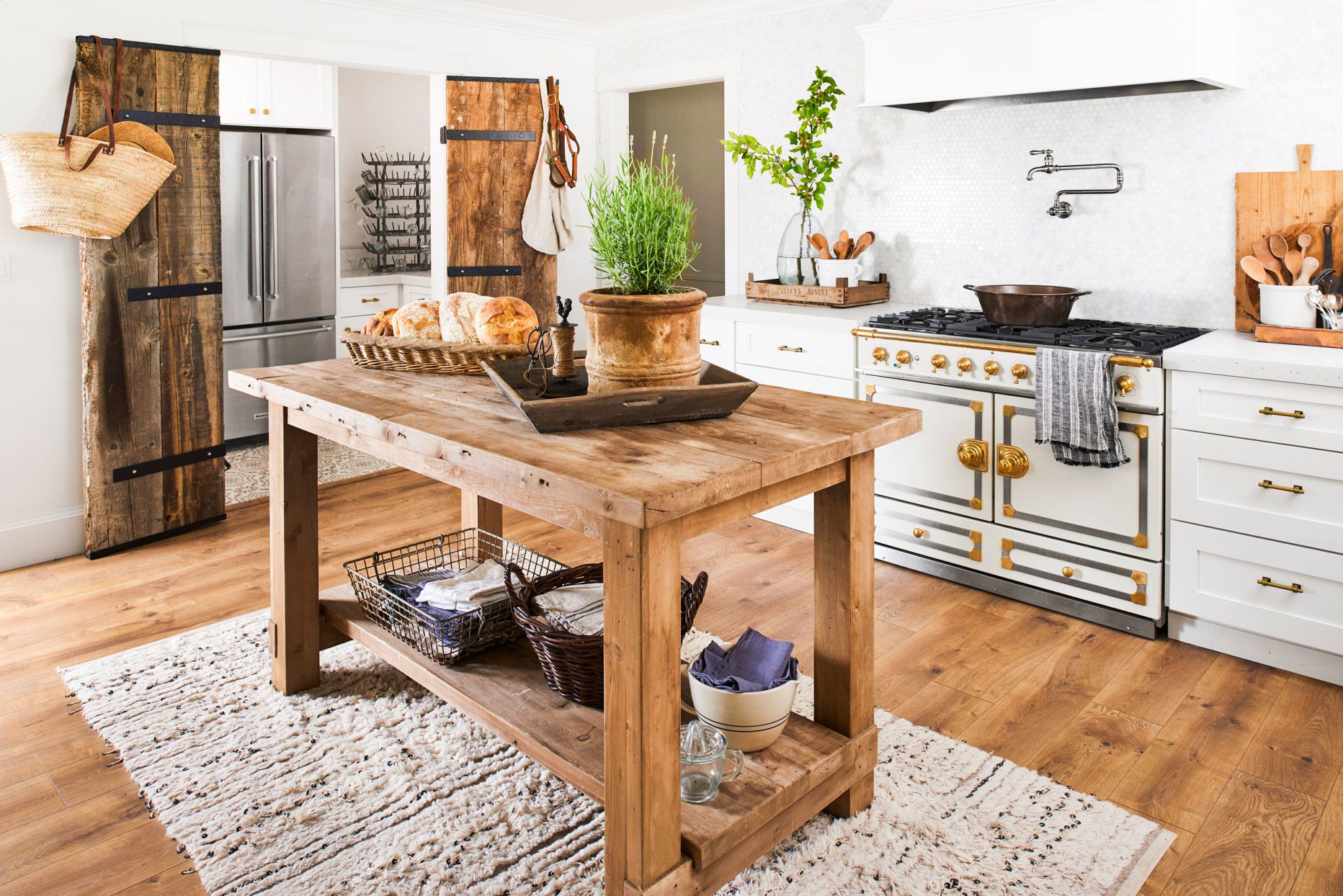 Natural stone such as marble, granite or soapstone will give your kitchen a classic look, while concrete countertops or slate tiles can give it an industrial edge.
Matte Or Neutral Metals
Matte or neutral metals, like brushed nickel and bronze, are perfect for creating a rustic look on a budget. They're timeless and classic, which makes them great investments if you want your kitchen to stay relevant for years. Plus, you can easily find these materials at local hardware stores so it won't take too much time to get them. They're also very easy to install, and you can do it yourself instead of having someone come in and do the job for you. This will help save money, making your overall project less expensive. [1]
Budget-Friendly Rustic Kitchen Ideas
Are you looking for ways to bring a touch of rustic charm to your kitchen without breaking the bank? Rustic kitchens are all about creating a cozy atmosphere with natural textures and materials like wood, brick, tile, and organic fibers. Whether you want to give your entire kitchen a makeover or just add some subtle rustic touches, there are plenty of budget-friendly ideas to explore.
Pendant Lighting
One of the best and most budget-friendly ways to achieve a rustic feel in your kitchen is to add pendant lighting. Pendant lights are typically made from metals such as steel or iron, giving them a classic, vintage look that's perfect for creating a cozy rustic atmosphere. Pendant lights come in many styles and sizes so you can find the perfect option to fit your kitchen and budget.
Mount Your Pots And Pans
Adding hooks to the wall is a great way of saving space in the kitchen while also making sure that your cookware is always within reach. This rustic-looking idea can be done inexpensively and easily with a few pieces of wood, some screws or nails, and some metal S-hooks. You can customize the look with different types of wood and hardware, so it fits the overall style of your rustic kitchen. Not only is this a great use of wall space, but it also looks really attractive! You can even add some greenery or wicker baskets to make it even more eye-catching. [2]
Wooden Coasters
Wooden coasters and cutting boards are a great way to add some rustic charm to your kitchen. They look great in any style of kitchen, from contemporary to traditional. Plus, they're easy on the budget and can be found at almost any home decor store. You can use them for both decoration and practicality, as most cutting boards are also great for food preparation. You can even personalize them with paint or engravings for a unique look.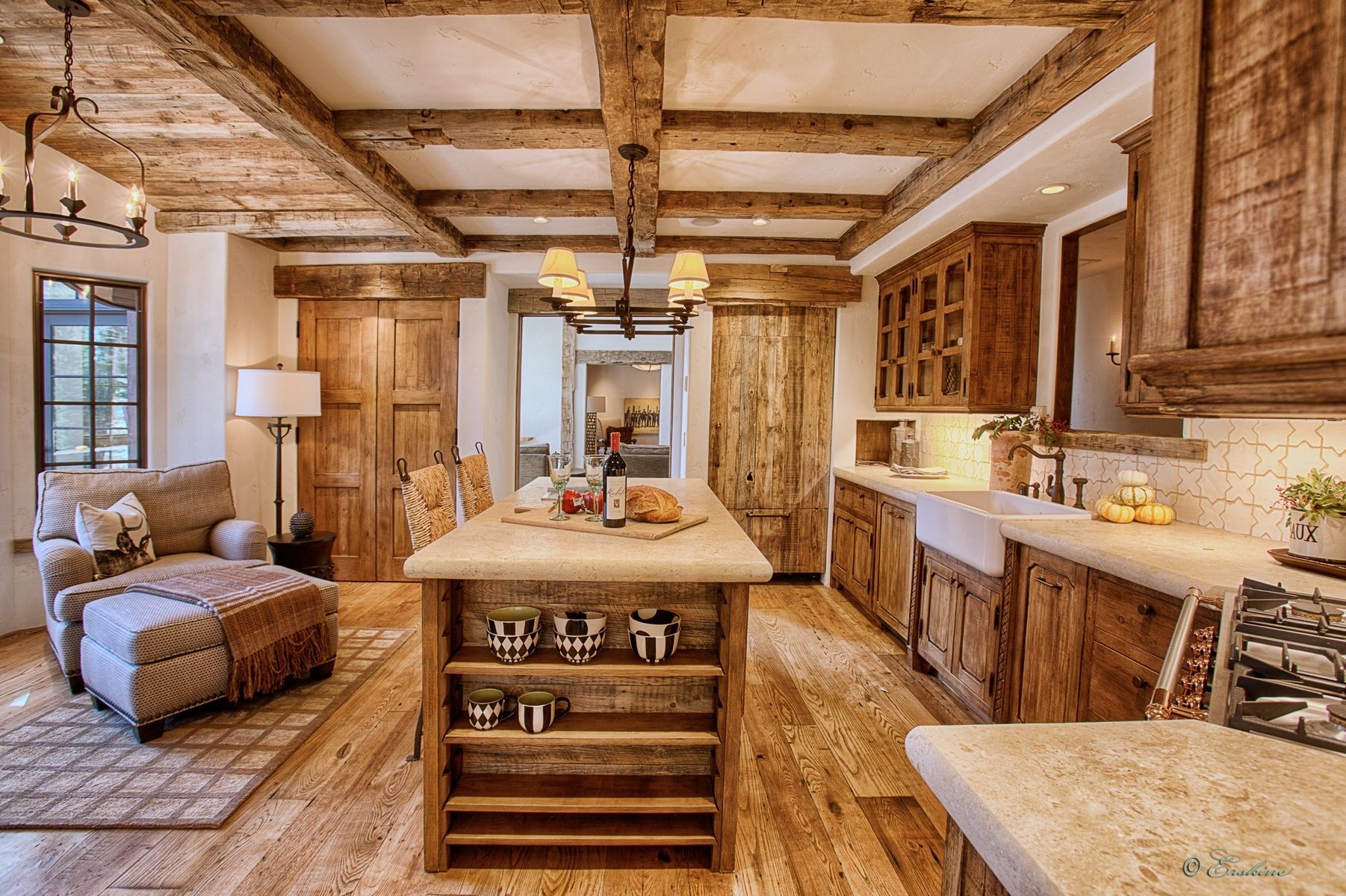 If you're looking for something more substantial, wooden countertops and table tops will give your kitchen an authentic rustic feel without breaking the bank. They can be found in unfinished pieces that are easily customized to fit your own personal style. Plus, they're very durable and can withstand years of use.
Runner Rug
A runner rug is a great way to add color and texture to a rustic kitchen. Spruce up your space with an eye-catching pattern or a neutral solid hue. Not only will it look great, but it will also provide cushioning on your feet while you're cooking! Runner rugs come in all shapes and sizes, so you can find one to fit your budget and style. To complete the rustic look, pair your runner rug with a jute or sisal rug. This will give your kitchen an earthy, cozy feel.
Display Your Boards
One of the best rustic kitchen ideas on a budget is to create decorative boards. Whether it's a wood cutting board, serving board, or cheese board, these are easy and inexpensive items you can incorporate into your kitchen for both function and aesthetic appeal. You can hang them up like artwork or display them atop your countertops. [3]
Open Shelving
Open shelving is a great rustic kitchen decorating idea for those on a budget. Not only does it provide ample storage space, but it also creates the perfect backdrop to display your favorite rustic items. Install floating shelves and stack with various plates, pottery, and mason jars filled with herbs and plants. Hang baskets from the shelf to add texture and visual appeal. It's a great way to bring rustic charm into your kitchen without breaking the bank.
Breakfast Bar
A breakfast bar is a great addition to any rustic kitchen. Not only does it look stylish, it can also be an economical way to create more counter space. Whether you opt for a small bistro-style table or larger breakfast bar with seating, this type of furniture adds character and charm to your kitchen while still staying within budget.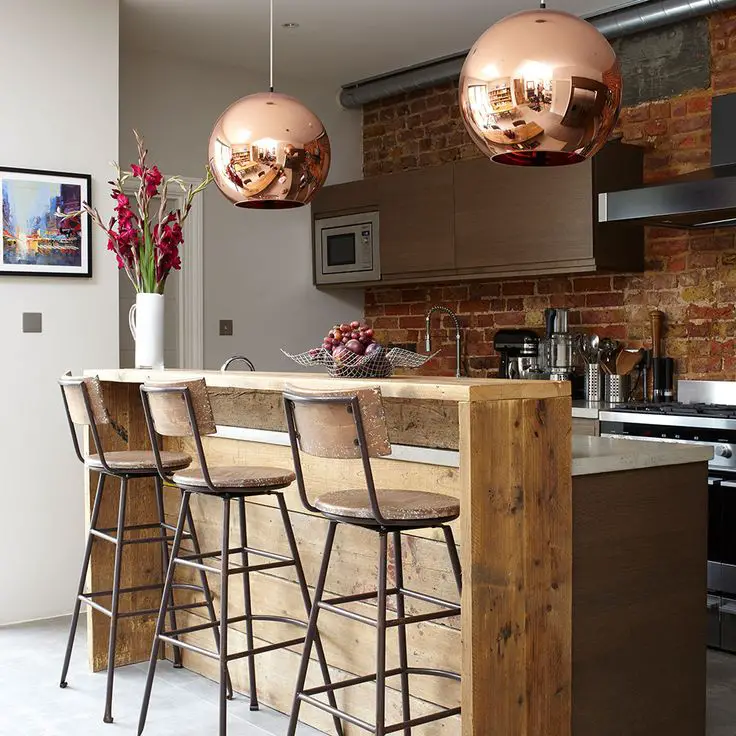 Hang Your Mugs
If you have eclectic mugs and cups lying around, why not hang them up on a wall or door? This simple DIY task is an easy way to add style and charm to your kitchen. You can use command strips and hooks that won't leave holes in the wall. Plus, it's budget-friendly too!
Budget-Friendly Rustic Approaches
When it comes to rustic kitchen ideas on a budget, there are many approaches you can take. One is repurposing items that you may already have in your home or find at thrift stores or flea markets.
For example, an old ladder can become a great space-saving storage solution when propped against the wall. An old table can be made into a kitchen island or you can use it to display dishes or other decorative items.
Paint is an inexpensive way to make any space look more rustic, and it's especially useful when transforming a kitchen on a budget. You could paint cabinets and cupboards with distressed or whitewashed finishes, which will give your kitchen a more rustic feel. Or, you could use paint to create an accent wall or backsplash. [4]
FAQ
How do you make a small kitchen look rustic?
Creating a rustic look in a small kitchen can be achieved with just a few simple steps. Start by adding distressed wood cabinets, open shelving units, and vintage lighting fixtures to the space. You can also add natural accents like jute baskets and burlap table runners to give the room an extra rustic feel. Finally, choose neutral colors for the walls, countertops, and other surfaces in order to keep with the rustic theme.
How do I make my kitchen look like a farmhouse?
If you're looking to add a rustic, farmhouse feel to your kitchen on a budget, there are several ways to do it.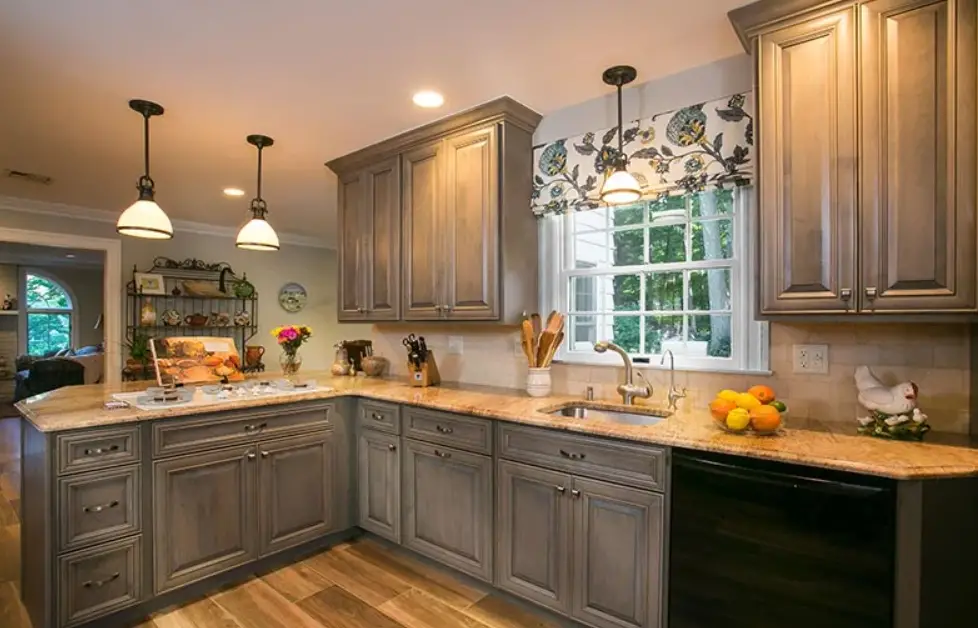 Start with the walls. Paint them in a muted color such as beige, taupe, or tan to create an overall neutral backdrop. You can then add some homemade art or prints to bring a touch of color without spending too much.
Replace hardware on cabinets and drawers with more rustic options like oil-rubbed bronze or wrought iron for an instant update that still looks expensive.
Add some distressed wood pieces such as a butcher block island, floating shelves, or a wooden ladder to hang towels on — all of which can be found at thrift stores or antique stores for a low price.
Add some rustic touches like a primitive rug, mason jar decor, or an old-fashioned clock to the space to create a charming and cozy atmosphere.
How can I renovate my kitchen cheaply?
Renovating a kitchen on a budget can be challenging but also rewarding. With some planning, creativity and the right materials, it is possible to get a great rustic look for your kitchen without breaking the bank. One of the first things to consider when renovating your kitchen on a budget is what kind of materials you will use. Consider choosing materials with a more rustic look such as wood, brick or stone that won't be too expensive. You can also update your kitchen by painting the walls and adding accents with vintage items. Shopping at thrift stores and flea markets for furniture pieces, fixtures and accessories is one way to bring in elements of rustic charm and still stay within budget.
What is a good color for a rustic kitchen?
When it comes to a rustic kitchen, earthy tones are usually the way to go. Think shades of brown, beige, and gray that will make your room feel cozy and inviting. You can also bring in some bright colors like red or yellow for an added pop of vibrancy. If you have exposed brick walls in your kitchen, consider painting them white to keep the rustic feel but still bring in some brightness. For floors, try dark hardwood or stone tiles for an authentic look.
Finally, you can add texture to your kitchen with natural elements like wooden furniture and woven baskets.
What are the rustic colors for the kitchen?
When it comes to creating a rustic kitchen, there are several colors to consider. Depending on the look you're going for, popular rustic shades include whites, blues, grays, browns and greens.
Natural hues like stone and wood provide an authentic feel with any of these color choices and can really pull the entire room together. Also, try to look for nature-inspired accessories, like pottery and wooden trays, that can bring a little bit of the outdoors into your kitchen.
What is the most popular color for a small kitchen?
When it comes to creating a rustic kitchen on a budget, the most popular color is usually light and warm neutrals such as white, cream, beige, and tan. These colors are timeless and versatile enough to fit in with any style of decor or accessories you may choose. If your budget allows for some more vibrant colors, consider warm muted shades of yellow, red, or green to add a pop of brightness and bring the room together.
What is the best color for a very small kitchen?
When it comes to small kitchens, light colors are usually the best option. Light walls and cabinets will create an open and airy feeling that can make a cramped space feel larger than it really is. Soft neutral shades such as white, cream, beige, gray, or even a pale blue can all help to give your kitchen a fresh, open look. If you are looking to add a bit more color to your small kitchen, try adding accessories and accents in bolder colors such as navy blue, forest green, or burgundy. This can give the space an inviting feel without overwhelming it.
What Color suits a small kitchen?
When it comes to small kitchens, it's important to choose the right color scheme. The idea is to give a sense of space and airiness while still making a statement. Neutral colors such as white or natural wood tones can provide a great backdrop for rustic kitchen ideas on a budget. They create an inviting atmosphere that won't overwhelm the room. Adding pops of color with accessories and decorations can bring a unique flair to your kitchen. Bright colors such as yellow, orange, or green are great for adding a bit of vibrancy and can be balanced out by calming blues and neutrals. With a little creativity and thoughtfulness, you can create an attractive rustic kitchen without breaking the bank.
What's the difference between rustic and farmhouse?
When it comes to rustic kitchen ideas, there is often confusion between the terms "rustic" and "farmhouse". While both styles are similar in their use of natural elements, colors and textures, there are some key differences that should be noted. The main difference lies in the overall look and feel of each style. Also, farmhouse style generally features more modern elements than rustic kitchens. Rustic kitchens typically lean towards an older, more traditional look.
The key elements of a rustic kitchen are natural materials like wood and stone, along with neutral colors such as browns and beiges. Distressed furniture and antique pieces also play a large role in creating the rustic look. On the other hand, farmhouse style is a more modern take on country living, with bright colors and updated finishes. Wood is still used as the core material, but often in lighter stains or painted white to create a crisp contrast against brighter colors and textures.
Which Color is best for a farmhouse?
When it comes to choosing a paint color for your farmhouse kitchen, white is the perfect choice. Not only does it look clean and timeless, but it also creates an airy feel in the room that gives the illusion of more space. You can also add pops of color throughout the room with accessories or furniture pieces to create visual interest without breaking the bank. Other colors that work well in a farmhouse kitchen include light grays and blues, which create a calming atmosphere, and muted greens and yellows, which bring an element of nature indoors. These colors all work well with white to create a warm and inviting feel in the room.
Useful Video: 35+ Rustic Kitchen Ideas
Conclusion
Rustic kitchen ideas on a budget can help give your home the perfect combination of comfort and style. Rustic design is all about utilizing natural elements, such as wood, stone, and metal to create a warm and inviting atmosphere. With the right materials and some creativity, you can easily transform any room in your house into an inviting rustic kitchen. Whether you're looking to update a tired space or completely transform it into something new, rustic kitchen ideas on a budget can help you achieve the look you've been dreaming of. With a few affordable materials and some DIY spirit, your budget-friendly rustic kitchen design will be complete in no time!
---
References
https://homeshacks.com/rustic-kitchen-ideas-on-a-budget/
https://decoratedlife.com/farmhouse-kitchen-ideas-on-a-budget/
https://graceinmyspace.com/15-farmhouse-kitchen-ideas-on-a-budget/
https://www.countryliving.com/home-design/decorating-ideas/g4263/rustic-farmhouse-kitchen-ideas/