Are you looking for ideas to give your small kitchen a fresh new look? One of the most effective and affordable ways to update any space is by adding tile flooring. Not only does it provide an attractive finish, but it also helps protect your floors from wear and tear.
When choosing tiles for a small kitchen, there are several factors that need to be taken into consideration such as size, texture, color, and design. Utilizing smaller tile sizes can offer the allusion of a more spacious area, while darker shades will lend to making any room feel snug and inviting. Get inspired to create something special with these unique and creative small kitchen floor tile designs!
What Is The Best Flooring For A Small Kitchen?
When it comes to a small kitchen, the ideal flooring is one that oozes style and functionality. Consider tiles such as ceramic, porcelain, or even linoleum that are easy to clean and maintain.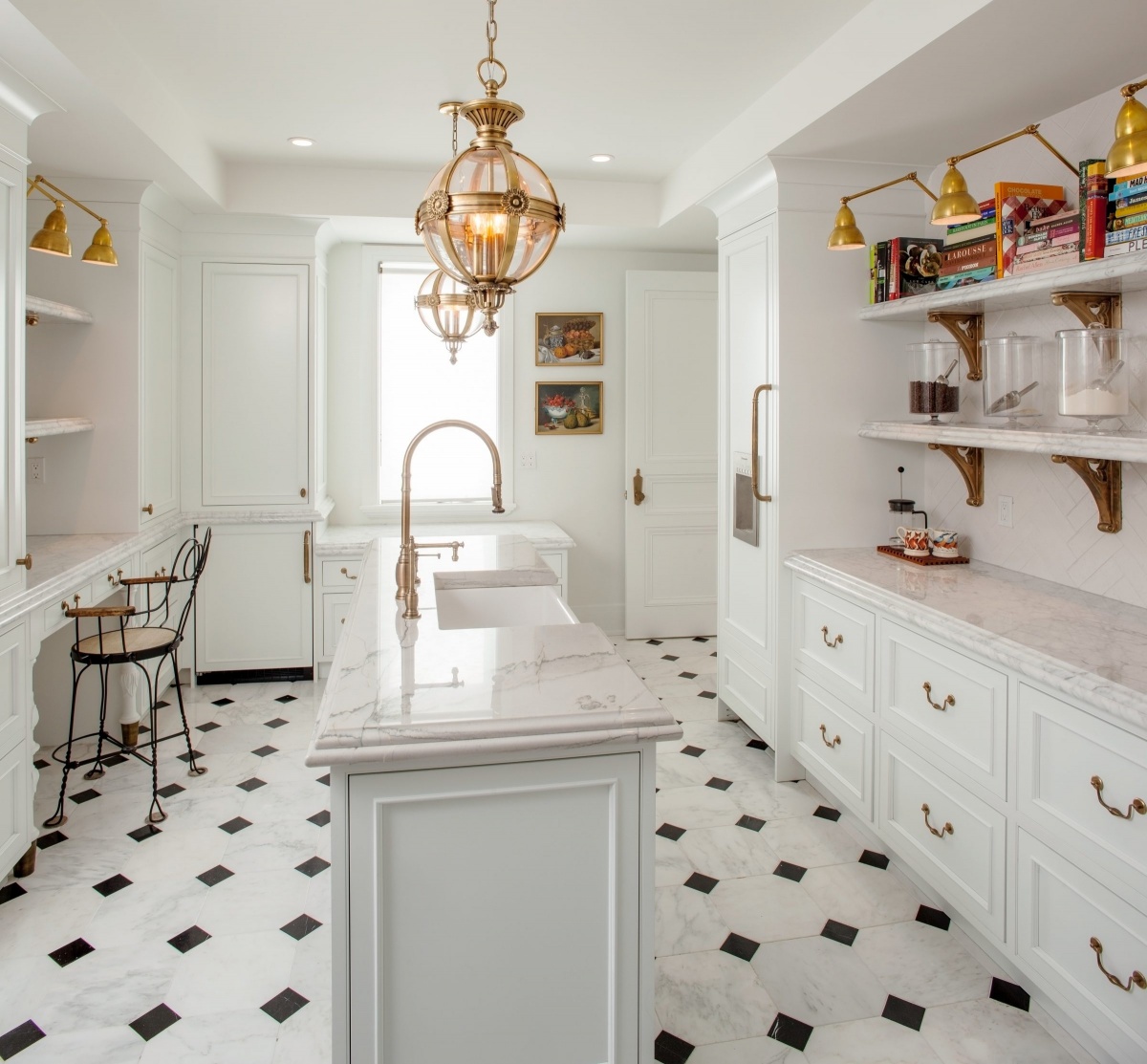 Neutral colors can help open up the room while darker hues create a cozy atmosphere. When choosing tile designs, opt for larger geometric shapes with interesting patterns and textures. Finally, be sure to use a high-quality grout for added durability.
Ways To Transform Your Floors
If you want to modernize the style of your kitchen in an effortless way, think about utilizing small kitchen floor tile ideas! Floor tiles come in all shapes and sizes, allowing you to create unique designs that can really make a statement in any space. No matter your style preference, be it timeless and traditional or modern and sleek, there are various methods to upgrade your kitchen floors with tile ideas.
Choose A Zig-Zag Formation To Zone An Open-Plan Space
If you're looking to create a separation between two different areas in an open-plan kitchen, why not use small kitchen floor tiles to achieve the look? A zig-zag formation with either a contrasting or complementary color will draw your eye and provide a subtle division while keeping the space bright and airy. It's an interesting design element that will add a lot of character to your kitchen.
Choose A Large Format Tile To Minimize Grout Lines
To avoid having your space cluttered with excess grout lines, opt for larger format tiles – they'll make the area look and feel infinitely more spacious. Our wall tiles come in various sizes, ranging from 12 x 12 inches to a whopping 24 x 48 inches, giving your space an expansive and open feel thanks to the fewer lines on them. These large-scale tiles work well with minimalistic designs, like Scandinavian-style kitchens, but can also be easily incorporated into a range of styles. The most popular materials for large format tiles include stone-look porcelain, marble, and quarry tile. [1]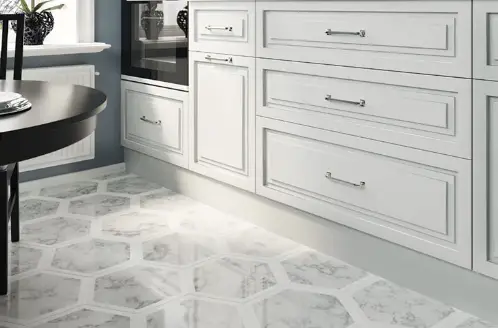 Consider Painting Your Tiles For A Unique Look
Transform the look of your compact kitchen with an eye-catching paint job on your tiles! Create a unique look to your space with this stylish way of making a bold statement and adding vibrant colors. Painting over tile isn't as hard as it might seem. First, ensure that the surface is clean and dry. Then use primer designed for tile and other surfaces, followed by a coat of paint.
Finish with sealer to protect the paint from water and heat damage. With a plethora of colors to choose from, you can select the one that best fits your aesthetic. However, lighter hues will give off an impression of a more spacious room. Once you're finished, you'll have an entirely new bedroom with a unique and beautiful look! For an even bigger impact, consider painting tiles in different colors to create a pattern or design. This can be particularly effective if you use a bold contrasting color that stands out from the rest of the kitchen.
Before you start your project, always remember to consult with a professional painter to get advice on the best materials and techniques for your specific application. With the right preparation and care, your kitchen can be transformed into a visually stunning and functional space.
Choose A Penny Tile To Create a Subtle Pattern
Penny tile is a timeless classic that adds subtle texture and interest to any kitchen floor. The small round tiles look great when paired with solid-colored grout, giving the space a modern vibe without overwhelming the design of the room. This type of tile also requires minimal maintenance and can be easily installed using a few basic tools. Penny tile is an ideal selection for those who are seeking a subtle yet captivating flooring solution that can bring life to any interior.
Pick A Patterned Tile That Complements The Color Of The Wall
Patterned tiles are a great way to bring a unique look and feel to your small kitchen. They can be used as the primary tile in your kitchen or as an accent tile. When selecting patterned tiles, make sure that it complements the color of the wall and other elements in the room. If you have a white wall, for example, you may want to choose a tile with a white or light-colored base, and then incorporate other colors into the pattern. This will create a cohesive look that ties all of the elements together in your kitchen. [2]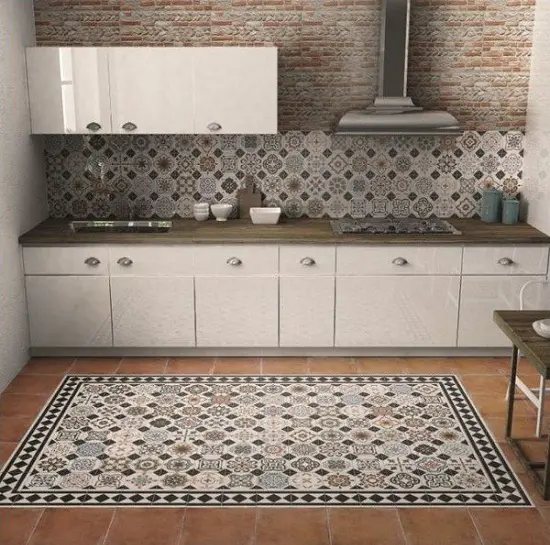 Choose A Porcelain Tile For A Durable, Stain-Proof Option
If you're looking for a small kitchen floor tile option that's both durable and stain-proof, porcelain is an excellent choice. Porcelain tiles are fired at high temperatures and densities, making them extremely dense, hard, and resistant to wear and tear. Porcelain also resists staining from oils, grease, liquids, and food – making it perfect for spills in the kitchen.
Porcelain comes in a wide variety of colors, sizes, and textures, so you can have a unique look that stands out without sacrificing durability. Plus, porcelain is easy to clean and maintain with regular sweeping and mopping.
Add Some Luxe With A Marble
Tile If you're looking for a way to bring some high-end style into your kitchen, consider using marble tile. Not only is it beautiful and timeless, but it's also incredibly durable and easy to maintain. Whether you choose small hexagonal tiles or larger slabs, the patterned veining in the marble will bring a unique character to your space. For an extra touch of vibrancy, incorporate a variety of accent tiles with different hues and styles! And if you're feeling adventurous, try an unusual geometric tile pattern that will make your kitchen truly stand out.
Incorporate Terrazzo For Color And Pattern
Terrazzo is a classic tile style that has been used for centuries and is now making its way into modern kitchens. With numerous color combinations and patterns, terrazzo tiles can bring an exclusive vibe to your kitchen. Terrazzo's durability and resistance to staining and fading make it a great choice for kitchen floors that will endure years of wear and tear. Plus, the tiles can be easily cleaned with a mop and water to keep your kitchen looking its best. [3]
Add Terracotta For A Natural Warmth
Terracotta floor tiles are perfect for small kitchens as they offer a beautiful, natural look that adds warmth and charm to any space. Terracotta tiles are the perfect selection for busy kitchens, as they offer both durability and low-maintenance. To create a unique look, try using terracotta tiles in different shapes or sizes, or use a contrasting color grout to add texture and interest.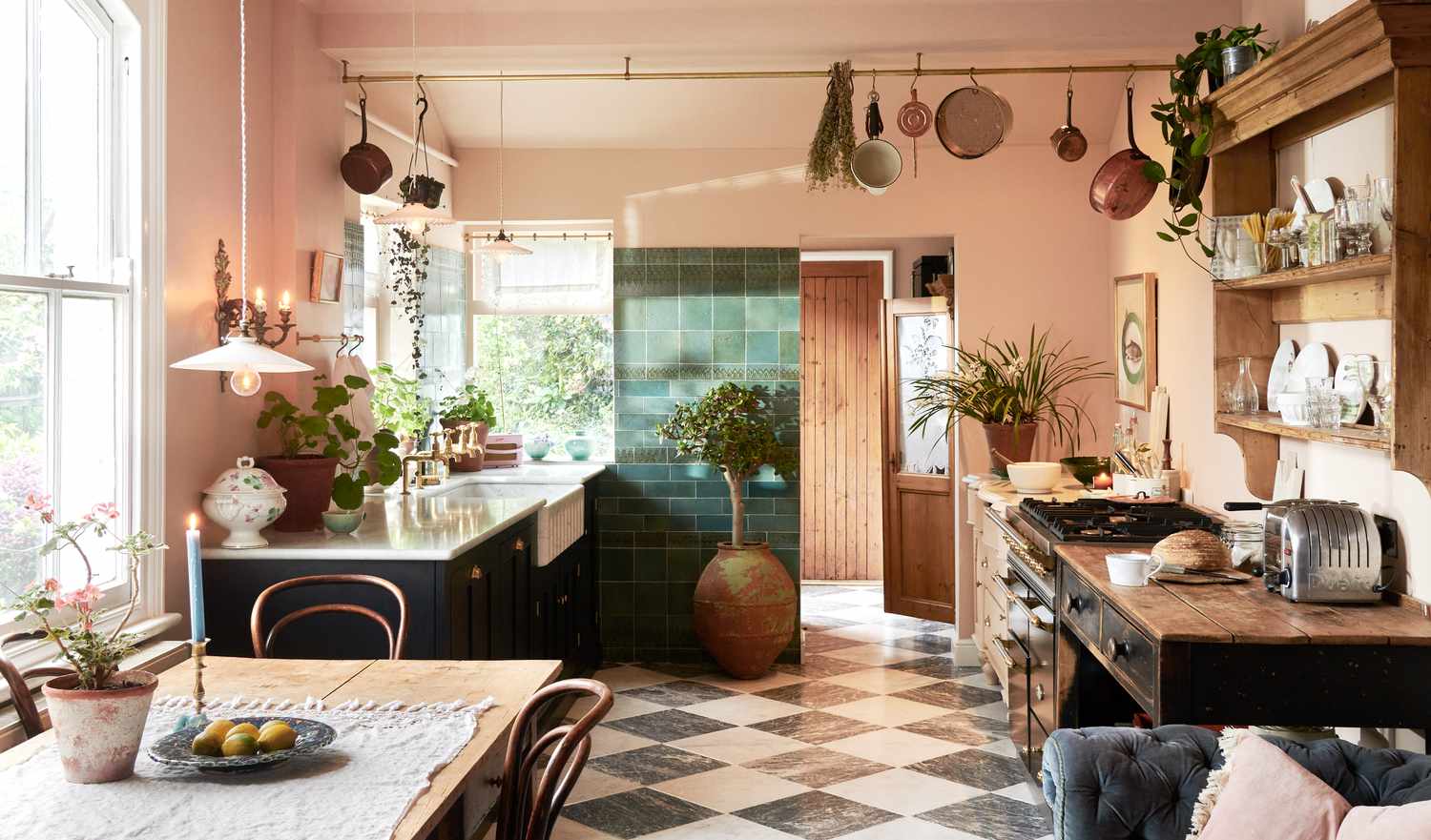 Terracotta tiles also come in a variety of finishes that can help to create an earthy, rustic look that's perfect for smaller kitchens.
Use Black And White Tiles To Visually Expand A Galley Kitchen
Transform the look of your cramped galley kitchen with a clever optical effect created by black and white tiles! Making use of every inch you have, this easy technique gives off the illusion that your space is larger than it actually is. Black and white tiles can draw the eye away from a cramped corner, making your kitchen appear larger than it actually is. By blending black and white tiles with the perfect lighting, as well as pristine white cabinetry and countertops, you can create a spacious illusion that will make any room appear larger.
What Is The Most Hard-Wearing Flooring For Kitchens?
When selecting flooring for your kitchen, you want a material that is not only aesthetically pleasing but also enduring. The most hard-wearing type of flooring for kitchens is ceramic tile.

When working with ceramic tiles for a kitchen floor, it's important to choose tiles that are rated for floor use as well as wall use. Floor-rated tiles have a slightly higher porosity rating than wall-rated tiles, which makes them more resistant to staining and water damage. Additionally, you'll want to make sure that the grout used between the tiles is also rated for floor use to ensure longevity.
If ceramic tile isn't in your budget, there are a few other options to consider: vinyl plank flooring, laminate flooring, and linoleum. All of these materials are durable, budget-friendly, and easy to install. Additionally, they come in a wide range of colors and patterns so you can find something that fits your style. [4]
FAQ
What is the best flooring for a very small kitchen?
When it comes to small kitchens, smaller floor tiles can often work best. Smaller tiles are easier to maneuver around tight spaces and corners, allowing you to maximize the space in your kitchen.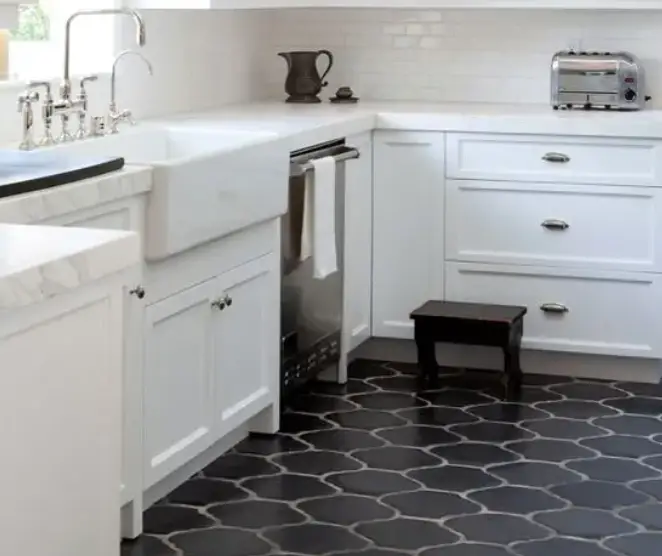 Additionally, opt for lighter-colored materials that will help make a smaller kitchen feel larger and more open. Consider tiles like ceramic or porcelain in neutral colors, as these can help reflect light and open up the room.
What is the color floor tile best for a small kitchen?
When it comes to selecting floor tile for a small kitchen, color is key. Light colors such as white, light gray and beige have an amazing effect on a space: they help to create the illusion of more room by reflecting light. Darker colors can make your kitchen feel more intimate and cozy.
But there are endless options when it comes to choosing the perfect hue for your kitchen. If you're looking for a soft contrast, pair light tiles with darker grout. On the other hand, if you desire an overall more unified look, consider going for a monochromatic color scheme.
If you want to add some visual interest, you can use different shades of the same color or combine multiple colors in a patterned floor tile design. Whatever you choose, make sure it's a hue that reflects your style and makes you feel at home.
What floor tiles make the kitchen look bigger?
Installing larger floor tiles can be a great way to give your small kitchen an illusion of spaciousness. With fewer grout lines, larger tiles create an illusion of a more spacious room. To create the illusion of space in a small kitchen, utilize light colors such as white or beige.
These shades reflect more natural and artificial light for an amplified open feel. The shape of the tiles can also make a difference – square and rectangular tiles are better than mosaic or hexagon shaped tiles, as they create a cleaner look and emphasize the size of the space.
Should the kitchen floor be lighter or darker?
When deciding on a kitchen floor tile color, it's important to consider both the overall design of the space and personal preference. Generally, lighter colors can create the illusion of a larger and brighter kitchen space by emphasizing airiness, while darker shades are known for creating an intimate vibe. Glazed ceramic tiles are the perfect addition to any space, offering an array of styles and colors that range from timelessly classic to strikingly modern.
What is trending for kitchen floor tile?
Today, many homeowners are leaning towards natural stone tiles, such as slate and travertine. These materials offer a rustic look while still providing durability and ease of maintenance.
Wood-look porcelain tiles can also provide the same warm feel with less worry over moisture damage than with real wood floors. If you like bright colors or patterns, glass mosaics, hexagons, and geometric shapes can add a modern look to your kitchen. If you are on a budget, ceramic tiles are affordable and come in many colors and sizes. Whichever tile type you choose, make sure it is sealed properly for maximum protection from spills and stains.
Should the kitchen floor be darker than the cabinets?
No, not necessarily. Darker flooring can be a great option for small kitchens, as it can help to create a sense of depth and visual separation between the cabinets, countertops, and walls.
However, lighter kitchen floor tile options are also available that will help to open up the space. When creating your small kitchen design, consider the overall look and feel you want to achieve, and choose a color that will help to create it.
Should floor tiles be lighter or darker than wall tiles?
When considering the colors of your kitchen floor tiles, it's important to consider how they will look in comparison to your walls. Generally speaking, floor tiles should be darker than wall tiles to create contrast and define spaces. However, this isn't always the case – if you don't want a dramatic effect in your kitchen, you can opt for the same color floor and wall tiles. It's really up to you, but if you're looking for a more traditional feel, darker floor tiles paired with lighter walls often look best.
What is the best color flooring for a kitchen?
When it comes to kitchen flooring, there are many great options. Neutral hues like white, gray, and beige are a go-to for kitchen flooring as they can aid in creating an open, inviting ambience.
Add a contemporary spin to your space by incorporating darker colors like navy blue or charcoal gray. If you want to make a statement, consider using bold colors like yellow, green, or red.
However, no matter what color you choose for your kitchen floor, it is important to make sure it coordinates with the overall design of the room.
What's new on kitchen flooring in 2023?
2023 has ushered in a great deal of exciting new trends in kitchen flooring. From patterned tiles to metallic finishes, homeowners have plenty of options when it comes to creating an eye-catching and stylish look for their kitchen floors. Patterned tiles are still popular this year, but with more focus on geometric shapes, bold colors, and unique designs. For a more modern look, opt for metallic tiles with a textured finish or metallic inlays to really bring the space to life.
Natural stone tile is also making a comeback this year, as it provides an earthy look and feel that's perfect for creating a calming environment. Furthermore, wood-look tile is becoming more and more popular as it can bring an ageless yet fashionable look to any space while also being simple to take care of. Ultimately, whatever style you choose for your kitchen floors this year, there are plenty of options to make your space unique and beautiful.
What is the most popular kitchen flooring for 2023?
If you're looking to spruce up your kitchen, 2023 is the year for eco-friendly materials and vibrant colors in floor tile. Porcelain tiles continue to be a popular choice for their sleek and modern look, while ceramic tiles offer a more traditional feel with many different color options.
Boasting a timeless appearance and unmatched durability, natural stone tiles like travertine, slate, or marble have become an increasingly sought-after choice. Transform your kitchen with a pop of color by adding brightly-hued tiles in eye-catching patterns and designs!
Useful Video: 50 Kitchen Floor Tile Ideas
Conclusion
Small kitchen floor tile ideas can provide you with an attractive and durable surface for your kitchen floors. With the wide range of materials, patterns, textures and colors available, it is easy to find a design that will fit your style. Whether you're looking for something classic or modern stylish, small kitchen floor tiles can provide you with a beautiful and long lasting solution for your kitchen flooring. With the proper care and maintenance, you'll be able to enjoy your small kitchen floor tiles for years to come!
---
References
https://www.thespruce.com/small-kitchens-you-will-want-1822149
https://www.livingetc.com/ideas/small-kitchen-floor-tile-ideas
https://www.tileflair.co.uk/blog/how-to-make-a-small-kitchen-feel-large-with-tiles
https://www.idealhome.co.uk/kitchen/kitchen-ideas/kitchen-floor-tile-ideas-298319