The Colonial period in the United States was a time of change for many aspects of life, including kitchen design. From lighter woods to earthy tones and ornate decorative elements, there are various ways to create a Colonial-style kitchen that is both functional and beautiful. If you're looking to bring some historic charm into your home, here are some tips and ideas for creating a Colonial-style kitchen.
What is a Colonial Style Kitchen?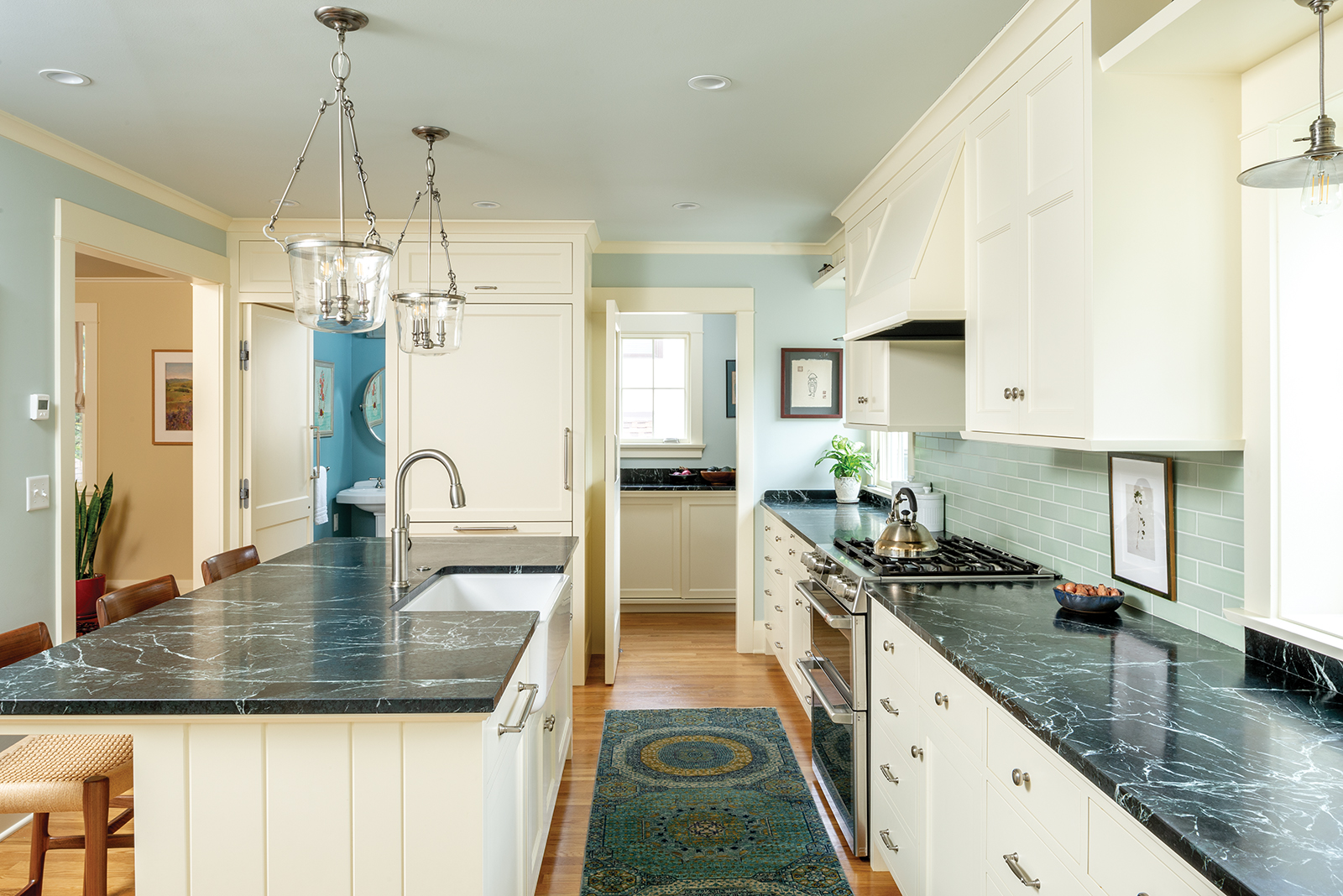 The Colonial style kitchen is defined by its simplicity and attention to detail. This type of kitchen typically features light-colored paneled cabinets, ornately decorated molding, muted colors, and a center island or work table for added convenience. The main feature of the Colonial style kitchen is often the large fireplace—a staple in most colonial homes—which is complemented by a few other pieces of furniture such as chairs, tables, and benches.[1]
Getting the Modern Colonial Look
Modernizing a colonial kitchen doesn't have to mean compromising on the classic style. You can keep it traditional while using modern materials, fixtures and accents. Here are some ideas for creating a beautiful Colonial-style kitchen:
Choose timeless materials, like natural stone or timber flooring, that will stand up against wear but still feel traditional.
Opt for shaker- cabinetry, which is a classic in Colonial kitchens.
Add modern touches with contemporary fixtures and hardware, like stainless steel or brass pulls on the cabinets and drawers.
Incorporate colonial style furniture pieces like Windsor chairs or drop leaf tables as accents.
Stick to warm colors, like beiges, whites and yellows, which are traditionally used in Colonial decorating schemes.
Add texture with colonial-style window treatments such as ruffled curtains or blinds with scalloped edges.
Install a large farmhouse sink and add a wall-mount faucet, both of which are popular in Colonial kitchens.
Don't forget to layer your lighting with pendant lights, sconces and recessed lighting for a truly traditional look.[1]
Kitchen Layout
When designing a Colonial kitchen, think about the layout and what works best for your needs. It's important to consider the size of the kitchen and how much space you have to work with. There are any areas that will be difficult to access such as a corner or an alcove, plan around those obstacles so everything fits together nicely.
When it comes to the layout of a Colonial kitchen, it's important to strike a balance between modern convenience and traditional style. Consider adding an island for extra counter space and storage or installing open shelving on the walls for dishes and utensils. You can also use furniture pieces such as stools, bar carts, and baker's racks to maximize storage space.[2]
Tour the Space
Colonial kitchens are typically characterized by a large, open space with plenty of room for cooking and entertaining. Take some time to look around the area and determine how you can best utilize this space. Consider adding an island or peninsula to provide extra countertop space and storage options.
You may also want to consider installing open shelving for displaying dishes and other kitchen items.
When it comes to cabinetry, look for traditional materials such as wood, or opt for painted finishes in bright white or muted pastels. These will add a touch of color and character to the room without distracting from the overall Colonial style.[2]
Colonial Revival
If you're looking to make a statement in your kitchen, then Colonial Revival style is sure to do the trick! This historic design dates back to the 18th century and is distinguished by its timeless furniture, intricate details and cozy atmosphere. From cabinets inspired by classic French Provincial looks to richly detailed crown molding, there are many elements of Colonial Revival style to play with.
When it comes to colors, you'll want to stick with earth tones like moss green and navy blue or warm neutrals like beige and light taupe. Decorative accents such as window panes, fireplace mantels, and other details should also draw from this colonial palette. For a truly elegant look, consider adding gold or silver hardware and fixtures to your cabinets and walls.[2]
Save That Looks Like a Splurge
It's no secret that having a Colonial kitchen in your home can be quite pricey. However, by using some simple tricks and tips, you can save money while getting the same great look as an expensive renovation.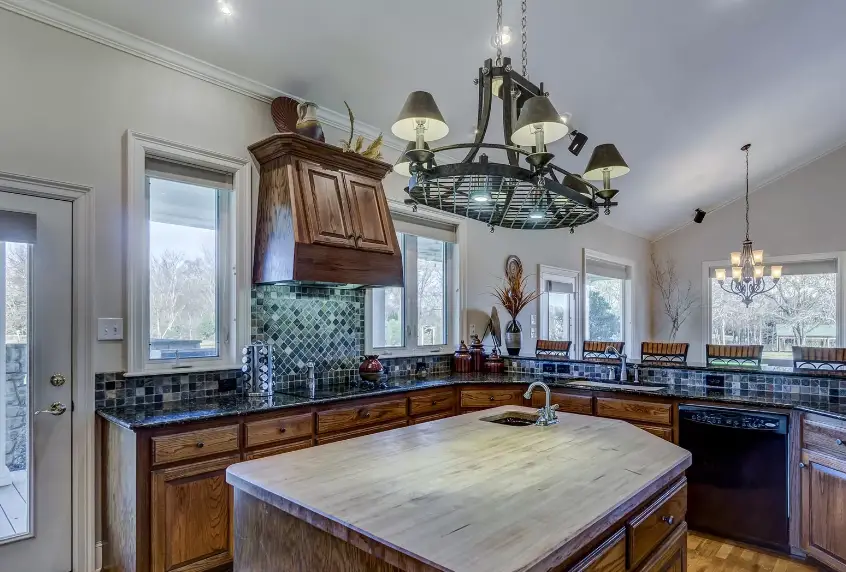 For starters, consider buying pre-made cabinetry sets instead of having custom cabinets built. This will drastically reduce the cost of materials and labor. You can also save money by using open shelves instead of closed cabinets, as they are less expensive to install.
Another way to save money is to look for pieces that have a Colonial feel without breaking the bank.
Look for smaller decorations such as vintage dishes or pewter mugs in antique stores or online. You can also shop for used furniture in good condition that has a Colonial feel and use it in your kitchen.
Finally, you can save even more money by doing some of the work yourself. Try tackling simple DIY projects such as painting cabinets or adding trim to existing cabinetry.[2]
Smart Splurge
When it comes to Colonial Kitchen Ideas, the sky's the limit. However, if you have a limited budget, there are ways to make smart splurges that will really elevate your design and can be done on a smaller budget.
Start by choosing one statement piece that will be the focal point of your kitchen. This could be a big, eye-catching piece of furniture like an antique armoire or an impressive collection of pewter vessels. You can make a statement with the color chosen. Consider using colors inspired by Colonial America, such as blue and yellow, on walls and cabinets to give your kitchen a unique look without breaking the bank.[2]
Meet the Hudsons
When the Hudsons decided to remodel their kitchen, they wanted a style that would pay homage to the colonial era. They worked with a local contractor who was familiar with the classic look and feel of colonial architecture. Together, they came up with an elegant and timeless design that fit perfectly into their home's existing décor.
The kitchen was crafted with white cabinetry and intricate millwork that evoked a classic colonial feel. To add visual interest, the Hudsons opted for a beautiful blue island countertop that complemented their existing kitchen appliances perfectly. A pair of chandeliers hung over the island to provide extra illumination during meal prep and food preparation.[2]
From challenged to Colonial charming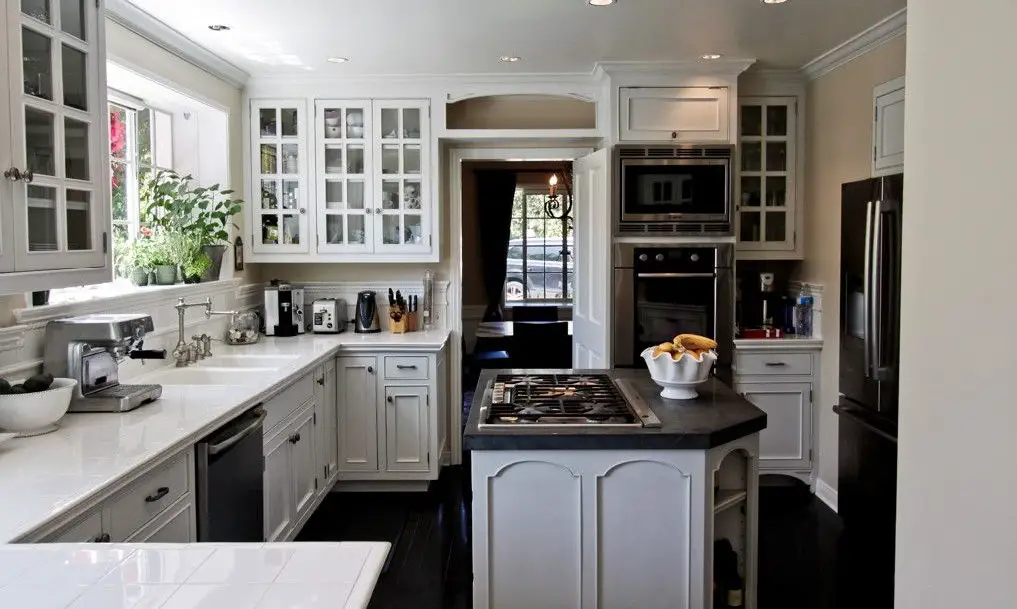 Updating your kitchen can be a daunting task, especially when you're looking to capture the unique and elegant style of Colonial Kitchens. But with the right vision and planning, you can transform your current kitchen into one that looks like it could have been lifted from an old-world home in colonial times. We'll take a look at how to create the perfect Colonial Kitchen and provide answers to frequently asked questions about installing and styling this classic kitchen style.[3]
Bringing a Tudor Colonial into the next century
The Tudor Colonial kitchen style is a timeless classic that brings together elements of design and history to create an old-world charm. With its deep wood cabinets and tile accents, it's the perfect choice for those who want to bring their home into the modern age while still maintaining a sense of tradition.
If you're thinking about incorporating a Tudor Colonial kitchen style into your home, there are some key features to consider. One is the use of deep wood cabinets in various warm tones such as oak or cherry. will give your kitchen a timeless appeal and allow you incorporate classic design elements like crown molding.
Another important element of the Tudor Colonial kitchen style is tile accents. You can choose to keep it classic with traditional white subway tiles or mix it up with bright colors and bold patterns such as hexagons, chevrons, and other geometric shapes.[3]
Achieving a traditional colonial kitchen
When it comes to achieving the traditional colonial kitchen look, there are a few key elements that should always be taken into account.
Firstly, walls should be painted in muted colors such as white, cream or even pastel shades.
Secondly, wooden furniture should be chosen with care and attention—opt for pieces made from pine or oak which have been painted in a classic off-white tone. Thirdly, soft furnishings should be chosen to match the overall colonial theme—think of blue and white ginghams or floral prints with an antique feel.
Finally, opt for old-fashioned accessories such as vintage clocks, framed maps and traditional pewterware which add a certain character to the space.[3]
All Natural Colonial Kitchen Look
If you're looking to bring a more rustic, colonial look to your kitchen, why not consider using all natural materials? Wood and stone are both classic options that work well in this style. By using these elements, you can create an old-world atmosphere while still utilizing modern technology and appliances.
Wooden furniture is always a great option for creating an old-world feel. Consider using wooden tables and chairs, as well as wooden countertops. You might also want to choose light-colored woods like pine or oak, which will help keep the space feeling natural and cozy.[4]
Stone adds a unique look that can't be achieved with any other material.
Mix and Match Colonial Style
The great thing about colonial kitchen style is that it is versatile and you can mix and match different elements to create a unique look. For example, you could pair traditional cabinets with modern appliances or choose contemporary countertops but keep the flooring classic. You could also add a few touches of color to make your kitchen stand out even more. Try adding a bright backsplash or colorful counter stools with an otherwise neutral palette.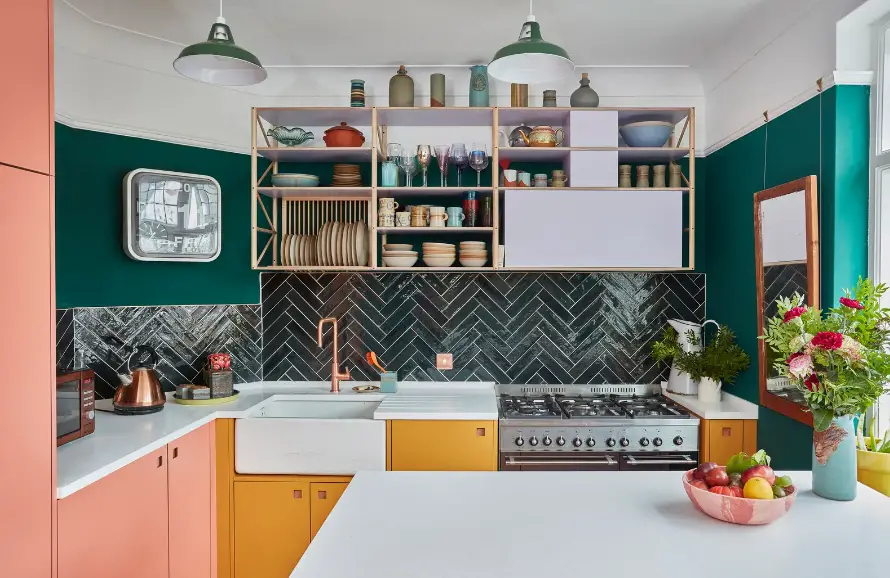 When selecting furniture and other decorative accessories, look for items that have a timeless quality and combine traditional styles with modern materials. For instance, choose wooden chairs with upholstered seats or a farmhouse table with metal detailing along the edges. A few vintage pieces in the mix, like a wooden armoire or a hand-painted ceramic serving bowl, will also give your colonial kitchen a unique look.[4]
Gothic Colonial Style Kitchen
Gothic Colonial style kitchens are the epitome of classic charm. With a focus on ornate details, including elaborate trims and carved accents, these rooms exude an air of opulence. If you're looking to give your kitchen a more traditional feel, creating a space in this style is the perfect way to do it.
Dark wood panels, cabinets, and furniture are essential components of this look. To achieve the right level of sophistication, choose ornate carvings for your wood pieces or opt for metal trims with detailed designs. For an extra touch of elegance, add glass cabinets with intricate door designs.
When it comes to colors, the Gothic Colonial style kitchen usually features a neutral palette of whites and grays paired with dark wood tones. To enhance the atmosphere of luxury, consider adding accents such as copper or brass hardware for your cabinets and drawers.[4]
Classic Colonial Style Kitchen
Colonial style kitchens are typically characterized by their warm and inviting atmosphere. They are often inspired by the traditional kitchens of early American settlers and feature natural elements such as wood, stone, and brick. If you're looking to create a classic Colonial kitchen in your own home, here are some tips for achieving the perfect look:
Start with a warm, neutral palette.
Think natural colors like muted beiges, grays and whites that will work as a backdrop for your Colonial kitchen design. Add pops of color in the form of accents like rugs or dishware.
Let wood take center stage.
Wood is a hallmark of Colonial kitchens, and natural hardwoods like oak, cherry, and maple are all great options for cabinetry. If you're looking for something more modern, consider incorporating stained or painted wood to achieve a unique look.
Incorporate traditional accents.
Items such as simple metal hardware, vintage-style cookware, and distressed furniture pieces can all help to add a Colonial touch to your kitchen.
Introduce some natural elements.
From the use of stone or brick to the addition of plants, greenery can really bring a Colonial kitchen together. Also consider incorporating natural fabrics like cotton and linen into curtains, table linens, and other textiles.[4]
Mix of Colonial and Mediterranean Style Kitchen
When looking for Colonial kitchen ideas, you may want to consider combining the style with a Mediterranean twist. This can give your kitchen an old-world charm but with modern features.
For example, white paint is popular in colonial kitchens and it can easily be used to achieve a classic look. You could pair this with warm wood tones for a Mediterranean look. You could also add some vibrant colors like blues, greens, and oranges to create an inviting space.
You could then accessorize with ornate furniture such as a wooden table and chairs or an old-fashioned cupboard to give the room more of a colonial feel. In addition, you may want to incorporate some antique pieces to add even more of a rustic touch.
Finally, you may want to consider adding Mediterranean-style tiles for the floor and wall. This could give your space an extra splash of color and add a touch of old-world charm.[3]
New Way to Achieve Colonial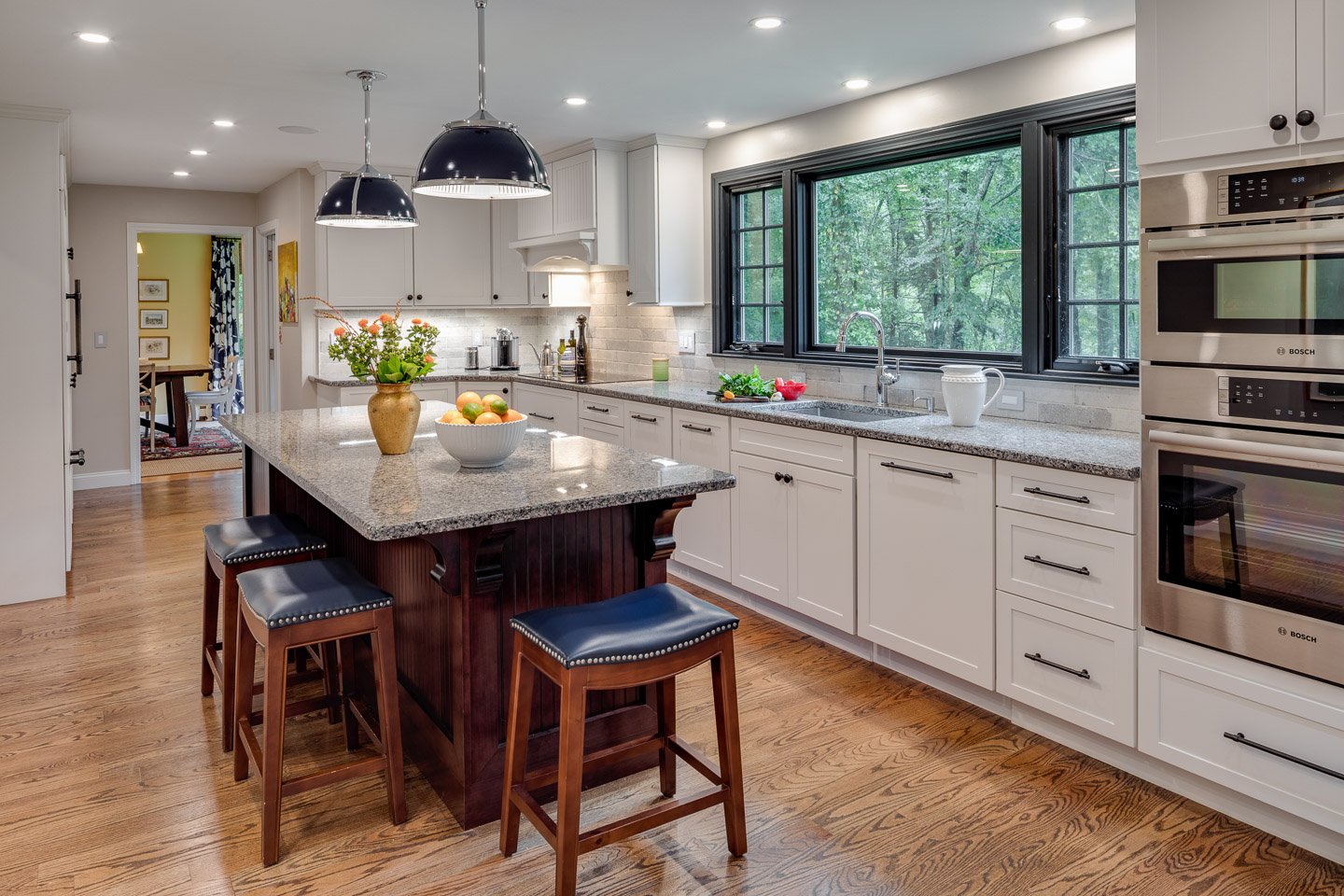 As the trend of Colonial-style kitchen designs becomes more popular, homeowners are looking for creative ways to achieve that classic look. One way to do this is by using contemporary materials and techniques while keeping with the overall design scheme. Here are some tips on how you can achieve a colonial kitchen design without compromising on modern style or functionality:
Use light hues for walls and cabinetry: Bright colors are a great way to create the feeling of a colonial-style kitchen. Light blues, yellows, and whites can bring a touch of the colonial era into your kitchen without overpowering the overall look.
Incorporate wood elements: Wood is a key element of colonial styling, so consider using wood flooring, cabinetry, and furniture to achieve that look.
Add subtle accents: Use pieces like countertops with a wooden trim or an antique light fixture to add a hint of the colonial era without going overboard.[3]
Exotic and Chic Colonial Style Kitchen
Create an exotic yet chic atmosphere in your kitchen with these colonial style ideas. From warm cabinetry and countertops to rustic-style floors, walls, and appliances, this style of kitchen will make you feel like royalty every time you enter it.
Before you get started, here are some tips to consider when planning a colonial kitchen:
Choose colors that are inspired by nature, such as shades of green, brown, and blue. These will create a calming atmosphere in your kitchen.
Choose furniture and cabinetry with natural finishes and decorative accents like ornate knobs or handles. The less modern the style, the better![3]
Colonial Kitchen with a Touch of 21st Century
Colonial kitchen design is an enduringly stylish and timeless look. Featuring classic lines with traditional woodwork, hardware and appliances, it can be the perfect way to bring a touch of old-world charm into your home.
The key to creating an authentically Colonial kitchen lies in using the right materials for your cabinetry, countertops and flooring. Hardwoods like oak or cherry with intricate carvings, metal hardware and a muted color palette are the best choices for achieving an accurate Colonial look. Adding in up-to-date features such as stainless steel appliances and modern lighting can help to bridge the gap between traditional design and 21st century living.[4]
What were colonial kitchens like?
Colonial kitchens were very different from the modern day kitchen. Most colonial homes had a separate room dedicated to cooking, which was often located near the back of the house. This room would include a large hearth or fireplace, where cooking was done over an open fire. Utensils such as iron pots and kettles were used for boiling, frying and baking. Dutch ovens were commonly used for baking bread and roasting meats.
In addition to the cooking area, many colonial homes had a pantry or storage room that was often located in a separate building. This space was used to store food, as well as other supplies such as candles, soap and linens.[4]
FAQ
What are the colors for a colonial kitchen?
Colonial style kitchens generally feature earthy tones such as whites, beiges, and other muted colors. These can create a calming atmosphere in the kitchen, but you can also try bolder colors like deep reds, blues, or greens for an eye-catching look. Additionally, wood accents are common in colonial kitchens to give them a classic and timeless atmosphere.
What was in a colonial kitchen?
Colonial kitchens were simple and utilitarian, with few modern appliances or gadgets. Typical items found in a colonial kitchen would include tools such as an iron kettle, fireplace crane, skillets, Dutch ovens, and spits for roasting meat. Utensils included wooden spoons, colanders and strainers, ladles, sieves, and graters.
The colonial kitchen was also often well-stocked with food items like flour, cornmeal, apples, onions, potatoes, and salted meats or fish. Herbs were important in colonial cooking and typically included sage, thyme, parsley, rosemary and dill.
What are colonial-style kitchen cabinets?
Colonial-style kitchen cabinets are typically made of wood and feature an elegant, timeless look.
These cabinets often have decorative moldings on the doors and drawers, while the frames can be either flat or raised panels. The hardware used is often brass or antique finishes for a classic touch.
What makes a colonial style?
A colonial style kitchen typically features simple, classic lines and shapes with minimal fuss. The furniture chosen is often made of wood, such as cherry or maple, and any accents are usually in muted tones. Darker colors can be used sparingly to create a more dramatic look.
Additionally, candle holder sconces, traditionally styled wall clocks, and decorative pewter or brass pieces are often used to add a touch of colonial charm.
What is the colonial layout?
A colonial style kitchen is typically an L- or U-shaped layout. This allows for plenty of counter space, as well as easy accessibility to the sink and oven. In addition, cabinetry can be arranged in an organized manner that helps create a sense of spaciousness in the kitchen. An island or peninsula can also be included for additional counter space or storage.
What are the three types of colonial?
The three main types of colonial style kitchen are Dutch Colonial, English Colonial, and Spanish Colonial. Each has distinct characteristics that make it unique from the others.
Dutch Colonial kitchens typically feature an open floor plan with plain cabinets, wooden floors, and muted colors. The furniture is usually light-colored wood with curved lines.
What does colonial style look like?
Colonial style kitchens typically have a classic, timeless look. This can include dark wooden floors and cabinetry, white walls, and muted colors for the accents. Additionally, hardware is usually brass or antique finishes for a more traditional vibe. Candles, chandeliers, and wall clocks are also often used to create an elegant atmosphere in colonial kitchens.
Useful Video: Colonial kitchen design | Easy design tips and picture ideas to make your modern house
Conclusion
We hope this article on Colonial Kitchen Ideas has been helpful and informative. Whether you are looking to do a full renovation or just some simple updates, there are numerous ways to bring the colonial style into your kitchen. With its classic look, it is sure to stand out and make an impression. Remember that while colonial kitchens have certain characteristics, they can be adapted to fit any type of space. From finishes and furniture to lighting, hardware and appliances, there are plenty of options that will give your kitchen a classic colonial vibe.
Good luck with your renovations! We wish you the best in creating a beautiful colonial kitchen that is perfect for you.
Thank you for reading!
---
References
https://www.southernliving.com/home/decor/modern-colonial-kitchen-design-ideas
https://sweeten.com/ideas-and-inspiration/colonial-kitchen-renovations-ideas-and-upgrades/
https://www.advancedcabinetry.com.au/colonial-style-kitchens/
https://diyhomeninja.com/colonial-style-kitchen/#