Whether your kitchen is in need of a much-needed update or you are looking to add character and charm, one great way to achieve both is with window trim ideas. Window trims can make all the difference when it comes to giving your space an updated feel that still reflects your style. Whether you are looking for something simple or more intricate, there is a wide variety of trim options available to choose from.
In this article, we will cover some common questions about kitchen window trim ideas, such as what types are available, how to install them, and when you may need professional help with the installation. We will also provide helpful tips that you can use when deciding which type of trim is best for your kitchen.
White Trim for Black Windows in a Neutral-Colored Room
If you are looking for a classic, timeless style that will stand the test of time, white trim is an excellent option. White trim can be paired with black windows to create a stunning contrast, while still maintaining a neutral feel in the room. When installing white window trims, it is important to make sure that they are properly sealed and caulked to prevent any moisture damage.[1]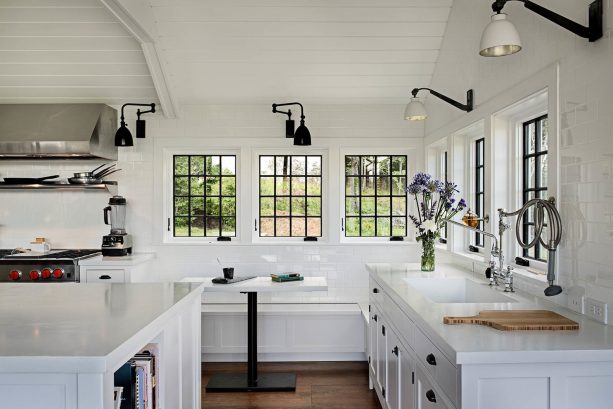 Wooden Crown Molding and Interior Window Trim
Adding a wooden crown molding and interior window trim to your kitchen windows will give them an elegant, classic look. These are simple DIY projects that you can do yourself in just a few hours.
You can easily find pre-made kits at most home improvement stores or make your own custom pieces using wood planks, miter saws, and wood glue.
When choosing a wood for your trim, select one that matches the style of your kitchen. For more traditional looks, opt for classic woods like oak or cherry. For modern designs, choose sleek maple or walnut. Make sure to use an exterior grade paint so it will last longer and remain durable in changing temperatures and humidity levels.
Once you've chosen your wood, you can begin assembling the trim pieces. Start by cutting each piece to the appropriate size with a miter saw and then cut 45 degree angle ends for the corners. Glue them together using a quality wood glue, making sure to get into all of the nooks and crannies. You may also need to use finish nails or screws, depending on the type of trim you're using.[1]
Sleek, White Trim for an Awning Window
If you have a window that extends outwards from your kitchen, such as an awning window, consider adding sleek white trim on the outside of it. This can give the appearance of an elegant frame and makes even the most modest of windows look stylish. Consider pairing this with some ornate decorative drapery, which will cascade down the sides of your window and look beautiful when illuminated by natural light. It can really bring out the beauty of your kitchen space and it a unique touch.[1]
Offset White Trim and Casing for Vertical Sliding Windows
Vertical sliding windows are the perfect way to bring in extra light into your kitchen. To make the most of these windows, you should consider offsetting white trim and casing around them. This will help draw attention to the window's sleek lines while making it a feature point in your kitchen design. You can use either wood or vinyl trim, depending on the look you're after.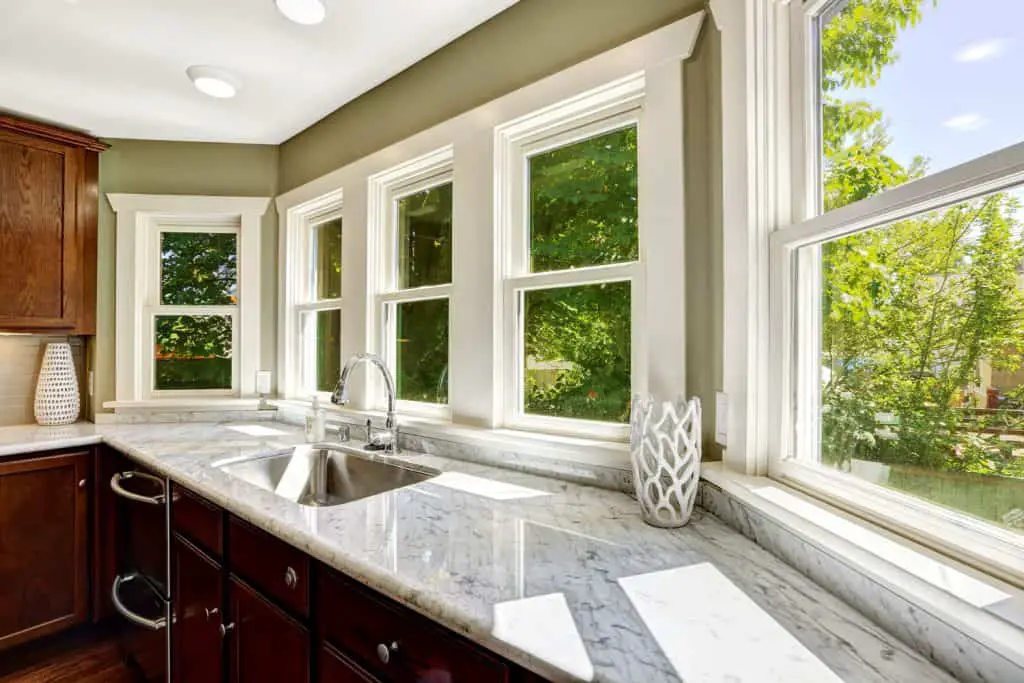 Remember to make sure the trim and casing are wider than the window itself – this will help create a frame that really stands out from the wall. If you want to add a bit of color, consider painting the trim in your favorite hue. Alternatively, you could use molding or other decorative elements to enhance the look of your window trim.[1]
Black Trim for the Horizontal Slider
For a modern look, black trim can be an excellent choice for the horizontal slider window. This type of window has two large slides that slide parallel to each other. The trim surrounding this type of window helps to give it a finished and polished feel. Black is a strong color and will contrast with any light-coloured wall in the kitchen space. It also brings a touch of drama to the room. If you're looking for something a little different, try using black trim with a white frame to give the window an even more eye-catching appearance.[2]
Vaulted Ceiling With White Trimmed Windows
Vaulted ceilings are a great way to add depth and interest to your kitchen. One of the best ways to emphasize this style is by adding white-trimmed windows. This will allow natural light to enter the room, while also keeping it feeling open and airy. If you're looking for an alternative window trim option, you can try a solid wood trim in a complementary color. This adds an elegant touch to the room, as well as providing extra protection from the outside elements.
When it comes to selecting colors for your window trim, it's important to consider how they will work with your overall kitchen design scheme. If you have neutral colors throughout the room, such as white or beige, you might consider a bolder colored trim for your windows. This will help to draw attention to the window and add some visual interest., if you have bold accents in your kitchen, such as painted cabinets or colorful backsplash tiles, then lighter shades of trim can help neutralize the look and help keep the focus on those features.[2]
Rustic, Wooden Window Trim and Casing
For a rustic look that adds a natural charm to your kitchen, wooden trim is the way to go. You can keep it simple with a single piece of wood that frames the window, or you can get creative and use different types of wood such as cedar or pine. If you want an even more elaborate look, consider adding multiple pieces of wood for a more intricate pattern.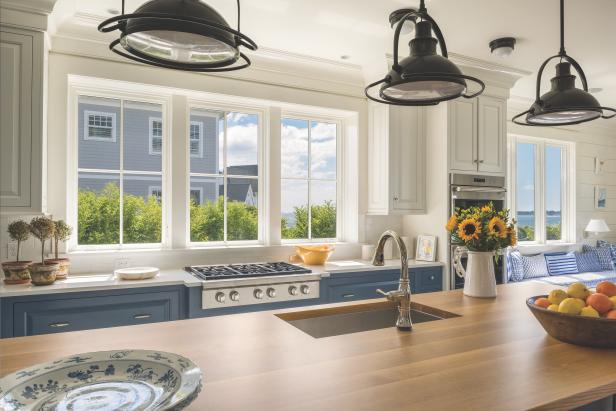 For an extra touch, you can add molding around the window trim to give it texture and depth. You can also add decorative accents to your wooden trim like corbels or dentil trim for an added touch of character. If you want to make sure your window looks perfect, hire a professional carpenter to install the trim for you.[2]
Create A Bottom Ledge With Granite
Granite is an excellent material to use for creating a bottom ledge. It is both strong and stylish, and can easily be cut and shaped into the perfect trim size you need. To create a granite ledge, first measure your window opening and determine the length of trim needed. Then purchase the proper amount of pre-cut granite pieces from your local stone shop. Finally, use a strong adhesive to attach the pieces together and firmly secure them in place around your window frame.
With this method, you can ensure that your granite ledge will remain durable and attractive for years to come! For an extra touch of style, consider adding a small ornamental detail or texture to the piece as well.[1]
Use A Diagonal Cut On The Upper Molding For A Traditional And Interesting Look
A traditional technique for finishing off kitchen window trim is the use of diagonal cuts on the upper molding. This type of cut adds a unique angle to your kitchen window and gives it a timeless look that will last for years to come. You can choose from different types of wood, such as oak or pine, and even experiment with different stain colors to make your kitchen window trim stand out.
When cutting the upper molding, you will need to set up a saw guide (or angle finder) on the frame of the window. Make sure that it is aligned properly with the bottom of the window so that you get a straight cut. If possible, use a miter saw and cut the molding at a 45-degree angle. This will help create an interesting effect and ensure that all of the pieces fit together perfectly.[2]
Recess The Kitchen Window Into The Framing For A Feeling Of Depth
If you're looking for a unique way to spruce up your kitchen window, try recessing the window into the framing. This will create the feeling of depth and really draw attention to the window. To do this, measure the width and height of your kitchen window and build out a frame that is slightly larger than these measurements. You can use wood, plaster, or even metal. Make sure you attach the frame securely to the wall and add trim around it to ensure a snug fit.[1]
Simple And Wide Molding For A Kitchen With Multiple Windows
If you are looking for a simple yet effective way to trim your kitchen windows, then look no further than molding. The wide mold can be fitted around the entire or just on the top and sides if you prefer. This is perfect for windows with multiple sections as it will create a unified look and make the room feel more spacious. The molding is easy to install and can be done with minimal effort.
For a more traditional look, you could choose a narrower style of molding for the frames. This will create depth around the windows and add character to your kitchen's aesthetic. Consider adding other decorative elements such as moldings above the window or paint it a different color to make it more eye-catching.[1]
Match The Molding To Your Cabinetry
If you have invested in quality cabinetry, why not match the trim to complete the look? One of the most popular kitchen window trim ideas is molding that matches your cabinetry. You can typically find a set that contains different pieces that all match color and style. This creates continuity between your cabinets and windows, resulting in an elegant look.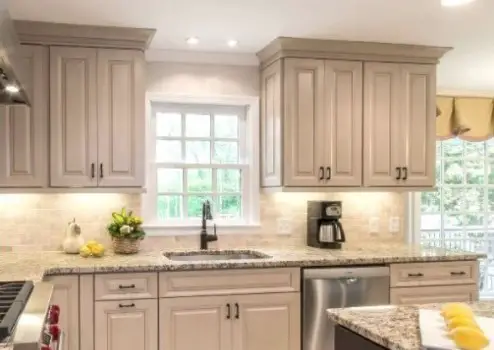 Matching the trim and cabinetry is especially helpful if you have multiple windows grouped together, such as above a kitchen sink or along one wall of the room. The trim will help tie them all together for a cohesive look. If you are on a tight budget but still interested in matching molding, look for pre-primed boards that can be painted to match the color of your cabinetry.[1]
Build Out The Upper Molding To Follow The Line Of Cabinetry
Build Out The Upper Molding To Follow The Line Of Cabinetry of the most popular kitchen window trim ideas is to build out the upper molding so that it follows the line of the cabinetry. This gives your windows a seamless transition from wall to ceiling and creates an elegant look for your kitchen. When deciding on how much of this molding you want, keep in mind that it should be proportional to the size and shape of your windows. Also factor in the width of your cabinetry as well as any existing trim or molding when selecting a miter saw angle for installation.
Another great way to add character and interest is by adding crown molding just above the window frame. Crown molding looks especially stunning with tall, arched windows and can be painted in a variety of colors to match your kitchen décor. It's also important to make sure that the inside corner miter angle is cut correctly so that the molding will fit snugly against the wall and ceiling.[2]
Recess The Window In The Wall And Forego Molding
If you're looking for a modern, clean look that does not require any molding or trim, recess the window into the wall. This is a great option for small kitchen windows. To do this, you need to build a framing support on either side of the window and then recess the window into it. You can add insulation around the window, line it with drywall, and paint or wallpaper to match the wall. This can create a sleek, minimal look that still lets in plenty of natural light.[2]
Slender Wooden Molding With A Butcher Block Countertop
If you're looking for a sleek and modern look in your kitchen, consider adding wooden molding around the window. This can be done with slender strips of wood to add a subtle accent and still keep the look contemporary. To finish it off, pair this with a butcher block countertop for an eye-catching combination that will make a statement. You can either go for a natural stained wood or paint the trim to get just the right look for your kitchen.[1]
Add A Bit Of Lighting In The Top Molding
Adding lighting to the top of your window trim is one of the best kitchen window trim ideas. Not only does it add a touch of extra modern style, it also provides additional light in an already dark area. For this look, you'll want to use LED strip lights, which are easy to install and give off a bright yet soft glow.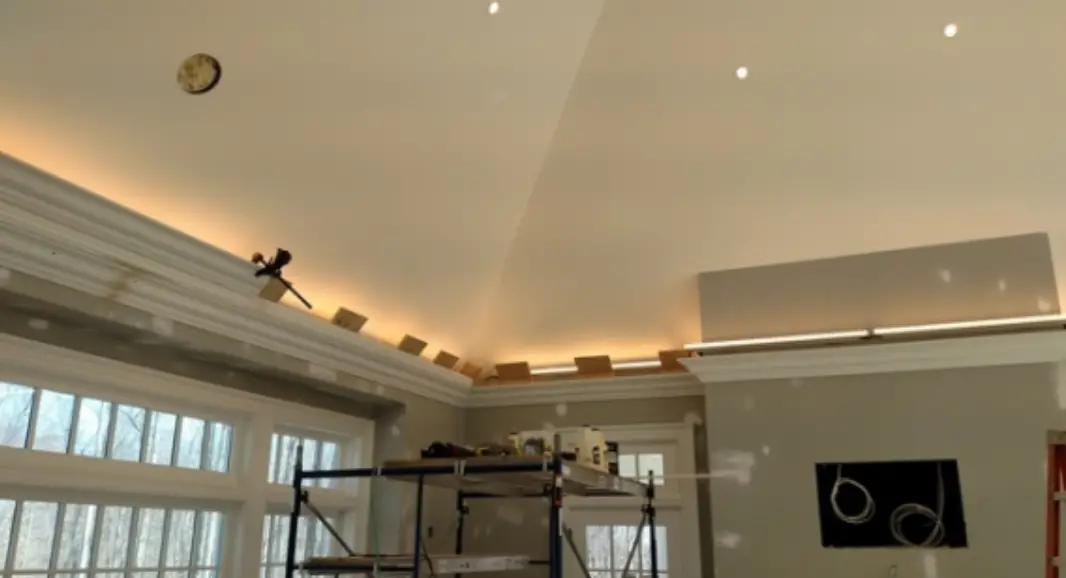 Alternatively, you could also use pendant lighting that hangs from the ceiling right above your window. Adding in either of these options is sure to create a unique and stunning look for your kitchen windows.[2]
Use Your Molding Like A Picture Frame Around Your Kitchen Window
Molding is one of the best ways to give your kitchen window trim a unique and personalized look. You can use molding to create a frame around the window, adding dimension, character, and an extra touch of style. It's also easy to customize your molding with different colors, shapes, sizes, and finishes to match the rest of your kitchen décor. As an added bonus, you can use this same framing technique to draw attention to other features in your kitchen like your countertops, backsplash, and appliances.[2]
Use Very Narrow Molding To Showcase Your Tile Backsplash
If you have a beautiful tile backsplash in your kitchen, consider using very narrow trim around the windows to really make it stand out. You can find molding that is as thin as ¼ inch and will create a subtle but stunning frame for your backsplash without detracting from its beauty. Keep the trim simple and clean with a neutral color to make sure your tile takes center stage.[2]
Frame Your Kitchen Window With Bold Molding
Molding is a great way to add style and interest to your kitchen window. It can be used as an accent, or it can completely transform the look of your window. You can choose from a variety of molding styles such as multi-layered crown or baseboard trim, delicate chair rail, oversized picture frame or pilaster trim. Consider painting the molding a different color than your walls to make it stand out even more.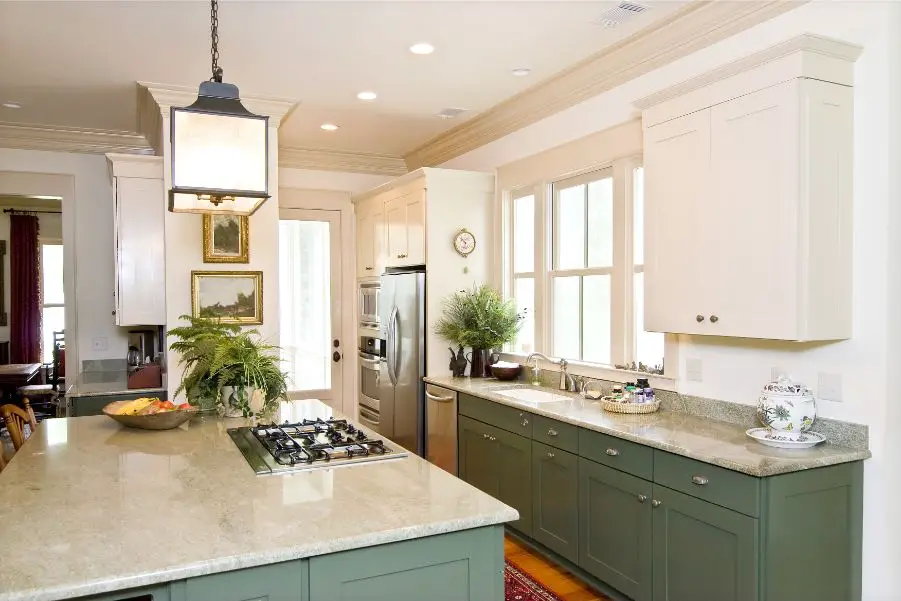 If you're feeling adventurous, consider adding carved appliqués or medallions for an extra special touch![1]
Have Your Molding And Backsplash Nestle Next To One Another
Upgrading the molding around your kitchen windows is one of the quickest but most impactful ways to elevate your space. However, if you'd like to take it a step further, consider making your window trimming part of your backsplash design. This creates a seamless look that can be both stunning and timeless. It also makes any windows look larger and more grand.[1]
Build An Arched Cornice Box With Lighting Inside
A cornice box is a great way to add an elegant touch to your window and can also give you the opportunity to include lighting inside. You'll need basic carpentry skills in order for this project, but once completed it will be a beautiful addition to your space.
Start by building the basic frame of your arch which should be made out of 1″ x 4″ lumber. Next, use a miter saw to cut sections of the board with a 45-degree angle on both ends. You will need six pieces that have matching angles. Take these and attach them in an arch by nailing or screwing them together.[1]
FAQ
What is the most popular window trim?
The most popular window trim is crown molding. It adds a touch of elegance to any kitchen and can be painted or stained in any color. Crown molding also has the advantage of being relatively easy to install, making it a great DIY project for those with basic carpentry skills.
What do you put in your kitchen window?
When it comes to kitchen windows, there are many options for trim and decorative accents. You can choose from simple, classic window mouldings to more elaborate trim styles with added detail or texture. Consider adding drapes or curtains to soften the look of your window while still blocking out light. You could also add a decorative valance over the top of the window, or some type of blinds. If you want to keep your kitchen looking bright and airy, then shutters are a great choice for blocking out light without compromising on style.
What is interior window trim called?
Interior window trim is typically referred to as interior moulding or millwork. This type of trim is usually used around windows and doors, and can range from simple wood planks to more intricate designs with detail and texture. Interior window trim helps to frame the area around a window, creating an elegant look that complements any kitchen style.
What is the difference between trim and molding?
Trim typically refers to linear pieces of wood or moulding that line the perimeter of a window, while molding is more decorative and elaborate. Moldings are often used to add detail and texture, as well as to create depth or draw attention to a particular area. Trim is usually made from wood but can also be made from other materials such as plastic or metal. Molding can be made from a variety of materials and is often painted to match the rest of the kitchen decor.
What is the most popular trim style?
The most popular trim style is crown molding. Crown molding adds a touch of elegance to any kitchen and can be painted or stained in any color. It's also relatively easy to install, making it a great DIY project for those with basic carpentry skills. Additionally, crown molding helps frame the window and draw attention to the area, making it a great choice for those looking to make a statement in their kitchen.
Useful Video: Best 27 Over the Sink Kitchen Window Treatments – Window Over Kitchen Sink Design Ideas 2022
Conclusion
When it comes to kitchen window trim ideas, the possibilities are endless! With just a few simple design elements, you can add a unique touch of style and personality to any space. Consider your style preferences, the amount of light that your windows will let in, and the overall look you are hoping to achieve before selecting your trim pieces. If you're unsure of where to start, it can be helpful to consult a professional interior designer. With the right advice and guidance, you'll be able to create the perfect window trim that fits your needs and style.
No matter what type of kitchen window trim idea you decide on, the result will be beautiful! Whether you choose natural wood, white vinyl, or a combination of both, you'll be able to express your unique style and make a statement. Now that you have the basic knowledge that you need to choose the perfect window trim, it's time to get started making your dream kitchen come alive!
Happy decorating!
---
References
https://todayshomeowner.com/windows/guides/farmhouse-interior-window-trim-ideas/
https://homedecorbliss.com/kitchen-window-molding-ideas/