Purple kitchens can look wonderfully vibrant and bold when you get the design just right. Whether you're looking for ideas for a beautiful, showstopping kitchen or just a few pops of purple here and there, this article will give you all the information and inspiration to create your dream kitchen.
Create A Focal Point By Painting Your Island And Tiling Your Backsplash
A great way to create a focal point in your purple kitchen is by painting the island and adding an eye-catching backsplash. Painting your island with a deep, rich purple can add depth and interest to the space. For your backsplash, consider using tiles of different shades of purple for extra color.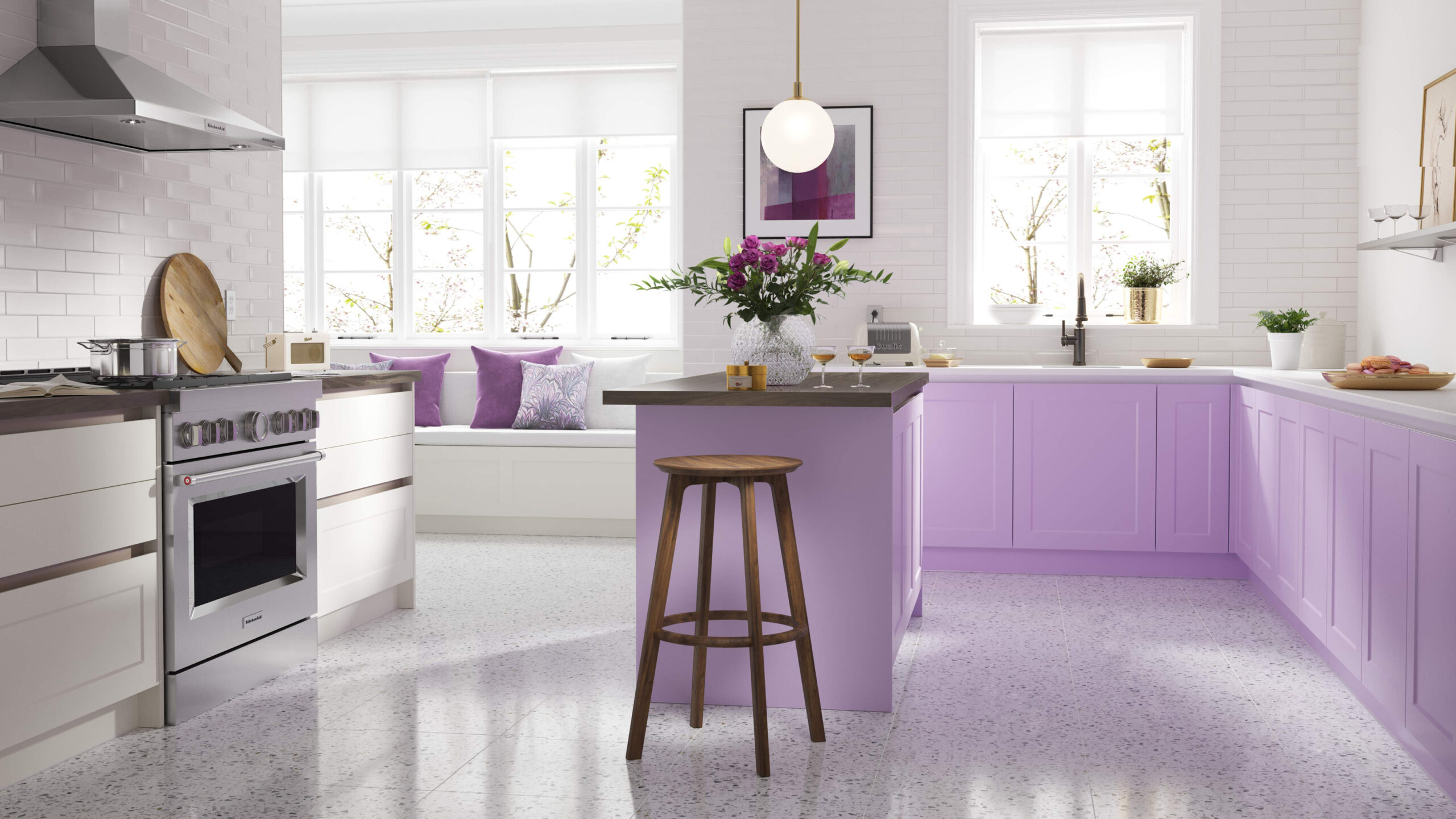 If you're feeling daring, you could even combine a few shades of purple to create a unique pattern.[1]
Or Go All In With A Dark Aubergine Shade
If you want to really make a statement with your purple kitchen ideas, consider going for an all-encompassing dark aubergine shade. This will create a dramatic contrast against any accent pieces or appliances and can be paired with brighter shades of purple or even pops of yellow to create an eye-catching space. Plus, the deeper hue will make your kitchen feel cozy and inviting.
It's important to keep in mind that darker shades of purple may require more upkeep when it comes to cleaning, so this is something you should consider before deciding on a dark aubergine shade for your kitchen. You'll also want to be sure the space is well-lit so that it doesn't feel too oppressive.
To make this look work, choose a few pieces of furniture or accessories in different shades of purple to create visual interest and contrast. For example, you could try adding some deep plum colored bar stools or light lavender-hued dishware.[1]
Consider Marble With A Hint Of Purple
Marble with a bit of purple hues is an ideal fit for those who want both the classic look and modern touch in their kitchen. Not only does it add texture and depth to your kitchen, but it also adds sophistication. As well as being beautiful, marble with a hint of purple is highly durable and easy to clean, making it perfect for busy families.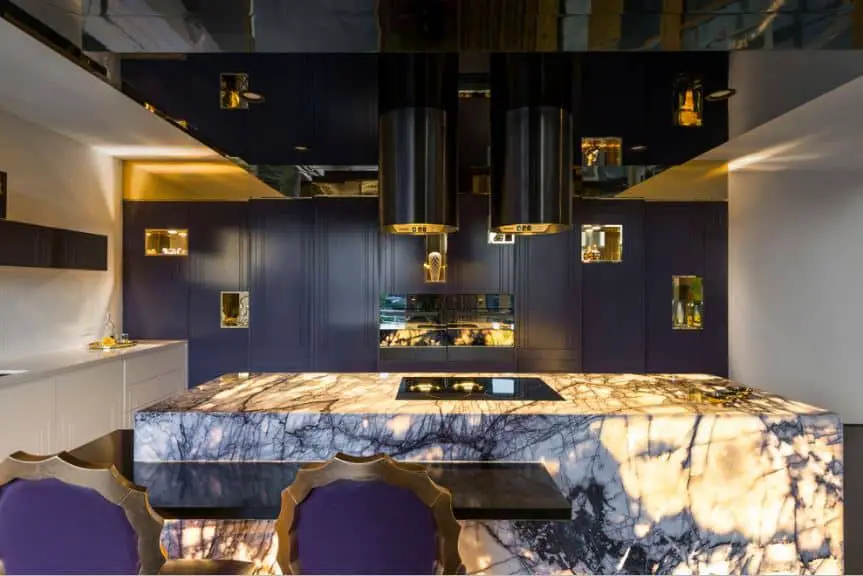 For those who want to incorporate more of the purple shades, consider pairing it with light gray or white marble countertops and backsplashes. This will create a gorgeous two-tone effect that gives your kitchen a classic feel while still remaining modern. And if you're feeling adventurous, add some gold hardware or faucets to bring out the purples even more.
When it comes to different textures, consider adding a mosaic tile backsplash with purple and white accents. This will add a bit of pattern and visual interest to your kitchen while also bringing in more of the purple color scheme.[1]
Use Mauve As A Neutral Color
Mauve is a great shade to use as a neutral in the kitchen. It's light enough that it won't overpower the other colors you have in your scheme, but it also gives off an air of sophistication and refinement. Try painting one wall mauve or adding small touches of mauve through accessories like curtains, throw pillows and rugs. You can also add a mauve backsplash for a subtle touch of color that won't be too overwhelming.[1]
Pair A Light And Mid-Tone Together
Adding light and mid-tone purples together can create a nice balance in your kitchen. If you're looking to add a pop of color, try adding light purple cabinets with mid-tone walls, or vice versa.
To make it even more interesting, consider adding accents in other shades of purple like lavender or lilac.
You can also create a striking look by mixing two bold shades of purple. For example, pair a bright eggplant cabinet with an intense plum wall to make the room feel extra vibrant and exciting. Or, try layering two different mid-tones together like navy and mauve for a subtle yet sophisticated look.[1]
Experiment By Starting Small With Your New Color
If you're feeling bold, there are plenty of ways to incorporate purple into your kitchen space, from cabinets and countertops to splashbacks and appliances. But if you'd like to take a measured approach, start small with accents or accessories. Try using a few shades or tints of purple in the form of tea towels and placemats, or use some purple-painted furniture. You could also have a bit of fun by adding some eclectic purple crockery or cookware to your kitchen.
Adding small touches of the color can really give it a new look without making it feel overwhelming. To make sure that you don't overdo it, stick to a few consistent elements (like the same hue of purple or even just one or two pieces) and spread them throughout your kitchen in different ways.[1]
Go Dark On Your Cabinets
If you're ready to take your purple kitchen ideas up a notch, dark cabinets are always a great choice. Darker shades of purple have an elegant and sophisticated feel and can really pull a room together. Plus, they pair well with neutral countertops, flooring, backsplashes and even appliances for an incredibly modern look.[1]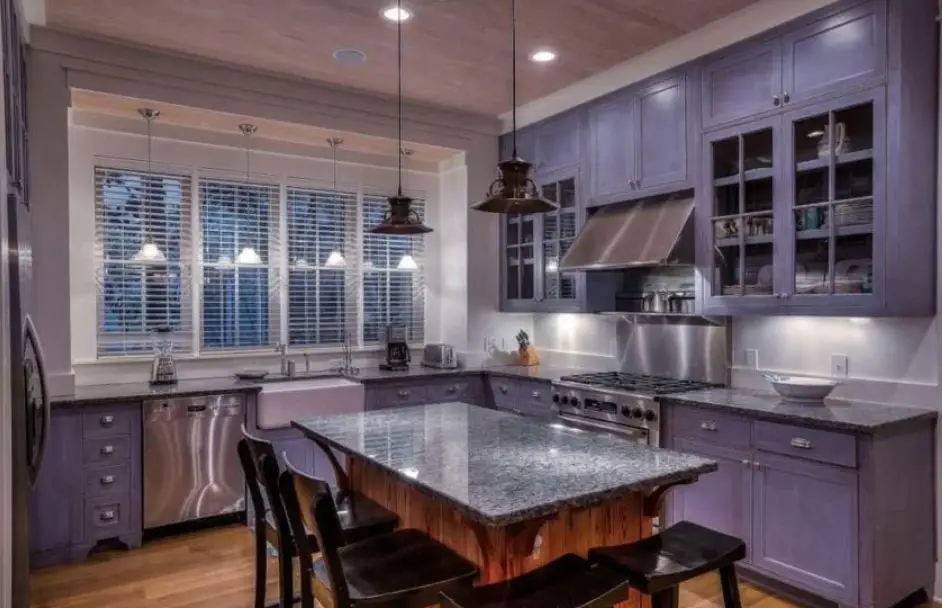 Introduce Extra Colors That Will Contrast Yet Complement
If you're looking to add a little more color and texture to your kitchen design, consider introducing other colors that will contrast yet complement the purple. A great way to do this is by adding different shades of gray or white as accent colors. This can be done through paint, wallpaper, rugs, and tile. Another option is to use metallic accents such as copper, bronze, or gold to give your kitchen a modern and sophisticated look. Additionally, natural elements like wood and stone can bring warmth to your space.
To really make the purple stand out, consider using lighter shades of gray on the walls and flooring while introducing darker shades of purple in accessories. You may also opt for a monochromatic color scheme by using various shades of purple throughout the space. This look can be achieved through paint, furniture, and other decorative elements.
When it comes to accessories, try to mix up the colors. For instance, you could use light gray dinnerware with dark purple placemats or curtains.[1]
Pick A Deep Purple Backsplash
A deep purple backsplash can make a bold statement in any kitchen. Whether you prefer a classic subway tile or something more unique, such as mosaic tiles with a subtle purple hue, there are plenty of options to choose from. Consider adding texture and accents to the backsplash for an extra pop of color and character. You'll be amazed at how much this simple change can transform your kitchen.[1]
Mix Many Shades Together
Using different shades of purple can be a great way to create an eye-catching look in your kitchen. If you're drawn to the full spectrum of purple, why not mix several shades together? Consider pairing light lilac with deep eggplant or lavender with plum. This type of color combination can make for a bold statement that'll surely catch anyone's eye.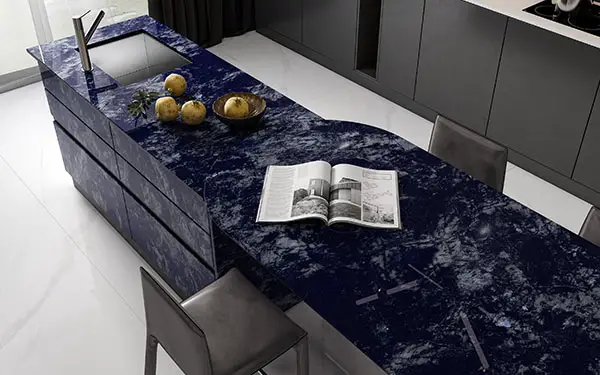 Be sure to use your darker shades sparingly, however, as they can quickly overpower a room. And remember, it helps to add in neutral colors like white or black to ground the palette and give your kitchen an inviting feel.[2]
Go two-tone.
If you want to make a bold statement with your kitchen, consider going two-tone. You don't have to stick with one shade of purple either – mix and match different hues for an eye-catching result that is sure to be a conversation starter! Try pairing light and dark shades together, or go all-out with a daring glossy combo.
You can also consider combining different textures to add even more interest and texture to the kitchen. For example, opt for wooden cabinetry in a deep hue of purple contrasted with glossy tiles or marble worktops for an interesting contrast that will draw attention from everyone who enters your kitchen![2]
Work your backsplash.
Creating a beautiful purple kitchen can start with the backsplash. It's one of the most prominent features in any kitchen, and making it stand-out will draw attention to your space. You could go for bold and daring tiles in a bright violet hue, or opt for subtle elegance by using a mosaic tile pattern with pale lavender and white. Either way, adding a splash of purple to the backsplash will instantly transform your kitchen and make it feel more special.[2]
Keep it simple.
Sometimes less is more and it can be true for a purple kitchen. Adding too many colors to your kitchen by adding purple as an accent color could make it look overdone. Instead of painting the entire kitchen in different shades of purple, choose one shade that you truly like and use it in sparing amounts throughout the room. You can achieve a beautiful, calming look by adding small touches of purple to the decor. For example, you could use lavender curtains or drapes in your kitchen window and accessorize with a few other purple items such as a vase or wall art.[2]
Keep it natural.
When you think of purple kitchen ideas, it's easy to go overboard and overwhelm a room with clashing shades. A better approach is to keep the design natural by focusing on shades that are still within the same color palette. Try a combination of soft lavender hues mixed with muted lilacs or deep purples. When paired together, these shades will create an elegant and calming atmosphere that doesn't feel overwhelming.[2]
Add luxe touches.
Purple can look luxurious when done right, so add a few luxe touches to really make your kitchen shine! Try adding a statement lighting fixture in the center of the room with purple accents. Hang up a large framed mirror with an intricate border in shades of purple and gold. And don't forget to add some velvet or other luxurious fabrics to your chairs and stools for a touch of sophistication.[2]
Embrace all things feminine.
When it comes to purple kitchen ideas, you don't have to be afraid of embracing all things feminine. A muted lavender or lilac color can create a warm, homey feeling in your kitchen. Try pairing it with white walls and cabinets for an airy feel, or go bolder and add some darker tones like deep violet or eggplant for a more dramatic look.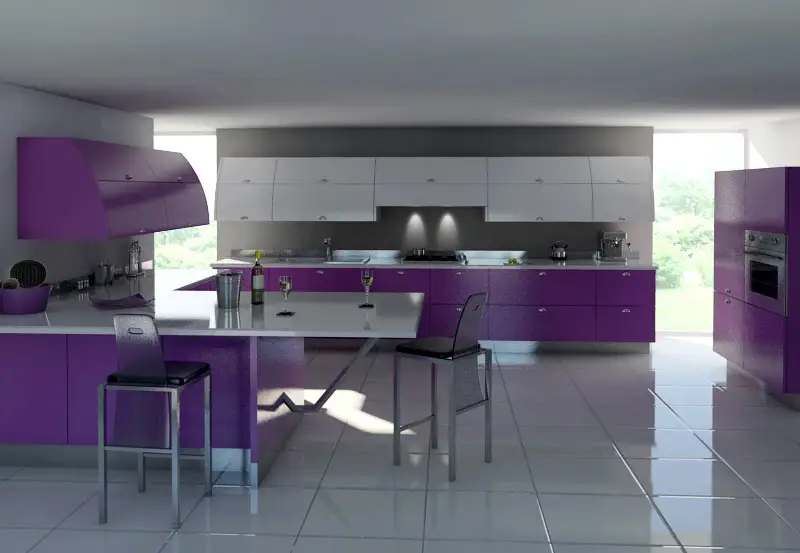 You could also try adding some fun accents like floral wallpaper or a patterned backsplash. Whatever you decide, make sure to stick with shades of purple that will still make your kitchen feel light and airy.[2]
Make it sultry.
Purple is a color that can bring out a slightly sultry look in your kitchen. To achieve this, combine different shades of purple and break away from the one-tone look. For example, use light lavender or lilac as an accent wall behind countertops, and dark eggplant or mauve to create contrast between cabinets, countertops, and other furnishings. You can even use the same shades on different surfaces for a monochromatic color palette with subtle variations.
To increase the sultry feel of your kitchen, choose rich and glossy materials that will reflect light back into the room. For example, opt for marble countertops to add a luxurious and glamorous touch to the space. And if you have enough room, consider adding an eye-catching chandelier with touches of gold or silver to make your kitchen feel even more opulent.[2]
FAQ
Is purple a good color for a kitchen?
Yes, purple is a great color for kitchens! The shade of purple you choose will depend on your style and preferences. A deep, rich plum looks luxurious in an elegant kitchen, while lighter shades of lavender work well in country-style or modern spaces. Purple can be used to highlight existing design elements like cabinets or appliances and create a vibrant, energizing atmosphere. Plus, purple is believed to stimulate creativity and imagination!
What are the new kitchen colors for 2023?
The trend in kitchen colors for 2023 are warm and earthy, with muted shades of gray, brown, beige and blue leading the pack. Look for subtle pops of color like sage green, light yellow or terracotta orange to add a bit of flare to your design. For a more daring approach, go bolder with shades of teal, navy or even black! No matter what you choose, make sure the colors flow smoothly with your existing kitchen design.
Is lavender a good color for the kitchen?
Yes, lavender is a great color for the kitchen. It is soft and subtle but can make a big impact when used properly. Lavender will work well in both traditional and modern kitchens, and its calming hue helps to create an inviting atmosphere. You can use shades of lavender to match existing cabinets or appliances, or as an accent color to contrast other neutral shades in your kitchen.
What is the most popular kitchen color?
The most popular kitchen color right now is white. White is a timeless, classic hue that creates a bright, airy atmosphere and allows other design elements to stand out. However, if you're looking for more of a statement, gray is the next most popular choice among homeowners. Grey looks great with both warm and cool tones and can be used in modern or traditional designs.
What are the happiest colors for a kitchen?
The happiest colors for a kitchen are shades of yellow, orange and red. These warm hues evoke feelings of joy, energy and optimism. They can also add a cheerful touch to your design without overwhelming the space. However, if you're looking for something cooler, blues, greens and even purples will create an inviting atmosphere that's sure to make you smile.
What is a timeless kitchen color?
White is the timeless color for kitchens. It's classic, chic and always in style. White looks great with any design aesthetic, from modern to traditional, and it can be used as a base color or in combination with other colors to create a custom look.
What color kitchen never goes out of style?
White is the color of the kitchen that never goes out of style. It's classic, timeless and looks great with any design aesthetic. Plus, white can be used as a base color or accented with other colors to create a unique look in your kitchen. If you're looking for something more bold, shades of gray are also timeless and look great with any design.
What are the 2023 kitchen trends?
The kitchen trends for 2023 include natural elements like wood and stone, muted earth tones, and subtle pops of color. Look for warm shades of gray, brown, beige and blue as a base color and then add accents of sage green, light yellow or terracotta orange to complete the look. For a more daring approach, go bolder with shades of teal, navy or even black. Incorporating natural elements like wood and stone will help to ground your design and add texture to the space. Make sure all colors flow together smoothly for a cohesive look.
What kitchen colors won't go out of style?
White and gray are two kitchen colors that will never go out of style. White is timeless and chic, while shades of gray can be used to create a modern or traditional look. If you're looking for something more bold, then blues, greens and even purples make great accent colors that won't go out of style. No matter what you choose, make sure the colors flow together to create a cohesive design.
Useful Video: 30 Purple Kitchen Ideas for 2020 ➤ Great Kitchen Design Ideas – Kitchen Decor Pictures
Conclusion
So, now you know that purple kitchen ideas can be bold and beautiful. They provide a great way to liven up your home and add some real personality to the space. From deep purples to light lavenders, there's a wide range of options available for creating stunning kitchen designs. And with these tips and answers to your frequently asked questions, you can find the perfect way to incorporate purple into your kitchen. So why not give it a try? A few bold design choices and the right accessories could give your kitchen the unique touch you've been looking for. Good luck with your new purple kitchen!
---
References
https://www.realhomes.com/design/purple-kitchens
https://www.hunker.com/13722968/purple-kitchen-color-ideas-and-inspiration