Are you looking for ideas on how to update your kitchen with a white countertop? White countertops offer an attractive, timeless look that can make any kitchen more beautiful and modern. In this article, we discuss the various options available when it comes to white countertops. We also answer some frequently asked questions and provide helpful tips to help you choose the best countertop for your kitchen. Let's get started!
White Laminate Countertop
White laminate countertops are an affordable and popular option for many kitchens. They come in a variety of colors and finishes, from glossy to matte. White laminate is easy to clean and maintain, making it a great choice for busy households.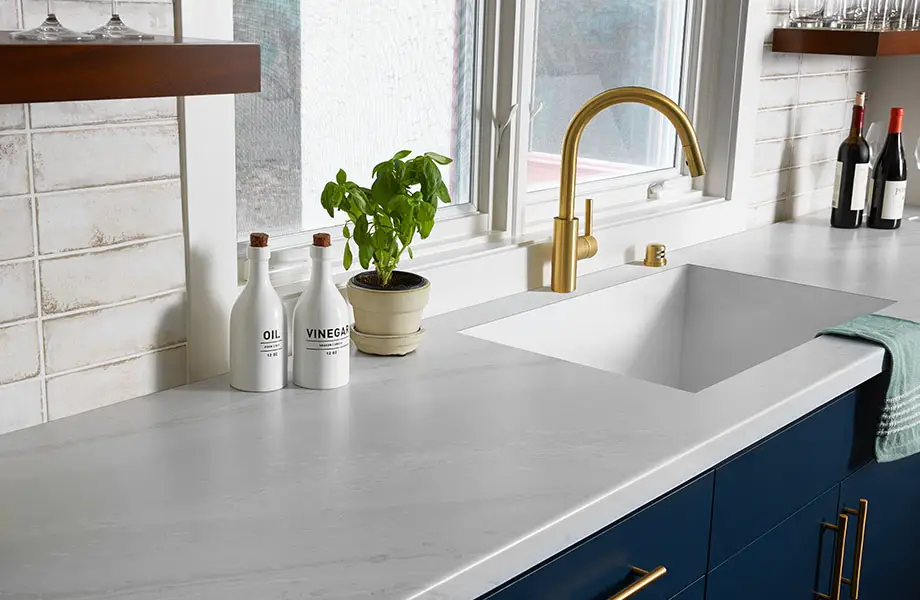 Laminate is also durable, so it can stand up to wear and tear over time. Additionally, laminate countertops can be customized to fit any kitchen style.[1]
White Countertops Made Of Concrete
Concrete countertops are a great way to get the look of white in your kitchen. Concrete is an incredibly versatile material that can be used in many different ways. Whether you're looking for a sleek, modern look or a more traditional, rustic style, concrete can provide it all. Plus, concrete is extremely durable and resistant to scratches, making it perfect for kitchen countertops.
To get the white look you want with concrete, you can use a variety of techniques. You can dye the cement to create a pastel hue or apply sealants and waxes to give the surface a glossy sheen. If you're feeling adventurous, you might even try painting your own design on the countertop. With a bit of effort, you can create a beautiful and unique white kitchen countertop.[1]
White Granite Countertops
White granite countertops are a classic choice for kitchens. They offer a timeless look, and come in a variety of shades and textures to match any decor. Granite is also incredibly durable and heat-resistant, making it the perfect material for busy kitchen spaces. To make sure your white granite countertop stands out, choose an edge profile and backsplash that complements its pattern and color.[1]
The Most Prized White Countertop: Marble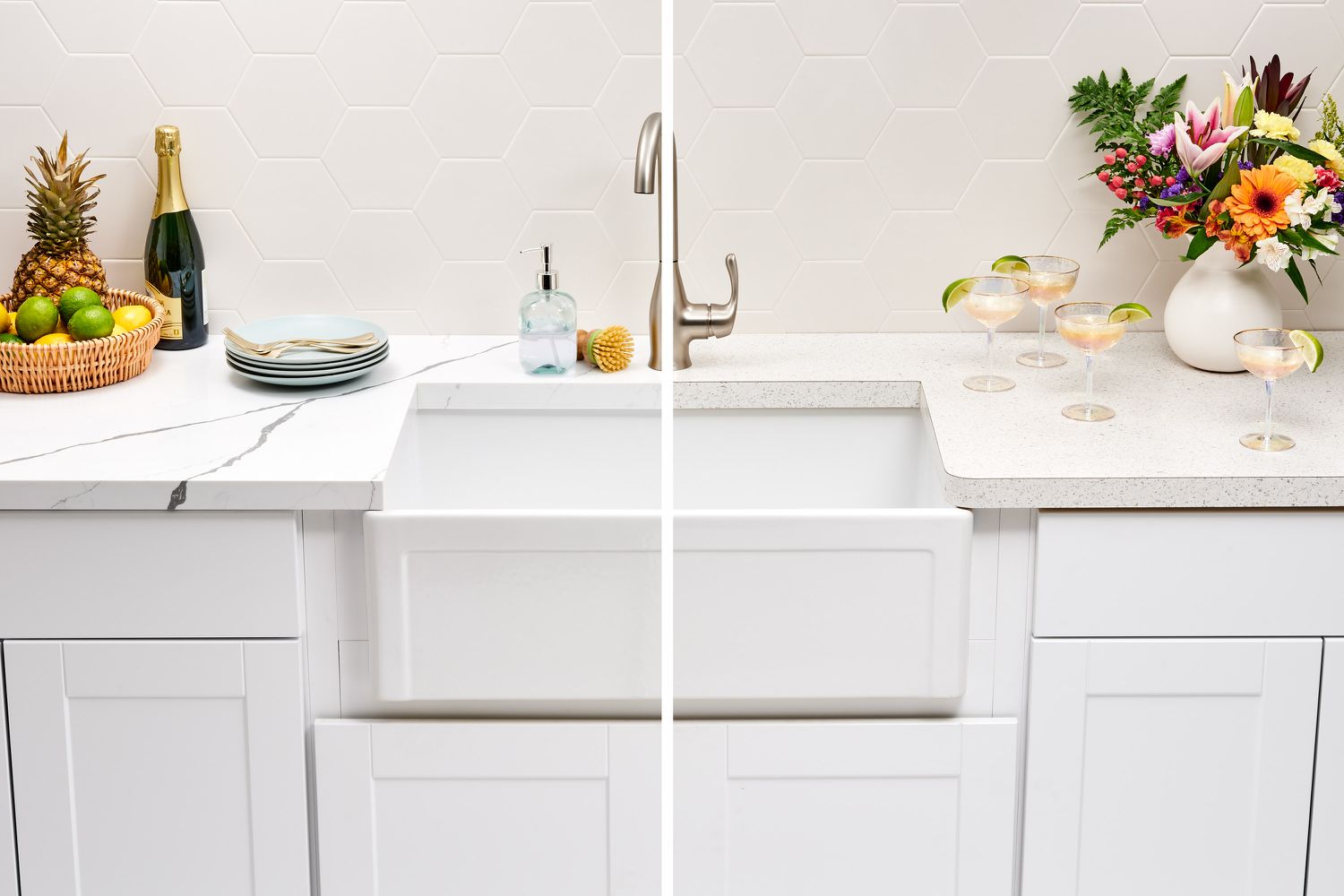 Carrara Marble
When it comes to white countertop ideas, marble is one of the most prized and timeless materials.
Carrara marble has been used in kitchens since ancient times and continues to be a popular choice today. It's elegant, classic look makes it an excellent choice for traditional or contemporary kitchen designs. Carrara marble is usually more expensive than other countertop materials, but its longevity and durability make it a worthwhile investment.
Carrara marble comes in both honed and polished finishes that can be used to create different looks.
Honed marble has a matte finish while polished marble has a glossy shine. Both types of Carrara marble are porous, so they require regular sealing with a stone sealer to prevent staining.[2]
Calacatta Marble
Calacatta marble is a variation of Carrara marble that has larger white veining throughout. It's perfect for creating a luxurious and sophisticated look in your kitchen. Calacatta marble also requires sealing to protect it from staining, but it is slightly denser than regular Carrara marble so it may be more resistant to staining.
Calacatta marble is also more expensive than Carrara marble, so it's worth considering other options if you're on a budget.[2]
White Countertops Made Out Of Porcelain
Porcelain is the perfect material to use for white countertops in your kitchen. Not only is it extremely durable and easy to clean, but it also adds a classic and timeless aesthetic to any room.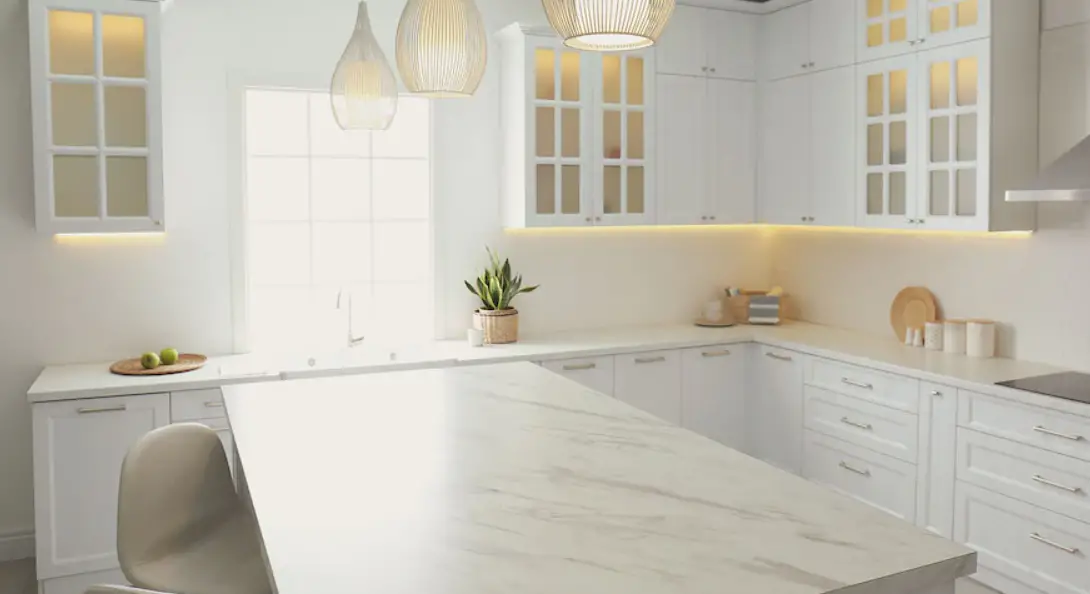 When it comes to installation, you can either choose to tile the entire countertop or pick a prefabricated porcelain slab. Installing your own tiling will require expert knowledge and skill, so be sure to hire a professional if you decide to go down this route. Prefabricated porcelain slabs are usually more expensive, but there is less risk of errors and it's a lot easier to install.[1]
White Quartzite
White quartzite countertops are a great way to add drama and style to your kitchen. Quartzite is a natural stone that can be found in various shades of white, from bright whites to soft creams. It's also durable and heat-resistant, making it perfect for any busy kitchen. Plus, its natural beauty adds an extra special touch to your kitchen.
If you want a quartzite countertop that looks particularly stunning, consider adding white quartzite with veining in it. The contrast of the white and gray veins gives this stone an eye-catching visual effect. It also makes for a great conversation starter when guests come over![1]
White Quartz Counters
White quartz is a great choice for kitchen countertops, as it has the same beautiful look of granite but without the maintenance. Quartz is extremely durable and resistant to stains, which makes it a perfect material for busy kitchens. It's also very easy to clean and maintain, so you won't have to worry about spills or messes marring the surface. Plus, quartz comes in a wide range of colors and patterns, so you can find something to match your kitchen's design.
When it comes to white quartz countertops, there are a few things to consider before making a final decision. First, consider the texture and pattern of the quartz since this will affect how it looks in your kitchen. Some quartz varieties have a more uniform look, while others feature swirls and veins of color that add contrast and dimension to the countertop. Second, you'll need to think about budget since quartz is a higher-end material.
Finally, be sure to research any warranties or guarantees for the quartz before investing in it.[1]
White Countertops Made From Recycled Glass
Recycled glass countertops are an eco-friendly and stylish way to achieve a stunning white kitchen. They're made from recycled bottles, broken mirrors or windows, discarded china, and other materials.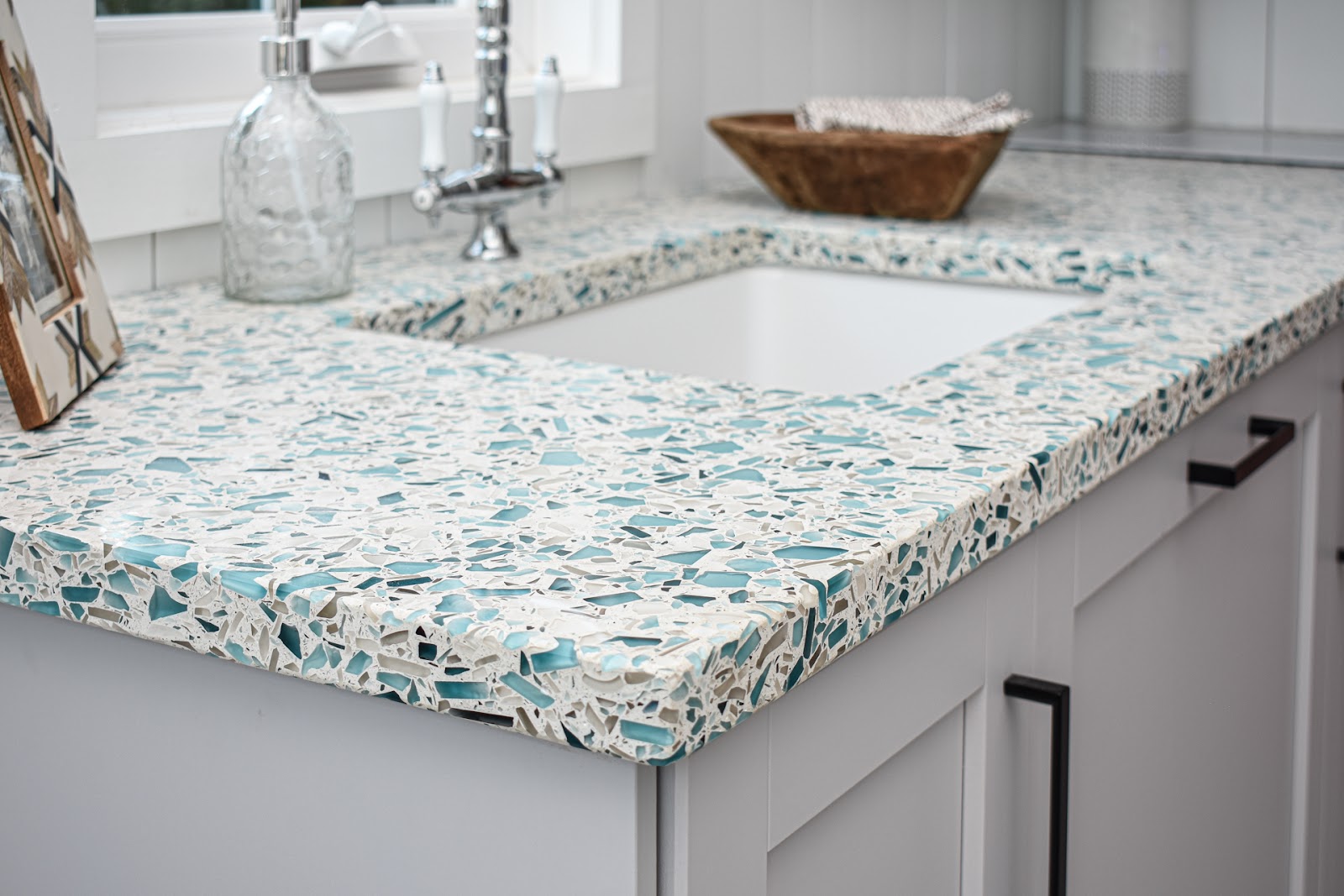 Recycled glass countertops may have slight variations in texture and color due to the nature of its material composition. However, these variations are what can give your kitchen a unique and beautiful look. When it comes to maintenance, recycled glass countertops require regular cleaning with non-abrasive cleaners because harsh chemicals may ruin the surface.[1]
A "New" Kind Of White Countertop: Sintered Stone, Or Ultra Compact Surfaces
The newest type of white countertop material is sintered stone, or ultra compact surfaces like Dekton and Neolith. These are some of the most durable materials on the market today and can stand up to all kinds of wear and tear. They're also incredibly attractive, with a glossy finish that looks great in any kitchen.
Ultra compact surfaces are a mix of quartz, glass, and porcelain that have been heated under intense pressure. This process creates an incredibly dense material that is nearly impervious to scratches, heat, humidity, and impact damage. It's also resistant to stains—a major plus for busy households with kids or pets. And because these materials don't require sealing, they're incredibly easy to maintain.[1]
White Countertops Made Of Resin: A Diy Option
If you're looking for a more affordable, DIY-friendly option, consider white countertops made of resin. Resin countertops are created by mixing and pouring two ingredients into a mold to create the desired shape—and they come in a variety of colors, textures, and designs. The installation process is relatively simple; with the right materials and tools, you can install these yourself in just a couple of hours.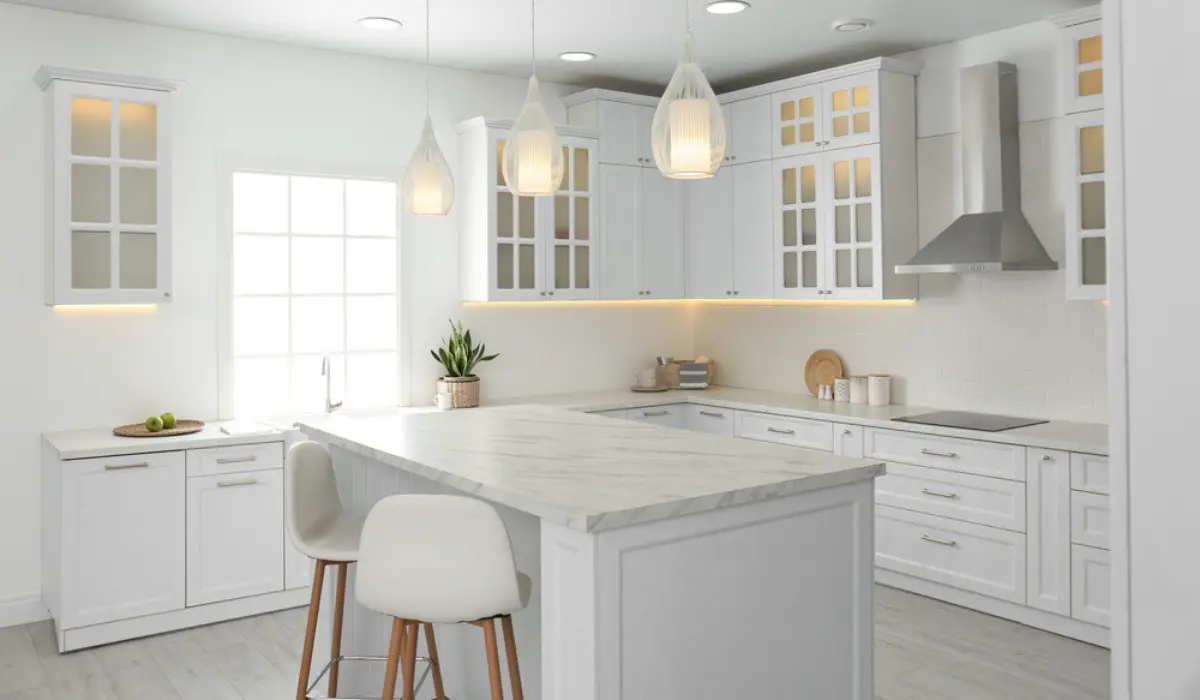 When it comes to white countertops made of resin, here are some important points to keep in mind:
Durability: Although resin is not as durable as natural stone or quartz countertop options, it can still withstand the wear and tear of everyday kitchen use.
Maintenance: Resin countertops are easy to clean and maintain, and require no sealing or treatment. Regular cleaning with a soft cloth and mild detergent is all you need.
Cost: Compared to natural stone or quartz alternatives, resin countertops are relatively inexpensive. Depending on the size of your project, they can cost as little as a few hundred dollars.[1]
Granite White Kitchen Countertops
Granite countertops are a popular choice for many homeowners who are looking for white kitchen countertop ideas. It's no surprise, as granite is attractive and strong, making it durable enough to withstand daily wear and tear in the kitchen. The natural beauty of this stone will add both elegance and warmth to your space, while providing an easy-care surface that won't require much maintenance.
Granite comes in a variety of colors and patterns, and the white varieties have a light and airy feel that can open up small kitchens or provide contrast to dark cabinetry. When you're selecting granite for your kitchen countertop, look for lighter shades such as Bianco Romano, which is a creamy white, or White Ice, which has a glossy finish and subtle veins of gray.[1]
Marble White Kitchen Countertops
Marble is a timeless classic for kitchen countertops, and white marble in particular has a luxurious yet understated appeal. It's perfect for those who want to add an air of sophistication to their kitchen without overwhelming the space with bright colors. Marble is also highly durable and easy to clean, making it a great option for busy families on the go.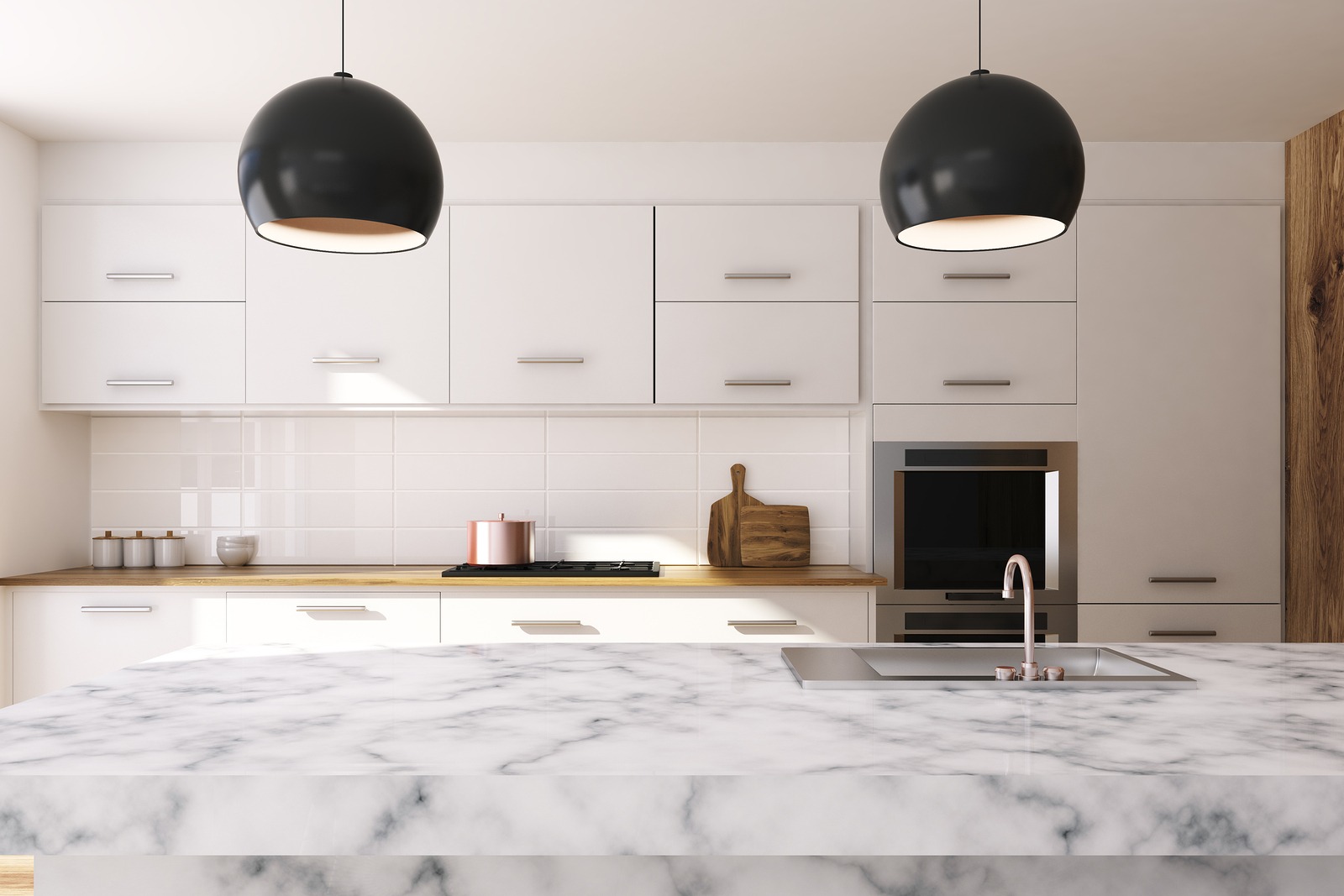 When you're considering white marble for your kitchen countertop, there are a few things to keep in mind. First, it can be expensive, so budget accordingly. Second, the surface of the marble is porous, meaning that it needs to be sealed regularly in order to prevent staining and etching from spills and other damage. Lastly, marble can be susceptible to scratches, so keep this in mind when deciding which material you want to use.
Porcelain White Kitchen Countertops
If you want a classic look that never goes out of style, then porcelain white kitchen countertops are the way to go. Porcelain is known for its incredible durability and stain-resistant properties, making it one of the best materials to use in your kitchen. It's also easy to clean up spills and splatters quickly with a damp cloth. Plus, its beautiful glossy finish can bring a touch of elegance to your kitchen, adding to the overall look and feel. And if you're looking for more customization, porcelain comes in many different colors and patterns so you can create exactly what you need.
When it comes to installation, porcelain is relatively easy to install compared to other materials.
It's also considered to be a more affordable option, making it great for those on a budget. One of the downsides is that porcelain can chip and crack if not properly taken care of, so make sure you follow manufacturer instructions carefully when installing as well as maintaining your countertop.[1]
Sintered Stone White Kitchen Countertops
Sintered stone is quickly becoming one of the most popular white kitchen countertop materials. It has a unique combination of durability and aesthetics that makes it ideal for modern-style kitchens.
Sintered stone is made from natural minerals, which are then compressed to form a strong, scratch-resistant surface that's perfect for cooking and food preparation.
Additionally, sintered stone is incredibly easy to maintain, requiring only an occasional wipe-down with a mild detergent and warm water. Best of all, it comes in a variety of shades ranging from pure white to pale gray so you can easily find the perfect color for your kitchen.[1]
Recycled Glass White Kitchen Countertops
If you're looking for a cost-effective, sustainable countertop option, consider recycled glass. This material is made from post-consumer and industrial waste glass combined with cement. It's available in a variety of shapes and sizes and can be customized to fit any design scheme. Recycled glass has the same strength and durability as natural stone, but with a much more unique and innovative look.
Moon Granite White Kitchen Countertops
For a unique, one-of-a-kind look in your kitchen, consider Moon granite white kitchen countertops. This beautiful stone has an alluring moon-like appearance and is made from natural materials like basalt, glass, and quartzite. With its smooth finish and pearlized white hue, this countertop material will bring an ethereal yet luxurious look to your kitchen.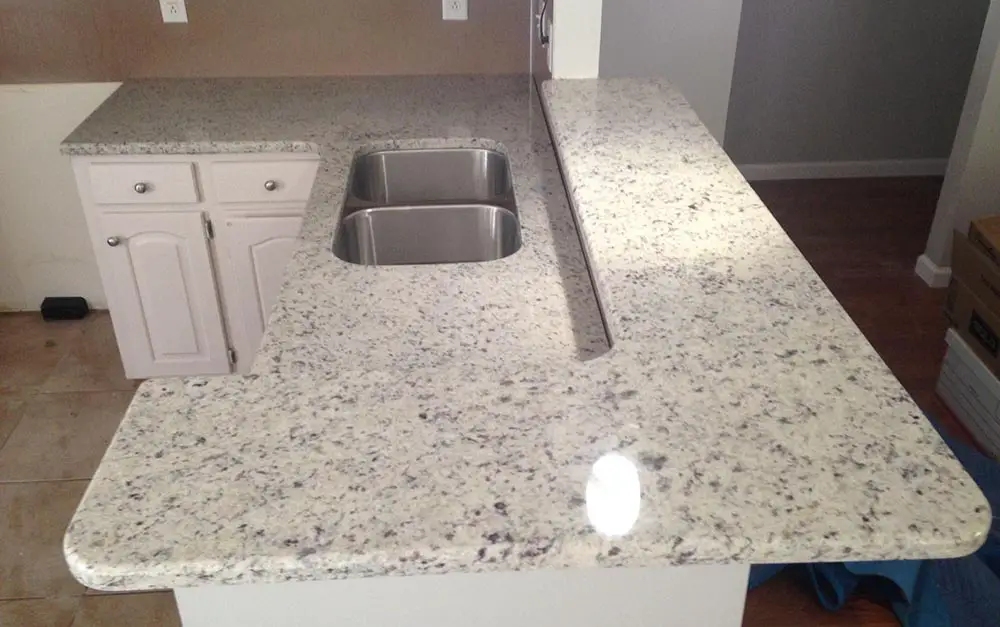 Moon granite is a popular choice for white kitchen countertops because it's highly durable and low maintenance, which makes it ideal for busy households. It is also resistant to heat and scratches, so you don't need to worry about damage from hot pots or utensils. The material is also very easy to clean and maintain, requiring only a damp cloth and mild detergent.[2]
Bianco Antico White Kitchen Countertops
Bianco Antico is a popular choice for white kitchen countertops due to its stunning combination of gray and white tones. This granite has a versatile look that works with both traditional and modern designs, making it a great option for all types of kitchens. The veiny pattern adds texture and interest, while the subtle hints of blue make this countertop stand out from the rest. Bianco Antico is also a durable material, making it perfect for busy kitchens.
Colonial-Style White Kitchen Countertops
For a timeless, classic look, you can't go wrong with colonial-style white kitchen countertops. With this design choice, you'll have plenty of options for storage and styling. Plus, the bright white color of these countertops helps to open up your space and make it appear larger than it is.
To help create the look, consider pairing your countertop with a stone backsplash, classic white cabinets and warm wood accents. To make this style even more eye-catching, try adding an ornate backsplash tile or some gold hardware to your cabinets.[2]
Kashmiri White Kitchen Countertops
Kashmiri white is a popular choice for kitchen countertops. This granite is composed of light gray and beige hues, giving it an earthy yet polished look. Since the veins in this stone are so subtle, it blends nicely into many different looks. Whether you're going for a modern or traditional style, Kashmiri white can easily fit in.
The best thing about this type of granite is that it's actually quite durable and easy to maintain.
Its nonporous surface makes it resistant to staining, cracking, and chipping. You won't need to worry about resealing the countertop every few years either—this stone is naturally resistant to water and oil.
When it comes to cleaning, regular maintenance with a mild detergent and warm water will do the trick. If you come across any stubborn stains, try using a specialty cleaner designed for granite countertops.[2]
River Stone White Kitchen Countertops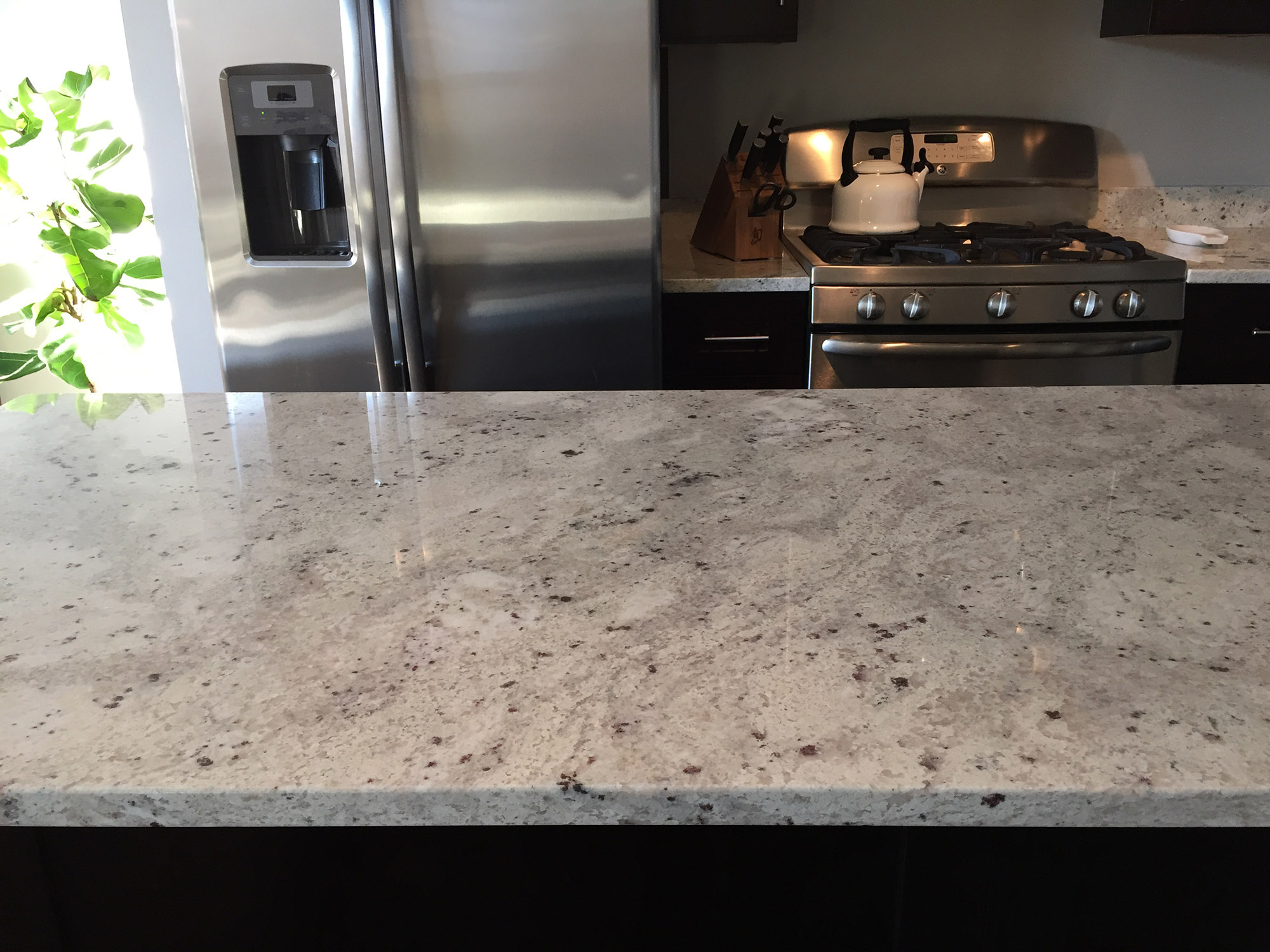 River stone white kitchen countertops offer a unique, natural look to your kitchen. The stone surface offers excellent durability and is easy to maintain. You can choose from a variety of shades of white to create the perfect look for your kitchen. River stone countertops do require resealing every few years in order to protect their beauty and ensure proper sanitation.[2]
FAQ
Are white kitchen countertops a good idea?
White kitchen countertops are a great idea for many reasons. They look classic and timeless, and don't show dirt or food stains as easily as other colors. White countertops also reflect light, making your kitchen appear larger and brighter. Furthermore, most white countertop materials are heat resistant, so you don't have to worry about hot dishes or pans damaging the surface.
What material is best for white countertops?
The best material for white countertops is quartz. Quartz is extremely durable and resistant to scratches, chips, and other damage. It's also low maintenance; all it needs is a quick wipe down with warm water and soap every now and then to keep it looking great. Granite is another popular option for white countertops, as it can be sealed to resist staining and is heat resistant.
How do I choose a white countertop?
When choosing a white countertop, first consider the size of your kitchen and how much space you have available. Measure the space to get an idea of what size countertop you'll need. Then decide on a material that matches both your budget and design style. If you're going for a classic look, marble or granite might be best; if you're looking for a more modern look, quartz might be your best bet. Finally, consider the finishes available and pick one that will match the rest of your kitchen's decor.
What are the disadvantages of white countertops?
The main disadvantage of white countertops is that they can show dirt and stains more easily than darker counters. This means you may have to clean them more often than you would with a darker-colored countertop. White counters also tend to be less heat resistant and can be scratched or chipped more easily than other materials, so they need extra care when handling hot dishes and pans.
Finally, white countertops can be more expensive than other materials, so make sure to factor that in when budgeting for a new countertop.
Do white countertops stain easily?
White countertops can stain, but it depends on the material. Quartz and granite countertops are both highly resistant to staining, while marble is more porous and can absorb liquids that cause staining. To keep your white countertop looking its best, seal it regularly with a high-quality sealer to create a barrier against stains. Additionally, wipe up any spills as soon as possible to prevent staining.
What color countertop is timeless?
White countertops are timeless because they look elegant and classic. They also reflect light, making the kitchen look brighter and larger. Furthermore, white is a versatile color that can be paired with any style of kitchen decor for a timeless look.
What color countertops never go out of style?
White countertops never go out of style, as they look classic and timeless. Additionally, white is a neutral color that can be paired with any color or style of kitchen decor. If you're looking for a timeless look, white is the perfect choice.
Useful Video: 20+ White Kitchen Ideas
Conclusion
White kitchen countertop ideas provide a beautiful, timeless look for your cooking space. Whether you choose to go with classic Carrara marble, quartz, or something more colored like onyx or soapstone, the possibilities are endless. Your choice should be based on what fits with your overall design and lifestyle needs.
In addition to considering the aesthetics of your countertop, you also need to factor in ease of cleaning and durability. Many materials are easy to clean if you follow the manufacturer's instructions. However, some may require extra care and maintenance.
Finally, make sure that whatever material you choose is stain-resistant and non-porous so it can withstand the wear and tear of constant cooking. By taking into account all these factors, you will be able to make an informed decision on your white kitchen countertop ideas that is sure to complement your home décor for years to come.
Good luck! And don't forget: have fun with it!
---
References
https://chrissymarieblog.com/white-kitchen-countertops
https://www.magicbricks.com/blog/ideal-white-kitchen-countertops/115269.html