Welcome to our Mediterranean Kitchen Ideas guide! We're here to help you create a kitchen that captures the essence of the Mediterranean Sea with its warmth, sunshine and relaxed atmosphere. From vibrant colors to rustic materials, this region-inspired aesthetic will give your home an inviting look that celebrates its surroundings.
In this guide, we'll cover the basics of Mediterranean kitchen design, from common materials and colors to modern takes on classic designs. We'll also offer tips for incorporating the look into other rooms in your home and give advice on how to maintain its timeless appeal. So grab a seat, settle in, and get ready to explore the possibilities!
Wood Beams in an Open-Plan Mediterranean Kitchen
One of the most iconic elements of Mediterranean kitchen design is the use of wood beams in an open-plan layout. This style of kitchen allows for natural light to enter the space, creating a bright and airy atmosphere. The wood beams add a rustic touch while also helping to define the various areas within the room.
When it comes to choosing wood beams, there are many types available. For a classic Mediterranean look, opt for a dark stain such as mahogany, walnut or cherry. If you want to lighten the space up a bit, consider white-washed wood or distressed wood.
For an extra touch of charm and character, look for beams with interesting details like corbels, carvings or other decorative accents. Incorporating wood beams into an open-plan Mediterranean kitchen is a great way to bring the region's signature style into your home.[1]
French-Country Character
Incorporating a French-country feel into your Mediterranean kitchen can bring elegance and charm.
The style is characterized by distressed furniture, warm colors, iron accents, and exposed wood beams. To achieve this look in your kitchen, choose light-colored cabinets with raised details for a classic country touch. You can also add vintage accents like baskets and copper pots to give your kitchen a French-country feel. As for the walls, opt for light colors such as taupe or muted shades of teal that will create a cozy atmosphere.[1]
Stately Mediterranean Kitchen
If you are looking to bring a stately and luxurious atmosphere to your kitchen, Mediterranean Kitchen Ideas can be the perfect choice. The warm colors, textures and accents of this style evoke feelings of grandeur and opulence. From hand-painted tiles to ornate cabinets and detailed trim, Mediterranean Kitchen ideas provide timeless beauty that will have your kitchen looking as if it were plucked from the pages of a fairy tale.
When considering Mediterranean Kitchen Ideas, there are a few key elements that should be kept in mind. First, focus on color and texture. Rich colors such as reds and oranges, paired with natural wood accents like walnut or mahogany can give your kitchen a classic Mediterranean feel. Paired with hand-painted tiles, detailed trim and ornate cabinets, you can easily create a luxurious and timeless space.
Next, consider the materials and finishes that you will use for surfaces such as countertops, floors and walls. Granite is a popular choice for those looking to replicate an Italian villa kitchen, while travertine tiles can add a rustic touch. Other popular materials include ceramic, porcelain and glass tile. For floors, consider natural stone or terracotta tiles to complete the Mediterranean look.
Finally, when completing the overall design of your kitchen there are certain features that should be included.[1]
A Charming Blue Cabinet
The blue cabinet is a key component of Mediterranean kitchen decor. Combining rich and deep blues with bright yellow accents, the blue cabinet offers a beautiful contrast in your kitchen design. You can choose from several different styles of cabinets, including those with woodgrain or painted finishes. This type of cabinet is perfect for keeping your spices, utensils, and cookware organized and out of sight.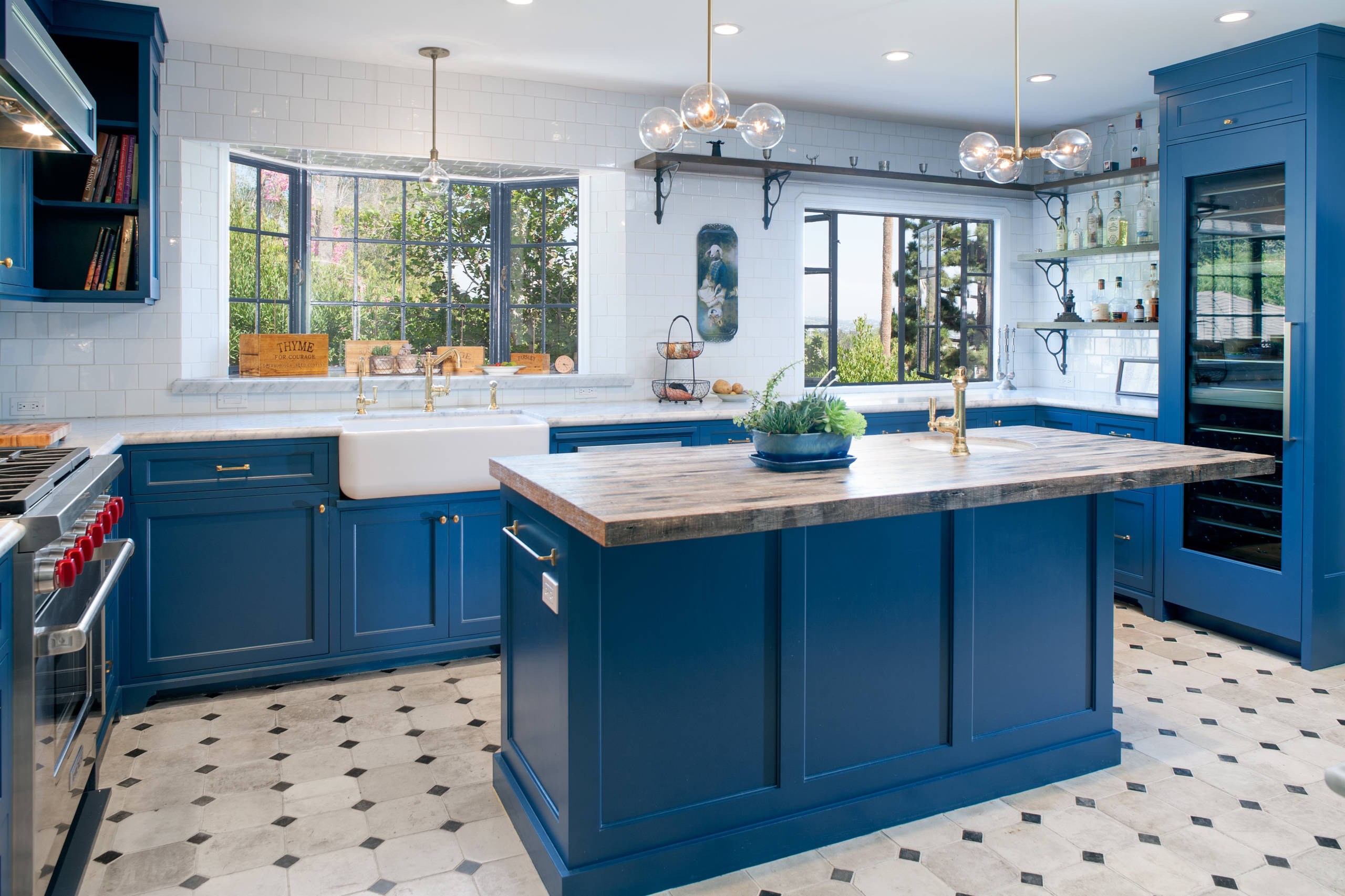 If you love classic Mediterranean style but want something a bit more modern, choose a crisp white cabinet with blue accents. The bright blue shade will stand out against the white background and give your kitchen an airy feel. You can pair it with neutral-colored countertops for a timeless look that never fails to impress.[1]
Warm Wood Defines This Chef's Kitchen
This Mediterranean-style kitchen blends traditional and modern elements. Its warm, wood cabinetry complements the copper countertops, while distressed brick walls give it a rustic atmosphere. The island is constructed from white marble, giving the space an elegant contrast to the darker tones of the floor and cabinets. A beautiful chandelier illuminates the room and makes it a cozy, inviting spot for preparing meals.
The range is fit with a copper hood, adding to the rustic feel of this kitchen. Above the stove is an open shelf that displays cookbooks and other ceramic pieces, giving the room additional texture.
In addition, there are plenty of drawers and cabinets for storage, making it easy to keep everything neat and organized.
This Mediterranean kitchen combines the warmth of wood with the sophistication of marble. The use of contrasting finishes adds visual interest and gives the space a unique look that is sure to impress guests. With plenty of storage and an inviting atmosphere, this is one kitchen that you'll never want to leave![1]
A Mosaic Backsplash
A great way to bring a little Mediterranean style into your kitchen is by installing a mosaic tile backsplash. By using brightly colored, geometric tiles, you can create a unique and eye-catching display that will really make your kitchen stand out. This type of backsplash is also very easy to install yourself, so it's a great way to save money on renovation costs.
Plus, you can get creative with the design of your backsplash and create something truly unique. You can choose from a wide range of tile sizes, shapes, and colors to construct your own personal mosaic masterpiece. Don't be afraid to get creative – this is a great opportunity to show off your design skills and make your kitchen one-of-a-kind.[1]
Mediterranean Kitchen in Black + White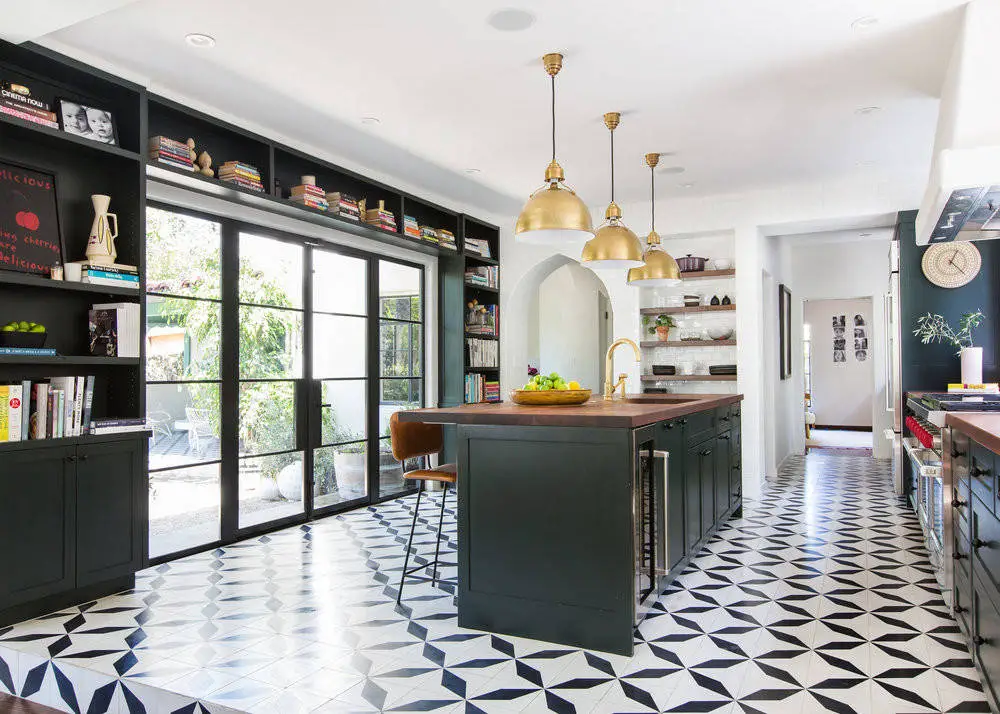 If you're looking to incorporate the classic Mediterranean style into your kitchen, a timeless combination of black and white is hard to beat. Whether in traditional or contemporary designs, this color pairing brings an airy elegance that stands the test of time. Here are some ideas for incorporating black and white into your Mediterranean kitchen:
Start with flooring. Consider installing classic black and white tile or stone, preferably in a geometric pattern that is common to Mediterranean design styles. This will give your kitchen an instant dose of sophistication.
Paint the walls white (or off-white) and choose black accents for added drama. Select cabinets and appliances in either a bright, glossy black or a more subtle matte black.
Add texture and interest with accessories like a decorative backsplash in classic, Mediterranean mosaic tiles. Or for an even bolder look, try installing a wall of patterned ceramic tile in the same color scheme.
Incorporate natural elements like wood, wicker, and stone to tie the look together. A rustic wooden table in the center of the kitchen can serve as a focal point while adding warmth and inviting character.[1]
Wrought Iron Details
One of the most common elements used in Mediterranean kitchen designs are wrought iron details. Wrought iron is a very durable metal with unique characteristics that can add to the style and atmosphere of your kitchen. From intricate metal accents on cabinets, stove hoods, and lighting fixtures to bold banisters and window grilles, wrought iron can be the perfect addition to a Mediterranean kitchen.
When considering wrought iron for your kitchen, there are several factors you should keep in mind.
First, consider how durable the material is and whether it will be able to withstand the heat of your cooking space. Second, consider the size and style of wrought iron pieces that you want to include in your design; larger pieces can create a beautiful focal point, while smaller pieces can add subtle accents. Third, make sure you look for metal pieces with intricate details; this will help enhance the Mediterranean feel of your kitchen.[1]
Curves and Stonework
When it comes to Mediterranean kitchen ideas, curved lines are key. This can be seen in the use of curved countertops, furniture pieces and cabinetry. Stonework is often used in the design of this type of kitchen, with natural stone such as travertine or limestone being popular choices. These materials add an element of texture and interest to the space, while also lending a sense of timelessness and luxury.[1]
Colors of Nature
When it comes to Mediterranean kitchen ideas, colors inspired by nature are a must. Think of gentle blues, earthy greens and terracotta, which can be combined for a calm and soothing atmosphere in the kitchen. Make sure you choose light hues, as bright colors can make the space feel overwhelming. You can use these colors to paint the walls, and accessorize with kitchenware and furniture pieces in these hues. Alternatively, you can use these colors for small accents like a painted tile backsplash or a patterned curtain.
When selecting your fabrics and materials, look for natural textures such as wood, wicker and stone. These elements will bring an organic feeling to the space and will add visual interest.[1]
Opulent Mediterranean Kitchen
The Mediterranean interior design style is a popular choice for many homeowners and it's easy to see why. With its luxury and elegance, it can transform any kitchen into a breathtaking oasis of beauty. From rustic tiles and timeless cabinetry to traditional furniture pieces, there is something for everyone in this classic style.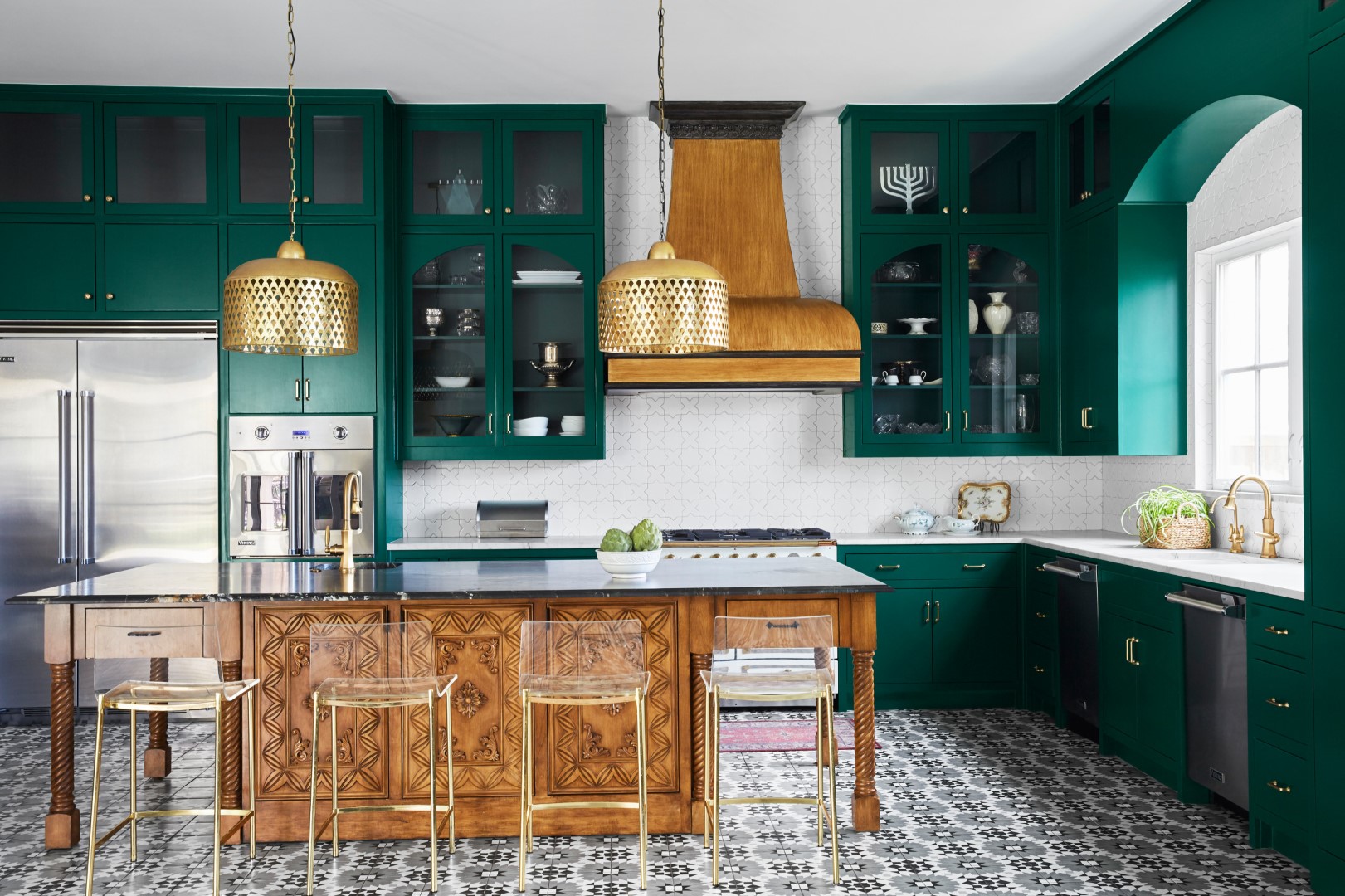 When designing a Mediterranean kitchen, the first step is to choose a color palette. Traditional oranges, blues, and yellows are often found in Mediterranean-style kitchens; however, you can also experiment with bolder hues such as deep greens or purples. After deciding on your color scheme, focus on adding texture with stone countertops or backsplashes, rustic wood accents, and metal hardware.
Lighting is also an important part of creating a Mediterranean atmosphere. Choose fixtures that are subtle yet provide plenty of light for cooking, reading, or entertaining. Lanterns with hanging candles are a popular choice as they bring a soft glow to the room.[1]
An Ornate Backsplash
Bring a touch of Mediterranean flair to your kitchen by adding an ornate backsplash. Consider using tile with intricate patterns and classic colors like deep blues, bright whites, or warm oranges and yellows for a truly authentic look. You may also want to go for bolder options such as mosaic tiles in vivid hues that instantly draw the eye. A backsplash is a great way to make your kitchen stand out and add an extra layer of visual interest![1]
Rustic Tile Floors
When it comes to creating a classic Mediterranean look in your kitchen, nothing beats the timeless elegance of a rustic tile floor. From terracotta and Hand Painted Tiles to patterned mosaic designs, tiling is one of the easiest ways to achieve a stunningly beautiful yet practical kitchen design.
When choosing tiles for your Mediterranean kitchen, aim for a rustic look that is reminiscent of the era of the ancient Greeks and Romans. Choose terracotta tiles with earthy tones and patterned mosaic designs that evoke an old-world feel. A good rule of thumb is to use larger tiles on prominent surfaces such as walls and backsplashes, while opting for smaller ones in high-traffic areas.
When it comes to maintenance, terracotta tiles are surprisingly easy to keep clean — just a quick sweep and mop is enough to keep them looking their best. Be sure to use an appropriate sealant after installation to protect the tiles from water damage and staining. With proper care, your Mediterranean kitchen floor will last for years to come![1]
Blending Mediterranean and Farmhouse
Many people love the timeless charm of farmhouse style kitchens and the bright, vibrant colors of Mediterranean decor. Why not combine the two for a unique look that is sure to stand out? Start by mixing in rustic elements like distressed wood counters, cabinets with country-style accents, and vintage-inspired lighting fixtures. Then add some bold Mediterranean touches like large patterned tiles, bright-colored wall art, and potted plants.
Finally, bring it all together with a few colorful accents like vibrant rugs and table runners. With the right balance of elements and colors, you can create an exciting kitchen that has something for everyone![1]
Old World Sophistication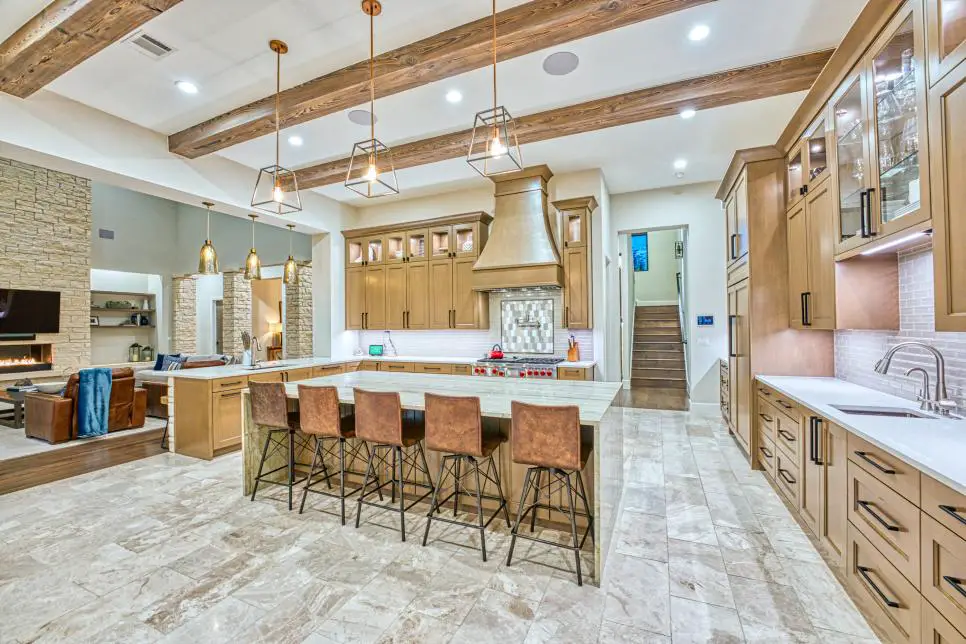 If you're looking for a classic and timeless look in your kitchen, Mediterranean-style is the way to go. Recreating the Old World style of Mediterranean countries like Spain, Italy, and France can bring a touch of sophisticated elegance to any room. A few key elements are essential for achieving this stylish look – wrought iron accents, terracotta accents, and a subdued color palette.[1]
Tuscan Kitchen With Exposed Beams
Tuscan-style kitchens are perfect for those seeking a rustic, old-world atmosphere. Exposed beams are a popular design element in Tuscan kitchens and help create a relaxed and inviting atmosphere.
Consider using natural materials such as wood, stone, and terracotta tiles to add texture and warmth to your kitchen. Add some colorful accents like a vibrant red tile backsplash to make your kitchen stand out. To complete the look, add some plants and herbs to give it an authentic Mediterranean touch.
If you're looking for more ways to incorporate Tuscan style into your Mediterranean kitchen, try adding distressed furniture pieces or hanging wood shutters on the walls. You can also add some wrought iron accents to bring a hint of elegance. Remember to keep the overall design clean and organized while ensuring that everything ties together nicely.[1]
Eat-In Mediterranean Kitchen
If you're looking for a way to add some life and flavor to your kitchen, Mediterranean kitchen ideas are an excellent way to do so. Eat-in Mediterranean kitchens bring the beauty of sunny days and seaside breezes into your home. Whether you prefer a modern take on classic designs or traditional elements with a contemporary twist, there is a Mediterranean kitchen to suit your needs.
The secret to a great-looking eat-in Mediterranean kitchen is all in the details. Think of it as an art project in which you will curate each and every piece carefully. Start by painting the walls either off-white or a light blue, which will bring out the natural beauty of your cabinets and furniture. Add in a few pops of bright colors, such as terracotta or yellow, to bring the room to life.[1]
Seaside Shades of White and Blue
If you're looking for a timeless Mediterranean kitchen look, consider using shades of white and blue. Choose cool whites to create the illusion of more space, then add touches of bright blues to give your room life and energy. To achieve a truly special Mediterranean look, use natural materials like terracotta tiles and wooden furniture. You can also decorate with pieces inspired by the sea, such as driftwood wall hangings or coral decorations.[1]
Colors of the Sun and Sea
Bring the vibrant colors of the Mediterranean to your kitchen with a bright and cheerful color palette. The natural blues and greens of the sea, sunny yellows, and earthy oranges can liven up any kitchen space. Try adding accents of these shades with wall art, appliances, rugs, or pottery. You can also use subtle hints of Mediterranean colors in your kitchen, such as an accent wall with a subtle pattern.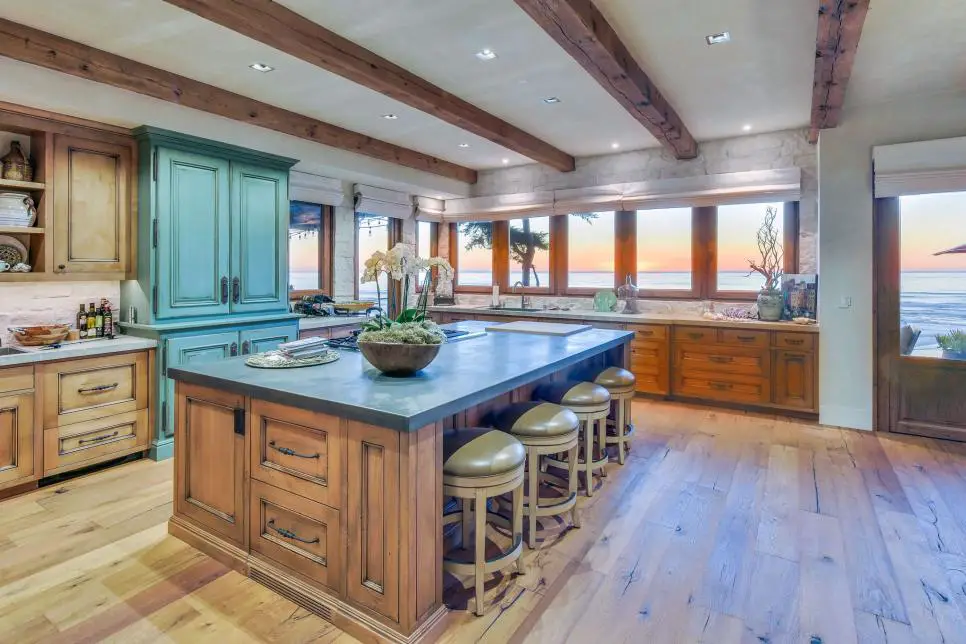 For an even bolder look, use the brighter colors to create contrast and make a statement. You can even choose to paint your cabinets or countertops in these shades for a dramatic effect.
Regardless of what palette you choose, the colors will help bring an air of Mediterranean charm to your kitchen. With a little creativity, you can easily make your space feel like it belongs in Italy![1]
Romantic Accents
Adding romantic accents to your Mediterranean kitchen is a great way to create a cozy, inviting atmosphere. You can add touches of color and texture with items like tapestries, curtains, tablecloths, and even decorative tiles. For an authentic feel, you may want to consider sourcing some traditional Mediterranean objects such as terra cotta pots, colorful pottery, and decorative dishes. Alternatively, you may opt for a more modern approach with sleek stainless steel appliances and minimalist furnishings.[1]
Tuscan Hues
Bringing Tuscany to your Mediterranean kitchen ideas is easy. Start with a pallet of warm, muted colors like terracotta and sandy beiges. Then add splashes of bold cobalt blues, golden yellows and olive greens. Tuscan hues reflect the earthy tones found in the rolling hillsides and picturesque vineyards of Tuscany.
Try using natural materials like terracotta floor tiles, stone countertops and light-stained woods for cabinetry to complete this earthy look. Decorate your kitchen with Tuscan inspired accessories like clay pottery, vibrant tapestries and ornate pendant lighting fixtures. These details will add character and bring the beautiful colors of Tuscany to your Mediterranean kitchen.[1]
Built-In Charm
A Mediterranean kitchen can have a warm and inviting atmosphere with built-in charm. You can add elements such as arches, columns and beamed ceilings to create an appealing aesthetic. An island countertop in the center of the room will provide additional storage and workspace along with a focal point to draw your eye. Add a few potted plants or art pieces to add character and life to the space.
When it comes to flooring and walls, tile is a popular choice in Mediterranean kitchens. Mosaic tiles are an ideal way to bring in color and texture while keeping with the overall aesthetic of the room. If you have wooden floors, consider adding decorative rugs for a unique touch.
When it comes to lighting, chandeliers are a popular choice. You can find a wide variety of chandeliers in different shapes and sizes to fit your style and the overall look of the room. For additional light, consider adding recessed lighting or wall sconces to brighten up darker corners.[1]
Timeless Toile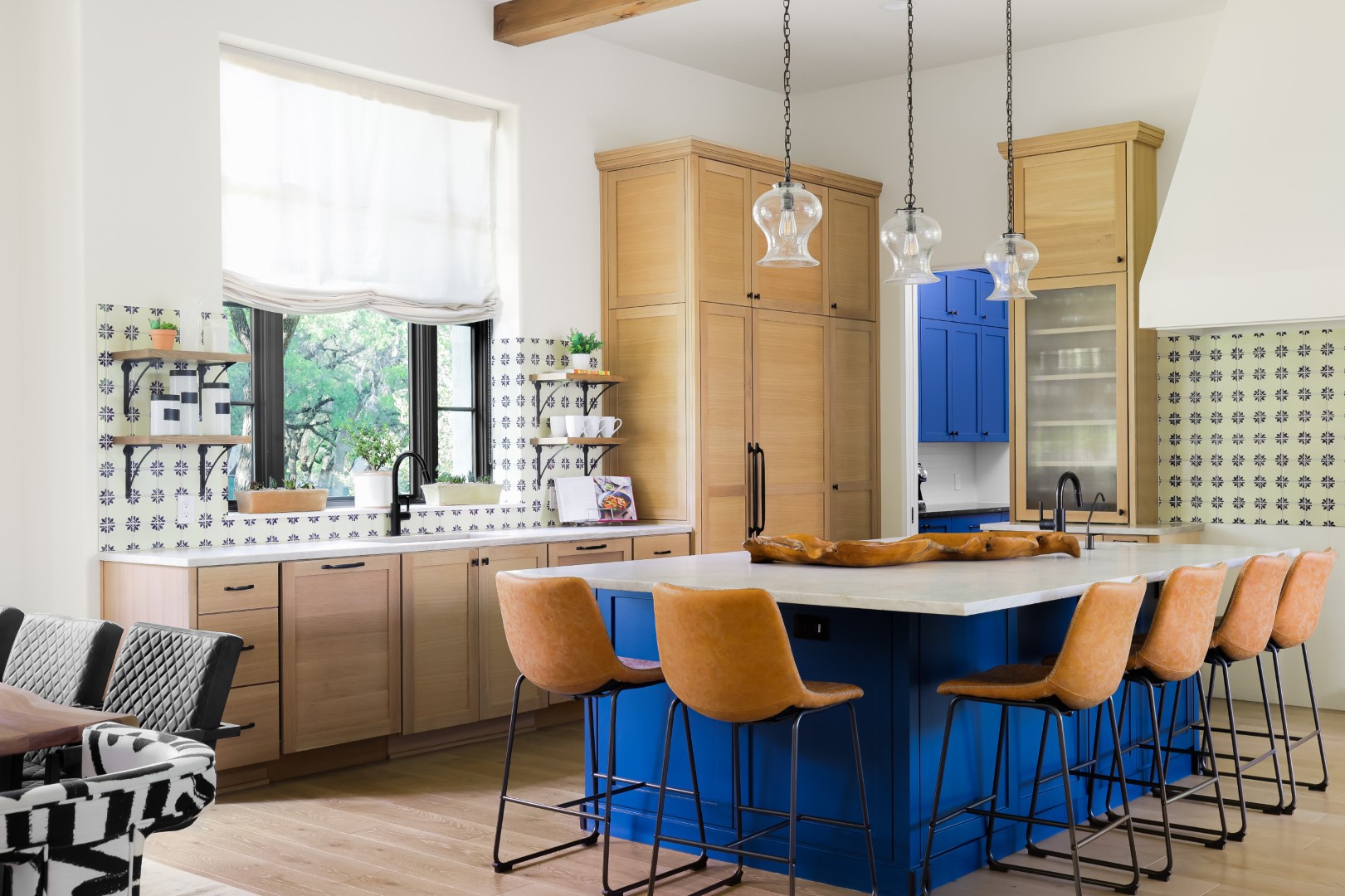 The classic toilet style of the Mediterranean is one that is timeless and elegant. It features low levels, subtle curves, and a flat finish. This type of toilet adds an elegant touch to any kitchen while still being functional. To get the most out of this style, try installing a pedestal sink with an under counter storage space for extra towels or toiletries. Or, if you're looking to add a bit of flair, opt for a mosaic-tiled floor around the base of the toilet to add an extra dose of personality.[1]
Italian-Inspired Cook Station
If you're looking to bring a touch of the Italian coast into your kitchen, consider setting up an Italian-inspired cook station. This could include a large chopping block countertop with plenty of space for you to prepare meals, as well as some accent pieces such as jars of herbs and spices, a mortar and pestle, and a bright citrus juicer. Add some Italian-style cookware and dinnerware, and you're set to create Mediterranean cuisine right in your own kitchen![1]
Dark Wood
Dark wood cabinets are a popular choice for Mediterranean kitchen designs. They can add an air of sophistication and warmth to the space, and their rich tones will contrast nicely with lighter colored walls or countertops. Dark colored cabinets also make it easier to hide any dirt or dust that may accumulate over time, making them a great practical choice as well. When choosing cabinets for a Mediterranean kitchen, look for models with intricate detailing and ornate carvings to add an extra touch of luxury to the space. Finishing touches such as decorative hardware or knobs can also help to complete the look.[1]
FAQ
What is Mediterranean kitchen style?
Mediterranean kitchen style is a type of design that brings to life the timeless features and rich history of Mediterranean culture. This style of kitchen focuses on natural materials, such as stone or tile flooring, neutral colors, and accents from places like Morocco, Spain and Italy. Mediterranean kitchen designs also feature plenty of open space for entertaining guests or just enjoying a meal.
How do I make my kitchen look Mediterranean?
Adding Mediterranean flair to your kitchen is easy if you know the right elements. Start by introducing some warm, earthy colors into your kitchen. Be sure to include natural materials like stone or tiles in the flooring and walls, as well as hand-painted accents from Morocco, Spain or Italy. You can also add a bit of texture with woven baskets, pottery, and hand-painted tiles. For furniture, opt for metal pieces with decorative details like wrought iron. Finally, add some plants to bring a touch of nature into the space.
How to modernize a Mediterranean kitchen?
If you're looking to give your Mediterranean kitchen a modern twist, there are a few easy updates you can make. Start by introducing some contemporary elements like stainless steel appliances and sleek countertops. Then add some bold colors, such as deep blues or vibrant oranges for an eye-catching splash of color. You can also bring in more natural materials such as reclaimed wood or bamboo accents.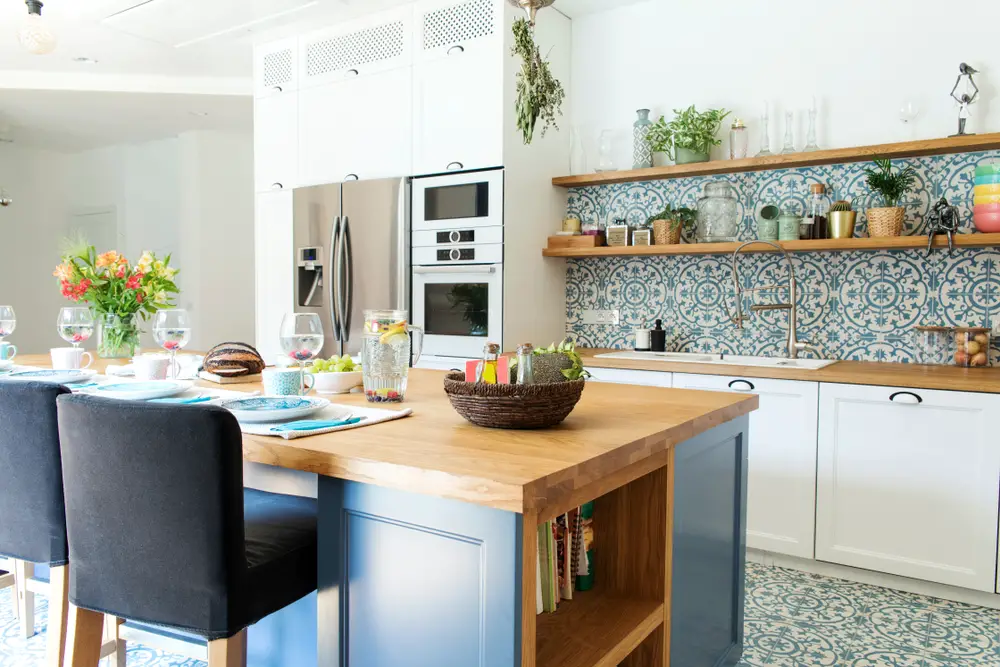 Finally, add some modern lighting fixtures to complete the look. With these updates, your Mediterranean kitchen will be ready for a 21st century makeover!
What is a Tuscan-style kitchen?
Tuscan-style kitchens evoke the warmth and rustic charm of a countryside villa. This style of kitchen typically features earthy tones, such as terra cotta or yellow-gold, along with natural materials including stone flooring, wood accents and terracotta tiles. Other typical elements include furniture with iron detailing and plenty of open space for entertaining. To complete the Tuscan look, add warm lights and some colorful accents like pottery or glassware. With these design elements, you can create a tranquil and inviting atmosphere perfect for cooking, dining and entertaining.
What is the difference between Tuscan and Mediterranean?
The main difference between Tuscan and Mediterranean kitchen styles is the overall look and feel. While both incorporate natural materials like stone and terracotta, Tuscan kitchens often feature more traditional design elements such as wrought iron furniture and colorful accents. On the other hand, Mediterranean kitchens are typically more modern in style with sleek countertops and stainless steel appliances. Additionally, Mediterranean kitchens often feature brighter colors, such as blues and greens, while Tuscan kitchens stick to warmer tones of reds and oranges.
What is an Italian kitchen style?
Italian kitchen style is all about capturing the charm of Italian culture and cuisine. This style typically features warm colors, like reds and yellows, as well as natural materials like stone flooring or terracotta tiles. Furniture should be simple yet elegant, with metal accents such as wrought iron adding a touch of sophistication. Additionally, accessories like olive oil bottles, colorful pottery and hand-painted tiles can be used to add a bit of character. To complete the look, add some greenery with potted plants or herbs for a touch of nature. With these elements in place, your kitchen will be transformed into a classic Italian oasis!
What are the 6 types of kitchens?
The six main types of kitchen styles are traditional, transitional, contemporary, rustic, Mediterranean and Tuscan. Traditional kitchens feature classic details like raised-panel cabinetry and decorative moldings. Transitional kitchens offer a mix of both traditional and modern design elements with clean lines and simple silhouettes. Contemporary kitchens focus on creating an open and spacious feel with minimalistic design. Rustic kitchens embrace the use of natural materials and textures for a cozy, yet sophisticated atmosphere.
Mediterranean kitchens incorporate bright colors and statement pieces to create a lively environment. Finally, Tuscan kitchens feature warm tones and plenty of decorative touches for a touch of rustic charm.
What is a German kitchen?
German kitchen style is all about creating a functional and efficient space. This style typically features sleek, modern design elements such as stainless steel appliances, flat-panel cabinetry and contemporary lighting fixtures. You can also incorporate some traditional pieces like wood accents or decorative hardware to add a touch of warmth. Other common features include ergonomic details like pull-out drawers and ample counter space. With these elements in place, your kitchen can be transformed into a luxurious yet practical German cooking space!
Useful Video: 50+ Mediterranean Kitchen Ideas
Conclusion
We hope this article has been helpful in providing you with a better understanding of Mediterranean Kitchen Ideas. From creating an open concept kitchen to adding a touch of bright colors, there are many ways to create a beautiful Mediterranean kitchen. Whether you choose to go for the classic and traditional style or opt for something more modern and unique, just remember that the kitchen is a place for family and friends to gather, make lasting memories, and enjoy good food.
So get creative with your Mediterranean inspired kitchen! Whether you choose one idea or combine multiple elements from this article, the result will be stunning. Don't forget to take advantage of all the great resources available online if you'd like more inspiration or advice. Good luck!
Happy decorating!
---
References
https://www.hgtv.com/design/remodel/kitchen-remodel/mediterranean-style-kitchens-pictures