Kitchen peninsulas are an ideal solution for those seeking more counter space and storage, as well as a style that opens up the kitchen. Whether you're looking for modern or traditional designs, there's sure to be something that fits your style. From large islands with seating areas to small floating shelves, these kitchen peninsula ideas will help you create the perfect look in your home.
With the right design elements, you can make a functional and stylish statement in one of the most important rooms of your house.
So take some time to explore all the different options available and find the best kitchen peninsula idea for your home!
Use A Peninsula To Zone Your Kitchen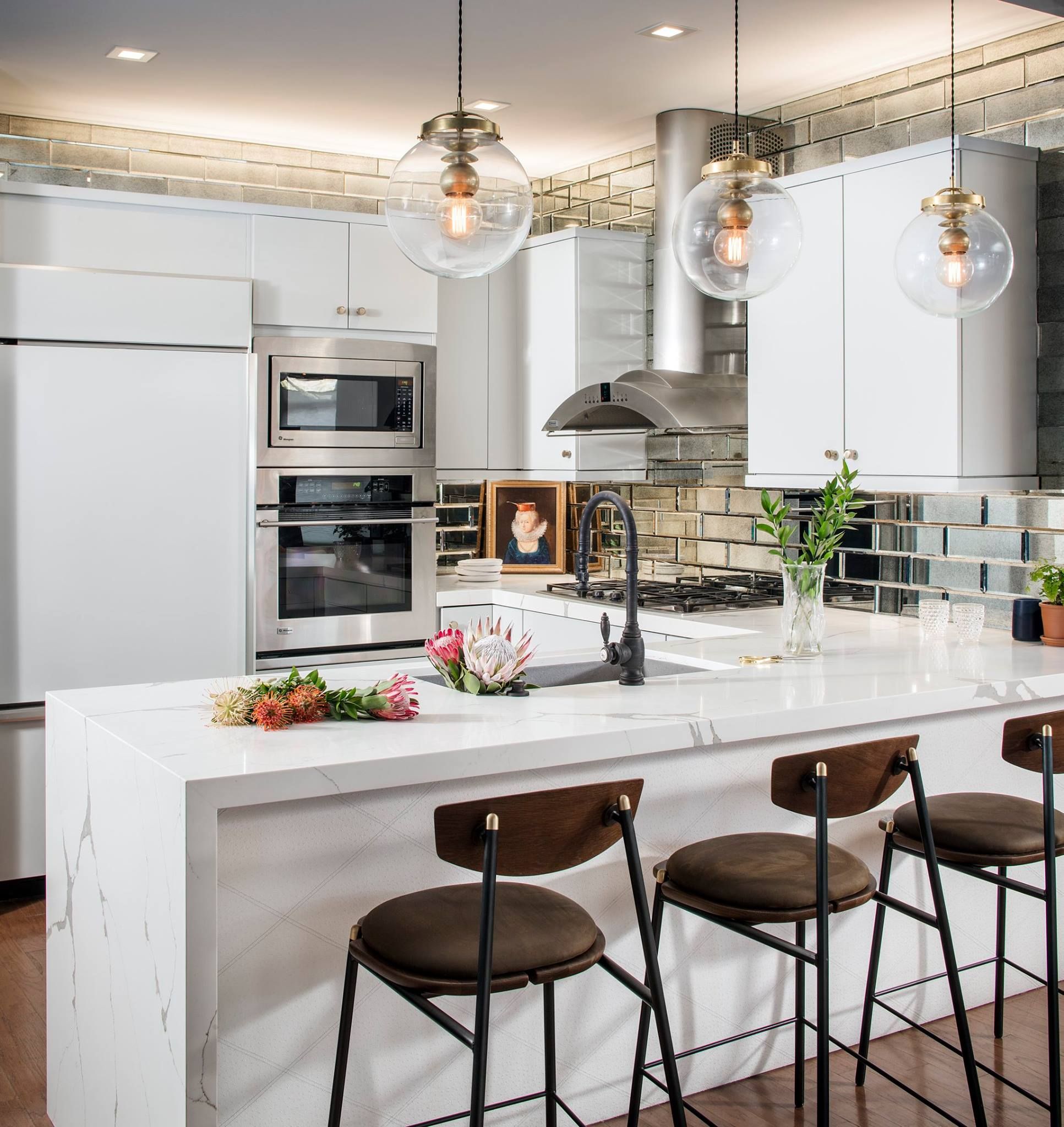 If your kitchen is an open layout, you can use a kitchen peninsula to create zones for different activities. Place the cooking area on one side and the eating and entertaining areas on the other. Maximizing limited space, this helps all occupants avoid a cramped and uncomfortable atmosphere. You can also add seating around the peninsula to make it a natural gathering spot for family and friends.
Incorporate A Seating Area On The Reverse
Transform your kitchen peninsula into an inviting conversational nook that is sure to become the social hub of your home. Designing a cozy corner has never been easier!
Place comfortable seating with plush cushions, such as armchairs or a small bench, on the reverse side of your peninsula and create an inviting spot for family gatherings or casual meals.
To make it even more special, add decorative elements like colorful throw pillows, a rug and artwork to create an inviting atmosphere. You can also select chairs or stools with built-in storage to maximize the space while still keeping your kitchen peninsula area looking neat and organized.
Another seating option is to incorporate barstools on the side of your kitchen peninsula. This way you can entertain your guests and make meal prep more enjoyable. Barstools come in various heights, designs and colors, so you can easily find one that complements the overall look of your kitchen. You can also choose to add a breakfast bar overhang to create additional seating or an eating area. This is especially useful if you have limited floor space and don't have room for a kitchen island.
Create A Versatile Centerpoint In The Kitchen
Transform your kitchen by adding a versatile kitchen peninsula and create a stunning focal point. Not only can it be used as extra counter space, but it can also provide additional seating when needed. With the right design and materials, a kitchen peninsula can become an eye-catching focal point that adds both style and function to your kitchen.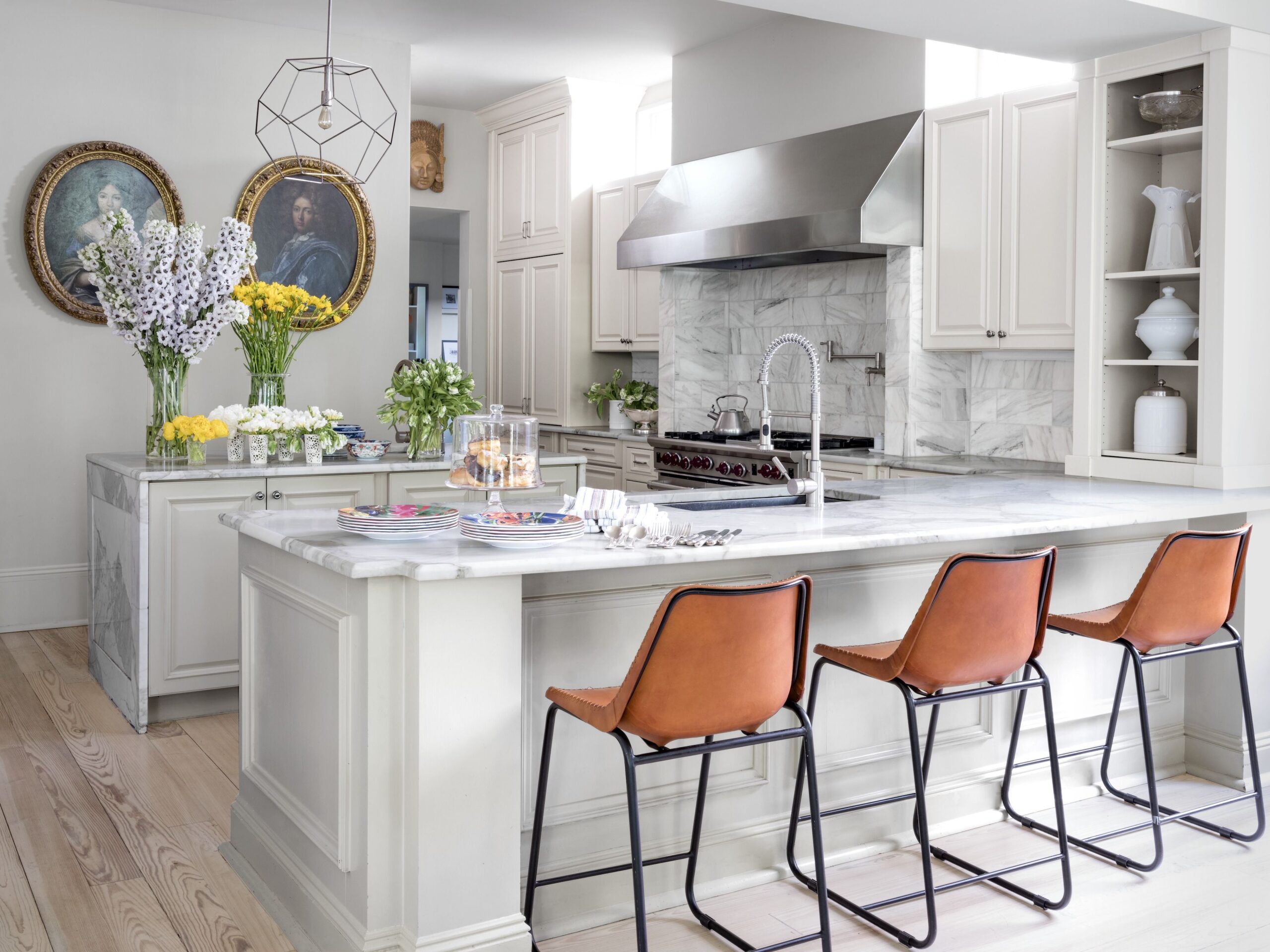 When deciding how to build a kitchen peninsula, consider the size and shape of your existing kitchen. A large kitchen could accommodate a more substantial peninsula while a small space can benefit from a slimmer design. You may also want to think about the type of materials you'd like to use for your countertop and cabinetry; both should be chosen with durability and style in mind.
Next, consider how you would like to use the kitchen peninsula. You can choose to add extra storage or utilize it as a breakfast bar for quick meals on the go. Additionally, some people install a stovetop onto the top of their kitchen peninsula and use this area as an additional food prep station. [1]
Opt For Mixed Countertop Materials
When it comes to kitchen peninsula ideas, one of the best things you can do is mix up your countertop materials. Incorporating this element not only elevates your decor, but also offers a range of practical benefits. By combining stone and wood surfaces, for example, you get the sleek look of stone with the warmth and natural beauty of wood. Other popular combinations include marble and quartz, or concrete and granite. By combining two materials, you can create a unique look that will make your kitchen stand out from the rest. Plus, it's an easy way to add personality to your space without needing a complete redesign.
Additionally, mixing countertops allows for more flexibility in terms of design. You can choose different colors and textures to create a unique look, or you could use the same material in two distinct locations. With this method, you can effortlessly incorporate a touch of allure and sophistication to your countertop without needing to substitute the whole thing. Select any materials you like – when combined, they are sure to give your kitchen peninsula a unique and memorable look!
Illuminate Over The Peninsula As You Would An Island
If you're looking for an eye-catching kitchen peninsula design, consider incorporating lighting into the structure. Just as we bear in mind the importance of lighting an island, it is just as essential to illuminate a kitchen peninsula. Consider hanging pendant lights over the peninsula or opt for recessed ceiling lighting if your space permits it. Or try something unexpected, like installing a linear light across the top of the peninsula as an artistic addition to your kitchen. You can also incorporate spotlights throughout the cabinetry for additional illumination and extra style.
Use A Peninsula To Maximize Square Footage
Make the most of your kitchen's space by installing a peninsula and optimizing every inch! A peninsula can make the most of any size kitchen by providing an additional space for both storage and workspace. By adding countertop space and cabinets along the wall, you can create more prep areas or even set up another dining spot. This is especially beneficial for small kitchens, where a peninsula can provide extra countertop space without taking away from its overall size.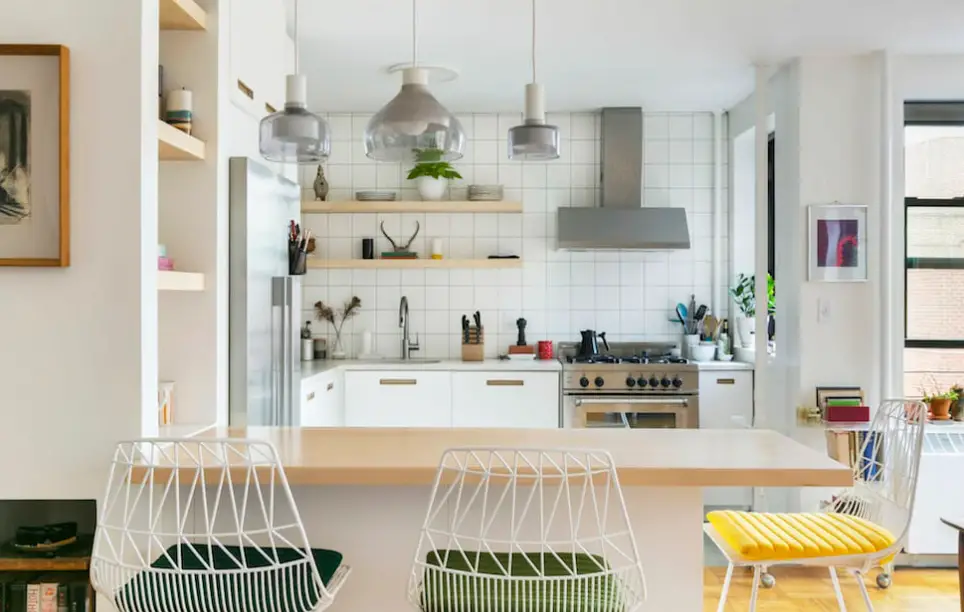 With the right design and layout, you can create an efficient yet stylish kitchen with a peninsula. [2]
Double Up With An Island And A Peninsula
If you have the resources, why not make a smart investment and add both an island and peninsula to your kitchen? This can provide additional storage and seating options, as well as a designated prep area. Transform your kitchen and living space with a peninsula, designed to separate the two areas in order to create an inviting atmosphere. An island can also be used for additional countertop space, plus it is great for entertaining with its additional seating and storage options. You can also customize the look of your kitchen by incorporating various materials such as stone, wood, or metal into the design.
Combine A Peninsula With Patio Doors
If you're fortunate enough to have a kitchen that opens up to a patio or backyard, consider combining your peninsula with patio doors. This creates an easy flow from the indoor kitchen area onto the outdoor living space. Adding sliding glass door panels can open up the room and make entertaining much easier. Furthermore, the space is filled with natural light which creates an airy and illuminated environment. This design also makes it easy to move food and drinks from your kitchen to the outdoor dining space without having to take multiple trips.
Use The Kitchen Peninsula To Add a Pattern
A kitchen peninsula is the perfect place to add some bold color or pattern to your space.
Consider a colorful backsplash, wallpaper, or even paint in an unexpected hue.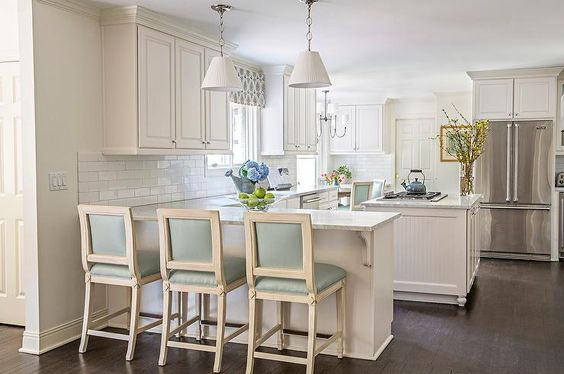 The peninsula's limited size means you won't be overwhelmed by the look and it can easily become the focal point of your kitchen. Alternatively, choose a tile pattern or design to create an eye-catching statement. You can easily update the look of your kitchen by changing out the pattern or color when you need a new look.
Pros And Cons Of Using A Kitchen Peninsula
Adding a kitchen peninsula to your kitchen is a great way to increase storage and countertop space, while also creating an attractive focal point in the room. However, there are some considerations you should take into account before committing to this type of design. Below, we'll explore some of the pros and cons of using a kitchen peninsula so that you can make an informed decision.
Pros:
Increased storage and countertop space – A kitchen peninsula provides additional storage, including cupboards, drawers, and shelving. This extra space can help keep your kitchen organized and give you more room to prepare meals. Additionally, a peninsula will provide additional countertop space, which is perfect for food preparation or entertaining.
Create a focal point – A kitchen peninsula can act as a centerpiece in the room, allowing you to create an attractive display area and draw attention away from any other design elements in the space. This makes it a great option if you're looking to add some visual interest to your kitchen.
Improved workflow – The addition of a peninsula allows for better traffic flow in the kitchen, as it creates an extra space to walk around and increases the available work surface area.
This means that you can move more freely between different areas of the room without feeling cramped or restricted.
Cons:
Limited layout options – When you add a kitchen peninsula, it will take up valuable space and limit the number of layout options that are available to you. This means that you won't be able to design a kitchen in which all cabinets and appliances are easily accessible from any angle.
Difficult to renovate – If you decide to make changes to your kitchen peninsula, it can be difficult and expensive. This is because you'll need to move or remove cabinets and change the layout of the room if you want to alter its design.
Expensive – Finally, installing a kitchen peninsula can be costly, especially if you choose high-end materials or custom furniture. Therefore, you may need to factor this expense into your budget if you decide to go ahead with the project.[4]
FAQ
What are the disadvantages of a peninsula in a kitchen?
One of the main disadvantages of having a peninsula in a kitchen is that it can create traffic flow issues. A peninsula divides the kitchen into two sections, which can make it difficult to move from one side to the other. Additionally, a peninsula can create an awkward space between the two sections that can be difficult to utilize. Finally, a peninsula often restricts the space of the kitchen, making it more cramped than necessary.
What can you do with a kitchen peninsula?
A kitchen peninsula is a great way to create more counters and storage space in your kitchen. It can also be used as an eat-in area, a breakfast bar, or even as an additional workspace. With the right design and layout, your kitchen peninsula can also become a focal point in your kitchen.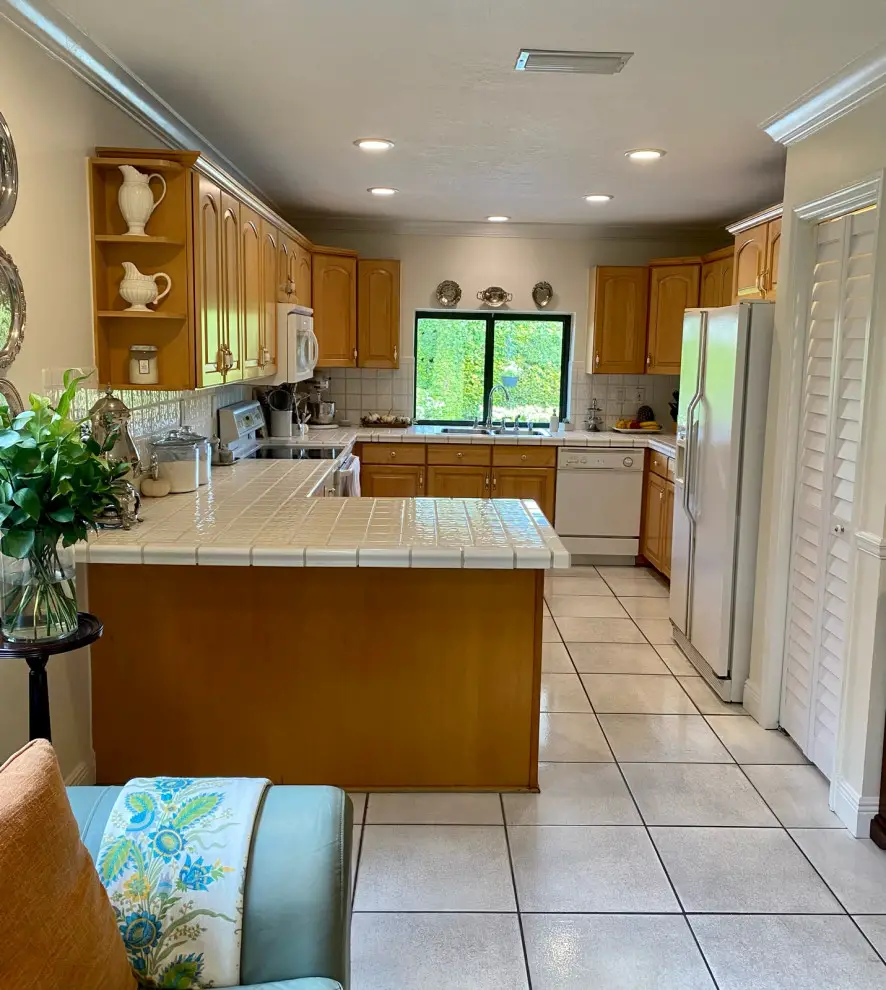 There are a variety of ways you can use a kitchen peninsula, depending on your needs and the layout of your kitchen. Also, with a variety of materials, styles and colors available, you can customize your kitchen peninsula to make it fit perfectly in your home.
What are the benefits of a peninsula kitchen?
A peninsula kitchen allows for a more efficient use of space and provides a sleek, modern look to your cooking area. By installing it, you can enjoy more countertop space and storage without sacrificing too much floor area. With the increased workspace, you can easily prepare meals or serve guests while still being able to keep an eye on them. Additionally, having an extra countertop space means you can have more appliances and utensils within easy reach.
This makes it easier to get meals done quickly and efficiently. Furthermore, having a peninsula kitchen design gives you the option to create an open-plan layout, which can make your kitchen feel larger than it actually is. With the additional countertop, seating area, and storage, your kitchen will be much more functional and you'll have plenty of room to work with. Lastly, by offering an alluring and useful addition to your home, a peninsula kitchen could incrementally boost the value of your property.
What is the kitchen trend for 2023?
The kitchen trend for 2023 appears to be all about creating an open and bright atmosphere. Kitchens are becoming increasingly multifunctional, with more counter and storage space. There's also a noticeable focus on creating a seamless transition between living spaces and the kitchen. This is why kitchen peninsula ideas have been gaining popularity.
A kitchen peninsula is essentially a raised countertop surrounded by cabinets on three sides, connected to the rest of the kitchen. A kitchen peninsula can be used for additional storage, seating, and even as an extra prep space if needed. It can also be used to create a space that feels connected but still separate from the rest of the house. For those looking for kitchen peninsula ideas, here are some of the most popular trends for 2023.
What is the trend for kitchen cabinets in 2023?
In 2023, the trend of kitchen cabinets is moving toward a more modern look. The use of clean lines and bright colors will be in high demand. The addition of glass cabinets and stainless steel accents can add a contemporary touch to any kitchen. Open shelving and hinged doors are also becoming more popular, as they give a sleek look while still providing needed storage.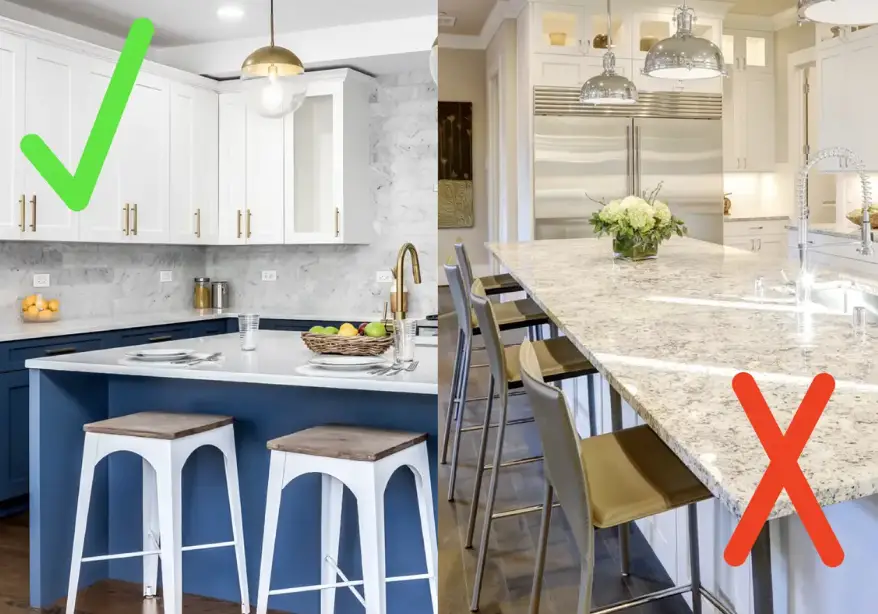 Additionally, there is an increasing trend of using natural materials such as wood and stone in kitchen cabinet designs. This can create an organic feel and add texture to the room. When it comes to color, neutral or light colors are the most popular choice for modest and elegant designs.
What's better: a kitchen island or a peninsula?
Picking between a kitchen island and peninsula can be tricky, as each comes with its own benefits and drawbacks. A kitchen island can be ideal if you have an open-concept kitchen, as it will be a central gathering place in the home. Adding an island to your kitchen provides added storage, counter space, and seating solutions for the whole family.
On the other hand, a peninsula can be more efficient for smaller kitchens, as it takes up less space than an island and still offers counter space, storage, and seating. No matter which option you choose, there are plenty of creative ways to customize your kitchen peninsula or island.
How do peninsulas affect people?
Peninsulas can have a huge impact on the overall feel of a kitchen. They provide an extra workspace, allowing people to prepare meals more easily and efficiently. Additionally, they can act as a separator between the kitchen area and other rooms in the house, creating a more intimate atmosphere while still maintaining a feeling of openness. With the right decorations, peninsulas can be used as a stunning centerpiece in any kitchen, creating an eye-catching aesthetic.
What is a good size for a kitchen peninsula?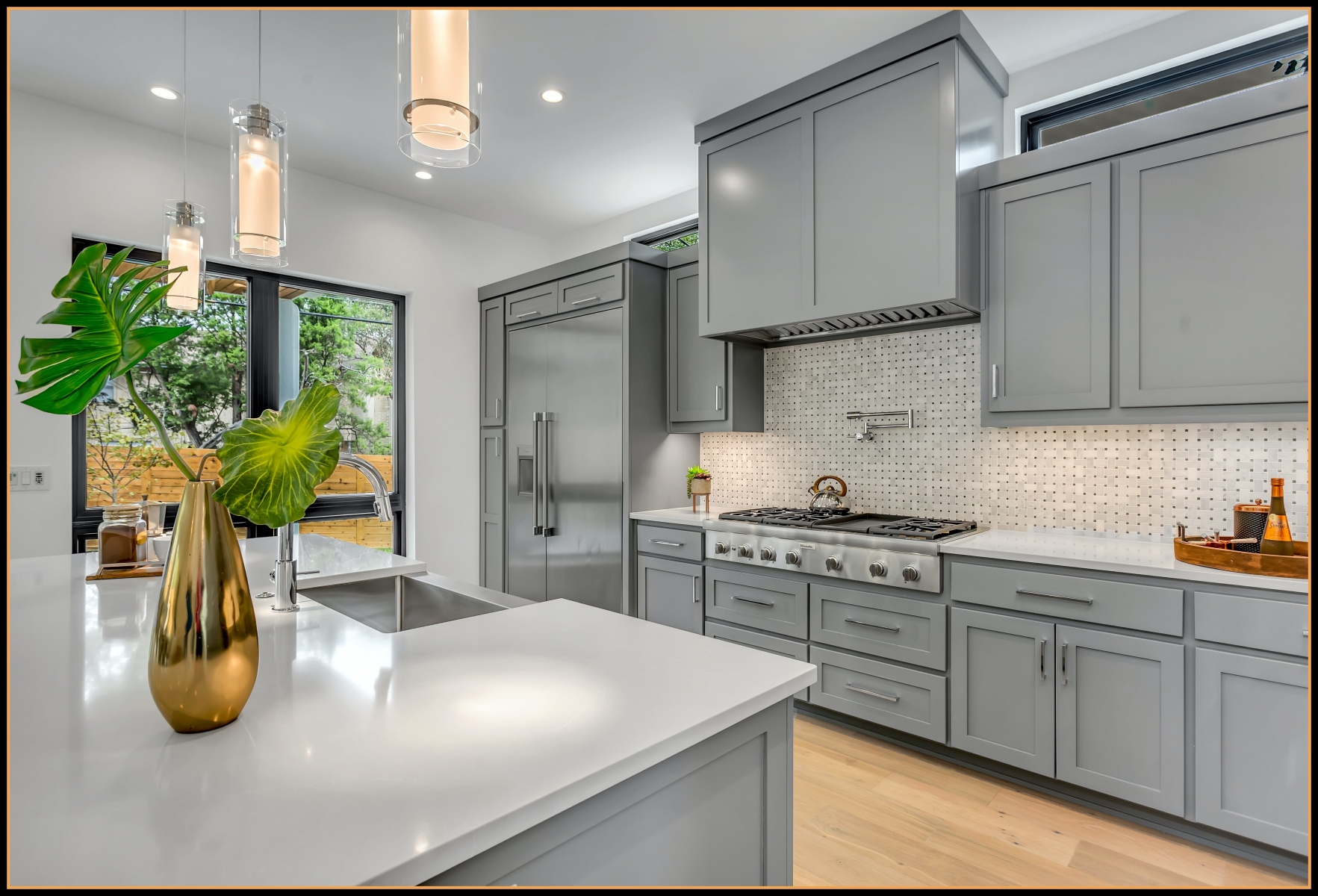 Generally speaking, a good size for a kitchen peninsula is between 6 to 8 feet (1.8 to 2.4 meters) in length, and about 24 to 36 inches (60 cm to 90 cm) in height.
This will provide enough space for storage and countertop work space without taking up too much of the room. Additionally, when choosing the size of your peninsula, it's important to think about the room's traffic flow. You want to be sure that your kitchen peninsula doesn't interfere with people moving around the space or cause a potential safety hazard. Another factor to consider when choosing the size of your kitchen peninsula is the type of appliances you plan on having in your space.
Having a larger peninsula may be necessary if you plan on having a large range or oven in your kitchen, as it will provide extra counter space and storage to accommodate these appliances. If you're designing the layout of a smaller kitchen, then you may want to opt for a smaller peninsula that still offers the same benefits without taking up too much of the room.
What do millennials want in a kitchen?
Millennials are often on the hunt for modern elements, like sleek appliances and contemporary lighting, when designing their dream kitchen. But one of the most popular kitchen features for millennials is a kitchen peninsula – an island-like structure that extends from the countertop and provides additional workspace or storage.
Kitchen peninsulas can be tailored to meet the individual needs of a homeowner, offering them an alternative to traditional kitchen islands. From built-in seating and extra storage solutions to stylish countertops, there are a variety of options when it comes to kitchen peninsula ideas for millennials.
Do I need an outlet at the end of the peninsula?
The installation of an electrical outlet at the end of your kitchen peninsula is a great way to add convenience and ease for everyday use. With this option, you can have outlets for food processors or other small appliances right at arm's reach. If you plan on using your kitchen peninsula as a bar top, having easy access to an electrical socket will also be incredibly helpful. However, if you don't plan on using your peninsula often, adding an outlet might be unnecessary and not worth the extra effort. Be sure to evaluate all of your needs before making a decision!
Useful Video: Kitchen Island vs Peninsula | Which Is Best For Your Kitchen?
Conclusion
No matter the style of your kitchen, a peninsula can be a great addition to the space. When considering kitchen peninsula ideas, it's important to consider how you'll use the space and what elements will fit best in your kitchen. Depending on your lifestyle and preferences, there are many types of peninsulas that you can choose from: built-in seating, storage cabinets, countertops, and more. By taking your personal style into account, you can create a beautiful peninsula that will be a centerpiece of your kitchen for years to come. Thanks to its flexibility and convenience, there's no question that the addition of a peninsula is sure to elevate any kitchen design!
---
References
https://www.elledecor.com/design-decorate/room-ideas/g25602946/kitchen-peninsulas/
https://www.homesandgardens.com/kitchens/kitchen-peninsula-ideas
https://www.howdens.com/help-and-advice/inspiration/kitchen-layout-ideas/peninsula-kitchen-ideas
https://www.livingetc.com/ideas/kitchen-peninsula-ideas