Welcome to the Italian Kitchen Ideas guide! Whether you're looking for inspiration for renovations, or want to give your kitchen a quick makeover, this article will provide plenty of ideas and information.
You'll learn about Italian kitchen features such as countertop materials, backsplashes, cabinetry designs and more. Plus, we'll answer some of the most frequently asked questions about designing an Italian kitchen, and provide useful tips for making your dream kitchen a reality.
So keep reading to discover all you need to know about creating a beautiful and functional Italian-inspired kitchen. Let's get started!
Think Mediterranean.
A great place to start your Italian kitchen design journey is to think of the Mediterranean. From a design standpoint, coastal Italy features blues and whites in its architecture that you can easily draw inspiration from.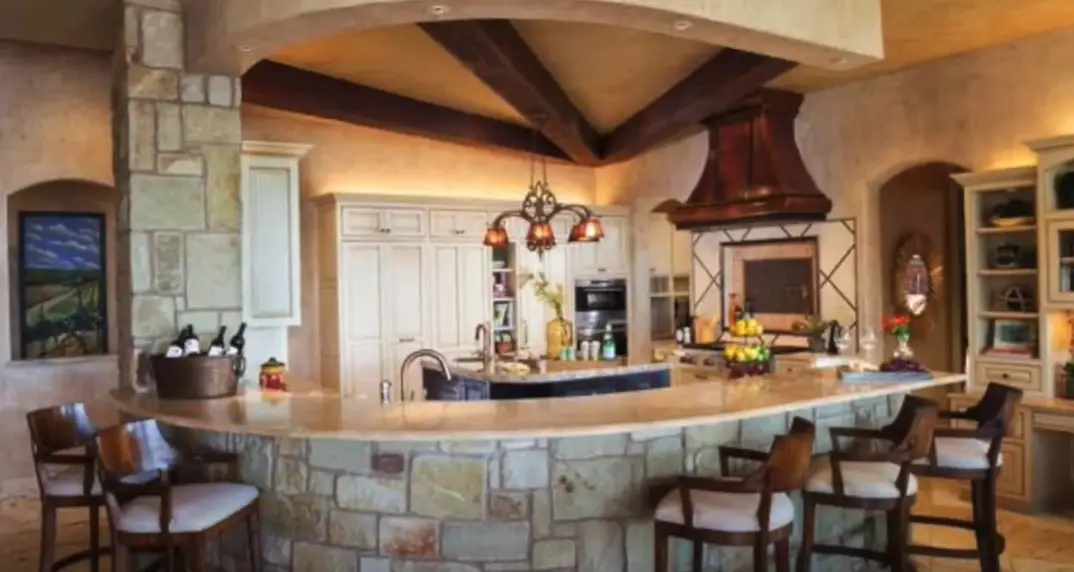 Incorporating these colors into your kitchen will give it an instant Mediterranean feel. Consider adding light blue cabinets or white subway tile backsplash to give your kitchen a touch of the Italian coastline.
When it comes to flooring, natural stone is a popular choice in Italian kitchens. Whether you opt for terra cotta tiles or marble, this type of flooring will add warmth and character to your space.[1]
Or, go for Tuscan opulence
If you're looking for something more classic and elegant, then a Tuscan-style kitchen may be right up your alley. This traditional style is characterized by its use of warm colors and materials, as well as its focus on comfort and functionality. You can create this look with a combination of cabinetry in neutral tones – such as cream, beige, or taupe – and warm-toned accents like terracotta tiles. If you're looking to add some more texture to your kitchen, then opt for wood-paneled walls or brickwork around the windows and doors.
Furniture is also a great way to bring Tuscan style into your kitchen. Stick to sturdy wooden pieces with simple lines and a warm finish, then add some colorful textiles in shades of orange and yellow for an extra touch of Italian style.
Finally, don't forget the details! Invest in quality cookware and small appliances that are both stylish and functional.[1]
Don't forget to add vintage decor.
Adding vintage decor to your Italian kitchen is a great way to make it feel unique and cozy. Vintage pieces can bring warmth and character to the room, making it feel like home. There are lots of ways to add vintage touches, from antique furniture pieces to old-fashioned tile designs. You can hang an old-fashioned chandelier or even add a vintage wallpaper mural to one of the walls. You can also mix and match different vintage pieces, such as using an old-school wooden table with modern chairs.
Whatever you choose, adding vintage touches will give your Italian kitchen that special something.[1]
Make it a modern Italian kitchen design.
When it comes to Italian kitchen designs, the look doesn't have to be old-fashioned. You can go for a modern design in which a few classic elements are added instead of an all-old world look.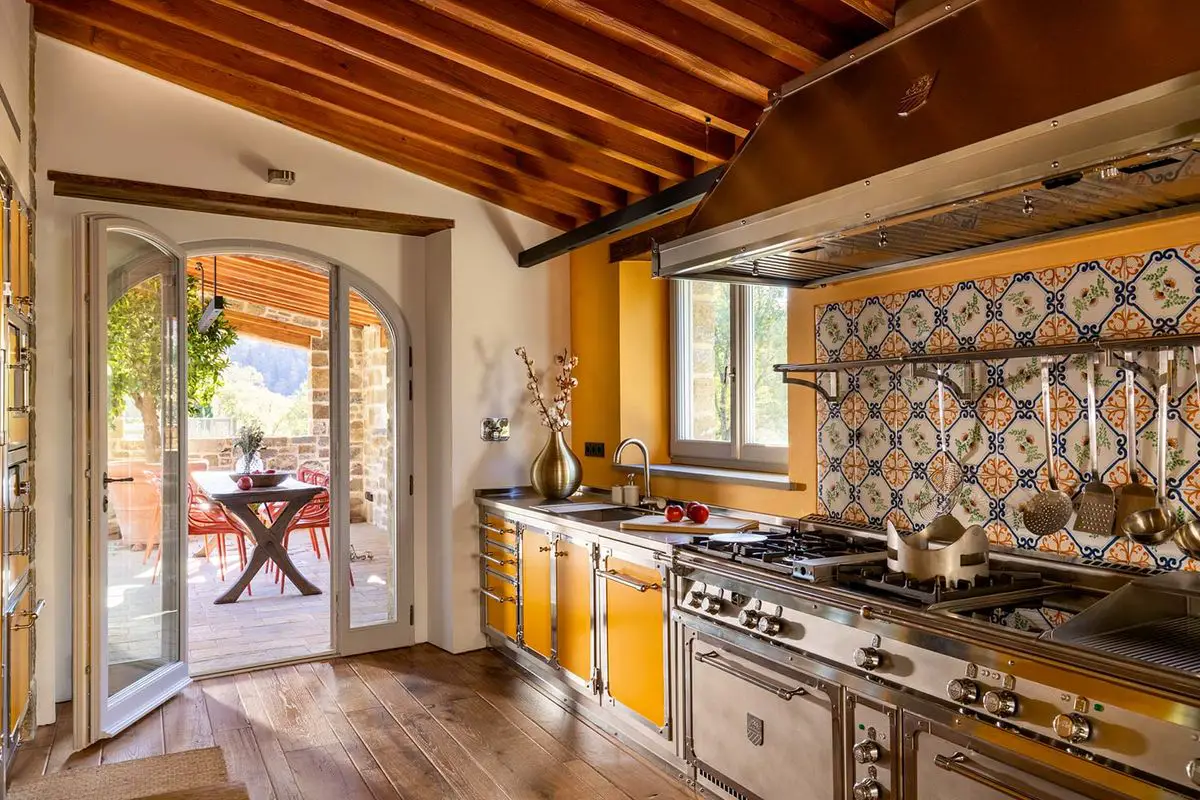 Think about adding modern cabinets or appliances with some traditional touches like stone tiles and arched doorways. It's also a great idea to incorporate natural materials such as wood, stone, and terracotta into your kitchen design. These elements will bring a sense of rustic charm to the space without it looking too 'old-fashioned'.
In addition, you can also add some modern touches like metallic accents or sleek finishes on surfaces which will give the room a contemporary feel. You might also want to consider using glass doors, open shelving, and even natural lighting to make the kitchen look modern but still remain inviting.[1]
Display your prettiest kitchen essentials.
It's important to remember that Italian kitchens aren't just about the appliances and gadgets; they're also about displaying your prettiest kitchen essentials. Try adding a decorative wall shelf or bar cart filled with colorful plates and cookware. Hang up gorgeous copper pots, pans, and utensils on hooks for an added touch of style. Place a fresh fruit on your countertop to create an inviting atmosphere.
Italian kitchens are also the presentation—not just of food, but also of kitchen décor and accessories. Look for interesting pieces like antique olive oil tins or vintage canisters to store essentials like flour and sugar. Have fun with color: pick out bright, colorful tableware and linens that will instantly warm up the kitchen. You can also add a few decorative pieces like Italian paintings or baskets to bring a touch of Old World charm to your space.[1]
Take color inspiration from a Tuscan sunset.
When it comes to Italian kitchen ideas, there's no better place to look for inspiration than the Tuscan countryside. From its rolling hills of vineyards and rustic farmhouses, you can draw color palettes that will bring a touch of old-world charm and romance to your kitchen. Take cues from the warm oranges and yellows of a Tuscan sunset for your kitchen walls, or the deep earthy reds and browns of the terracotta tiles that adorn many Italian homes. For an added touch of luxury, use gold accents on doors, cupboards and fixtures.[1]
Don't paint the wood.
If you're looking for a rustic, traditional Italian kitchen feel, don't paint over the wood. The warmth of the wood grain and light honeyed tones are a hallmark of classic Italian kitchens. But if you have an old kitchen with faded or scratched woodwork, refinishing is your best option. Sand lightly to remove blemishes and then apply a clear sealer or wood stain. This will protect the wood while still allowing its natural beauty to shine through.[1]
Blend relaxed elegance and lived-in luxury.
Italian-style kitchens combine a love of tradition with contemporary aesthetic. Add warmth and comfort to your space by combining unique components that reflect the past, present, and future.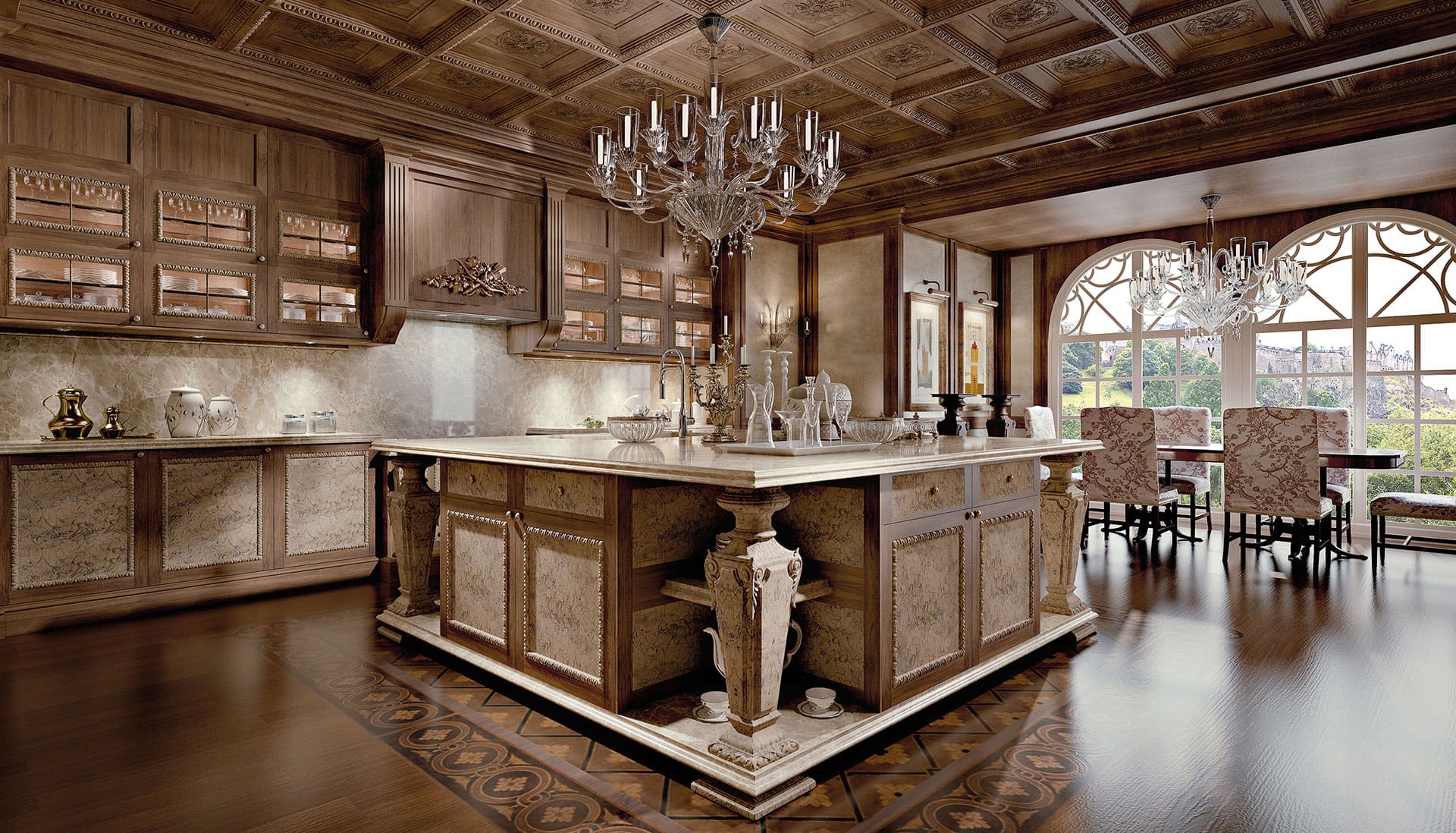 Think timeless furniture pieces with modern finishes, combined with classic accessories and rich colors for a look that's inviting and cozy. Natural materials like terracotta tiles or wood floors, along with handcrafted pottery and ceramics, can add an instant touch of Italian charm. For a hint of rustic Italian charm, incorporate exposed beams in the ceilings or display antique items such as vintage cookware on open shelving. Don't be afraid to go bold: consider adding statement pieces such as vibrant blue-and white tiles or a grand hanging chandelier.
Whether you're looking to make subtle to your kitchen or go all out with a full renovation Italian kitchen ideas can help you the perfect combination of form and.[1]
Prioritize counter space.
If you're looking to create an Italian-style kitchen, it's important to prioritize counter space. This is because traditional Italian kitchens often feature center islands and lots of open counters for storing food, preparing meals and enjoying conversation with friends and family. Invest in a good-sized island or peninsula if possible so that everyone has room to comfortably spread out.
Embrace a sprawling Italian kitchen.
The traditional Italian kitchen is a vast and airy space, with plenty of room to move around. You should strive to make the best use of your available space by creating a sprawling cooking area that fits in with the rest of your home's design. To achieve this look, incorporate elements like an island countertop, custom-built cabinets, and hardwood flooring. You can even add in some rustic touches like terracotta tiles and wrought iron for a truly Italian feel![1]
Expose those wood ceiling beams.
If you are going for a classic Italian kitchen design, don't hide those gorgeous wood ceiling beams. Make them the star of your kitchen by exposing them and painting them in a contrasting color. This will instantly give your kitchen an old world charm as well as add character to its overall look.
For a more rustic approach, leave the beams natural and add some statement lighting around them. It will create an inviting environment and make your kitchen look more spacious.
Another great way to make use of wood ceiling beams is by adding a unique chandelier or pendant lights in between the exposed beams. This will bring a warm and cozy atmosphere to your Italian kitchen design.[1]
Channel the quaint countryside with cabinet curtains
Incorporating a traditional Italian feel into your modern kitchen can be achieved with some simple changes, such as adding cabinet curtains. This is a great way to add charm and whimsy to the room without going too overboard. Cabinet curtains are both practical and beautiful; they allow for easy access when you need something from inside but keep the contents of your cabinets out of sight.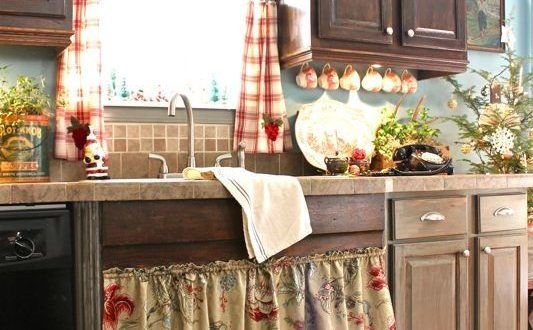 Plus, they add texture to the room and a hint of rustic charm. Choose lightweight fabrics with bright colors for an authentic Italian look or opt for a patterned fabric for added visual interest.[1]
Let open shelves showcase your favorite things.
Open shelves are the perfect way to show off your favorite dishes, tablecloths and other items that make your Italian kitchen special. Not only do they provide a functional solution for extra storage space, but open shelves also provide a great opportunity to add some visual interest to your Italian kitchen design.
You can customize the height of your open shelving to fit your kitchen and optimize the space available. To really make them stand out, opt for brightly colored dishes or pick up some vintage finds at a local market and display them on the shelves. You can also hang artwork, cookbooks or even plants on the open shelves to add more texture and interest. The possibilities are endless![1]
Take advantage of all the storage in your kitchen space.
Many Italian kitchen designs emphasize the amount of storage space available in a kitchen. If you want to maximize the use of your kitchen and keep it looking neat and organized, consider installing additional cabinets, drawers, and shelves. Doing so will help you store items like spices, cookware, small appliances, dishes, and utensils without taking up too much counter space.[1]
Get creative with tile.
Tile is a great way to add texture, contrast and color to your Italian kitchen. Whether it's a backsplash, floor tile or wall covering there are endless design possibilities for creating the perfect look. Try using mosaics for an intricate pattern, contrasting colors to make a bold statement or keep things neutral with classic white subway tiles.
Focus on minimalism in your Italian interior.
There's nothing quite like a sleek and modern Italian interior, with its clean lines and minimalist finishes. To design an Italian kitchen that reflects your style, you should focus on minimalism. Opt for a neutral color palette―think shades of white, gray, or beige―and incorporate texture to add interest to the space. Avoid too many decorative pieces and instead focus on the architectural elements that make up your kitchen. Invest in quality furniture, like bar stools or a kitchen island, to add both style and functionality to the room.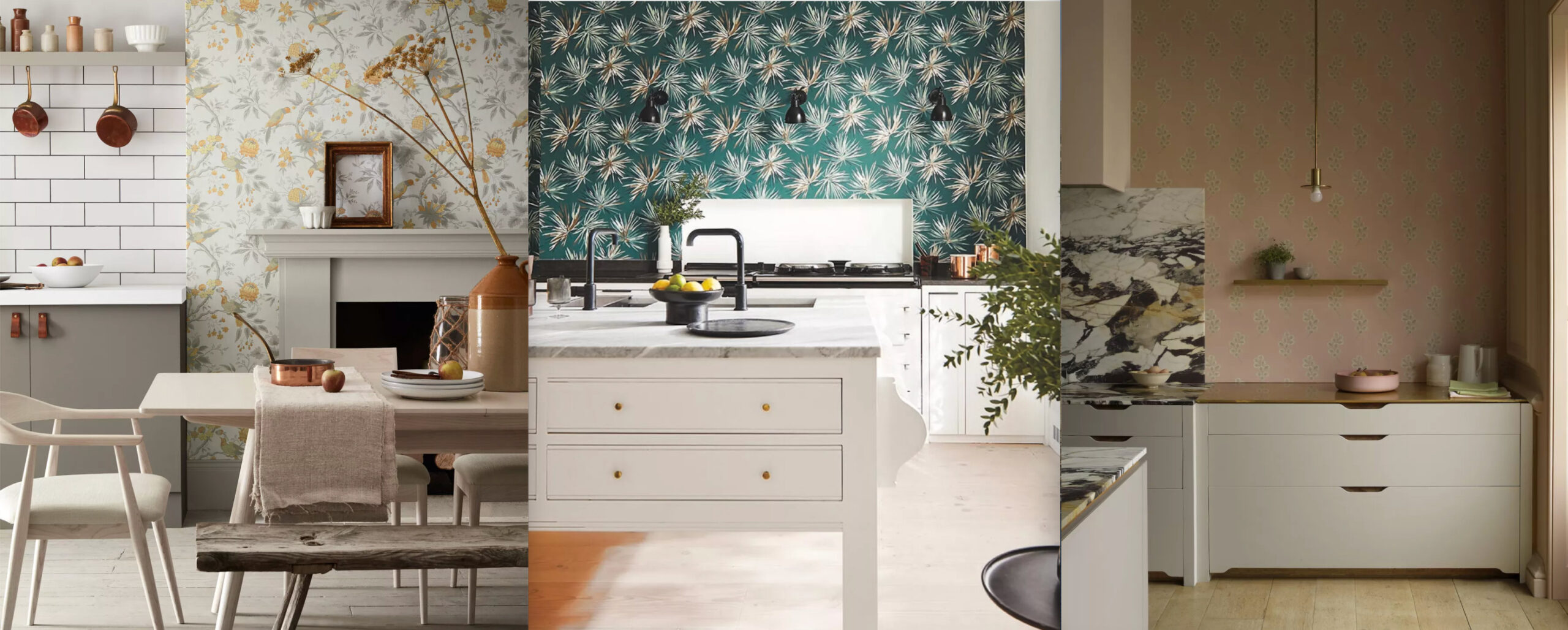 When it comes to lighting, focus on fixtures that are sleek and modern but still provide ample brightness for working in the kitchen. Track lights are a great option, as they can provide focused lighting over specific areas of the kitchen. Place them along the countertops to give you maximum visibility while working.[1]
Mix and match wood tones.
One of the best ways to give your Italian kitchen a unique and inviting atmosphere is to mix and match different wood tones. Natural wood cabinets, stools, and tables are all classic Italian design elements that you can use to create a warm, homey atmosphere in your space. You don't have to go overboard with color either; just use different shades of wood to create a subtle contrast that will add visual interest and texture to your kitchen. For example, pairing light pine with darker cherry or walnut can be an effective way to add dimension without overpowering the space.[1]
Inject some farmhouse influence.
Bringing some farmhouse influence into your Italian kitchen ideas will give it an inviting, cozy feel. Choose a few items that reflect the style and use them to create a romantic atmosphere in your home. Consider hanging a vintage-style sign on the wall or adding a country-style armchair with floral upholstery as seating at the table. Add some decor items such as rustic baskets, a stone mortar and pestle, or an old copper pot to enhance the ambiance. For added warmth and texture, use antique trays for serving dishes or rustic ceramic plates for pasta meals.[1]
FAQ
What is an Italian kitchen style?
The Italian kitchen style is characterized by clean lines, muted colors, and modern accents. Common elements of an Italian kitchen include high-end appliances, natural stone countertops and backsplashes, and elegant cabinetry with sophisticated hardware. It's a great way to create a modern look that feels inviting and chic at the same time.
What is a Tuscan-style kitchen?
Tuscan-style kitchens are inspired by the colors and textures of the Tuscan region in Italy, with an emphasis on warmth and comfort. Common elements of a Tuscan kitchen include terracotta floors, stone countertops, dark wood cabinets, wrought iron accents, and terra cotta pottery. The bright colors and traditional Italian elements combine to create a cozy, inviting atmosphere in your home.
What is an Italian kitchen called?
An Italian kitchen is simply called a "cucina italiana". This term encompasses all of the elements of traditional Italian design, including stone countertops and cabinets, wood accents, and sophisticated hardware. Cucina italiana is also used to refer to modern Italian kitchens that incorporate sleek lines and contemporary finishes.
What are the 5 types of kitchen design?
The five most common types of kitchen design are traditional, modern, contemporary, transitional, and eclectic. Traditional kitchens feature classic elements such as wood cabinetry and stone countertops, while modern kitchens favor sleek lines and stainless steel appliances. Contemporary kitchens often have a minimalist feel with bright colors or bold patterns. Transitional kitchens blend classic and modern elements to create a unique style, while eclectic kitchens combine elements from multiple design styles.
What are the six 6 most popular kitchen layouts?
The six most popular kitchen layouts are the L-shaped, U-shaped, G-shaped, one wall, galley, and island layouts. Each of these kitchens provide a different set of advantages depending on the size and shape of your space. The L-shaped layout is great for larger spaces with plenty of counter space.
The U-shaped layout is ideal for smaller spaces as it maximizes the square footage. The G-shaped layout provides ample storage and counter space, while the one wall kitchen is perfect for narrow spaces. The galley kitchen is great for small homes, while an island layout offers a great way to add extra seating to your kitchen.
What are the 6 basic kitchen styles?
The six basic kitchen styles are traditional, contemporary, modern, industrial, shabby chic, and farmhouse. Traditional kitchens feature classic elements like wood cabinetry and stone countertops.
Contemporary kitchens focus on sleek lines and modern finishes. Modern kitchens often incorporate bright colors or bold patterns with minimalist design elements.
Industrial kitchens use a mix of metal and wood for a rustic look. Shabby chic kitchens incorporate vintage elements with soft colors and distressed finishes.
Farmhouse kitchens combine classic elements like white cabinetry and subway tile with rustic accents like reclaimed wood or shiplap walls.
Which type of kitchen is best?
The best type of kitchen will depend on your personal style and the overall look you're trying to achieve. If you prefer a more traditional look, then a classic or traditional-style kitchen may be the right choice for you. If you have a modern aesthetic, then a contemporary or modern-style kitchen may be more up your alley.
Ultimately, the best type of kitchen for you is the one that best suits your tastes and needs.
What is the most popular style of kitchen?
The most popular style of kitchen is the contemporary style. This type of kitchen features clean lines, modern finishes, and bright colors or bold patterns. Contemporary kitchens are perfect for those who want a stylish yet functional space that is both on-trend and timeless. Plus, with its sleek lines and neutral color palette, it can easily be adapted to different styles and tastes.
Useful Video: 40+ Best Italian Kitchen Design & Decor Ideas
Conclusion
At the end of the day, it is important to make sure that your Italian kitchen design reflects your personal style and taste. Try to keep in mind that functionality is also essential for any successful kitchen design. When planning a new Italian-style kitchen, consider all of these elements and make sure to have fun!
No matter what design you choose, the use of quality materials and fixtures can make a huge difference in the overall look and feel of your Italian kitchen. Remember to take time to research differently and talk with professionals if needed to ensure that all aspects of your kitchen are just right. With all these tips in mind, you can be sure that your new Italian kitchen will be a timeless and beautiful addition to your home.
Buon Appetito!
---
References
https://www.hunker.com/13716031/ways-to-give-your-craftsman-kitchen-a-modern-makeover