A backyard outdoor kitchen is the ultimate way to make your summer BBQs extra special. With an outdoor kitchen, you can take advantage of the warm weather and fresh air, while also creating an incredible entertaining space for family and friends. One great way to enhance your outdoor kitchen is by using brick. Brick gives your outdoor kitchen a classic, timeless look and provides a durable surface that can withstand the outdoor elements. In this article, we'll provide you with some great brick outdoor kitchen ideas and answer your frequently asked questions about this type of design.
Plus, we'll offer some helpful tips to get you started on your own outdoor kitchen project. So let's get into it!
Backsplash beauty
A brick backsplash can give your outdoor kitchen an elegant and vintage look. You can choose either a natural brick or painted brick in any color you like, making it easy to customize the look of your outdoor kitchen. To create a truly unique design, consider combining multiple colors of brick for an eye-catching effect. When installing a brick backsplash, make sure to use a waterproof sealant in order to protect the brick and keep it looking its best.[1]
Continuous countertops
One of the most popular aspects of a brick outdoor kitchen is the continuous countertop. This type of design gives your outdoor space a seamless look, as countertops run along the walls and are built into any corners to create an uninterrupted flow. The construction process for this type of countertop is fairly straightforward, but it does require some specialized tools and materials.
First, you'll need to create a form to shape the countertop out of concrete or another material.
After it's dried and cured, you can use mortar to attach the bricks directly to the surface in whatever pattern you choose. Then, any grouting that needs to be done can be done using either sanded or unsanded grout. Once the countertops are in place, you can finish them with a sealer for maximum protection and durability.
The beauty of having continuous countertops is that they look great from any angle, as there are no visible seams or breaks. This makes it easy to design an outdoor kitchen that looks polished and professional, and it can also be more affordable than traditional countertop installations.[1]
Serenity and style
Have you ever dreamed of having a beautiful outdoor kitchen oasis which blends with your home's architectural style and adds a touch of timelessness. Brick outdoor kitchens are the perfect choice to bring serenity and style to your backyard. The subtle elegance of brick is a classic and enduring look that will match any home's exterior design. With the right materials, a well-built brick outdoor kitchen can be an amazing centerpiece for your home and will prove to be a great source of entertainment for family and friends.[1]
Year-round use
One of the great things about a brick outdoor kitchen is that it can be used year-round. By incorporating materials such as countertops, bar stools, and outdoor furniture into your space, you'll be able to enjoy the outdoors no matter the season. Shelves and cupboards can also make it easy to store cookware, tableware, and other items that you'll need for your outdoor kitchen.
A brick outdoor kitchen can also be designed to withstand the elements. By using weatherproof materials such as galvanized steel or stainless steel, you won't have to worry about rusting or corroding over time.[1]
Poolside pizza oven
If you're looking for something truly special to add to your outdoor kitchen, why not consider a poolside pizza oven? This is a great way to make sure everyone can enjoy delicious wood-fired pizzas while they relax by the pool. It's easy to install and comes with all the necessary components – including an oven, fuel source and chimney.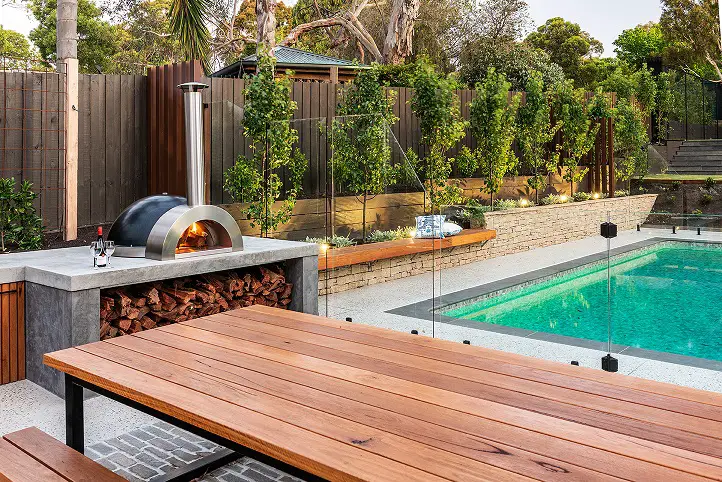 With a bit of creativity, you can even turn it into a feature by adding colorful tiles or patterns to the oven's exterior. As an added bonus, this type of oven is also great for baking bread and roasting vegetables![1]
Wood cabinetry
When it comes to outdoor kitchens, wood cabinetry is a timeless option. Whether you're using pine, cedar or teak, wooden cabinets add an instant classic look that will last for years. You can easily find quality outdoor-friendly cabinets at home improvement stores and online retailers.
Adding brick to your cabinets is an easy way to give your outdoor kitchen a more classic look. Using brick or stone veneer will achieve the look of a full brick wall without having to go through the trouble and expense of building one. You can easily find pre-cut pieces at your local home improvement store or online.[1]
Urban kitchen with a view
If you're lucky enough to have a stunning view right outside your door, take advantage of it by creating an outdoor kitchen that takes full advantage of the scenery. Brick is a great choice for tying together indoor and outdoor living spaces. With a brick outdoor kitchen, you not only get the benefit of an attractive look but also durable construction that will last for years.
Creating an outdoor kitchen with brick can be fairly easy, depending on the size and complexity of your project. You'll need to decide what type of materials you want to use, such as traditional red brick or a more contemporary look with manufactured stone veneers. Once you have a design in mind, you'll need to measure and mark the area for your outdoor kitchen.
When building an outdoor kitchen with brick, make sure that you use mortar that is specifically rated for exterior use. For additional protection against water damage, you can also choose to apply a sealer after installation.[1]
White brick and steel
The combination of white brick and steel gives an outdoor kitchen a bright, contemporary feel. This look is perfect for the modern home that wants to make a statement without being overly complicated.
White brick provides a clean background for stainless steel appliances, creating a bold contrast in your design. To break up the monotony of white, consider adding accents of color like grass green, navy blue or a deep shade of gray.
For extra pizzazz, choose white brick with an interesting pattern such as beehive or herringbone to make your outdoor kitchen even more eye-catching. The subtle texture will give it character and add a touch of warmth to the overall look. And since the white brick will help to reflect light, the kitchen won't feel too dark or cramped on those hot summer days.[1]
Custom millwork
Custom millwork is an essential element of any outdoor kitchen design. Brick kitchens can benefit from custom millwork in a variety of ways. Not only does it make your kitchen look more polished and sophisticated, but it also adds functionality to the area.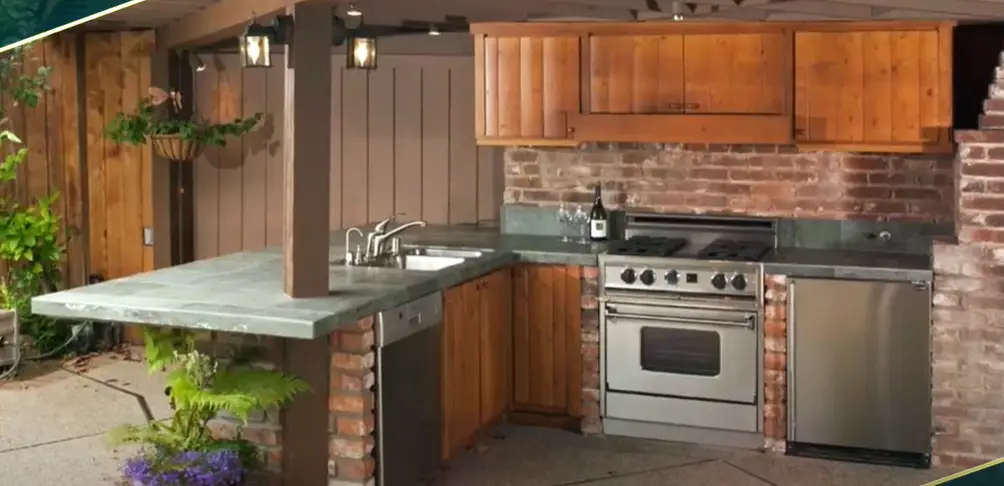 Custom millwork can add shelves for storing items, drawers for organizing cooking utensils, and even custom-built counters for prepping meals. With the right design elements, you can make your outdoor kitchen look like it's part of a high-end restaurant.[1]
More pizza ovens
Pizza ovens are a great addition to your brick outdoor kitchen. Not only do they provide another way of cooking food, but they also create delicious smoky aromas that will fill the air. When choosing the type of brick for your pizza oven, consider something that is fire-resistant and able to withstand high temperatures. Clay bricks are a popular choice and are available in many sizes, styles, and colors. It's also important to ensure that you have enough room on the patio or deck for the pizza oven when it is assembled.[1]
Covered patio
One popular idea when it comes to brick outdoor kitchen ideas is to create a covered patio or an outdoor kitchen. This is an excellent way to make use of unused space in your backyard. With a covered patio, you can host friends for dinner parties or have family BBQs without worrying about the weather.
An outdoor kitchen is a great way to make use of your outdoor space. You can create an outdoor living area with seating, cooking surfaces, counters and more. Many people opt for brick as the material for their outdoor kitchen because it has a classic look that complements any design style.[1]
Seamless flow
A well-designed outdoor kitchen allows you to create a seamless flow between your indoor and outdoor areas. It also provides the perfect spot for entertaining family and friends all year round. With a brick outdoor kitchen, you can achieve this goal with ease. Brick is not only extremely durable and strong but also incredibly stylish and easy to clean.[1]
Concrete and stone
In addition to brick, concrete and natural stone are two other popular materials when it comes to Outdoor Kitchen Ideas. Concrete can be used for countertops and floors, while natural stone can be used for walls, counters and flooring. Both of these materials are durable and weather-resistant, making them a great choice for outdoor kitchens.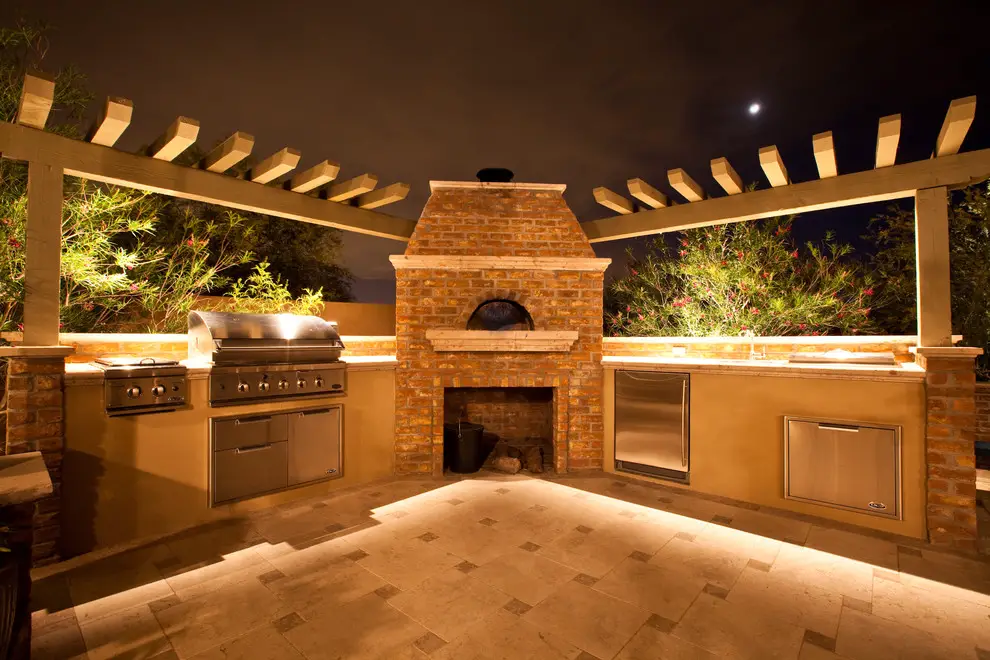 If you choose to go with concrete, be sure to use an outdoor sealer so the surface is protected from the elements. Natural stone should also be sealed for maximum protection.[1]
Marble and wood
Using marble and wood for your outdoor kitchen design is a great way to create an inviting atmosphere. Marble countertops can be used to give the space a sophisticated, yet classic look, while wooden cabinetry and shelving can add warmth and texture. You could even combine both materials in one area such as with a marble backsplash paired with wooden cabinetry. And don't forget to think about the flooring, too! Tile or brick can create a beautiful foundation that ties everything together.[1]
Backyard beauty
Creating a brick outdoor kitchen is not only a great way to upgrade your backyard, but it can also add lasting value and style. Whether you're working with an existing brick patio or starting from scratch on a blank canvas, there are plenty of options for turning your outdoor space into the dreamy oasis of your dreams.[1]
Dining area drama
Brick outdoor kitchens don't have to be just about the cooking space. Make a dramatic statement in your outdoor kitchen by incorporating an outdoor dining area. This could include installing a small patio around the grill or adding some seating near the island, like a table and chairs. Not only will you enjoy meals al fresco with friends and family, but you'll also get to enjoy the warmth and beauty of your brick outdoor kitchen.
If a full-sized dining area isn't an option in your space, try using a smaller bistro table or even just one chair and side table for seating. You can also look into getting some more rustic benches that match your brick outdoor kitchen aesthetic and can be moved around easily to accommodate larger groups.[1]
Fireside comfort
An outdoor brick kitchen offers an idyllic atmosphere for entertaining guests or simply enjoying a cozy evening alone. With the warmth and comfort of a fire, you can create an inviting space in which to enjoy your favorite dishes. Install a built-in fireplace near your outdoor kitchen and let the flames dance as you cook up a delicious meal. Complete the look with a few comfy chairs or a cozy couch to ensure your guests can relax and enjoy the atmosphere.[1]
Indoor-outdoor integration
Outdoor kitchens are a great way to integrate the indoors and outdoors. Having your kitchen close by means you can enjoy the fresh air while enjoying your food, instead of being stuck inside the house. With brick outdoor kitchen ideas, you can create an inviting atmosphere that seamlessly blends with the rest of your home's exterior.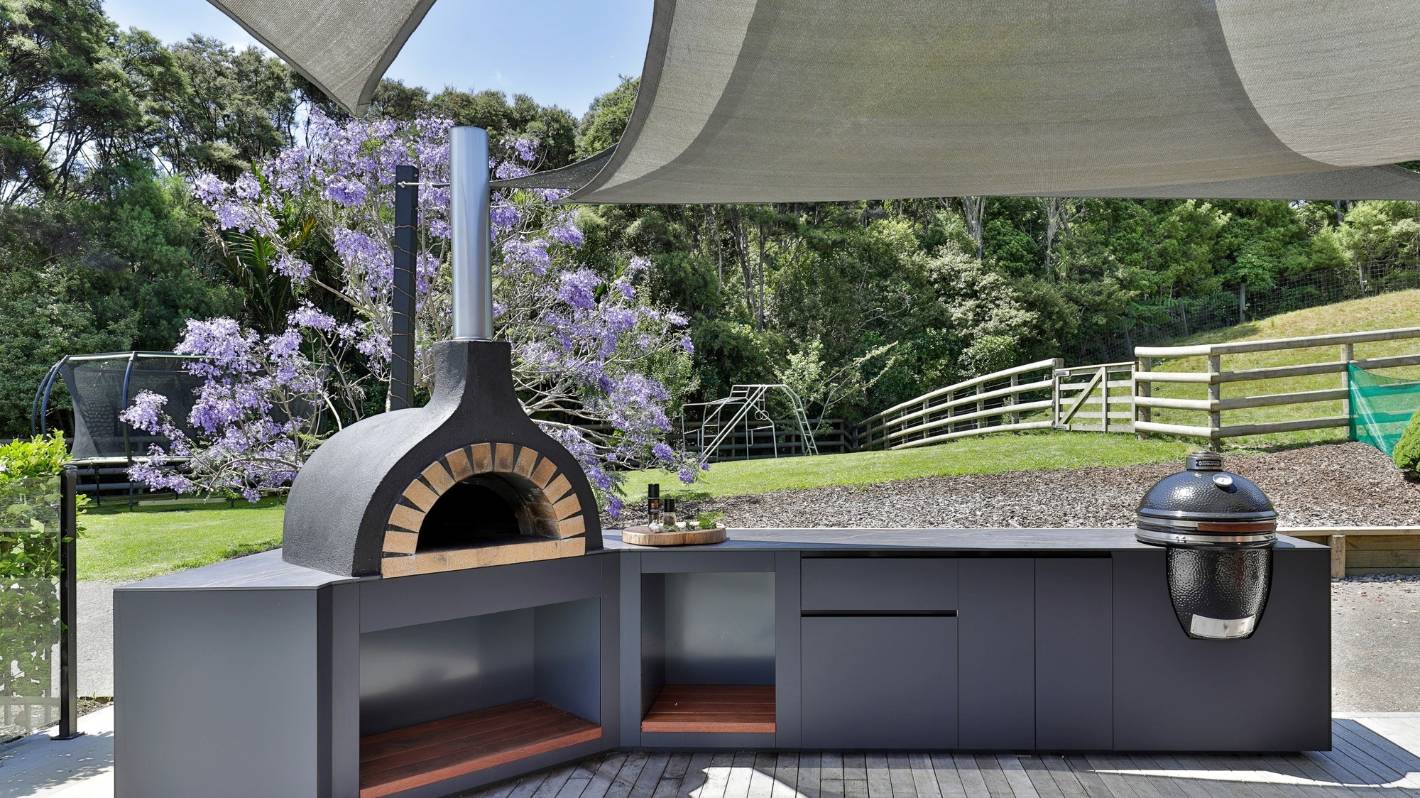 Brick is a great material for outdoor kitchens because it's durable and maintenance-free, so you don't have to worry about repainting or staining.
Brick is also versatile when it comes to design. You can use brick in a variety of shapes and sizes to create a unique look that fits your tastes. Plus, the brick can be stained or painted to match the other elements in your outdoor space.[1]
Shady section
If your outdoor kitchen is in a shady spot, bricks can be a great choice. The pale colors of bricks don't absorb heat from the sun as much as darker building materials do, so they won't become overly hot even when placed in shadier areas. You can also add plants to help create some shade for your outdoor kitchen too.
For a really unique look, consider creating an arched or curved brick wall for the back of your kitchen. This way, you can create an eye-catching focal point with dramatic curves and shadows which adds lots of character to any outdoor space. Plus, this option minimizes the amount of sunlight that enters your cooking zone, giving you a comfortable and cool spot to prepare meals.[1]
Waterfront grilling station
If you have a waterfront property, why not take advantage of it with an outdoor grilling station? A brick barbecue grill is a great way to make use of the view while also providing your family and friends with delicious grilled meals. You can customize your brick grill to whatever size and shape works best for your area. If you're feeling extra creative, you can even make it double as an outdoor fireplace for extra warmth on chilly nights.[1]
Textured backsplash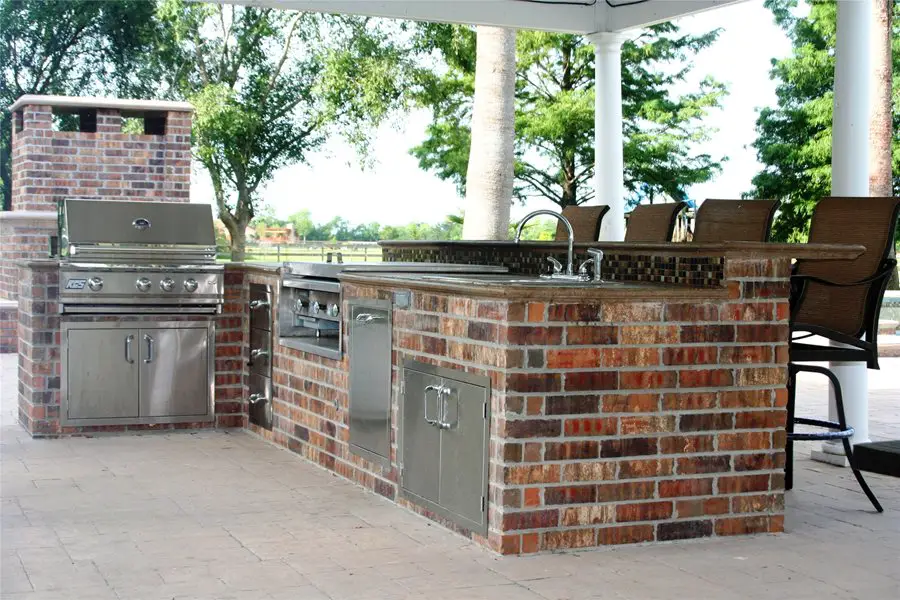 For those who want to add a bit of character and visual interest to their outdoor kitchen, textured backsplashes are an excellent option. Adding texture to the wall behind your grill or stove can really make it stand out and draw attention. Textured backsplashes can be created using a variety of materials including brick, stone, wood, metal, or tile. Each type of material will create a unique look and have its own benefits.
Brick is a popular choice as it is durable and relatively easy to install. It can be used to create a classic rustic look or modern contemporary feel depending on your preference. Stone and tile are also excellent options for creating an eye-catching textured backsplash. They can be used to create intricate patterns or simply provide a colorful accent.
Whatever type of material you decide to use, adding texture to your outdoor kitchen space is a great way to add visual interest and make it stand out from the rest.[1]
Rooftop kitchen
If you're lucky enough to have a rooftop space, why not turn it into a kitchen oasis? A brick outdoor kitchen on the roof is sure to make your neighbors jealous. Starting with the foundation and walls, use bricks or other masonry materials to create a durable structure that can withstand the elements. You'll need to make sure that your roof is structurally sound enough to support the kitchen. Then, install counters, cabinets and a high-quality grill with plenty of counter space around it. Include a sink so that you can easily wash dishes or vegetables from your garden.
Finally, add some seating and tables for dining al fresco and you're good to go![1]
Fireplace lounge
If you have space for it, consider adding a fireplace lounge area to your brick outdoor kitchen. This allows you to extend the time spent in your outdoor space into cooler evenings and also provides a cozy place to relax after meals.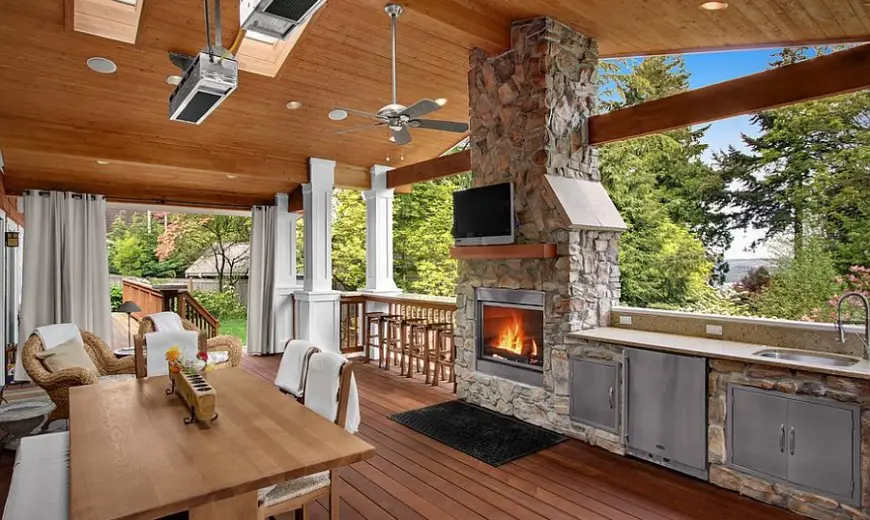 When it comes to fireplaces, there are lots of great options available ranging from basic wood-burning fireplaces to more elaborate, gas-powered ones. Whichever option you choose, be sure to check local regulations and building codes before starting construction.[1]
Grilling and smoking
Brick outdoor kitchens are ideal for grilling and smoking. Their thick walls help maintain consistent temperatures, allowing the food to be cooked evenly. Of course, it's important to consider the size of your kitchen space when deciding if a brick oven is right for you. For example, larger units typically require more expensive components as well as additional time and money to build.
When it comes to grilling, be sure to select the right type of grill for your outdoor kitchen. Charcoal or gas grills are the most popular types, however electric grills can also be used in brick ovens. Additionally, you'll need to consider the size and shape of your grill, and decide if you want a built-in model or a portable one.[1]
Bluestone, brick, and shiplap
Bluestone, brick, and shiplap are all popular materials for outdoor kitchens. They create a warm and inviting atmosphere, while also providing durability and protection from the elements. With these materials, you can get creative with your design and have an outdoor kitchen that looks great year-round.
When deciding on brick outdoor kitchen ideas, consider how much space you have available and what kind of activities you plan to do in your outdoor kitchen. If you plan to cook frequently, consider using brick as the main material for your outdoor kitchen—it's strong and durable, so it can withstand the heat and moisture that comes with cooking outdoors. The warmth of brick also adds some cozy ambience to your outdoor space.[1]
FAQ
What is the cheapest way to build an outdoor kitchen?
Building an outdoor kitchen from scratch can be expensive. However, there are some options that can help keep the costs down. One way to reduce the costs is to make use of recycled materials such as bricks and stones, or even old pallets. If you already have a patio or deck area in your garden then you can use this as the base of your outdoor kitchen. You can even use brick or stone pavers to create the countertops and backsplash.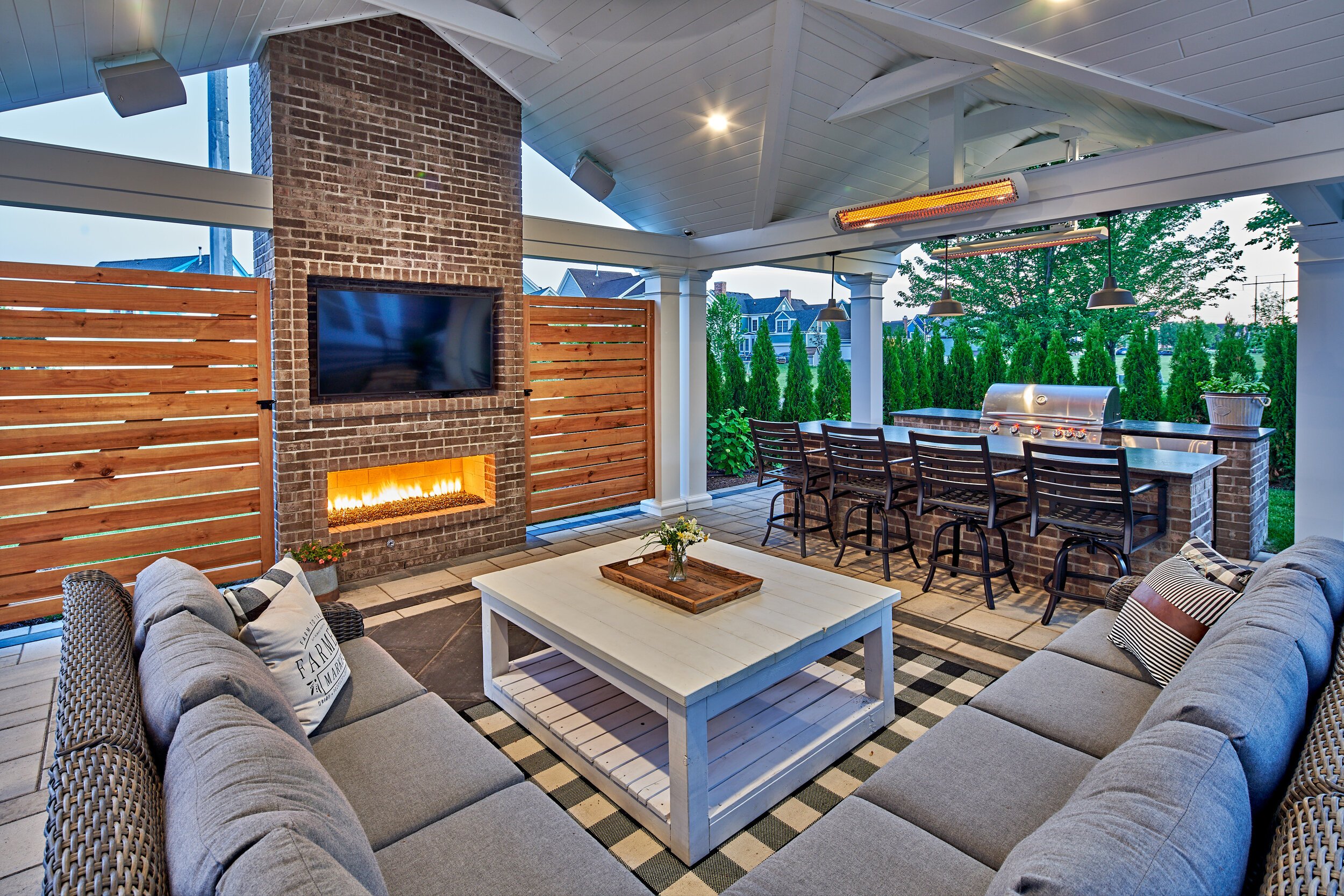 Additionally, you can try looking in second-hand stores for old plumbing fixtures, appliances and other items that could be used in your outdoor kitchen.
What are the best walls for an outdoor kitchen?
The best walls for an outdoor kitchen are those that can withstand the elements. Brick is a great choice because it is strong and durable, and it can provide insulation to help keep your cooking area cool during hot summer days. Other good options include concrete block or stucco walls.
However, if you prefer a more rustic look, natural stone can also be used.
What is best for an outdoor kitchen?
When it comes to an outdoor kitchen, the best materials are those that can withstand the elements.
Some of the best options include natural or manufactured stone, concrete block, brick, stucco and tile. Be sure to choose materials that are durable, waterproof and fireproof so your outdoor kitchen will last for many years. Additionally, you'll want to choose materials that are stain-resistant and easy to clean. Finally, select colors and textures that will complement your outdoor living space.
Can pavers support an outdoor kitchen?
Yes, pavers can support an outdoor kitchen. Pavers are a great option because they are strong, durable and easy to maintain. Additionally, they come in many different shapes and sizes so you can easily create the perfect design for your outdoor kitchen. Just be sure to use sand between the pavers for extra stability and make sure the foundation is level.
What are the disadvantages of an outdoor kitchen?
An outdoor kitchen can be a great addition to your home, but there are some drawbacks to consider.
For example, an outdoor kitchen may require more maintenance than an indoor one since it is exposed to the elements. Additionally, you may need to invest in extra equipment such as a grill and refrigerator which can add up over time. Finally, depending on the design of your outdoor kitchen, you may need to waterproof or seal it periodically to ensure it stays in good condition.
Is concrete needed under pavers?
Generally speaking, it is not necessary to lay concrete under pavers when building an outdoor kitchen. However, if you want to ensure that the pavers stay in place and don't become uneven over time, then a layer of sand or gravel can be put down as a foundation.
Additionally, if you plan on using heavy appliances such as grills or refrigerators, then it is recommended to lay a concrete foundation first.
Useful Video: BEST COLLECTION! 30+ Brick Outdoor Kitchen Design Ideas 2022
Conclusion
It comes to creating a beautiful functional outdoor kitchen, brick is excellent choice. Brick is durable, attractive, and to maintain. You can choose a variety of shapes and sizes your outdoor kitchen design that will perfectly with the style of your home. With just a few simple steps, you can transform your backyard into an amazing outdoor kitchen, complete with a brick barbecue grill, countertops, and seating area.
Ready to get started? Use the tips and ideas above to create the perfect brick outdoor kitchen for your home! With some creativity and imagination, you can turn your backyard into a beautiful entertaining space that will be enjoyed by family and friends for years to come. So, why wait? Get started on your own brick outdoor kitchen today!
---
References
https://www.architecturaldigest.com/story/outdoor-kitchen-ideas