For anyone who's looking to add some extra style and convenience to their kitchen sink, kitchen sink accessories can be a great way to do it. With the right products, your sink can become a much more efficient and attractive part of your kitchen. In this article, we'll cover everything you need to know about choosing and using the right kitchen sink accessories. We'll start with some of the most popular options out there, discuss their advantages and disadvantages, and provide useful tips on picking the right ones for you. We'll also answer some common questions about kitchen sink accessories. By the end of this article, you should have a better understanding of how to get the most out of your kitchen sink accessories. Let's get started!
A strainer to prevent the kitchen sink from clogging
One of the most popular kitchen sink accessories is a strainer. A kitchen sink strainer works to prevent food particles and other debris from getting into your plumbing system and causing clogs or blockages. Not only are strainers helpful in keeping your pipes running smoothly, they also add an extra layer of protection against bacteria and other harmful germs that can accumulate in the sink.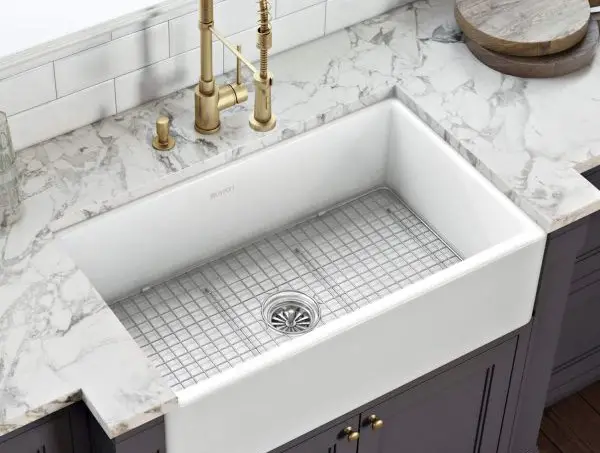 To use a strainer, simply place it over the sink drain and ensure that all food waste is filtered before going down the drain. Since strainers come in different sizes, you can find one that fits your particular kitchen sink perfectly.[1]
A Sponge holder for your sponge
When it comes to kitchen sink accessories a sponge holder is an essential item. It can help keep sponges off the countertop and out of the way while also helping you maintain a clean kitchen workspace. A sponge holder will make sure that your sponges are always within easy reach when you need them. Additionally, there are many different styles of sponge holders available, so you can find the perfect option to match your kitchen's decor.[1]
Dish rack/ Over-the-sink dish drying rack for air-drying of dishes
A dish rack or over-the-sink dish drying rack is an excellent tool for air-drying dishes, vegetables and fruits. This type of kitchen sink accessory allows you to save space on your countertop by hanging the rack above the sink. It's also a great way to air dry delicate items like china or stemware. The racks come in a variety of sizes and materials, so you can choose one that best fits your kitchen sink setup.
Another great benefit of using a dish rack is that it keeps the dishes away from the open water in the sink, protecting them from dirt, germs and bacteria. You can also use the rack to store other kitchen items such as utensils, knives, and pot lids.[1]
A soap dispenser for your dish soap
A soap dispenser is an easy and convenient way to keep your dish soap neat, organized and at the ready! Most liquid dish soaps are packaged in bulky bottles that can take up counter space. A wall mounted or countertop soap dispenser will help you reduce clutter in the kitchen while making it easier to access the dish soap when needed. Some soap dispensers are even designed to match the style and decor of your kitchen.[1]
Sink grid/sink mat to protect the sink from damages
Sink grids are great to protect your kitchen sink from wear and tear caused by dishes, utensils, and other items. It also helps to keep debris and food scraps away from the drain so it doesn't clog or cause an overflowing sink. Sink mats come in various shapes, sizes, styles, and materials. You can choose one that fits your sink and style preferences perfectly. Most of them have a hole in the center to fit around the drain and allow for water flow, while some are designed to cover the entire sink basin.
When selecting a sink grid or mat, make sure the material is non-scratch and rust-proof. Stainless steel or silicone-coated grids are best because they're non-porous and easy to clean. To extend the life of your sink grid, make sure to rinse it off after each use and dry it thoroughly before storing in a dry place.[1]
A sink cover
A sink cover is a great way to add extra counter space in the kitchen. It fits over your sink and provides you with extra workspace for food prep, dishes, or anything else you need. There are many different styles and materials available, so you can find one that will fit perfectly into your kitchen.
Another popular accessory for the kitchen sink is an in-sink dish rack. This is a great way to keep your dishes organized and eliminate the need for countertop clutter. You can find these in many different sizes and shapes, as well as styles.[2]
A Colander for straining pasta
A colander is an essential kitchen accessory for any home. They are most often used to strain pasta and potatoes, but can also be used for straining fruits, vegetables, beans, and more. Colanders come in a variety of sizes and materials—from plastic to stainless steel—so you can find one that fits your kitchen style and budget.
For maximum efficiency, choose a colander with a wide opening so you can easily tip pasta into it without having to handle each piece individually. You may also want to get a colander with built-in feet so it won't tip over when filled with food.[2]
Splash guard
Splash guard can protect your kitchen sink from ashes of water with a splash. This is a great way to keep water and other liquids out of your kitchen and off the countertops. It's also useful for containing any messes that may happen while washing dishes or doing food prep. Splash guards come in many shapes, sizes, and colors, so you can choose something that fits your style and kitchen decor.

Then use adhesive to attach it to the sides of your sink for maximum protection. Now you can enjoy a clean and dry kitchen when doing dishes!
[2]
Plunger
No kitchen sink is complete without a plunger! Plungers are an essential part of any kitchen sink accessory set, as they help to clear clogs and other blockages. A good quality plunger should have a large enough head to cover the entire drain opening, and should be made from durable materials such as rubber or plastic.
Sponge/dishwashing gloves/ Dishcloth
Sponge/dishwashing gloves are a great way to keep your hands clean and dry while doing the dishes. Not only do they protect your hands from harsh chemicals that you may use in the kitchen, but they also provide extra grip so you won't drop any dishes or glasses while washing them. Look for gloves made out of materials like cotton and rubber for maximum protection.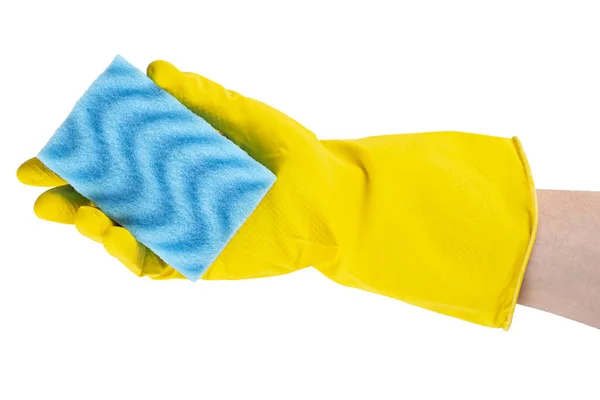 Dishcloths are another must-have kitchen sink accessory for cleaning dishes. Make sure to pick one that's made from durable materials such as microfiber or cotton as this will ensure that your cloth won't tear or wear out quickly when you use it to scrub dishes. You can also get dishcloths that are extra large and feature long loops for easy wringing out after you're finished washing.[2]
An apron
An apron sink is a popular choice when it comes to kitchen sinks. It features an exposed front that gives your kitchen an extra touch of elegance, and is easy to clean and maintain. Apron sinks come in various styles and sizes, so you can choose the one that best suits your needs. When shopping for an apron sink, make sure to consider the material it is made of and its construction. The size of your sink will also play a role in which apron sink you should choose.[2]
A trash can
A trash can and bin are two essential accessories you should consider if your kitchen sink is set up above the floor. You'll need something to hold any waste so it doesn't end up in your sink or on the counter. Look for a trash can that easily fits below your sink or inside a cabinet, as well as a sturdy bin that will hold any recyclables or compost.[2]
Simplehuman Steel Frame Dish Rack
The Simplehuman Steel Frame Dish Rack is one of the most popular kitchen sink accessories. This stylish, stainless steel dish rack is both practical and beautiful. It features a removable tray that collects liquid to help keep your countertop dry, as well as an adjustable drain board for air drying dishes. With its sturdy construction and contemporary design, the Simplehuman Steel Frame Dish Rack is a great way to add some style and function to your kitchen sink.
This dish rack can also be used for other tasks such as storing fruits, vegetables or utensils. It's easy to remove and clean so you won't have any trouble keeping it looking like new. Plus, it comes with a lifetime warranty so you can be sure it will last for years to come.
The Simplehuman Steel Frame Dish Rack is a great option for those who want a stylish and practical kitchen sink accessory. With its modern design and durable construction, this dish rack is sure to become a favorite in your kitchen.[2]
Hilltop Products Kitchen Sink Drain Strainer
The Hilltop Products Kitchen Sink Drain Strainer is a great way to keep your sink looking spotless! This stainless steel strainer fits snugly into your sink's drain and catches any food particles or debris that may otherwise clog the drain. The fine mesh screen allows for water to flow freely, while still catching large chunks of food. The strainer is easy to install and can be removed for quick cleaning. Plus, it comes in a variety of sizes and colors to fit any kitchen sink size or style.[1]
House of Noa Kitchen Mat
When it comes to kitchen sink accessories, you cannot go wrong with the House of Noa Kitchen Mat.
This mat is designed with a unique and stylish geometric pattern that will look great in any kitchen. It is made from an ultra-durable material that resists staining and wear, making it perfect for the busiest of kitchens. The mat also offers a comfortable, non-skid surface that keeps your feet warm and dry, especially when standing for long periods of time. This mat is easy to clean and can be tossed in the washing machine for a quick freshening up.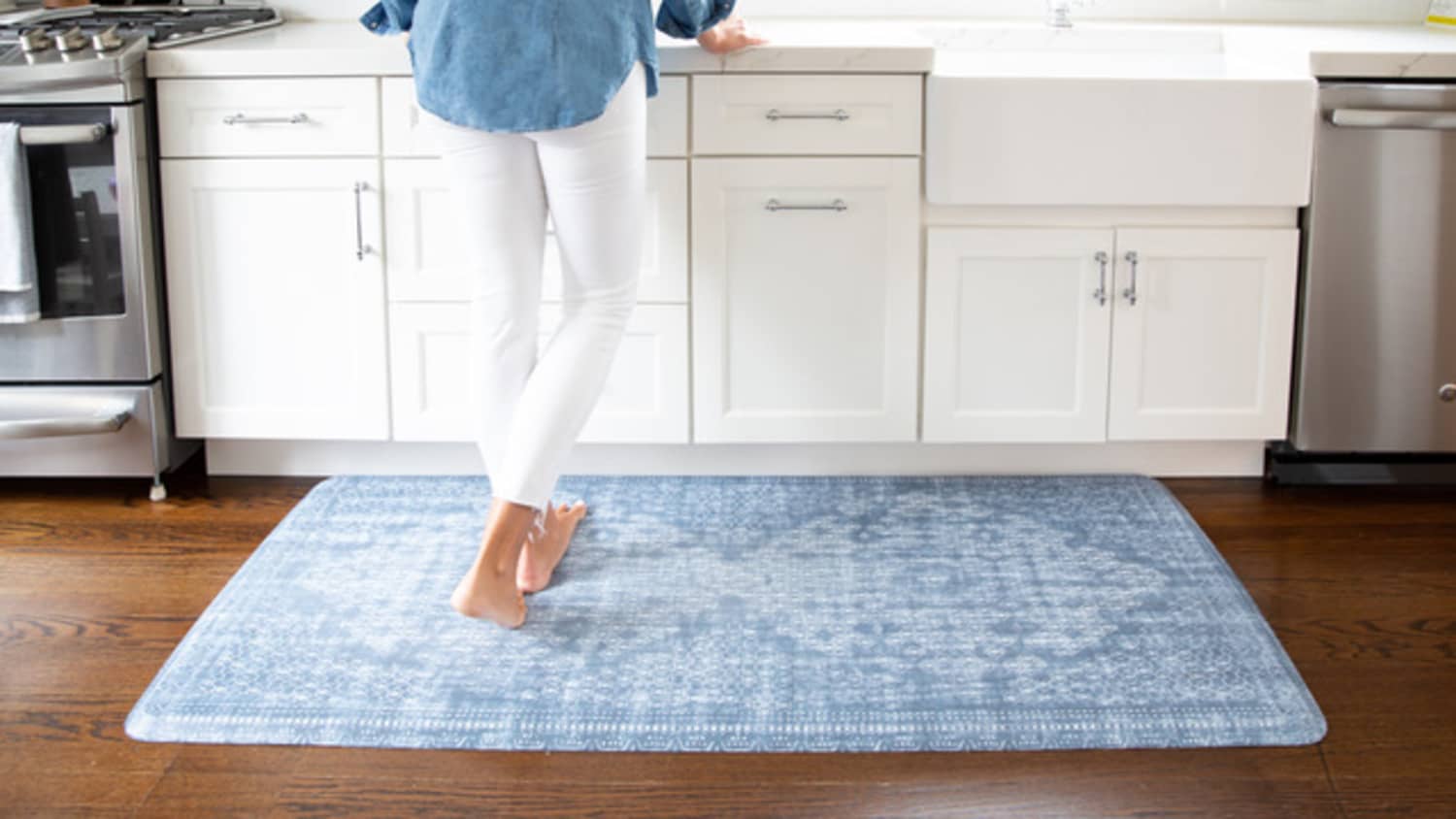 The House of Noa Kitchen Mat is designed to make your kitchen look elegant and stylish without breaking the bank. The mat is available in a variety of colors and sizes to fit any kitchen size or decor. And, with its affordable price tag, you can easily transform your kitchen into something that looks like it came from a luxurious home at an unbeatable price.[1]
OXO Soap Dispensing Dish Brush and Bar Keepers Friend Soft Cleanser
If you're looking for an easy, convenient way to keep your dishes sparkling clean, try the OXO Soap Dispensing Dish Brush and Bar Keepers Friend Soft Cleanser. This package includes a brush with a built-in soap dispenser so all you have to do is press down on the top of the brush – no need to reach for the bottle of soap every time you need to scrub. The included Bar Keepers Friend Soft Cleanser is designed to be gentle and safe on all surfaces, so it won't scratch delicate surfaces such as those found in many modern sinks.
You can use this brush and cleaner combo for everyday dishes, pots and pans, stainless steel sinks, and other surfaces. The angled head of the brush makes it easy to get into hard-to-reach places like corners or tight crevices. Plus, with its ergonomically designed handle and non-slip grip, you can be sure that it'll stay firmly in your hand as you scrub away.[1]
Ultra EuroJet Kitchen Spray
If you're looking for a stylish and efficient way to upgrade your kitchen sink, the Ultra EuroJet Kitchen Spray Head offers an innovative solution. This sleek chrome-plated spray head is designed to maximum water pressure while minimizing spl and messes in the sink perfect for washing dishes rinsing fruits and vegetables. The spray head's four adjustable settings provide a range of water pressure and spray pattern options, so you can choose just the right setting for whatever task you're doing.
Plus, installation is incredibly easy – all you need to do is unscrew your existing kitchen faucet head and attach the Ultra EuroJet in its place. With no plumber required, you can give your sink a complete upgrade in just minutes![1]
Sink Basket Strainer
A sink basket strainer is an essential tool for any kitchen. They are designed to fit into the drain of a standard kitchen sink and can be used to strain food particles before sending them down the drain. This helps prevent clogs and other plumbing problems.
Sink basket strainers come in different shapes, sizes, materials and colors. Stainless steel models are the most common, but you can also find brass, copper, and plastic versions. Many have a design that allows them to nest inside one another neatly when not in use.
When purchasing a sink basket strainer, make sure it fits your drain correctly. Measure both the diameter of the hole in your sink, as well as the height of the rim. Buying a strainer that's too big or too small can cause it to leak and be ineffective.[1]
Bamboo Kitchen Compost Bin
A Bamboo Kitchen Compost Bin is a great way to keep your kitchen clean and tidy while also helping the environment. Not only does this bin offer an aesthetically pleasing look, it also helps you reduce waste by collecting all of the organic materials that can be used for composting. With its sleek design, this accessory provides a modern touch to any kitchen.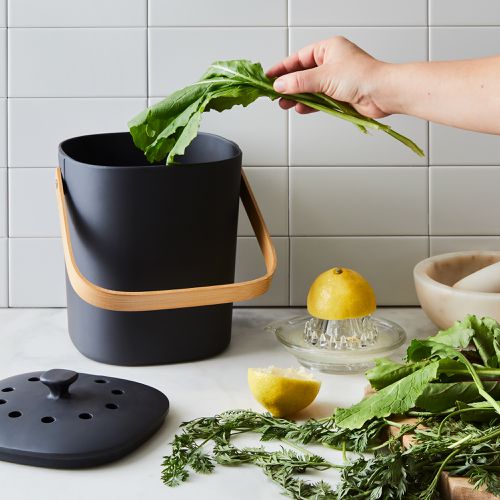 It is important to note that the Bamboo Kitchen Compost Bin requires regular cleaning and maintenance in order to work properly. It should be emptied every few days, and damp cloths can be used for cleaning it out. Additionally, you may wish to purchase a bamboo compost bin with an activated charcoal filter which helps eliminate odors.[1]
Umbra Sling Flexible Sponge Holder
The Umbra Sling Flexible Sponge Holder is a great kitchen sink accessory for those with limited counter space, as it hangs nicely from your faucet and takes up minimal space. It's designed to fit snugly onto all standard-sized kitchen sink faucets, so you'll have easy access to sponges whenever you need them. Plus, the flexible material makes it easy to store and transport when you need to clean up in a hurry. The Umbra Sling Flexible Sponge Holder is made of durable plastic that won't rust or corrode over time, so you can be sure your sponge will last longer than ever. With its unique design and low profile, this is a great addition to any kitchen sink.[1]
FAQ
How can I make my kitchen sink look better?
One of the best ways to make your kitchen sink look better is to add some accessories. There are many different options when it comes to kitchen sink accessories, so you have plenty of choices. Some ideas include adding a draining board, a soap dispenser, a storage caddy, or a roll holder. All of these items can help give your kitchen sink an updated, modern look.
What should I put in my kitchen sink?
In addition to regular dish soap, it's a good idea to have at least one other item in your kitchen sink. This could be a sponge holder, a scrubbing brush, or even an air-drying rack for dishes. Having these items handy will make cleaning up after meals much easier and more efficient.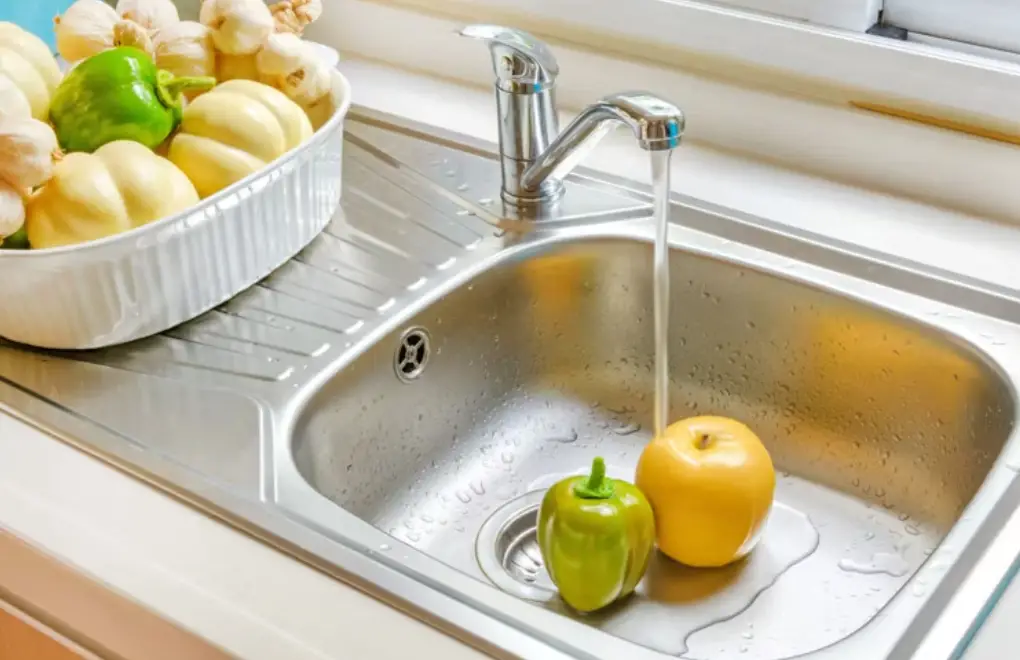 Additionally, you can find many different kinds of sink accessories that can make your kitchen sink look more stylish.
What is the extra thing on a kitchen sink for?
The extra thing on a kitchen sink is usually for storage. You can use it to keep items like dish sponges and scrubbers, as well as other cleaning supplies. If you're looking for an even more clever way to utilize the space, consider adding a couple of hooks to hang your dish towels or pot holders.
What are the things on the sink called?
Accessories that are added to a kitchen sink are generally referred to as sink caddies or trays. They can come in many different sizes and shapes, depending on what you need for your particular kitchen.
What are 5 objects that sink?
Coins
Rocks
Keys
Paperclips
Marbles
What are sink clips called?
Sink clips are also known as sink straps or sink brackets. They are used to secure the sink to the countertop and help prevent it from sliding around. Sink clips can be purchased in a variety of sizes and shapes, depending on the size of your kitchen sink.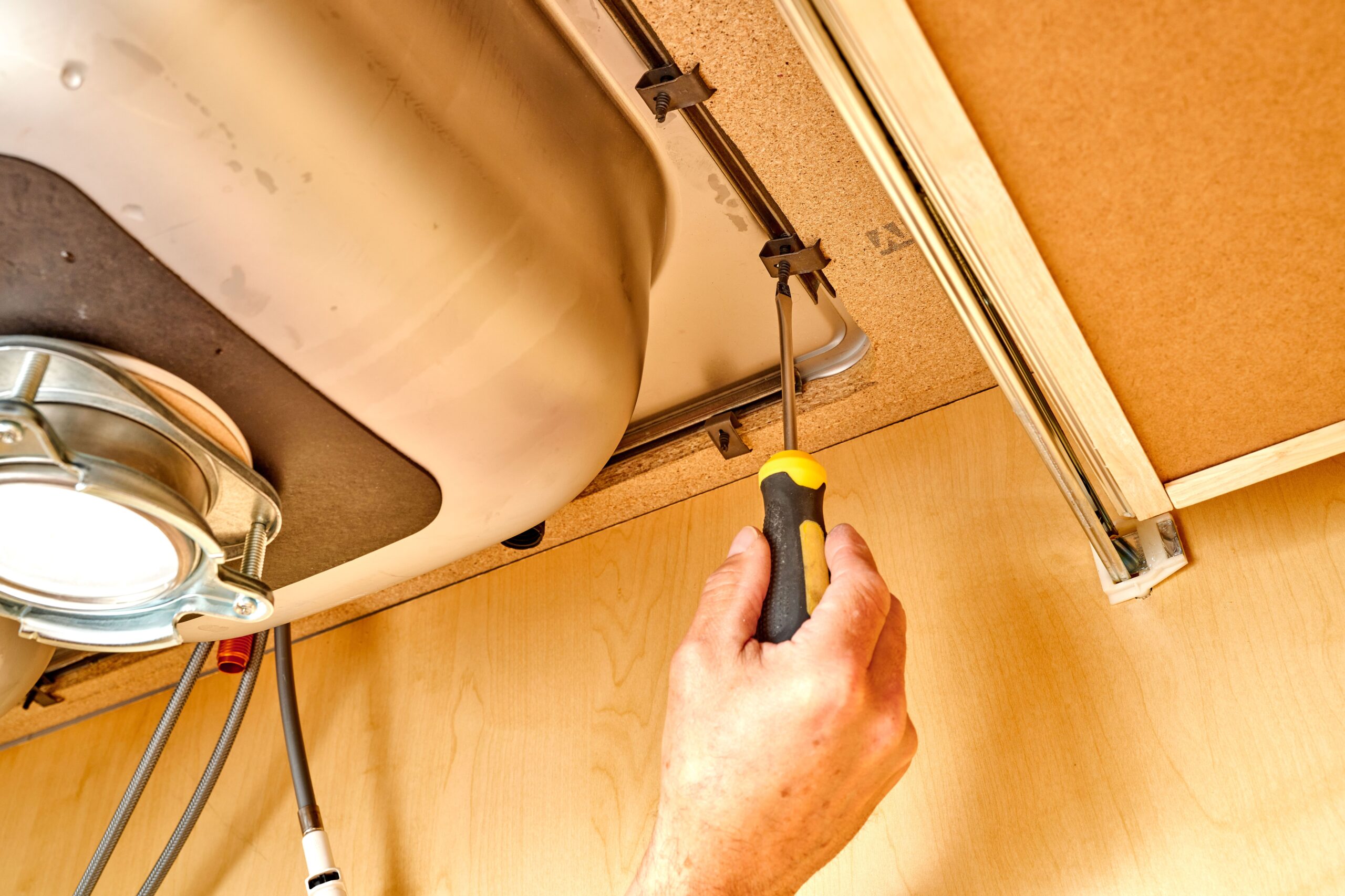 What is a sink flange?
A sink flange is the piece of metal that connects a kitchen sink to the drain pipe. It is used to provide a secure, watertight seal between the two components. A sink flange also helps to support the weight of your kitchen sink and ensure its stability.
What is a sink guard?
A sink guard is a type of accessory that fits around the perimeter of your kitchen sink. It helps to protect the surface from scratches, chips and other damage. Sink guards come in a variety of materials, such as silicone, rubber, and metal. They are also available in different sizes to fit any size kitchen sink.
What is a sink mount?
A sink mount is a device used to attach the kitchen sink to the countertop. It typically consists of screws, nuts, and bolts that hold the sink securely in place. Sink mounts come in several sizes depending on the size of your kitchen sink and countertop.
Useful Video: 5 Best Kitchen Accessories for your Kitchen Sink
Conclusion
No matter what your budget or style, by making sure that you understand the different types of kitchen sink accessories available and how they fit together, you can easily find ideas that will help to make your kitchen a much more pleasant place to be. From pull-out sprayers to soap dispensers and everything in between, there is something for everyone. Take the time to think about what you need, and consider talking to a professional kitchen designer if you're unsure of which products will make the most sense for your space. With a little bit of research, you can make sure that your kitchen sink is as well-equipped and efficient as possible.
We hope this article has been helpful in explaining some key points about kitchen sink accessories ideas, and has given you some useful advice to consider when updating your kitchen. With the right mix of products, you can create a space that looks great and functions perfectly. Good luck!
Happy remodeling!
---
References
https://smallkitchenguide.com/kitchen-sink-accessories/
https://www.thekitchn.com/best-things-for-our-kitchen-sinks-23159113