Are you looking for a way to update your kitchen with modern and stylish dark floors? Dark kitchen flooring is an increasingly popular option, and it can add a touch of sophistication to any space. Whether you're after sleek black tiles or deep wood panels, there are plenty of options available that will make your kitchen look great. In this article, we'll provide you with everything you need to know about dark kitchen floor ideas and help you find the right style for your home. Read on to learn more!
Green Victorian Tile
One of the most unique dark kitchen floor ideas is to incorporate green Victorian tile. This classic tile design has been around for centuries, but it's still entirely relevant today.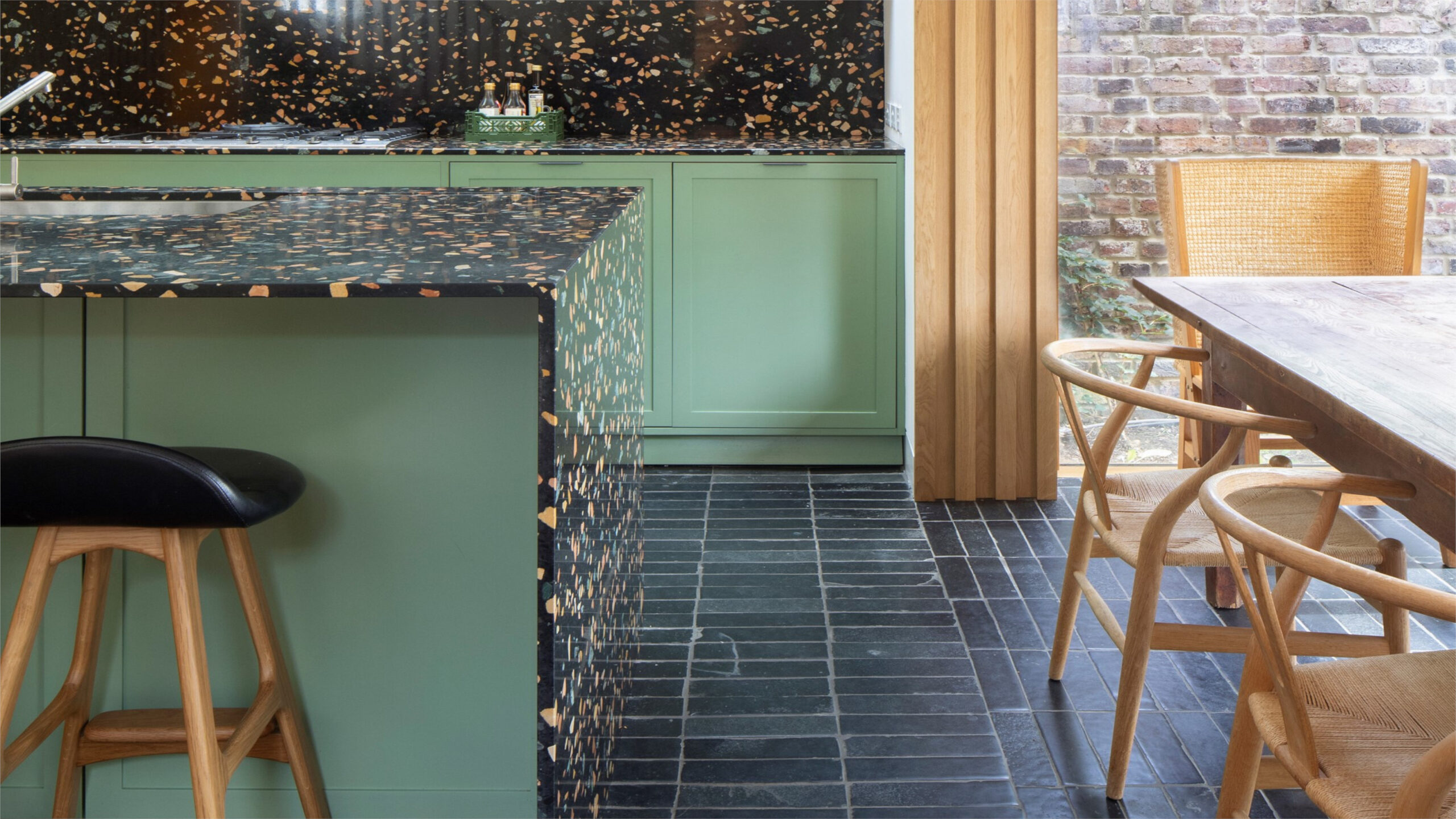 Green Victorian tiles are typically made from ceramic or porcelain, and they come in a variety of shapes and sizes. The vibrant emerald green color will add a pop of color to your kitchen and completely transform the atmosphere. Plus, it's super easy to clean and maintain.[1]
Oak Wood
Oak is a very popular choice when it comes to dark kitchen floor ideas. It has natural grains and knots, which give an attractive and traditional look. It is also extremely durable and can handle heavy foot traffic, making it a flooring material for a busy kitchen. It can be finished in a variety of colors, from light brown to dark brown, giving you plenty of choices when it comes to matching it with your kitchen's style. Oak can also be oiled or waxed for a glossy finish that is sure to earn plenty of compliments from visitors![1]
Deep Purple Tile
Deep purple tile is a great choice for dark kitchen floor ideas. It has a rich, vibrant hue that can make your kitchen look luxurious and modern. Not only does deep purple tile give your kitchen an air of sophistication, it also provides a practical solution to keeping the floors clean. The color is not prone to staining or dirt build-up, making it easy to maintain. Plus, deep purple tile is resistant to scratches and fading, so your floor will look great for years to come.
Marled Gray
If you're looking for a sleek, modern look in your kitchen, marled gray is an excellent choice. This dark flooring option has a contemporary vibe that can easily be dressed up to fit any design style.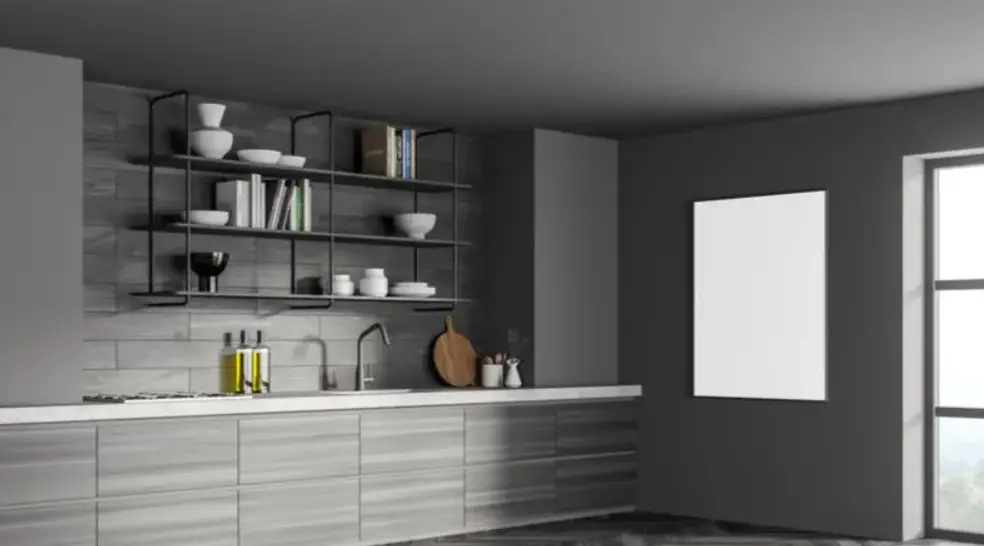 Marled gray will contrast beautifully with white counters and cabinets, giving your kitchen an instantly chic feel. It also pairs well with bold pops of color, like bright green appliances or blue tile backsplash. The neutral gray tone will keep your kitchen looking timeless and sophisticated.
When installing marled gray flooring in your kitchen, it's important to make sure you use a sealant to protect the tiles from water damage and staining. This type of flooring is relatively easy to take care of, but will still require regular cleaning and maintenance in order to keep it looking great.[1]
Black Wood
Black wood floors can be a great option for creating a bold and dramatic feel in the kitchen. They often require less maintenance than other flooring options, and they are very easy to clean. To make sure your black wood floor looks its best, it's important to seal it regularly with a good-quality sealant that repels dirt and moisture. You can also add a few rugs in bright colors or patterns to break up the darkness of the floor and create a warm and inviting atmosphere. Be sure to use soft materials on the rugs, as they are less likely to damage the finish on the wood.
Finally, adding lighting is always a great way to make any room feel brighter and more inviting. With the right touches, a black wood floor can create an elegant and sophisticated look in your kitchen.[2]
Blue Marble
Blue marble is a classic dark kitchen floor choice that never goes out of style. The deep, natural blue tones are gorgeous and can be used with a variety of other colors to create an eye-catching design. The texture and feel of this material adds richness and depth to any room, while the non-slip surface makes it safe for your family and guests.
Blue marble is a great option for those who want the look of natural stone without the expense and maintenance associated with it. You can pair blue marble with wood or bolder colors to create an interesting visual contrast that will draw attention to the flooring in your kitchen. Plus, this type of material is highly durable and easy to clean, making it a great choice for busy households.[2]
Black Subway Tiles
Black subway tiles are a classic option for dark kitchen floors. They not only look great but they're also economical and easy to install.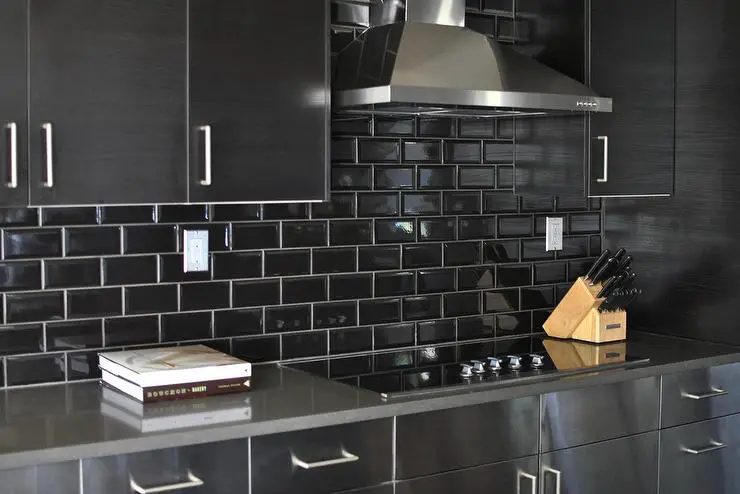 Plus, you can choose from different size and finish options to create the perfect look for your kitchen.
If you're looking for an elegant, timeless look that will never go out of style, black subway tiles are a great option.[2]
Navy Victorian Tile
Navy Victorian Tile is a stylish, classic look for dark kitchen floors. It has an interesting blue tone that adds color to your overall décor. The tile can be laid in a variety of patterns, making it easy to customize the look of your kitchen floor. Additionally, Navy Victorian Tile is very durable and won't show wear and tear like some other kitchen flooring materials. It's also easy to clean, which makes it a great choice for busy kitchens.[2]
Gray Marble
If you are looking for a classic look in your dark kitchen, then gray marble flooring could be the perfect choice. It adds a timeless feel to any space and can work well with all types of décor and colors. If you want something that will stand out from the crowd and make your kitchen stand out, then gray marble is the way to go. It's also incredibly durable and easy to maintain. For an extra touch of luxury, consider adding some veining or other patterned elements to your flooring for a more dramatic effect.[1]
Greenish-Blue Terrazzo
If you're looking for a unique yet stylish flooring option, try adding some greenish-blue pigment to your terrazzo. Terrazzo looks like a combination of marble, granite and quartz that is held together with cement. With the right amount of pigmentation, it can create an eye-catching splash of color in your kitchen. It is also a very durable and low-maintenance material, so it's perfect for busy households.[2]
Red and Orange Terrazzo
If you are looking for a bold and stylish choice for your dark kitchen floor, then red and orange terrazzo floors might be the perfect option.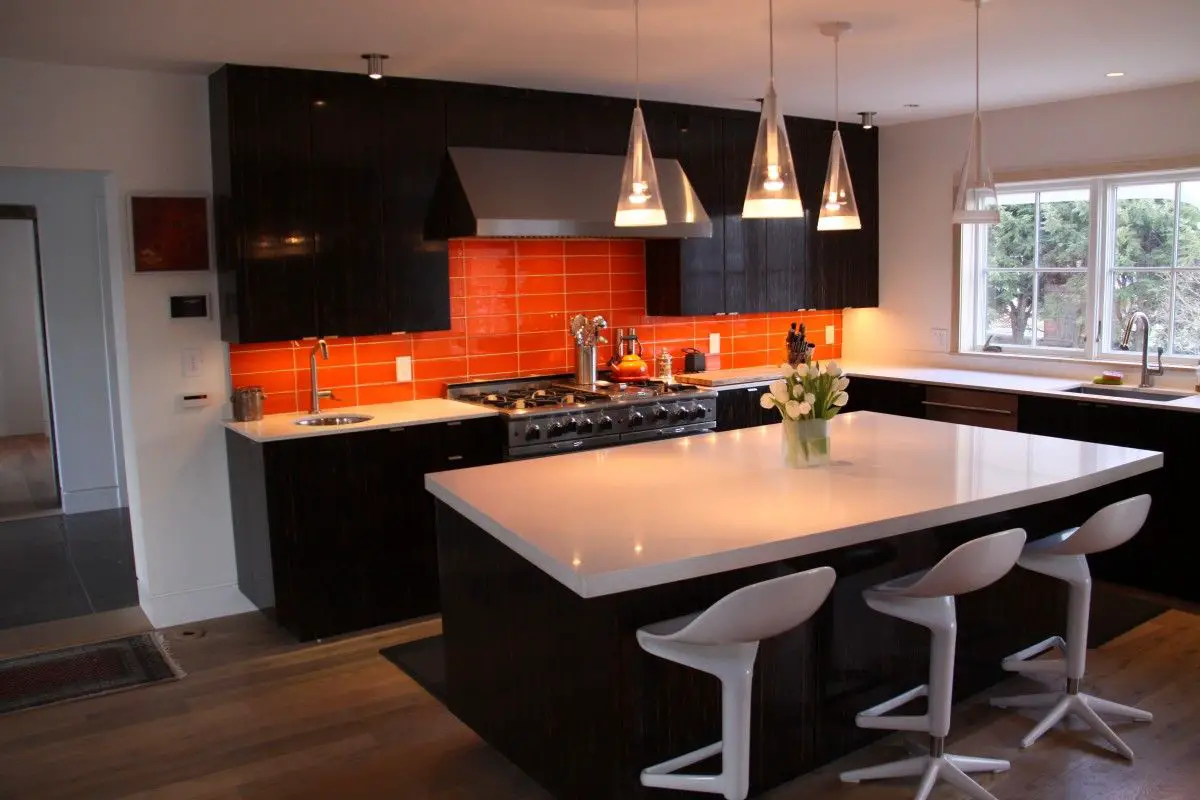 Terrazzo is made from small pieces of marble, granite or other stone that have been bound together with cement. It can be extremely durable, as well as beautiful when installed correctly.
Red and orange terrazzo floors offer up eye-catching pops of color, especially when the dark cabinets and counters in the kitchen are a neutral hue.
Plus, they can be easily maintained with regular cleaning and sealing to make sure that they look their best for years to come.[1]
Black and White Pattern
If you're looking for an eye-catching look in your kitchen, black and white checkered flooring is a great option. This timeless classic can give your kitchen a vintage feel while also providing a modern touch. The contrast of the light and dark patterns will instantly draw attention and create an interesting visual effect. Plus, with its striking pattern and bold colors, it can easily be paired with just about any style of furniture or appliances you might have.
A black and white checkered floor is also easy to care for and maintain. The materials that make up the checkers are durable and resistant to wear, so your floor will stay looking fresh no matter how much traffic it receives. It also pairs well with any type of kitchen appliances, so you won't have to worry about changing them out if your flooring style changes in the future.[1]
Black Terrazzo
Black terrazzo kitchen floor is a classic and timeless design that can bring an elegant, modern look to any home. The key to making this style work is to use high-quality materials for the base. You must also be careful about where you place your black terrazzo tiles as they require frequent maintenance due to their porous nature.
When it comes to styling your new dark kitchen floor, there are a few tips you should consider.
First and foremost, use a black-based grout for the best look. This will help keep the floor looking clean and authentic without detracting from its natural beauty. You may also want to consider adding a glossy topcoat to the terrazzo tiles for an extra bit of shine and protection.
Finally, think about adding a few accents like white or cream-colored rug pieces or decorative elements that contrast well with the dark flooring. This will help add some dimension and bring out the beauty of your new terrazzo kitchen floor without looking too busy.[1]
Earthy Brown
When it comes to dark kitchen floor ideas, consider introducing some earthy brown tones to the room. The warm tones of this color scheme will make your home feel more inviting and cozy. For example, you could opt for a chocolate-colored laminate tile that features darker specks throughout.
Green Marble
Green marble might be a great option for your dark kitchen floor. Its elegant and subtle look is sure to make any kitchen stand out from the rest. The shade of green works perfectly with dark kitchen cabinets and can bring a fresh, modern touch to the space. Plus, it's durable and easy to clean – an added bonus!
Be sure to research the right sealer for your specific type of marble before installation. With proper care and maintenance, green marble can give you a beautiful kitchen floor that will last for many years to come.[2]
Contemporary Beauty
Dark kitchen floors are an ideal way to bring a touch of contemporary style into your home. With their sleek, modern look and wide range of colors and finishes, dark kitchen floors can transform the look of any space. From classic black to deep chocolate brown, dark kitchen flooring is both stylish and timeless.[2]
Modern Industrial
One of the most popular dark kitchen floor ideas is to use a modern industrial look. This style uses darker shades of wood and metal, often in combination with concrete or stone elements.
The result is an edgy and contemporary design that is sure to turn heads. When using this look, you should consider adding colorful accents such as lighting fixtures and wall art to brighten up the overall feel.
In addition, you can use stainless-steel appliances to give an industrial-chic vibe.[2]
Spacious Floor Plan
If you have a larger kitchen, dark flooring can help to open up the space. Dark floors tend to make walls appear further away than they actually are, so it can make your kitchen feel much more spacious. This effect is especially noticeable in smaller kitchens that don't have a lot of natural light. With dark flooring, the walls seem to recede and the kitchen appears larger than it is.[2]
Functional Connection
When it comes to choosing a dark kitchen floor, consider the overall design and functionality of your space. Dark floors can often pair well with light cabinetry, but can also create an interesting contrast when paired with lighter-toned walls and fixtures.
Additionally, consider which areas need more traction than others. For example, if you have young children or pets, a darker high-traffic area like the kitchen may benefit from a slightly more rough or textured floor to prevent slips and falls.[1]
Great Backsplash Match
Dark kitchen floors can pull a room together, making it look chic and modern. But one of the challenges with dark kitchen floors is finding a backsplash that pairs perfectly with them. To help you out, we've rounded up some great suggestions for matching your dark kitchen flooring with the perfect backsplash.[1]
Wonderful Woodwork
If you love the look of natural wood, you can use dark kitchen floor ideas to create a warm, inviting space with plenty of character. Dark-stained hardwood floors are timeless and bring instant warmth to your kitchen. For extra protection and durability, choose engineered wood with a top layer of hardwood veneer – or opt for laminate flooring, which is more affordable.
Finish off with some rugs to bring texture to the space and add a bit of colour.[1]
Textured and Durable
If you're looking for a dark kitchen floor that is textured and durable, then you might want to consider slate. Slate tiles provide an earthy look and feel to your kitchen while also providing a high level of durability.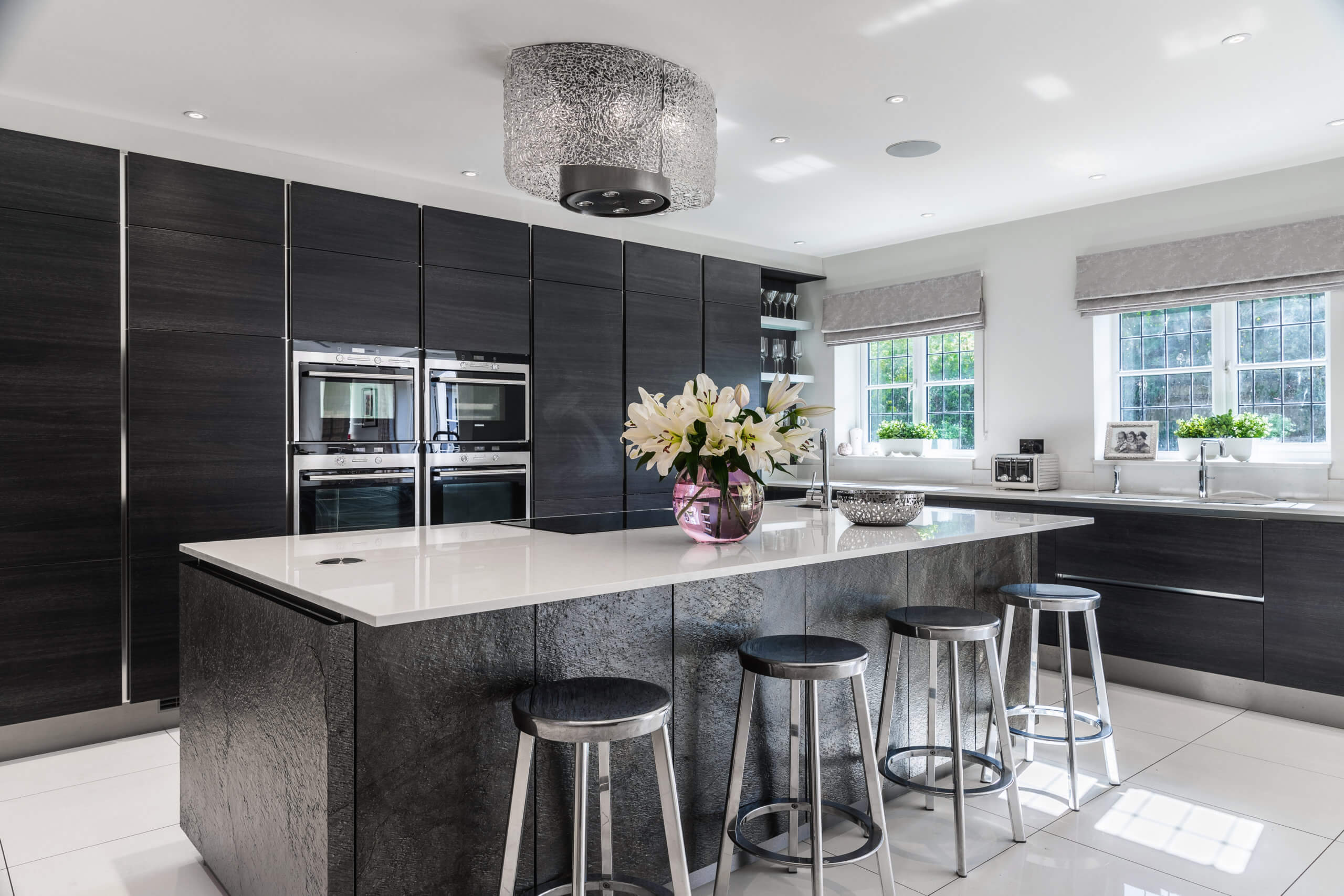 Not only does it have a long lifespan, but it's also resistant to scratches and spills, making it ideal for a busy kitchen. Its unique texture also adds an interesting aesthetic to your space.[1]
Classy Design
When it comes to dark kitchen floor ideas, there are plenty of options available for an elegant and sophisticated look. A popular choice is tile, as it can be used in a variety of colors and textures to create beautiful designs. Consider using slate tiles or other earth tones for a more classic, timeless look that won't go out of style.
You could also use marble or travertine for a more modern feel. These types of stones can be used in both large and small areas, so no matter the size of your kitchen you should be able to find an option that works for you.
If tiling isn't your thing, hardwood floors are also a great option for dark kitchen floor ideas. Dark hardwood floors can create a warm and inviting atmosphere, while light-colored woods can give off a much brighter, airier vibe. Just make sure to use sealed wood that has been designed specifically for kitchens; this will ensure your floor lasts longer and doesn't show signs of wear.[1]
Beautiful Contrasts
Using dark kitchen floors can create a stunning, contemporary look for your home. This trend has become increasingly popular in recent years and is sure to give any room an edgy, modern touch. Dark or black kitchen floors can be incredibly versatile when paired with other elements of the home's décor, making them an ideal choice for homeowners who want to achieve a bold yet timeless look.
Dark kitchen floors can be used to create stunning contrasts with lighter-hued cabinets, countertops, and walls. A unique combination of white, light gray, or cream kitchen cabinets and dark flooring will add drama and sophistication to any kitchen space. The contrast between the two colors will give your kitchen an eye-catching, modern look.[1]
Bright and Lively
Are you looking for some dark kitchen floor ideas? The good news is that there are plenty of ways to add color and texture to your kitchen without losing the traditional feel of a classic black or brown floor. Here's a look at some great options!
Choose a Bold Color: A bold colored floor can be a great way to add energy and life to your kitchen. Consider colors like deep reds, blues, or greens for a statement that won't go unnoticed.
Go For Pattern: Patterns are always an eye-catching choice in the kitchen because they create visual interest without being overpowering. Try using patterned tiles or a checkerboard effect to create your own unique design.
Add Some Sparkle: If you want something a bit more glam, metallic tiles are a great way to add some sparkle and shine to your kitchen floor. Whether you choose gold, silver, or copper tones, these shimmering designs have an elegant look that will definitely draw the eye.
Add Contrast: If you'd prefer to keep things more classic, try using a dark floor that contrasts with lighter cabinetry or countertops. Use lighter shades of wood or tile to add dimension and interest without feeling too overwhelming in your kitchen space.[1]
Complete Match
If you're looking for a full-match between your kitchen décor and flooring, then dark kitchen floor ideas can be the perfect solution. Dark floors bring sophistication and elegance to the room, creating an inviting ambience that will impress your guests. However, with so many dark flooring options available, it can be tricky to find the best one for your kitchen.
Fortunately, we've compiled some of the most popular dark kitchen floor ideas and tips to help you get the perfect look. Read on to find out more![2]
Asian Mindset
Dark kitchen floor ideas come from many different cultures and places, but one of the most interesting is Asian culture. In Asia, dark floors are often seen as a sign of sophistication and wealth. This can be seen in traditional Japanese homes where dark woods are often used to create a feeling of elegance. Dark floors also represent power and authority, which is why they are often used in public buildings such as temples and palaces.
In some Asian cultures, particularly China, dark floors also have a spiritual meaning. They represent the mystery of the universe and the importance of balance between Yin and Yang. This can help to create a sense of order in a space that has many different elements.[2]
FAQ
What kind of flooring to use in a dark kitchen?
The best flooring for a dark kitchen is one that complements the overall theme and allows light to reflect off of it. Consider using black tiles, natural stone, or hardwood in colors like walnut or ebony to create a warmth and depth. Alternatively, if you want something more contemporary, then engineered wood planks or luxury vinyl planks are great options.
Are dark kitchen floors in style?
Dark kitchen floors are definitely in style and have been for some time. This type of flooring can create an inviting, cozy atmosphere that is perfect for entertaining or just enjoying a leisurely evening at home. Additionally, they're incredibly practical since darker colors tend to hide dirt and grime better than lighter shades.
How can I brighten my kitchen with dark floors?
If you want to brighten up a dark kitchen with floors, start by painting the walls in a light color. You can also add some accent colors throughout the space with furniture, accessories, and art.
Adding reflective surfaces like tile or glass backsplashes can help reflect natural light and create an airy atmosphere. Finally, consider adding additional lighting such as pendant lights, recessed lighting, or under-cabinet lights to make the space feel brighter.
What color scheme goes with dark floors in the kitchen?
Dark floors can work with a variety of color schemes, however contrasting colors often create the most stunning look. Try pairing dark kitchen floors with bright white walls or light gray walls for a classic and timeless look. Alternatively, you could also add some drama to the space by introducing deep blues, greens, or purples to contrast against the dark floor.
What colors look good on dark floors?
Light colors such as whites, creams, and pastels work beautifully on dark floors. You could also introduce some bolder colors to make a statement, like navy blues or jewel tones. Be sure to choose colors that will reflect natural light and create an airy atmosphere in the kitchen.
What colors go best with dark floors?
The best colors to pair with dark floors are ones that will contrast against them and create a stunning visual. Try incorporating shades of whites, grays, and beiges for a timeless look.
Alternatively, you can also introduce brighter colors such as yellows, pinks, greens, or blues to add a bit of drama to the space.
Useful Video: Kitchen Design Ideas With Dark Floors
Conclusion
When it comes to dark kitchen floor ideas, there is no one-size-fits-all solution. The best choice for you will depend on your personal style, budget and needs. Wood floors bring a classic look that can be dressed up or down depending on the rest of the design elements in your kitchen. Vinyl and laminate are affordable, low-maintenance options that allow for a variety of designs. Tile and stone are also popular choices if you're looking for something more unique or you want to add texture to your kitchen.
Finally, consider painting your floor if you want an inexpensive way to update the look of your kitchen with color and patterns. No matter what type of dark kitchen floor you choose, make sure it is properly installed and sealed for long-term durability. With the right care, your dark kitchen floor will look beautiful for many years to come!
We hope this guide has helped you learn more about dark kitchen floor ideas and gain the confidence to choose one that suits your needs and style. Ready to get started? Check out our selection of dark kitchen flooring and start making your dream kitchen a reality! Thanks for reading!
---
References
https://rethority.com/dark-kitchen-flooring-ideas/
https://www.homeawakening.com/kitchen-with-dark-floor-ideas/