Summertime is the perfect time to get outdoors and enjoy the beautiful weather. If you're looking for ways to entertain guests outdoors, consider creating an outdoor kitchen to upgrade your outdoor entertaining experience. With a little extra effort and planning, it is possible to design and build an outdoor cooking area to provide delicious meals and an enjoyable ambiance for guests.
It can be a fun DIY project that doesn't require a lot of money or expertise. This article will share some of the best ideas for building an outdoor kitchen on a budget.
Why do you need an Outdoor Kitchen?
The owners of private houses or summer houses are increasingly paying attention to the arrangement of a summer kitchen in their territory. This year the outdoor kitchen trend is becoming even more popular as people look for ways to entertain outdoors while keeping within budget.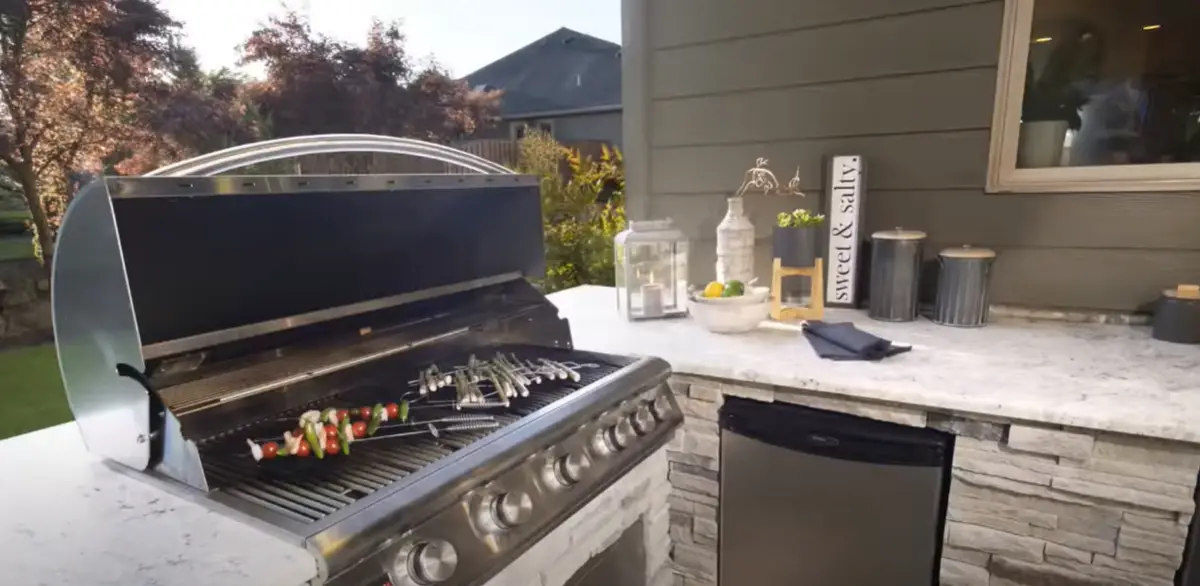 An outdoor kitchen gives you access to your cooking and dining space, eliminating the need to go indoors. Not only that, but it adds an extra element of fun and entertainment for friends and family gatherings!
Outdoor kitchens allow you to cook differently such as grilling, smoking, and baking. You can also incorporate other accessories like outdoor fireplaces and pizza ovens for added luxury. You don't need any more tiring trips to the kitchen for utensils and ingredients, as all of these can be stored outdoors [1].
What can an Outdoor Kitchen consist of?
An outdoor kitchen is a great way to bring the convenience of indoor cooking and entertaining outdoors. When done right, an outdoor kitchen can be both functional and aesthetically pleasing. But when on a tight budget, it can be difficult to know where to start or what components should go into one's DIY outdoor kitchen design.
Start by deciding how much space you have and how you want your outdoor kitchen to function. To get started with designing your outdoor kitchen, consider the following popular components:
Grill: A grill is the heart of any outdoor kitchen. There are many grills on the market that suit different budgets as well as personal preferences such as charcoal, propane, and electric. Choose one that fits in with your budget and offers the features you need.
Refrigerator: Outdoor refrigerators can be a great addition to any outdoor kitchen, as they are designed to withstand the elements. If you do not want to invest in an outdoor refrigerator, consider an ice chest that is large enough for all your food storage needs.
Sink: An outdoor sink is a great addition for convenience when washing dishes or prepping meals outdoors. Installing one may require some plumbing work, which can add to the cost of the project.
Counters: Counters provide extra preparation space and also help to give your outdoor kitchen a finished look. Consider using durable materials such as concrete or tile that will last even after exposure to extreme weather conditions.
Cabinetry: Adding cabinets to your outdoor kitchen will give you some extra storage space. Choose materials that are water resistant and can withstand any temperature fluctuations so they last longer.
Lighting: Adding lighting to your outdoor kitchen not only enhances the look of your space but also ensures visibility for cooking and entertaining at night. Consider using solar lighting or string lights for a budget-friendly option.
With these components in mind, you can start to plan out the layout of your outdoor kitchen and decide which features are best suited for your DIY project. With some creativity, planning, and hard work, you can build an amazing outdoor kitchen on a budget [2]!
What tools, devices, and materials do you need for an Outdoor Kitchen?
When it comes to setting up an outdoor kitchen, you don't need to spend a fortune. You can easily create an amazing space for entertaining and cooking with a few basic tools and materials. Here are some of the most essential tools and materials you'll need for any outdoor kitchen:
Hammer and nails: You'll need a hammer and nails to build your outdoor kitchen.
Saw: A saw will help you cut the materials for your outdoor kitchen to size.
Plywood: Plywood is great for creating countertops and other surfaces in your outdoor kitchen.
Outdoor paint: Paint can be used to make the finished product look more attractive.
Outdoor lights: Outdoor lighting is important for both safety and ambiance.
Fabric: Outdoor Fabric is great for covering the surfaces in your outdoor kitchen.
Tile: Tile can be used to create a beautiful backsplash and other accents.
How to create an inexpensive outdoor kitchen island by yourself?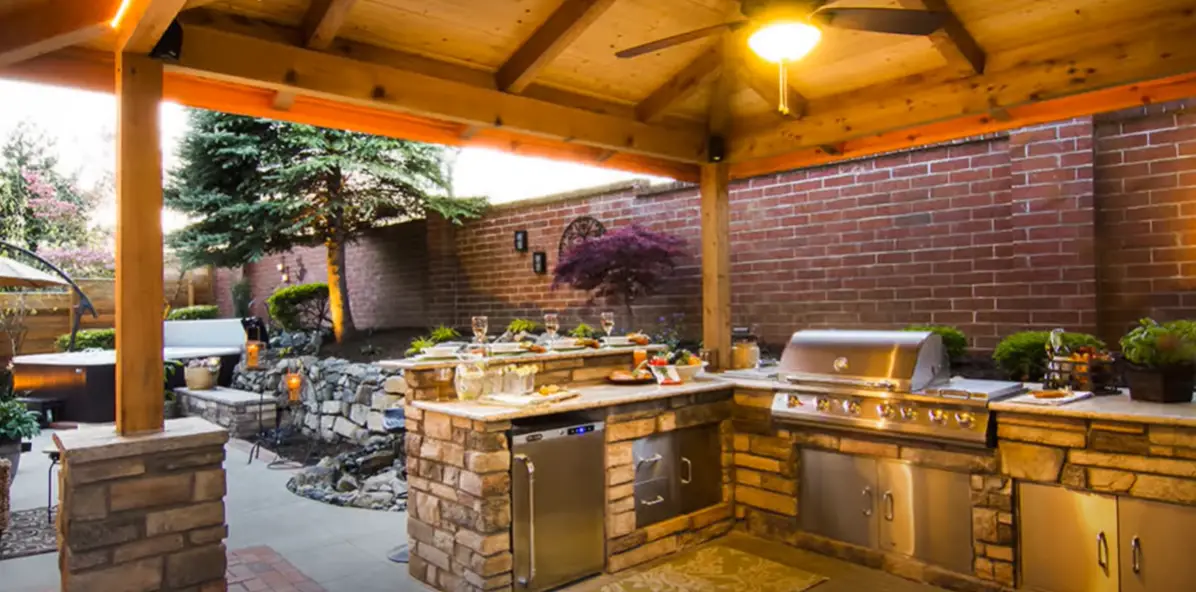 Make a DIY Grill Station
Start by getting a large piece of plywood or MDF board, cutting it into two pieces, and then attaching them together with screws. After that, use concrete blocks or bricks to create the basic structure for the station. You can also opt for cinder blocks if they are available in your area. Once this foundation is laid out, drill holes in it so that you can place the grates and accessories on top of it. Finally, paint the whole thing in any color you like for a more stylish look.
Build Your Own Outdoor Kitchen Countertop
For a more professional look, consider building your kitchen countertop. You can get pre-fabricated countertops from hardware stores, but if you want something unique and custom-made, opt for building one yourself using plywood and other materials. First, measure the space where the countertop will go and draw out your design on paper. Then start assembling it piece by piece with screws until it's complete. Stain it or paint it in whatever color you wish to match the rest of your outdoor kitchen's décor.
Create a Wood Crate Storage Table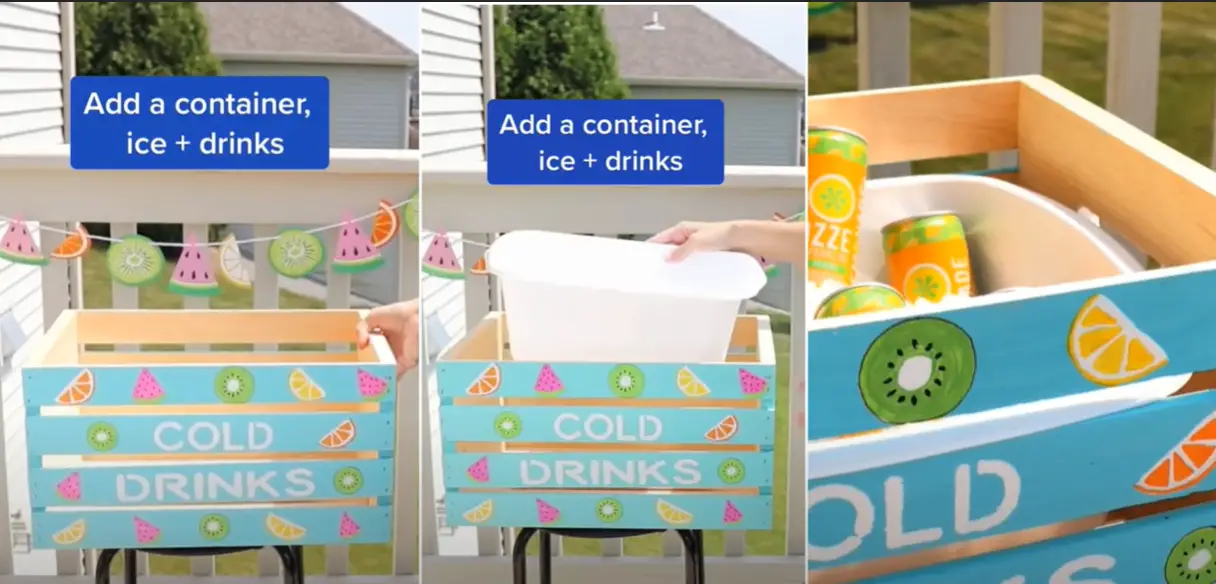 If you want to take your outdoor kitchen to the next level, try creating a wood crate storage table. This one is super easy and inexpensive – all you need is some wooden crates and a few basic tools like a drill and screwdriver. Place the crates in the shape of an L-shape or rectangle on top of each other and then use screws to attach them securely. Finally, apply any type of stain or paint that you'd like for a more finished look.
Add Shelving for Extra Storage
Including shelves in your outdoor kitchen space can provide extra storage without taking up too much room. Opt for building them from scratch using plywood sheets if possible as this is usually cheaper than buying readymade ones from the store. You can then stain or paint them the same color as your countertop for a uniform look. Be sure that these shelves are wide enough to store all your cooking essentials. On average, the shelves should be at least 7,87 inches deep.
Install a Faucet and Sink
This is an optional step but it can make a big difference in the overall look of your outdoor kitchen. Find a sink that perfectly fits the space you have available and then use the necessary plumbing supplies to install it. You can also get a wall-mounted faucet if you don't want to drill into the countertop. Make sure everything is waterproofed properly for added protection against leaks or water damage.
Build a Drop Down Window Bar
If you want to add a unique touch to your outdoor kitchen, try building a drop-down window bar. This is similar to the shelves mentioned previously but it can be much more fun! Start by measuring the space for the bar and then use wood boards to build a rectangular frame with a hinged top that drops down when needed. Once it's complete, attach some hooks or pegs on either side of this frame so that you can hang utensils or other items from them.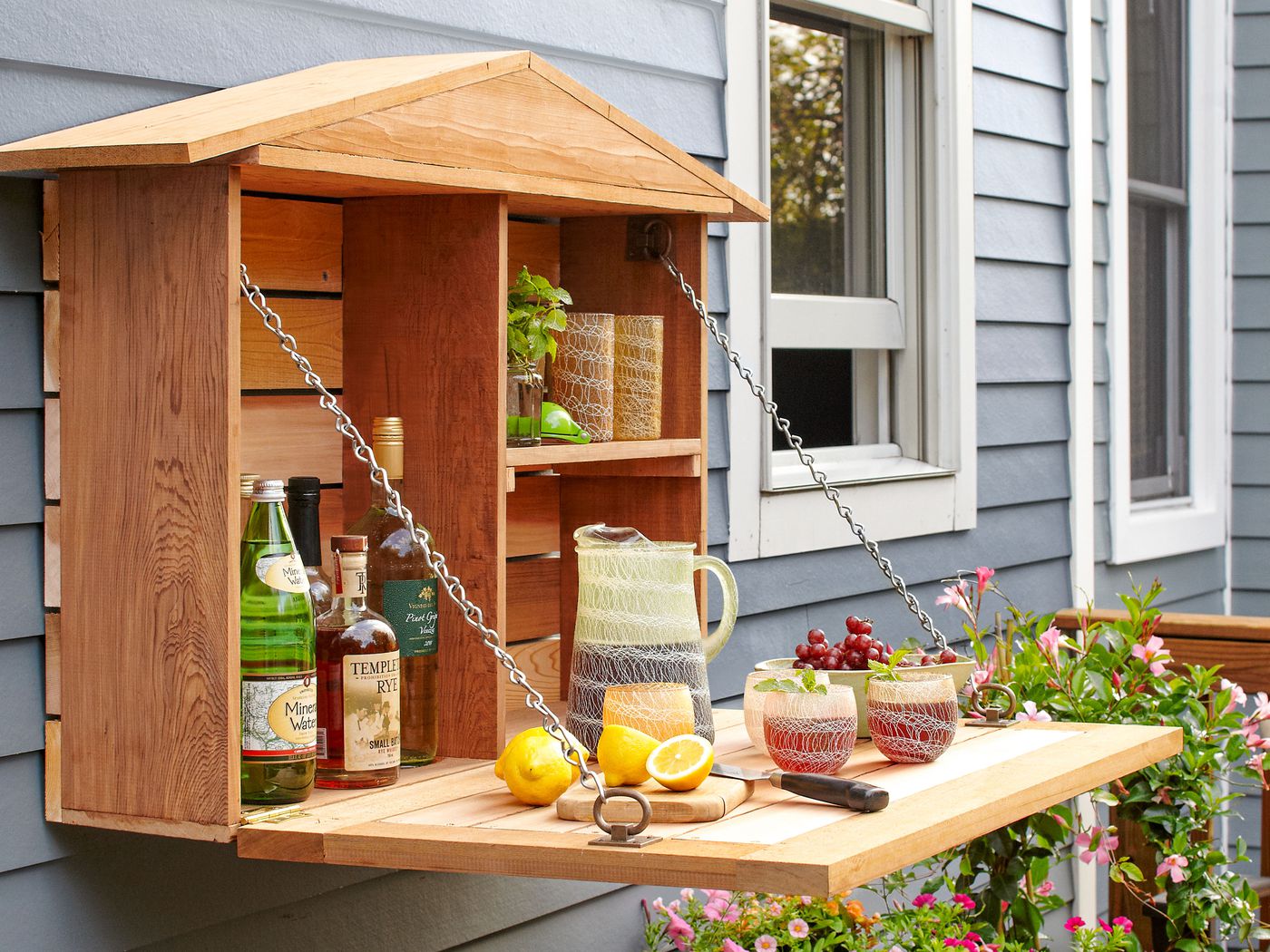 Keep Fresh Herbs Within Reach
You don't need to spend a lot of money on fancy planters or pots – old tin cans work just as well. Just paint them in a color that matches your outdoor kitchen aesthetic and then fill them with the soil and herbs of your choice. Place these along the edges of the countertop or shelves for easy access when cooking.
You can plant different herbs in each can for a unique look. Not only will this add visual appeal to your kitchen, but it will also provide you with fresh herbs whenever needed! Among popular herbs for outdoor kitchens are thyme, oregano, rosemary, sage, and chives.
Brighten Up With Bistro Lights
Finally, add some bistro lights or string lights to your outdoor kitchen area. These can be hung from the ceiling or walls and will instantly brighten up the space. Choose ones with a design, color, or pattern that complements your overall style for the best results.
Build Your Own Fold-Down Dining Table
If you're planning to entertain family and friends in your outdoor kitchen, then a fold-down dining table is a must. This type of table can be made with any materials available like wood or metal and it doesn't have to be too large either – just enough to fit four people comfortably. To save space, opt for one that folds up against the wall when not in use. If you're feeling particularly crafty, try decorating the top with some mosaic tiles or designs for an extra special touch [3]!
Other furniture and seating for the outdoor kitchen
In addition to the primary cooking station, you may also want to include furniture and seating in your outdoor kitchen. Comfortable armchairs and a couple of lounge chairs can be arranged around the central cooking area, encouraging everyone to come together for food and conversation.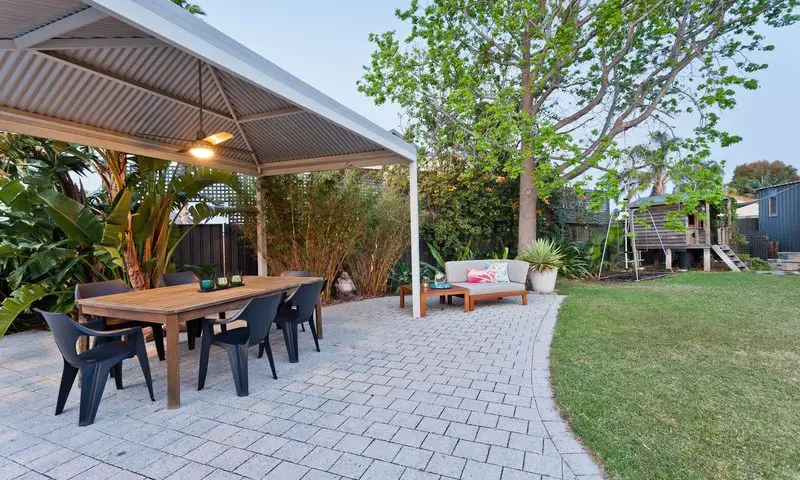 If space allows, a small table or bar top with tall stools can also provide an additional spot for eating and drinking — perfect for enjoying that freshly grilled meal! Furniture pieces made from reclaimed wood or salvaged materials are not only budget-friendly but also add visual interest to the outdoor kitchen setup.
For a cozy touch on chilly nights, consider adding an outdoor fireplace or fire pit near the seating area; it will serve as both a warmth source and a gathering point. Outfitting the outdoor kitchen space with an area rug or some colorful cushions will also make it feel more inviting.
Step-by-step Making an Outdoor Kitchen from Start to Finish
Before you start making an outdoor kitchen, you need to have a plan. Here is a guide on how to create an outdoor kitchen from start to finish without breaking the bank:
Choose Your Space – Think about where you want your outdoor kitchen and decide if it will be in a sheltered area or exposed to the elements. This can help determine what kind of materials you'll need.
Plan Your Layout – Consider all the components that would make up your outdoor kitchens, such as a grill, range top, refrigerator, sink, seating area, and storage space for utensils and dishes. Once you know what you're working with, draw out a rough sketch of your layout so that everything fits and has ample space around it.
Gather Materials – Repurposing existing materials is a great way to keep your costs low. Consider using reclaimed wood or stone tiles, old furniture pieces, and salvaged appliances. Check local second-hand stores and even online forums for bargain finds.
Build Your Kitchen – Start by building the base of your outdoor kitchen before adding any components. This can include constructing a frame out of wood or metal, laying down stones or tiles as the foundation, and setting up plumbing lines (if necessary).
Install Appliances – Once you've built the base of your outdoor kitchen it's time to install all of the components, such as countertops, grills, range tops, sinks, storage units, and refrigerators.
Add the Finishing Touches – After all the components are in place, you can add the finishing touches to your outdoor kitchen by adding plants, flowers, or other decorative elements. You can also consider using lights to create an inviting atmosphere at night [4].
Creating an amazing outdoor kitchen doesn't have to break the bank if you opt for a DIY approach. With some creativity and hard work, you can make your low-budget outdoor kitchen that will be perfect for entertaining friends and family. Just follow these simple steps and you'll be well on your way to creating a space where memories are made!
Some tips for creating outdoor kitchens
Having an outdoor kitchen is a great venue for entertaining family and friends, but setting one up doesn't have to break the bank. With a little creativity and a few low-cost DIY projects, you can transform your backyard into an amazing outdoor kitchen that everyone will love.
One of the most important tips for creating an outdoor kitchen on a budget is to use materials that are easy to come by. Many outdoor kits may cost more than what you're willing to spend, but there are plenty of affordable materials available in home improvement stores and online retailers or even in your own backyard.
When it comes to equipment for your outdoor kitchen, look for second-hand items from flea markets or yard sales. Outdoor grills are particularly easy to find at a discounted price since they take up so much space on store shelves.
Additionally, you could search Craigslist for deals on light fixtures and other appliances that you need for your DIY project.
Finally, when planning the layout of your outdoor kitchen area be sure to consider how much natural shade is available in the area. Adding overhead structures with lattices or umbrellas can provide some cost-effective protection from the hot sun while you cook and entertain.
With a few clever low-budget ideas and some elbow grease, you can create an amazing outdoor kitchen that will make all your backyard gatherings the talk of the town.
Cooking process in an outdoor kitchen
Cooking outside is an entirely different ballgame. You should take into consideration the outdoor elements that could interfere with your cooking such as wind, sun, and rain. The best way to make sure you're able to cook effectively outdoors is by installing a roof or awning over the kitchen area. This will protect the food preparation area from the weather and give you some shelter while you are cooking.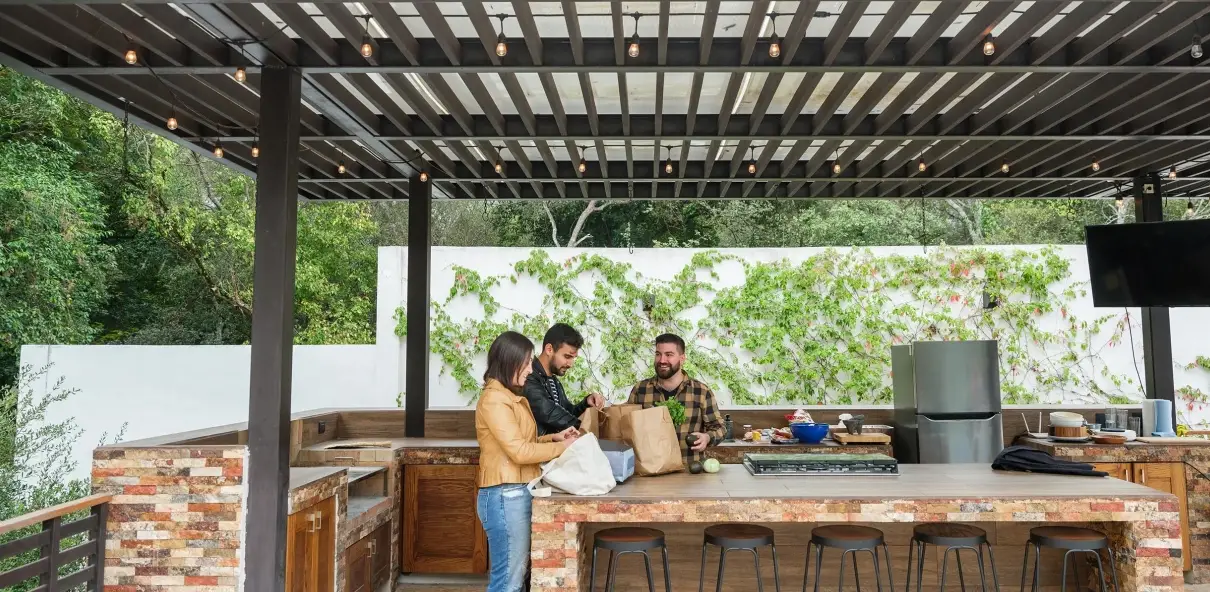 You also need to think about storage space for your kitchen supplies and tools, so it's important to select proper cabinets or shelving units that can stand up against whatever Mother Nature throws at them. If you don't want to invest in permanent fixtures, try using plastic tubs or bins on shelves or hung from hooks on the wall. When it comes to outdoor cooking appliances, you have several options. If you're looking for a low-cost solution, consider using portable propane stoves or grills that can be used on any flat surface. They are great for burgers and hotdogs, but not as suitable for larger meals. For more serious cooking projects, look into natural gas or electric grills with built-in side burners or rotisseries. Finally, if your budget allows it, invest in a wood-fired pizza oven to bring the flavor of your favorite pizzeria right to your backyard!
There are a lot of ideas about what you can cook in the outdoor kitchen. Here are some of them:
Grilled vegetables
Fajitas and burritos
Grilled fish
Roasted potatoes
Pizza and calzones
Gourmet burgers
Shish kebabs
The ingredients for these dishes can be stored in an outdoor refrigerator or a cool box. Having an outdoor refrigerator can be very convenient when you want to keep the food fresh and the drinks cold. No matter what kind of food you plan on cooking, it's important to remember that safety is paramount. Proper ventilation and heat shielding are essential for outdoor kitchens so make sure your kitchen is equipped with these features before you get started.
With the right outdoor kitchen set-up, you'll have everything you need to make delicious meals for your family and friends. The key is to find the best idea that fits your budget, weather conditions, cooking style, and level of skill. Don't forget to take safety precautions when using any type of open flame or hot surfaces in an outdoor kitchen.
Low Budget DIY Outdoor Kitchen Ideas: Creative Solutions
Creating an outdoor kitchen on a budget requires ingenuity and resourcefulness. To help you craft a cost-effective outdoor cooking space, we've compiled a list of low-budget DIY outdoor kitchen ideas in a table format. Each idea is presented with a brief description, cost estimate, required skills, and key benefits.
| Idea | Description | Cost Estimate | Required Skills | Key Benefits |
| --- | --- | --- | --- | --- |
| 1. Portable Grill Station | Repurpose an old cart or table to create a movable grill station with storage for utensils and supplies. | Low | Basic carpentry, grill assembly | Flexibility and easy relocation. |
| 2. Cinder Block Barbecue | Build a simple barbecue using cinder blocks as the base and a grill grate on top. | Low | Stacking and leveling cinder blocks | Affordable and sturdy cooking surface. |
| 3. Pallet Outdoor Bar | Transform wooden pallets into a rustic outdoor bar counter for food prep and serving. | Low | Basic carpentry, pallet disassembly | Recycled materials and charming aesthetics. |
| 4. DIY Fire Pit Grill | Construct a fire pit with a grill grate for cooking over an open flame. | Low to Moderate | Fire pit construction, grill assembly | Multi-purpose for grilling and ambiance. |
| 5. Plywood Prep Table | Build a foldable plywood table for food preparation and storage, ideal for small spaces. | Low | Basic carpentry, hinge installation | Space-saving and budget-friendly. |
Explanation of the Table:
Idea: Describes each low-budget DIY outdoor kitchen idea.
Description: Provides a brief overview of the idea and its functionality.
Cost Estimate: Offers a rough estimate of the cost associated with each idea, categorized as "Low" for budget-friendly projects.
Required Skills: Specifies the skills or tasks needed to complete each project.
Key Benefits: Highlights the advantages of each idea, such as cost-effectiveness or versatility.
These creative and cost-effective outdoor kitchen ideas can help you make the most of your outdoor space without breaking the bank. Consider your available budget, skills, and preferences to select the idea that suits your needs best.
FAQ
How do I build an inexpensive outdoor kitchen?
Building an inexpensive outdoor kitchen is easier than you might think. There are many cost-effective options to choose from, depending on your budget and needs. You can build a simple freestanding grill station with a worktop, or opt for something more elaborate with built-in appliances like a refrigerator and sink. Investing in weatherproof materials such as stainless steel and composite decking can help make your outdoor kitchen last longer. For those looking for even more affordable solutions, consider building furniture from reclaimed wood or repurposing existing furniture items into outdoor kitchen pieces. With the right planning and DIY know-how, creating an amazing outdoor kitchen on a budget is totally possible!
What materials should I use to build my outdoor kitchen?
The materials you use for your outdoor kitchen will depend on the design and size of the space. Weatherproof materials such as stainless steel, ceramic tiles, and composite decking are good choices for a long-lasting outdoor kitchen. For more cost-effective solutions, consider using reclaimed wood or repurposed furniture pieces to build custom pieces for your outdoor kitchen.
What appliances should I include in my outdoor kitchen?
The appliances you choose for your outdoor kitchen will depend on how much space and money you have available. If you're looking to keep costs down, then stick to basics like a freestanding grill, countertop burners, and an ice chest or refrigerator. If you have more room and resources available then consider investing in built-in appliances such as a sink, refrigerator, dishwasher, and storage cabinets.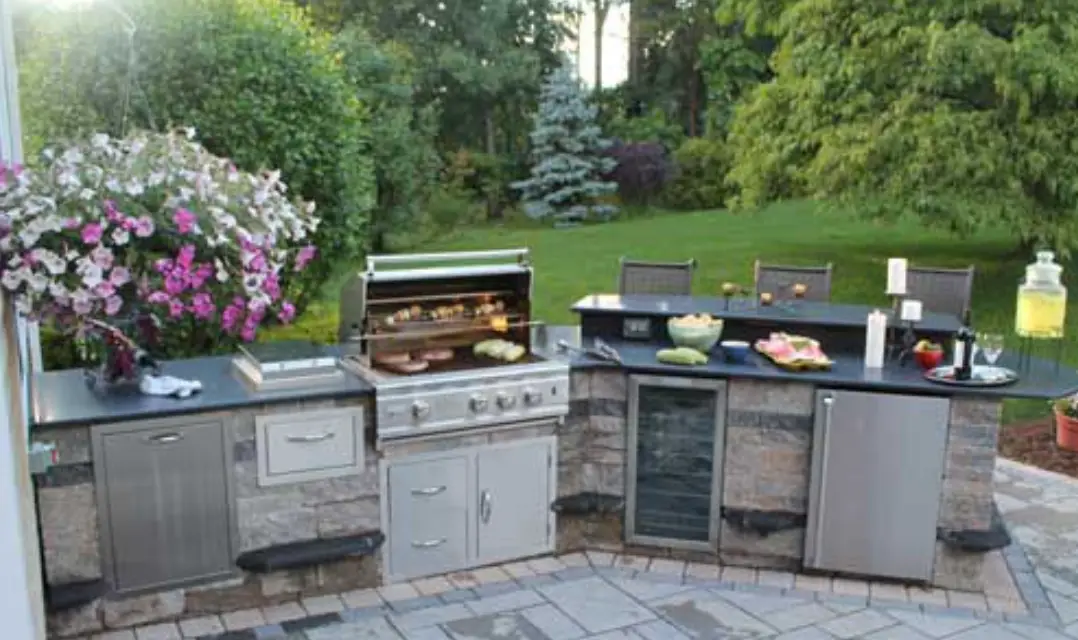 What are some tips for creating an outdoor kitchen?
Creating an amazing outdoor kitchen doesn't have to break the bank. Here are some tips for creating your perfect outdoor oasis on a budget:
Choose weatherproof materials that will last longer in outdoors;
Make use of existing furniture or repurpose items you already own;
Invest in double-duty appliances that can be used indoors and out;
Utilize natural light when possible to save energy costs; – Incorporate functional elements like a herb garden or bar top station;
Keep it simple by sticking to a single material or color palette;
Look for deals on appliances and materials at home improvement stores.
What is a good base for an outdoor kitchen?
The best base for an outdoor kitchen is one that can withstand the elements and provide a solid foundation for your appliances. Concrete or masonry block bases are great for larger pieces such as grills, but lighter materials like wood or recycled pallet boards can be used for smaller items. To keep costs down, consider building a custom platform out of composite decking material instead of investing in pre-made outdoor kitchen islands.
What about garbage cans in the outdoor kitchen?
Garbage cans are essential for an outdoor kitchen, as they provide a convenient place to store food scraps and other waste. However, you don't have to go out and purchase a brand-new trash can for your space. Reuse an old trash can or look for alternatives like repurposed furniture pieces that can double as storage bins. You can also opt for decorative garbage cans that will blend in with the overall aesthetic of your outdoor kitchen.
What are some creative ideas for my outdoor kitchen?
There are many ways to get creative with your outdoor kitchen design. Consider adding elements like fire pits and pizza ovens, or incorporating natural materials into your space. Investing in multi-functional appliances such as griddles, smokers, and deep fryers can also help to maximize your outdoor kitchen's potential. For a truly unique setup, think outside the box and add interesting accents like string lights, colorful seating cushions, or hanging plants.
Can you build an outdoor kitchen out of wood?
Yes, you can definitely build an outdoor kitchen out of wood. Reclaimed wood is a great option, or you can purchase pressure-treated lumber from your local home improvement store. Be sure to seal the wood with a weatherproof sealant to protect it from moisture and rot. For an added touch of style, consider using decorative pieces like salvaged shutters or copper pans as accents in your outdoor kitchen design.
What are the disadvantages of an outdoor kitchen?
The main disadvantage of an outdoor kitchen is that it can be difficult to keep clean and maintain, due to exposure to the elements. Additionally, they are more susceptible to theft if not properly secured. Lastly, outdoor kitchens require a significant amount of space which may be hard to find in urban areas. Despite these drawbacks, an outdoor kitchen is still an excellent way to entertain guests and enjoy time outdoors with family and friends.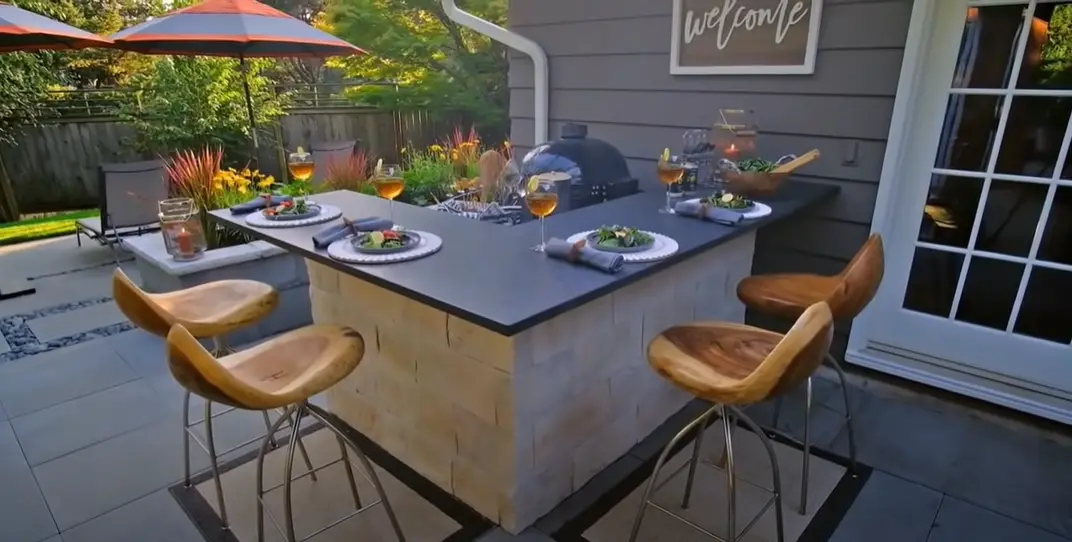 What is the average cost of an outdoor kitchen?
The cost of an outdoor kitchen depends on a variety of factors, such as the size and complexity of your design. Generally speaking, you can expect to spend between 3,000 – 5,000 dollars on average for a basic outdoor kitchen setup. For larger setups with high-end materials and multiple appliances, you may need to budget up to 10,000 dollars or more. Ultimately, the cost will depend on how much you're willing to invest in your outdoor oasis.
How to minimize the costs of an outdoor kitchen?
There are several ways to minimize the costs of an outdoor kitchen. Shopping around for deals on appliances and materials can help you save a significant amount of money. It can also be helpful to use basic materials like pallets or composite decking when constructing your base and use natural elements such as rocks or stones as accents instead of more expensive decorations. Additionally, incorporating pre-made items like grills or pizza ovens into your design can help reduce costs without sacrificing quality. With some creativity and resourcefulness, you can create a stunning outdoor kitchen without breaking the bank.
What does every outdoor kitchen need?
Every outdoor kitchen should have a few basic components, including an area for food preparation, storage space for tools and appliances, and a place to cook. Additionally, it's important to include some form of seating in the space so that your guests can relax while you're cooking. Depending on your budget and needs, you may also want to add items like a sink or refrigerator for added convenience. Lastly, don't forget about lighting – this is important both for safety reasons and to create ambiance in your outdoor kitchen.
Do I require a permit to build an outdoor kitchen?
In most cases, you will need a permit to build an outdoor kitchen. Check with your local building and zoning regulations to determine whether or not a permit is required in your area. Additionally, if you plan on making electrical or plumbing changes for your outdoor kitchen, make sure to also check for any special permits that may be required for these changes to be legal. Once you have all of the necessary paperwork squared away, it's time to get started on creating the outdoor kitchen of your dreams!
What kind of cabinets do you use for an outdoor kitchen?
When choosing cabinets for your outdoor kitchen, you have a few options. If you're looking for a more affordable option, consider using stainless steel or laminate cabinets which can easily be found at most home improvement stores. For a higher-end look, opt for wood cabinets with weather-proof sealant to protect them from moisture and wear and tear. Additionally, you can also find cabinetry specifically designed for outdoor kitchens that are made from durable materials such as PVC or composite decking. No matter what type of cabinet material you choose, make sure it is suitable for the environment in which it will be placed.
Do you need a roof over an outdoor kitchen?
Whether or not you need a roof over your outdoor kitchen depends largely on the climate in which it will be placed. If you live in an area with extreme weather patterns, such as high amounts of sun exposure or frequent rainstorms, then it may be necessary to install a roof over your kitchen. Additionally, if you plan to use fragile appliances like blenders or grills that could be damaged by water or intense heat, it's best to invest in a roof for protection. On the other hand, if you live in an area with milder temperatures and less frequent precipitation, a roof may not be necessary.
How can I create an outdoor kitchen on a tight budget?
You can create an affordable outdoor kitchen with these ideas:
– Repurpose: Use existing furniture, like an old table or storage units, and retrofit them into your outdoor kitchen.
– DIY Countertops: Consider using concrete or plywood as cost-effective countertop materials.
– Affordable Appliances: Look for budget-friendly grill options and consider second-hand appliances.
– Open Shelving: Instead of expensive cabinets, install open shelves for storage.
– Creative Decor: Decorate with inexpensive outdoor rugs, string lights, and potted plants for a welcoming atmosphere.
What are some budget-friendly countertop options for my outdoor kitchen?
Low-cost countertop options for your outdoor kitchen include concrete, plywood with a weather-resistant finish, butcher block, or even repurposed stone slabs. These materials offer durability without breaking the bank.
How can I save money on outdoor kitchen appliances?
To save on appliances, consider buying used or refurbished items. You can also opt for compact or tabletop grills, which are generally more affordable than built-in models. Look for sales and discounts at appliance stores.
What are some creative ways to add storage to my low-budget outdoor kitchen?
You can add storage to your outdoor kitchen by repurposing old cabinets, using open shelving made from affordable materials like reclaimed wood or cinder blocks, and incorporating storage bins or crates for a rustic look.
Are there any cost-effective flooring options for an outdoor kitchen?
Affordable outdoor flooring options include concrete pavers, gravel, outdoor rugs, or even sand. These materials are durable, easy to install, and budget-friendly.
How can I give my low-budget outdoor kitchen a stylish and inviting appearance?
To enhance the aesthetics of your outdoor kitchen without overspending, use creative decor like colorful outdoor cushions, inexpensive outdoor furniture, decorative lighting, and affordable landscaping elements like potted plants and stones.
Useful Video: 75 Outdoor Kitchens (IDEAS for Every BUDGET)
Conclusion
Creating an amazing outdoor kitchen doesn't have to break the bank! With careful planning and resourcefulness, you can create a beautiful and functional outdoor kitchen without spending too much money. By shopping around for deals on appliances and materials, utilizing pre-made items like grills or pizza ovens, and carefully choosing materials such as wood cabinets with weather-proof sealant, you can keep costs to a minimum while still achieving the outdoor kitchen of your dreams. With these tips in mind, you'll be well on your way to entertaining friends and family outdoors all summer long!
---
References
https://www.electrafixbc.ca/articles/outdoor-kitchen.html
https://www.happysprout.com/outdoor-living/how-to-build-a-budget-outdoor-kitchen/
https://www.hgtv.com/outdoors/outdoor-spaces/outdoor-rooms/cheap-outdoor-kitchen-ideas-pictures
https://www.thisoldhouse.com/yards/21016432/how-to-build-an-outdoor-kitchen