Do you feel like your kitchen is a little too bland? Are you looking for a way to brighten it up without spending a lot of money? If so, then you should consider decorating your kitchen windows. There are many different ways that you can do this, and this article will discuss some of the best ideas for decorating a kitchen window. So, whether you want to use curtains, blinds, or just some simple decorations, there is sure to be an idea here that will work for you!
Why Do You Need a Window in The Kitchen?
Windows in the kitchen are essential for providing natural light and ventilation, which can help improve air quality and reduce energy costs. Windows provide a beautiful view of the outdoors and bring the beauty of nature inside. They also offer an opportunity to keep an eye on outdoor activities like children playing or BBQing on the deck.
Lastly, they can serve as an escape plan in case of emergencies like fire or smoke. Having windows in the kitchen is beneficial for both function and aesthetics. It's important to select the right type of window for your kitchen based on its size, style, location, budget, and other factors. Doing so will ensure that you get maximum benefits from having them in your home.
Neglecting to install a window in the kitchen can lead to higher energy costs, lack of ventilation, and poor visibility. As a result, having windows in the kitchen is essential for many households. Not only do they look great but they also provide numerous benefits that make them an excellent investment [1].
8 Kitchen Window Decor Ideas
1. Display Your Succulents
Bring the beauty of nature into your kitchen with a line of succulents in macramé hangers. This look works especially well if you have a deep sill to hang them off and they will offer a touch of green to any room. Succulents are low-maintenance and require minimal care, so they're perfect for busy households.
2. Add Overhead Lighting
If you don't have enough natural light coming in through your windows, consider adding some overhead lighting. This will brighten up the room and make it feel more inviting. Consider installing a chandelier or pendant lights for an elegant touch. Moreover, you can also position the lights near the windows to create a beautiful light display.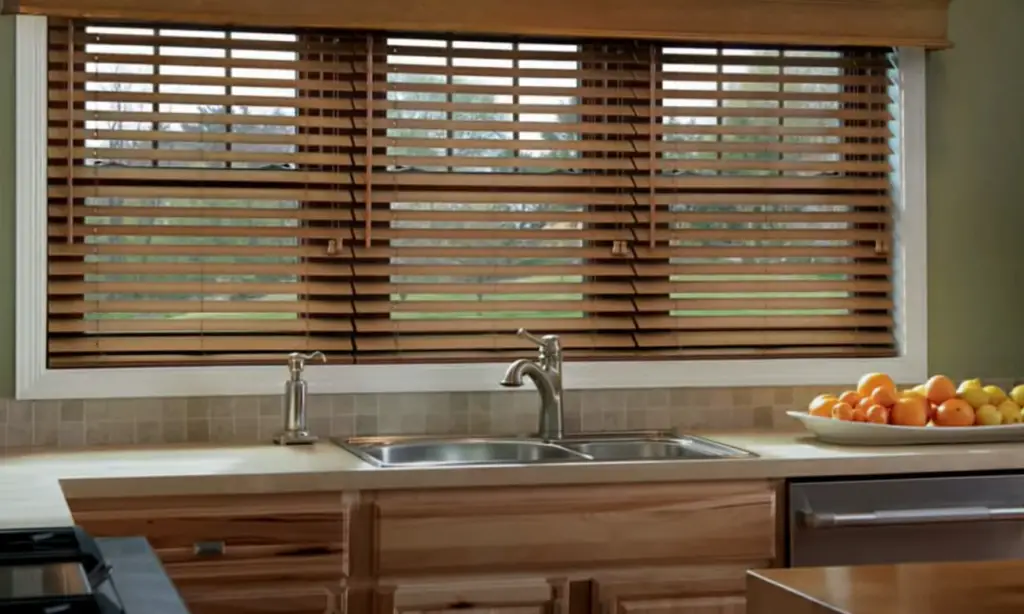 3. Hang Sheer Curtains
Give your kitchen an airy feel by hanging sheer curtains around your window. These lightweight drapes will let the sun through while still providing some privacy and filtering out harsh sunlight. Plus, they come in various colors and patterns so you can find something that matches your décor perfectly.
4. Create a Window Seat
5. Display Your Dishes
If you have an array of colorful and unique dishes, displaying them on your kitchen window can be a great way to add color and personality to the room. Hang several different plates in various sizes, shapes, and colors to create an eclectic display that will certainly draw attention. For example, you can hang a collection of floral, polka dot, or striped dishes on the sills to create a unique and eye-catching look.
6. Hang Artwork
If you have a few pieces of artwork that you'd like to show off, hanging them in your kitchen window is an ideal way to display them. Choose artworks that will match the décor of the room for a more cohesive look. This can be anything from traditional paintings to quirky prints – it all depends on what you prefer and what works best with your interior design style.
7. Add a Wreath
Adding a decorative wreath to your window is a great way to make it look more festive. Choose one that's seasonal or opt for something like a fresh garland of greenery or a faux flower arrangement for an elegant touch. Additionally, you can also add some fairy lights or candles to the wreath for a more romantic feel.
8. Incorporate Holiday decor
Depending on the time of year, you can incorporate some festive holiday décor into your kitchen window. For example, during Christmas and other winter holidays, you can hang a few ornaments and lights on the sills for an extra-festive look. Similarly, during fall, you can hang up a seasonal wreath with dried leaves and pinecones to bring in some autumn vibes.
9. Grow Your Own Fresh Herbs
If you love cooking with fresh herbs, why not grow your own? You can easily create a small kitchen window herb garden and grow some of your favorite herbs. This is a great way to make sure that they're always in season and you'll never have to worry about running out! Plus, it will add an earthy touch to the room and make it smell divine.
10. Find Fresh-Scented Candles
Scented candles are a great way to add some ambiance and warmth to any room. For the kitchen window, look for fresh-smelling options like citrus or lavender. This will give your space an uplifting atmosphere while also neutralizing any cooking odors. Plus, they will make a great addition to your holiday décor as well!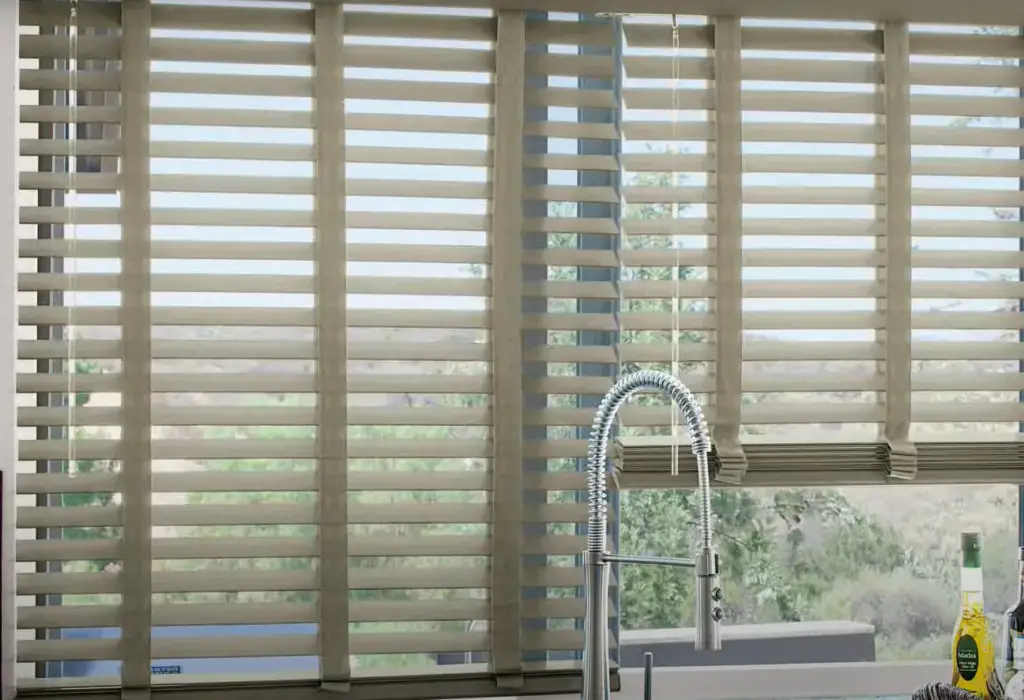 11. Use Unique Window treatments
Finally, if you want to make a statement with your kitchen window, you can opt for something more unique. Choose unconventional treatments like bamboo shades or woven blinds for an interesting look. You can also try using tinted glass or frosted film to add some privacy without blocking out all the natural light [2].
Pros and Cons of The Window in The Kitchen
Windows in the kitchen have some pros and cons that should be considered when deciding whether or not to install one.
The pros of a window in the kitchen include:
Improved air circulation – Windows can help to keep the air fresh and reduce odors from cooking. They also create natural ventilation which is beneficial for any room;
More light – Windows let in more light than artificial lighting, making it easier to see what you're doing when preparing food. Natural light also helps to energize people as well as add an aesthetic appeal to the kitchen;
Increased value – Installing a window in your kitchen can add value to your home if you ever decide to sell it. Potential buyers will appreciate a bright, cheerful-looking kitchen with plenty of sunlight streaming through the window;
The cons of a window in the kitchen include:
Higher energy bills – Because windows let in more light and air, they can also allow heat to escape during winter months, resulting in higher energy bills;
Increased noise levels – Windows can allow outside traffic and other noises to enter your home, leading to increased noise levels in the kitchen;
Potential security risk – If you have an accessible window in your kitchen, it could be a potential security risk if left open or unlocked. It's important to take extra precautions such as installing locks or gates for added protection;
Overall, there is no right or wrong answer when it comes to deciding whether or not to install a window in your kitchen. It's important to weigh the pros and cons before making a decision that's right for you and your home [3].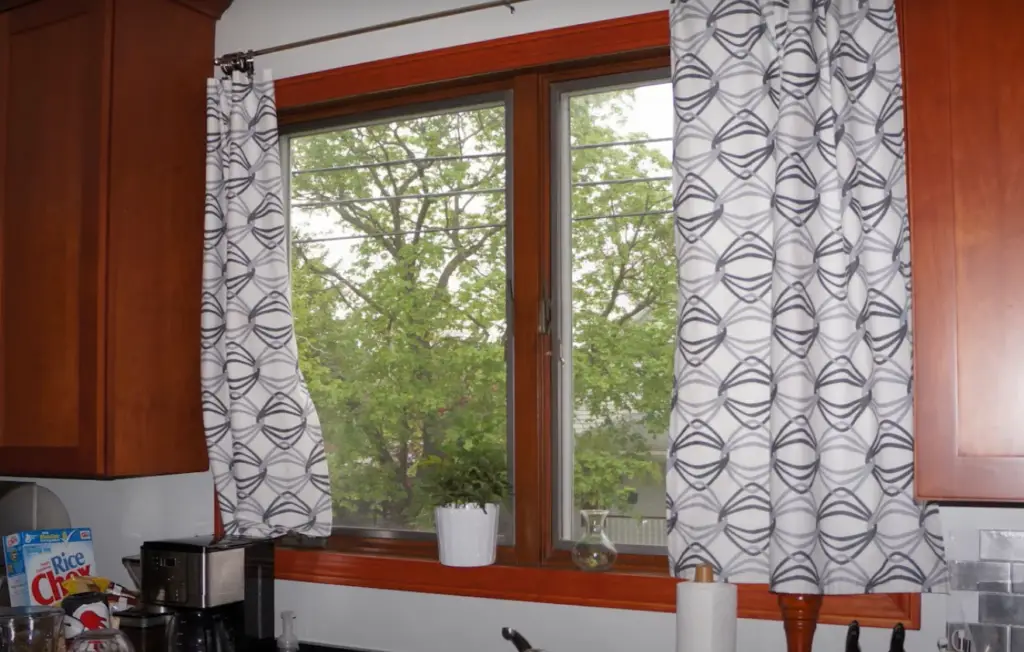 Do Kitchen Windows Need Curtains?
This is a personal choice that really depends on the style of kitchen and home you have. Kitchen windows can be an attractive feature in your kitchen, especially if they are large and look out for beautiful views. If you have lovely panoramic views, it may be best to leave your windows unadorned so as not to obstruct them.
However, if you do prefer the more traditional look of curtains, then there are numerous options for stylish window treatments that will suit any decor. Curtains can help create a warmer atmosphere in some kitchens and also provide some privacy from peering eyes from the outside.
For kitchen windows, you can use such curtain ideas:
Roman shades: Roman shades are a great option for kitchen windows. They come in a variety of colors, fabrics, and textures to suit any decor;
Cafe curtains: Café curtains provide just enough coverage for windows while still allowing light to filter in from the outside;
Valances: Valances are an easy way to add style and color to your kitchen windows without having too much fabric obstructing the view;
Sheer panels: Sheer panels can be hung on either side of the window to lend an airy, elegant feel to the space;
Kitchen curtains can be made of any material, from natural fibers such as cotton and linen to synthetic blends and even solar shades. It is advisable to use a fabric that is moisture-resistant and easy to clean, as kitchen windows can often be prone to splattering and spills.
Whatever your choice of window treatment, remember that you should always opt for something timeless so it doesn't date too quickly. Ultimately, whether or not to use curtains or other window treatments in your kitchen is entirely up to you. Just make sure the style you choose complements the overall look of your kitchen and home.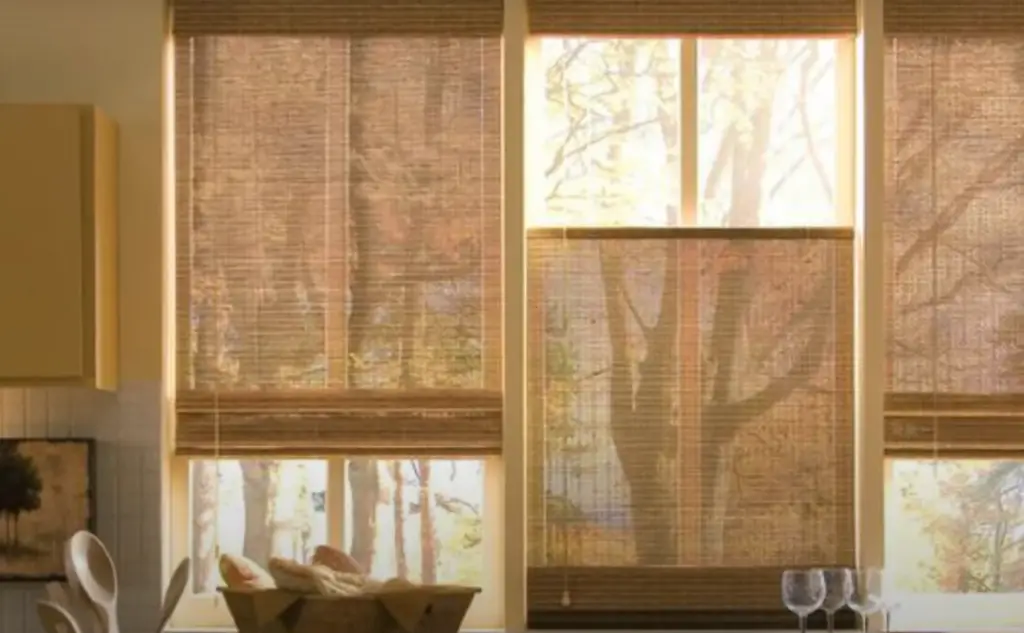 Kitchen Window Decorating Ideas: Enhancing Style and Functionality
Decorating kitchen windows can add charm and functionality to the heart of your home. Here's a comparison of various kitchen window decorating ideas to elevate the style and practicality of your kitchen.
| Idea | Description |
| --- | --- |
| Café Curtains | Café curtains cover the lower half of the window, allowing natural light while providing privacy. They come in various fabrics and patterns to match your kitchen's style. |
| Valances | Valances are short decorative curtains that top the window frame. They add color and style while leaving the window mostly uncovered. |
| Roman Shades | Roman shades are a sleek and functional option that can be raised or lowered to control light and privacy. They come in various fabrics and patterns. |
| Blinds | Window blinds, such as wood or faux wood blinds, are a practical choice for adjusting light levels and maintaining privacy in the kitchen. |
| Window Planters | Install window planters for herbs or small potted plants, adding a touch of nature and freshness to your kitchen space. |
| Decorative Film | Adhesive decorative window film is an affordable and versatile option that can provide privacy and enhance the look of your windows with various patterns and designs. |
| Stained Glass Inserts | For a unique and artistic touch, consider stained glass inserts that can be installed within the window frame, adding color and character to your kitchen. |
| Shutters | Interior window shutters offer a timeless and practical option for controlling light and maintaining privacy in the kitchen. |
Explanation of the table:
This table provides a comparison of various kitchen window decorating ideas, each with its own description and purpose. Whether you prefer curtains, shades, or creative elements like window planters, these ideas can enhance the style and functionality of your kitchen, transforming it into a more inviting and charming space.
---
FAQ
How can I make my kitchen windows look nice?
Are there energy-efficient window treatments?
Yes! Depending on the material of your window treatment, it can help reduce heat transfer from outside to inside your home, therefore saving you energy in the long run. Look for window treatments made of materials such as cotton, linen, silk, or cellular shades that are lined with a reflective material to block out heat and light. Window films can also be used to reduce the number of UV rays entering your space.
What is the best way to clean window treatments?
It depends on the type of treatment you have. If you have curtains or drapes, regular dry cleaning is recommended every few months to keep them looking fresh and new. For blinds or shades, use a vacuum cleaner with an upholstery attachment to remove dust and debris from between the slats. For wooden shutters, wipe them down with a damp cloth and wood cleaner. Finally, window film can be cleaned with a soft cloth and mild soap and water solution.
Are there options for soundproofing my windows?
Yes! To reduce noise from outside coming into your home, you can try installing heavy curtains or acoustic insulation around the windows. You can also use double-glazed windows to help keep out unwanted sounds. If you are looking for an even more effective solution, consider adding soundproof glass to your windows. This won't just dampen loud noises from outside – it will also provide additional thermal insulation and energy efficiency in the long run!
What to put over kitchen windows?
There are several options for window treatments in the kitchen. Curtains and drapes can be used to provide privacy, color, and texture to the space. Shutters are a timeless choice that offers light control as well. Window films or frosted glass can create a modern look, while blinds and shades will give the area an updated feel. Finally, soundproof windows or acoustic insulation around existing windows can help reduce noise levels coming from outside.
How do you dress up windows without curtains?
If you don't want to use curtains, there are still ways to dress up your windows. Plantation shutters, for example, will provide light control and a classic look without the need for fabric. You can also use window films or frosted glass for more privacy and style. Blinds and shades are other options to consider – they offer light control and come in various colors, textures, and materials. Finally, soundproof windows are perfect if you're looking for an effective noise-reduction solution that won't compromise on style!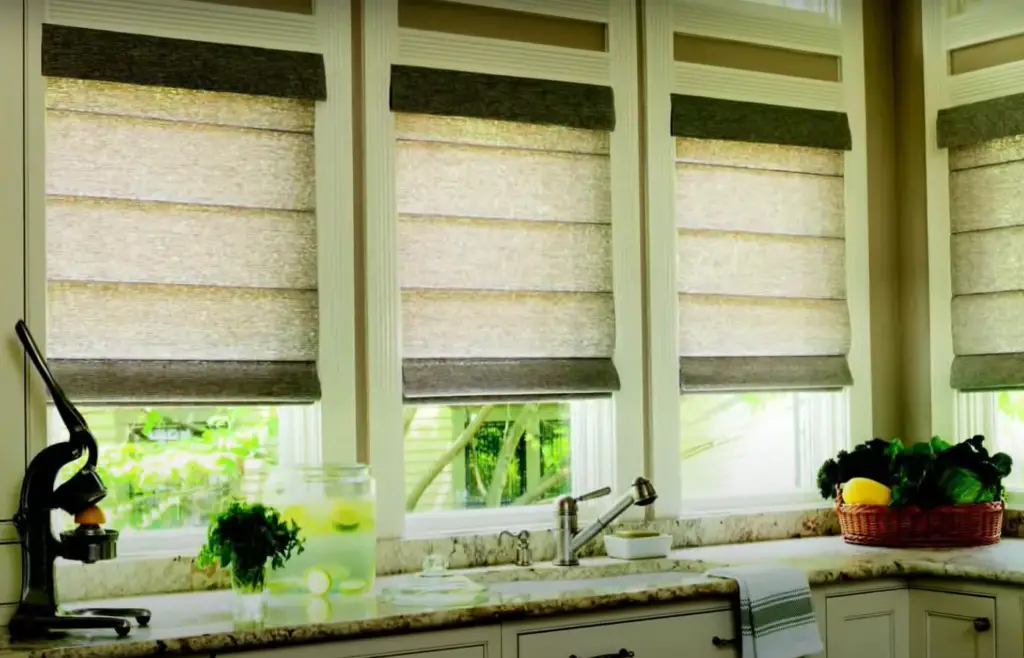 What candles should you use on kitchen windows?
When it comes to candles, you want to make sure they are safe and won't create any fire hazards. Look for candles made of beeswax or soy wax that have been specially designed for use in the kitchen. Consider where the candle will be placed – on a windowsill, shelf, or dining table – and choose one that fits the location properly. Scented candles can also add an inviting aroma to your kitchen space, so be sure to pick something with a pleasant smell. Finally, select colors and shapes that complement your existing décor for a cohesive look!
What looks good on a kitchen windowsill?
A windowsill is a perfect place to add a bit of style and personality to your kitchen. Potted plants are an excellent choice – they provide fresh air, and lots of colors, and can be placed in various sizes depending on the size of your windowsill. Display items such as jars holding spices or colorful kitchen utensils will also look attractive. You can also hang artwork or other decorations to bring life to the space. Finally, candles are a great way to create a cozy atmosphere without taking up too much room!
What should you not do with curtains?
When it comes to curtains, there are a few things you should avoid. First, never hang them too close to the ceiling as this can make the room look cramped and cluttered. Also, be sure not to hang them on a curtain rod that is too thin – this can cause sagging in the fabric after just a few weeks. Finally, try to steer clear of heavy materials such as velvet or silk for kitchen windows – these fabrics will block too much natural light from entering and create an oppressive atmosphere!
What are some creative kitchen window decorating ideas to enhance the overall look of my kitchen?
There are several creative kitchen window decorating ideas to consider. You can install decorative window film, use stained glass panels, hang window boxes with fresh herbs or flowers, or place decorative shelf brackets to display small items or collectibles.
How can I incorporate plants into my kitchen window decor?
To incorporate plants into your kitchen window decor, you can use hanging planters, place potted herbs on the windowsill, or create a floating plant shelf beneath the window. This adds a touch of nature and freshness to your kitchen space.
What types of window treatments work well for kitchen windows?
Kitchen windows often benefit from window treatments that are easy to clean and maintain, such as blinds, shades, or shutters. These options offer both privacy and light control, making them practical and stylish choices for kitchen windows.
How can I utilize natural light through my kitchen windows while maintaining privacy?
To utilize natural light while maintaining privacy, consider using sheer curtains or frosted window film. Sheer curtains allow light to filter through while providing a level of privacy, while frosted window film obscures the view from outside while still allowing daylight to fill the room.
What are some innovative ways to add functionality to my kitchen windows along with decoration?
Innovative ways to add functionality to your kitchen windows include installing a pegboard for utensil storage, creating a mini indoor herb garden on the windowsill, or incorporating a built-in bench with storage underneath for seating and organization. These ideas combine functionality with decorative elements for your kitchen windows.
Useful Video: Kitchen Window Decoration Ideas
Conclusion
Decorating a kitchen window can make your kitchen look modern and stylish. It also has some functional benefits as it can help to reduce the sunlight, protect our privacy from outside view and prevent insects from entering your home. There are a variety of window decorations available, such as curtains, blinds, shutters, and window films. You can choose the one that best suits your needs and tastes. Moreover, you should always consider the practical aspects of each option before making your decision. With proper installation and maintenance, your kitchen windows will look lovely for many years to come.
---
References:
https://homedesigninstitute.com/read_news/657/all_you_need_to_know_about_kitchen_windows/
https://bustlingnest.com/kitchen-window-decor/
https://cookit.guru/kitchen-with-window-over-sink/