Adding a valance to your kitchen can be the perfect way to inject some much-needed style and personality into the room. Valances come in a variety of styles, colors, patterns, and fabrics that are sure to match any existing decor. Whether you're looking for something bold and eye-catching or something more subtle and understated, there's sure to be an option that will fit your needs. Here are some inspiring ideas for kitchen valances that may help you find just what you're looking for!
What Is a Kitchen Valance?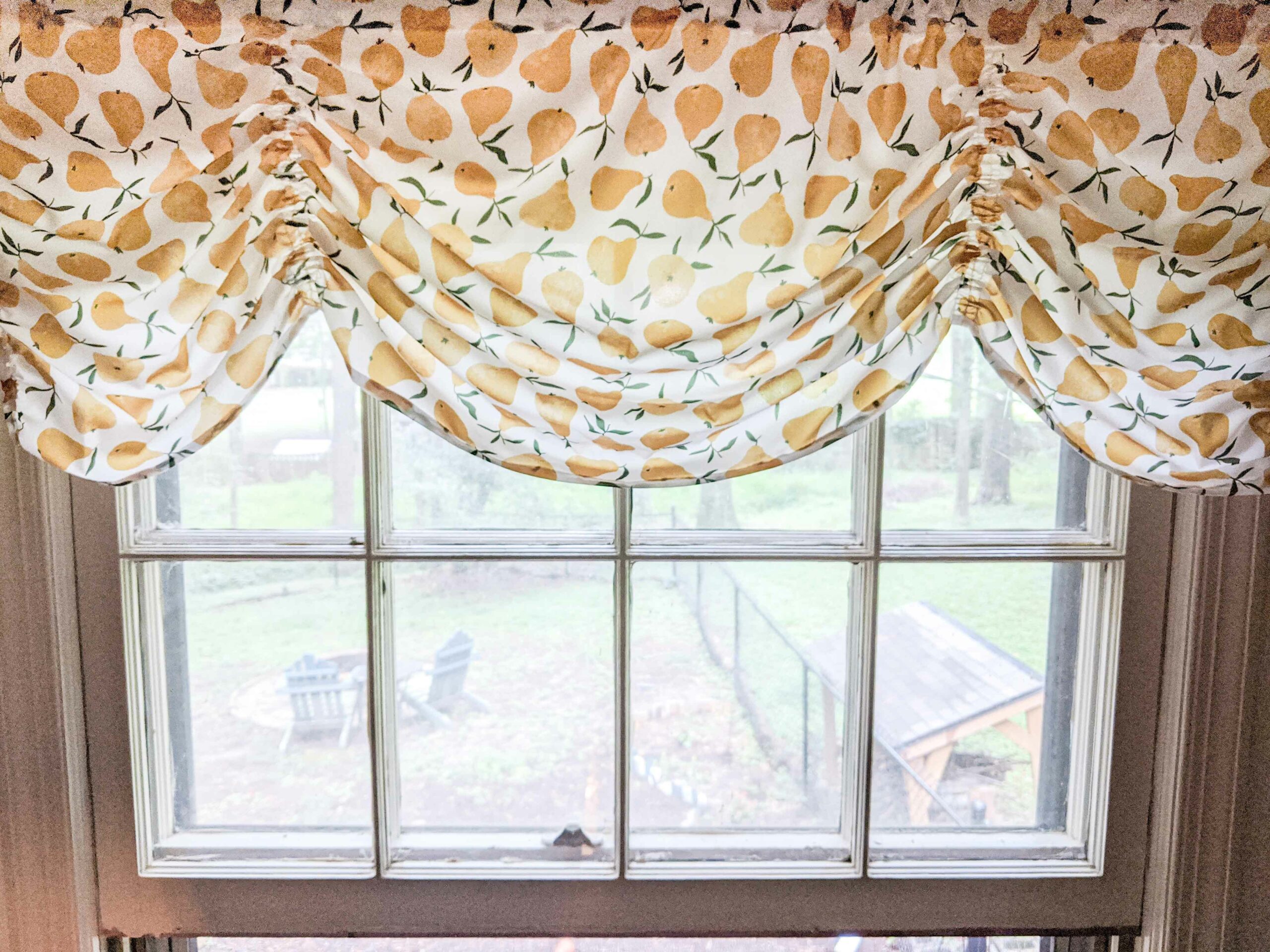 A kitchen valance is a decorative piece of fabric that hangs from the top of a window, typically at the level of the sill. They can be used alone or in conjunction with curtains or blinds and are available in a wide range of styles, colors, patterns, and fabrics to suit any taste. Valances are an easy and affordable way to add visual interest and a touch of sophistication to any kitchen.
Window Valance Ideas
Window valances are a great way to lend visual interest and style to any kitchen. They come in a variety of designs and fabrics, allowing you to find the perfect look for your space.
Deep Window Valance Ideas Work Well With Florals
Window valances come in a variety of styles, but deep window designs are particularly well-suited for floral prints and patterns. A luxurious velvet fabric with a large print of your favorite flowers is sure to make any kitchen look inviting and cozy. Alternatively, you could choose a lightweight cotton fabric with smaller printed florals that will still provide privacy and style.
Or, if you're looking for something less traditional, why not try a bold botanical-inspired design? It's an easy way to add interest and color to your kitchen decor.
Double Stripes And A Hint Of Gold On Top
Double stripes of white and light gray paired with a hint of gold on top offer an undeniably sophisticated look for your kitchen. This style is perfect for homeowners looking to achieve an elegant, modern feel in their space. This combination creates the perfect contrast between light and dark colors, while the addition of gold adds a touch of luxury. For a unique twist, opt for a white and black striped pattern paired with a hint of shimmering gold. This combination will create an eye-catching effect that is sure to draw the attention of your guests.
Additionally, this style is an ideal choice if you are looking to make a statement in your kitchen without overdoing it. The simple yet timeless look allows you to enjoy your space while still feeling stylish. Complete the look with a few choice gold accessories and some crisp white accents for a truly timeless kitchen valance design.
Team Window Valances With Fringing For An Extra Frill
If you've ever wished to bring a bit of pizzazz and texture to your kitchen windows, teaming window valances with fringing might be the way to go. This look adds an extra layer of dimension and interest, allowing you to play around with different materials and textures. Whether you prefer delicate lace or thick cording, fringing adds an extra frill to your window valance and can be tailored to suit any style. To keep the look refined, opt for a neutral color palette, or add a pop of personality with bright colors like red or purple. Either way, it's sure to make your windows stand out! Not only is this look stylish and eye-catching, but it's also surprisingly easy to put together.
All you need is a basic window valance and some fringing or trim of your choice – the rest is up to you! [1]
Fewer Frills And More Pleats Create A Sophisticated Look
One of the most timeless looks for a kitchen valance is to go with clean and classic pleats.
Pleated panels provide a sophisticated look, while still allowing light to filter in through your windows. Pleats come in all kinds of styles, from small box pleats and French pleats, to more dramatic styles such as inverted or pencil pleats. Finishes like grommets, tab tops, and eyelets can add an extra layer of detail to the valance. If you want an even more minimal look, opt for a flat panel with a simple rod pocket or grommet top.
Use A Valance To Bridge The Gap When Your Window Is Wide
If you have a wider window than usual, it can be tricky to find the right valance solution.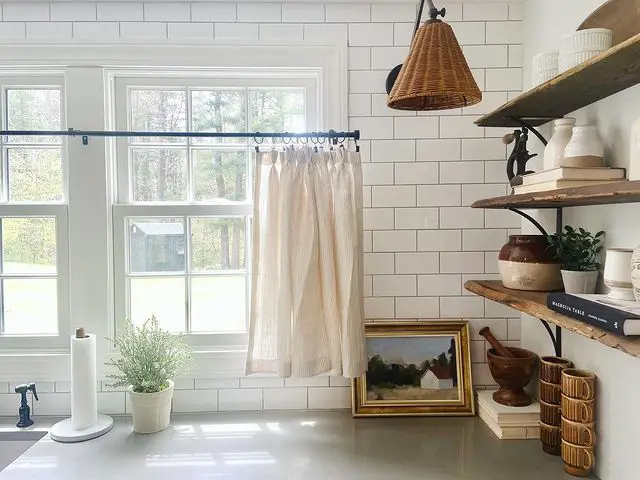 Luckily, there are some great ideas out there that will bridge the gap without making your kitchen look too busy or overwhelming. One option is to use two separate panels of fabric on either side of the window and then use one large coordinating piece of fabric around the sides.
This will provide a great visual frame for your window and make it look more unified. You can also hang a striped valance with alternating colors, which will create an eye-catching pattern that draws attention to your window. Finally, you can hang a wide panel of fabric along the top of the window and then add some coordinating panels on the sides. This will give your window a layered look that is both interesting and stylish.
Whichever option you choose, make sure to hang the valance at least four inches above the top of your window for maximum impact.
Create A Lighter Look With A Flat, Fluted Valance
Fluted valances, with their soft folds and modern look, are perfect for creating a more airy feel in the kitchen. These flat valances hang straight down from the window frame and can be made from almost any fabric imaginable. They are also incredibly easy to clean and maintain, requiring only a quick run through the washing machine or spot cleaning with a damp cloth. To really show off the fluting, choose a light-colored fabric such as ivory, white, or pale gray for your valance.
For an added touch of elegance, accentuate the scalloped edges of the valance with coordinating trim or tassels. The end result is sure to be one that both you and your guests will love!
Choose A Deep Window Valance To Exaggerate A Window's Height
A deep valance will add volume to the room, drawing attention to the vertical dimension of your kitchen space and giving it an air of sophistication. It will also provide a great way to add color and texture to your decor. Look for valances with long drapes or ruffles for maximum impact. You can even pair the deep kitchen valance with curtains in the same material for added drama! [2]
What Is The Difference Between A Pelmet And A Valance?
A valance is a fabric window treatment that typically hangs from the top of a window. It can be hung alone or combined with other window treatments, such as curtains or blinds. A pelmet is similar to a valance but instead of being hung from the top of the window, it is fixed directly to the wall above the window. Pelmets are usually made of a stiffer material than valances, such as wood or metal, and they provide an additional layer of insulation against heat loss from the window below them. [3]
Are Valances In Style?
Valances are an increasingly popular window treatment that can add a unique and stylish touch to any room. Valances come in a variety of styles, from traditional to modern, making them suitable for nearly any décor style. They can also be used as a standalone window treatment or layered with other curtains or drapes. Whether you're looking to add a splash of color, texture, or pattern to your kitchen windows, valances are an easy and affordable way to do so. [4]
FAQ
What can I use instead of a valance?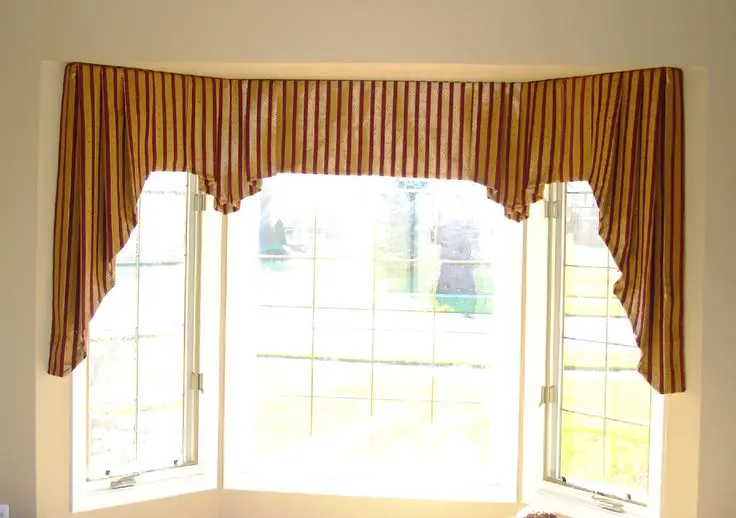 If you don't want to use a valance, there are a few other options you can opt for in your kitchen. For instance, you might consider installing blinds or shutters on the window for privacy and light control. If the window is relatively small, you could also purchase decorative curtains that hang from the ceiling or rods above the window.
Another option is to use a cornice board that mounts to the top of the window, adding a decorative touch while also providing some light control and privacy. Finally, you could choose not to cover the window at all and instead decorate with wall art or other accessories for a more open look.
What kind of kitchen curtains are in style?
In terms of current trends and styles, kitchen curtains are a great way to give your space a modern look. Popular options include roman shades, sheer panels, and valances. Roman shades add texture and interest to any window while still providing privacy. Sheer panels come in varying lengths, textures, and colors that can be combined for a sophisticated look. Valances are a great way to add color and pattern to your kitchen windows. They come in different styles, such as box pleats, swags, and cascades, and can be used alone or layered with other window treatments. No matter what style you choose, adding curtains or valances is a great way to update the look of your kitchen.
Do kitchen windows need a valance?
Yes, kitchen windows need a valance. Valances add style and charm to your entire space, whether you are looking for something to match the curtains or simply seeking an accent piece that can complete the look of your kitchen decor. Valances also help control the amount of natural light that enters into the room by blocking it out when needed. This can be helpful in preventing glare or simply making the space feel more comfortable.
Additionally, a valance can help to hide any unattractive window hardware while still allowing you to open and close the blinds or curtains as needed. Valances are also beneficial because they come in a variety of colors and styles, meaning you can easily find one that matches the overall design of your kitchen.
When it comes to choosing the perfect valance, there are a few key things to keep in mind. First, think about the size and shape of your window. If you have larger windows, then a longer valance can help balance out the space while adding visual interest. Smaller windows may need a more petite and delicate valance to fit the scale of the room. Additionally, consider the amount of fabric you want for your valance. Sheer panels can be great for brightening up a dark kitchen while heavier fabrics can add structure and texture to the space.
Finally, think about any existing colors in your kitchen that you'd like to tie into the valance, such as a bright hue or subtle pattern. When it comes to kitchen valance ideas, there are plenty of unique and stylish options to choose from. Consider adding an accent trim to the bottom of your valance for extra texture and color, or opt for a simple ruffle design that will add dimension to the window.
What are the three types of valance?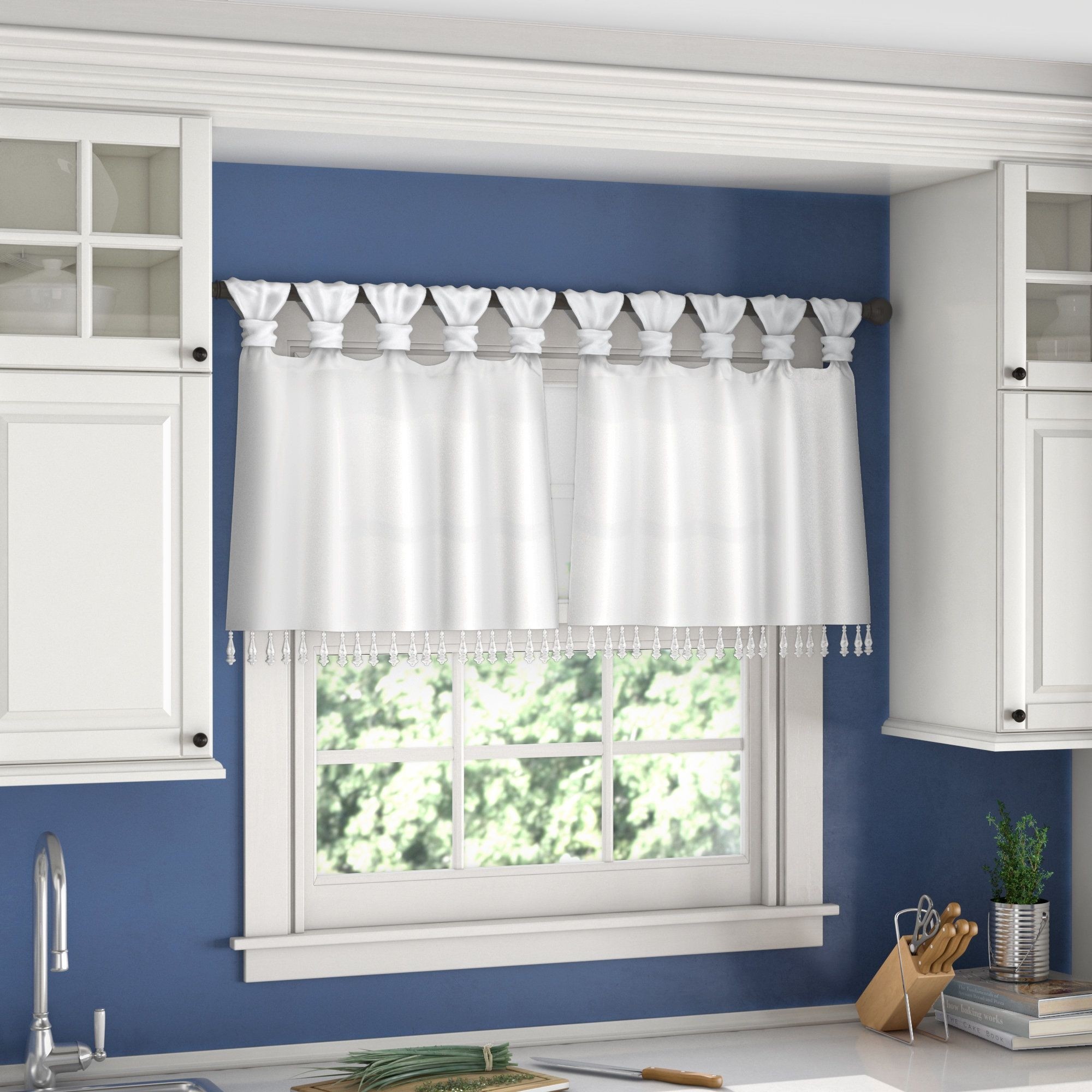 Valances are a window treatment that adds style and color to your kitchen. They come in three main types: traditional, contemporary, and modern valances. Traditional Kitchen Valance Ideas involve using fabric or wood treatments in classic shapes. Examples include scalloped edges, swags, tails, bows and more. This type of kitchen valance is a great way to bring an old-world charm and traditional style into your kitchen. Contemporary kitchen valance ideas include sleek fabrics and minimalist shapes. These include crisp lines and geometric patterns that provide an updated, modern look.
Contemporary styles may also feature bold colors or textures for a more impactful statement. Last but not least are the modern kitchen valance ideas, which utilize modern materials and shapes such as geometric patterns and bold colors.
Are valances necessary?
Valances are not absolutely necessary, but they can be a great addition to any kitchen. Valances are an easy way to add a touch of style and color to the room without having to do a full-scale renovation. They also have practical advantages such as blocking out light from windows and protecting window treatments from dust and dirt. Additionally, valances can help disguise unsightly window frames or hardware.
What is trending in curtains 2023?
2023 is ushering in a new era of interior design, with creative kitchen valance ideas becoming more popular than ever. Whether you're looking for a classic style or something more modern and innovative, there are plenty of options to choose from. Valances are the perfect way to add color, texture, and pattern to your windows without blocking natural light. Valances are a great way to add more visual interest and texture to your kitchen windows without sacrificing function or style.
A popular trend for 2023 is long, flowing valances that cascade down the sides of the window for a dramatic effect. Bold colors and interesting textures can take these pieces from simple to stunning in no time.
What makes a kitchen look classy?
A kitchen with the perfect combination of style and function can look both classy and inviting. Valances are a great way to add a touch of class to any kitchen. Valances come in a variety of shapes, sizes, colors and fabrics, making them incredibly versatile for any design style or space.
From classic white cotton valances to bold modern prints, there are many kitchen valance ideas to choose from. Also, because valances are typically smaller in size than other window treatments, they're easy to install and won't take up too much space.
What looks good on a kitchen window?
With the right selection of fabrics and colors, there are many ways to make a kitchen window look great. Kitchen valances are one way to do just that. Valances are decorative fabric treatments typically hung above windows or doorways that often draw together the curtains and draperies in a room. In kitchens, these window treatments can provide both a decorative element as well as privacy.
However, it can be difficult to know what kind of look will work best in your kitchen. To help you out, here are some ideas for valances that may fit nicely in your space and give the room a beautiful finish.
What is the most popular window treatment for 2023?
Window treatments have become a must-have part of any kitchen decor. This year, the trend is towards something stylish yet practical – kitchen valances! Kitchen valances are a great way to add texture, pattern and color to your kitchen's window without blocking out natural light.
Kitchen valances come in an array of styles, from traditional swags and cascades to modern grommet-topped panels. Valances are also highly versatile – they can easily be adjusted to fit any window size or shape, making them the perfect choice for practically any kitchen. To help you find the perfect valance for your space, we've rounded up some of the hottest kitchen valance ideas for 2023.
What is the point of a window valance?
A kitchen window valance is a decorative piece of fabric that hangs from the top of a window to add style and personality to any room. Valances can also help to block out excess light, while still providing an unobstructed view outside. In addition, kitchen window valances are a great way to tie together your existing decor scheme and give your kitchen a cohesive look. To make sure your valance looks its best, it's important to pick the right style for your kitchen.
Useful Video: Valance Curtain Design Ideas
Conclusion
When it comes to kitchen valance ideas, the only limit is your imagination. Whether you're looking for a classic, traditional look or something more modern and stylish, there are plenty of options available that will suit any design style. You can choose from a variety of fabrics, colors, patterns and sizes to create the perfect window treatment for your kitchen. Whether you're aiming for a casual, cozy atmosphere or an elegant and sophisticated one, the right kitchen valance can make all the difference in the look and feel of your space. With so many choices available, it's easy to find something that will truly reflect your personal style and give your kitchen a unique touch. So why not take some time to explore the possibilities and find the perfect kitchen valance for your home? You won't regret it!
---
References
https://www.homesandgardens.com/ideas/window-valance-ideas
https://www.thespruce.com/kitchen-curtain-ideas-6828190
https://www.spiffyspools.com/spiffy-speak/kitchen-window-valance-ideas/
https://www.hgtv.com/design/rooms/kitchens/kitchen-window-treatment-valances