Installing a bay window in your kitchen is an excellent way to invite natural light into the room, create a warm and comfortable atmosphere, and increase the aesthetic appeal of your home.
From grand to petite bay windows, unleash your creativity and explore the myriad of decorative possibilities available. Incorporate these captivating kitchen bay window ideas to turn your space into something extraordinary, from curtains and blinds to plants and furniture.
With some imagination and creativity, you can turn this overlooked area into the focal point of your entire kitchen!
What Is The Kitchen Bay Window?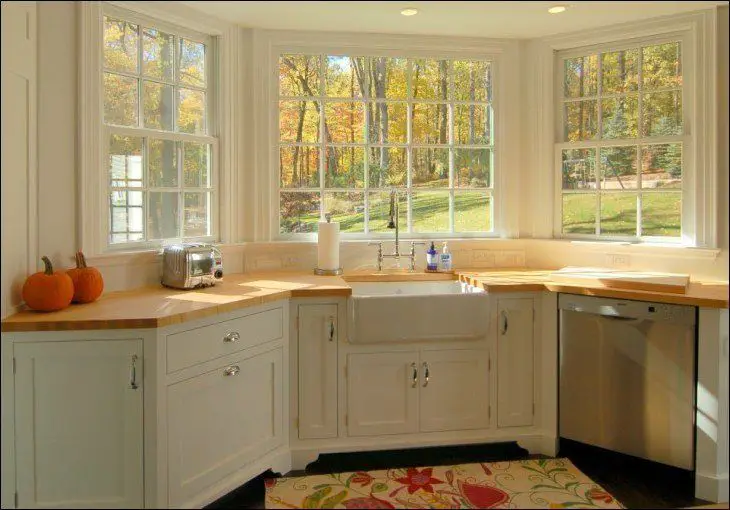 Make your kitchen a brighter, more inviting space with a three-sided bay window that protrudes outwards from the walls of your home.
This type of window allows natural light to flood into the room, and it creates a sense of openness by increasing the viewable area. For those of you with open-floor layout kitchens or living rooms, installing a bay window is an ideal way to create distinction while still allowing luminosity to flow through.
Also, for those with a smaller kitchen, the added space created by the bay window can make your room feel larger and more inviting.
Types Of Kitchen Bay Window
If you're looking for kitchen bay window ideas, there are many different kinds of windows to choose from. Some of these include:
Casement Windows – These windows have a natural frame around the sides, which looks stunning in any kitchen style. They open outward and let in lots of light and air into your kitchen. If you have a large window space, casement windows can make the most of it.
Awning Windows – These are slightly smaller than casement windows, but offer similar benefits. Not only do they open outward to create a sense of openness and space, but also allow for an abundance of natural light and fresh air into your kitchen. Plus, they're easy to open so you can get some fresh air in your kitchen anytime.
Sliding Windows – These are much more popular than casement or awning windows as they slide open and shut with ease for a modern look. They're also great for smaller spaces, as you don't need to worry about the window taking up too much room in your kitchen.
Fixed Windows – These are the most traditional of all bay window ideas and typically don't open or close. However, they still let in lots of natural light and provide a picturesque view from inside your kitchen. [1]
No matter which type you choose, all kitchen bay windows can easily be dressed up with curtains or blinds to add privacy and character.
Bay Window Cost
Installing a bay window is an extensive home improvement undertaking that should be approached with caution and care. The cost of installing a bay window in your home varies depending on the dimensions, materials selected, extra features included in the design, and contractor you hire.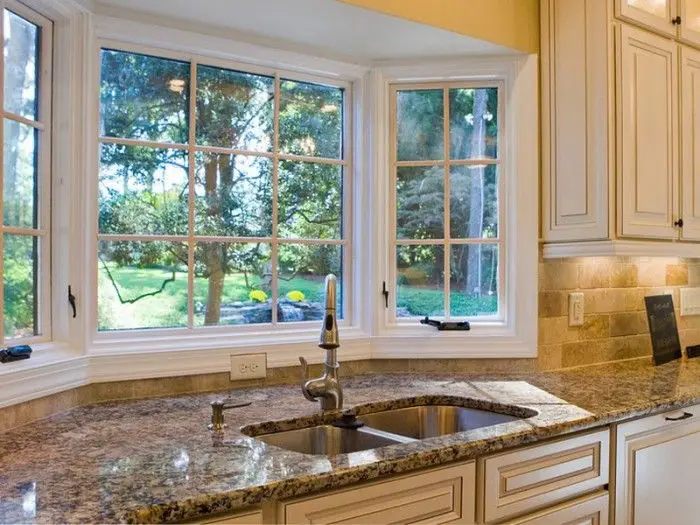 Additionally, many homes find that they need to construct a new opening for the window, which will add additional cost and labor.
Installing a bay window can be an investment, as the average cost ranges from $1,500 to $3,000.
However, larger windows with more complex designs could end up costing over $5,000 or more. It's important to get an accurate estimate from a contractor before making any decisions.
When you're considering bay window installation, don't forget to include the price of professional labor in your budget. Professional contractors usually charge an hourly rate, which can range from $45-$85 per hour depending on the complexity of your project and the experience of the contractor. Most projects require at least a few hours of labor, but more complex jobs could take several days and multiple workers.
Can You Put A Bay Window In A Kitchen?
Absolutely! Adding a bay window to your kitchen is an excellent idea! Bay windows are a perfect way to introduce natural sunlight into your home, as well as create an intriguing visual element.
They also offer unobstructed views of outside, making them ideal choices for kitchens that overlook beautiful landscapes or gardens. Installing a bay window in your kitchen not only gives it an airy, open feel, but also boosts the aesthetic appeal of the room. It can create an inviting atmosphere and provide additional seating or storage options if placed correctly.
An immense advantage of having a bay window in the kitchen is its potential to enlarge the cooking area, granting homeowners extra countertop space for preparing meals and performing other tasks. [2]
How Do I Dress Up A Bay Window?
When considering how to enhance a bay window, the choices are truly limitless. From shutters and curtains, to roman blinds and shades, you can choose the best way to bring style into your kitchen.
Shutters are an excellent choice for bay windows because they provide privacy while still letting natural light enter the space. They come in a variety of materials and finishes, so you can choose one that complements the style of your kitchen. If you're looking for something more subtle, opt for neutral-colored or white shutters with thin panels.
Curtains are also great for bay windows because they can help to soften the look of a kitchen. Go for bold patterns or bright colors to add a pop of color and style to the space. Sheer curtains are another option, as they let natural light filter in while still providing privacy.
Trendy Kitchens With Bay Windows
Installing bay windows is an ideal choice for introducing more light and space to any kitchen.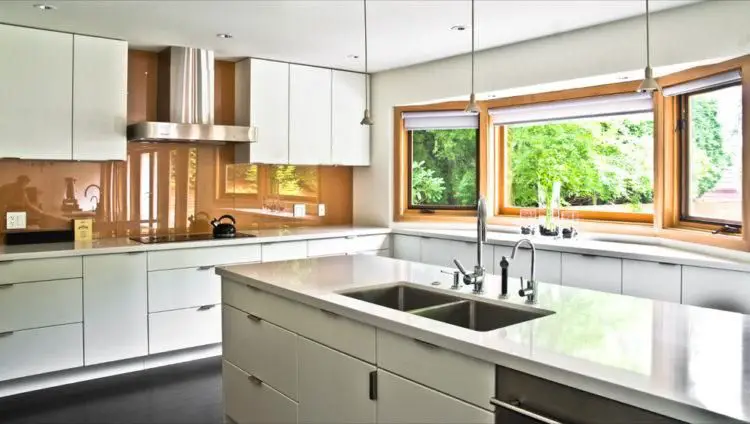 They allow for enhanced views, more sunlight into the room, and a surprising amount of extra seating options. Plus, they can also be used as creative design elements that add character to the room. Here are some trendy ways you can incorporate bay windows into your kitchen to give it an updated, modern look.
However, it's important to note that bay window sizes and shapes can vary greatly and some of these ideas may not be applicable for all types of kitchen designs.
Create A Cozy And Informal Seating Area
Bay windows are the perfect place to create a cozy seating area, offering plenty of natural light and an inviting atmosphere. Add comfortable cushioned chairs or loveseats in warm colors, attractive end tables with reading lamps, shelves filled with books and small potted plants for a charming look.
With its stunning views of the outdoors and cheerful atmosphere, this seating area is sure to be the perfect spot for entertaining guests or simply curling up with a good book.
Also, don't forget to hang some sheer curtains or bamboo blinds to give the area a finished look.
Dress Your Bay Window With Beautiful Drapes
Installing a bay window in your kitchen is a great way to stylishly upgrade the decor and add warmth to the room. If you want to make it an inviting space, one of the best ways to do so is by dressing up the windows with stylish drapes or curtains. There are many different styles available, so you can choose something that fits your personal tastes and the overall look of your kitchen.
Lightweight and sheer curtains can create a romantic, airy feel while heavier styles give off an inviting and warm atmosphere. If you want to keep things practical, pick drapes with blackout linings that will help keep out bright sunlight and unwelcome prying eyes. No matter how you adorn it, your bay window will become a centerpiece of the kitchen.
Make The Most Out Of The Space A Bay Window Provides
Bay windows can add a unique look to any kitchen. Commonly positioned over the sink, bay windows provide a great opportunity for you to take advantage of the extra space and natural light coming in from outside. With some creative ideas, you can make your kitchen into a much more functional and enjoyable place.
One way to make the most out of your bay window is by adding built-in seating. Whether it's a cozy bench, a casual breakfast nook, or a more formal dining area—adding seating can make your kitchen feel larger and give you additional space to entertain guests.
Create A Counter Area
A bay window in the kitchen creates the perfect opportunity to add a breakfast nook or counter area. You can use this space to cook, eat, and socialize with family and friends. Add bar stools on one side of the counter to make a casual dining area. For an added touch of coziness, hang curtains around the perimeter of the bay window.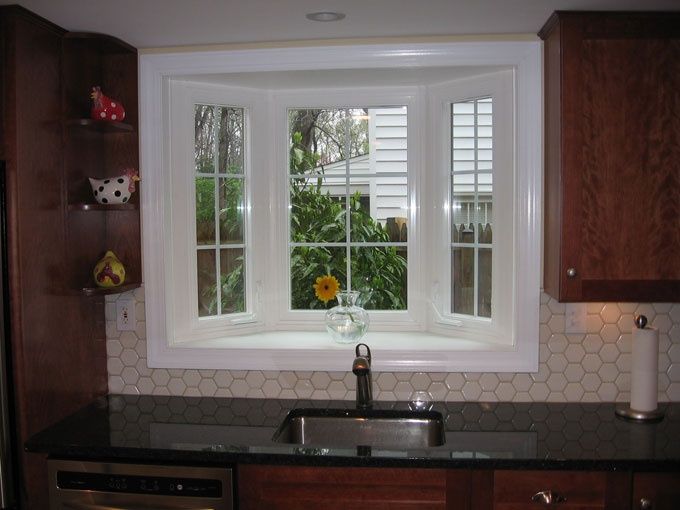 This will not only add a decorative element to your kitchen, but it will also give you some extra privacy while you are enjoying your meals. You can dress up the area even further by adding a patterned rug and artwork to the wall behind the counter.
Establish A Stand Out Dining Space
The kitchen bay window can be the perfect backdrop for a sophisticated dining space. Incorporate different textures to create an inviting and luxurious feeling – mix velvet chairs with fur cushions, and pair mismatched frames together on the wall. To complete this look, drape sheer white curtains around the window to give your room a dreamy, romantic atmosphere.
Additionally, think about incorporating a small chandelier or wall sconce to add an extra touch of elegance and glamor. Also, consider adding a shelf beneath the window to display plants and other decorative items. With these simple additions, you'll be able to create an elegant dining space that is sure to stand out in your kitchen.
Add A Modern Touch With Blinds
Adding blinds to your kitchen bay window is a simple and modern way to spruce up the room. From wood or woven-like shades to textured roller blinds, there are so many varieties of blinds that will fit perfectly into your home's style. They provide both privacy and natural light control, as well as offering complete blackout coverage when needed.
You can also choose from built-in shades like cellular or pleated shades that will fit snugly into your bay window space and provide insulation in cooler months. Blinds are the perfect solution to dress up any kitchen bay window due to their incredible versatility. [3]
Tips For Arranging A Kitchen Bay Window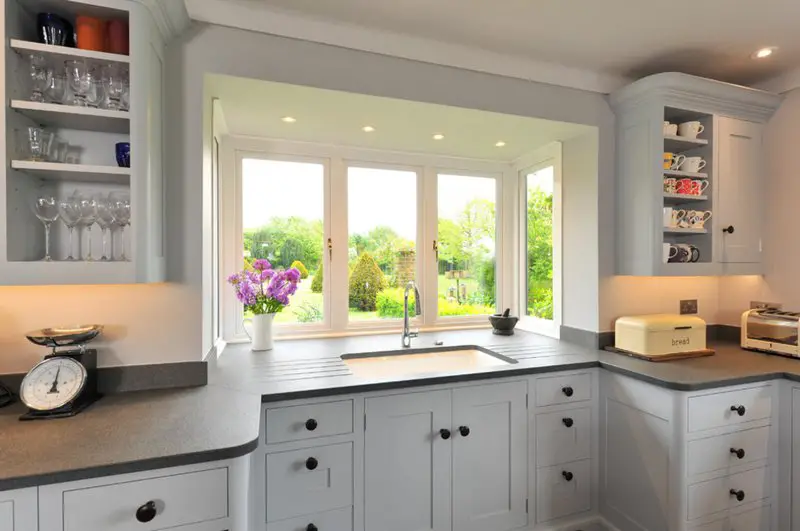 Adding a bay window to your kitchen is an effective way of increasing the amount of natural light and creating an inviting atmosphere. But how do you make the most out of this space? Here are some tips for arranging your kitchen bay window:
Consider a seating area: Consider transforming your bay window into a cozy retreat with some comfy seating! It's the perfect place to enjoy breakfast or simply appreciate nature's beauty. You could opt for two armchairs and a side table, or alternatively you could use built-in banquettes and storage solutions.
Utilize vertical space: If you're short on floor space in your kitchen, adding storage solutions to your bay window is a great way of maximizing the space. Shelving units and cupboards can be used to store kitchen equipment, as well as everyday items such as cookbooks and spices.
Hang curtains: If you'd prefer more privacy in your kitchen, hanging curtains on a rail or rod around the bay window is an effective way of providing a barrier. Use curtains that are in-keeping with the style of your kitchen, and choose light fabrics to ensure plenty of sunshine can still enter the room.
Add greenery: Introducing plants into your kitchen will bring color, texture and life to the space. If your home is graced with a bay window, you can capitalize on the extra sunlight and adorn it with plants that will flourish in its sunlit environment.
Consider trailing ivy varieties of ferns that will add a beautiful touch of nature to your kitchen. [4]
FAQ
How do you make a bay window look nice?
Enhance your kitchen decor with the graceful and elegant look of a bay window, creating an inviting focal point in your home. The key is to select materials and furnishings that complement the style of the room. Consider adding a cozy window seat with plush cushions, framed artwork or photographs, roman shades, and sheer curtains for a warm and inviting look.
Additionally, wall sconces on either side of the window will provide functional lighting as well as decorative accents. For a touch of whimsy, add potted plants to bring vibrant color and life into your kitchen space. With a few simple touches, you can create an eye-catching display in your bay window that adds charm and personality to any kitchen design.
Can you put a bay window in the kitchen?
Absolutely! A bay window could be the perfect addition to your kitchen. It's a great way to let in extra light, while also adding more floor space to the room. Bay windows come in a wide range of sizes and styles, so you can find one that fits perfectly with your kitchen design.
Plus, it's an easy way to give your kitchen a modern update without having to do any major renovations.
What is the difference between a bay and a bow window?
A bay window is a multi-paneled window that projects from the outer wall of a building, creating a small alcove inside. Bay windows usually have one large panel flanked by two smaller panels at an angle to the wall. A bow window is similar except for its curved shape – typically four or more panels are used and they create an outward arch – like a bow! Both types of windows are great options for letting in light and providing extra space in your kitchen.
Also, they can be dressed up with curtains or blinds to match the rest of your decor. In addition to aesthetically enhancing any room, bay windows also create a comfortable place for seating or storage.
What are the disadvantages of a bay window?
The installation of a bay window can be quite costly, and the large window structure may require extra framing or reinforcements to ensure structural integrity.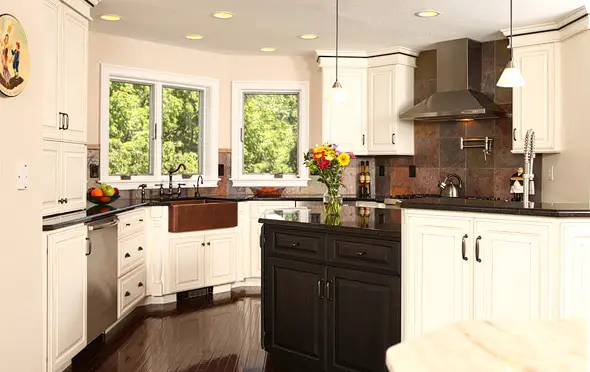 Additionally, the increased size of the window can result in more heat loss during cold winter months. Depending on your climate, you may find that you need to install additional insulation and energy-saving features such as double-paned windows or storm shutters to keep your home comfortable.
Finally, the bay window can be difficult to decorate due to its unique shape and size. But, there are various imaginative solutions available that can enable you to make the most of this feature in your kitchen.
Should you put a sofa in front of a bay window?
With the bay window in your kitchen, you have a tremendous opportunity to craft an inviting area for family and friends to gather. Whether you opt to put a sofa, table and chairs, or even just some plants in front of the bay window, it can be used as a cozy spot for conversation or relaxation.
If you plan on using the area for entertaining, adding a sofa can make it even more inviting. A sofa can provide extra seating and create a comfortable atmosphere for guests to enjoy their time in your home.
However, if you plan on using the bay window as a work area or for food prep, adding furniture to the space may not be ideal. In this case, you may want to opt for an open concept that allows for the natural beauty of the bay window to shine through. And don't forget about the lighting!
Adding a few lamps or sconces can help illuminate the area and create an inviting atmosphere for all who enter.
What kind of curtains look best on a bay window?
When it comes to choosing curtains for a kitchen bay window, there are several factors to consider. The first is the length of the curtains – they should reach all the way to the floor, but not be too long or bulky. Long drapes can create an elegant look, while shorter ones may provide more practical benefits such as protection from sun glare and easier cleaning.
In terms of color and pattern, you can choose whatever suits your taste and fits in with your existing kitchen décor. Brighten a room and welcome the sun with light-hued sheers, or create an impactful statement by donning darker shades. If you want to keep things simple, neutral-colored solid panels can do the trick without taking away from the beauty of the bay window.
Patterns can also add a touch of style and personality – florals, ginghams, plaids, and geometric shapes are all popular choices. Finally, consider adding a valance to the top of your curtains for a finished look. Whether pleated, scalloped, or balloon-shaped, valances can add a fascinating touch to any window treatments and be made from virtually any fabric that coordinates with the decor. They can also provide additional privacy when needed or tie everything together by bringing out colors or patterns found elsewhere in the room.
Should bay windows have curtains?
Bay windows are a great addition to any kitchen, and they can be styled in many different ways. One important decision when styling a bay window is whether or not you should use curtains.
Curtains can add texture and personality to the space, but they can also detract from the view of your garden or outdoor landscape.
Ultimately, it depends on the style of your kitchen and what you prefer. If you're going for a traditional look in your kitchen, curtains can be an excellent way to soften up your bay window area. With the abundance of styles and materials to pick from, it's essential that you find something that aesthetically fits with your home decor. Sheer, linen, or velvet curtains can all work well for a traditional look.
On the other hand, if you're opting for a contemporary and minimalist kitchen, curtains may not be necessary. Blinds and cellular shades are the perfect choice if you want to let in streams of natural light while still enjoying your beautiful outdoor view. These window coverings come in a variety of materials and colors, so you can find something that fits in with your decor. Whatever you decide to do, remember that a bay window is an opportunity to show off the beauty of the outdoors and let natural light into your kitchen.
How do you modernize a bay window?
Modernizing a bay window can be achieved by introducing updated elements and materials. Exchange your current windows for larger, energy-efficient ones to bathe the interior in natural light and offer better insulation. Additionally, use modern curtains that are simple yet stylishly designed to add a contemporary touch to the room. To achieve a modern look, consider painting or wallpapering the walls around your window. This simple change can make all the difference!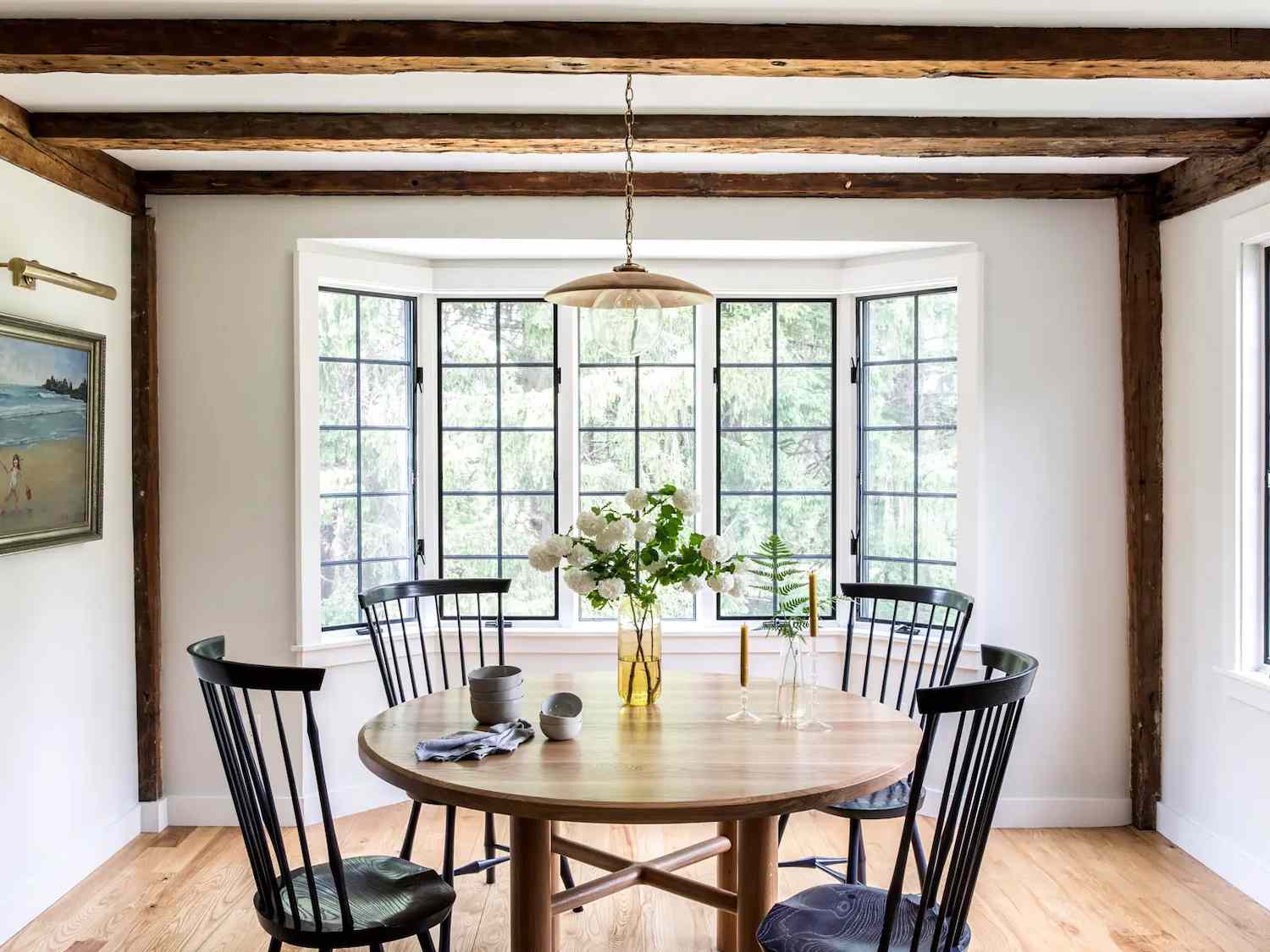 Lastly, consider adding modern furniture pieces such as a sleek sofa or armchairs near the window for comfortable seating. Give your bay window a stylish, contemporary makeover by blending together these distinct design elements.
Do you need a roof over a bay window?
If you're looking for a way to add some extra protection from the elements, then it's worth considering adding a roof over your bay window. A pitched roof with eaves can provide some much-needed shade and block out moisture.
Alternatively, you could opt for a polycarbonate dome or even an aluminum awning. This will offer some protection from the sun in summer months and help keep out rain during wintertime. With this quality of coverage, you can enjoy the life-enriching sights without having to worry about weather conditions ruining your view or damaging any materials surrounding your kitchen windows.
Do bay windows make a room look bigger?
Absolutely, bay windows can create a larger visual area in your room. By transmitting natural light into a room, they create the illusion of more space and make it seem larger than its actual size. Bay windows also provide panoramic views of the outside, which makes a room seem even bigger. Additionally, they add character and charm to any kitchen or living area.
To maximize the illusion of increased space in your kitchen, consider placing furniture around your bay window instead of against walls elsewhere in the room. This will draw attention to the window and create an inviting atmosphere that's sure to impress guests. Furthermore, if you choose window treatments such as blinds or curtains with lighter colors and airy fabrics, this can give off a spacious vibe.
Useful Video: 10 Bay Windows Ideas 💡 Make your Bay Windows still in Style
Conclusion
Whether you choose a simple or more intricate kitchen bay window, it can be an excellent enhancement to the aesthetic of any cooking area. From adding extra light and air flow to creating the perfect breakfast nook or brightening up your space with some plants and decorations, there are so many possibilities for making your kitchen look and feel exactly how you want it. With careful planning and consideration of your desired style, size, function, and budget, you'll be sure to find the perfect bay window for your home.
---
References
https://musthavekitchen.com/kitchen-bay-window/
https://homedesigninstitute.com/read_news/857/12_trendy_kitchens_with_bay_windows/
https://www.homesandgardens.com/kitchens/kitchen-bay-window-ideas
https://www.hgtv.com/design/rooms/kitchens/kitchen-bay-window-ideas