Is it possible to construct an outdoor kitchen on top of paving stones? This is a question that many homeowners ask when they are considering installing an outdoor kitchen. The answer is yes! In this guide, we will provide useful tips and information about how to do this. We will also answer some common questions that people have about this topic.
Why Use Pavers for Outdoor Kitchens?
Pavers offer a great foundation for outdoor kitchens because they are durable, easy to install, and can be arranged in a variety of shapes and sizes. Plus, the natural stones provide an attractive decorative element that will enhance the look of the outdoor kitchen.
Another option is to use interlocking pavers, which snap together like puzzle pieces and can be arranged in a variety of shapes. These are especially useful if you want to create a curved or irregularly shaped outdoor kitchen. Interlocking pavers are often made from durable materials such as granite, slate, or marble, so they will last for many years with minimal maintenance.
Finally, some people choose to build their outdoor kitchen with brick pavers. These provide a classic look that adds charm and character to any outdoor living space. Like concrete pavers, brick pavers require a layer of gravel or sand before installation and can be sealed for extra protection against the elements.
They Create a Wide Variety of Options
You can use diverse shapes, sizes, colors, and textures to achieve a unique look that fits your style and personality. Plus, you can choose from various finishes such as tumbled stone or natural stone to create a more polished look.
Pavers also offer flexibility in terms of layout; you can arrange them in any pattern or shape that you want. This allows you to customize the space according to your needs — for example, if you plan on hosting large gatherings then you may want to lay out an elongated rectangular area for entertaining guests.
Finally, pavers are relatively easy to maintain and repair. If one of the pavers becomes cracked or broken, you can easily replace it without having to do a major overhaul of the entire space. Plus, if you're using interlocking pavers then any repairs can be done quickly and cheaply.
They Come in Many Materials
Pavers come in a variety of materials, including brick, stone, and even plastic. Each material has its own unique benefits and drawbacks, so carefully consider your options before making a decision. For instance, concrete is durable and cost-effective; however, it can be susceptible to cracking over time.
Natural stone pavers are also popular due to their attractive look and durability, but they are more expensive than other materials. Brick pavers offer a classic style that adds charm to any outdoor living space; however, they can be prone to staining if not properly maintained. Finally, plastic pavers are an affordable option that requires minimal maintenance; however, they don't have the same aesthetic appeal as other materials.
No matter which type of paver you choose for your outdoor kitchen project, it's important to consider all of your options before making a decision. Be sure to choose a material that is suitable for your climate and budget and will look great in your outdoor living space!
Pavers Are Easier to Work With
You can find the best option for your individual design. Plus, they're easy to arrange into patterns and cut with a saw if needed. If you're looking to make a kitchen quickly and easily, pavers might be the way to go.
Pavers Create a Unique and Custom Kitchen Look
Pavers are a great way to create an outdoor kitchen because they provide extreme versatility. You can choose any shape and pattern that you want, so it's easy to create something unique and totally customized for your space. You can even combine different shapes of pavers for a more interesting look. Plus, since the pavers will be on top of a flat surface, you won't have to worry about sloped surfaces or awkward corners when laying them down.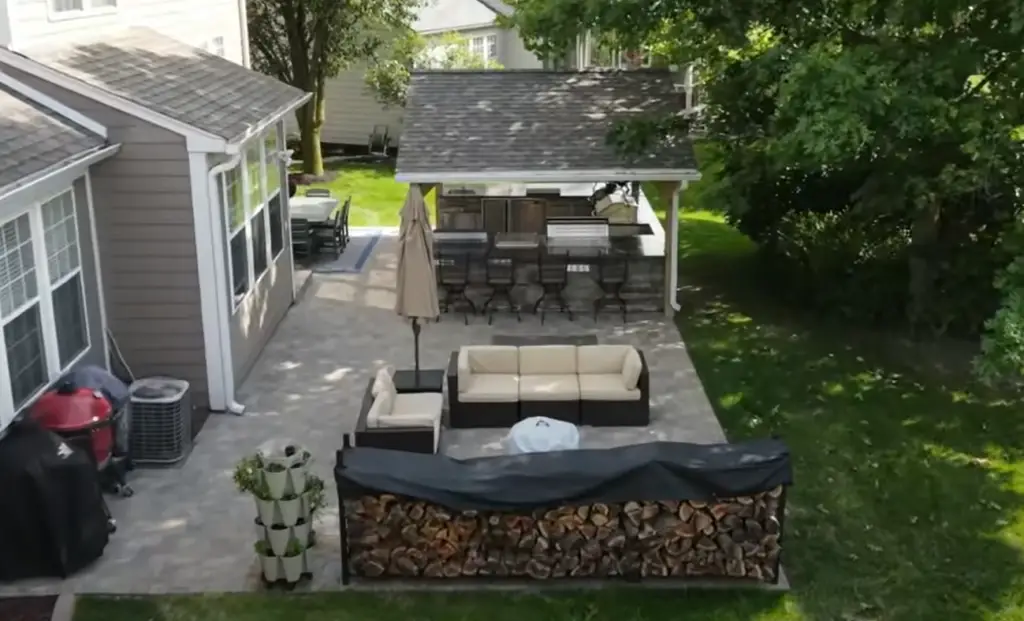 Types of Pavers for Outdoor Kitchens
Pavers provide a strong and stable foundation while providing an aesthetically pleasing look to your outdoor space.
Brick Pavers
Brick pavers are perfect for an outdoor kitchen as they are extremely durable, slip-resistant and have a classic look. Brick can be used in a variety of patterns and sizes to create eye-catching designs. It is also low maintenance, requiring only occasional cleaning and sealing in order to remain resilient against the elements.
Concrete Pavers
Concrete pavers are also a great option for an outdoor kitchen. Concrete is extremely durable and can be customized in a variety of colors and textures to match any design aesthetic. Additionally, concrete requires minimal maintenance and is resistant to cracking and weathering.
Natural Stone Pavers
If you are looking for a more rustic feel to your outdoor kitchen, then natural stone pavers may be the best choice. Natural stone provides a unique look that adds texture and character to your outdoor space. Natural stone is also low-maintenance.
Travertine Pavers
Travertine pavers are a great choice for those that want an elegant and timeless look to their outdoor kitchen. Travertine is an extremely durable stone, which is why it's often used in pool decks and patios. It has a unique veining pattern that adds visual interest to any landscape design. Like other types of natural stone, travertine requires occasional sealing.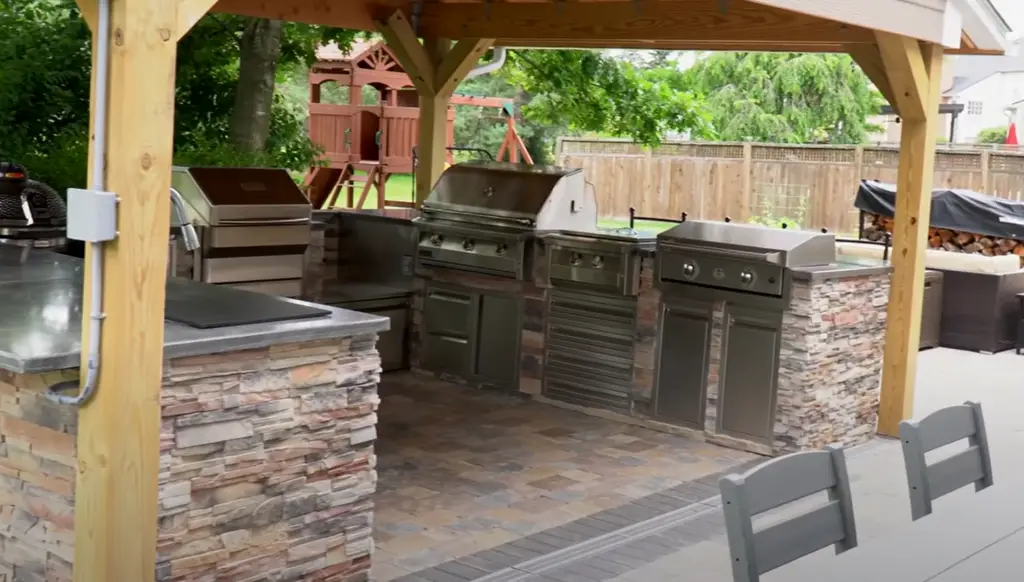 Clay Pavers
Clay pavers are an excellent option for those who want a classic outdoor kitchen look. Clay is extremely durable and slip-resistant, making it an ideal choice for pool decks and patios. It is also easy to install and requires minimal maintenance in order to keep its original beauty alive. [1]
No matter which type of paver you choose, it's important to use them correctly in order to ensure the stability of your outdoor kitchen.
Building an outdoor kitchen on top of pavers can be a great way to transform your backyard into an oasis. With the right materials, you can create a beautiful and functional space that can be enjoyed by family and friends alike. From clay brick to natural stone and concrete, there are many options to choose from when selecting the right pavers. Once you have selected the perfect paver, you can begin to build your dream outdoor kitchen with confidence.
What Parts of an Outdoor Kitchen Can We Build with Pavers?
Your outdoor kitchen is only limited by your imagination! Pavers provide a strong flat base, so all of the basics for an outdoor kitchen can be built on top of them.
Depending on the space you have available and your budget, you can choose from a wide range of appliances and features including:
Grills – Choose from gas or charcoal grills to cook up tasty burgers, chicken, steaks, and more;
Bar Area – Create a bar area with seating around it perfect for those summer evening gatherings;
Storage Solutions – Build shelves beneath the countertop to store utensils, pots and pans, spices, and more;
Cabinets – Add cabinets to the sides of your outdoor kitchen for quick access to condiments, plates, and other items you will need while cooking;
Refrigerator – Install a mini fridge beneath the countertop so that you have cold drinks and snacks close by when needed;
Sink – Don't forget a sink with running water! This is essential for washing dishes or hands before and after eating;
Lighting – And finally, add some good lighting above everything so that you can cook even in the evening hours;
BBQ Island
If you want something a little more elaborate, you can opt for an outdoor kitchen island. An island is typically larger than the average outdoor kitchen and usually includes a BBQ grill, sink, refrigerator, cabinets, and counter space. There are tons of different designs to choose from when it comes to building your own DIY BBQ Island with pavers. Make sure to take accurate measurements of the area before starting so that all pieces fit perfectly together.
Use large square or rectangular stones as the base layer and smaller ones for edging around the island. If you have access to cement or concrete blocks, these can also be used as part of the structure to provide extra support.
Countertops
If you're looking for a more permanent solution to your outdoor kitchen countertop, stone or concrete are the best choices. For stone, granite and marble are excellent options, but they can be expensive. Concrete is cheaper and just as durable if properly sealed. You can even tint the concrete to match your outdoor pavers!
For a lighter option, consider using slate tiles or metal on top of the pavers. Both of these materials have a modern look and will add extra style to your outdoor space. Be sure to seal them with an outdoor sealant before use so that they don't get stained by food or drinks spilled onto them.
Kitchen Floor
Pavers come in a variety of materials such as concrete, brick, stone and more. They are also available in a wide range of colors and sizes so you can customize the look of your space. The best part is that they will last a long time if properly maintained and they won't crack or break easily like other types of flooring.
If you want something even sturdier than pavers, consider using stamped concrete instead. This material looks great and is extremely durable so it's perfect for an outdoor kitchen. Just be sure to seal it every few years to keep it looking its best!
How to build an outdoor kitchen with pavers
There are several steps involved in building an outdoor kitchen, but here's a basic rundown of what you need to do:
Plan your outdoor kitchen carefully
Before you begin, it's important to plan out your outdoor kitchen. This means deciding where the appliances will go and how big they should be. You also need to think about what type of countertop material and cabinetry you want, as well as any additional features like a built-in grill or smoker.
Frame up your outdoor kitchen
Once you've finalized your plans, the next step is to frame up the kitchen. You can use pressure-treated lumber or cedar for the framing. If you're using pavers, be sure to use construction adhesive to secure them in place.
Install the paver brick surface
Once your frame is in place, you're ready to start laying the paver brick surface. Start at one corner and lay down a single course of pavers and then use a rubber mallet to tap them into place. Continue adding courses until you have covered your entire outdoor kitchen space.
Take care of the countertop space
Once the paver surface is in place, you can begin installing your countertop. Depending on the material you choose (stone, concrete, tile), you may need to use mortar and grout to secure it in place. [2]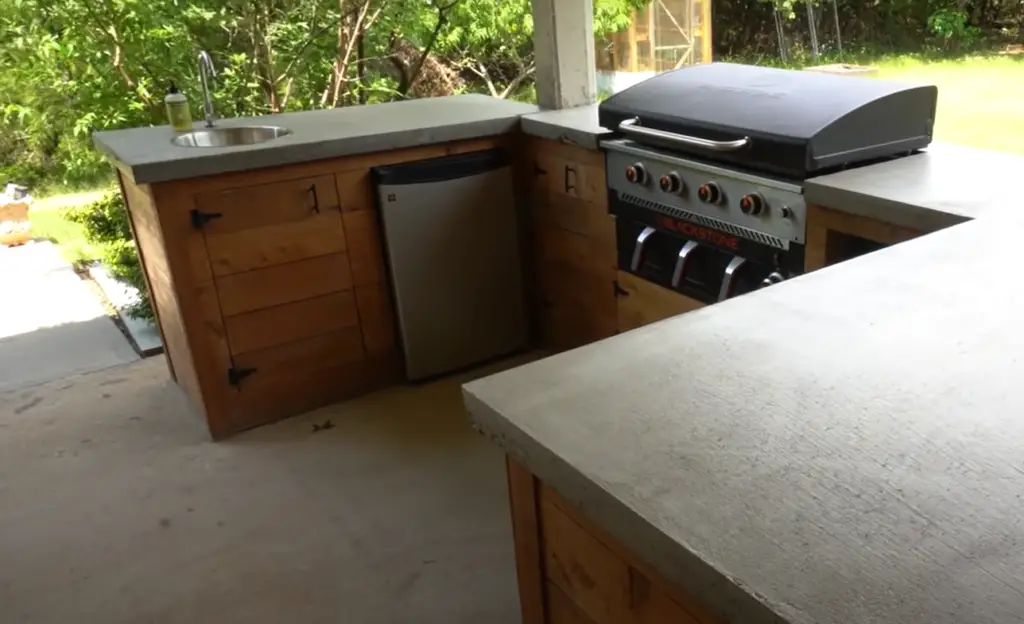 Other things to consider when building an outdoor kitchen
When you've decided that building an outdoor kitchen on top of pavers is the way to go, there are a few other things you need to consider.
Firstly, make sure you're using pavers that are strong enough to support the weight of your outdoor kitchen. Choosing porous or lightweight pavers might save you money upfront, but they can eventually break down.
Choose durable materials for your outdoor kitchen fixtures and appliances too – ones that won't be damaged by rain or exposure to UV rays from the sun. You also need to make sure that any wiring and pipes used in your setup are properly sealed so they don't get damaged or cause any issues.
Finally, remember to keep the kitchen clean and inspect it often for signs of wear and tear or damage. You don't want your outdoor kitchen to become hazardous, so make sure you take good care of it!
Proper ventilation
One of the essential considerations when building an outdoor kitchen is proper ventilation. Outdoor kitchens can generate a lot of smoke, steam, and heat and that needs to be vented properly so that it doesn't affect your indoor living space or cause a health hazard.
Make sure you have an exhaust fan installed that is strong enough to effectively vent out any fumes from the cooking area. You should also make sure that there is sufficient air movement around the kitchen to keep everything cool and comfortable while you're cooking.
Optimized grill area
Make sure that your grill area is optimized for the best cooking experience. It should be close to the sink, refrigerator and other work areas so you can move freely and quickly while you're cooking.
You also need to make sure the grill is in a safe area where it won't catch fire or cause any other kinds of damage. Ideally, position it away from any combustible materials or near any open flames.
Enough storage space
Don't underestimate the importance of having enough storage space in your outdoor kitchen. You need to make sure you have enough cabinets and shelves for all your cooking utensils, ingredients, and other items so that everything is within easy reach.
You also need to consider how much refrigeration space you will need if you plan on keeping food in the kitchen overnight or during hot summer days. Having the right amount of storage space will help you keep everything organized and accessible when it comes time to cook.
Functional lighting
Finally, make sure you're adding functional lighting to your outdoor kitchen. This will give you the best visibility when cooking in the evening or at night and is also a great way to light up the area for entertaining guests.
Choose waterproof and weather-resistant lights that won't be damaged by rain or other elements to ensure your safety while cooking after dark. String lights are a popular choice as they can add ambiance and style too!
---
FAQ
Can you build an outdoor kitchen on gravel?
Yes, you can build an outdoor kitchen on gravel. However, if you plan to install heavier equipment such as a built-in grill or pizza oven, you should consider using pavers instead of gravel. Pavers offer more stability and are better suited for these types of installations. Additionally, you'll need to make sure the ground beneath the stone is leveled so that your outdoor kitchen doesn't settle unevenly over time. [3]
Do outdoor kitchens need to be undercover?
Having a covered kitchen area is beneficial as it provides shelter from the elements and prevents excess dirt and debris from interfering with the cooking process. Also, when building an outdoor kitchen on top of the pavers, a waterproof covering is recommended in order to protect the pavers from any water damage that can occur due to rain or sprinkler systems. If you choose to leave your outdoor kitchen uncovered, make sure that all appliances are made for use outdoors and can take extreme weather conditions without being damaged. [4]
What should I build my outdoor kitchen out of?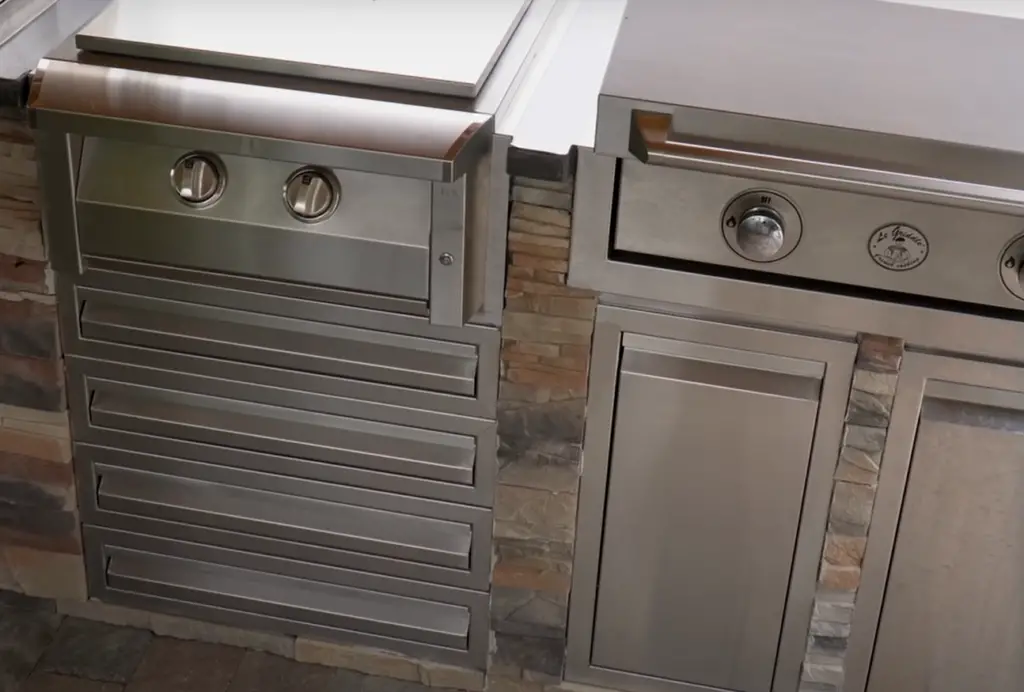 Alternatively, if you don't want to go with a more traditional material like brick or stone, there are other options available such as reconstituted concrete boards (which can be painted) and weather-resistant plywood sheets.  If using any of these materials, however, bear in mind that you'll need to use sealant in order to protect them from water damage.
Whichever material you choose, make sure it is suitable for outdoor use and able to withstand the elements – including sun, rain, and wind. A good rule of thumb is that whatever you build should last at least five years without much maintenance or repair. Additionally, if using any combustible materials like wood, be sure to keep your outdoor kitchen well away from your home as a safety precaution.
Can a deck support an outdoor kitchen?
If you're looking for a more permanent solution that can support the weight of an outdoor kitchen, then building a deck is your best bet. Decks are designed to bear heavier loads than pavers, so they should have no problem supporting an outdoor kitchen and its appliances.
When building a deck, it's important to consider the size and shape of the area where you want to build it. Make sure there's enough room for all your appliances and plenty of counter space. You may also want to add benches or chairs around the perimeter so people can sit while enjoying their meals outdoors.
To make sure your deck is strong enough to hold up against heavy traffic and weather conditions, use pressure-treated lumber. This type of wood is treated with a preservative to help it withstand moisture and rot. As an added bonus, pressure-treated lumber is also more resistant to insect damage than regular wood.
You'll also need to take steps to waterproof your deck before installing the outdoor kitchen. A water sealant can help protect it from the elements and make sure it lasts for years to come. Keep in mind that you may need to reapply the sealant every few years for maximum protection. [5]
Overall, building a deck is a great way to ensure your outdoor kitchen is safe and secure enough to handle all the cooking and entertaining you'll be doing throughout the year.
Useful Video: Building an Outdoor Kitchen | How We Saved Over 75% Using DIY Outdoor Kitchen Techniques
Conclusion
Building an outdoor kitchen on top of pavers is a great way to create a beautiful backyard space for entertaining. It can be done relatively inexpensively if you take the time to do proper research and planning, and use quality materials. Additionally, there are many options available for customizing your kitchen's look to get the perfect fit for your home. With careful attention paid to drainage and support, it's possible to have a safe and secure outdoor kitchen that will provide years of cooking and entertaining pleasure. Don't forget regular maintenance, however; this includes sealing the pavers after installation and regularly cleaning and clearing away any debris or clutter in order to keep your outdoor kitchen looking its best!
---
References:
https://www.thediaryofdaveswife.com/outdoor-kitchen-pavers/
https://www.impressiveinteriordesign.com/how-to-build-an-outdoor-kitchen-with-pavers/
https://www.thespruce.com/building-an-outdoor-kitchen-4779117
https://www.durantewindows.com/do-outdoor-kitchens-need-to-be-covered/
https://www.oasisoutdoorliving.com/deck-top-outdoor-kitchens-bg.html