If you're like most homeowners, you dream of one day having an eat-in kitchen. But what is an eat-in kitchen, and why do you need one? An eat-in kitchen is a space in your home where you can cook and eat meals without having to go to another room. This is a great solution for small homes or apartments, where every square foot counts. This article will discuss the benefits of having an eat-in kitchen and show you how to create one in your own home!
About the Eat-In Kitchen
An eat-in kitchen is a  kitchen that is equipped with a dining room. The space structure includes a kitchen area, where food preparation takes place, and a separate eating area, where the food can be enjoyed. An eat-in kitchen often features an island or peninsula, additional seating such as bar stools, and a table to accommodate all family members for meals.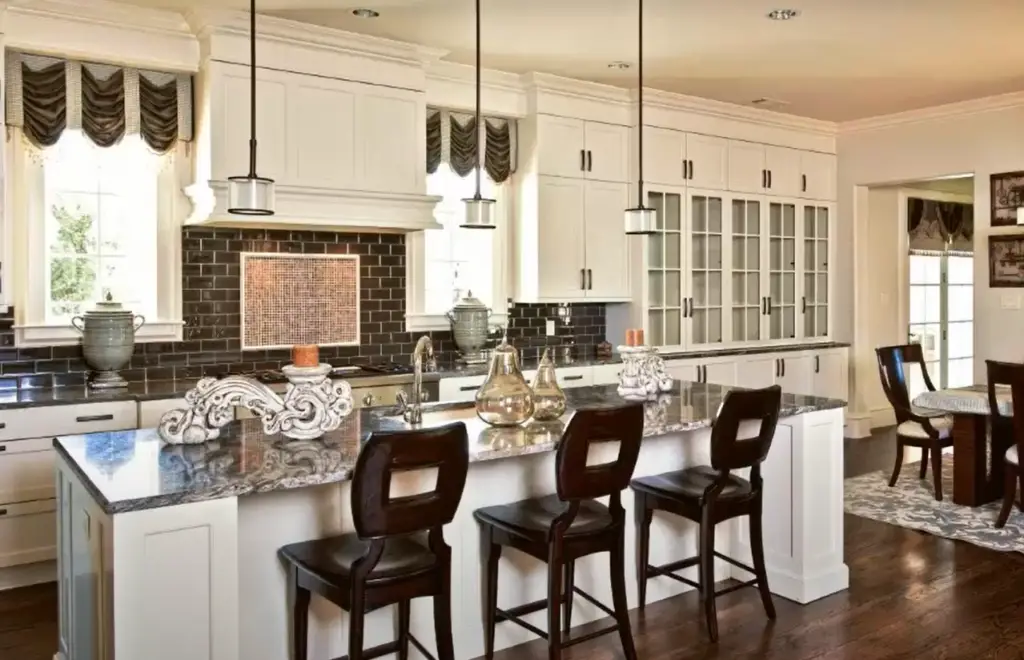 An eat-in kitchen can be created in any size room, but it's important to make sure there is enough space for both activities. If space is limited, try adding an island or peninsula that can double as a dining table when needed. Consider adding additional seating such as bar stools or a round table with chairs to accommodate more people. With proper planning and design, an eat-in kitchen can provide a great way for families to connect while enjoying meals together [1].
Eat-in kitchen ideas
Double up on seating
If you have the room, include a dining table in your eat-in kitchen. This will give you and your family a place to sit down and share meals. You can also choose chairs or benches that double as storage, so you can store extra dishes and other items underneath them when they're not being used.
Squeeze in a table for two
If you don't have the space for a dining table, consider adding a small cafe-style table and chairs. This type of seating is perfect for two people and takes up much less room than a standard dining set.
Hang drop-down tables
Don't have enough floor space for a kitchen table? Install drop-down tables on your walls instead. These foldable surfaces can be pulled down when needed, providing you with an extra counter or eating space without taking up any precious square footage.
Add an island
Kitchen islands are great for food preparation and storage, but they can also double as informal dining areas. Buy or build one that has seating along one side where family members can gather for quick meals.
Maximize a redundant corner
If your kitchen has one of those awkward corners that doesn't fit any furniture, consider using it for a dining nook. Place a small table and chairs in the corner to take advantage of dead space — it will look great and give you an extra spot for meals.
Go for a banquette
Banquettes are perfect for tucking into small spaces, like breakfast nooks or adjoining walls. They provide comfortable seating while taking up minimal floor space. Plus, you can store dishes and other items underneath the bench seats when they're not in use.
Play with the patterns
If you're not a fan of traditional dining sets, mix and match chairs to create your own unique seating arrangement. Choose chairs in a variety of shapes and sizes, then tie them together with a coordinating pattern or color. This will give your eat-in kitchen an eclectic feel that is truly one-of-a-kind.
Soften straight lines with curves
If you're looking for a more contemporary feel, try using curved furniture. This can add visual interest to your eat-in kitchen while also providing comfortable seating. Choose chairs and tables with curved edges or legs to give your kitchen a softer look.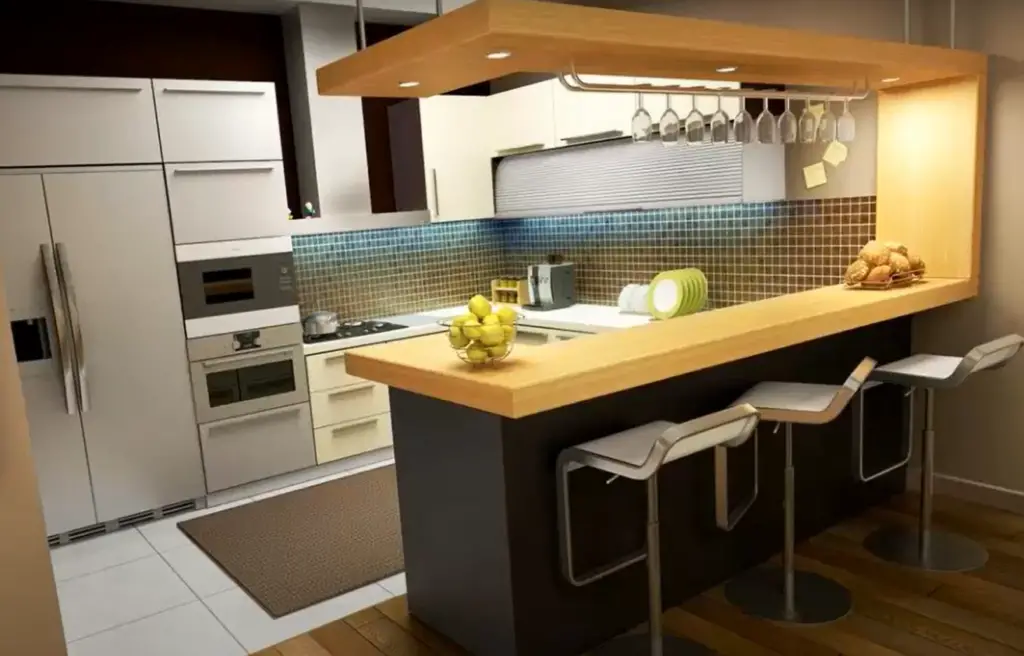 Brighten up the space
Don't forget about the lighting! You can easily brighten up your eat-in kitchen by adding overhead lights, pendant lights, or even candles. These will help create a warm and inviting atmosphere for meals and conversation.
Mix and match vintage treasures
If you're going for a more rustic or vintage look, shop at thrift stores and flea markets to find unique furniture pieces. You may be surprised by what treasures you can find — from tables and chairs to cabinets and shelves. Mix and match these pieces to create a one-of-a-kind eat-in kitchen that will be sure to impress!
Choose a hardwearing farmhouse table
For a classic look, opt for a hardwearing farmhouse table. These sturdy tables are perfect for family meals and can stand up to daily wear and tear. Choose one with matching benches or chairs to complete the look [2].
Benefits of an Eat-In Kitchen
Added Informal Space
Eat-in kitchens provide a great informal space for families and friends to gather together. Instead of having to gather around the dining table, you can have people sit in the kitchen area and enjoy their meals while talking and spending time with one another. This adds a cozy atmosphere to any home that is sure to be enjoyed by all.
Improved Kitchen Efficiency
An eat-in kitchen allows for improved kitchen efficiency which makes cooking easier and faster. With an open floor plan, you will be able to move from the refrigerator to the stove with ease as well as store items closer at hand when needed. This means less walking back and forth between different areas of your kitchen which saves time in the long run.
Increased Home Value
The presence of an eat-in kitchen can add value to your home as it is seen as a desirable feature by many potential buyers. It not only adds functionality but also provides a great look to any home while increasing its overall value.
Perfect for Breakfast and Quick Meals
The eat-in kitchen is perfect for busy households who need to make meals quickly. Eating in the kitchen allows you to have breakfast ready in no time, as well as whip up a quick lunch or dinner when needed. It's also great for those days when you don't want to bother with setting the table but still wants to enjoy a meal together.
More Storage Options
Having an eat-in kitchen gives you more storage options than just having a traditional dining room area. You can use the space underneath the seating area of your kitchen island or countertop to store items such as cookbooks, extra dishes, and small appliances that are not used very often. This helps save on space while keeping everything organized.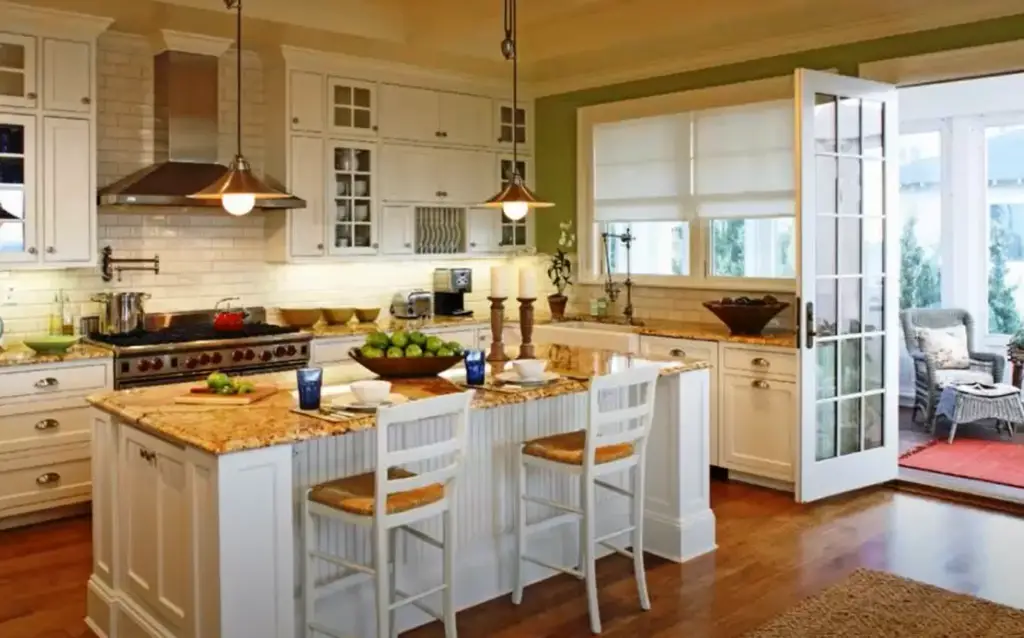 Clean-up is a breeze
Another great benefit of an eat-in kitchen is that clean-up is a breeze. With all the dishes and utensils stored in one area, it's easier for everyone to help with washing up after meals, making meal prep and cleanup much more efficient. All in all, an eat-in kitchen adds many benefits to your home such as increased efficiency and convenience, improved storage options, added value to your home, and a cozy atmosphere for family gatherings [3].
Key Features of an Eat-in Kitchen
Eat-in kitchens have some key features that make them a great choice for busy households:
Spacious Seating: One of the main advantages of having an eat-in kitchen is the additional space you can use for seating. Depending on the size of your kitchen and the layout, you may be able to fit up to six people at the table comfortably;
Open Layout: An eat-in kitchen typically has an open layout, which allows for easy access and movement between different areas of the kitchen without feeling cramped or restricted by walls or other boundaries. This makes it easier to carry dishes from one area to another and gives everyone more room to move around while preparing meals and gathering together as a family;
Functional Appliances: Another key feature of an eat-in kitchen is the inclusion of functional appliances. From refrigerators to ovens, having these essential items in the kitchen makes it easier to store food and prepare meals quickly and efficiently;
Ample Storage: An eat-in kitchen typically has plenty of storage space for all your kitchen needs. Cabinets, shelving units, and pantries can provide much-needed storage as well as a place to keep smaller countertop appliances like microwaves or blenders out of sight but still easily accessible when you need them;
Easy Accessibility: The configuration of an eat-in kitchen means that everything you need is within easy reach. This makes it much simpler to grab ingredients from the fridge or spices from the pantry without having to take steps away from food preparation;
Increased Socialization: An eat-in kitchen is also a great place for socializing and gathering around the table. Not only does it provide ample seating, but it also allows everyone to interact more easily while meals are being prepared or enjoyed. This can be especially beneficial for families with young children, as it gives them another space to do their homework or play games together in addition to the traditional dining room;
Natural Lighting: Many eat-in kitchens feature large windows that let in plenty of natural light, creating a cheerful atmosphere and making mealtime more enjoyable. Having this type of lighting can also make tasks like cooking and cleaning easier since everything will be more visible;
Flexible Design: An eat-in kitchen is a flexible and versatile space that can easily be adapted to suit different needs and tastes. From modern to traditional, this type of kitchen can be customized with furniture and accessories to match any style or décor. This makes it easy to switch up your look whenever the mood strikes;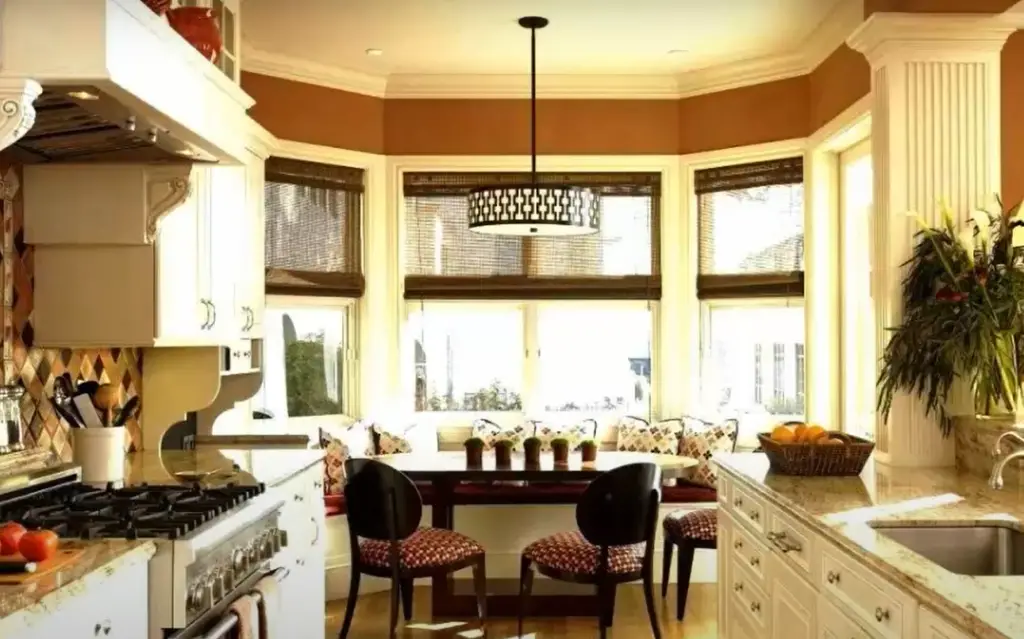 Having an eat-in kitchen can create a cozy atmosphere for you and your family to enjoy meals together and make meal preparation easier than ever before. With the key features of ample seating, an open layout, functional appliances, storage solutions, natural lighting, and flexible design – there's no doubt that this type of kitchen can become your favorite room in the house [4]!
Eat-In Kitchen vs. Dining Room: The Right Choice for You
When it comes to deciding between an eat-in kitchen or a dining room, the choice comes down to personal preference. Eating in the kitchen can be more casual and intimate than eating in a separate dining room while having a dedicated space for entertaining is often preferred. An eat-in kitchen offers many advantages such as increased storage space, informal seating options, and the ability to use one area of your home for two purposes.
It's also much easier to clean up after meals when everything is contained in one area. On the other hand, having a separate dining room can make dinner parties feel more formal and provide you with extra seating if needed. When deciding which option will work best for your lifestyle and home, consider how much space you have available, your entertaining needs, and the atmosphere you're looking to create. Whether it's an eat-in kitchen or a dining room with a traditional table, there is no one-size-fits-all answer.
However, understanding what each offer is can help make choosing between the two easier for you. Regardless of which option you choose, both provide areas for friends and family to gather and enjoy meals together. Adding accents like rugs, artwork, and accent pieces can help bring life into either area – making it a warm and inviting place to be [5].
Understanding an Eat-In Kitchen: Definition and Key Features
An eat-in kitchen is a versatile kitchen design that includes space for dining within the kitchen area. Below is a detailed comparison of the definition and key features that characterize an eat-in kitchen.
| Aspect | Eat-In Kitchen | Definition | Key Features |
| --- | --- | --- | --- |
| Design Concept | An eat-in kitchen is designed to incorporate a dining area within the kitchen, allowing for a combined cooking and dining space. | Defined by the presence of a dining space, such as a table, breakfast nook, or island, within the kitchen layout. | Dining area situated within or adjacent to the kitchen. Space for seating, which may include chairs, stools, or benches. Provides a casual and convenient dining experience. |
| Functionality | Eat-in kitchens offer a functional and practical layout, promoting a seamless flow between cooking and dining activities. | Designed to facilitate cooking and dining activities in close proximity, promoting interaction and convenience. | Easily transition between food preparation and dining. Encourages family and social gatherings in the kitchen. Often used for casual meals and quick snacks. |
| Space Utilization | Efficient space utilization is a key characteristic of eat-in kitchens, making the most of available square footage. | Optimizes the use of kitchen space by combining cooking and dining areas, eliminating the need for a separate dining room. | Maximizes functionality in smaller homes or apartments. Eliminates the need for a formal dining room. Offers flexibility in arranging dining furniture. |
Explanation of the table:
This table provides a detailed comparison of an eat-in kitchen, emphasizing its definition and key features. An eat-in kitchen is designed to combine cooking and dining areas, offering a practical and space-efficient layout. It encourages interaction, convenience, and efficient space utilization, making it a popular choice in many homes.
---
FAQ
Why is it called an eat-in kitchen?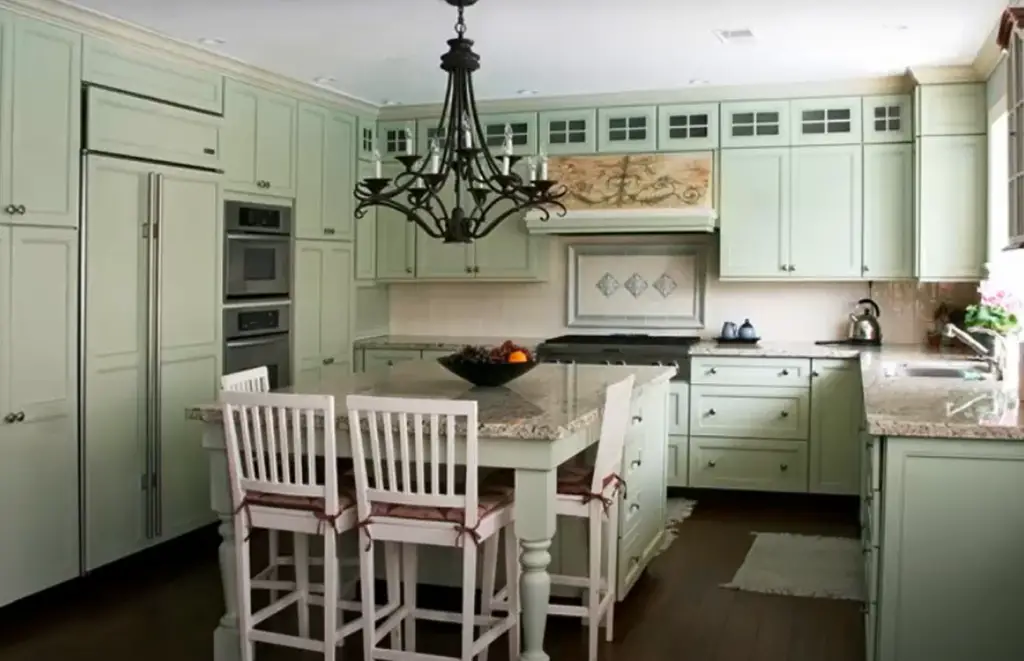 What are the benefits of an eat-in kitchen?
The main benefit of an eat-in kitchen is that it eliminates the need for multiple rooms! By combining the cooking and eating spaces into one area, you can save time and money by not having to switch from one space to another. Additionally, the additional seating provides comfortable and convenient areas for family members or friends to sit while you are preparing meals. An eat-in kitchen also allows for a more open, inviting atmosphere that makes it easier for people to interact with each other as they cook, dine, and socialize all in the same area. It can help create an intimate setting that encourages conversation and quality time spent together. Lastly, if there is an island or peninsula present in your kitchen, it can provide extra workspace and storage options without sacrificing the look of your kitchen's design.
What should I consider when designing an eat-in kitchen?
When designing an eat-in kitchen, you should take into account the size and layout of your space. Measure how much room you have available and plan accordingly. Consider the type of seating that would work best with your kitchen design; barstools are a popular option if you have an island or peninsula, while chairs are more suited for traditional dining table arrangements. Be sure to also think about any additional storage options you may need, such as shelves or cabinets, as well as any appliances or decorations that you would like to include in the space. Lastly, take into account the lighting needs of your kitchen – this will help create an inviting atmosphere for family dinners or entertaining guests.
What is an eat-in counter?
An eat-in counter is a type of kitchen counter that typically has built-in seating along one side. The seats are usually attached to the countertop and provide a convenient place for people to sit while the cook prepares meals or snacks. This type of design can be especially useful in smaller kitchens since it eliminates the need for additional furniture, such as chairs or barstools. It also gives people a great view of what's happening in the kitchen while they wait for their food! Eat-in counters are perfect for casual dining with friends and family – they provide an intimate setting without taking up too much space.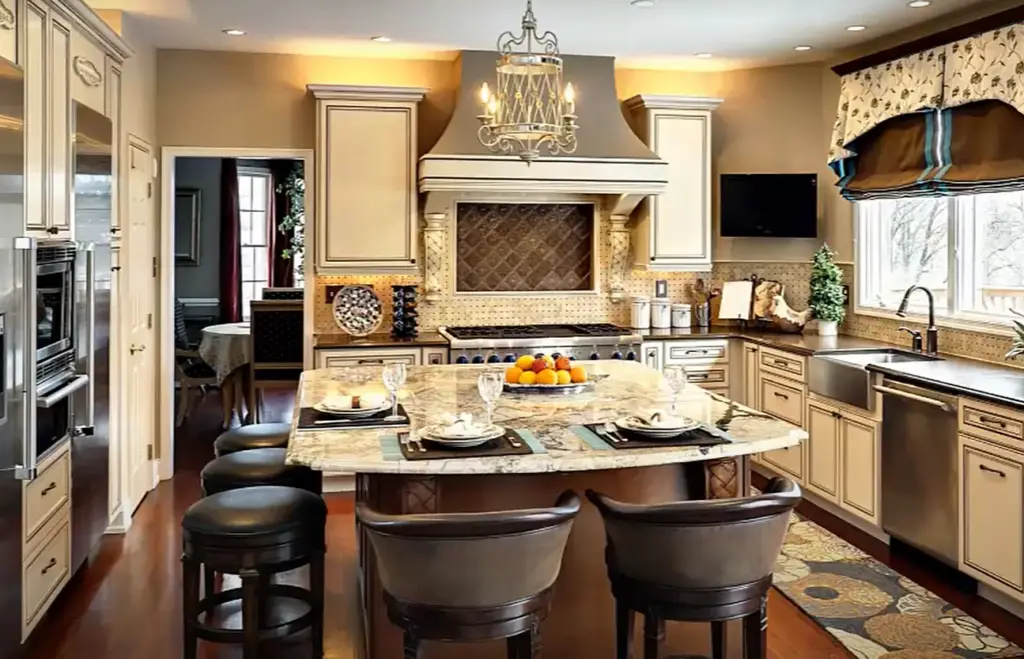 What other ways can I use my eat-in kitchen?
In addition to preparing meals, eating, and socializing, there are several other ways to utilize your eat-in kitchen. It can be used as a workspace for household projects or hobbies, such as arts and crafts or painting. It can also serve as an area to do homework, read books, or watch TV. If you have enough space, you could even set up a small home office in the corner of your eat-in kitchen. Lastly, if you have kids in the house, they may enjoy playing with their toys while sitting at the barstools – this way they can stay close to mom and dad without getting into mischief!
Do you need a dining room if you have an eat-in kitchen?
No, you don't necessarily need a separate dining room if you have an eat-in kitchen. An eat-in kitchen can serve as both the cooking and eating areas, making it perfect for smaller spaces or homes. However, if you like entertaining large groups of people or prefer more formal settings for meals, then it may be worth investing in a separate dining room. Depending on your space and budget, you could always opt for a combination kitchen/dining room – this way, you get the best of both worlds!
What is the number one rule in the kitchen?
The number one rule in the kitchen is to always practice safety first. Make sure that all appliances and tools are properly secured and covered, especially if you have kids around. Keep any sharp objects out of reach, as well as cleaning agents or other hazardous materials. Be mindful of hot surfaces such as ovens, stoves, and grills. Lastly, make sure that everyone washes their hands before handling food or cooking utensils – this will help prevent any unwanted germs from spreading!
How can I create an inviting atmosphere in my eat-in kitchen?
Creating an inviting atmosphere in your eat-in kitchen involves selecting comfortable seating, using warm and welcoming colors, adding lighting that enhances the dining experience, and incorporating personal touches like artwork or decor to make the space feel cozy and enjoyable for meals.
What are some space-saving solutions for a small eat-in kitchen?
In a small eat-in kitchen, it's important to maximize space efficiently. Consider using space-saving furniture like fold-down tables, wall-mounted benches, or compact dining sets. Additionally, using built-in storage for seating and choosing light, reflective colors can make the space feel larger and more open.
How can I make my eat-in kitchen family-friendly?
To make your eat-in kitchen family-friendly, select durable and easy-to-clean materials for your furniture and finishes. Include child-friendly seating options and consider incorporating a designated space for children's activities or homework. Ensure that the layout is open and safe for family interactions.
What are some design tips for a stylish eat-in kitchen?
For a stylish eat-in kitchen, choose furniture and decor that complement your kitchen's design. Consider mixing textures and materials, such as combining wood with metal or incorporating trendy color palettes. Using statement lighting fixtures and incorporating unique art pieces can also add a touch of style to the space.
Can you convert a regular kitchen into an eat-in kitchen?
Yes, you can convert a regular kitchen into an eat-in kitchen by incorporating a dining area or creating a space where you can comfortably eat within the kitchen. This transformation may involve adjusting the layout, adding seating, and ensuring there is enough space for dining comfortably.
Useful Video: The Summer Kitchen
Conclusion
An eat-in kitchen is a wonderful addition to any home, providing the perfect area to entertain family and friends. It can be designed to suit any budget and personal preference, making it an ideal space for both everyday use and special occasions. By considering how much room you have available, your lifestyle needs, and the overall design of your home, you can create a unique eat-in kitchen that is just right for you. With careful planning and execution, your new eat-in kitchen will become the heart of your home – a place where memories are made and cherished for years to come.
---
References:
https://www.siematic.com/inspiration/guide/eat-in-kitchen/
https://www.homesandgardens.com/kitchens/eat-in-kitchen-ideas
https://allpointconstructionmi.com/eat-in-kitchen-benefits-and-design-tips-to-consider/
https://www.bhg.com/what-is-an-eat-in-kitchen-6835056
https://www.dreammaker-remodel.com/tyler/2021/08/06/eat-in-kitchen-vs-dining-room-the-right-choice-for-you/