Brown is a timeless and classic color that can be used in many different kitchen styles. Whether you're looking for something traditional, modern, or eclectic, brown can be an excellent choice when it comes to designing your dream kitchen. From warm wood tones to deeper shades of cocoa and espresso, there are plenty of ways to incorporate brown into your kitchen design. With the right accessories and accents, you can create a unique space that reflects your personal style while still maintaining a cohesive look throughout the room. Here are some great ideas for incorporating brown into your kitchen aesthetic!
Brown Kitchen Cabinets
One of the most prominent features in a kitchen is the cabinets, and brown can be used to make them look stylish and sophisticated. Whether you opt for light wood tones or darker espresso shades, brown cabinets instantly add warmth and depth to any space. Consider adding decorative hardware such as brass pulls or natural stone knobs for an extra touch of character.
Additionally, incorporating glass-front doors can give your cabinets a more elegant look while also allowing you to show off favorite dishes or decor items inside.
Dark Brown Kitchen Cabinets
Dark brown kitchen cabinets are a popular choice among homeowners looking to add stylish sophistication and warmth to their kitchens. They also provide a great way to contrast lighter wall colors, making them ideal for contemporary or modern designs. Dark brown cabinets offer plenty of versatility when it comes to pairing with countertops, flooring, appliances and other cabinetry finishes.
Light Brown Kitchen Cabinets
Light brown cabinets look great in any kitchen, offering an earthy style that fits with modern and traditional decor alike. The key is to pick tones that are light enough to complement the room's existing fixtures and furnishings, but still offer a bold statement. Neutral shades of cream, taupe, or sage pair nicely with bright, airy colors like light blues, pinks, and yellows.
Sensible Brown Kitchen Ideas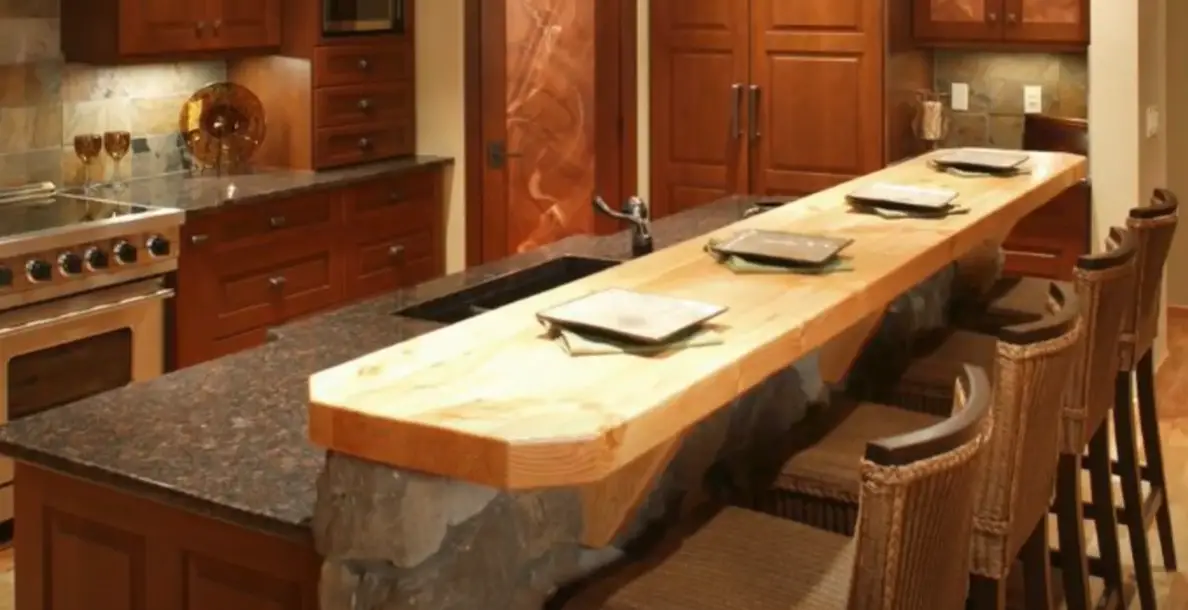 If you're looking for a way to bring a classic look and feel to your kitchen, brown is an excellent choice. Brown kitchens are incredibly versatile and can be styled in any number of ways depending on the colors and materials you choose. From warm, earthy tones to bright shades of chocolate, there are endless options when it comes to creating the perfect brown kitchen.
Mix Old With New
One of the best brown kitchen ideas is to mix and match the old with the new. Incorporating classic elements such as wooden cabinetry or traditional backsplashes, along with modern appliances, can create a beautiful and timeless look. Achieving this balance will ensure that your kitchen looks stylish for years to come. Also, adding elements such as an island or bar cart can help to maximize the space and make it more functional.
Color Pops
One way to make your kitchen stand out is with color pops. Use a main neutral brown color for walls, flooring, and cabinets. Then add accents of other colors such as blues and greens to give the space some life. You can use small appliances like electric kettles and blenders in bright colors or eye-catching orange bar stools to really make a statement. Adding texture to the walls can also bring some life into the room, with materials like exposed brick or wood paneling.
Modernize Your Furniture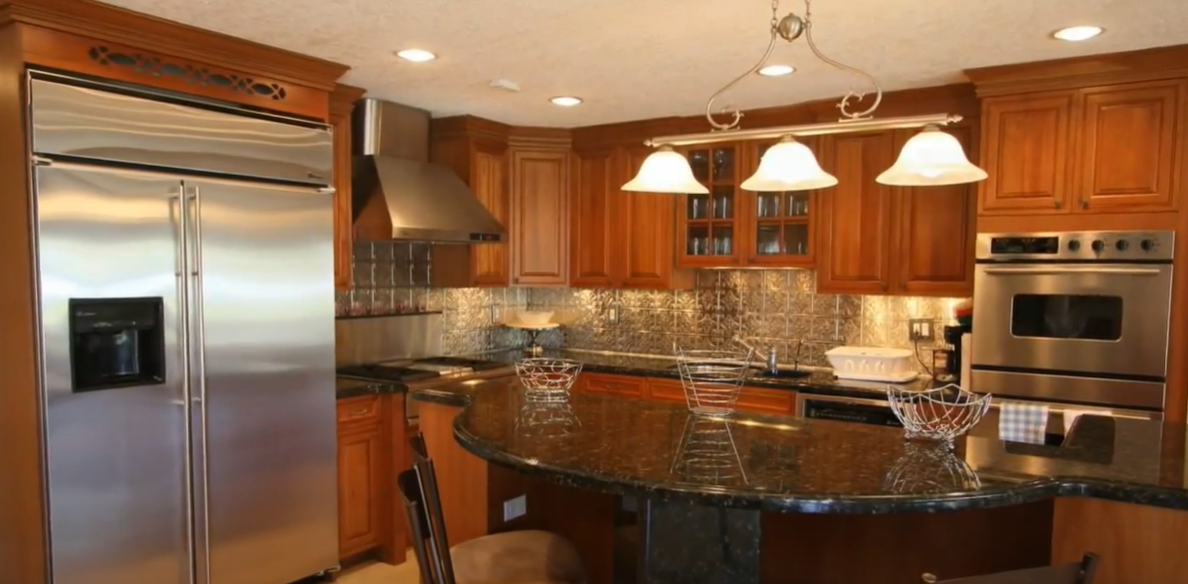 For some people, a modern look might be a bit too much for their brown kitchen. However, there are plenty of ways to give your furniture an updated look that is still appropriate for the space. Try replacing outdated wooden chairs with more contemporary metal or plastic pieces, or add in unique accent tables and bar stools. You can also update the hardware on your cabinets and drawers with modern handles or knobs. By making a few simple changes, you can easily give your kitchen furniture a fresh new look that complements the existing brown color scheme. [2]
Modern Espresso Kitchen Cabinets
Create a modern vibe in your kitchen by adding espresso cabinets! This trending color can make any kitchen space look sleek and chic. Espresso cabinets also pair nicely with white countertops or backsplashes to create contrast and texture. Add some brushed metal hardware to complete the look, and you'll have a beautiful, contemporary kitchen that is sure to wow your guests. Whether you choose to go with a traditional or modern design, espresso cabinets are sure to bring warmth and style to your kitchen. So don't hesitate – try out this stylish trend today!
Shaker Brown Kitchen Cabinets
Shaker cabinets are a timeless design style that has made its way into many kitchens. Brown shaker kitchen cabinets can create an earthy, natural look in your kitchen. These cabinets often feature flat panel doors with simple lines and raised panels for a classic, traditional feel. You can use different shades of brown to create a warm and inviting atmosphere.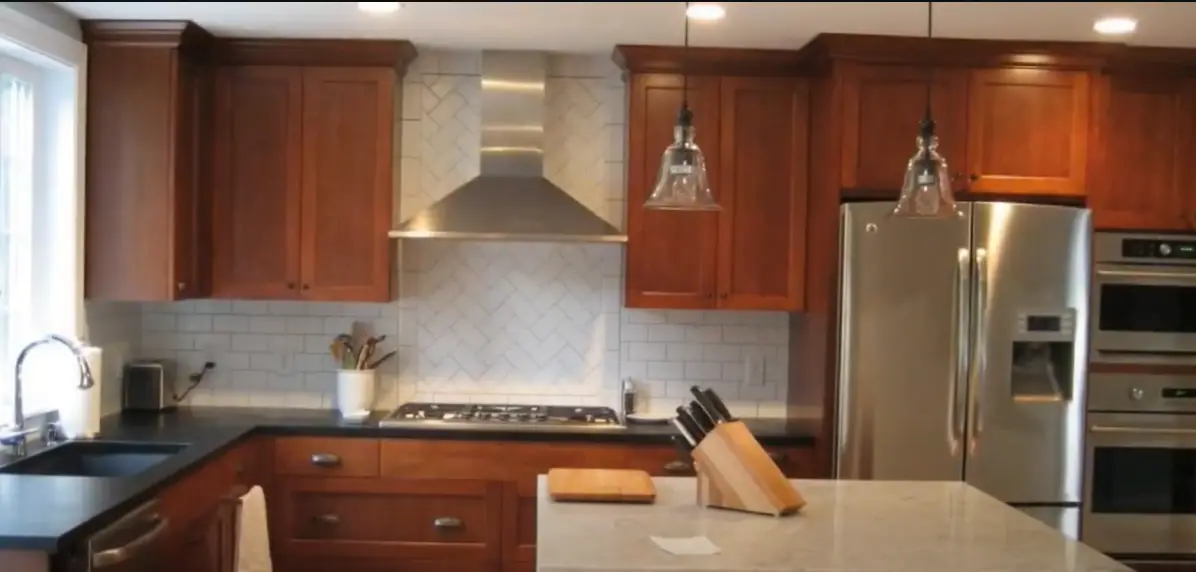 You can also pair these cabinets with a range of materials and hardware options to add texture and interest. Brown shaker kitchen cabinets will make your kitchen look sophisticated and inviting, while still providing plenty of storage space for all your cooking needs.
Contemporary Kitchen
When it comes to contemporary brown kitchen designs, the possibilities are endless. From sleek and modern countertops to unique storage solutions and stylish backsplashes, there's no limit to what you can do with the color in your kitchen. To achieve a contemporary look, mixing different shades of brown is essential. For instance, pairing darker wood cabinets with lighter tile and countertops can create a beautiful contrast.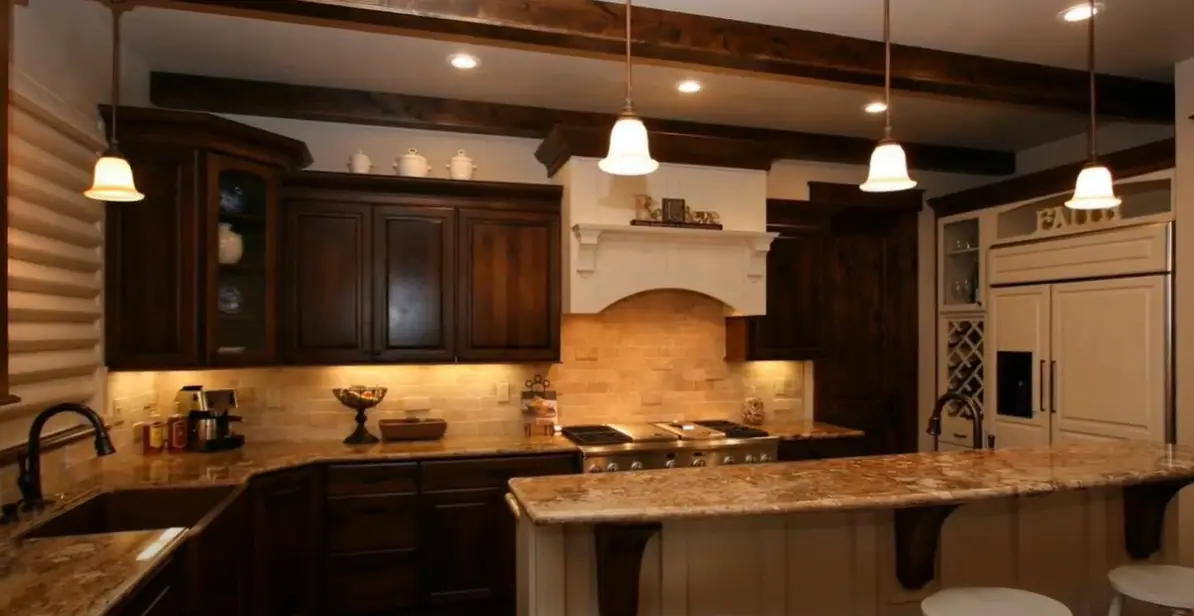 Big Open Kitchen
A big open kitchen is one of the most popular brown kitchen ideas. This kind of design makes the most out of a space, with cabinets that reach all the way up to the ceiling and plenty of countertop space for cooking and food prep. A large island in the center can provide additional storage as well as extra seating for entertaining guests. The room can be outfitted with modern appliances in a dark brown hue, as well as warm wood accents for visual interest. Alternatively, you can opt for stainless steel appliances to give the kitchen a more contemporary feel. Natural light flooding in through large windows and doors will bring life to this room, making it a truly inviting space for family and friends. [3]
Color Combinations With Brown Kitchen Cabinets
Brown kitchen cabinets look best when paired with light-colored countertops and wall colors. For a modern, contemporary look, white is the perfect choice for countertops and walls as it complements the deep brown tones of your cabinets. If you're looking to create a more traditional aesthetic or need to add warmth to the space, consider pairing your brown cabinets with light gray or beige countertops and pale yellow walls.
Brown Kitchen Cabinets With Gray Walls
When it comes to color combinations with brown kitchen cabinets, pairing them with gray walls is a great option. The muted tones of the gray walls help to balance out the warm tones of the brown cabinets for a chic, timeless look. To add in pops of color and texture, consider adding in touches of black or white accents like handles, light fixtures, and other decor pieces. For an extra layer of warmth and coziness, add in wood-toned accessories such as wooden cutting boards or wall hangings.
Acrylic White And Brown Kitchen Cabinets
One way to incorporate brown into your kitchen is with acrylic white and brown kitchen cabinets. For a modern look, pair the sleek, glossy finish of acrylic cabinet doors with a warm brown hue for an elevated aesthetic that stands out from the rest. The combination allows you to achieve a light, airy feeling while still allowing both colors to work together in harmony. You can even integrate subtle elements of gold or silver hardware throughout the space to tie it all together.
The use of this color scheme also works great for contemporary homes when paired with other materials such as stainless steel appliances, glass backsplashes, and marble countertops. With this combination you will not only get a unique look but also create an inviting atmosphere for friends and family alike. [4]
Advantages A Brown Kitchen
One of the main advantages of having a brown kitchen is that it provides a timeless, classic look. Brown kitchens are versatile and can fit into any style, from traditional to modern. They also offer an earthy, natural look that adds warmth and comfort to the home. Since brown is such a popular color, you can expect to find many options for cabinetry, countertops, floors, and other decor elements in shades of brown.
Brown kitchens are also great for creating contrast within the space. Darker shades will provide a dramatic contrast against light-colored cabinets or walls while lighter tones will create subtle contrast with white appliances or furniture pieces. You can layer different shades of brown to create depth and dimension in your kitchen design.
When it comes to the materials used for a brown kitchen, there are plenty of options. Wood is a popular choice that can be stained or left natural. You can also use tile, stone, laminate, or even concrete to create different textured looks. With so many material choices available in shades of brown, you have endless possibilities when designing your dream kitchen.
Brown kitchens offer an easy and cost-effective way to transform your space without starting from scratch. From traditional to modern designs, there is sure to be something out there that fits your style and budget perfectly!
Disadvantages A Brown Kitchen
While Brown kitchens may offer a classic, timeless look and feel to many people's homes, there are some drawbacks to having one. First, it can be difficult to find kitchen accessories like curtains or countertops that match the tone of the room.
Additionally, the darker shades can make a room seem more enclosed and smaller than it is. Brown kitchens also require more upkeep than lighter-colored kitchens as dirt and dust are less likely to blend in unnoticed. Finally, if you decide to switch up your style down the line brown kitchens may not provide enough contrast for other design elements making changes difficult.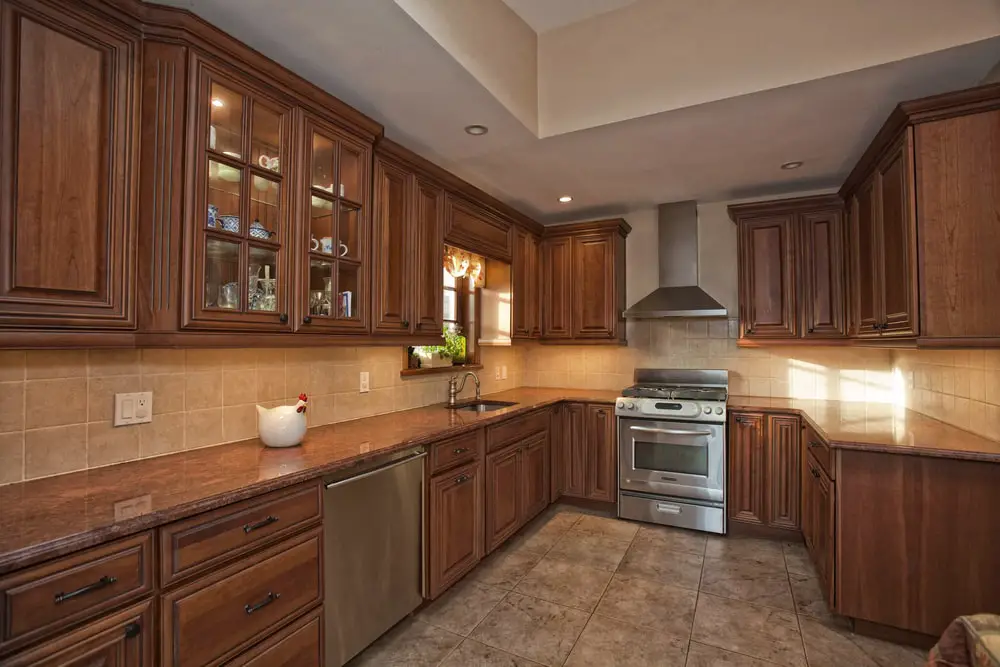 Despite these potential disadvantages, with proper planning and maintenance a brown kitchen can still provide a beautiful atmosphere for any home! With the right accents and décor, brown kitchens can still be warm and inviting. A few strategically placed colorful elements such as bright curtains or wall-art can help to balance the overall look of the room and add a touch of liveliness.
Additionally, lighter colored countertops and backsplashes will contrast with the dark walls making it easier to update your kitchen if you decide on a new style down the line. [5]
FAQ
How do you modernize a brown kitchen?
Modernizing a brown kitchen can be achieved by introducing lighter colored materials like wood, white tiles or countertops to brighten up the room. Other options include adding pops of color with accent pieces such as artwork, dishes or appliances and updating hardware like cabinet knobs and drawer pulls for a more modern look. Additionally, updating the lighting in the room can make dramatic changes in how it appears.
How can I decorate my brown kitchen?
If you have a brown kitchen, there are plenty of ways to decorate it and make it look stylish. Brown kitchens can be warm and inviting, and with the right touches of color and texture, your kitchen can be an inviting place for friends and family alike. Here are some ideas for how to decorate a brown kitchen:
Incorporate bright colors – Adding accents of bold colors in the form of artwork, accessories or even appliances can add life to a dull-looking brown kitchen. Consider adding colorful countertop appliances or hang art prints with vibrant hues that pop against the wall.
Paint the walls – Painting the walls is one of the most effective ways to update any space in your home. With a brown kitchen, consider painting the walls in an accent color that complements the shade of your cabinets and countertop. If you're feeling daring, you can even try painting one wall with a bolder hue to create a focal point in the room.
Add texture – Putting texture on your walls is another great way to add interest to any space in your home. Consider adding textured wallpaper or even hanging fabric like burlap or linen for an added touch of warmth and coziness.
Add natural elements – Bringing in natural elements such as baskets, wooden shelves, or live plants can also add life and energy to a dull-looking kitchen. Utilizing natural materials will give your kitchen a more organic, rustic look that will help to balance out the brown tones.
Let in natural light – Natural light can be a great source of life for your kitchen, especially if it's lacking any bright or vibrant elements. Consider opening up windows or adding skylights to bring in more brightness and energy into the room.
What color walls go best with brown kitchen cabinets?
When selecting the ideal wall color to complement brown kitchen cabinets, the best choice is a neutral tone such as off-white or cream. These colors provide a subtle contrast while still blending nicely with the existing cabinetry. For added drama and depth, consider shades of gray, taupe, beige or even soft blues.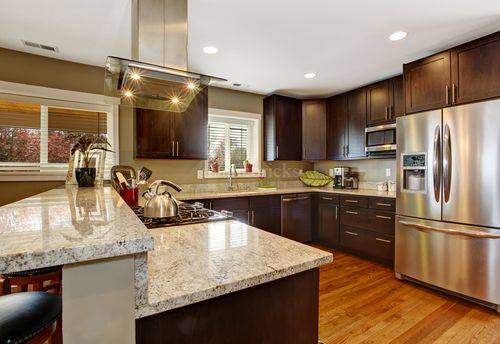 Warmer colors like yellow and peach can also be used to help create an inviting atmosphere. It's important to remember that when working with bolder hues, they should only be used in small amounts – otherwise they will overpower the room. To tie all the elements together, add accents in coordinating colors such as bronze or gold hardware on your cabinets and rustic wooden accessories throughout the space. With some creative thinking, brown kitchen cabinets can be any homeowner's dream come true!
What 2 colors go best with brown?
When it comes to colors that pair well with brown in the kitchen, it is best to keep things neutral and simple. Natural tones such as beige, white, taupe, gray, and black all work harmoniously with a brown color palette. Adding a pop of color is also an option – try incorporating shades like pastel blue, light green, or coral for a more vibrant look. Consider adding accent pieces like bar stools or artwork to emphasize these colors even further. No matter what color you choose to complement your brown kitchen design, make sure that it adds warmth and character to the space. In general, any warm tone works well with brown when it comes to home decorating.
Colors like mustard yellow, terracotta, and even navy blue can be used to create a modern and sophisticated look. Incorporating texture is also an important aspect of any kitchen design – think about using materials like wood, marble, or textured tile to add contrast. With so many colors and textures to choose from, it's easy to create a unique and inviting brown kitchen that reflects your individual style.
What Colors compliment brown?
When it comes to interior design, color is an important way to create a certain feel in your kitchen. Brown kitchens are no exception! While brown can be used as the main color, it also looks great when paired with other colors such as white, black, gray, green and yellow. White goes particularly well with brown because it creates a bright contrast that still looks warm and inviting. Black and dark grays can help bring out the richness of the wood texture used in many brown kitchens while lighter shades of gray will provide more subtle highlights. Green tones work best in kitchens with natural elements like plants or stone countertops while yellow adds an unexpected pop of color to make your kitchen stand out.
What is the kitchen trend for 2023?
2023 is looking to be an exciting year for kitchen trends with the introduction of warmer, more inviting shades of brown. Brown has become increasingly popular over the past few years and is set to continue its growth in the coming year. Whether you opt for subtle accents or a full-on remodel including cabinetry and floors, this timeless hue will bring sophistication and warmth to your home. Brown can be used in many different ways when it comes to kitchen design – from traditional wooden cabinets to modern bar stools and countertops.
To create a timeless look that won't go out of style, consider combining lighter and darker shades of brown together for a more balanced outcome. Pops of color like green or blue can also be included to add visual interest and depth.
For a classic look, opt for timeless materials such as marble and granite, both of which will work well with brown. Alternatively, you could bring in some industrial elements with metal stools or a concrete countertop. By combining these two styles together the effect is one of effortless refinement and an inviting atmosphere. Whichever way you choose to use brown in your kitchen design, it's sure to transform your space into something unique!
What kitchen colors are timeless?
When considering kitchen colors, brown is often a timeless option. Brown can be used in all sorts of ways to create a warm and inviting atmosphere in the kitchen, from using shades of chocolate for walls and cabinets to adding espresso-colored accents. Other timeless kitchen colors that pair well with brown include white, beige, cream, and even deep blues. When paired together correctly, these colors can create an elegant yet cozy look that will last for years to come. To ensure your kitchen looks beautiful now and into the future, consider incorporating some stylish and timeless brown elements into your design. Also
What color flooring goes with brown cabinets?
When it comes to color choices for flooring that go with brown cabinets, there are a variety of options. Neutral colors such as white, beige, cream or gray are popular choices and can create a classic look.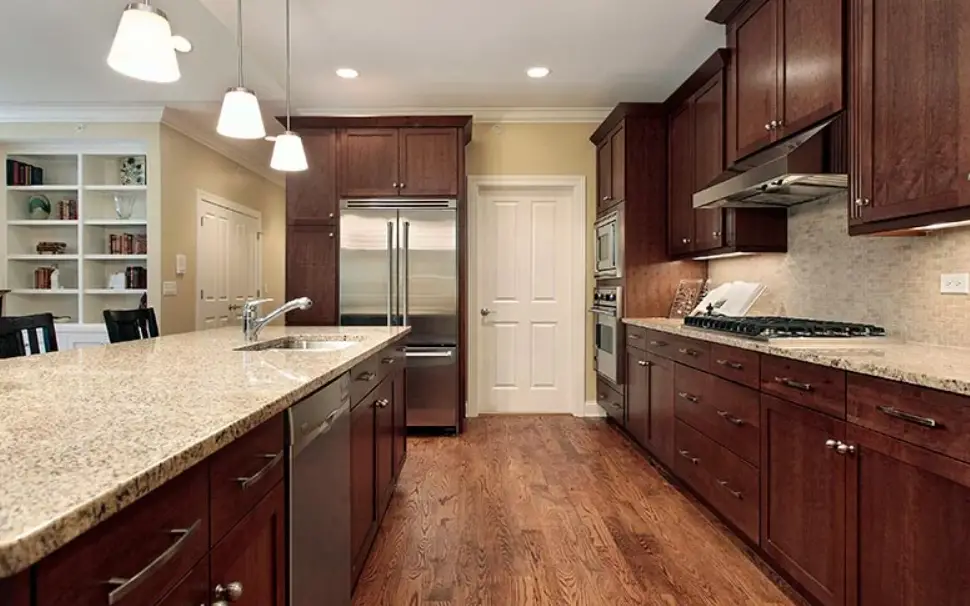 If you want to make a more bold statement, consider warm shades like terracotta, light wood tones or even black. Incorporating patterns, such as an intricate mosaic tile or chevron patterned laminate can also add visual interest to your kitchen space. When choosing flooring for a room with brown cabinets, think about how much contrast you'd like between the two surfaces and pick accordingly.
A small amount of contrast will tie them together nicely while still allowing each surface its own identity; too much contrast may make the space feel busy.
Ultimately, the choice is yours and you can always change it up later if needed!
What compliments brown furniture?
When selecting furniture and decor to complement brown kitchen furnishings, consider combining warm tones such as oranges, reds and yellows. Utilizing shades of white, cream and beige can bring a light and airy feel to the space. Metallics like gold or bronze may also add a touch of glamor.
Rich woods like mahogany, walnut or teak are great for adding depth and contrast. Choose wood finishes that blend in with existing cabinetry but stand out enough to create an interesting visual element. Incorporating colorful artwork is another way to brighten up the area while still keeping within the color palette of your kitchen's style. Play around with different shapes of frames or canvases and experiment with unique pieces to create a one-of-a-kind look.
Adding in plants and flowers is an easy way to bring a touch of nature into your kitchen. Choose varieties that thrive in low light and can live comfortably on shelves or counters, such as succulents, ivies and ferns. Incorporating glassware like perusing vases or delicate stemless glasses will also help tie the entire look together.
What kind of countertops goes with brown cabinets?
When it comes to countertops that go well with brown cabinets, there are several options. Granite is a popular choice due to its durability and range of colors available which can help tie the look of the kitchen together. Quartz is also a great option since it is easier to maintain than granite. Other materials like marble, soapstone, and even stainless steel can work nicely too!
When deciding on your countertop, make sure to factor in how much maintenance it will require and if the colors match your cabinets. Additionally, lighter countertops such as white or beige can act as a great contrast against darker-toned cabinets for an eye-catching touch! No matter what countertop you choose, it's sure to bring your kitchen to the next level.
Is brown color good for the kitchen?
When it comes to kitchen design, brown is often overlooked as a suitable color choice. But the truth is that brown can actually be used in an array of ways to create a stunning and luxurious kitchen space. Whether you opt for rich walnut cabinetry or warm tan details, there are plenty of ways to incorporate this hue into your kitchen design. One great way to use brown in the kitchen is by featuring dark wood cabinets. Dark wood brings a sense of sophistication and elegance to any space and will add a timeless feel to your kitchen. If you want to keep things light, consider choosing lighter shades of brown like tans and beiges, which will still provide warmth without making the room seem too stuffy or oppressive.
Should walls be lighter or darker than cabinets?
When decorating with brown in the kitchen, one of the major decisions you will need to make is whether to choose lighter or darker walls compared to your cabinets. Ultimately, this decision comes down to personal preference and the overall look you are aiming for in your kitchen. If you are looking for a more traditional design aesthetic, then opting for lighter walls will create a classic "old world" style that is timeless and warm.
This look can be further enhanced by adding natural elements like wood accents and light-colored stone countertops. Darker walls can also work well in a brown kitchen if you want to create drama and contrast within the space. Darker shades such as deep earth tones or chocolate browns can make the kitchen seem more intimate and inviting.
If you decide to go with dark walls, be sure to balance them out with lighter-colored cabinetry and accents that will help keep the room from feeling too heavy and oppressive. No matter what choice of wall color you make, adding in textures such as wood or stone accents can bring a unique visual interest to your kitchen design. Textures help create depth and movement within the space while still maintaining a cohesive look.
Useful Video: 50 Brown Kitchen Ideas
Conclusion
No matter the size of your kitchen, brown can be used to create a warm and inviting atmosphere. Whether you want to incorporate natural textures or go for a modern look, there are plenty of ways to incorporate shades of brown into your kitchen design. From light beige cabinets to dark espresso walls, brown is a versatile and timeless color that can bring out the beauty in any kitchen. With just a few touches here and there, you can transform your space into something truly special. So don't be afraid to get creative with brown when it comes to designing your dream kitchen!
---
References
https://docs.google.com/document/d/1X27YSX9AQV4i6rnEzt2MmR6xPcvw-4GiD5_3vPnsGDA/edit
https://nimvo.com/20-sensible-brown-kitchen-ideas/
https://prettymykitchen.com/2022/12/brown-kitchen-cabinets/
https://www.magicbricks.com/blog/colour-matching-brown-cabinets-in-kitchen/116463.html
https://homedesignlover.com/kitchen-designs/brown-kitchen-cabinet/