Decorating kitchen shelves can be a fun and creative way to add some personality to your cooking space. Whether you're looking for something minimalistic or bold, there are plenty of ways to make your kitchen shelves look stylish and inviting. From choosing the right shelving material and adding colorful accents, to displaying artwork and plants, decorating kitchen shelves is an easy way to give your space a fresh new look. With these simple tips, you can transform your kitchen into an attractive area that reflects your unique style.
When Should You Redecorate Your Kitchen Shelves?
Kitchen shelves often become cluttered with items that are rarely used. Redecorating your kitchen shelves is a great way to declutter and organize your space while giving it an updated look. Consider redecorating if you've recently moved into a new home, if the color scheme in your kitchen needs refreshing, or even if you're in the mood for a change. [1]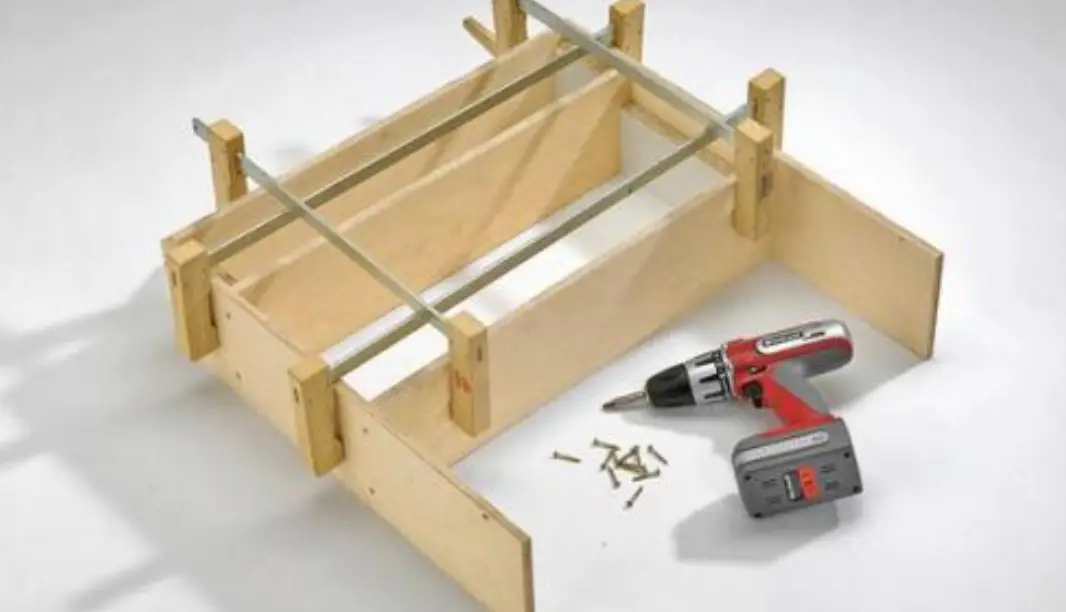 Kitchen Shelves For Daily Use
For kitchen shelves used on a daily basis, it is best to keep clutter at bay.
Use The Lowest Shelf For Daily Dishes
When it comes to decorating kitchen shelves, the lowest shelf is best used for everyday dishes like plates, bowls, cups and mugs. Store these items horizontally in a neat pile or stacked high depending on the number of items you have. It's also a great idea to group together complementary colors and patterns to create an eye-catching look on the shelf. You can also add a touch of greenery with a small potted plant or an arrangement of fresh flowers to give your kitchen shelves a pop of life!
Use Your Countertop As A Bottom Shelf
When it comes to decorating kitchen shelves, one of the most overlooked options is to use your countertop as a bottom shelf. This allows you to create an additional display area for items such as cookbooks and plants, and if you have a glass top countertop, then this can look particularly striking. You can also use additional accessories such as trays and baskets to hold any small items you need.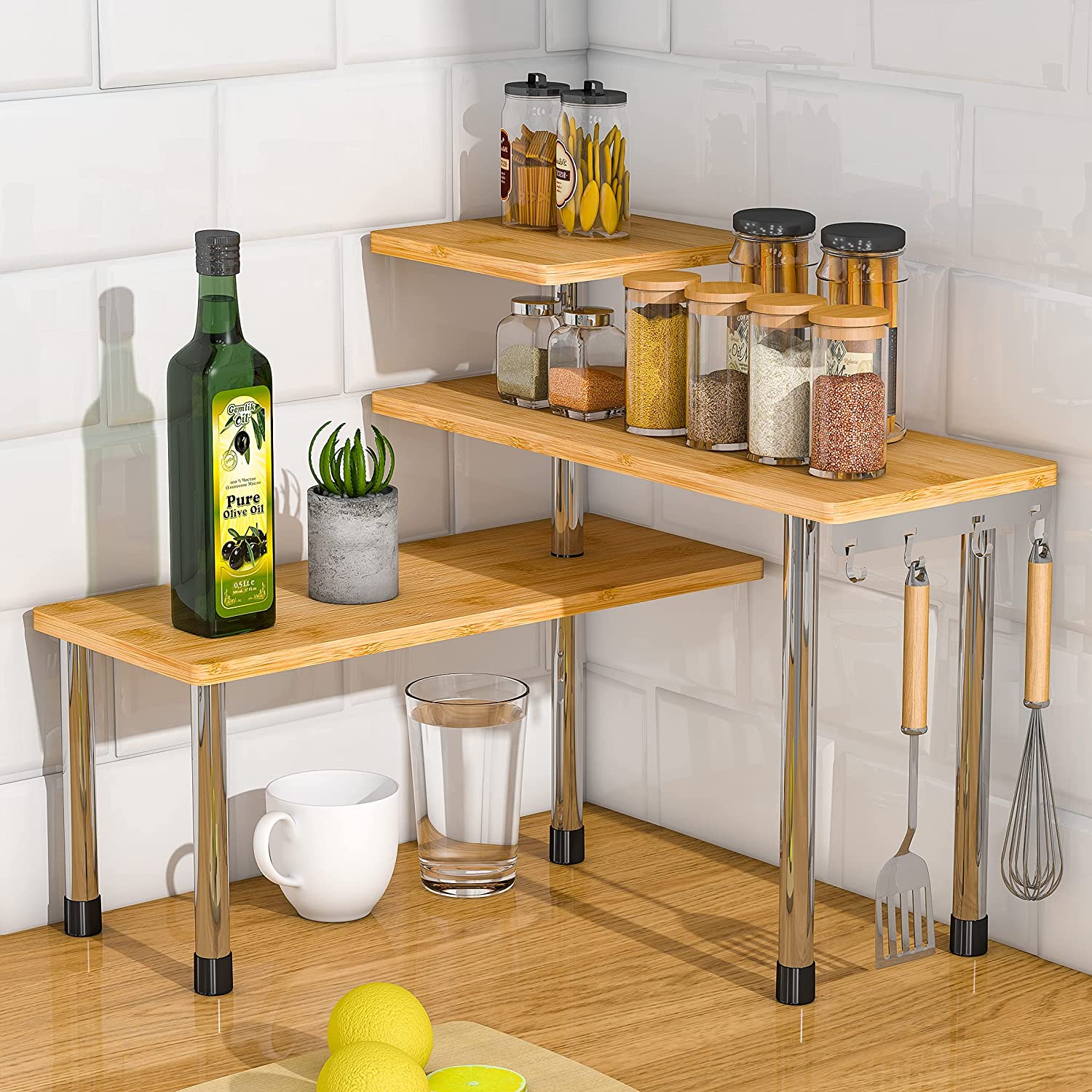 Intersperse Decorative Items For Enjoyment And Interest
Think of shelves as an opportunity to curate a collection of items that each tell a story. Instead of crowding the shelf with one item, try interspersing decorative items between its main elements. A few ideas include:
Photo frames featuring family photos or artwork from kids
Houseplants or small succulents in decorative vases
Candles or candle holders to add a warm, inviting glow
Figurines of family members, friends, or pets
A stack of books to show off your collection
Colorful mugs and dishes for a pop of color [2]
Kitchen Shelves For Decor
Kitchen shelves can be a great way to add charm, character and personality to your kitchen. Whether you have an open concept layout or are looking for ways to make the most of limited space, decorating kitchen shelves is an easy way to make your kitchen feel cozy and inviting.
Group In Odd Numbers And Alternate Colors
One of the most attractive ways to decorate kitchen shelves is to group items in odd numbers and alternate colors. This creates an eye-catching display which will add visual interest to your kitchen space. Begin by selecting a few items that you would like to feature on the shelf, such as dishes, bowls or other decorative pieces. Arrange these items in odd numbers and alternate colors, such as three blue dishes and two red plates. This will create a balanced display and add a touch of visual flair to your kitchen.
Keep The Color Scheme Simple
When decorating kitchen shelves, it is important to keep the color scheme simple. The goal should be to create a cohesive look rather than a cluttered one. Consider using a neutral palette such as whites, off-whites, and earth tones for an understated look that will help anchor your other decorations and bring the whole kitchen together.
Accessorize The Under-Shelf Area
The area under kitchen shelves can be easily overlooked, but it's a great place to add stylish accessories.
Decor Ideas For Open Kitchen Shelves
When decorating open kitchen shelves, it's important to keep in mind the color palette and style of your kitchen. A cohesive look will be most aesthetically pleasing and create a well-designed space. Here are some suggestions for how to dress up those plain shelves:
Use Accent Pieces
A great way to add a bit of personality and pizzaz to your kitchen shelves is by using accent pieces. These can be anything from vases, figurines, small plants and sculptures. If you are looking for something a little more unique and special, you could try collecting vintage objects that have sentimental value or that speak to your personal style.
Vitalize With Plants
Decorating your kitchen shelves with plants is an effortless and inexpensive way to add a touch of merriment.
Show Off Some Crockery
Show off your favorite crockery, dishes and mugs with a shelf dedicated to them. Decorate the shelves with different heights and sizes of items. Add potted plants or other knick-knacks to give the shelf more interest.
If you have a lot of crockery, break it up over two shelves with different groupings on each shelf.
Theming With The Background
When it comes to decorating kitchen shelves, the background color and material of the shelf are just as important as what is on top. It's best to select a neutral background like white or light wood that won't compete with your items but will still bring warmth to any kitchen. Depending on the size of your shelves, you may also want to consider adding a wallpaper backing for added texture and visual interest.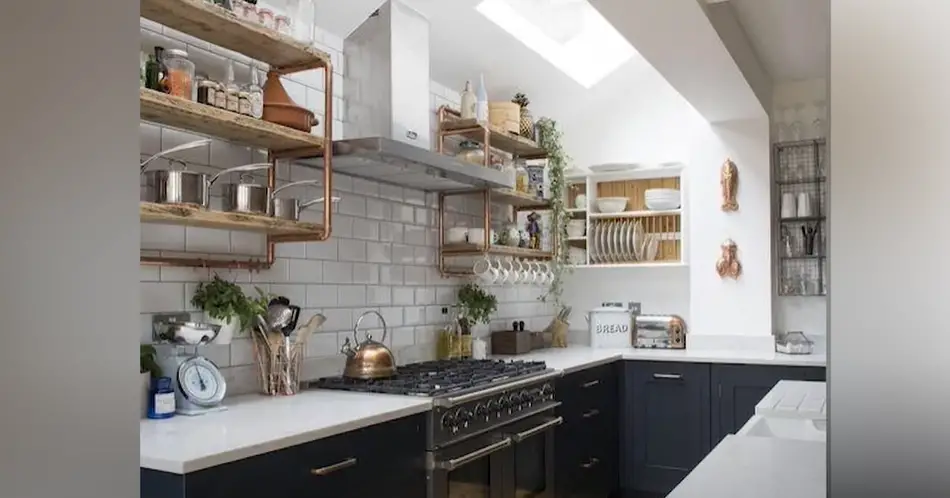 Add Extra Lighting
Adding lighting to kitchen shelves is a great way to create a cozy, homey atmosphere in the space. Task lighting can be used to highlight specific items on the shelf, or ambient lighting can be used to provide soft illumination. To add extra light to your shelves consider using plug-in sconces, pendant lights, or even string lights. These lighting elements can not only help to bring attention to your items, but also add a bit of warmth and personality to the room. [4]
Know When To Stop
It is important to know when you have enough decorations on your kitchen shelves. Too much decoration can be overwhelming and distracting, so it is better to keep it simple. Decide how many items you want in each shelf before starting the project. This will help you create a minimalistic look while still adding character to the space. Avoid using too many colors and patterns as this will draw attention away from the items on display. If you have items that are fragile or valuable, it is best to keep them in other places for safety. Once you have finished decorating, step back and admire your work! You'll be proud of how much personality and style you added to your kitchen shelves.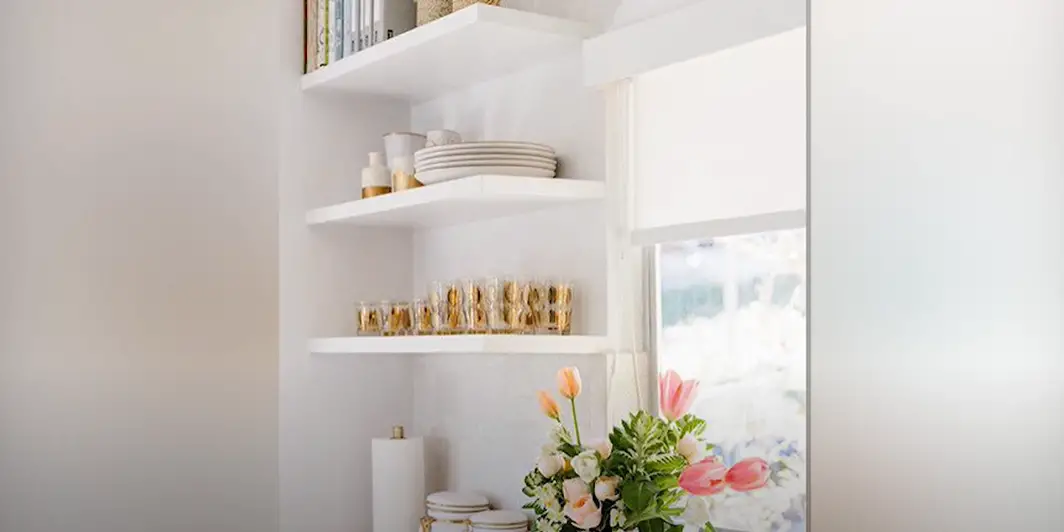 FAQ
How do I style my kitchen shelves?
When styling kitchen shelves, there are several factors to consider. First, think about the type of shelving you have and what type of items you'd like to store on them. That will determine the size and shape of objects that you can use to decorate them. If your kitchen shelves are deep, tall objects may work better. If your shelves are shallow, stick with items that are thinner and have more surface area. For a modern look, consider adding playful accents like framed prints or wallpapers. You can also layer trays, books, and baskets for an eclectic touch. Add plants to add texture and freshness to the space. Finally, choose items in coordinating colors to create a sense of cohesion. With these simple tips, you can create a stylish and functional kitchen shelf display.
What can I put on my kitchen decorative shelves?
When decorating kitchen shelves, think about the style you want to achieve and how much space you have. Shelves can be an effective way to add colour, texture, and even storage to your kitchen. Some popular items to include are plants, cookbooks, vases, candles, artwork, and other decorative items. You can also add some functional pieces such as spice jars, cookware, utensils and tea towels for a more purposeful look. Once you have your items picked out, consider the arrangement and display of each item on the shelf for an eye-catching look. You can also incorporate baskets and trays to help organize smaller items. Don't be afraid to experiment with different looks until you find something that you love. With a few simple decorations, your kitchen shelves can become an attractive focal point in the room.
How do you decorate built-in kitchen shelves?
Built-in kitchen shelves are a great way to add extra storage and visual style to your kitchen. Decorating them is an easy way to show off your personal style and create a space that you'll love spending time in. When it comes to decorating built-in kitchen shelves, there are a few key points to keep in mind. Start by assessing the size and shape of the shelves and use that information to determine what type of décor you can use.
You'll also want to consider the colors and textures that will work well with your kitchen's existing decor. Once you understand the size and shape of your shelves, it's time to start looking at decor. One of the easiest ways to decorate built-in kitchen shelves is to use a combination of baskets and jars. Baskets can be used to store items such as snacks, fruits and vegetables, while jars are perfect for holding spices and small ingredients. If you have a bit of extra space, decorative bottles and vases can also be used to create an interesting display.
How do you decorate floating shelves in the kitchen?
When it comes to decorating floating shelves in the kitchen, there are a few key tips to keep in mind. First of all, try to keep the items on the shelves small and light. This will help to ensure that the shelves remain securely fixed to the wall, as heavier items could make them unstable. Additionally, try to keep the items on each shelf cohesive in terms of size and color. This will create a neat and tidy aesthetic that will look great.
When it comes to the items that you choose, try to opt for things that are both functional and decorative. A few ideas are herbs and flowers in small vases, kitchen accessories such as mugs and utensils, or even artwork. Finally, make sure to add a pop of color with a few accent pieces, such as a bright bowl or small pot of succulents.
What should I put on my kitchen top shelf?
When it comes to your kitchen top shelf, you can use this space to store items that you don't need on a daily basis. Items like vases and mugs are perfect for this area because they are both decorative and functional. You can also make use of the space by displaying unique pieces such as cookbooks or framed photos. Additionally, you can place items like planters or small sculptures on the shelf to add texture. Utilizing your top shelf space is a great way to add visual interest and style to your kitchen.
How do I make my shelves look nice?
Decorating kitchen shelves isn't hard. To make your shelves look nice and inviting, follow these simple steps:
Decide on a theme for your shelf.
Choose a few colors that will be the focus of your design.
Start by adding larger items like vases and serving dishes that can fill out the space on your shelf.
Now it's time to add in smaller decorative items, like knick-knacks, framed photos, candles, or even a plant or two.
Finally, add in some special touches like a garland of fairy lights or an eye-catching wall art piece for a beautiful finishing touch!
How do I make my shelves look elegant?
When it comes to kitchen shelves, there are many ways to make them look elegant. Here are some tips for creating a beautiful and sophisticated look for your shelves:
Choose neutral colors such as white, grey or beige when painting the walls or shelving units. These colors will bring out the best in any accessories that can be added to the shelves.
Add decorative items like vases, knick-knacks, or artwork to give your shelves a luxurious look.
Utilize lighting to create an inviting atmosphere and highlight any special decorations that you may have on the shelves.
Incorporate plants into your decor to bring some color and life into the room.
Arrange the items on your shelves in an aesthetically pleasing way. You may want to group similar items together or create unique displays for different types of items. Keep in mind that symmetry can create a more harmonious look.
Make sure to clean your shelves regularly and dust off any decorations or accessories you may have on them, as this will ensure that the shelves look tidy and neat.
What are cute things to put on shelves?
There are lots of cute and stylish items you can add to your kitchen shelves! Here are some ideas:
Cookbooks or recipe books – grouping them together in matching colors looks great and adds a touch of whimsy.
Plant life – try adding greenery like small succulents, herbs, potted plants, or even faux plants to brighten up your shelves.
Decorative plates – use decorative plates as an art piece or as a way to show off your favorite dishes.
Wall hangings – you can choose macrame, wall art, or even add something like a calendar.
Displays of beloved items – you can display items that have special meaning to you, such as mugs, souvenirs, and photos.
Baskets – use baskets to store items like dish towels or other small kitchen items while also adding a touch of style.
Display jars – try displaying colorful condiments in glass jars on your shelves for an eye-catching look.
Lighting fixtures – add small string lights, wall sconces, or even a lamp to create a cozy atmosphere on your shelves.
How can I make cheap shelves look expensive?
There are a few tips and tricks you can use to make your shelves look more expensive than they actually are. Here are some ideas:
Paint the shelves in a bright, vibrant color – this will instantly add a sophisticated touch to the room.
Add wallpaper or contact paper on the back of the shelf – this will create a unique, eye-catching look.
Add decorative pieces like knickknacks and houseplants – these items can make the shelves look more expensive than they are.
Hang artwork or other wall decor – this will draw attention to the shelf and make it look more luxurious.
Choose high quality materials for shelving brackets and hardware – these items can make a big difference in the look of your shelves.
Use statement pieces like mirrors or clocks – these items will give the shelf an elegant, finished look.
How do you arrange decorative items on shelves?
One way to arrange decorative items on shelves is by grouping similar objects together and creating visual balance both horizontally and vertically. For example, when displaying dishware, layer items of various heights and widths to create an interesting yet attractive display. If you have a collection of decorative plates, hang them on the wall and group them by color for a stunning effect. Similarly, create small vignettes with items such as greenery or candles. You can also use baskets, trays and bowls to contain small items like spices or utensils. When grouping different style items together, try to find common design elements like a shared color palette, texture or shape.
How do you display things on shelves?
There are many ways to display items on shelves. You can store items like dishes, cookbooks, and other decor pieces in a variety of ways.If you're looking for a more streamlined look, consider stacking items in an organized fashion. Dishes can be placed upright, and items like mugs, glasses, and jars can be placed on their sides in an alternating pattern. This will create a more cohesive look. You can also add color to your shelves with items like colorful baskets, potted plants, rugs, or even framed photos. This will help to keep the shelves interesting and visually appealing.
Useful Video: 50+ Best Kitchen Shelving Ideas 2021
Conclusion
When decorating kitchen shelves, the possibilities are endless. With a little creativity and some planning, you can create a unique look that is both beautiful and functional. When considering how to decorate kitchen shelves, remember that this is an opportunity to make your kitchen look amazing! Think outside the box and don't be afraid to experiment. Play around with different colors, textures, and materials to create the perfect kitchen shelfscape for your home. With the right combination of items, you'll be sure to have a space that will make cooking and entertaining a pleasure.
---
References
https://www.sanddollarlane.com/how-to-decorate-kitchen-shelves/
https://graceinmyspace.com/how-to-decorate-kitchen-shelves/
https://www.bhg.com/kitchen/storage/organization/how-to-style-open-kitchen-shelves/
https://www.swoonworthy.co.uk/2020/05/open-kitchen-shelves-styling-tips.html/