When it comes to kitchen tables, there are a few things you need to consider. What is the primary purpose of the table? How many people will you be seating at the table? And what kind of style do you want? In this article, we will answer some common questions about kitchen tables and dining tables. We will also provide some useful tips on how to choose the right type of table for your needs.
What to Look for in a Kitchen Table?
When shopping for the right kitchen table, look for a sturdy, but a lightweight table that can fit in your desired location without taking up too much space. Measure the area you plan on placing the table to make sure it fits comfortably.
Consider size and shape when selecting a kitchen table. A good rule of thumb is to measure twice and buy once – making sure that both the length and width of your table will be appropriate for the room where you plan on using it. You also need to consider how many people you want to seat at your kitchen table – whether 4 or 6,8 or even 10 if needed. Choose either a round or rectangular-shaped table depending on your preference.
Think about style when choosing a kitchen table. A modern, contemporary style might fit well with an all-white kitchen, while a more traditional or rustic style could match nicely with darker cabinets and fixtures. Additionally, consider the type of material you want for your kitchen table – whether wood, metal, or glass – as this will also depend on your design style.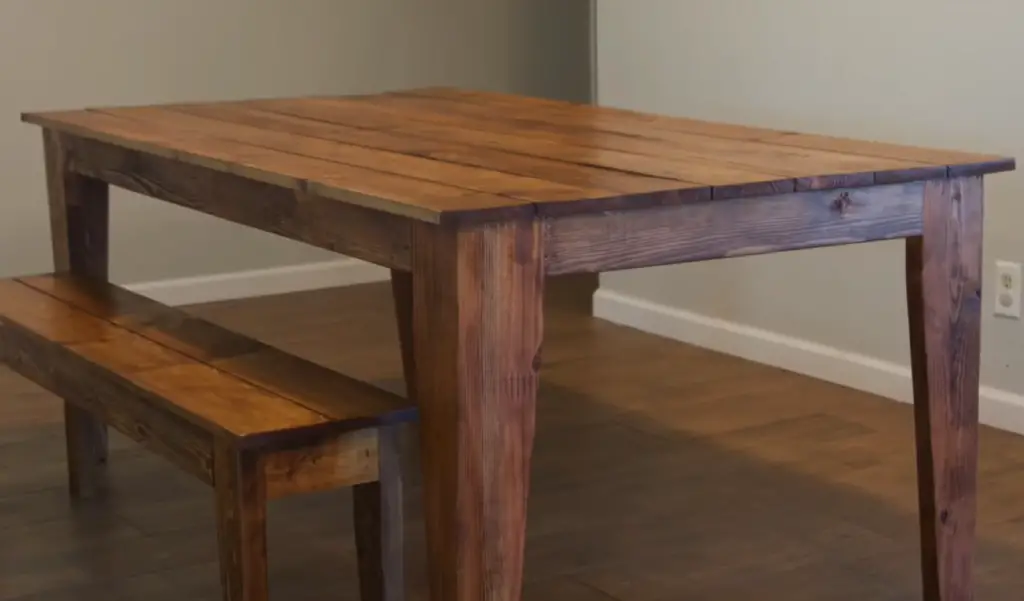 Finally, look for features that make using the table easier such as a self-storing leaf system that allows you to extend the top when needed for extra seating space.
What to Look for in a Dining Table?
When shopping for a dining table, first assess what size and shape best suit your needs. Measure the space where it will be placed beforehand so that you can narrow your options down to the right size. Remember, a round table is ideal if you have limited space while an oval or rectangular table can provide more seating capacity.
Think about the materials used in making your dining table – depending on whether traditional or modern design appeals to you. Wood remains classic and timeless, but you might also consider metal for a more contemporary look. You could also think about adding glass or marble tops to create texture and visual appeal.
Finally, decide on features such as self-storing leaves for extra seating when needed, built-in storage underneath the top surface, or a cleverly designed base with legs that taper at the bottom for an updated look.
By considering all of these factors when selecting both a kitchen and dining table, you can make sure to find the perfect piece for your home. With the right tables in place, you'll be able to enjoy meals with family and friends for years to come.
Tips for Picking the Right Kitchen or Dining Room Table
When it comes to picking a kitchen table or dining room table, there are several factors to consider. Here are a few tips for making sure that you get the perfect piece for your home:
Measure Your Space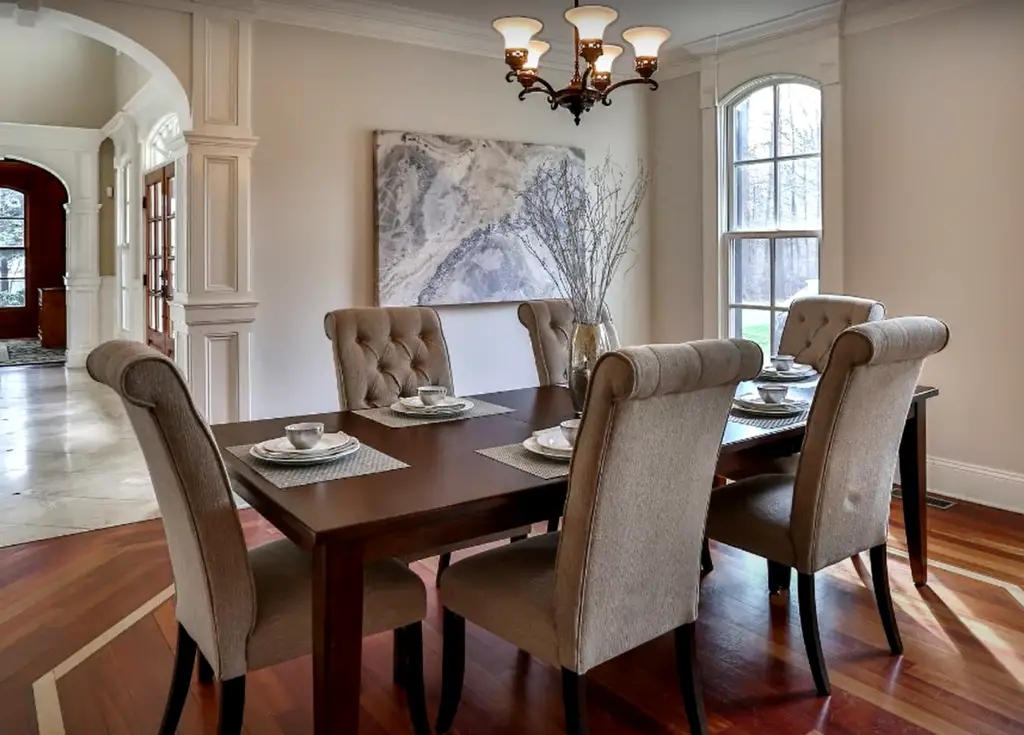 Choose a Shape
The shape of the table is also important. Kitchen tables can be round, square or rectangular, and dining room tables might be oval or have a more traditional rectangular shape. Consider the size of the space and how many people you anticipate sitting around it.
Rectangle
Rectangle tables are ideal for larger parties or family gatherings. They provide plenty of space for serving dishes and offer a great spot for conversation.
Round
Round tables are great for smaller spaces or dining areas. They come in a variety of sizes and can accommodate up to four people comfortably.
Square
Square tables are ideal for tight spaces like breakfast nooks or small kitchens. They don't offer as much room for plates and serving dishes, but they still provide plenty of space for two to four people to dine comfortably.
Oval
Oval tables are great for larger spaces and can comfortably seat six people or more. They provide plenty of room for dishes, glasses, centerpieces, and conversation.
Select a Material
Once you've determined the size and shape of the table, it's important to consider the material. Wood is a classic choice that offers a timeless look, but metal tables can give your space a modern touch. If you're looking for something that's easy to maintain, plastic or glass may be the way to go.
Wood
Wood provides a classic, timeless look to any room. It's also very durable and can last for years with proper care. If you prefer the warmer tones of natural wood, consider choosing oak or pine. For a more contemporary feel, go for darker woods like mahogany or walnut.
Metal
Metal tables give your space an industrial touch and are perfect for small spaces as they don't take up much room. Choose stainless steel for a modern look or something aged like iron or brass for a more vintage vibe.
Glass
Glass tables are great for smaller spaces as they don't take up much room. They also provide a light, airy feel to any room and are very easy to clean.
Stone
Stone or marble tables offer a luxurious look and are perfect for larger spaces. They can be quite heavy, so it's important to make sure that the floor can support the weight.
By considering these tips when picking out your kitchen table or dining room table, you'll be sure to find the perfect piece for your home. Investing in the right table will not only make mealtime more enjoyable, but it will also help create a beautiful aesthetic in your home.
Find the Right Style
Finding the right style for your home is important when you're choosing between a kitchen table and a dining table. If you have an open kitchen and living room, then you might want to go with a more formal dining table that could double as extra seating in the main area when needed.
If you prefer something more casual or if space is limited, then a kitchen table might be what you're looking for. Keep in mind that it should still fit well into the design of your home and complement any existing furniture pieces. [1]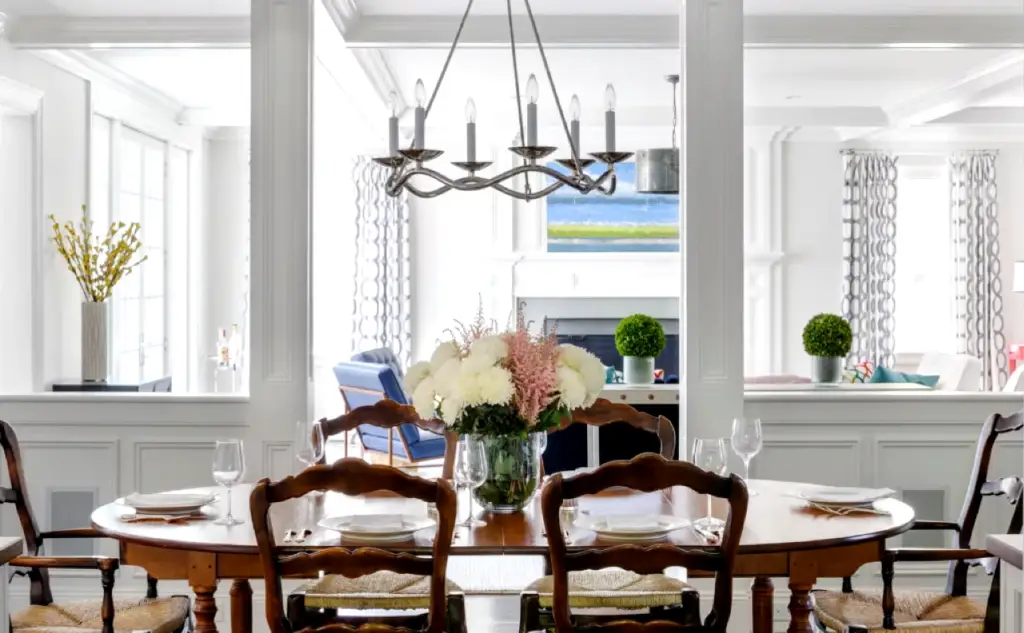 Kitchen tables come in many shapes and sizes – from butcher-block designs to bistro sets – so there's sure to be one that works with your style and space requirements. Dining tables are usually larger and more formal in style, so they're better suited for a dedicated dining room or large kitchen area.
Pedestal
When it comes to kitchen tables and dining tables, you can choose between a single pedestal style or four-legged designs. The single pedestal option is ideal for small spaces since it takes up less visual room. It also offers a more casual look than the four-legged styles, which are usually found in more formal dining settings.
Four-legged tables offer extra stability but can be more difficult to move around if needed. Many models also come with removable leaves so you can easily expand the table when you need to accommodate extra guests at mealtime.
No matter which type of table you choose, make sure that it's built from high-quality materials like solid wood or metal for durability and strength. This will help ensure that it can handle the wear and tear of daily use for years to come.
Farmhouse
If you're a fan of the farmhouse style, then you can find plenty of options for kitchen and dining tables that will fit right in with your decor. Wood tables with distressed finishes are popular choices for this look, as are wrought iron designs.
You can also choose from various shapes and sizes, from round to rectangular or even oval. Just make sure that it will comfortably seat all your family members at mealtime or when you have guests over for dinner.
Rustic
Rustic-style tables are a great way to add a touch of warmth and character to your kitchen or dining room. You can find tables made from reclaimed wood, which has a natural rustic appeal that's perfect for this look.
These types of tables often have unique designs and features like chunky legs or distressed finishes that give them an extra layer of charm. You can also choose from various sizes and shapes, so you'll be able to find the perfect one for your home.
Shaker
Shaker-style tables are timeless and classic, making them a great choice for both kitchen and dining rooms. They usually have a simple design with clean lines and minimal ornamentation, which makes them versatile enough to fit in with almost any decor.
These types of tables come in various sizes, shapes, and materials so you can find one that suits your needs. You can also choose between pedestal designs or four-legged styles depending on the look you're going for and the space you have available.
Industrial
If you're looking for something a bit more modern and edgy, then an industrial-style table is the way to go. These tables usually have a metal base with wood tops, giving them a utilitarian yet chic look that can work in both kitchen and dining rooms.
The metal frames come in various designs from boxy rectangles to curved shapes – so you'll be sure to find one that fits your space's needs. They also come in different sizes, ranging from small bistro-style tables to larger ones that are great for entertaining.
Consider Seating to Go with Your Table
When it comes to choosing a table for your kitchen or dining room, seating is another major factor to consider. A kitchen table should have comfortable chairs that can pull up close and provide plenty of room for elbows and movement when eating. Kitchen chairs don't need to be too fancy; they should just offer basic comfort when sitting. On the other hand, dining tables usually require more formal seating such as armchairs with larger cushions and high backs that add an elegant touch to any meal.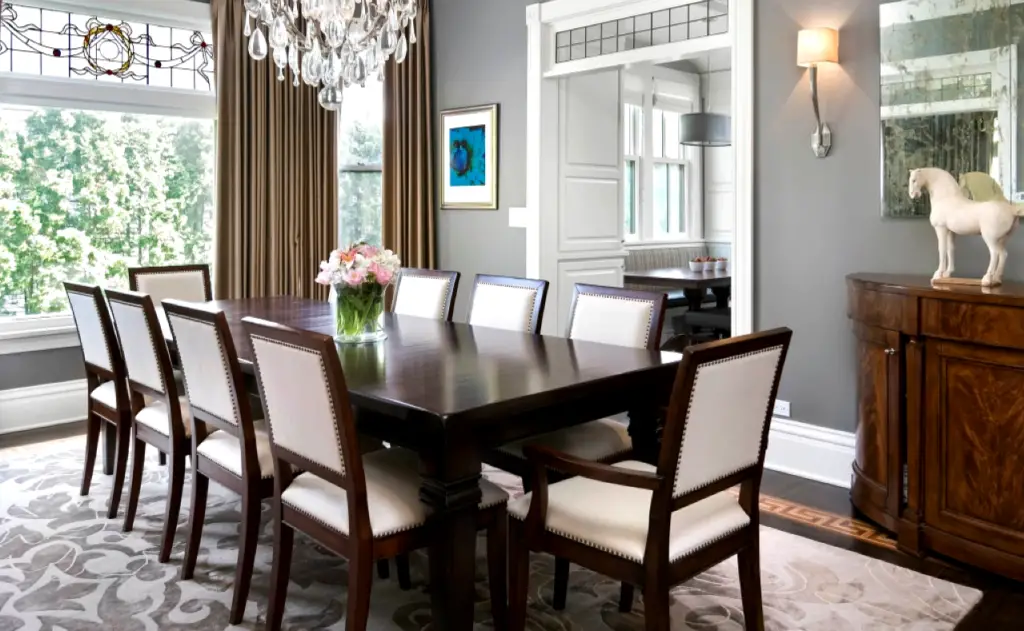 No matter which type of table you choose, it's important to make sure there is enough space around the sides in between chairs so everyone can sit comfortably without being cramped or crowded.  As a general rule, you should allow at least two feet of space on all sides. This will ensure that your family or guests have enough room to get in and out of their chairs easily.
---
FAQ
Is the kitchen table different from the dining table?
Yes, kitchen tables and dining tables are different. Kitchen tables tend to be smaller and more casual than dining tables, which are usually larger and more formal. They also typically have different features and amenities based on their purpose. For instance, a kitchen table might have drawers or shelves for storage while a dining table would not as it is designed mainly for meals. [3]
Can you put a dining table in the kitchen?
Yes, you can definitely put a dining table in the kitchen. This is becoming increasingly popular as modern homes are designed with open floor plans that combine living and dining areas into one cohesive space.
A dining table tends to be larger than a kitchen table and may take up more space, but it can still fit nicely into the room depending on your needs and layout. Just make sure to measure the area carefully before buying a dining table so that it fits well and leaves enough room for easy maneuvering around it. Additionally, keep in mind that if you have a smaller kitchen or limited seating area, an extendable or collapsible dining table could be just what you need to maximize your space while providing adequate seating when needed. [4]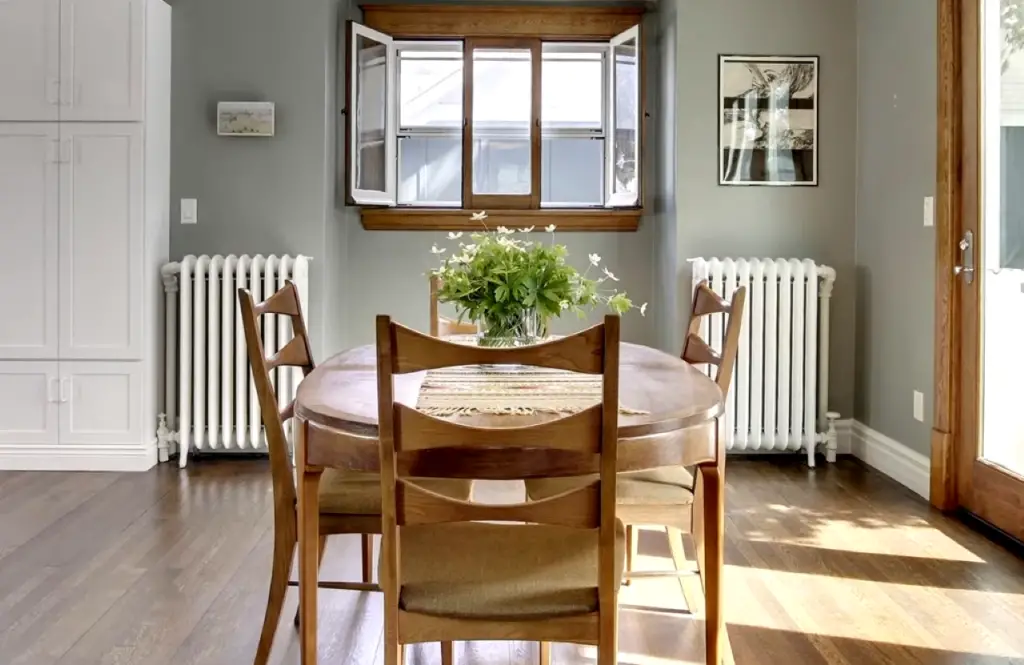 If putting a dining table in the kitchen, you may want to consider investing in some stylish chairs or stools for comfortable seating. This can add a nice design element to your room as well as enhance its overall look and feel. Additionally, similar to when choosing any other type of furniture, make sure to select pieces that are both strong and durable so they last through years of use. With a bit of planning and creativity, your kitchen will soon be complete with the perfect combination of form and function!
Are the dining and kitchen tables the same?
No, dining and kitchen tables are two different pieces of furniture. Dining tables are usually bigger and more formal than kitchen tables. They're generally used for family gatherings or dinner parties. Kitchen tables, on the other hand, tend to be more casual and smaller in size. They're typically used for everyday meals such as breakfast and lunch. Both can provide a great place for friends and family to gather together while enjoying food or conversation.
What is the difference between the kitchen and dining area?
On the other hand, when you've got more room to work with, then a full-sized dining table will provide plenty of room for everyone without feeling cramped. Dining room tables are generally larger in size and come in various shapes and sizes to suit your preferences. They are designed for larger groups of people and provide a more formal style of dining compared to the more casual feel offered by kitchen tables.
Useful Video: BEST DINING TABLES 2022
Conclusion
When it comes down to choosing between a kitchen table and a dining table, there are many factors to consider. If you have an open kitchen that is the main gathering spot in your home, opt for a kitchen table. For more formal occasions or larger groups of people, a dining table may be the best choice. No matter what type of table you choose, make sure you measure the space carefully so that it fits comfortably without taking up too much room. Additionally, take into account the style of your overall décor when deciding which type of table is best for your needs. Ultimately, either option can provide comfortable seating and become the focal point of any mealtime gathering!
For detailed advice about choosing between Kitchen Table and vs Dining Table, check out our comprehensive guide. You'll find helpful tips, design ideas, and advice to ensure you make the best choice for your home. With the right table, you can create a beautiful dining space that will be perfect for entertaining friends and family for years to come!
Happy shopping!
---
References:
https://www.thefurnituremall.com/blog/5-tips-picking-kitchen-dining-room-table.html
https://www.scienceofpeople.com/seating-arrangement/
https://ilandin.com/2021/03/22/kitchen-table-or-dining-table–whats-the-difference/
https://kitchenseer.com/dining-room-next-to-kitchen/
https://ell.stackexchange.com/questions/109861/dining-room-vs-kitchen